A while ago I was having fun working with my old boss Andy, now executive chef of Oxcart Ale House in St. Paul while he did recipe development in my kitchen before opening the restaurant.
He started out with the most difficult stuff: dialing in the from-scratch charcuterie program, which is similar to what I do at the Salt Cellar, although most of Oxcart's charcuterie is served warm in the form of a wide variety of sausages, and soon to be famous artisan bologna. (Real quick, this post is on cooking with mature spruce needles, see my post on general cooking with spruce tips for more).
I'd never cured a whole ham start to finish though, so when he told me he was ordering a few green hams (uncured) I asked if he'd snag me one to play with too. I messed around with a couple things, but decided to try infusing it with the flavor of spruce.
Spruce and pine needles have a great aroma but you need some tools, specifically a high speed blender that can break them up and release their aroma. It also takes time for the flavor to penetrate meat, and since a ham has to stay in brine for a while it's a great candidate.
Chris Bohnhoff and I shot a little tutorial of this too, which turned out really great.
The flavor of the ham is delicate, it's not really meant to be drowned with cheese and mayonnaise on a sandwich or something like that, it's better by itself, maybe with a little toast, butter and some mustard or pickles.
Now most people aren't going to cure a whole ham at home when they're readily available at other places, so this recipe is more feasible at home since it's made from a muscle cut out of a pork shoulder called the coppa eye.
It should go without saying that you don't have to actually flavor this with spruce, it's just an idea. Wild juniper and cedar berries made a great version of this too. An herby ham would be great as well, if you don't feel like picking anything-substituting rosemary for the spruce needles would yield a ham with a much stronger flavor.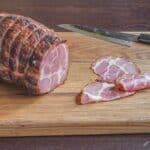 Print Recipe
Spruce / Pine Ham
Equipment
Large plastic container for curing

Smoker
Ingredients
1

one coppa eye taken from a pork shoulder

For the brine

1

gallon

water

3

ounces

pink curing salt

sodium nitrite

1

bulb garlic

halved

1.5

cups

salt

3

cups

light brown sugar

1

qt

spruce needles from a non bitter species

picked from the branches

2

tablespoons

black peppercorns

toasted
Instructions
Rinse the spruce needles in cold water to remove any debris. Bring the water, salt, sugar, pink salt, garlic, and peppercorns to a boil, then chill.

Remove 1 qt of the water and puree with the spruce needles in a highspeed blender until very fine, then recombine with the remaining brine. Truss the ham with butcher's twine, then in a 5 gallon cambro and cover with the brine. Wight down the ham with plates to ensure even infusion of the aromatics. Label and date the container. Rotate  the ham in the brine every other day for 2 weeks. At the end of 1 week, remove the ham from the brine.

Place the ham on a cookie sheet with a baking rack to ensure even caramelization, and cook until the internal temperature reaches 145 degrees, then put it in a hotel pan, weighted down with another hotel pan on top with vinegar bottles or another weight to hold it down. The next day, remove the ham from the pan, reserve the aspic for another purpose. Wrap the ham very tightly in plastic wrap and refrigerate or freeze until needed.
More