If you've made ravioli or other filled pastas and found them difficult, caramelle is a great shape to try. They're one of the easiest filled pastas I know how to make. Read on and I'll explain what they are, how to form them, and a few different ways they can be served.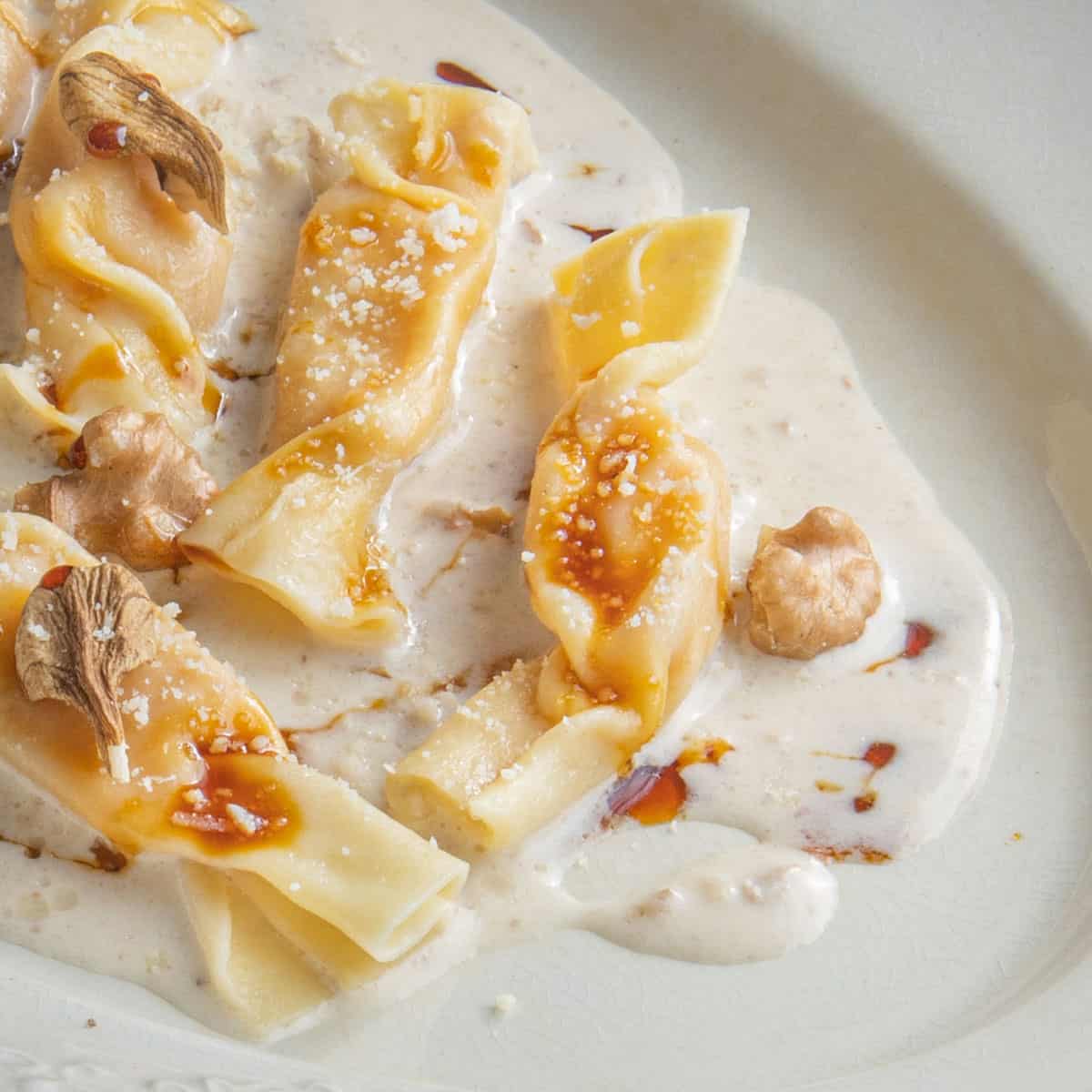 What is Caramelle Pasta?
Also known as candy pasta, caramelle is an obscure filled pasta shaped like a caramel candy. The history seems a little unclear, but I'd wager it originated in Northern Italy as their caramelle recipes use ingredients like mortadella di Bologna and strachino cheese, which are Northern Italian ingredients.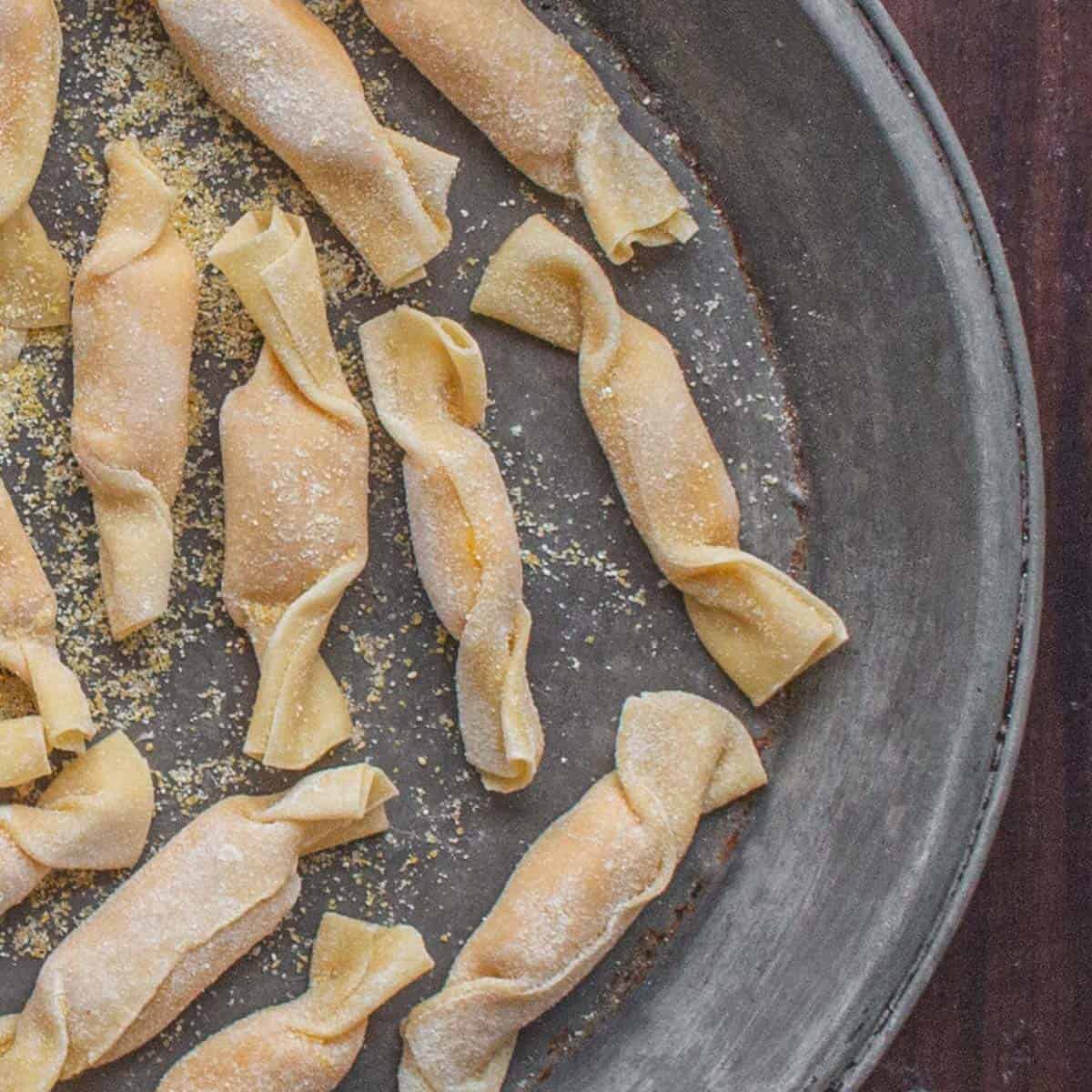 Squash or Pumpkin Filling
Squash or pumpkin filling is a great Fall or Winter filling for caramelle. This is the perfect place to use winter squash like hubbard or buttercup, but I think creamy, custardy kabocha squash makes the best version.

Making the Carmelle Pasta Shape
Cut a 12-inch sheet of pasta dough in half, then cut into four three-inch rectangles, pipe a little filling on each rectangle, roll them up and twist the ends in opposite directions to make a candy shape. Some recipes cut two inch squares to make a smaller version.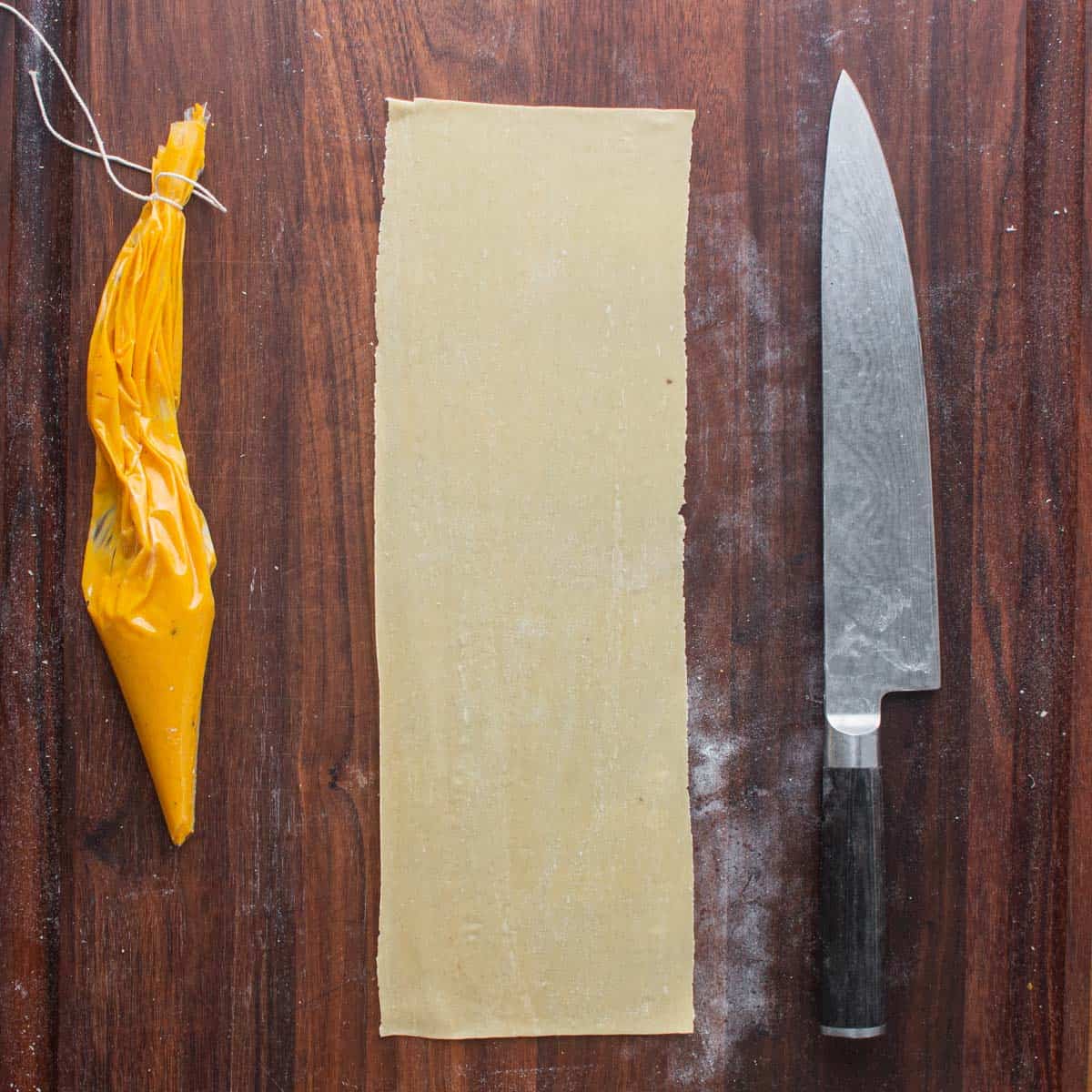 Chef's Tips
Put the squash filling in a pastry bag for easy portioning.
You can substitute mascarpone cheese for half of the squash filling, or use cheese mixed with herbs as with ricotta caramelle.
I make filled pasta in a big batch on the weekend, then freeze them to eat throughout the week.
It's fine if the caramelle don't all look the same as this is a rustic pasta. If I want to make them quickly, I make them larger. If I have time, I'll make them smaller.
Dust the caramelle with semolina or cornmeal to prevent sticking.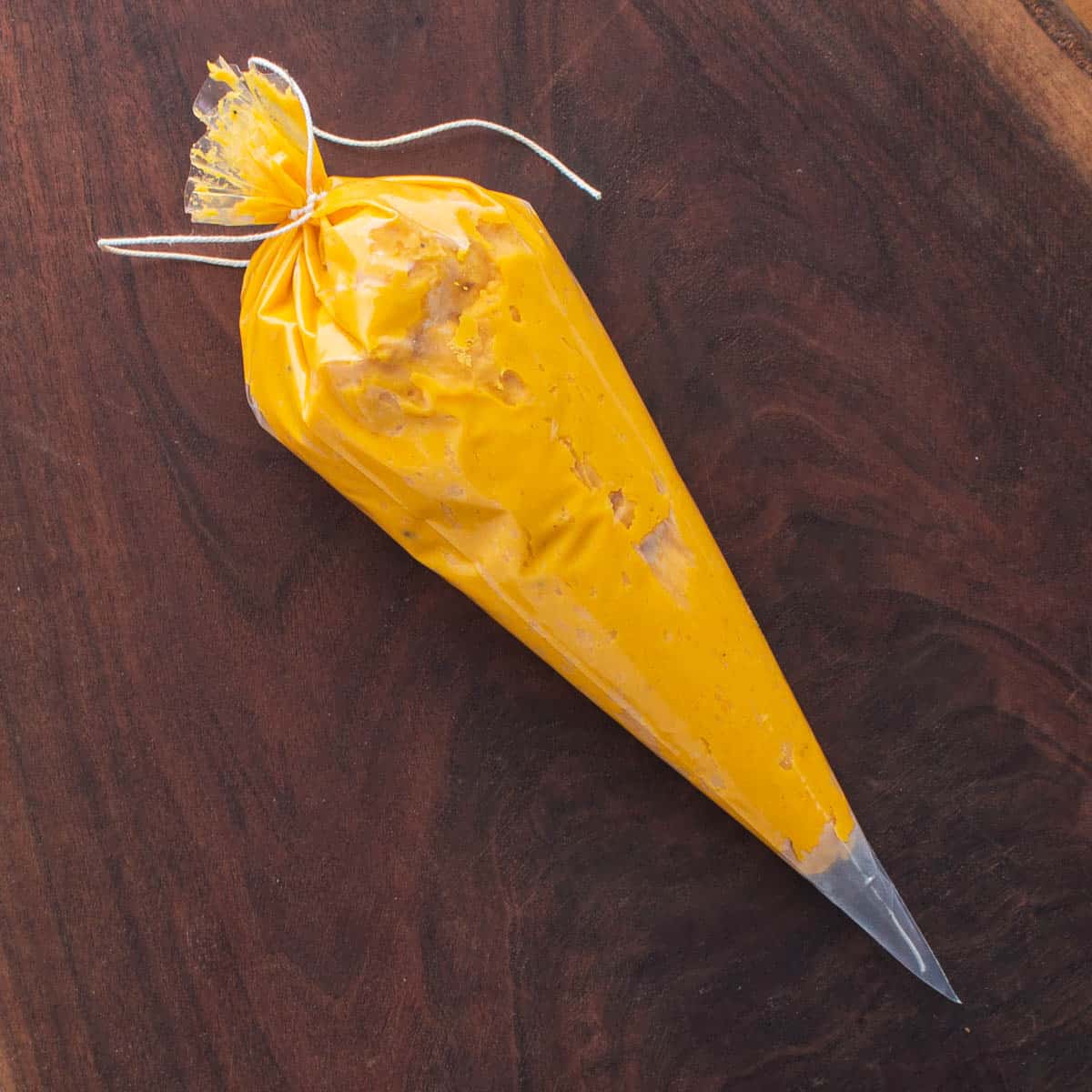 How to Serve Caramelle

It's best to keep the sauce and garnishes simple to show off the candy shape. Brown butter sauce is very good. If I fill them with cheese I might serve them on homemade tomato sauce.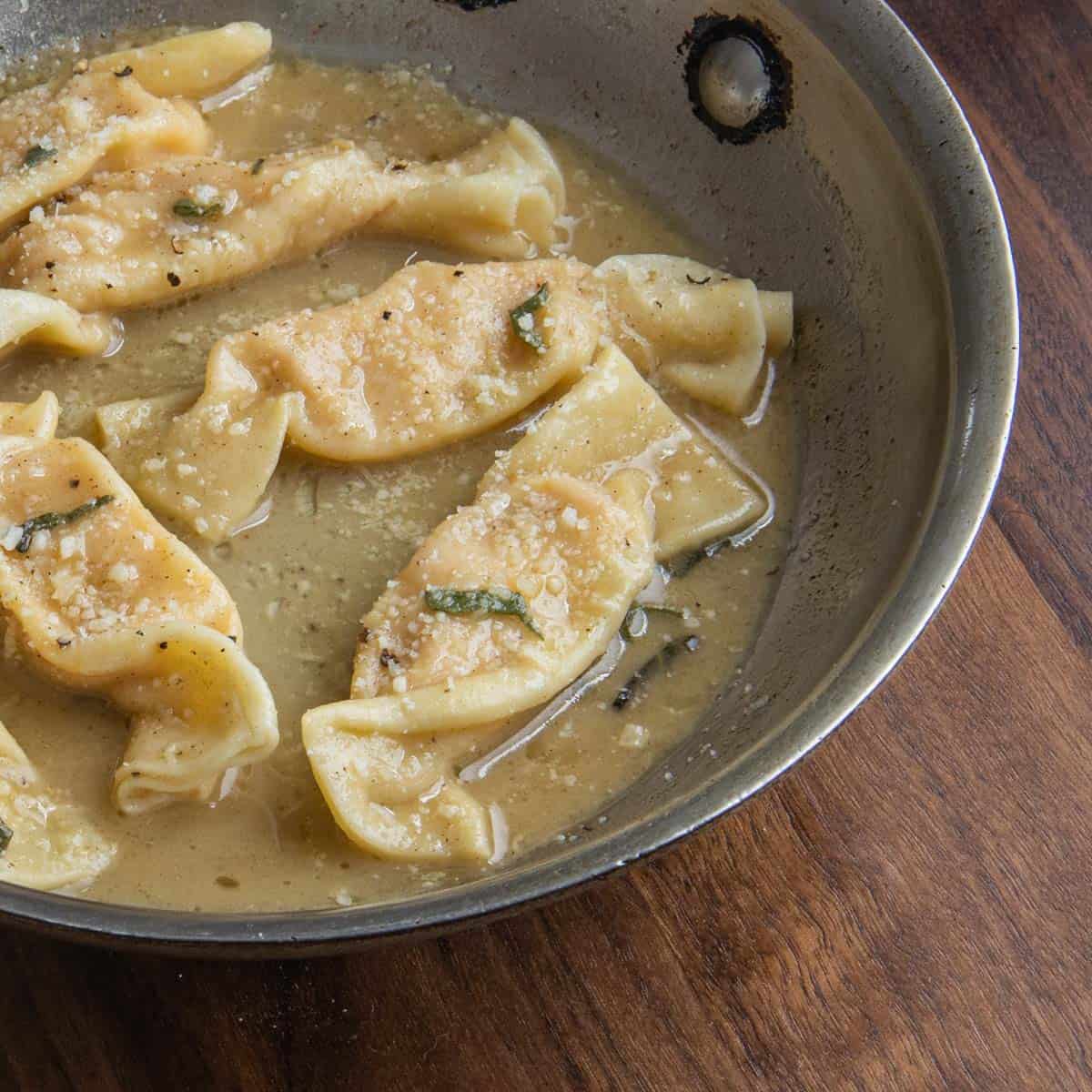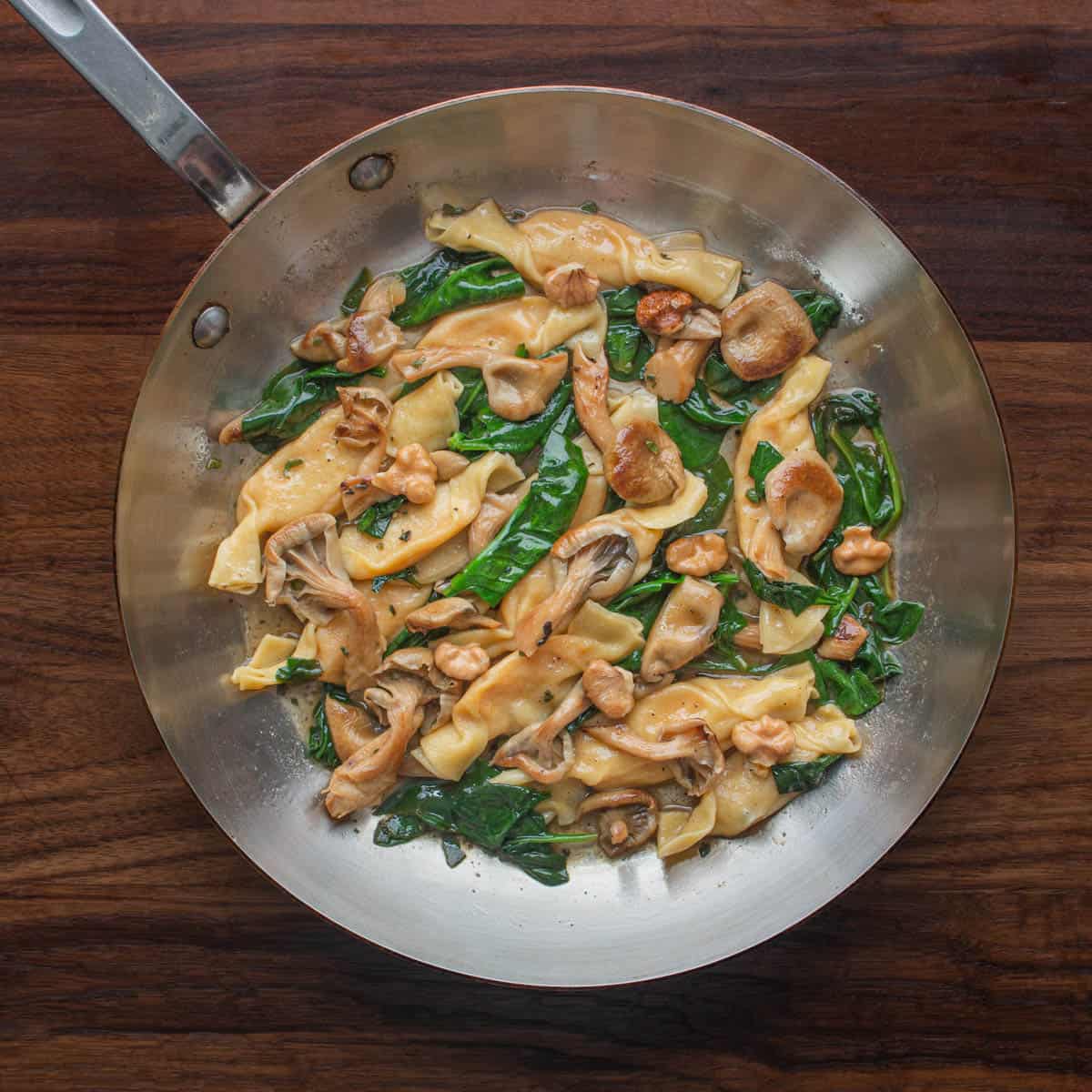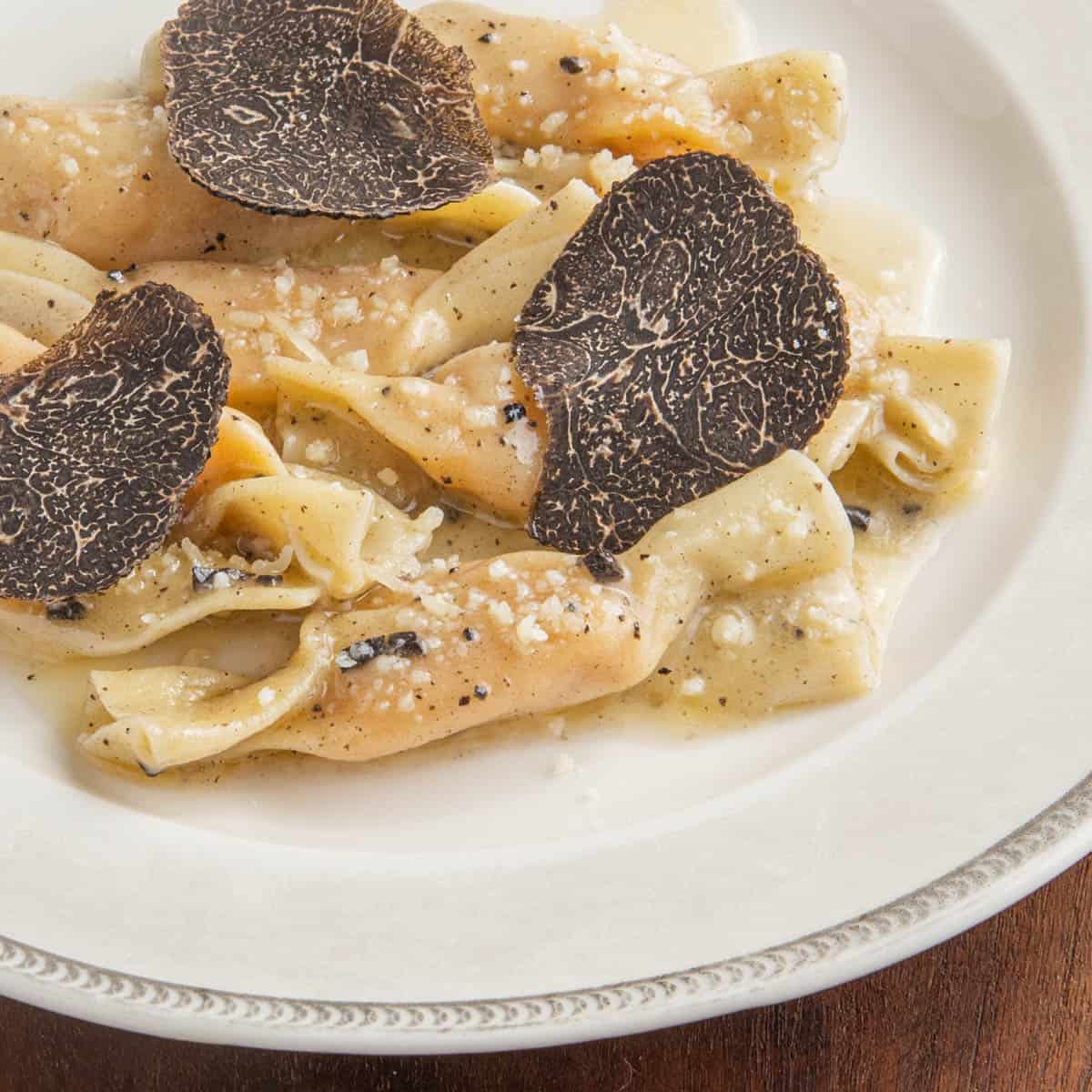 In the video I demonstrate 3 different brown butter sauces and a creamy black walnut sauce drizzled with birch syrup or balsamic reduction. You can also just toss them with melted butter and a little parmesan cheese.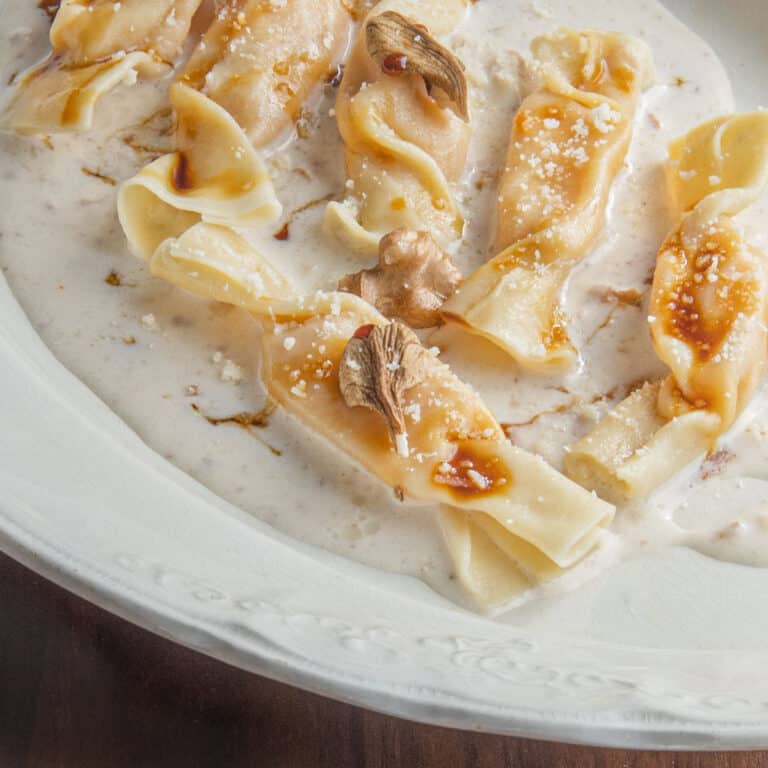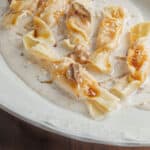 Print Recipe
Caramelle: Candy-Shaped Pasta with Squash Filling
Candy-shaped filled pasta with a creamy stuffing of winter squash served with a walnut sauce. Makes about 2 lbs of finished caramelle, roughly 8 entrées or 12 appetizer portions. Walnut sauce serves 2 people.
Equipment
Spray bottle

Pasta roller

Stand mixer

Rolling Pin
Ingredients
Pasta Dough
8

oz

all purpose or 00 flour

5

large egg yolks

1

teaspoon

kosher salt

A few tablespoons of cold water

to help the dough come together
Winter Squash Filling
1

lb

( or 2 cups) mashed winter squash

such as kabocha, hubbard, or buttercup

¼

cup

heavy cream

warmed

2

tablespoons

unsalted butter at room temperature

¼

cup

grated parmesan cheese

Fresh grated nutmeg

to taste

A few grinds of fresh ground black pepper
Black walnut sauce (optional)
2

tablespoon

unsalted butter

½

teaspoon

minced garlic

optional

½

cup

heavy cream

2

tablespoons

crushed walnuts

I used black walnuts

Kosher salt and fresh ground black pepper

to taste

Birch syrup

balsamic vinegar reduction, or Saba, to garnish

Pinch

of fresh chopped thyme

optional

Splash of dry white wine
Instructions
Pasta Dough
Combine the flour, salt and egg yolks in the bowl of a stand mixer. Mix with the paddle attachment for a minute drizzling in a tablespoon or two of water. Switch to the dough hook and knead to a smooth dough. Remove the dough, wrap in cling film and refrigerate for 20 minutes.
Squash filling
Put 1 lb of still hot, squash in a food processor with the remaining filling ingredients except the cheese. Season with a little nutmeg and salt, then stir in the cheese. Put the filing into a disposable pastry bag and reserve.
Filling the caramelle
Using a lightly floured work surface, cut off ¼ of the dough and roll out to the thinnest setting on the pasta machine. Keep the rest of the dough until towel as you work. Please refer to the video here.

After you've rolled out the dough cut it into 12 inch sheets. Lightly spritz the dough with a water bottle to help seal the edges. Cut the dough in half lengthwise, then cut the two strips of dough into 3 inch rectangles.
Shaping the caramelle
Pipe about 2 teaspoons of filling into the middle of each rectangle, then roll them over and twist the edges to form a candy shape.

Place the caramelle on a baking sheet lined with parchment dusted with semolina or cornmeal. The pasta can be frozen and transferred to a bag in the freezer. Frozen filled pasta will last for a month.
Walnut Sauce (optional)
Melt the butter in a 10 inch saute pan over medium heat. Add the crushed walnuts and garlic.

Heat until the nuts are golden, then deglaze with a splash of wine and reduce by half. Add the cream and simmer for a minute until barely thickened. Add salt and fresh thyme to taste.

Bring a large pot of salted water to a boil and cook the caramelle until they float and are tender, about 2-3 minutes fresh, or 4-5 minutes if frozen. Remove with a slotted spoon to a bowl and toss with a knob of butter or olive oil.

Divide the walnut sauce between two warmed pasta bowls, then arrange the caramelle on top. Drizzle with a thread of birch syrup or balsamic reduction, garnish with parmesan, and a few extra walnuts and serve.
Notes
Sometimes I make the filling with squash and soft cheese like mascarpone, or ricotta.
If you don't want to make pasta dough, you can use wonton wrappers.
Nutrition
Serving:
4
oz
|
Calories:
322
kcal
|
Carbohydrates:
30
g
|
Protein:
7
g
|
Fat:
20
g
|
Saturated Fat:
11
g
|
Polyunsaturated Fat:
2
g
|
Monounsaturated Fat:
6
g
|
Trans Fat:
0.2
g
|
Cholesterol:
164
mg
|
Sodium:
400
mg
|
Potassium:
278
mg
|
Fiber:
2
g
|
Sugar:
2
g
|
Vitamin A:
6721
IU
|
Vitamin C:
12
mg
|
Calcium:
91
mg
|
Iron:
2
mg
More Homemade Pasta
Fazzoletti: The Handkerchief Pasta