Tasting like the soul of cherry with an intense aroma of almond, traditional Siberian bird cherry cake (Черемуха) is made using dried wild cherry flour. It's the finest wild cherry recipe I've ever made, and probably my favorite dessert of all time, so saying every forager should try it once is an understatement.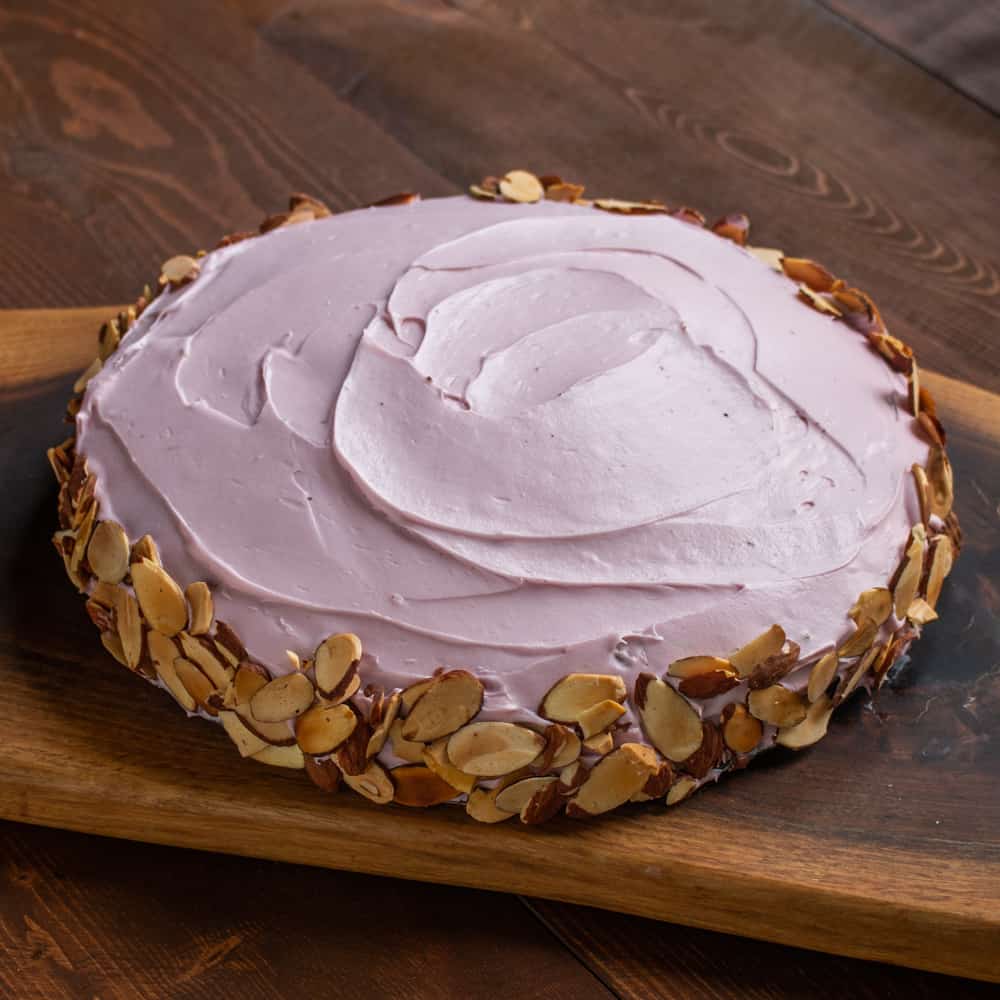 Today I'll walk you through my version of the cake, with some background to help you understand why I love it so much.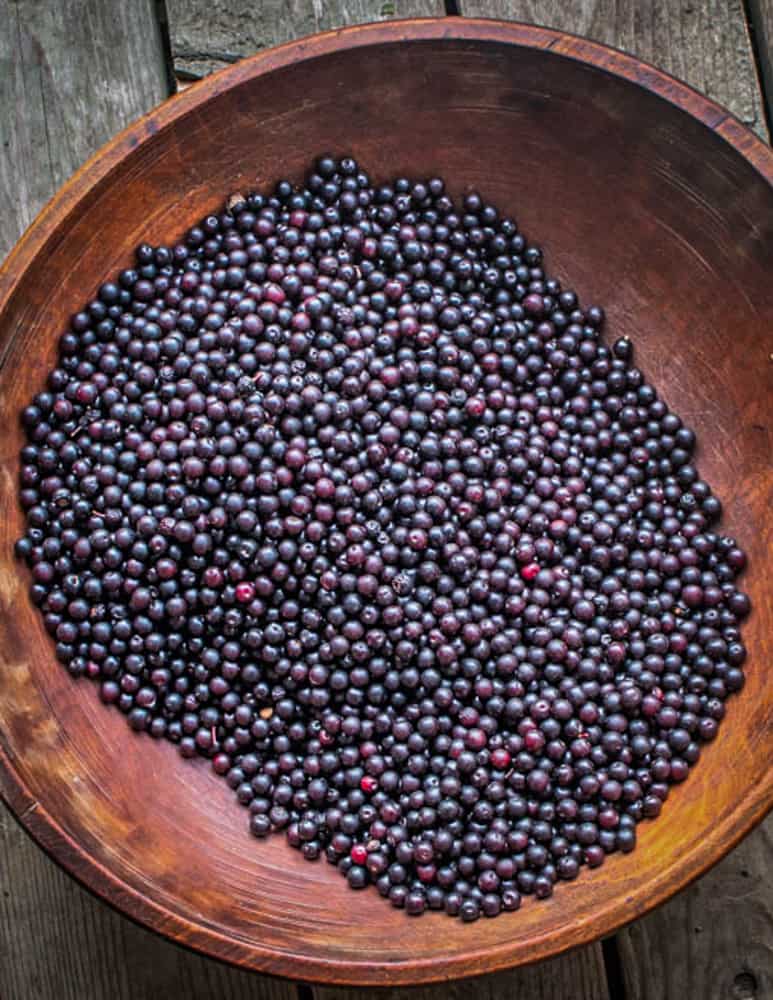 Bird Cherry
First, the cherry. The bird in bird cherry cake comes from the name of a specific cherry: the bird cherry or Prunus padus (Черемуха). Zeroing in on the exact species used for the traditional Siberian dessert is a little confusing though.
Besides Prunus padus, there's also a cherry native to the same region called Prunus avium, which literally translates to bird cherry. I think both cherries could potentially be used to make the cake, but P. avium is said to be more bitter and P. padus I see mentioned repeatedly online and in print (one book that mentions it specifically is Magnus Nilsons Faviken.)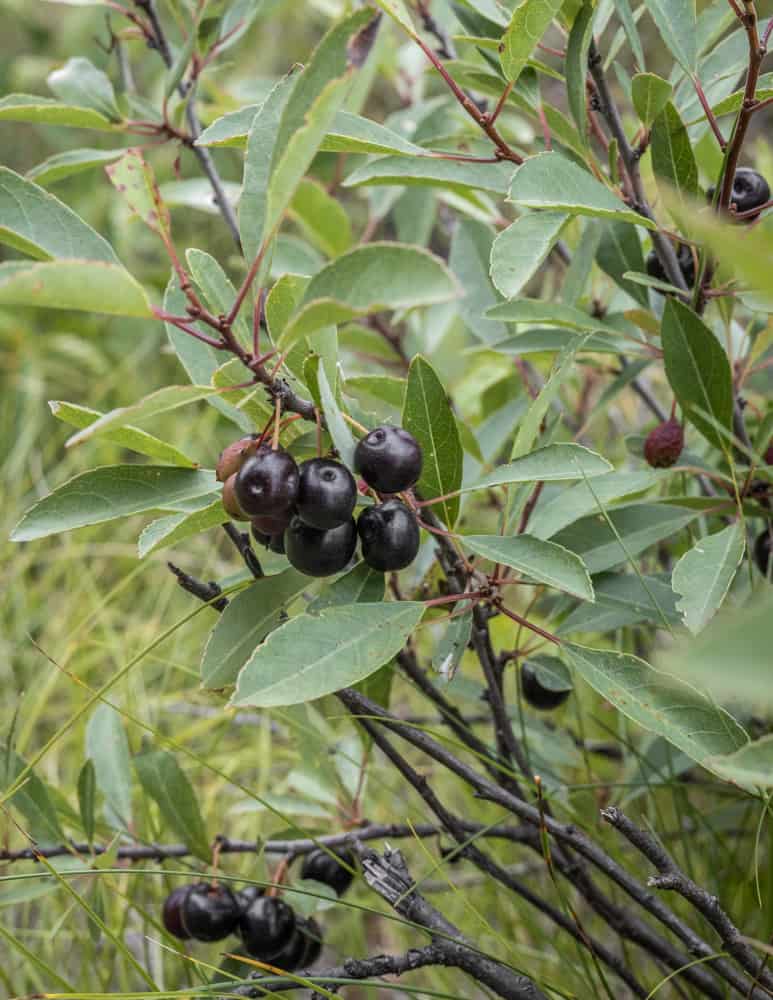 Cherry Pits: A Traditional Almond Seasoning
The magic of the cake is that it's made not from wheat flour, but from roughly half wheat flour and half dehydrated, ground, sifted wild cherries. If you caught my discussion Cherry Pits: A Traditional Almond Seasoning, you'll know that cherry stones are often seen as toxic or hazardous as they contain Amygdalin-a potentially dangerous glycoside that your body converts into cyanide.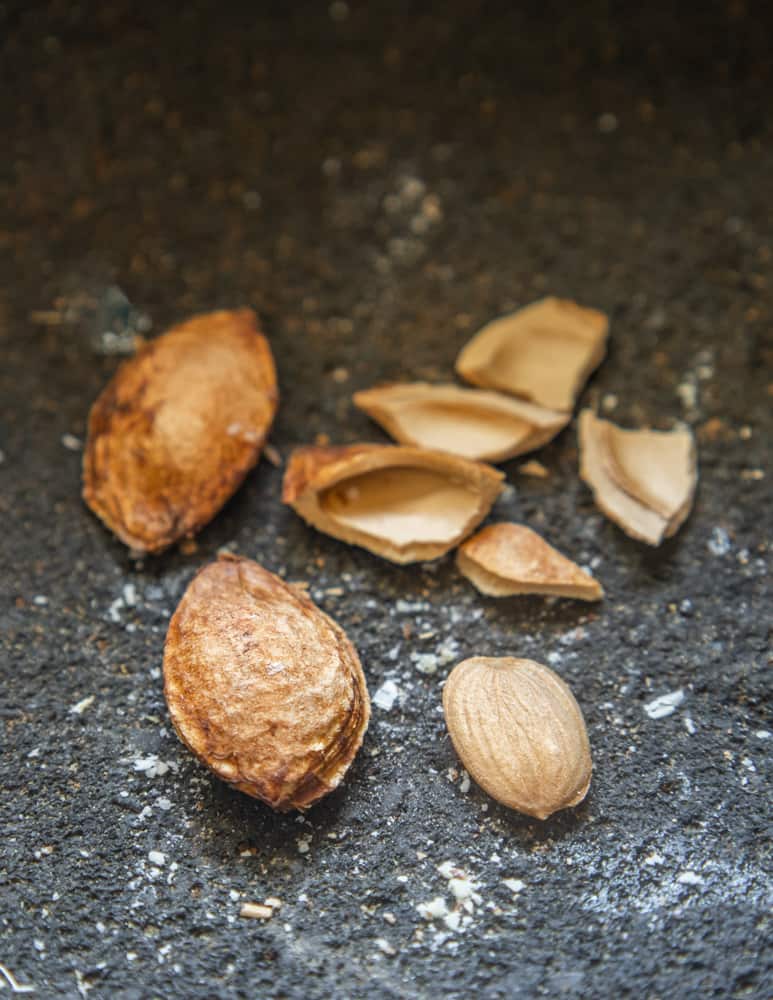 You'll also know that at the very least, there's three heavily documented examples of different cultures around the world drying wild cherries whole and using them, shell fragments and all, as as a traditional food.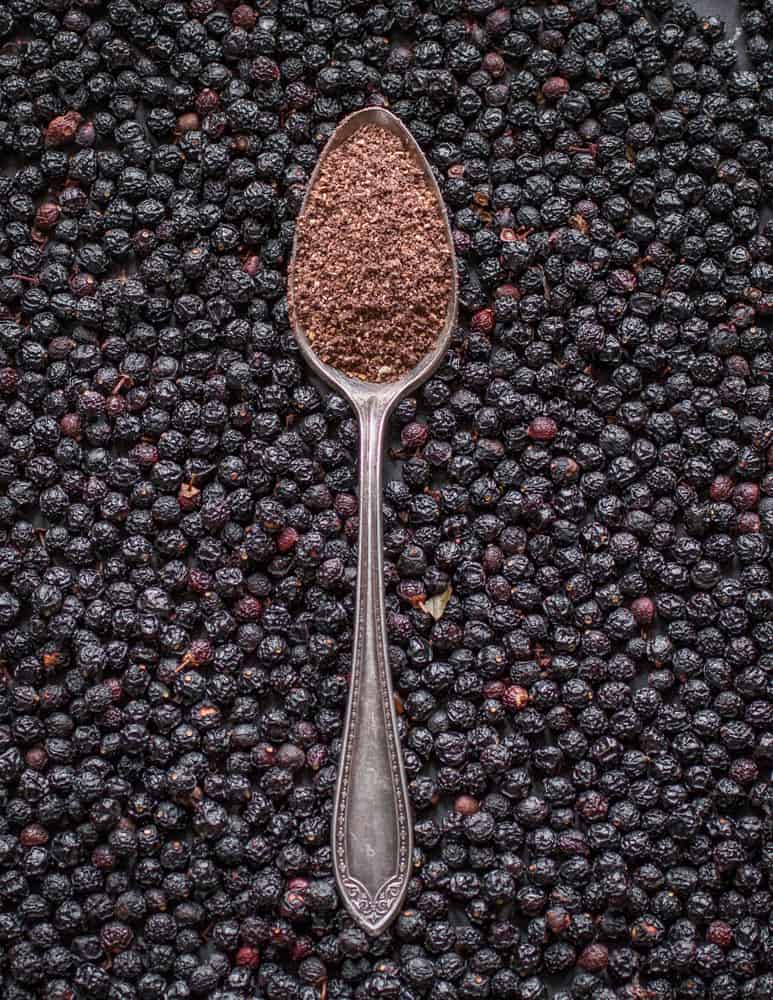 Drying and cooking denatures the amygdalin, making it safe to consume. My friend Linda Black Elk, a Native American ethnobotanist, also told me that she worked with a lab to determine exactly when the amygdalin starts to break down during the process of making chanpah (chokecherry patties).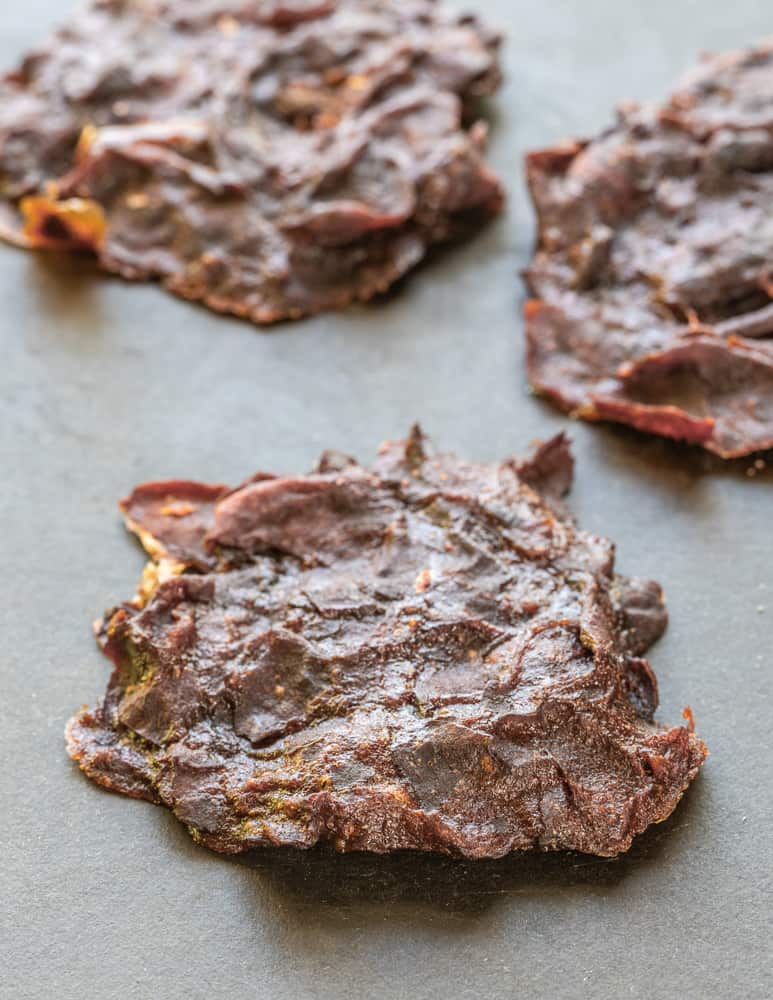 Linda mentioned breaking open the shell and exposing the stones to air also begins the denaturization process, which would make sense as the almond aroma of ground, wild cherries quickly dissipates after grinding into flour, and I assume the aroma of almond and presence of amygdalin are linked.
Bird Cherry Flour as a Commercial Product
Siberian bird cherry flour is simply dried, whole wild cherries that have been ground into a flour. It's known by Muscovites and expats, and, you can even buy it on Amazon, which should tell you something about it's popularity.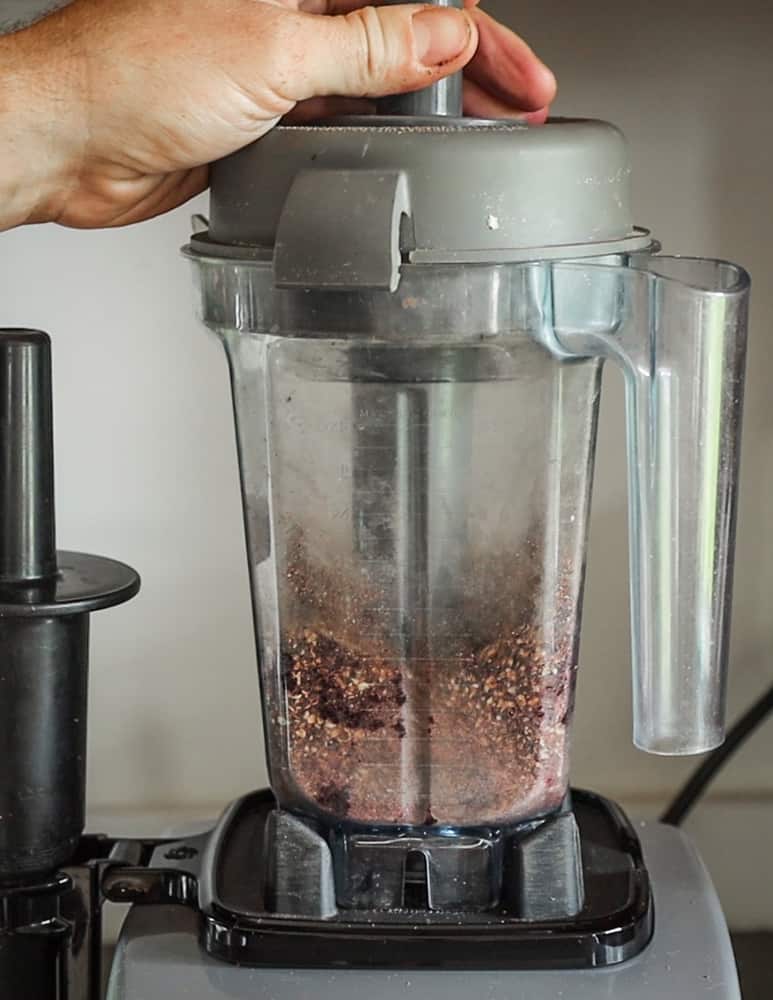 While commercially produced bird cherry flour can work, and I've tried it, the flavor is muted and much softer than if you grind your own.
Cherries I've used
Each cherry will give a slightly different character to the finished cake. Chokecherries keep a tiny bit of their astringency, black cherries I find to be the most well-rounded, but there's many that can be used. So far I've used pin cherries, black and chokecherries, sand cherries, as well as an ornamental I don't know the name of.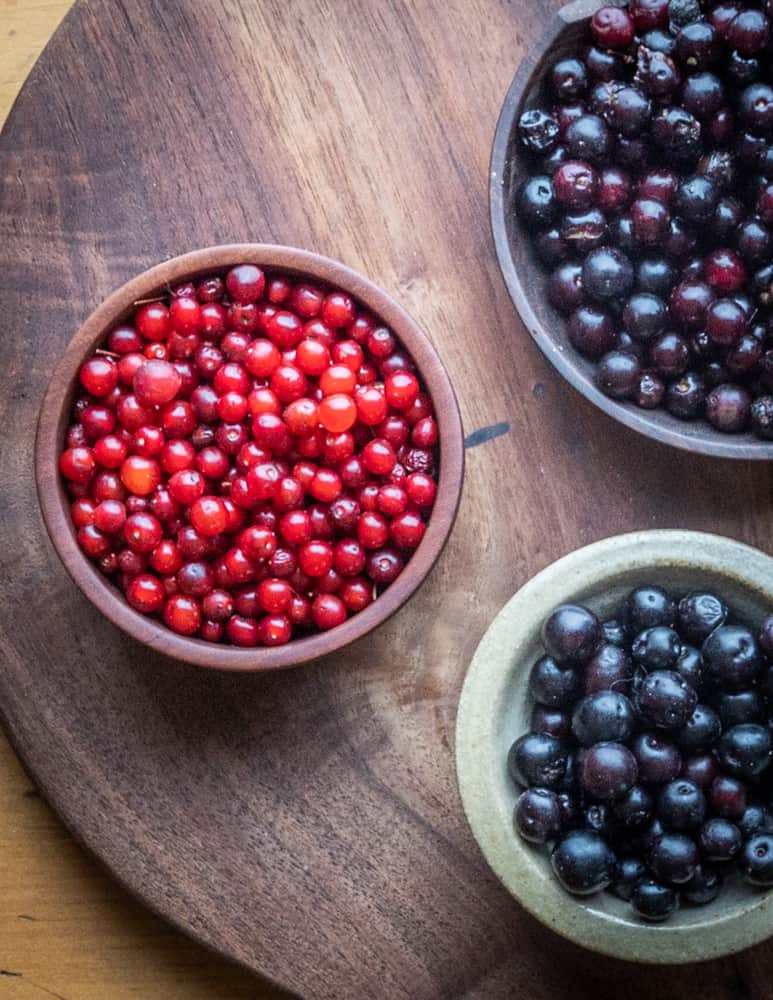 Making cherry flour
Making the flour is straight-forward, with the right equipment. Just toss your (clean) cherries into a dehydrator on high and forget about them for a couple days. Once the cherries are bone-dry, you grind what you need as fine as possible and sift once or twice before cooking. Dried cherries will keep in a pantry for years.
It is extremely important to use a fine mesh screen here. If you don't have a tamis sieve as pictured below and you want to make this, just buy one. I use this one.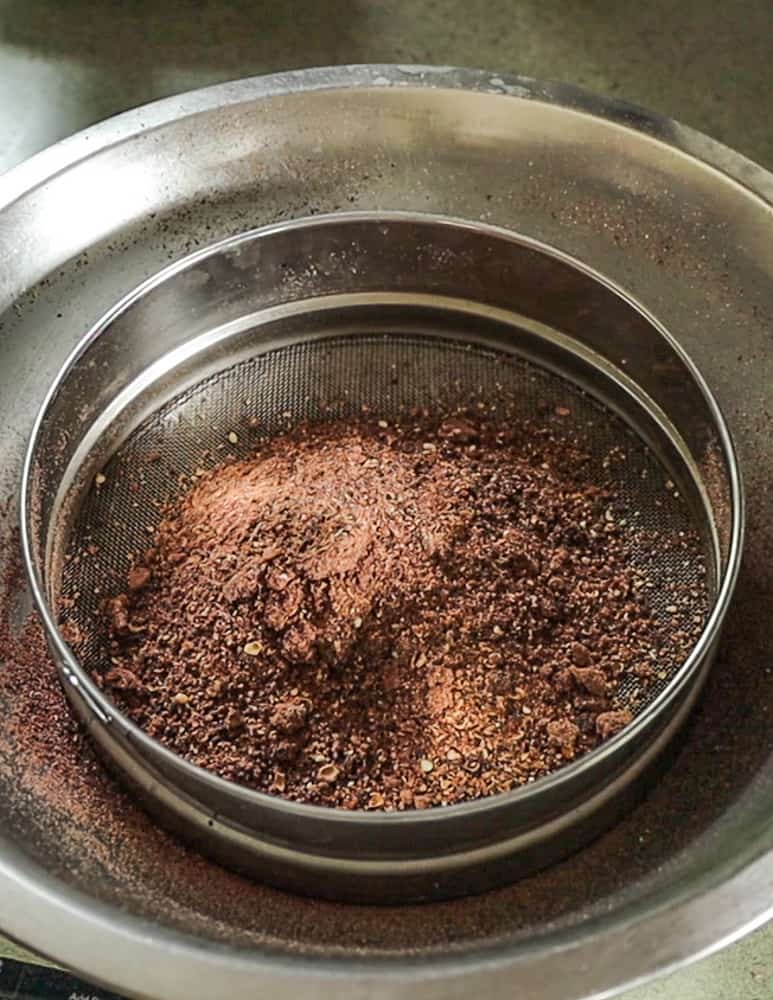 After you're done sifting the cherry flour you'll have some bits of shells and pieces leftover. You can toss them, but there's a lot of flavor trapped in them so I like to keep my leftovers in a bag in the freezer.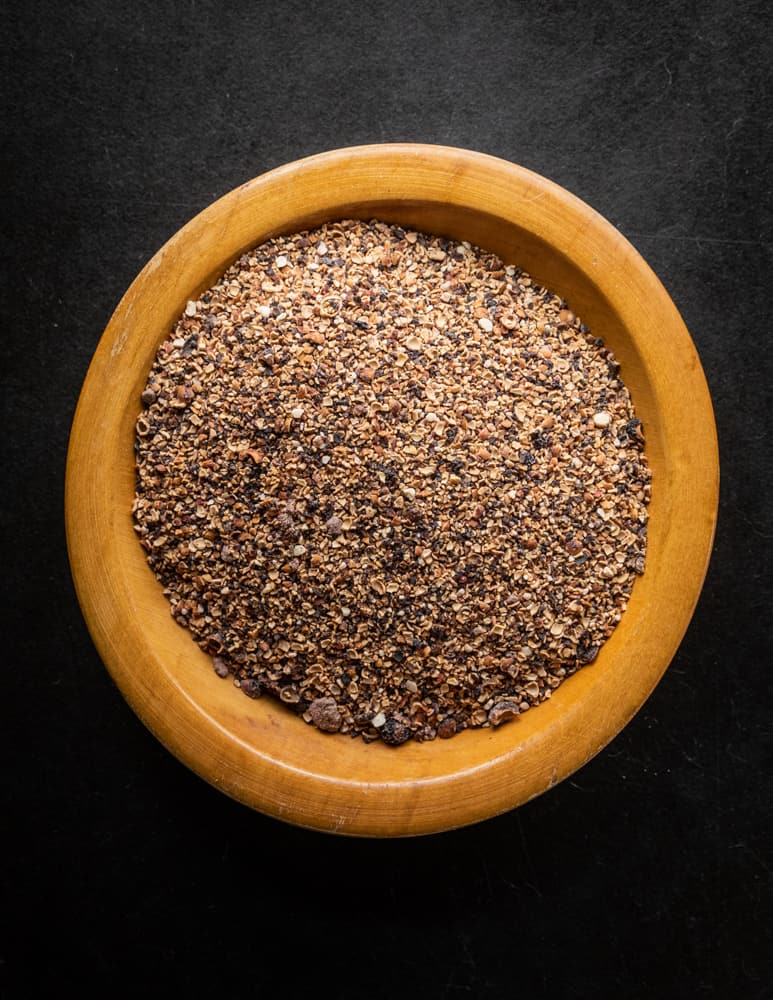 The leftover shells and bits of cherry are wonderful infused in liquors and infusions, syrups, and places where you want the aroma but not the texture. Another important thing to know is that cherry flour loses it's aroma quickly, so I only grind what I need for a recipe.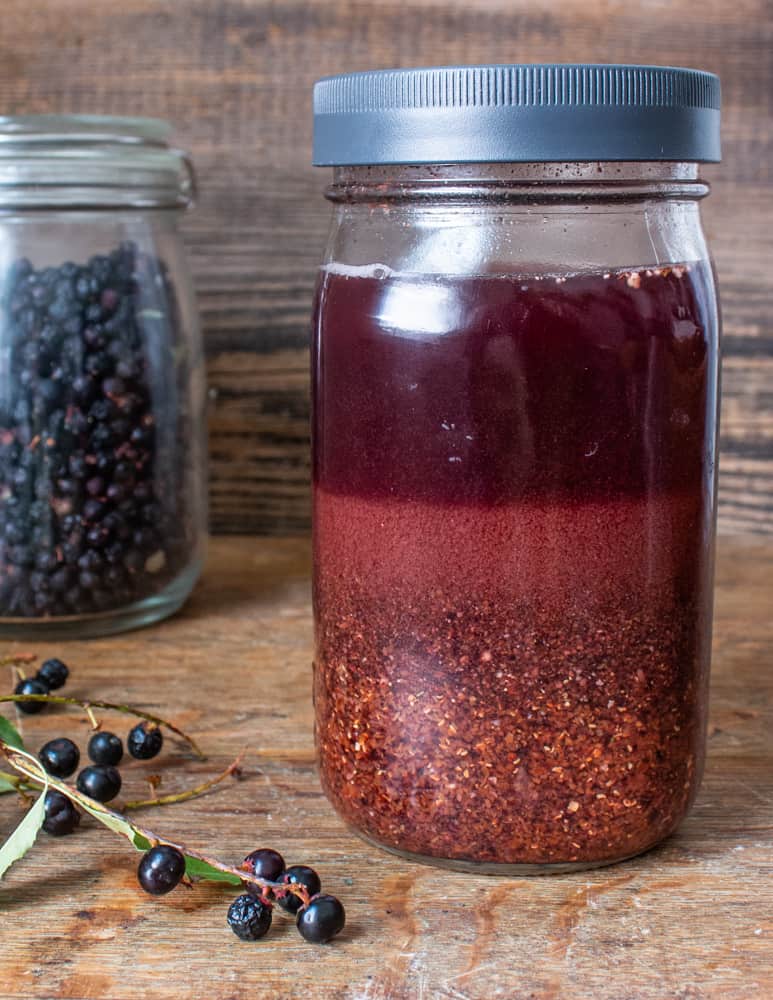 Making the cake
The cake is easy. Whip some eggs with sugar, then add some dry ingredients and bake. As the cake is made with half flour, it has a more firm, chewy texture than most cakes, which also improves its shelf life.
Once the cake is made and cooled it's traditionally coated with a sour cream frosting. Heretical though it might be, I love cream cheese frosting and fruit, so I make a frosting tinted into pastel with my wild cherry gastrique or another fruit syrup.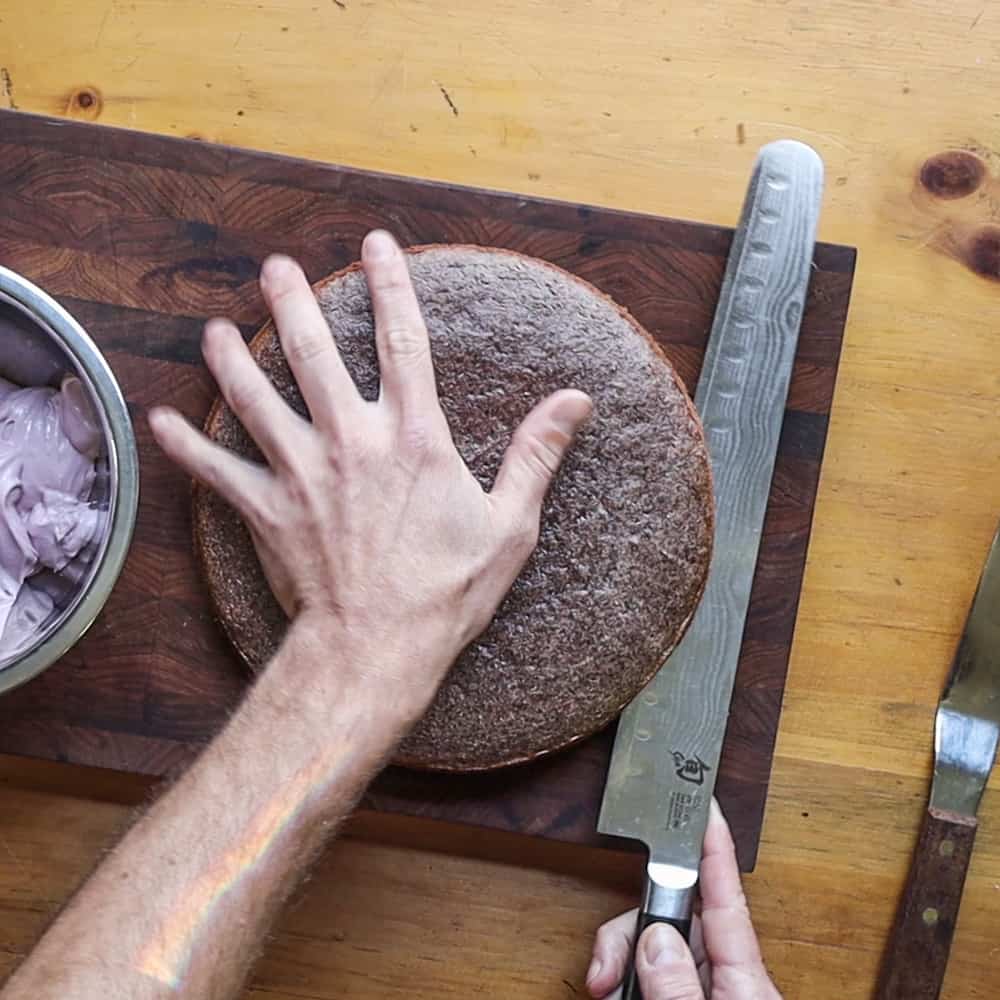 Syrups made from different cherries will give different colors. Wild grape reduction makes a nice purple one-see below.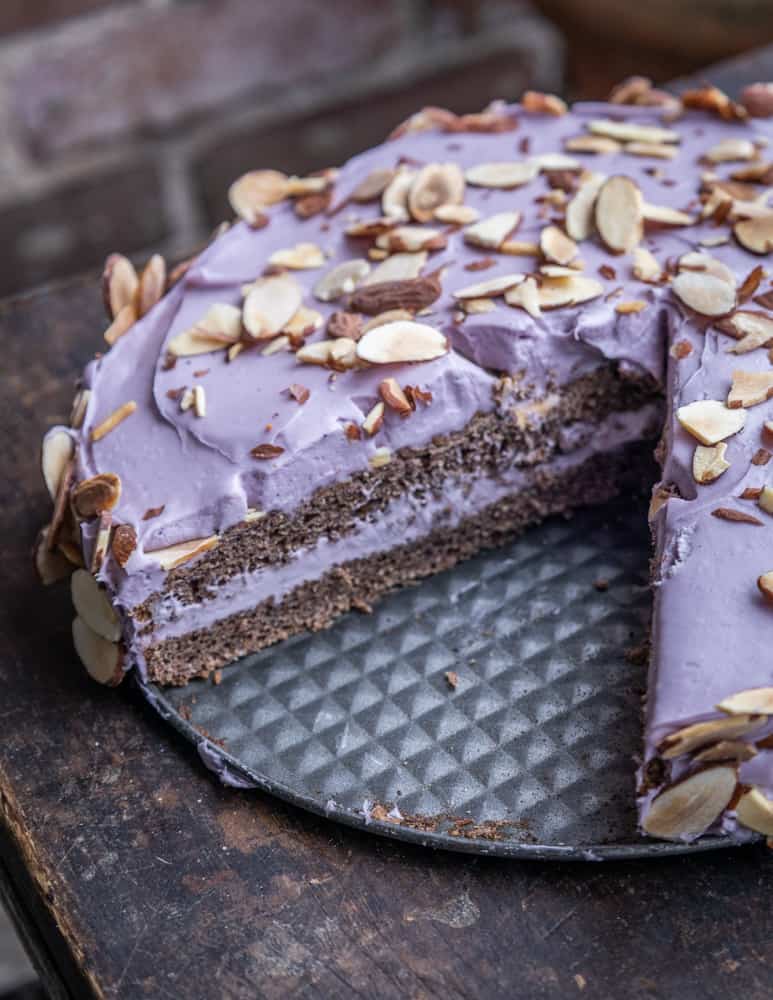 Shell fragments
I've gotten a few messages about the shell fragments. To be very clear, yes, there will be tiny fragments of shell left in the cake. This is why the sifter you use is so important.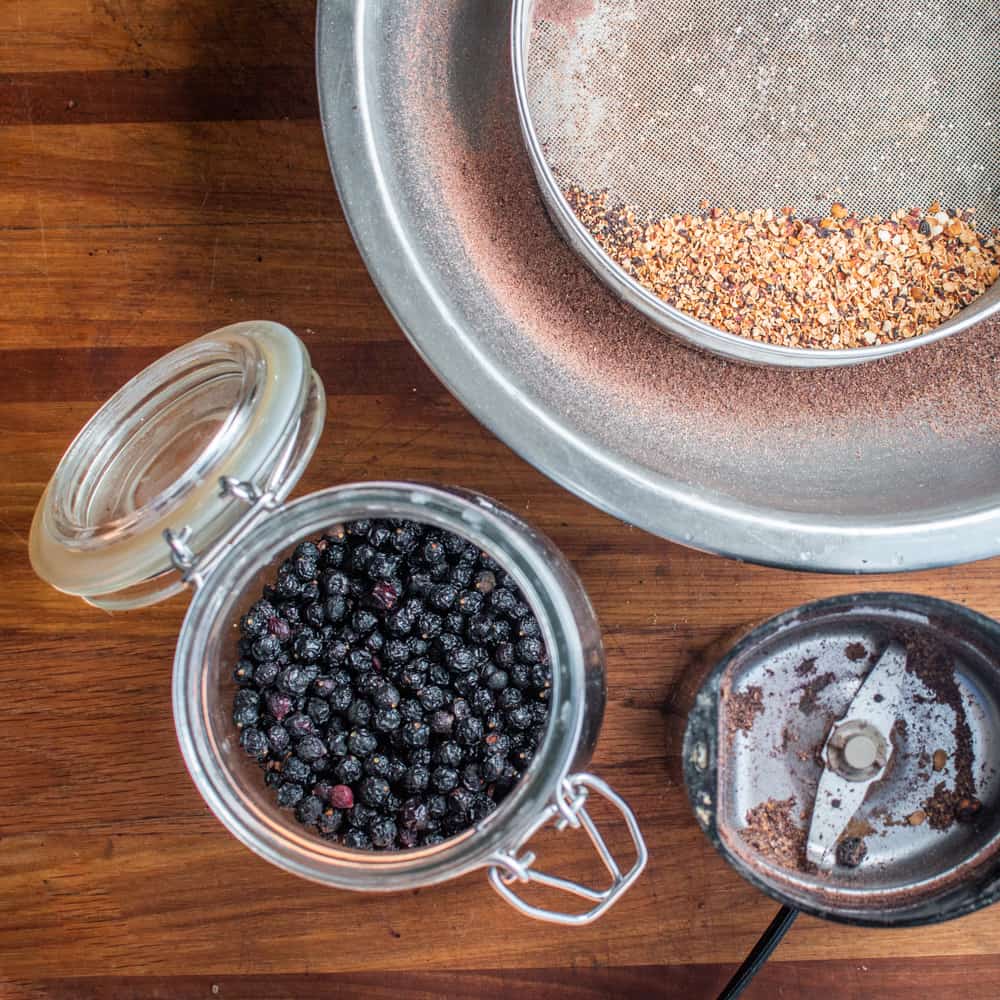 Very small pieces of shell are traditional, and add a texture to the cake that will grow on you. It's not unpleasant, sandy, or a danger to your pearly whites, as long as you have a fine mesh sifter.
Variations
This is more than just an incredible cake made from foraged cherries. I've used the same proportions here to make cakes with flour from different fruits and all of them are unique.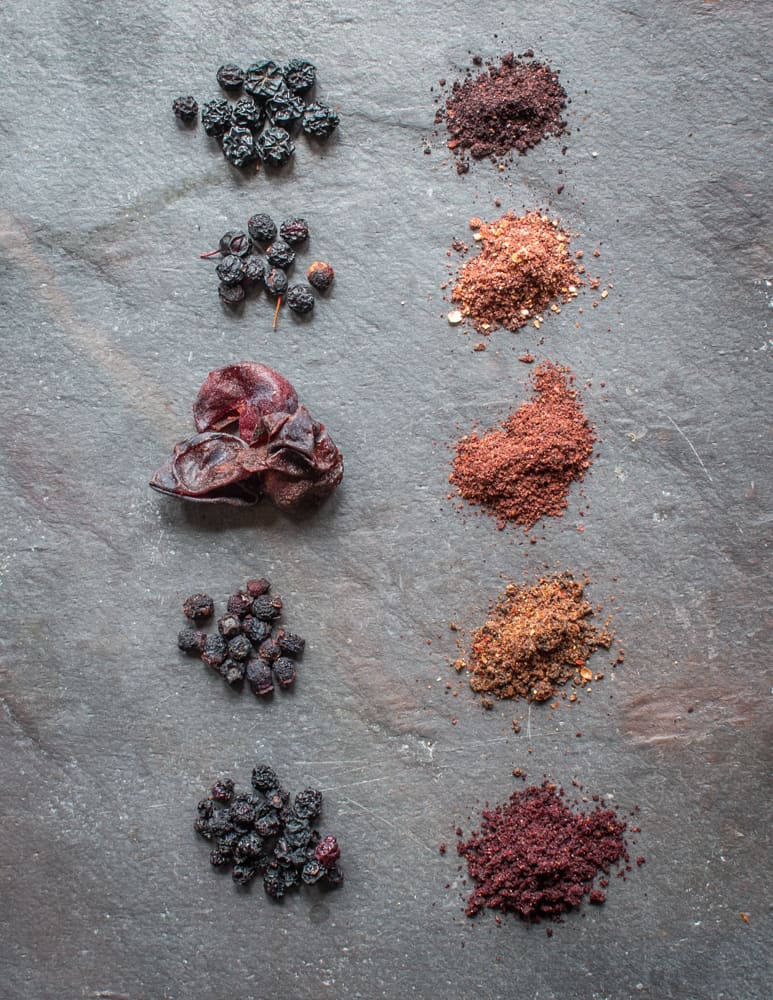 Wild plums (stones removed before drying) have a sour, tart edge. Aronia berries are mild tasting but have an intense color. Serviceberries are sweet with a milder almond taste than cherries.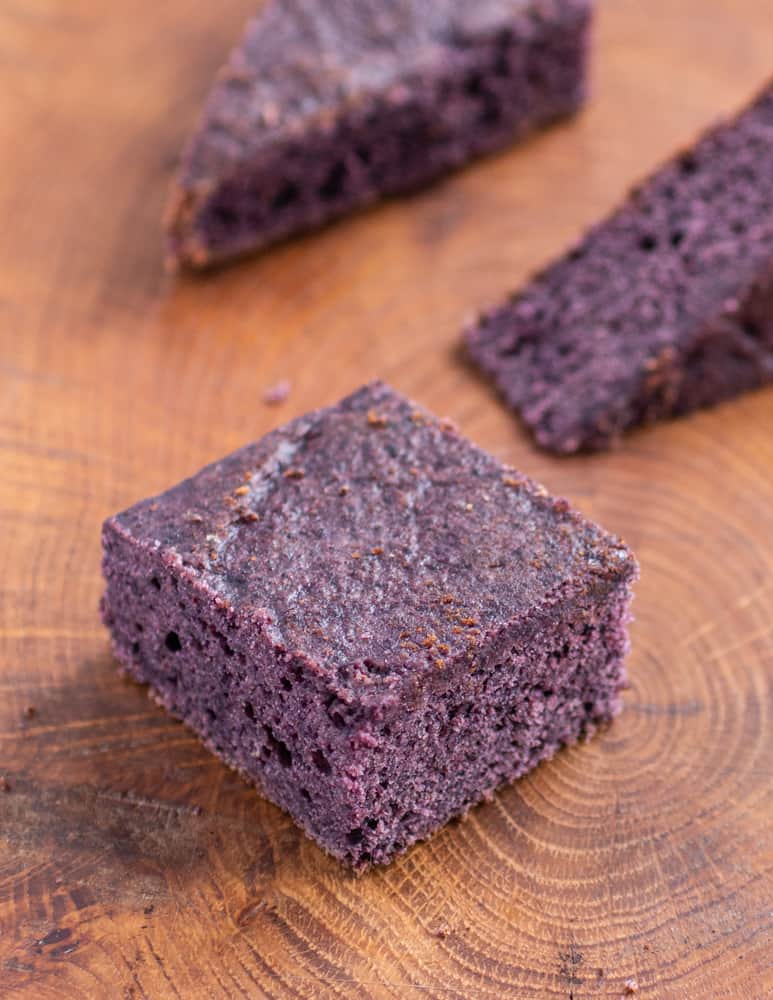 Wild grapes make a tart, and deeply grapey version with slightly more seed particles. Use your imagination, but try the original first.
The best part of the cake is the conversation you'll have while guests eat it. After people have had a few bites, I like to reiterate that there's no almond extract in the cake. The din of pleasure sounds that follow make good cover for you to sneak another slice before it's gone.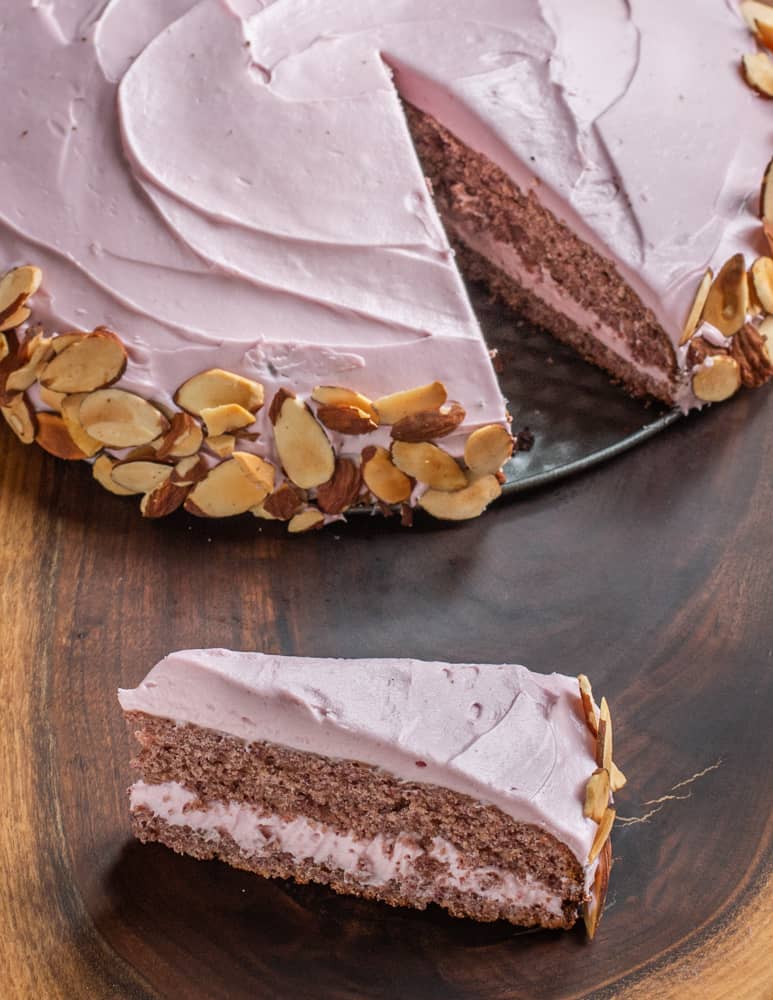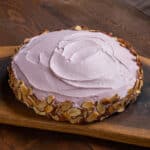 Print Recipe
Siberian Bird Cherry Cake
A modified version of traditional bird cherry cake made with dried, sifted wild cherry flour is one of the most incredible desserts you will ever taste.
Equipment
1 spring form pan

1 spice grinder or vita mix

1 sifter
Ingredients
Cake
1

heaping cup

150 g dried wild cherries. Or 1 cup of ground, sifted cherry flour.

1

cup

(120 g) all-purpose flour, or equivalent

⅛

teaspoon

kosher salt

1½

teaspoons

baking powder

2

large eggs, room temperature

¾

cup

(150 g) sugar

1

cup

(235 g) full-fat sour cream

2

teaspoons

vanilla extract or Galium Vanilla Extract
Cherry frosting
12

ounces

(340 g) full-fat cream cheese

4

ounces

(115 g) unsalted butter

4

ounces

(115 g) powdered sugar

Pinch

kosher salt

3

tablespoons

cherry gastrique

optional, this is mostly for color

3

ounces

(85 g) sliced almonds, toasted, for garnish
Instructions
Make the cherry flour
Grind the cherries as fine as possible in a spice grinder or high-speed blender.

If you use a spice grinder for the cherries, it will be very loud, and you'll want to grind 2 or 3 tablespoons at a time. Sift the cherry flour, saving the shells to make Wild Cherry Liqueur.

Sift the all-purpose flour, salt, and baking powder together, then mix thoroughly with the cherry flour and reserve. Preheat the oven to 350°F (180°C) and butter an 8-inch (20 cm) springform pan.

Whisk the eggs and sugar until doubled in volume, about 5 minutes, then whisk in the sour cream and vanilla extract. Fold in the cherry flour mix until completely combined.
Baking
Pour the batter into the pan, making sure it's evenly distributed (I use a small offset spatula to smooth the top, but a wet spoon also works). Bake for 25 minutes or until just set. Remove the cake and cool.
Frosting
To make the frosting, whip the cream cheese, butter, powdered sugar, salt and cherry gastrique (if you're using it) on high until light, fluffy, and doubled in volume, about 5 minutes. Scrape down the sides of the bowl and whip the hell out of it to get it smooth.
Assembly
Now you're ready to assemble your cake. Using a long knife, preferably 10 inches (26 cm) or longer, carefully cut the cake in half horizontally, keeping the layers as equal as possible.

Spread a generous amount of the frosting on the bottom layer of the cake (you're looking for a good ½ inch / 1.25 cm here) then put on the top and spread on the rest of the frosting using an offset spatula or a spoon.

Gently press the almonds into the sides of the cake to help cover up any lightly frosted areas or exposed seam, then slice and serve.

Kept in the fridge, lightly covered with cling film, the cake will last for a week.
Notes
Many different types of wild cherries can be used here, such as black cherries, pin cherries, or sand cherries. 
Nutrition
Serving:
1
slice
|
Calories:
218
kcal
|
Carbohydrates:
15
g
|
Protein:
3
g
|
Fat:
16
g
|
Saturated Fat:
10
g
|
Polyunsaturated Fat:
1
g
|
Monounsaturated Fat:
4
g
|
Trans Fat:
0.2
g
|
Cholesterol:
66
mg
|
Sodium:
183
mg
|
Potassium:
64
mg
|
Fiber:
0.2
g
|
Sugar:
8
g
|
Vitamin A:
582
IU
|
Vitamin C:
0.1
mg
|
Calcium:
63
mg
|
Iron:
1
mg
Related Posts
Cherry Pits: A Traditional Almond Seasoning