Come mid-to late August, green pumpkins will start to show, and one of the most interesting things I've made with them is green pumpkin mock-apple pie.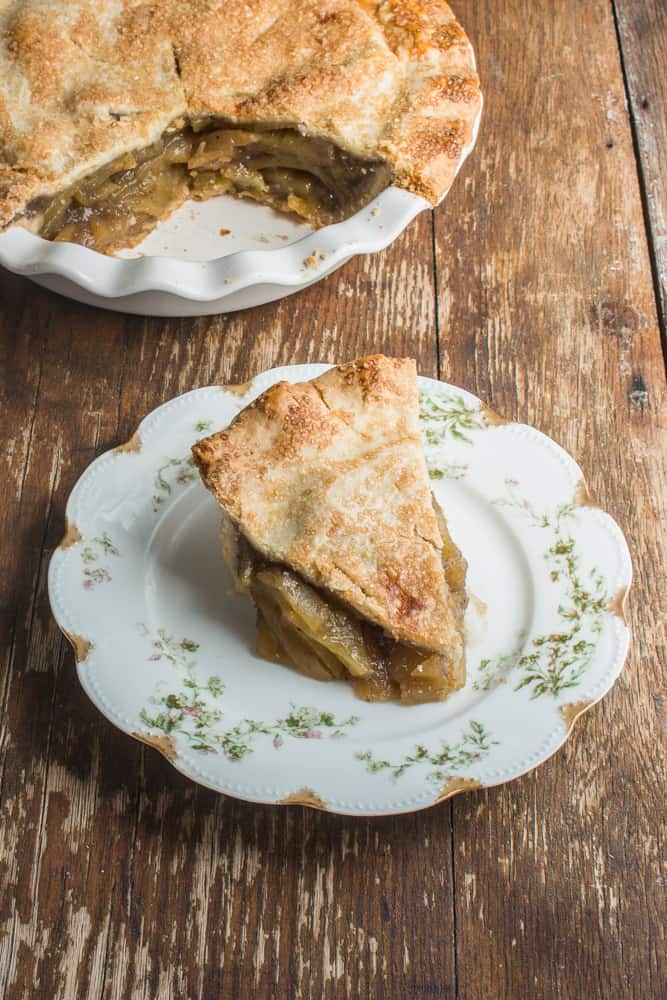 While I was writing the garden portion of my first book, I came across a few different references to squashes and gourds being cooked in their unripe stage-mostly pickles and achars from Nepali cuisine (although there's undoubtedly others). I found plenty of references to squash shoots and leaves being cooked too, which I already loved.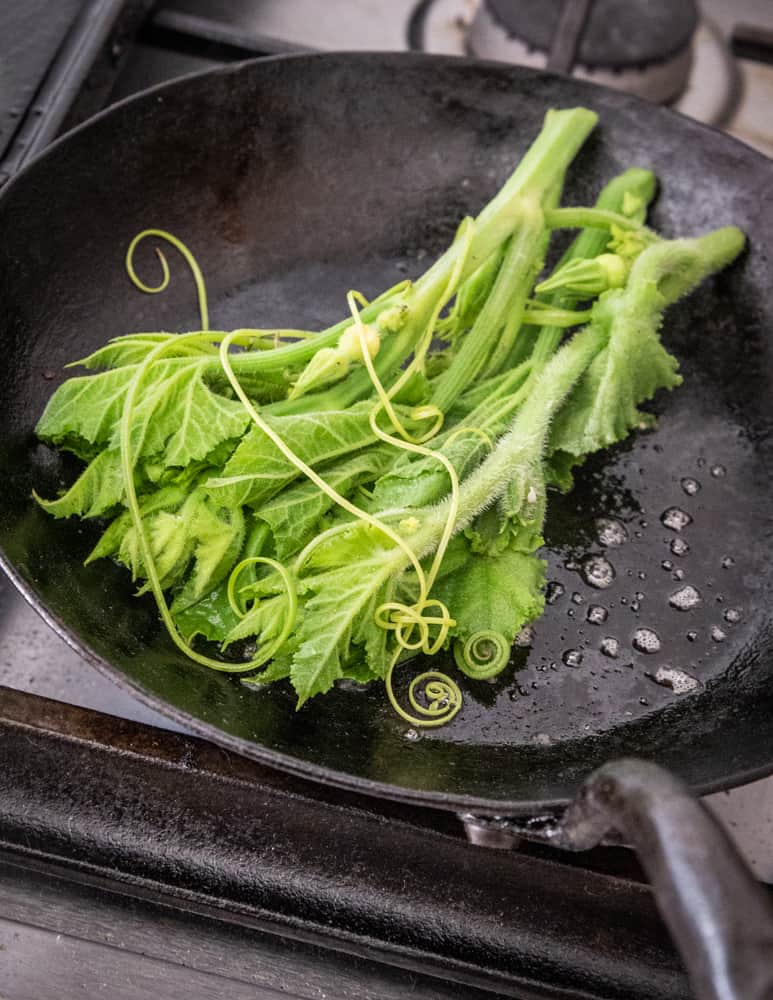 After reading about the tradition of cooking unripe squash in Nepal, I came across a passage in The Long Winter:
"Caroline, however did you manage to make a pie?" Pa exclaimed.
"What kind of pie is it?"
"Taste it and see!" Said Ma. She cut a piece and put it on his plate.
Pa cut off the point with his fork and put int in his mouth.
"Apple pie?" "Where in the world did you get apples?"
Carrie could keep still no longer. She almost shouted, "It's pumpkin! Ma made it of green pumpkin!"
Pa took another small bite and tasted carefully.
"I'd never have guessed it," He said. "Ma always could beat the nation cooking".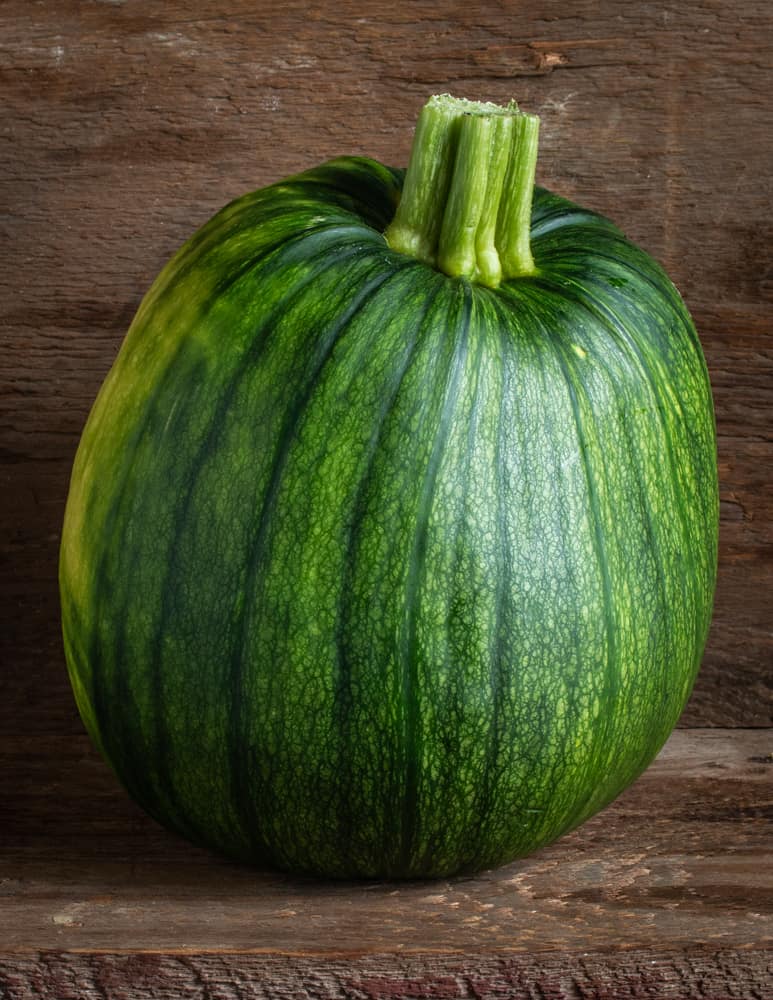 Why people eat green pumpkins (a theory)
If you read between the lines a bit there, the "why" of "why on Earth would you eat a green pumpkin" makes more sense. Paring back the layers a bit, it made me think. Consider the following two examples.
Making lemonade from lemons
Imagine you're growing squash in a garden as food and it's something you rely on. You don't have a lot of resources. A storm rolls through, or an animal breaks off a vine, and now your green squash is sitting on the ground and won't mature. Are you going to let that food rot into the ground, or would you try to salvage it?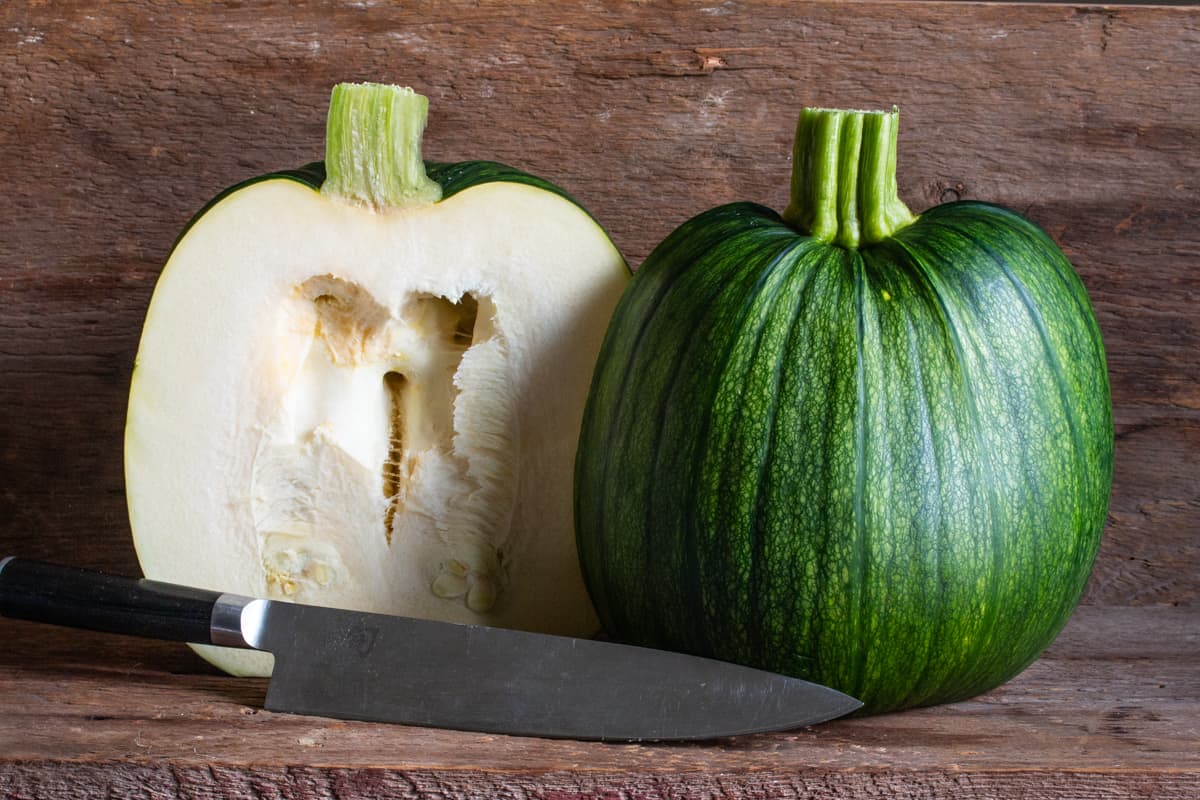 A different gardening paradigm
Another example is more of a view that's contrary to American gardening logic. Mostly we see the fruits of plants as an end product. With pumpkins, the ripe, orange orb is what's held as the end goal, and the best part.
But from a subsistence standpoint, harvesting food here and there from a plant as it grows throughout the season instead of managing a glut at the end has some benefits, especially if you need food in the moment.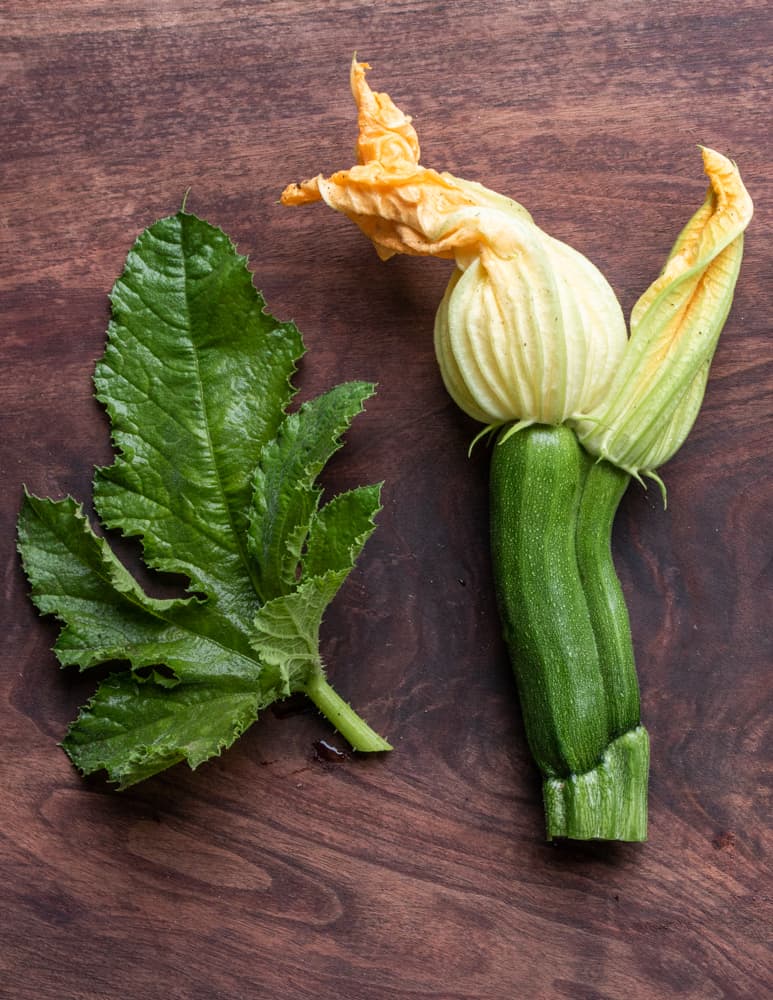 Making the Pie
Green pumpkin pie is basically a mock-apple pie. And if they aren't briefed beforehand, some people might not be able to tell the difference. After peeling, the flesh of the pumpkin has a texture similar to zucchini, meaning it's mild and takes on flavors well. After they're peeled, the pumpkin pieces are mixed with sugar, spices and vinegar to mimic the taste of apples.
There's a few recipes out there for mock-apple pie made with unripe pumpkins. Let's just say the pictures and reviews aren't very convincing. I think one of the reasons for that is people expect it to be strange, or a novelty. It takes thought and effort to make zucchini work in a dessert, and for it to succeed, you have to treat it like you care.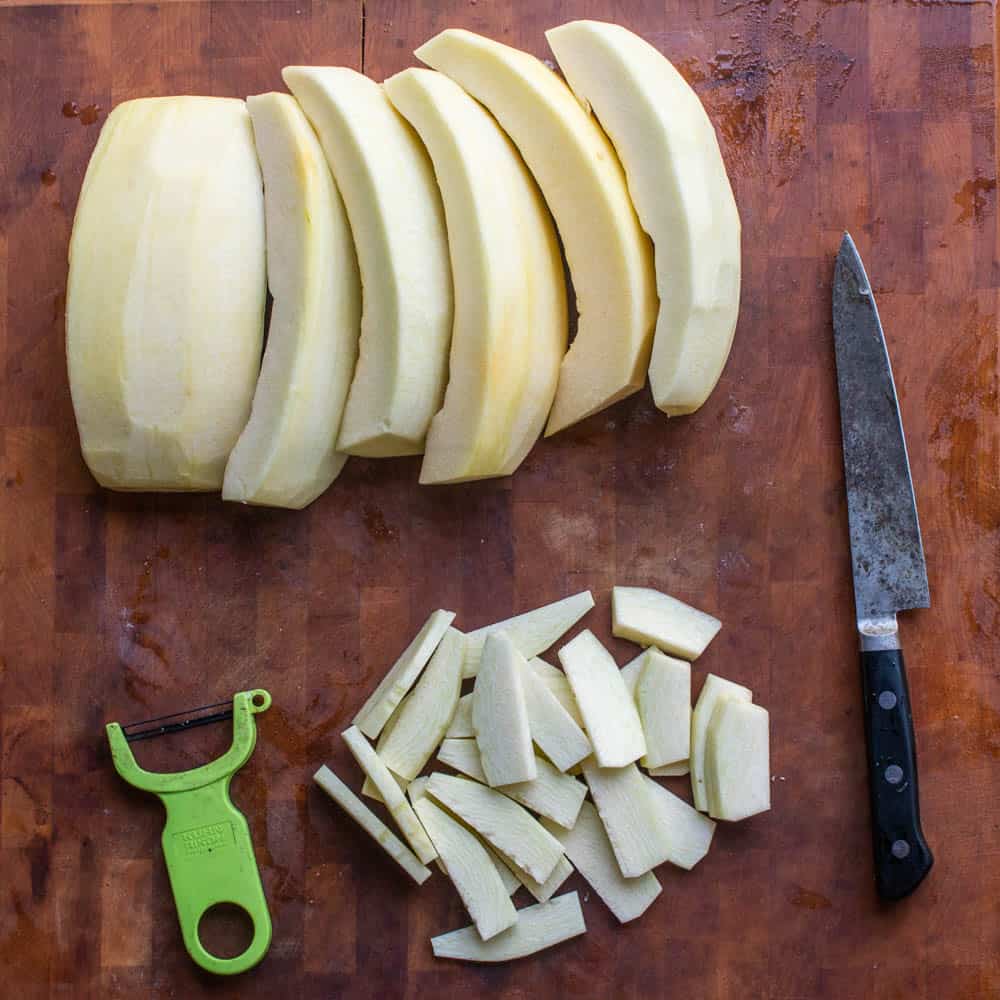 Squash contains more water than apples
The biggest hurdle with this recipe was the water. The first time I cooked a green pumpkin pie I followed the directions in the Little House Cookbook and baked up a sloppy, wet mess.
Most people, after having that kind of experience would write it off as something to never be made again. I think it's important to remember that recipes are an idea, not a mandate. If you like the idea of a recipe but not the outcome, more often than not you can tweak it to become what you wanted.
The missing part of the original recipe here is that squash and pumpkin contain more water than apples. Cooking the squash down a bit first to remove excess liquid fixes that, and from there all you do is put it into a pie crust and bake it like just like prepared pie filling.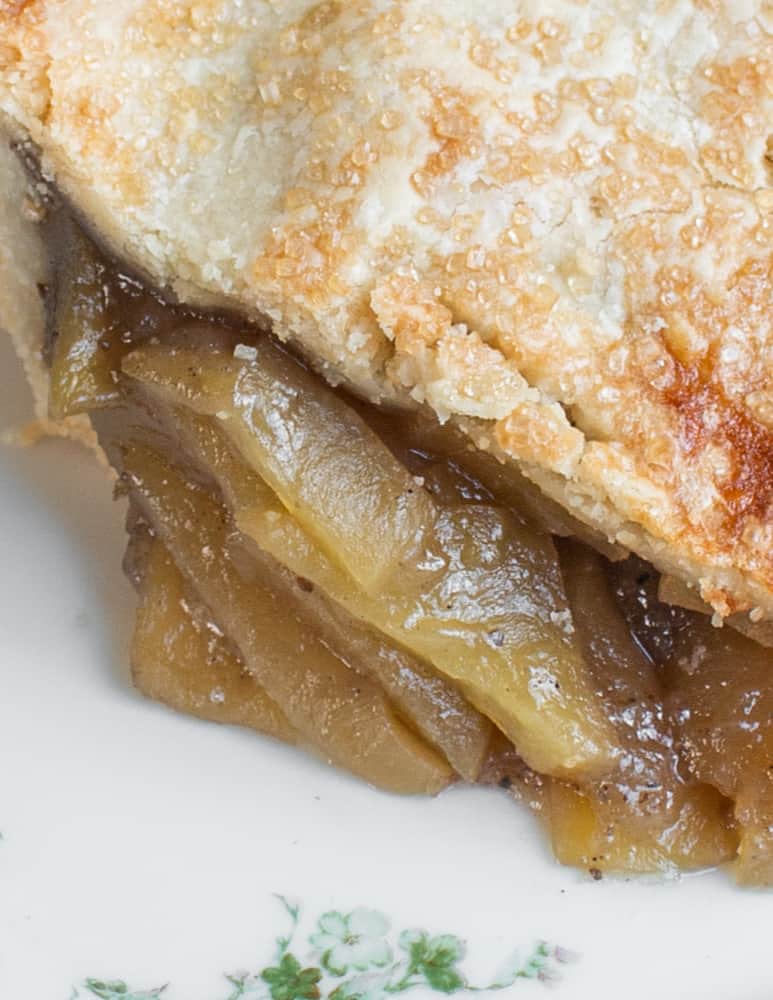 Can you use squash?
Yes, absolutely. I've made this with green butternut squash as well and it worked just fine.
Is it worth it?
The big question. For me, absolutely. I love this recipe because it tastes good, and the novelty is fun, but it's also a teaching example rooted in historical foodways. Everyone with a garden seems to have squash and pumpkins coming out of their ears in the summer, and just knowing that they're even edible unripe (and not poisonous) is a new thing for many people.
Lastly, unripe squash and pumpkins are good for savory dishes too. If you don't feel like making a pie, they make a good soup vegetable, or they can be cooked any way you would zucchini. Whether you try your hand at the pie or not, I hope you can take away a new appreciation for squash, pumpkins and gourds.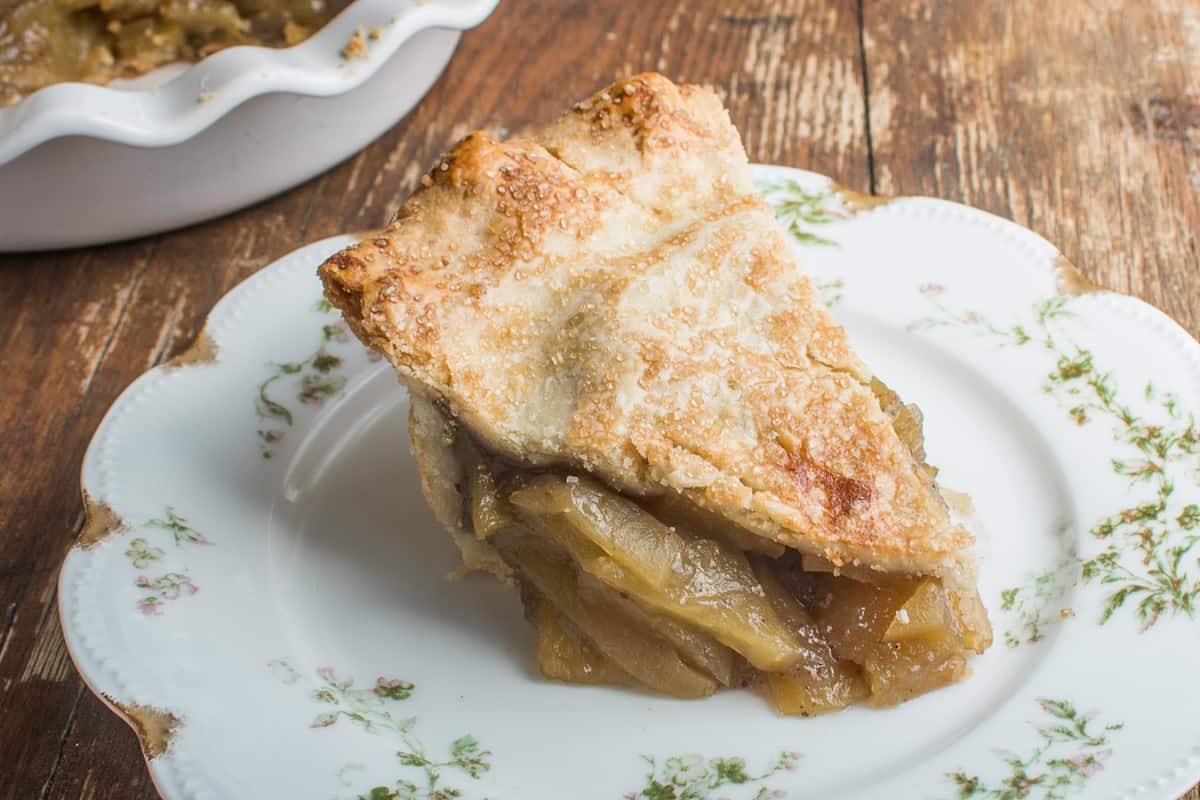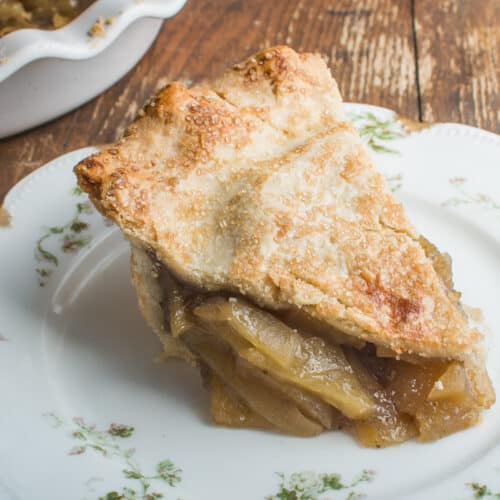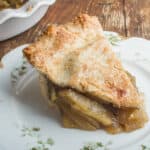 Print Recipe
Green Pumpkin Mock Apple Pie
Mock-apple pie made from unripe green pumpkins that actually looks and tastes good. Inspired by a recipe from Little House on the Prairie.
Ingredients
Double piecrust
2

cups

(240 g) all-purpose flour

1

teaspoon

salt

1

teaspoon

sugar

8

ounces

(225 g) unsalted butter, cold

½

cup

(125 g) full-fat sour cream

1

teaspoon

Galium Vanilla Extract

page XX or vanilla extract (optional)

1

whole egg

beaten very well without water, for brushing the crust
Filling
1

small green pumpkin

about 6 pounds (2.6 kg)

10

ounces

1.5 cups (285 g) maple sugar or brown sugar

½

cup

(135 ml) apple cider vinegar

4

tablespoons

cornstarch

¾

teaspoon

ground cinnamon

⅛

teaspoon

ground cloves or allspice

½

teaspoon

ground nutmeg

½

teaspoon

ground ginger

¼

teaspoon

salt

Beaten egg white

for the crust

Coarse sugar

for the crust (optional)
Instructions
Crust
To make the crust, combine the flour, salt, and sugar in a mixing bowl. Cut the butter into ½-inch (1.25 cm) pieces, then add to the flour and mix to a coarse meal. Add the sour cream and the extract (if you're using it), and combine just until the ingredients come together into a dough.

Divide the dough to create two flat disks; wrap these in cling film or fit in a tightly sealed container and let them rest for at least 15 minutes in the fridge, or until needed.
Filling
To make the filling, cut the pumpkin into quarters, then peel. It will take about four to five strokes with a vegetable peeler to get past the multiple skins and sinew of the pumpkin.

Completely remove any foamy portions attached to the unripe seeds. Cut the quarters in half, then cut into ¼-inch-thick (6 mm) slices to resemble apple slices, and reserve 2½ pounds (1.1 kg) (a scant half) of them for the pie. Save the remaining pumpkin for another purpose.

Toss the pumpkin with the sugar, vinegar, cornstarch, spices, and salt, and allow to macerate for 20 minutes, tossing occasionally.

Transfer the macerated pumpkin and the liquid, scraping out the bowl, to a 12-inch (30 cm) cast-iron skillet (or similar). Heat to a brisk simmer, stirring occasionally, then turn off the heat and cool for 15 minutes to evaporate some water. It should look like prepared pie filling.
Cooking and Serving
Preheat the oven to 350°F (180°C). Roll out the bottom piecrust and set in an ungreased pie pan. Transfer the filling to the lined pan. Roll out the top crust and gently place it on top of the filling, folding the top crust under the bottom crust's edges.

Crimp the edges, brush liberally with the egg white, sprinkle with the sugar (if you're using it), cut a few slits in the top to allow air to escape, then bake 45 to 55 minutes. Allow the pie to cool to room temperature, then serve.
Related Posts