Squash and pumpkin shoots are edible and delicious. They're also a traditional food in Mexico, Nepal, and China. If you've never had them before, you're missing out.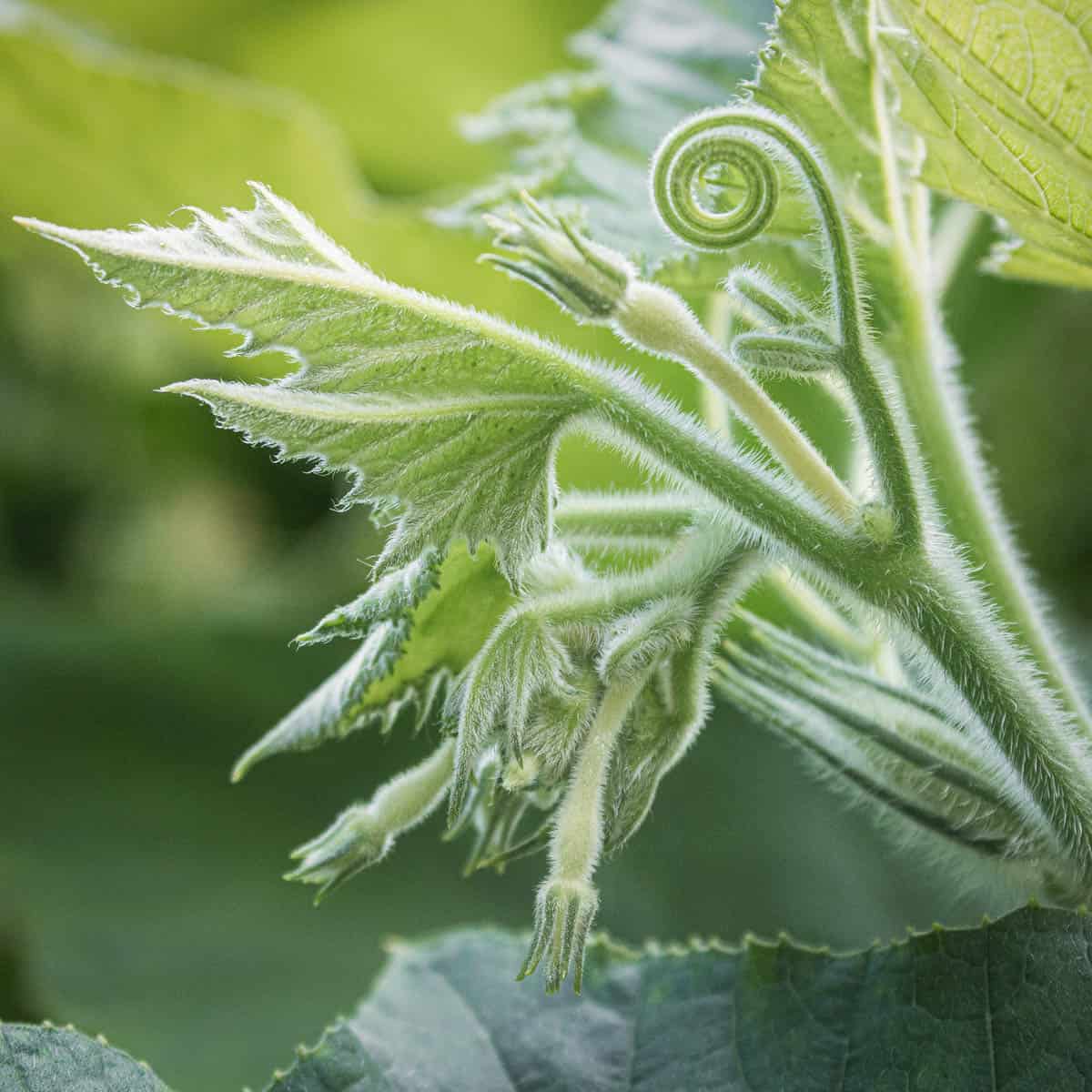 A few weeks ago I was walking through the garden picking squash blossoms when I saw these little curly-cue guys here and there in the squash and pumpkin patches. There was a dialogue in my brain that went like this:
The squash is growing on a vine
Peas grow on a vine
I eat peas, and I love their shoots
These are squash shoots, and I want to eat them
The twisty vines looked pea shoots, but they seemed more hearty and firm, with even more of the curly-cue tips that make pea shoots so elegant, and some even with miniature squash just beginning to take shape.
I looked them up on my phone quick and found a few pictures and a recipe or two, some of them mentioning squash and pumpkin shoots being eaten in Nepali cuisine, which was enough evidence for me to justify clipping a few off into my basket with the squash blossoms, just in case, I took one of the trombincini squash they were growing from too, so I could cook all of the plant's parts together.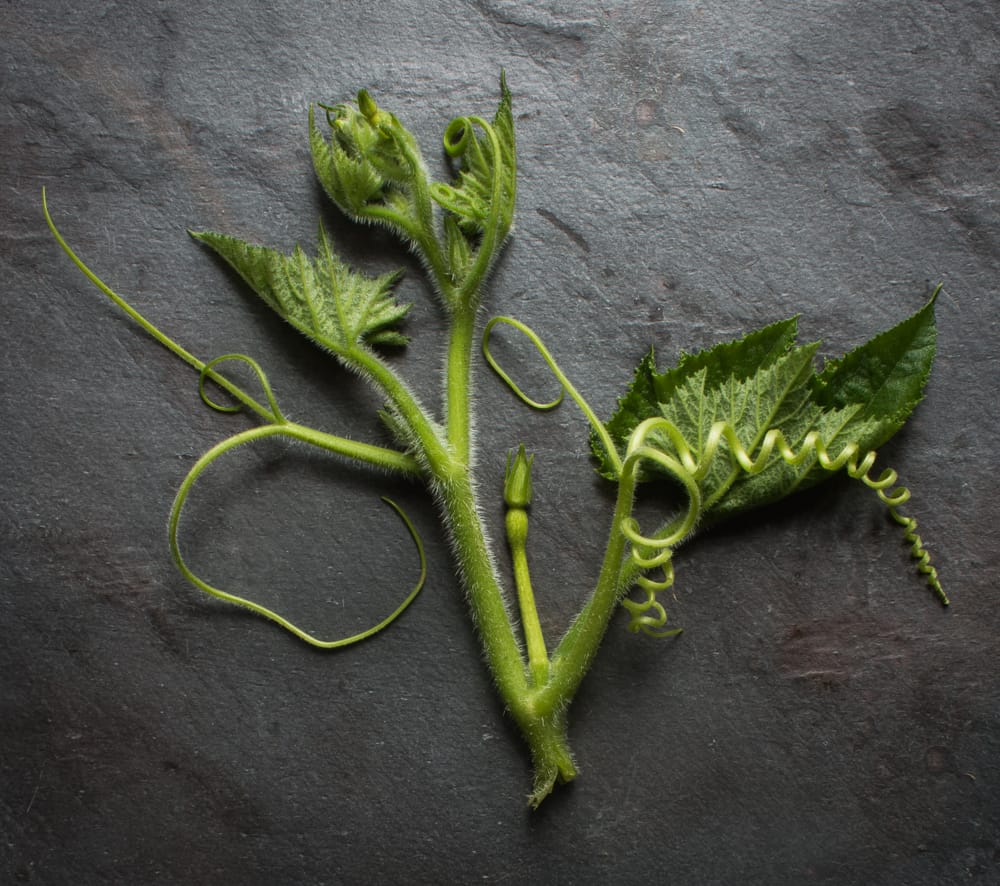 I ended up cooking the blossoms and forgetting about the rest for a day, so I only cooked the squash and the shoots together-they were great. If you've got a garden or friends with one you should run outside, check out the shoots and clip a couple of these crazy looking things.
As far as preparing them goes, to clean them you have two options from what I can glean: peeled or not peeled, since the stems have a kind of bristle-y texture. I just left them like they grow, and didn't mind the bristles since they soften a bit after cooking, but if you cook one and don't like it they can be brushed quick with a scrubbie to be less "textural".
Here's a fun way to cook them and summer squash together.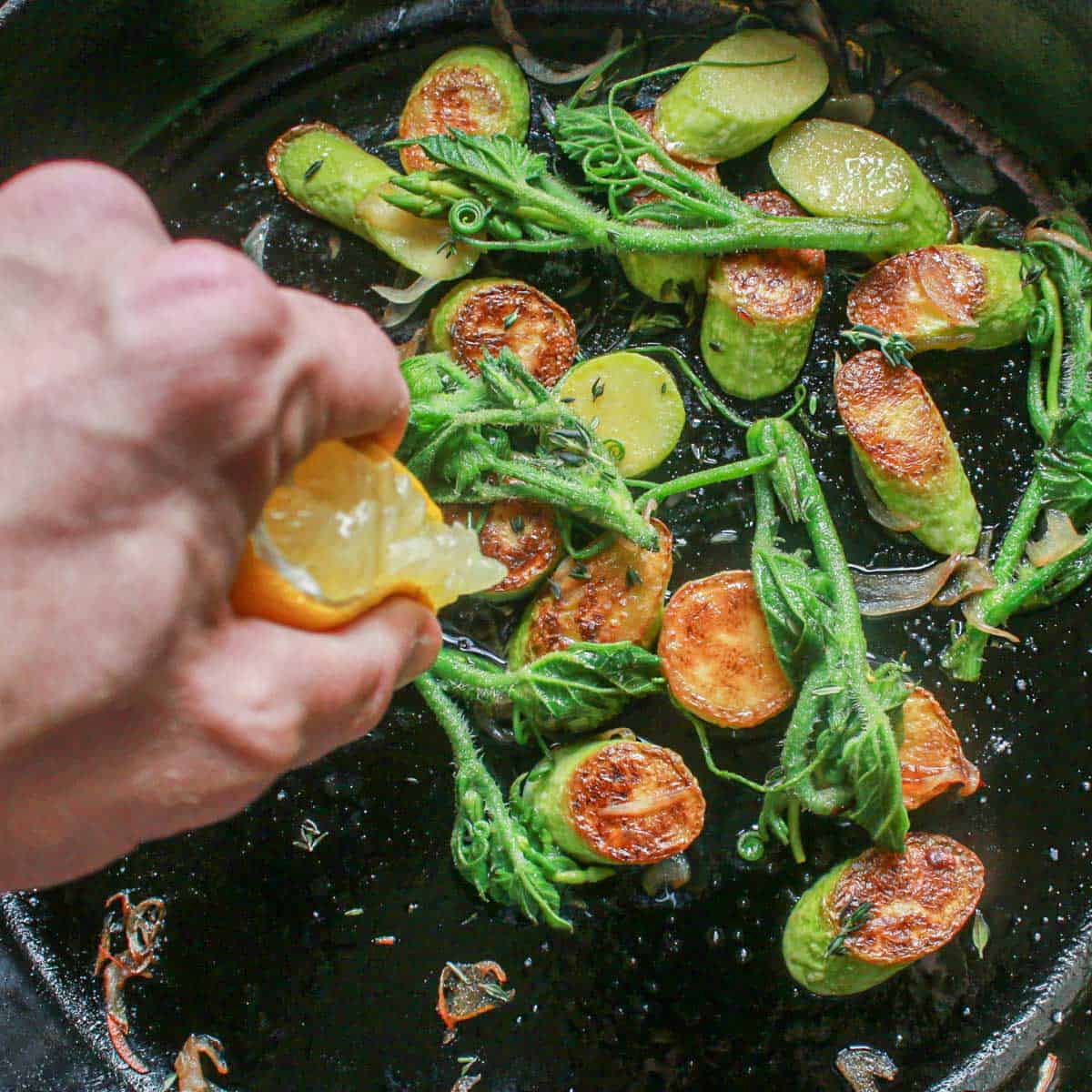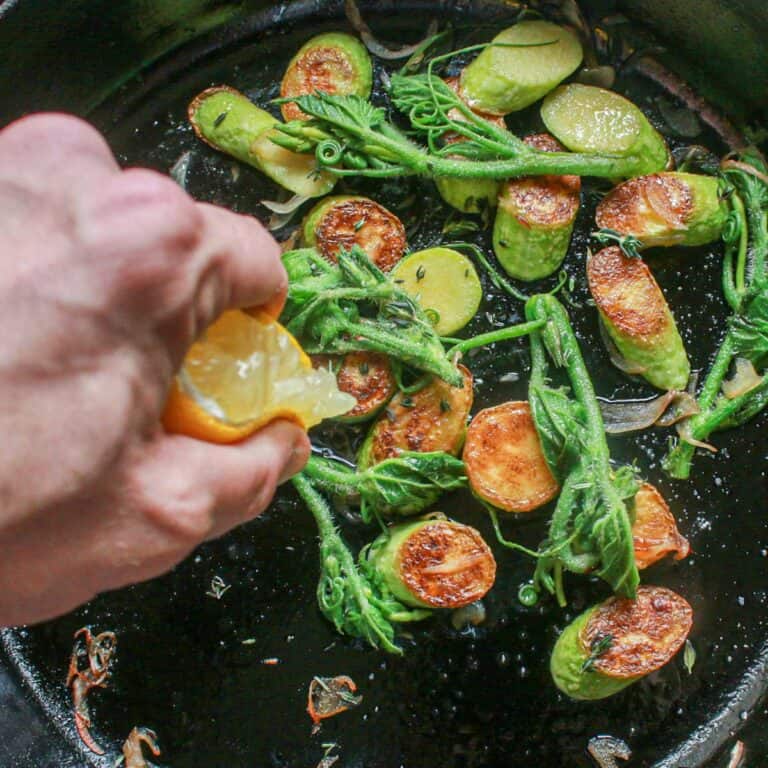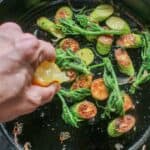 Print Recipe
Sauteed Squash and Squash Shoots
Serves 2 as a side dish
Ingredients
3

oz

young squash shoots

cut into 4 inch pieces

Roughly 3 ounces young summer squash

cut into 1inch x 1inch pieces

2

tablespoons

high heat cooking oil

1

tablespoon

unsalted butter

Kosher salt and fresh ground black pepper

Pinch

of fresh chopped thyme

¼

cup

shallot

sliced thin

Fresh squeezed lemon juice

to taste
Instructions
Heat the oil until nearly smoking in a wide saute pan, add the squash and cook until browned on one side, season lightly to taste with salt and pepper, then flip each piece of squash over to caramelize the uncooked side, add the shallots and thyme to the pan and cook for 2 minutes more.

Add the squash shoots and give the pan a quick toss, then cover the pan, reduce the heat to low, and allow the shoots to steam gently, keeping an eye on them to prevent over cooking.

When the squash shoots are just tender, add then butter and toss to coat the vegetables, then taste a piece for salt and pepper, adjust as needed, sprinkle with lemon juice to taste, then serve immediately.
Notes
The shallot here is optional, a little garlic, or no onion character at all would be fine too. Basil or mint could replace the thyme, use whatever you have on hand that sounds good. Sesame, soy, ginger and chili would be good additions too.
Nutrition
Serving:
3
oz
|
Calories:
195
kcal
|
Carbohydrates:
5
g
|
Protein:
1
g
|
Fat:
20
g
|
Saturated Fat:
5
g
|
Polyunsaturated Fat:
4
g
|
Monounsaturated Fat:
10
g
|
Trans Fat:
0.3
g
|
Cholesterol:
15
mg
|
Sodium:
4
mg
|
Potassium:
100
mg
|
Fiber:
1
g
|
Sugar:
2
g
|
Vitamin A:
176
IU
|
Vitamin C:
2
mg
|
Calcium:
13
mg
|
Iron:
0.4
mg