For me, the matsutake it is the king of all varieties I would transport to my local Minnesota woods if I had the power.
Culturally, the matsutake is definitely a Japanese mushroom. There are plenty of stories about their love for it as a symbol of autumn and longevity, along with haiku poems and plenty of ceremony.
I've talked about the fanaticism of Eastern European families who hunt mushrooms, but in Japan, matsutake are actually boxed up individually and sold as gifts. They so far are the only culture I know of to do this.
The book Mychophilia by Eugenia Bone has some interesting information:
"In 1992, the New York Times reported that Japanese businessmen spent as much as 240$ American for a box of three or four mushrooms"
"In 2007, The North Korean leader Kim Jong II gave President Roh Moo-hyun of South Korea 500 such boxes equaling 4 tons of matsutake mushrooms prior to a summit meeting."
Apparently, Japanese harvest of Matutake has been steadily declining, possibly due to problems with their environment and habitat. To meet the demand for them, other sources of matsutake have been uncovered in China, Korea, Sweden, Mexico, and of course, the American Pacific Northwest.
Before they began to be harvested from China and Korea and the market began to get saturated (they are still very expensive) their price could be as much as 17-53/lb wholesale in Japan, with indigenous Japanese specimens typically fetching around twice as much. (Some say they are the same mushroom, but American Matsutake are differentiated by the name Tricholoma Magnivelare, whereas Japanese are known as Tricholoma Matsutake)
As with many things that cost a lot of money, matsutake have developed a bit of a reputation for being coveted. Commercial pickers scour our national forests in the Pacific Northwest each year in the fall looking for them, and matsutake patches are closely held secrets. There are numerous reports of people hiding out on trails robbing commercial pickers at gunpoint, and other, much scarier tales.
From Mycophilia:
"Stories about matsutake related violence in national forests (one man shot through the heart, his mushrooms missing; five dead in a prime matsutake patch, etc.) Have receded into legend."
Other related links :
So whats the big deal with matsutake?
It is all about the aroma and flavor. I have cooked many, many different species of mushrooms, but as far as strange flavors go, the matsutake really takes the cake. In fact, it's flavor is so strange that it is hard to even describe.
It's been said they're cinnamon like, piney, woodsy, like rotten earth, or even fishy. David Arora describes it like smelling a combination of red hots and dirty socks.Their flavor is so strange that I have served them to people that love mushrooms, and flat out do not like matsutake.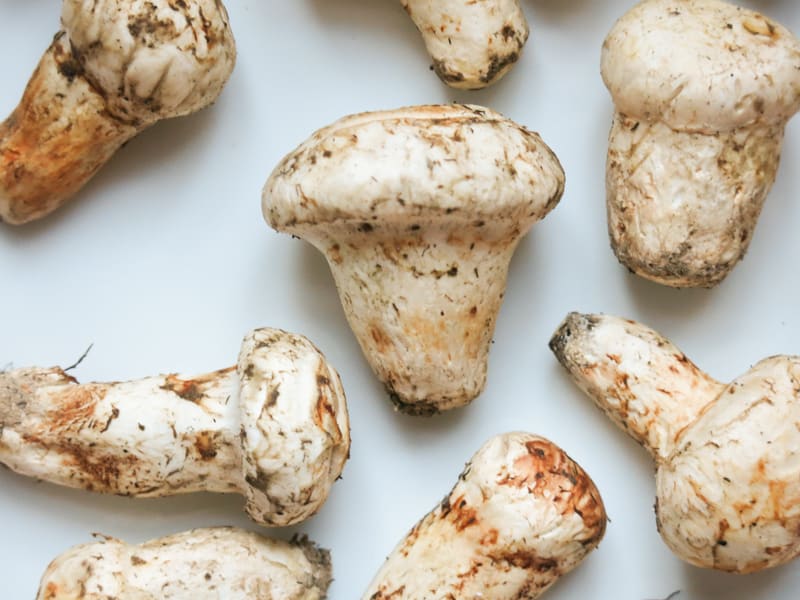 I'd love to tell you where to go and pick these, but unfortunately, since they don't grow in the Midwest I have to go off of the advice of others here. Matsutake grow in the company of coniferous trees, buried underneath the needles and duff. They are exceedingly difficult to find from what I read about hunting them but there is a special key I discovered while watching some videos and doing a bit more research. Apparently there is a plant called the candy stick (Allotropa Virgata) that feeds on the underground mycelium of matsutake.
Age and Grade of Matsutake
These are often sold by wholesalers under number a classification, 1, 2, 3 etc, 1's being the youngest, with the veil unbroken. All you need to know is that number 1's will have the most potent flavor, after the mushroom has broken the veil and started to mature and get large, the flavor leaves, quickly.
Cooking
Things get really interesting with these in the kitchen. The flavor of matsutake is pretty connected to Japanese food and flavors, they seem like they were born to be together. Like many other foods though, it won't do to cook them in a pan with a bunch of other stuff, their flavor will be lost entirely. First off though, you need to clean them, and this is easier said than done.
What happens is that unless you are picking them yourself, they've probably been sitting in a box or in a grocery store for a while. As the mushrooms sit, they tend to dry out, which makes the sand and dirt stick to their flesh, making it very difficult to remove. To clean matsutake, I like to peel them with a vegetable peeler, reserving their trim for the making of powerful stocks and broths.
Here are some things I have discovered after playing with them for the past couple years:
Matsutake would not liked to be cooked with any sort of cheese. Forget the mushroom risotto here, it would taste gross, unless cheese-less.
The aroma of matsutake is powerful, make darn sure to save your trim from the stems and caps for infusing almost any sort of broth.
Cooking matsutake on high heat in a saute pan will make their aroma waft into the air, it will also bloom their flavor before they are added to another dish. So if you are making matsutake soup with sliced mushrooms, saute them and put some color on them before adding the broth, you'll get a richer flavor.
Matsutake have a natural affinity for fish and seafood.
Curiously, matsutake are one of the only mushrooms I would never advise you cook in the company of cream. It is hard to explain, but their flavor needs clean, bright, vegetal things.
Recipes
As a rule Matsutake *generally* shouldn't be used interchangeably with other mushrooms in recipes since their flavor is very different. Here's some recipes I've made for them, or where they could be substituted successfully.