I got a fever, and the only prescription, is more matsutake! In this post, I'll share how I cracked the code picking matsutake in Northern Minnesota and Wisconsin. It's taken me years to be able to share this with you.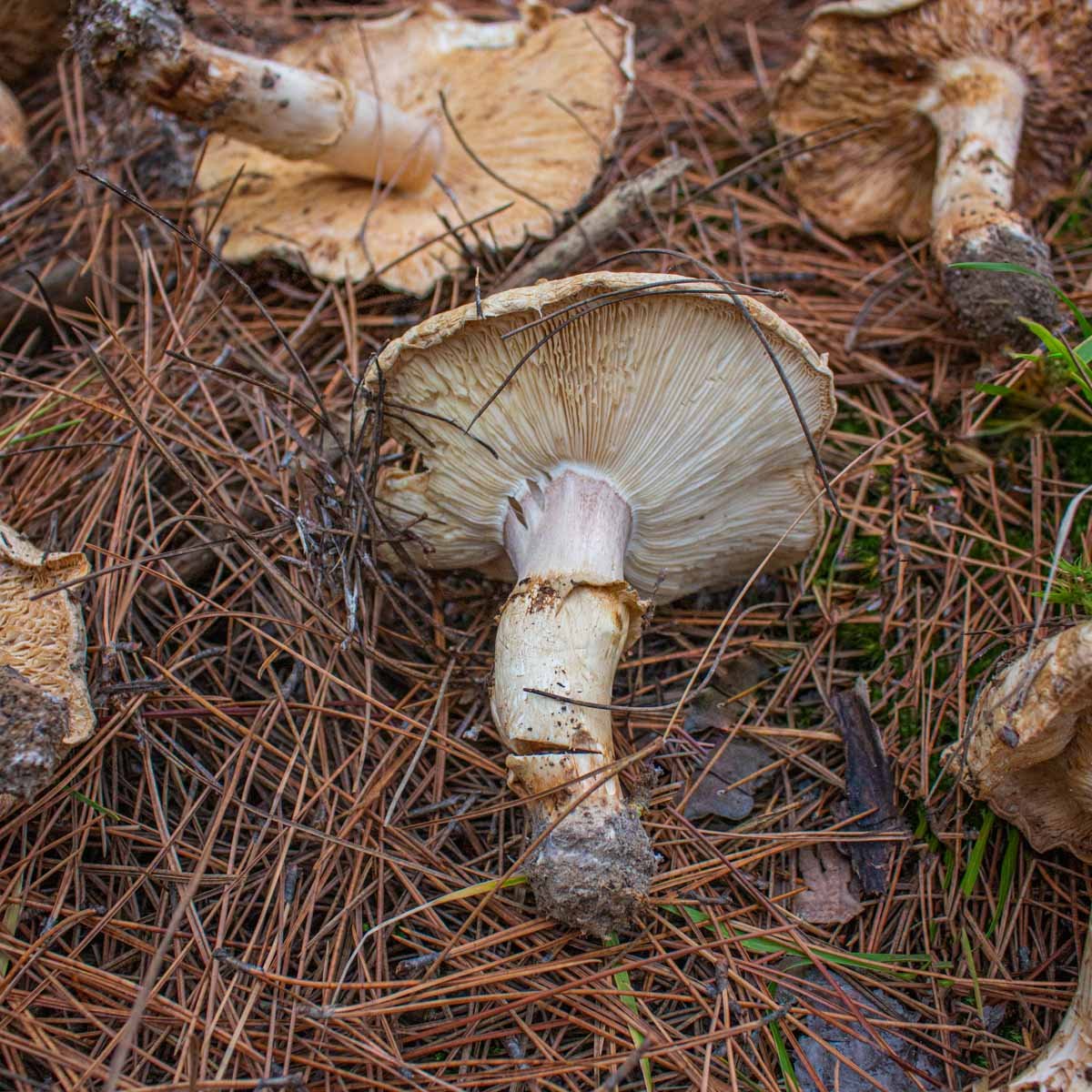 Hunting matsutake in Minnesota, or the Midwest in general seemed like an unknown thing until a few years ago, with the exception of a few talented experts I know of like Tavis Lynch from Cumberland, who mentioned to me in passing he used to hunt them in the U.P. of Michigan.
On the West Coast, the opposite is true, and matsutake are harvested both by commercial and belly-feeding hunters, and then exported or sold domestically through wholesale purveyors like Foods in Season. The Midwest game is different, and in Minnesota and Wisconsin, matsutake are nothing short of a mushroom hunter's holy grail.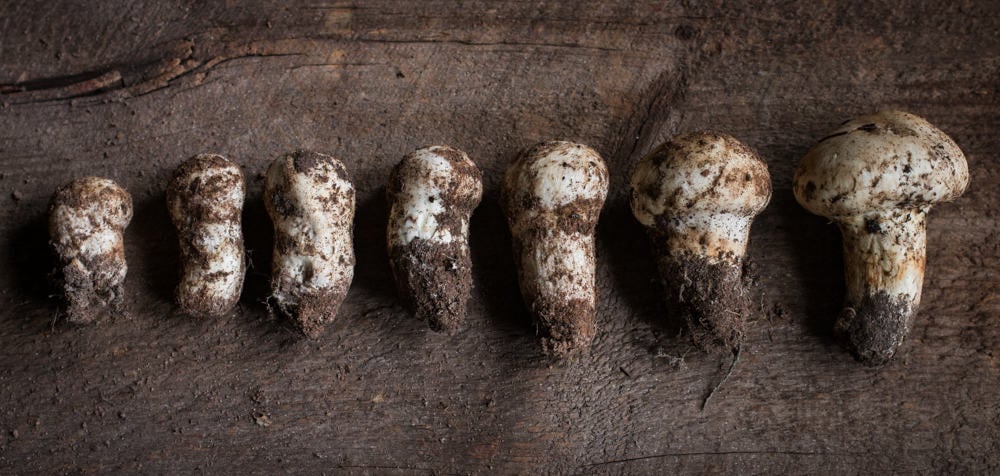 A couple years ago I was lucky, and someone was nice enough to show me a patch where they grow. If you're reading this, you know who you are, and you know how much that meant to me. Thank you.
So, just for posterity, if you have a matsutake patch, and you would like to be friends, shoot me an email--we can make that happen. 🙂 Anyway, a free meal of local matsies is great, but the golden nugget, the missing piece of the puzzle, even more than the taste of one of nature's most curious flavors, was to see the terrain, so I could set out on a grail quest of my own.
This past year, I finally got around to planning a trip just for matsutake. I took some maps, set aside a week, planned as much as I could with what I know, and left on an expedition to terrain I'd never been to. A lot of hiking, a couple hundred miles of car travel and plenty of hotel bills later, I found a new patch to call my own, and, so can you.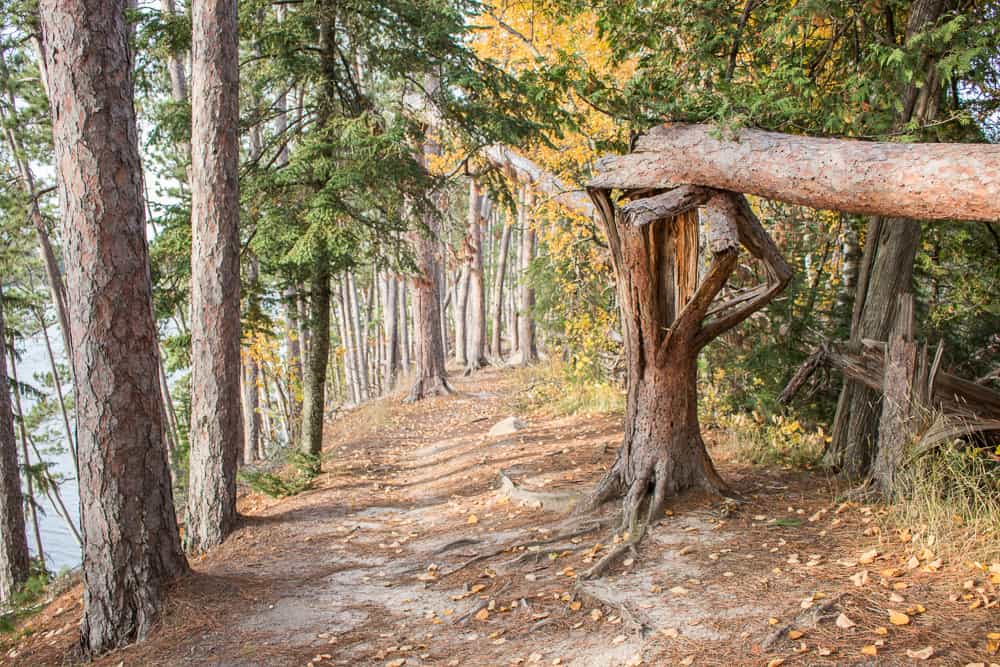 I'm just a nature loving cook, not a botanist, geologist, or a mycologist, but what I lack in botanical and geological acumen I'd like to think I make up for in force of will. I told myself that come cold rain, bears, wolves, typhoid, dysentery, broken wagon wheels, or being shot by a grouse hunter, nothing was going to stop me.
So, I'm going to try and help you find your own, because I think more people need to taste them, and because I think hoarding knowledge can eventually be a synonym for squandering.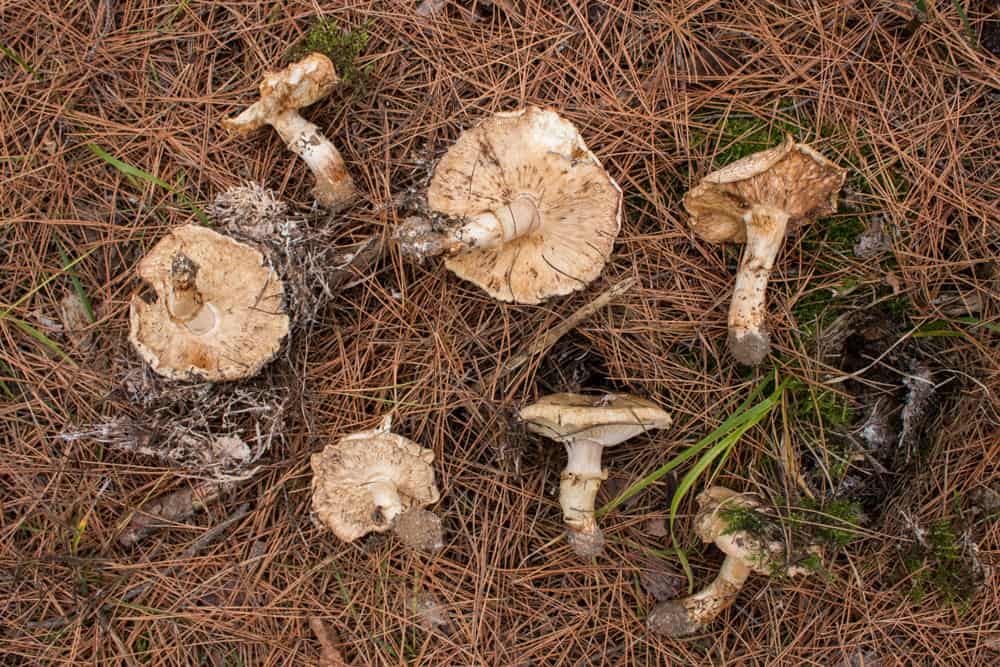 Big Takeaways
Here's the condensed version of this post in bullet form:
Start looking in pure red pine stands
Look for old mushrooms, during the tail end of the season, typically the middle to end of October
You're looking for fine, sandy soil
Water is often nearby in some form
Sightings start in the northern ⅓ of the state
You may be looking for mushrumps, or barely visible bumps in the pine duff
Study the differences between matsutake and look-alikes, especially Catathelasma imperiale and Tricholoma caligatum
Your nose is a tool, If possible, buy yourself a few matsutake to train yourself on the smell--nothing else smells like them
Layering Method (Process of Elimination)
You might be thinking: "cool story Alan, that doesn't exactly help me narrow down where to look in roughly 28,000 square miles of terrain", and you'd be right. We need some help narrowing it down.
The way I did that was using something I call the layering technique of hunting, a concept/method I started applying to hunting specific ingredients after Sam Thayer told me how he found highbush blueberries in a place he'd never been to, by only using maps, some Latin, and the power of deduction on his first try.
The "layering" here refers to a simple process of elimination, applying different layers of information that remove unlikely hunting land. For example, I decided one layer to be that ⅔ of the state is removed outright, narrowing our search to only the upper ⅓.
From there, I took the top ⅓ of the state, and began looking at good looking land I could hunt within the ⅓. It may seem trivial, or like something you already do, but the mindful, methodical approach has helped me with alot more than mushrooms, and learning to hunt specifically for new foods, as opposed to just picking the things you know and are comfortable with, is a lost skill set, to say the least.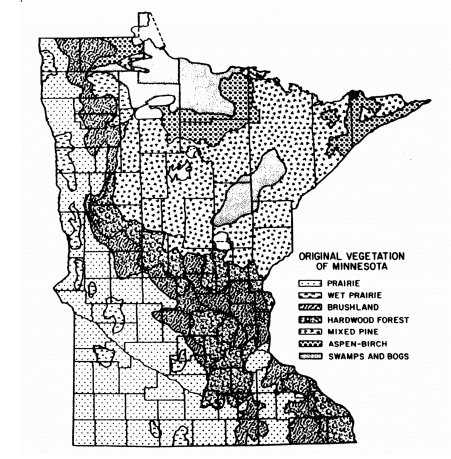 Pure Pine Plantations, and Sandy Soil
I knew, without a shadow of a doubt, that others had been finding them in red pine plantations, so I added that to the formula. I also started looking at certain locations I thought looked promising both in the atlas and then with Google Earth, which lets you zoom in to see terrain, (and allows you to brag to your friends that you're a techno-badass who hunts mushrooms via satellite).
From there, I coordinated the plantations and pure pine stands I thought looked good with possible hunting land consisting of state parks, WMA's, and private land, as well as consulting the Onx hunt app to help determine other specific private and public land locations not visible in the other resources, which was a big help.
One thing to note that's important is something Sam mentioned to me once driving in the pine barrens: "Alan, look at the vegetation as we drive, you can literally see the ph of the soil change with the plants". I'm paraphrasing him, and I'm not a geologist, but it's true. What you see above ground resembles what's below ground.
How does this apply to matsutake? Simple: for me, it was that only areas of the purest pine would do. In a pine plantation, this all has to do with the understory. Are there tons of aspen seedlings? Move along. To make things confusing, an area of pure pine within a plantation with aspen seedlings around it could work, and you can see some seedlings in the background of my image above.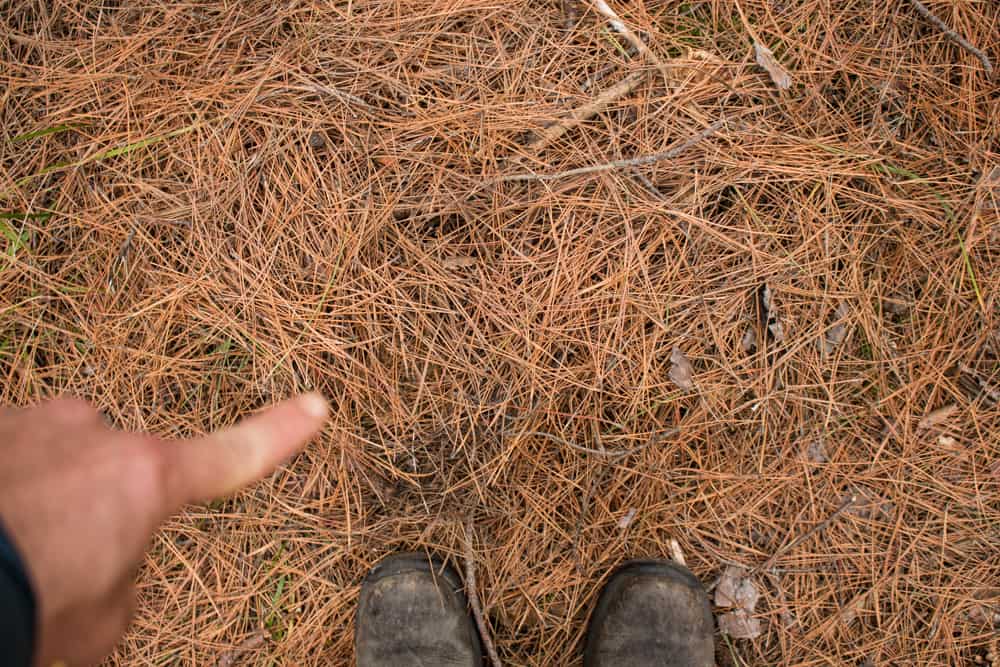 Mushrumps and Mushbumps
These relate to the general timeline of harvesting, and to the lumps caused in the pine duff from emerging mushrooms. It takes skill to see them at first, but once you break through the magic-eye, it gets easier.
The general timeline here is that I've seen matsutake growing from the beginning of September to the middle of October, but you want to go near the end of the growing cycle if your hunting for new patches, since it's easier to see older mushrooms poking up from needles than young ones, which can be invisible.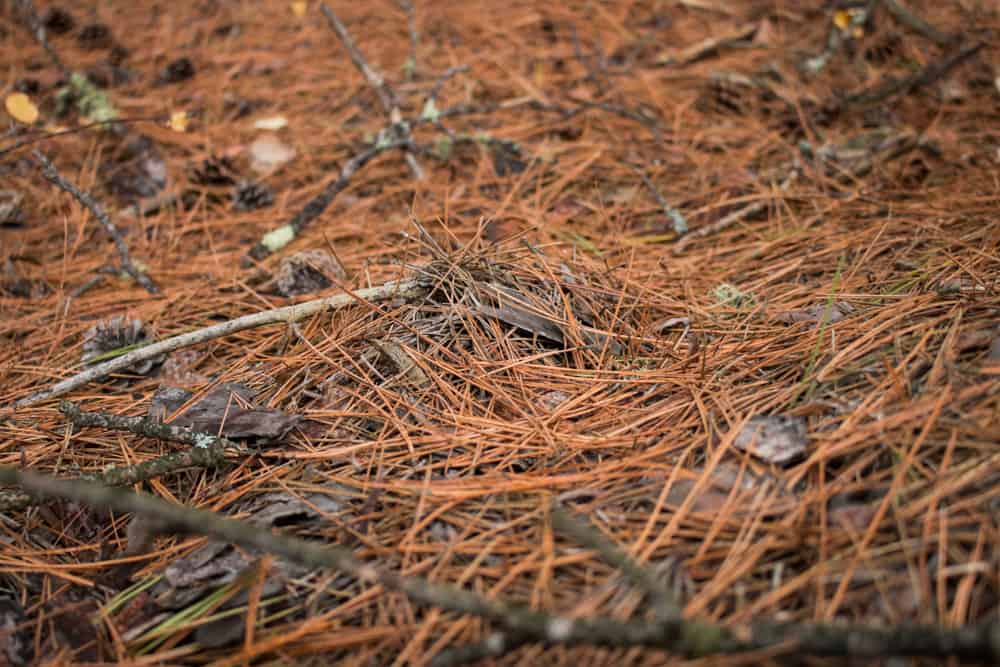 Companion Plants
Another indicator of proper hospitable terrain, at least in Northern Minnesota, seemed to be a couple of well-known acidic soil-lovers. For starters, blueberries, wintergreen, small needle-decomposing species of Claviradelphus (club fungus) pine-associate Ramaria mushrooms all come to mind.
But, the most notable, and one of the things that made my spidey sense go off that led me to the patch pictured in this post, was seeing reindeer lichen (Cladonia portentosa).
Pine Barrens
An aside here. Looking in pure red pine plantations is not an exact science, but it was the easiest place to start. After consulting David Arora, I noted that matsutake will also grow in Pine barrens, which makes sense since I've picked them with pure jack pine before.
I've also received emails from at least 2 people inquiring about matsutake identification that I know are hunting around barrens in Minnesota. Tuck that in your hat for a rainy day.
Mushroom References
Guide to Matsutake (Pine Mushrooms)
Tricholoma focale (another look alike, but I haven't seen it in MN)
Reindeer lichen (Cladonia portentosa)
Hunting and Terrain
Minnesota Wildlife Management Areas