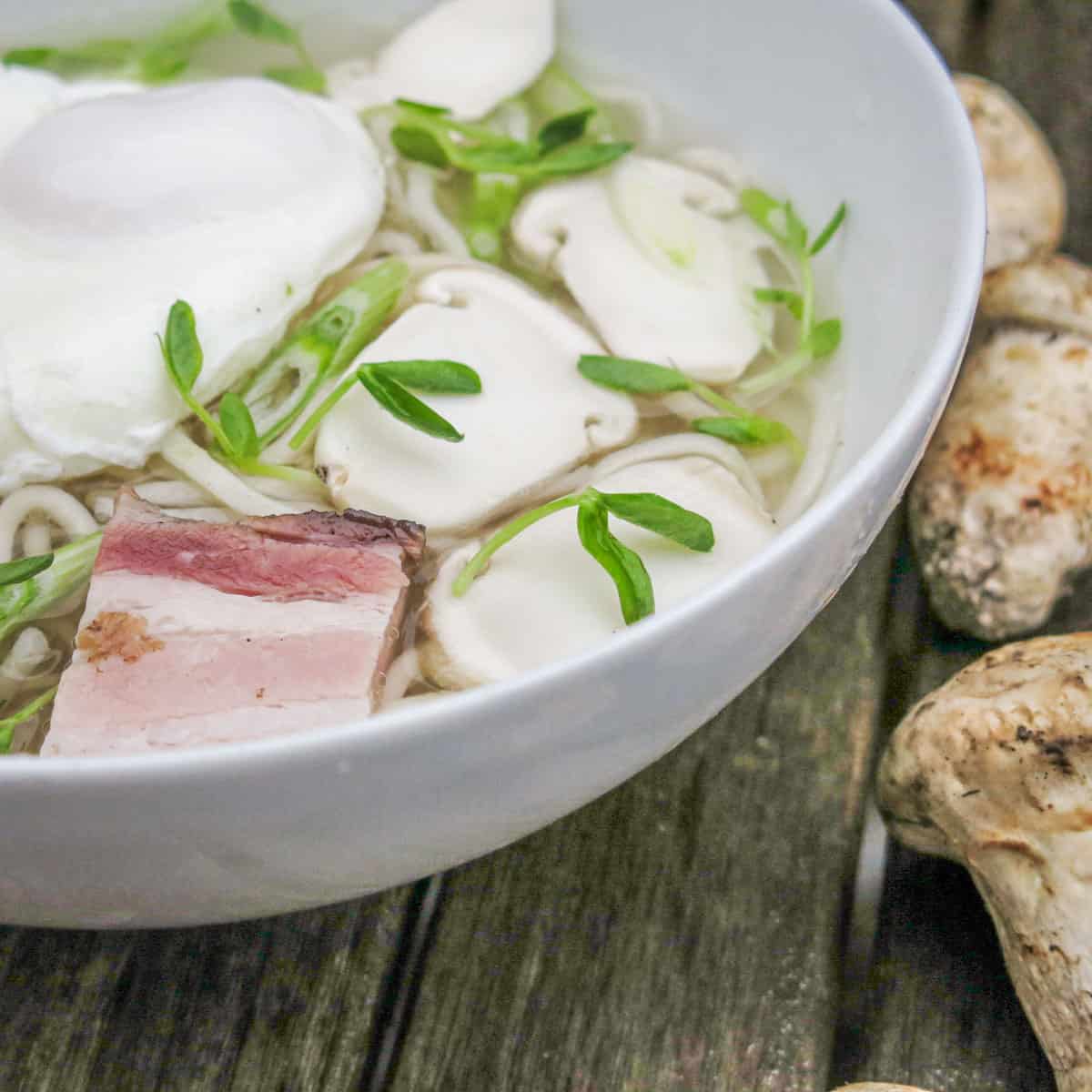 They have a smell and taste like nothing else. They're matsutake; one of the most interesting things I've cooked with.
They have a flavor that's difficult to describe. Other mushrooms like Boletes, and their cousins Leccinums, Suillus, and Tylopilus, all have a sort of taste/aroma, and you could make other comparisons with chanterelles, trumpets, and plenty of mushrooms by separating them into their related species.
Matsutake though? Nope.
They're related to shiitake and honey mushrooms, but any similarity ends on the microscopic level. People have said they smell cinnamon, red hots, gym socks, funk, fish, and to me they're all right- it's kinda hard to explain them.
One thing is for certain though-their flavor is powerful. Even peeling or chopping a single mushroom can perfume a room. Even so, just like other potent fungus (truffles), they can be easily overwhelmed by too many other ingredients.
With their hefty price tag, you don't want to waste any of these guys. This simple soup is a great example of how to stretch those matsutake as far as possible, it's easy-I'll tell you how.
When I receive matsutake in a restaurant, they've usually been out of the ground for a few days, at least. Unless you have a matsutake patch of your own, this will probably be the case for you too.
What happens is that the mushrooms dry out a little. Sand and grit stick to them in the worst way. Washing, brushing, or scrubbing I've found can be pointless sometimes. To really get the most out of purchased matsutake, you're probably going to need to peel them.
As I was peeling a big batch one day, I kept putting my nose into the bowl of trim that I was going to throw. The smell of the scrap alone was so intense that I decided to infuse some stock with it. It turned out so good, that now I never even think about tossing the peels. The stock has to be strained carefully to remove the grit, but it's a small price to pay for the outcome.
I can't explain it, but matsutake just beg to be cooked in Asian style dishes. I don't work a lot with that sort of genre, but I do know that I love a good bowl of noodles, so, what could be better than some ramen in matsutake broth?
You could switch up the garnishes any way you want. The only keys to this are a great homemade broth, the peel from the matsutake stems, and using plenty of the mushrooms themselves, the rest is up to you.
Here are the garnishes I used:
Sliced, cooked pork belly
A poached egg
Thinly sliced green onions
Fresh bean Sprouts
Pea shoots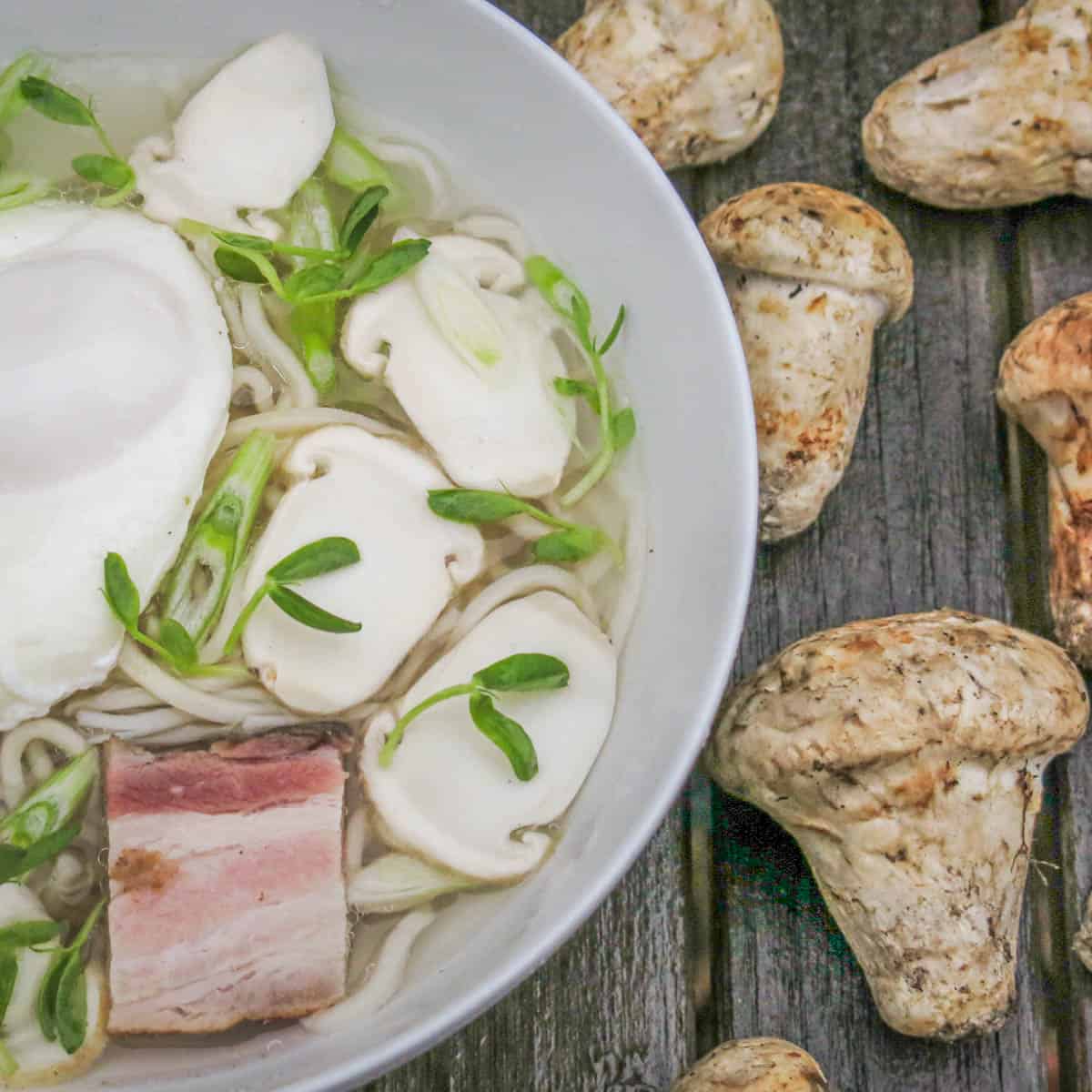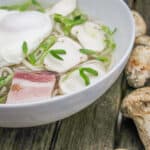 Print Recipe
Matsutake Ramen
Serves 4 as a light entree
Ingredients
About 10 cups matsutake mushroom broth

recipe follows

½

lb

fresh matsutake mushrooms

peeled and sliced ¼ in

2

tablespoon

mild flavored cooking oil

for cooking the matsutake

Kosher salt

Garnishes: use combination of fresh and prepared ingredients- sprouts

green onions, chili oil, poached eggs, fish dumplings, cooked pork belly, etc, be creative.

4

oz

ramen noodles
Instructions
Cook the ramen noodles in lightly salted water until al dente. Drain the noodles and rinse to halt the cooking, then reserve until needed. (this can be done ahead of time.)

Heat the matsutake broth in a small sauce pot, then season the broth lightly to taste with salt. Meanwhile, heat the oil in a wide saute pan. saute the sliced matsutake for a few moments, until they start to smell amazing and aromatic. Season the mushrooms lightly with salt and pepper to taste and reserve.

In the bottom of four preheated soup bowls, place any cooked garnishes, like the noodles, pork belly or poached eggs. Ladle very hot broth over the cooked ingredients, then serve immediately with the fresh garnishes on the side.
Matsutake Mushroom Broth
This is a restaurant batch, scale as needed
Yield: 1 gallon
1 gallon meat or vegetable stock, preferably homemade
¼ cup mild flavored cooking oil
1 qt, packed trim and peel from matsutake mushrooms
Method
In a deep stock pot, heat the oil until warm, but not smoking. Add the matsutake trim to the oil cook for a few minutes, until wilted. Add the stock, bring the mixture to a boil, then turn off the heat and allow the stock to cool.
When the stock is cool, skim off any oil, then strain it through a fine sieve or cheesecloth to remove any grit.
Label, date, and refrigerate or freeze the stock until needed.