Venison, tender cabbage, wild mushrooms, real wild rice covered in plenty of cheesy white sauce and baked to a perfect golden brown makes me happy. This is a great, casual dinner you can improvise with depending on what's in the fridge.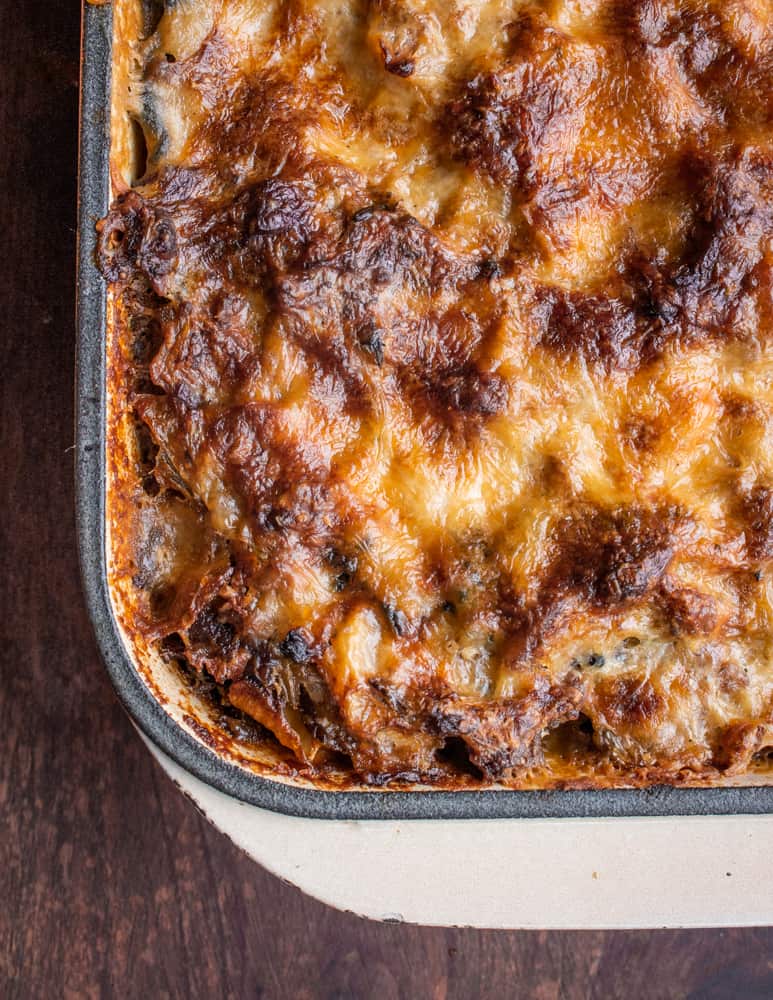 In the Midwest, we know a thing or two about casseroles. Some of them I really like (all casseroles with wild rice, especially my classic chicken of the woods-wild rice casserole).
Some casseroles I don't like, as in the canned green bean abomination with the onions from a jar. This one follows the basic casserole premise of "mix everything together and bake" with a few ingredients most of you will have available. Here's the big players.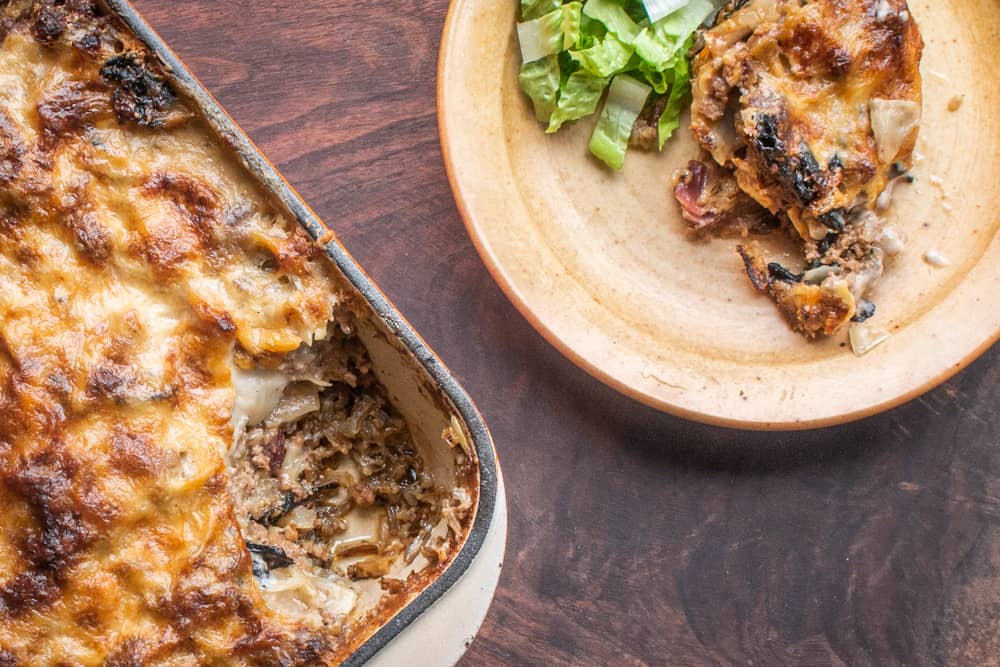 Ground venison
Ground venison can be tricky to cook with as it's so lean, but it shines in soup and dishes like this. It's perfect for it, and much quicker to use than, say, a slow-cooking cut of venison (which you could also use) that will take a lot of prep time before hand.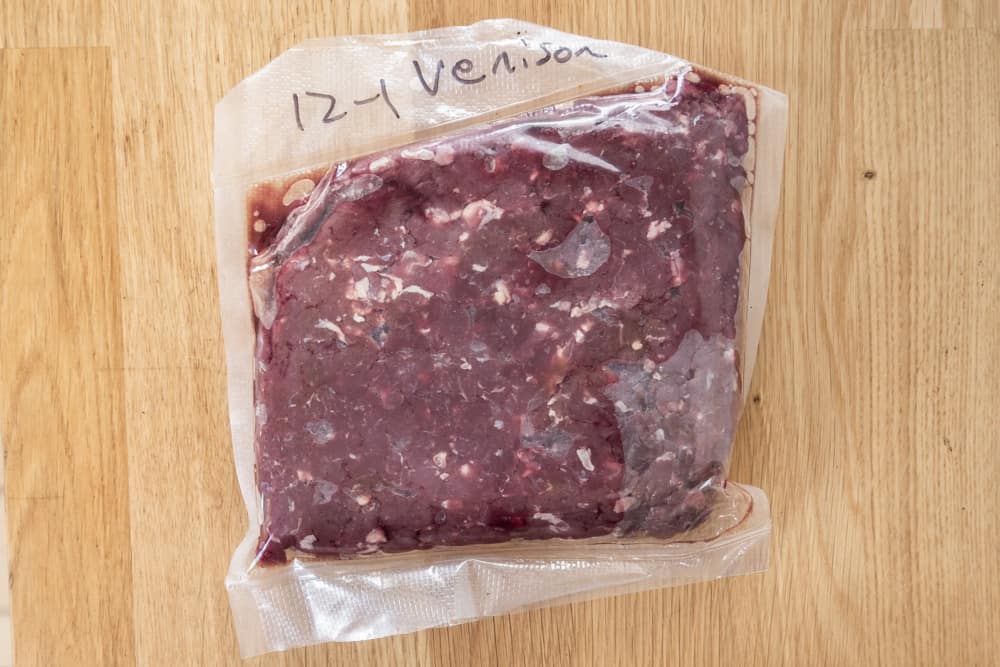 Wild mushrooms
I used a bunch of dried black trumpet mushrooms to make this, but any fresh or dried and rehydrated mushroom will be fine. If you can get some fresh, chicken of the woods mushrooms or maitake are great too.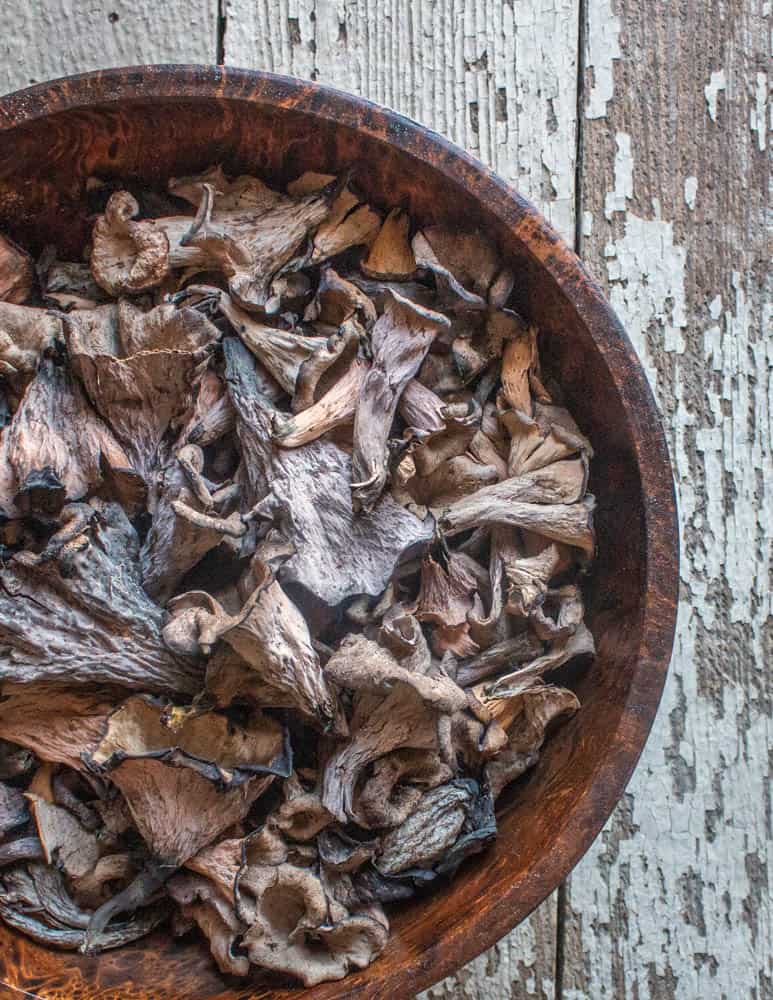 Wild rice
The good stuff only. I'd say that if you don't feel adept at explaining the difference between good wild rice and sub-par tasting wild rice, please read my guide to purchasing, cooking and understanding wild rice. Black paddy rice will give an inferior flavor here. Only the best stuff will do.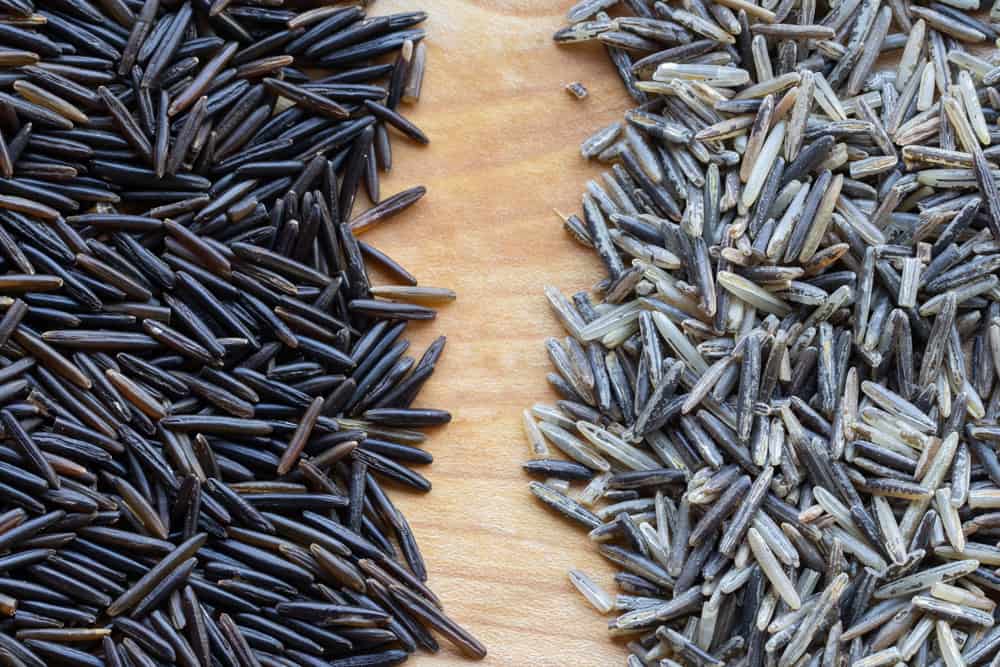 Cabbage
The old winter staple. Cabbage blends really well with mushrooms, cheese, and white sauce, counts as a vegetable, and, as a bonus, it improves the shelf life, actually getting the casserole get better in flavor as time goes on.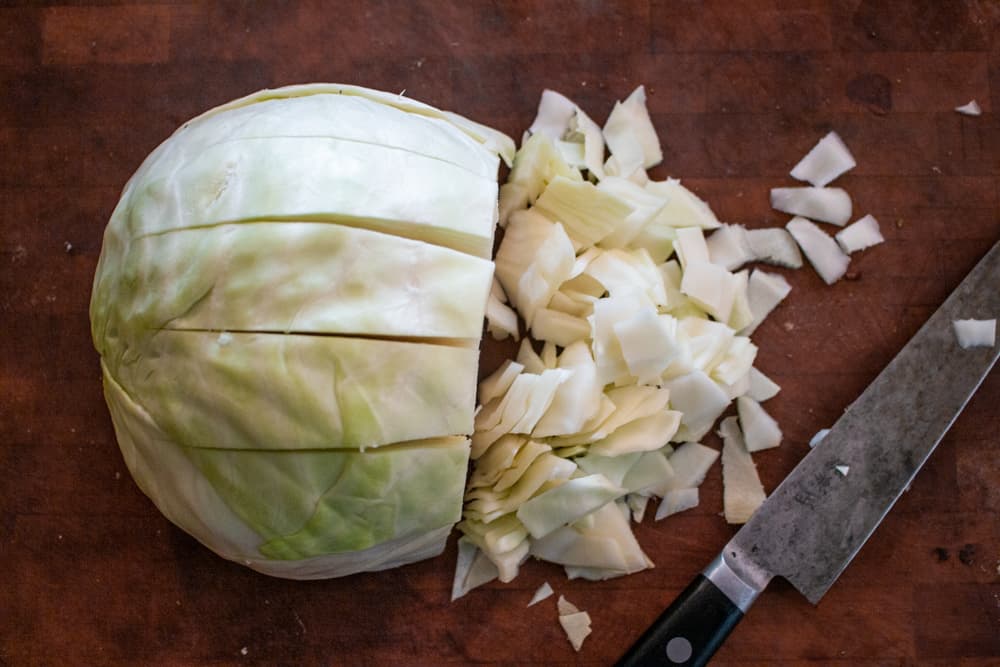 If you put, say, green vegetables in it's place, you'd have to worry about the finished dish losing color and looking unattractive after the first heat. If you don't have or like cabbage, you could use a comparable volume of blanched cauliflower.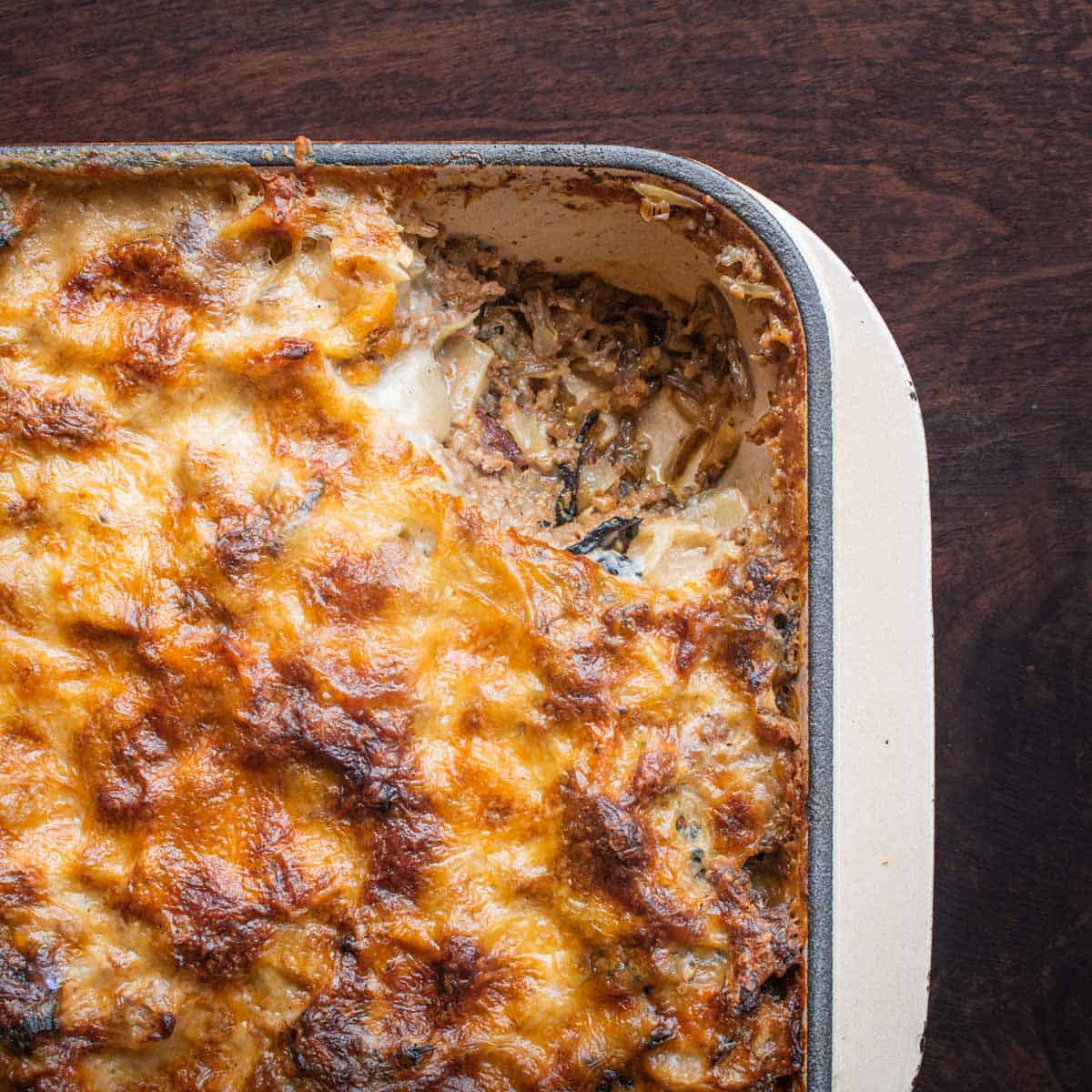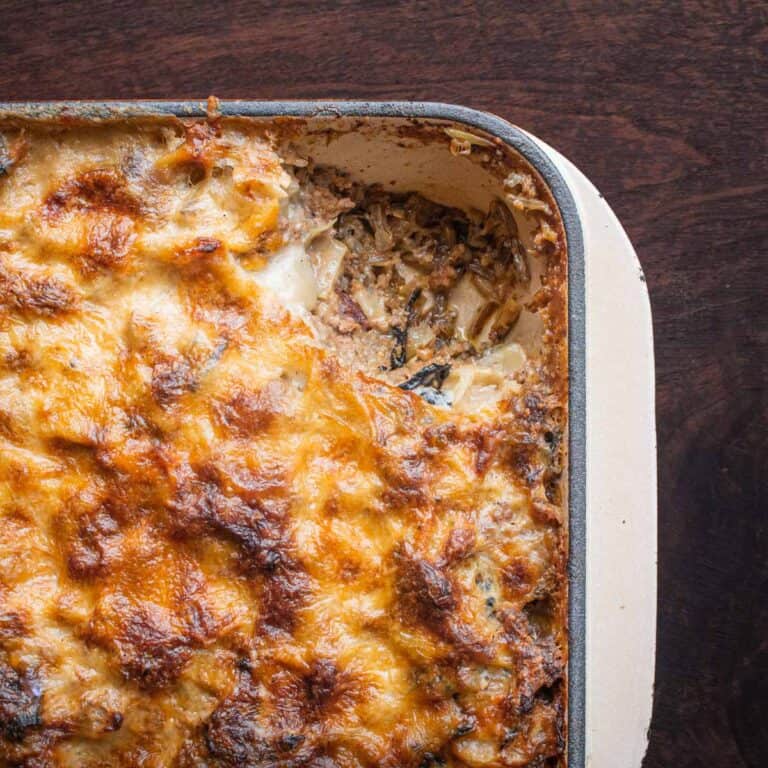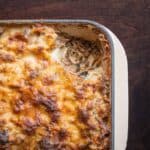 Print Recipe
Wild Rice Casserole with Venison and Mushrooms
A rich casserole with wild rice, mushrooms, cabbage, and plenty of cheesy bechamel baked to a golden brown. Serves 6-8 with leftovers.
Equipment
1 12 x 9 baking pan or similar
Ingredients
3

cups

cooked natural wild rice

2

lbs

ground venison

4

oz

pancetta or bacon

1

oz

dried mushrooms

especially black trumpets

2

cups

milk

2

large cloves garlic

minced or grated

1

rib celery

chopped

1

small onion

chopped

1.5

lbs

cabbage

diced ½ inch (½ of one small green cabbage)

¼

cup

dry white wine

1.5

cups

gruyere cheese

in a pinch just use jack or mozzarella mixed with some parmesan

Grated nutmeg

optional

3

Tablespoons

all purpose flour

or equivalent

¼

cup

lard or cooking oil + 1 tablespoon

divided
Instructions
Soak the mushrooms in milk for 15 minutes, then remove the mushrooms, strain the milk and reserve both separately. Chop the mushrooms coarse if large.

Render the bacon in a large skillet (12 inch cast iron skillet is good) with the tablespoon of oil

Meanwhile, puree the garlic, onion and celery in a food processor or blender, then add to the pan with the bacon and sweat oil in a wide pan, like a 12 inch cast iron skillet. Add the venison and cook through.

Add the chopped cabbage, a pinch of salt, wine, thyme or other herbs and cover, cooking until the cabbage is just tender, about 15 minutes. Remove the lid and cook off any residual water until the pan is nearly dry, then season to taste with salt and pepper, and set aside to cool.

Meanwhile, mix the fat and flour in a sauce pot and cook to form a roux, then whisk in the milk, nutmeg, salt and pepper to taste. Cook until the sauce thickens, whisking, then double check the seasoning and set aside.

Put the wild rice in a casserole dish (9x12 pictured here) pressing it down gently. Spread over 1 cup of the cheese. Spread the venison-cabbage mixture on top, pressing it down gently. Finally, pour the white sauce over the top, finishing with the remaining cheese.

Bake at 400 for 45 minutes, or until the top is golden brown. Allow to cool for 15 minutes before eating. It will improve in flavor and will stay good for 5 days if properly chilled and refrigerated. It can also be made ahead and frozen.
Notes
Improvising 
One pan dishes are great for improvising. Here's a few options. 
Use white rice instead of wild rice 
Use a blend of dried and fresh sauteed mushrooms 
Use your favorite melting cheese, especially stinky ones 
Top it with breadcrumbs and put the cheese under the sauce
Nutrition
Serving:
8
oz
|
Calories:
937
kcal
|
Carbohydrates:
79
g
|
Protein:
62
g
|
Fat:
41
g
|
Saturated Fat:
19
g
|
Polyunsaturated Fat:
4
g
|
Monounsaturated Fat:
13
g
|
Trans Fat:
0.02
g
|
Cholesterol:
188
mg
|
Sodium:
534
mg
|
Potassium:
1336
mg
|
Fiber:
9
g
|
Sugar:
11
g
|
Vitamin A:
581
IU
|
Vitamin C:
43
mg
|
Calcium:
521
mg
|
Iron:
7
mg