Sweetfern is a great wild herb to know, and I love it's delicately resinous, spicy aroma, but cooking with the leaves, as most people will be familiar with, can be tricky. These little cookies are one of my favorite sweetfern recipes.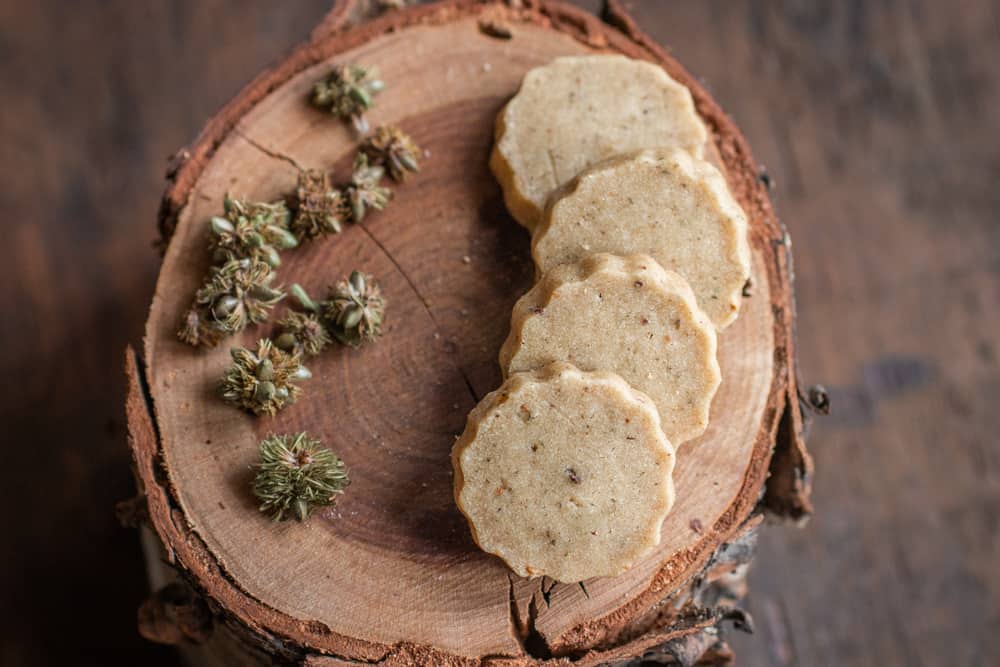 Instead of the leaves, I typically harvest the seeds or nutlets of the plant as they keep a stronger flavor, and are generally more versatile for cooking, in my opinion. If you haven't looked at my longer post on cooking with sweetfern, I recommend giving it a read.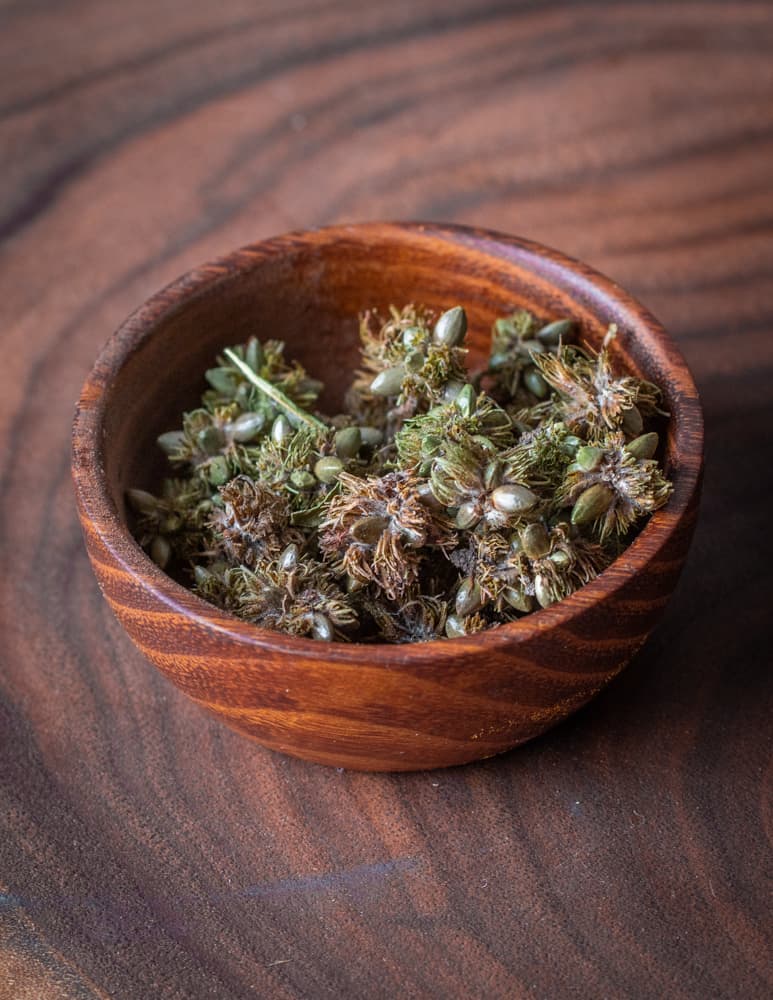 The only trick with the seeds is finding enough to harvest in decent quantity. To find a good location, I go to slightly over-grown, open jack pine barrens where the plants are more mature (as opposed to young or recently burned barrens).
When I find a good harvest the seeds, I strip them from the leaves using a berry rake, which cuts the harvesting time down considerably without harming the plant.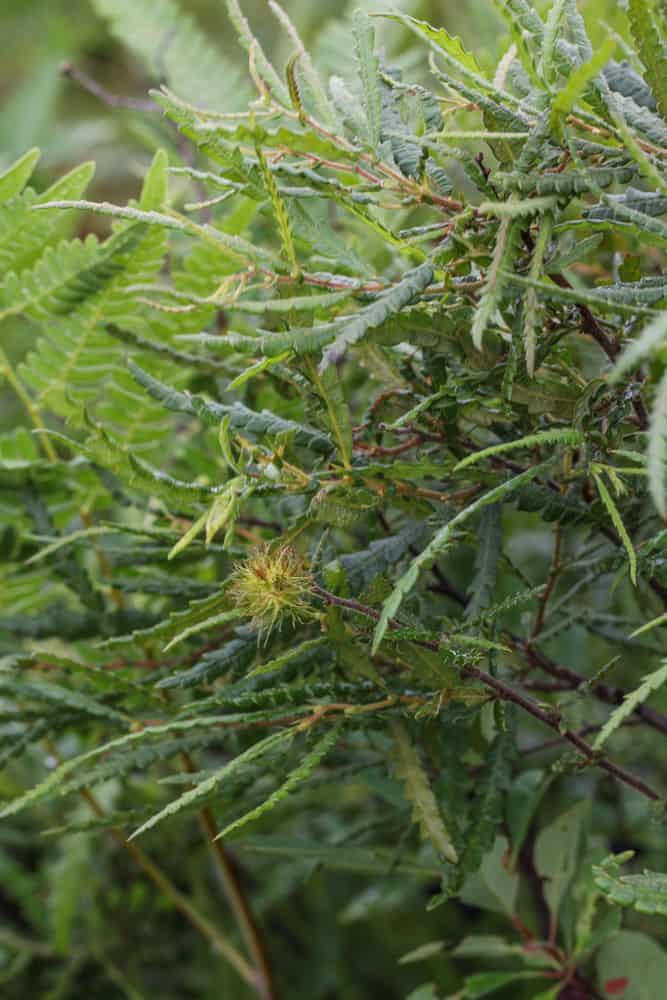 After the seeds are harvested, I dry them and store in a jar, grinding them fresh as I would other spices when I want them. One of the most successful things I've made with them are simple cookies, here's a basic recipe you can adapt and make your own.
Adapting the recipe
These cookies are meant to be sturdy so I can make them in advance and bring them to events. If you want to use them in a favorite cookie recipe you have, feel free to just substitute a similar amount of ground sweet fern seed. I prefer firm, crisp cookies with the flavor of sweetfern compared to chewy cookies-I'd save that for when you have a craving for chocolate chips.
By far, the most important thing (besides using a recipe you trust) is allowing the dough to rest and "equalize" in the fridge overnight. This helps to hydrate the dough, and will give you a better flavor, texture and even-cooking than cooking the dough quickly after it's assembled.
Can you use the leaves?
No. There's a big difference in cooking with sweetfern seeds versus the leaves. While most foragers that know this plant will harvest and cook with the leaves, their flavor is only good fresh, and it isn't as potent or concentrated as the seeds.
I rarely, if ever use sweetfern leaves in cooking, and once you try the seeds I think you'll probably agree with me that the leaves are overrated.
Serving
I do a lot more with these than just serve with tea, although that's good too. Here's a few ideas.
Serve with tea
Bake the cookies in large pieces as opposed to small, elegant cookies pictured, then crush them up coarsely for spooning over creamy desserts where you might add something like toasted nuts, as in my pine barrens sottobosco.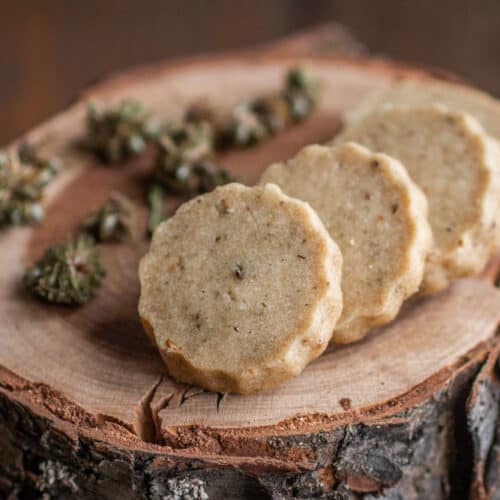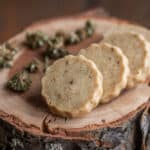 Print Recipe
Sweetfern Cookies
Crisp, buttery shortbread scented with the aroma of sweetfern are a great introductory way to enjoy the plant. Yield: about 15 cookies
Ingredients
4

Tablespoons

unsalted butter

diced small

½

cup

all purpose flour

2

teaspoons

dried sweet gale or sweet fern nutlets

Pinch

of salt

2

Tablespoons

maple sugar or brown sugar
Instructions
Grind the nutlets to a fine powder in a coffee grinder, then combine with the remaining ingredients and mix into a smooth dough.

Form the dough into a log, wrap in cling film and refrigerate overnight, or at least a few hours to hydrate the flour and ensure even cooking. If you haven't refrigerated cookie dough before, trust me, it's worth it.

Preheat the oven to 350, cut the cookie log into ¼ inch slices, and bake for 8-10 minutes or until lightly browned, then cool and store at room temperature in a covered container.