Mushrooms are one of the most perfect ingredients for minimalist, less is more cooking, and these simple roasted hen of the woods / maitake are a great example.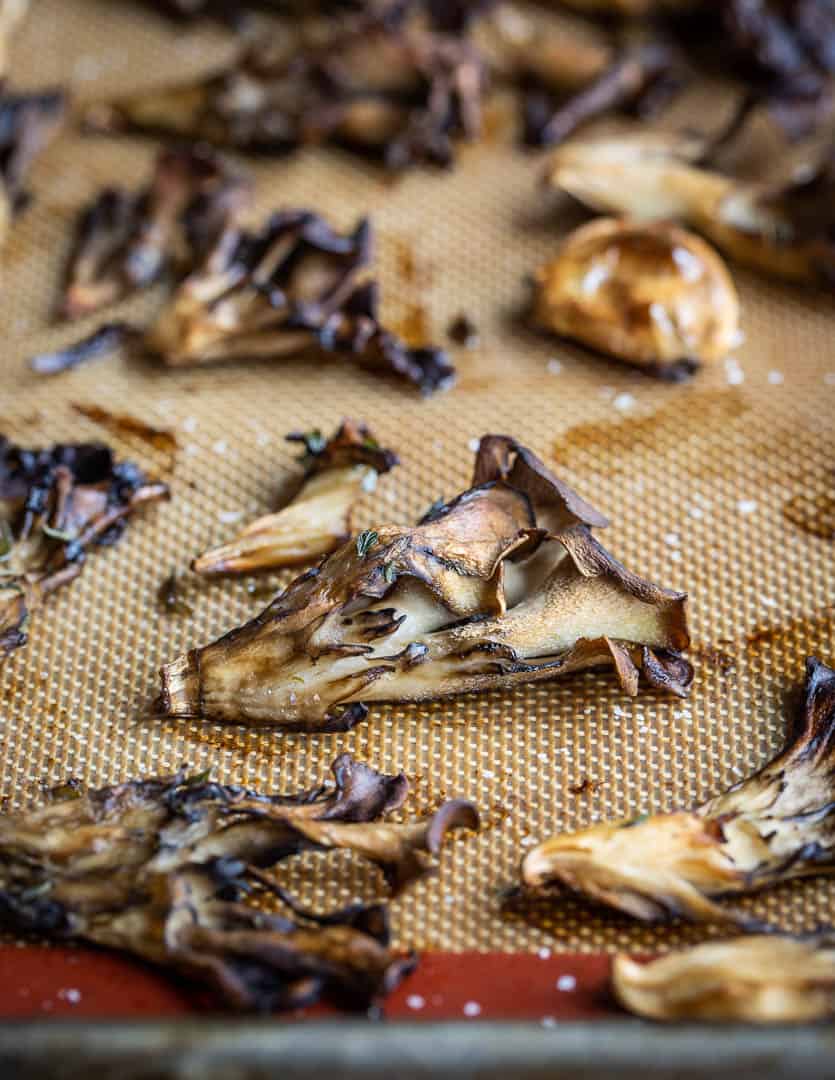 Sure, you can make them into pasta sauce, jerky, and all kinds of things, but probably the simplest, and one of the most delicious hen of the woods recipes to make, is simply to roast them, and eat them fresh from the oven with you're hunting buddy and a cold drink, far away from mosquitos and horseflies.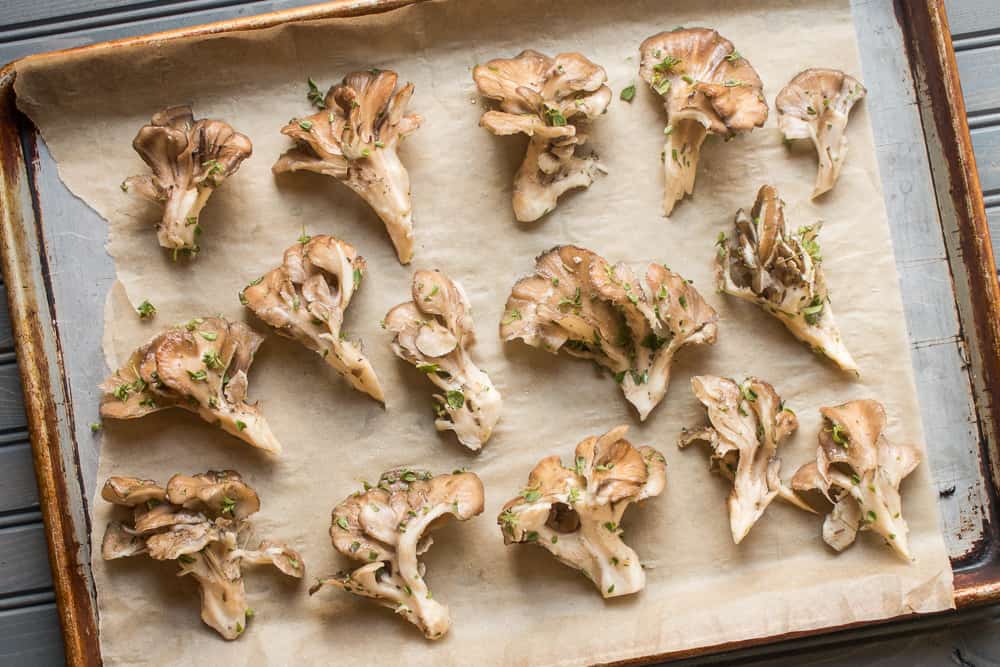 Roasting vs Baking
There's a couple things to mention, mainly that you should imprint the word "roasted" as opposed to "baked" in the recipe here.
Roasting means we're going to use relatively high heat. I say 425F in the recipe below, but simple recipes relying on only a few high quality ingredients can be fussy, so know that you may have to up the heat a bit at the end, or reduce it a little to get crisp edges depending on how well your oven is calibrated.
Use your instincts, but absolutely do not overcrowd the pan since the maitake won't roast properly, and will end up steaming.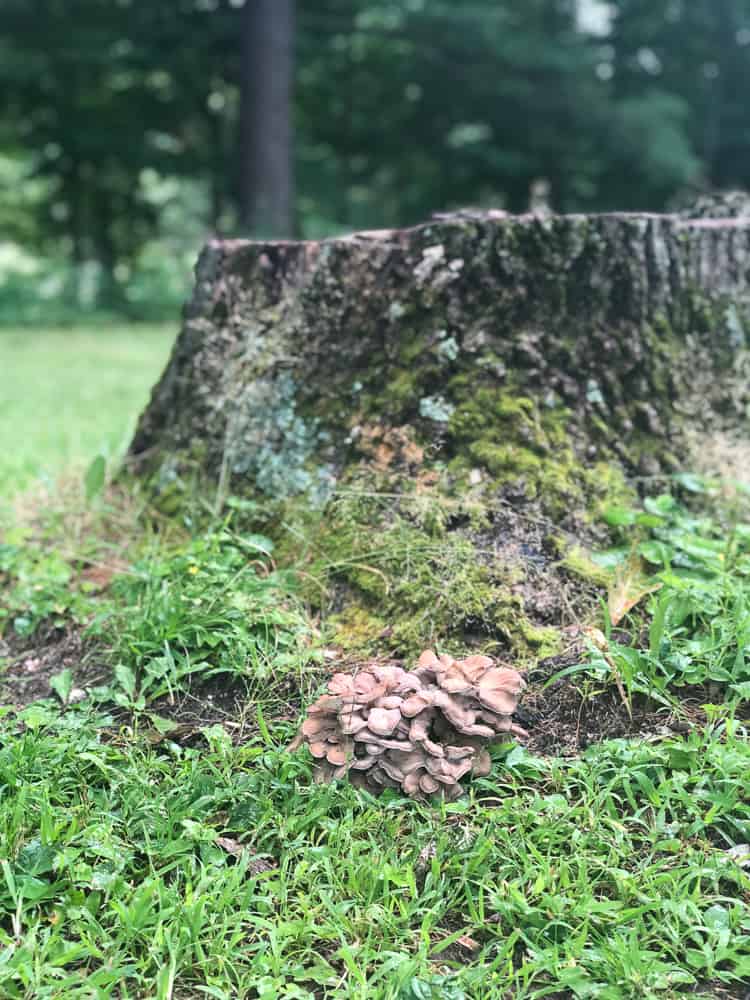 When properly done, you should end up with roasted maitake niblets, perfect for snacking on with a drink, with slightly herbed, crisp edges, but a slightly chewy, tender center.
As the mushrooms cool on the baking sheet, they'll continue to cook, and crisp a bit, so don't worry if yours aren't how you envision them immediately after you take them from the oven.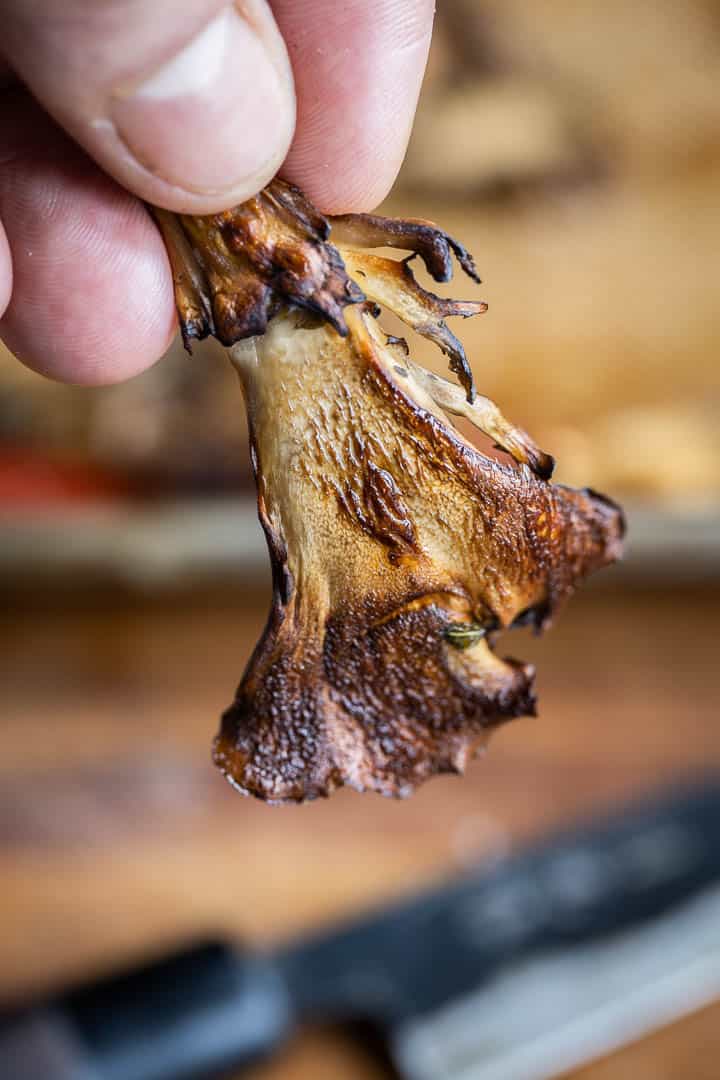 You'll be surprised how fast a pound of hen of the woods mushrooms will disappear, and I can just about guarantee that if you have more than a pound in the fridge, you'll be making more than one tray of maitake.
Making larger batches
You can make this in larger batches than a pound, too, just use multiple baking sheets, or bake in batches. They're best eaten fresh from the oven, still warm.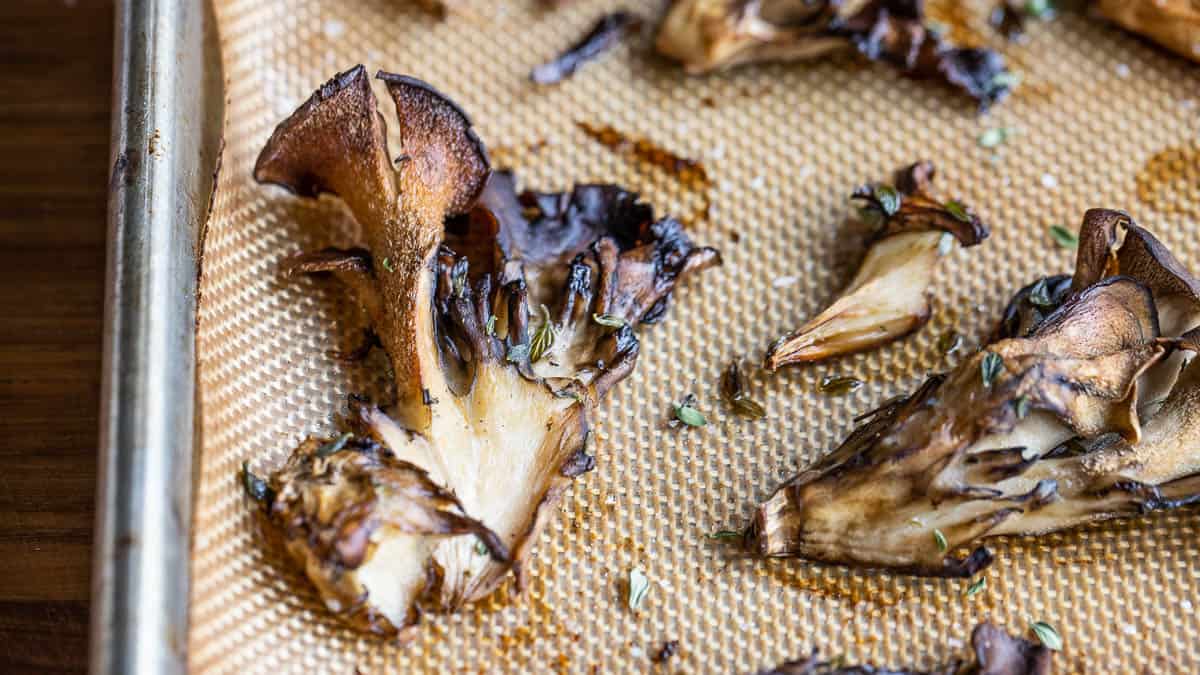 Variations
There's lots of ways to vary this recipe and spice things up if you've tried it and want something slightly different, here's a few ideas:
Season the mushrooms with curry powder before roasting
Toss the mushrooms in oil that you've infused with garlic by warming it with a couple crushed cloves.
Change the herbs up: rosemary, savory and thyme can all be used interchangeably here.
Make them spicy with a pinch of cayenne.
Wild vs cultivated hens
Some grocery stores now carry hen of the woods. 99% of the time, unless they have a connection with a local farmer or forager, these will be cultivated. Commercially grown hen of the woods can work here, but they won't taste as good as truly wild mushrooms.
This is because the substrate the mushrooms are grown on at a mushroom farm is bland and basic compared to a natural substrate. Just like meat, mushrooms taste like what they eat.
Adding the roasted mushrooms to recipes
When it was fall and I was running a restaurant, it wouldn't be uncommon for us to have a hundred pounds of these mushrooms or more in the cooler.
When we piles of hens, I would often instruct the cooks to bake some of them per the recipe below, but only cooking them until wilted and not browned.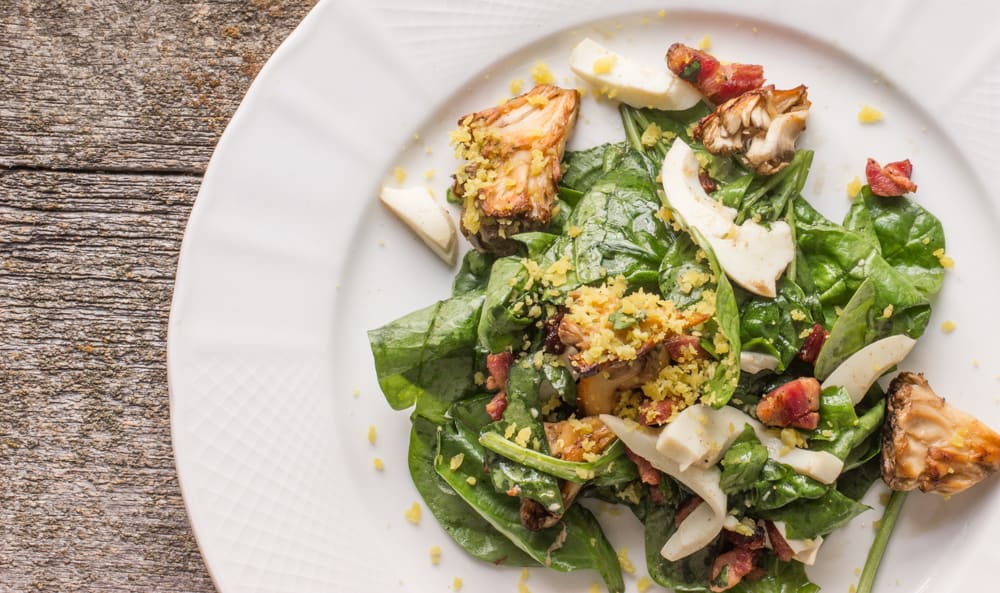 After cooking, cooling and storing, the mushrooms were held in the fridge and quickly heated up before adding to a dish, like a warm spinach salad, vegetarian entrees, steaks, or whatever they were going on, cutting down on the cooking time and ensuring quick service.
If you have a big hen, which is common in the Midwest where I am, par-cooking some wild mushrooms ahead of time makes it easy to just toss them into a pan-which can be nice after a long day in the field when you're tired and don't feel like making something involved.

Related Posts
Hen of the Woods Mushroom Recipes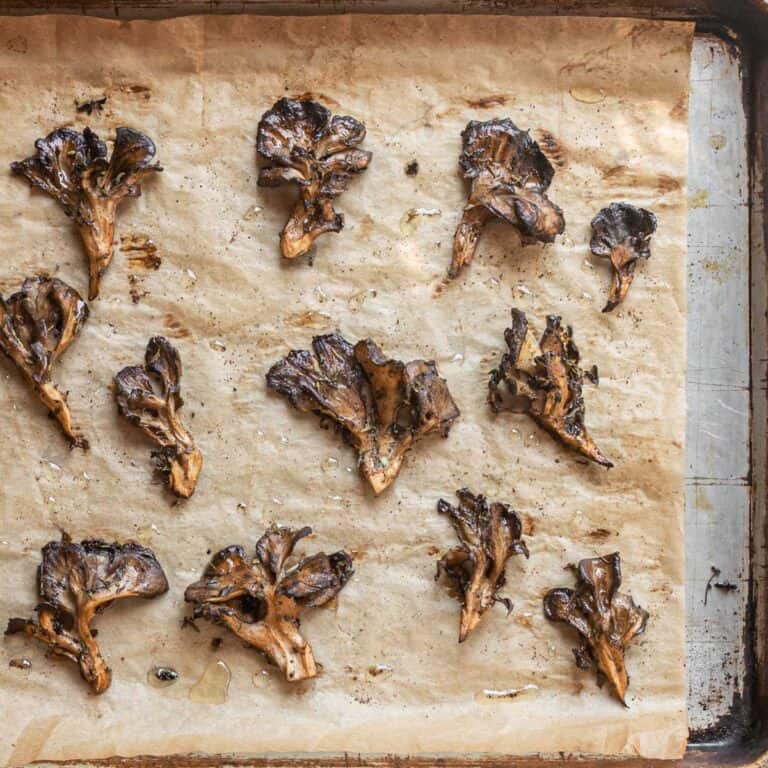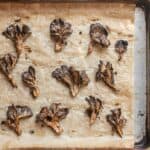 Print Recipe
Roasted Hen of the Woods or Maitake Mushrooms
Simple roasted hen of the woods mushrooms
Ingredients
12

Oz

hen of the woods

Preferably wild, peeled into leaves, cleaned (lightly swished in water and/or brushed as needed if wild/dirty)

3

tablespoons

flavorless cooking oil

¼

teaspoon

kosher salt

plus an extra sprinkle

1

teaspoon

Chopped fresh thyme, rosemary, or sage

dried thyme is an ok substitute, but not rosemary as it will burn

6-7

cracks of the pepper mill

or to taste

2-3

cloves

garlic, peeled and crushed with a knife
Instructions
Toss the pieces of hen of the woods (press them between paper towels to weep water if you had to rinse them first) with all ingredients.

If you have cultivated hen of the woods, do this very gently as most are quite fragile.

Spread out on a baking sheet lined with parchment or a silicon mat, and bake in a preheated 425 oven for 25-35 minutes (rotating 180 degrees half way through if your oven heats unevenly) until the mushrooms are crisp around the edges, but still slightly tender in the center.

Cultivated mushrooms may take a bit longer as they typically contain more water. Wild hens, especially those picked in a dry spell, will cook quicker.

Remove the mushrooms and allow to cool on the baking sheet until you can handle them, then eat.
Nutrition
Serving:
3
oz
|
Calories:
119
kcal
|
Carbohydrates:
4
g
|
Protein:
3
g
|
Fat:
11
g
|
Saturated Fat:
1
g
|
Polyunsaturated Fat:
3
g
|
Monounsaturated Fat:
7
g
|
Trans Fat:
0.04
g
|
Sodium:
163
mg
|
Potassium:
350
mg
|
Fiber:
2
g
|
Sugar:
1
g
|
Calcium:
37
mg
|
Iron:
10
mg