Commercial Nocinos
Over the past few years there's been a steady increase in the interest of Nocino, and now there are a few different distilleries that make it commercially around the United States.
I work with one of those distilleries (Ida Graves from Alexandria) and I harvest about 2-3 hundreds pounds of green walnuts a year for them. Not all nocinos are created equal though, and I've tasted some commercial ones that are too young for my taste. Remember it takes a good 6 months for those tannins to soften!
Side note, we're still looking for distribution connections in a few states in the U.S. to help with distributing our product, so if you are in the industry, please reach out to me.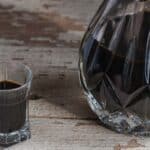 Print Recipe
Nocino, Black Walnut Liquor
Yield: 14 cups-a restaurant batch. Feel free to cut this in half.
Ingredients
The maceration
3

lbs

unripe, green black walnuts

soft enough that they can be easily cut with a knife

1.75

litre (7.4 cups) 190 proof everclear

or substitute vodka and thin it with less water and syrup (see note)
Spices
10

whole cloves

or a combination of allspice or spicebush berries and cloves. You could also omit these and add ¼ cup of good coffee beans instead.
Recommended Optional Additions
Small handful of Galium triflorum leaves or sweet woodruff

Optional, but highly recommended

1

cup

chopped angelica stem or root

Optional
Finishing sweetener
2-3

cups

maple syrup

or to taste, (see note)

3.5

cups

water

(see note)
Instructions
Maceration
Wearing gloves, cut the walnuts in half.

Combine all the ingredients for the maceration (walnuts, alcohol, spices, and other optional additions) in a glass jar or other non-reactive container and allow to infuse for a month in a cool dark place.
Straining
After the one month maceration, strain the liquid, discard the solids. Strain the liquid through the finest strainer you have. There will be gunk in the bottom and lots of black-mucky looking material. You may need to wash the strainer during the process if it gets gunked up.
Thinning and sweetening
Add the maple syrup and water until it tastes good to you. I suggest starting by adding 3 cups of water, and 3 cups of maple syrup, and adjusting from there.

You may not want all of the syrup. It should be quite strong as this is served in small amounts, but the exact sweetness is up to you. Some people prefer it candy sweet, I like mine less-so. Do not be put off by the strong, tannic taste of the nocino at this point, it will take months for the tannins to soften.
Aging to soften the tannins
Store the nocino in air tight containers, such as mason jars and allow to mature for at least 6 months. Taste it occasionally and you will notice how the tannins soften over time. I often keep it in the freezer and enjoy it chilled.
Notes
On Sweetening
Instead of the water and maple, you can use 5 cups each white sugar and water, or just sweeten it to your taste. This is definitely on the sweet side, as I dilute it with other things most of the time. Feel free to make it as sweet as you like. If you want to add less sweetener, just add a little more water. 
Using vodka
If you use vodka, cut the amount of water in half. 
Related Links