One of my favorite appetizers is this easy marinated feta recipe. It's packed with fresh herbs, a little garlic and extra virgin olive oil.
I also add a little ground golpar spice, which is a great addition if you have some, but it's optional. It's great served with pita chips as an appetizer. It's a bit like baked feta's hot cousin.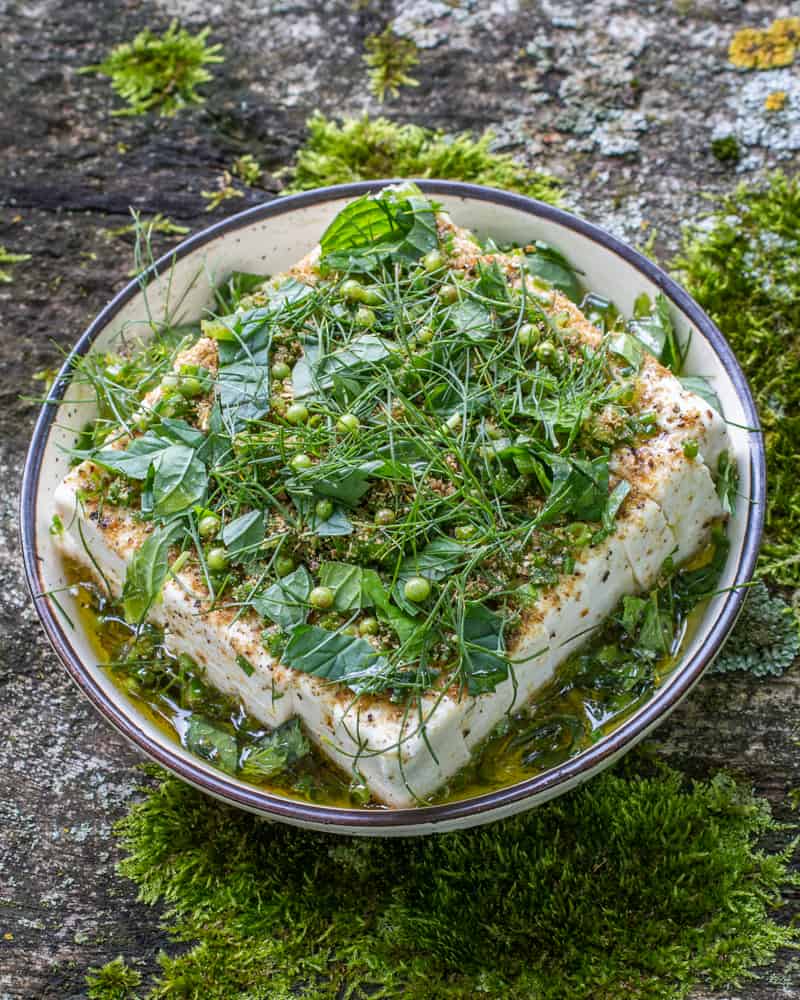 The Cheese
All fetas are not created equal, and you want a high quality one here. Feta crumbles will not do, and they're usually too salty for my taste.
Get the best feta you can find. I like Israeli or Bulgarian, but any kind of feta sold in a block or cut for you to order can do in a pinch, and if it is packed with whey, even better. Here's a few tips:
Buy your feta from a Mideastern or Ethnic market in a large chunk, preferably with whey.
Taste a few different types if you can and notice the differences. Greek feta is different from my favorite Bulgarian feta, and Israeli is different still. Feel free to use your favorite type.
Use fresh cheese soon after buying. Crumbled feta is usually treated with preservatives that help them stay fresh longer. Fresh cheese bought from a market will go bad in a couple days, so use it quickly.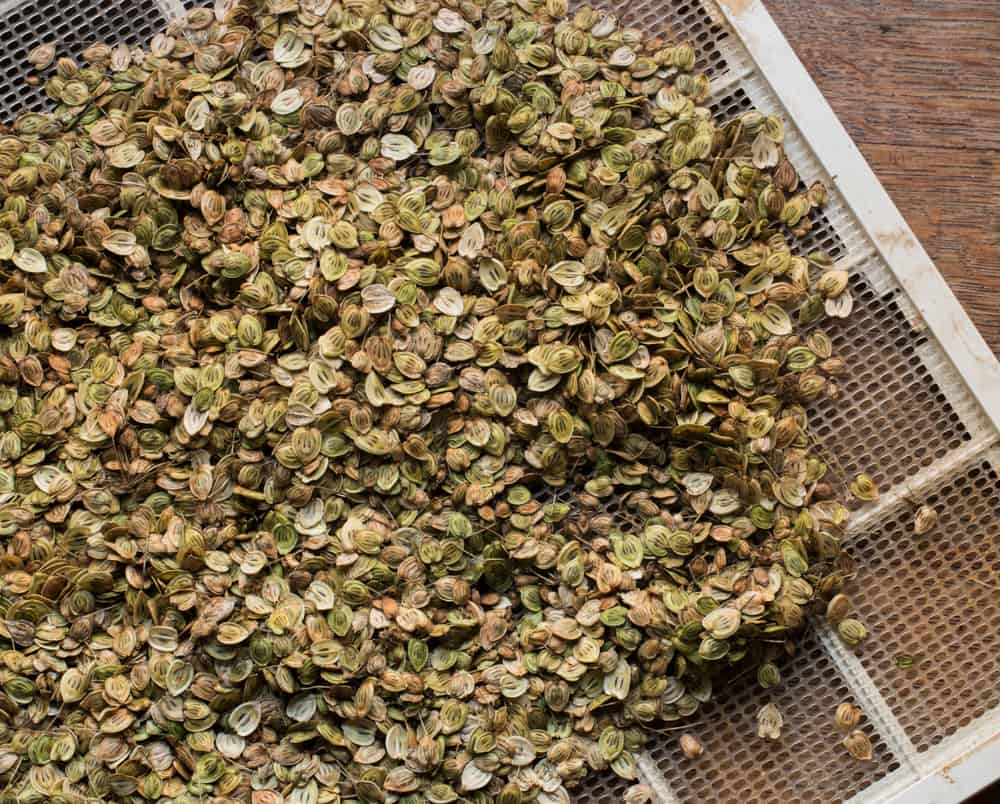 People gobbled up the cheese as an appetizer, and then I made another batch on the fly when we ran out. It's so easy to make a recipe is hardly necessary. Here's how to make it:
How to make it
Cut the cheese into bite-sized pieces, then season with freshly toasted, ground cumin seeds, a tiny bit of grated garlic, a few good glugs of olive oil, chopped cilantro, parsley or other herbs to taste, crumbled red pepper flakes, grated lemon zest and the spices I go over in the recipe. If you can find green coriander seeds as I have pictured here, they add a fantastic flavor.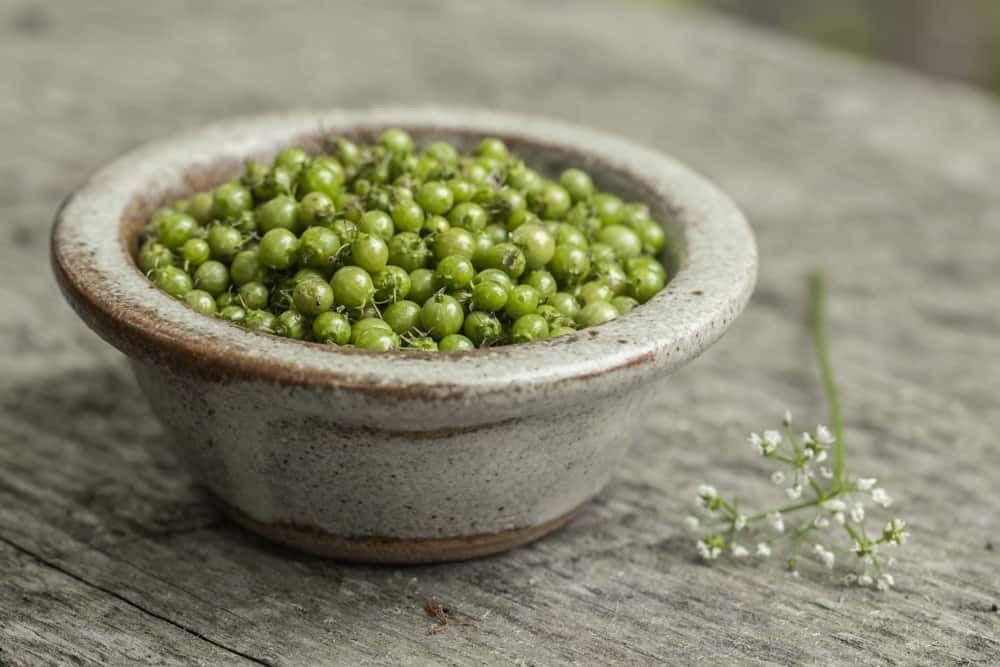 Gently spoon the marinade over the cheese, which will gradually absorb some of the spices as it sits. Cover the cheese and allow it to marinate in the refrigerator for at least 30 minutes, or up to overnight, tossing before serving to coat the cheese with the juices.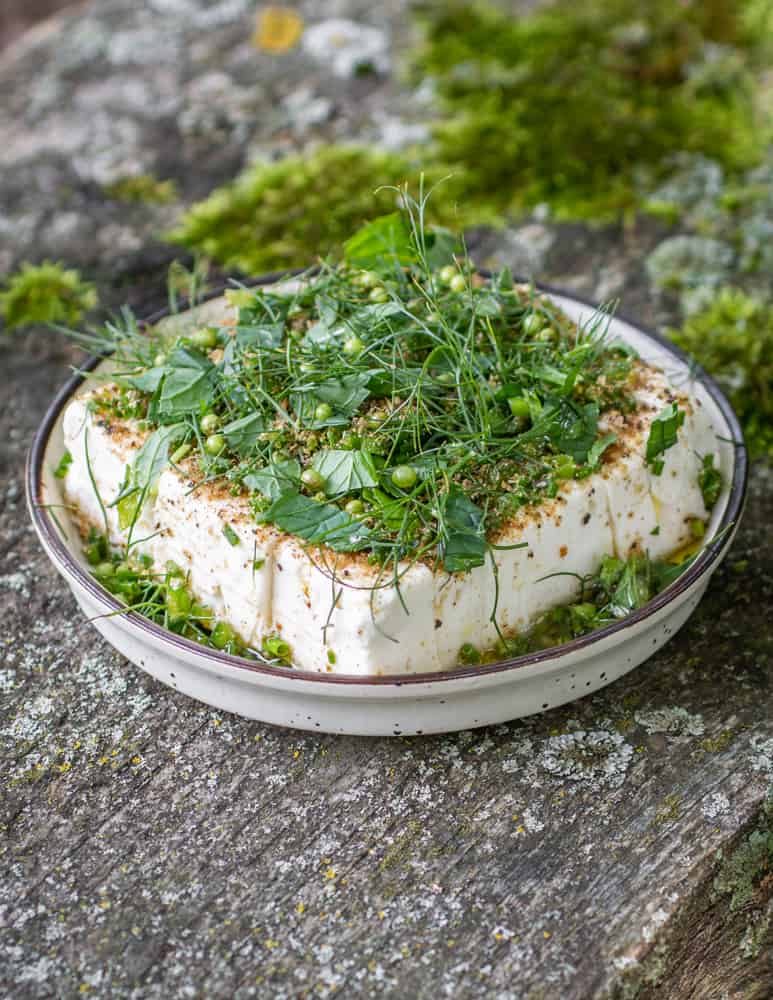 Serve at room temperature with toothpicks, either by itself or as part of a large appetizer mezze platter with hummus, olives, grape leaves, and soon.
For a more refined version of this dish, you can cut a 4-ounce (115 g) block of feta into ½-inch (1.25 cm) slices, keeping it whole, then cut each slice into thirds, and sprinkle the seasonings and marinade on top, as pictured.
Tips
This is best served soon after adding the fresh herbs. I don't like to use dried herbs here as the flavor isn't as bright as fresh.
Use a mixture of fresh herbs. The more you use, the more interesting and exciting it will taste.
The only herb I don't use here is fresh rosemary. It's very strong tasting and I prefer the lighter taste of herbs like basil, dill and mint.
How to Serve
Serve the cheese at room temperature as part of a mezze platter, or all on it's own. I like to have it alongside hummus, pita chips, marinated olives, and sliced charcuterie like salami.
If you really want to get Mediterranean you can serve it with a shot of ouzo or raki.
Related Posts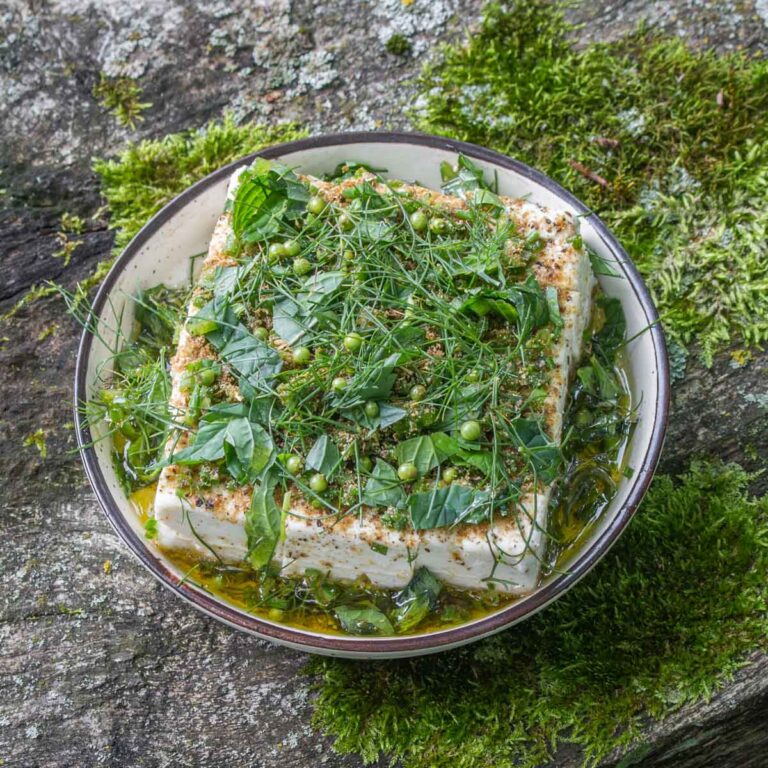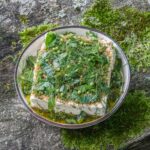 Print Recipe
Marinated Feta Cheese Recipe with Herbs
Good feta cheese, seasoned with olive oil, garlic, golpar, cumin and fresh herbs makes an addictive appetizer.
Ingredients
8

oz

High quality feta cheese, preferably Bulgarian or Israeli

Finely ground cow parsnip seed, to taste

Finely ground toasted cumin, to taste

1

small clove

garlic

Fresh lemon zest, a few scrapes to taste

Fresh green coriander seeds (optional)

2

Tbsp

Extra virgin olive oil, or to taste

Fresh ground black pepper, to taste

1

pinch

crushed red pepper flakes, optional
Instructions
Mix the ground cumin and golpar if using and reserve.

Cut the feta into cubes people can eat in one bite with a toothpick. Put the cubes of cheese in a bowl and season with a pinch of golpar and cumin mix, then add a few scrapes of lemon zest and the oil.

From here the cheese can be packed into a mason jar and stored until you're ready to serve, if you want.

Grate the garlic over the cheese using a microplane grater.

Add some of the fresh herbs and gently fold the cheese with the oil mixture. Double check the seasoning and adjust until it tastes good to you, then allow to rest for at least 30 minutes before serving.
To serve as pictured
For the most dramatic presentation, cut the block of cheese into small cubes, leaving them in the shape of a square in a shallow dish. Sprinkle the cheese with the golpar and cumin. Grate half of the garlic clove into the oil, then add the hot pepper, black pepper and a few gratings of lemon zest, mix, and drizzle over the top of the cheese and allow to rest for at least 30 minutes before serving.

Just before serving, use a spatula to transfer the cheese to a serving plate, drizzling the oil from the marinating dish over the top. Garnish with the green coriander and fresh herbs and serve with crackers and toothpicks. It's great served alongside hummus, olives and flatbread for a mezze platter.
Notes
The type of feta here is important. Make sure it's in block form. Feta crumbles won't work here. 
Nutrition
Serving:
1
oz
|
Calories:
142
kcal
|
Carbohydrates:
2
g
|
Protein:
5
g
|
Fat:
13
g
|
Saturated Fat:
6
g
|
Polyunsaturated Fat:
1
g
|
Monounsaturated Fat:
5
g
|
Cholesterol:
34
mg
|
Sodium:
431
mg
|
Potassium:
25
mg
|
Fiber:
0.01
g
|
Sugar:
0.01
g
|
Vitamin A:
160
IU
|
Vitamin C:
0.2
mg
|
Calcium:
187
mg
|
Iron:
0.3
mg