If you don't like cilantro, close your browser right now, back away from the computer slowly and I'll see you next week. If you love cilantro like I do, hang on to your butt, because I have a great one for you.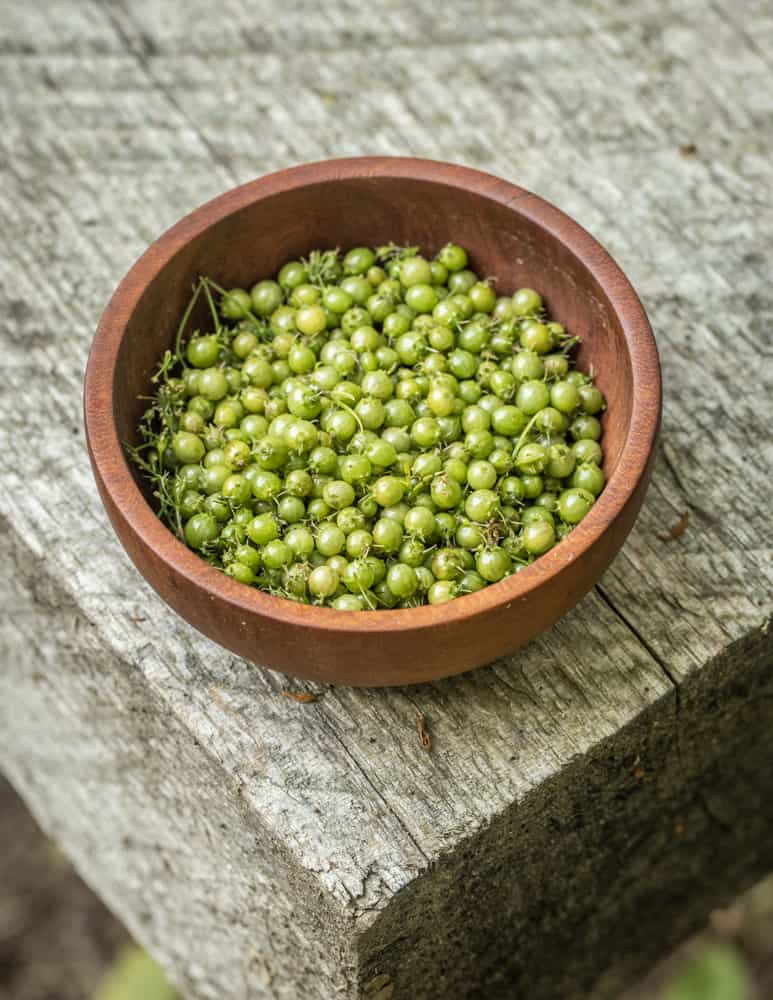 Green / unripe coriander or cilantro seeds are one of my all-time favorite, hyper-seasonal harvests, and a secret ingredient chefs have been using and requesting from suppliers for years.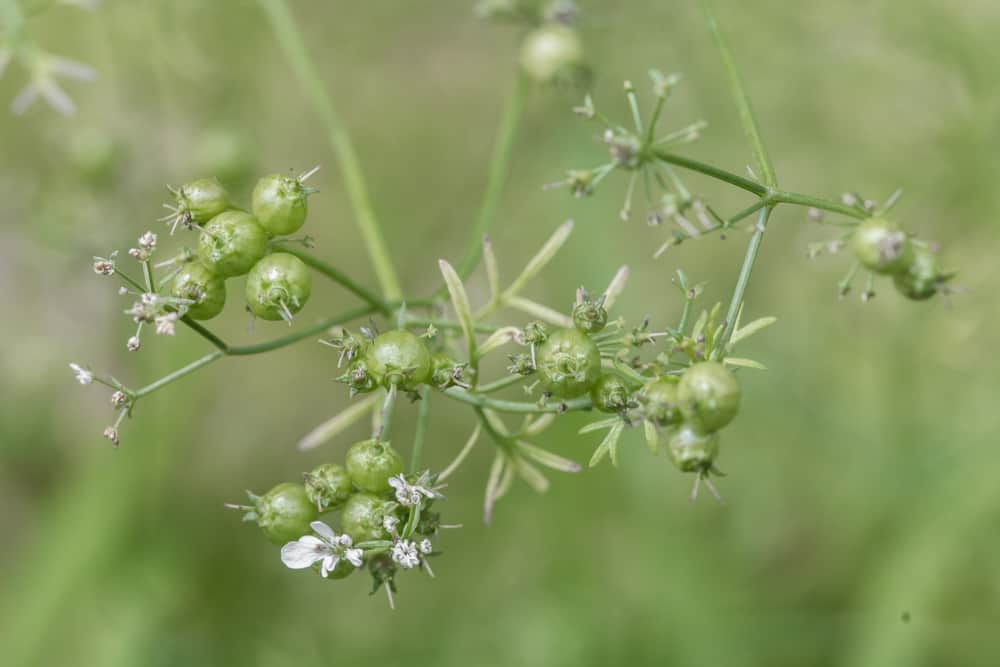 Most of the time when we think of cilantro / coriander (Coriandrum sativum), we think of leaves that come in a bunch (these are actually the basal leaves, which are different tasting from the frilly, carrot-esque leaves that creep up the flower stalk). But cilantro is so much more.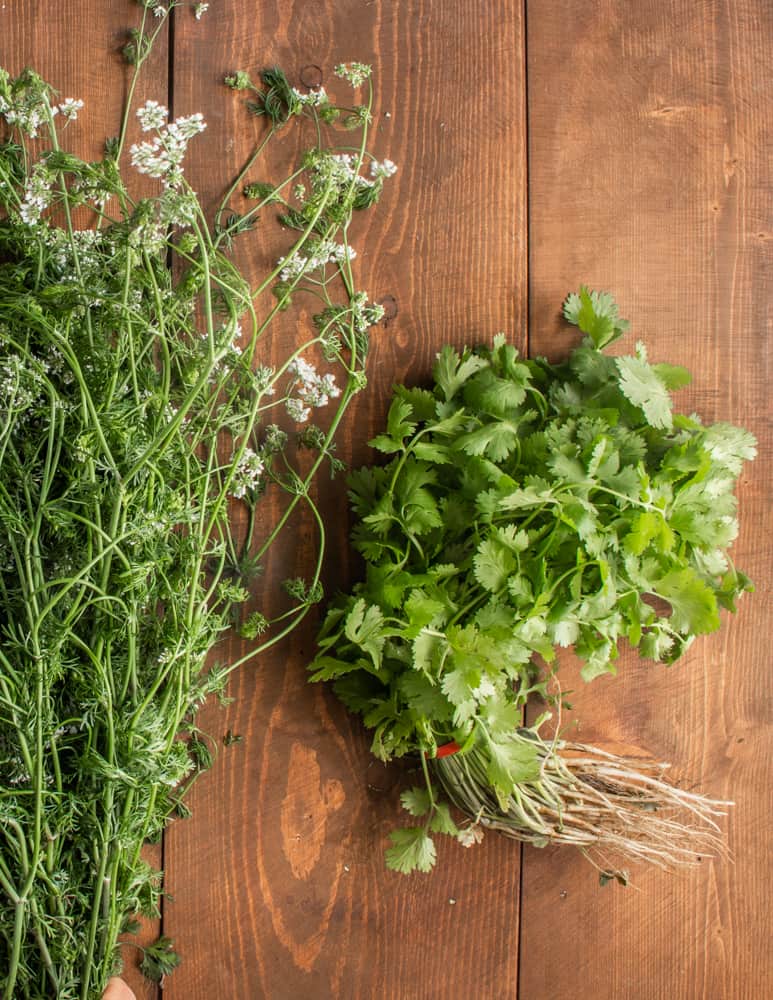 Same cilantro: two different flavors
Real quick here, I want to go over the leaves for a moment. The basal leaves of cilantro are mild tasting, and, from my experience, preferred by Caucasians. The leaves that creep up the flower stalk have a much more piercing flavor and aroma (I can only assume the intensification of aroma is to attract pollinators as the plant begins the process of flowering and making seeds) and are typically sold by Asian markets and Hmong farmers at the farmers markets I go to.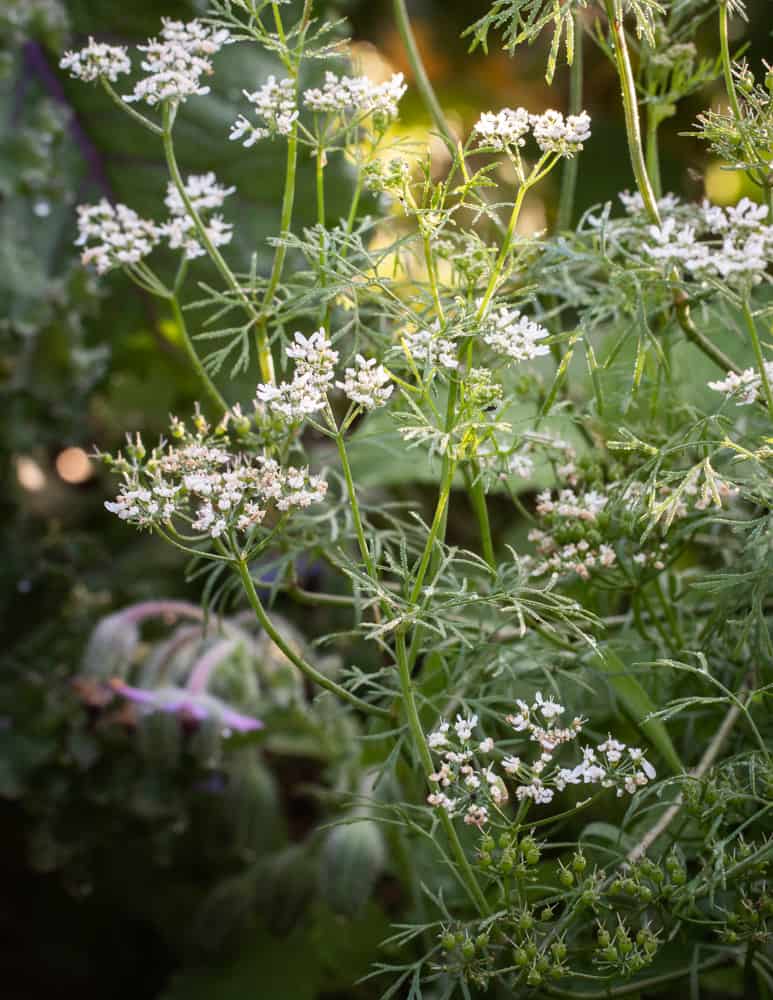 When I've asked the caucasian growers why they don't sell bolted cilantro like the Hmong farmers, they tell me it's not the right way to sell it. When I ask the Hmong farmers why they don't sell basal leaves, they say basically the same thing. The way I see it, both growers are correct. Cilantro is great no matter when it's harvested, and both growers are catering to their respective markets. The cultural predilections for leaves of differing ages/flavors is definitely a thing here, and it's an interesting curiosity that makes me chuckle.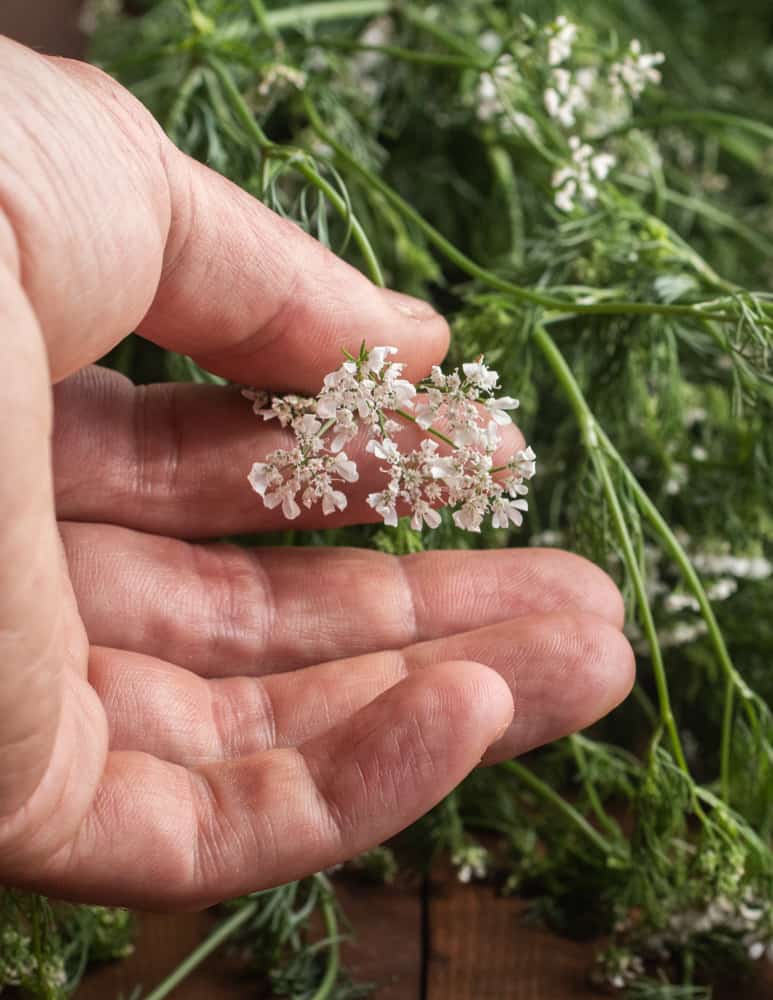 Personally, I use both leaves depending on the age of the plants and how much of the herb I need, but, if I was pressed, I'd say I prefer the aggressive taste of maturing cilantro leaves from the flower stalks. That being said, it's more difficult to get the smaller, frilly leaves en-masse than the abundant basal leaves that come with their bonus of tender stems.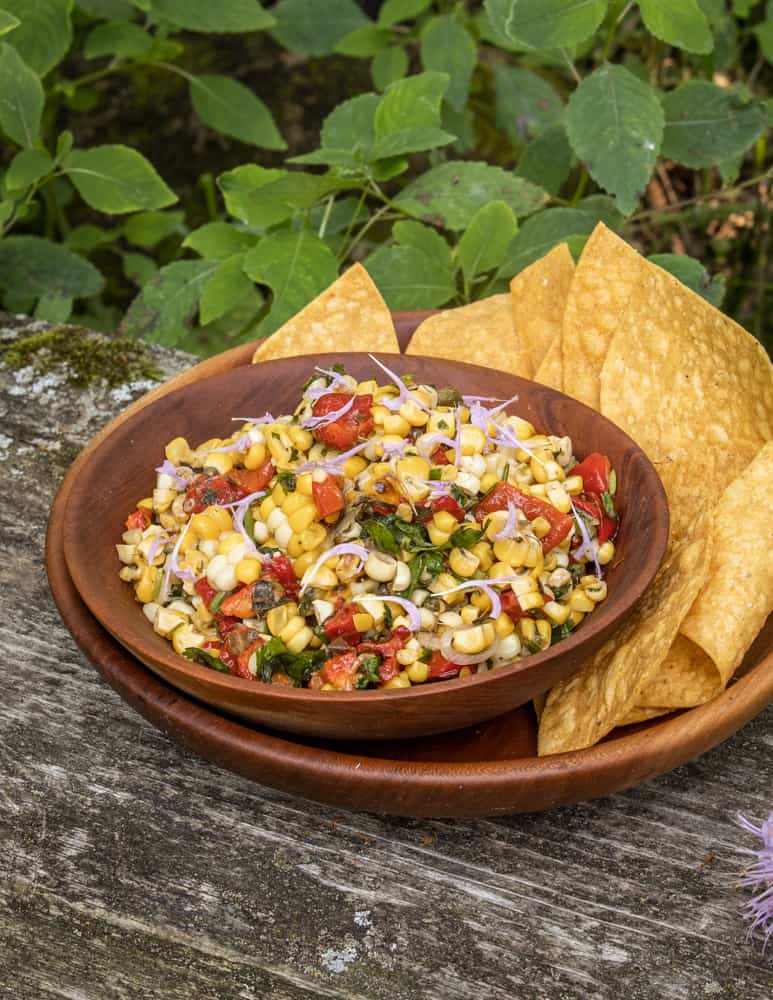 After the plant makes flowers (also delicious) it begins making seeds, which, after maturing and drying, are the bright-tasting, citrusy spice coriander we all know and love.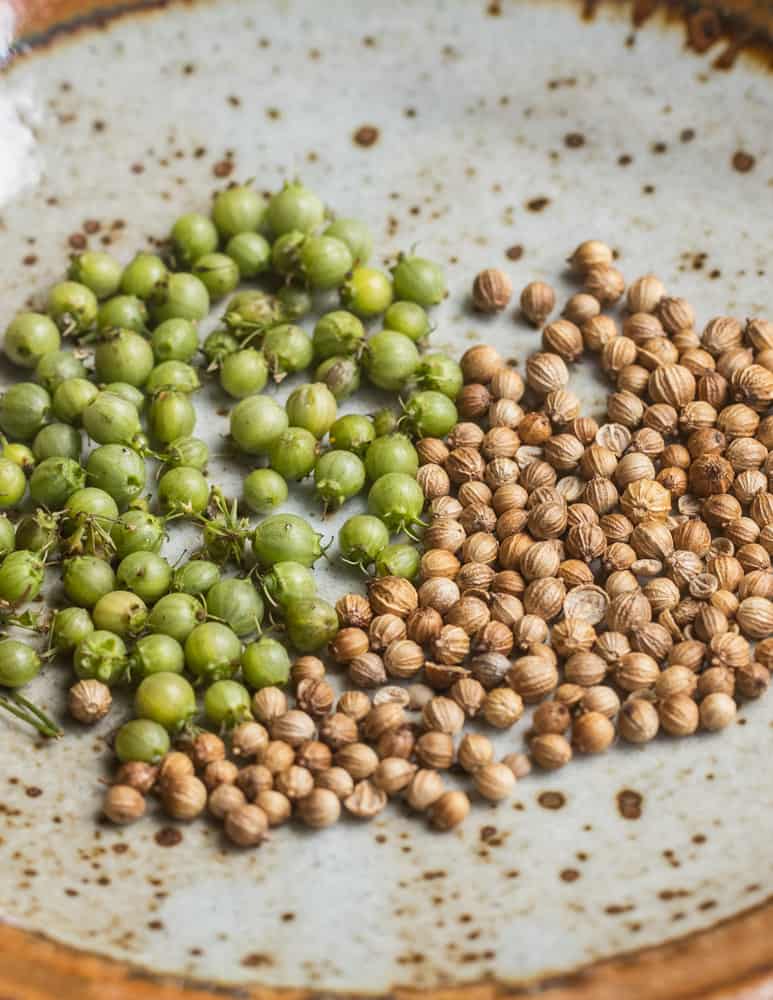 Like so many other herbs (wild Szechuan peppercorns being a perfect example) if you harvest the seeds unripe and green, before the seeds have matured and dried, you can cook with them, and they're fantastic.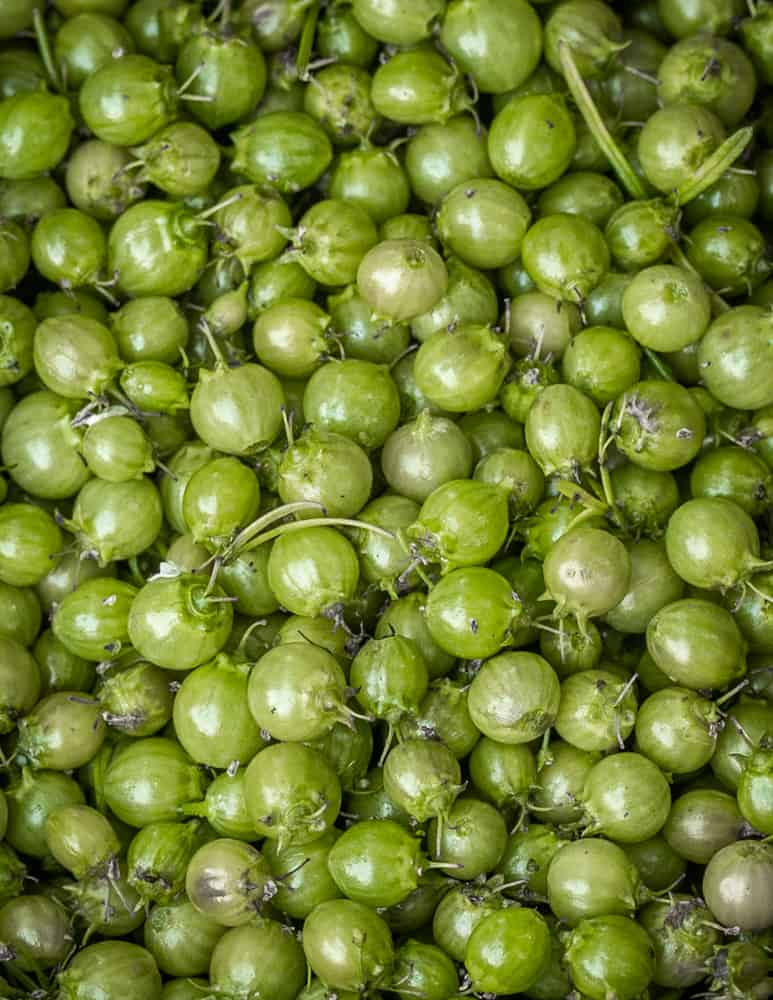 For a little technical clarification here, when I say green coriander or unripe coriander seeds, I'm not actually talking about the seeds. What the aroma is concentrated in, and what you will use in cooking, are the aromatic green husks surrounding the unripe seed.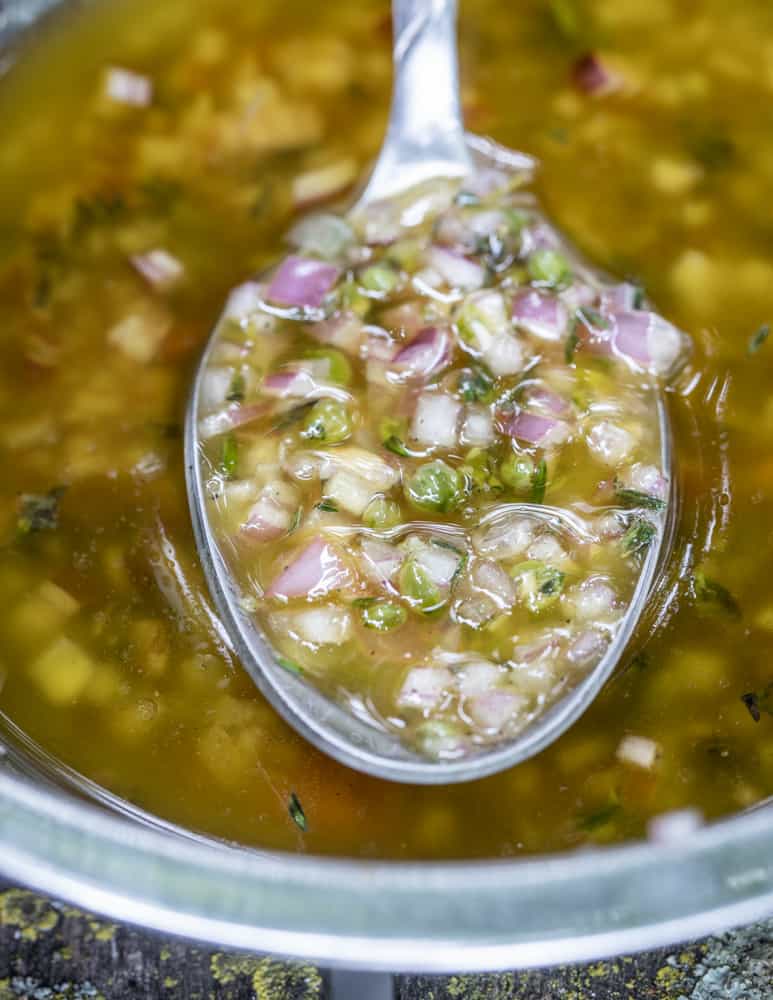 The seeds have an intense, floral aroma that's a bit like a cross between conventional dried coriander seed and cilantro, but it's really something else. The bright aroma and flavor are intense, almost electric tasting to me, and have a similar piercing aroma in the way that fresh lovage does. Just handling a few unripe seeds will leave the aroma on your hands, and fill a room with their scent.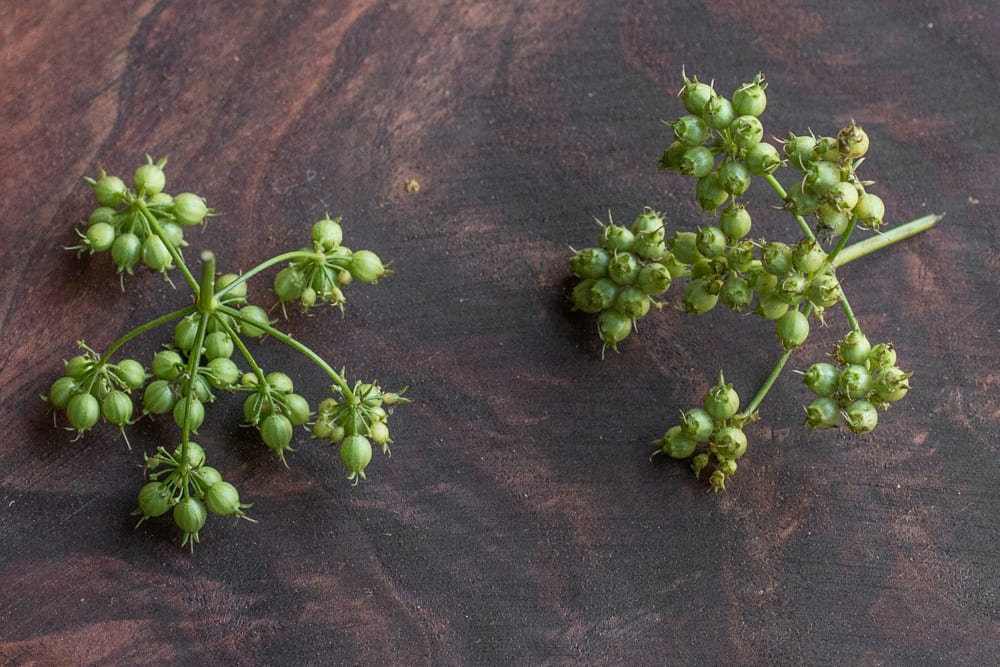 Some people may find the seeds slightly bitter eating them out of hand, but, remember that you wouldn't eat a sprig of rosemary raw either. Any hint of bitterness will dissipate when the seeds are combined with other ingredients, all you'll notice is a bright, aromatic pop here and there.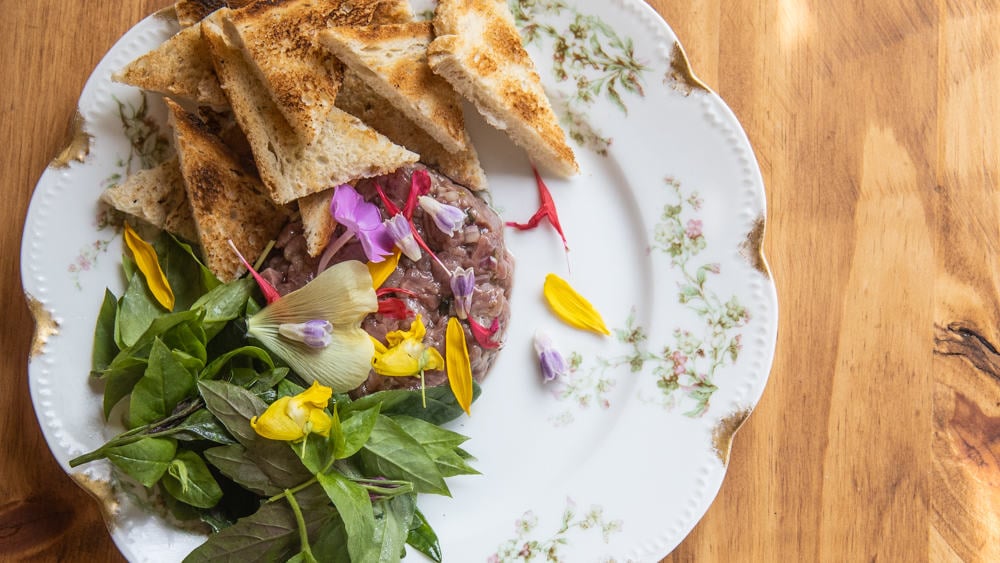 Cooking
Unripe coriander seeds aren't as easy to use as buying a bunch of cilantro, but you only need a few of them to flavor a dish. As they're round, they naturally want to roll all over your cutting board, so it's helpful to crush them with the back of a chef's knife or other flat blade (a bench knife can work) or crush them up in a molcajete (a smooth mortar and pestle is not as efficient). After you mush the seeds and husks up a bit, you can chop them roughly and add them to whatever you like.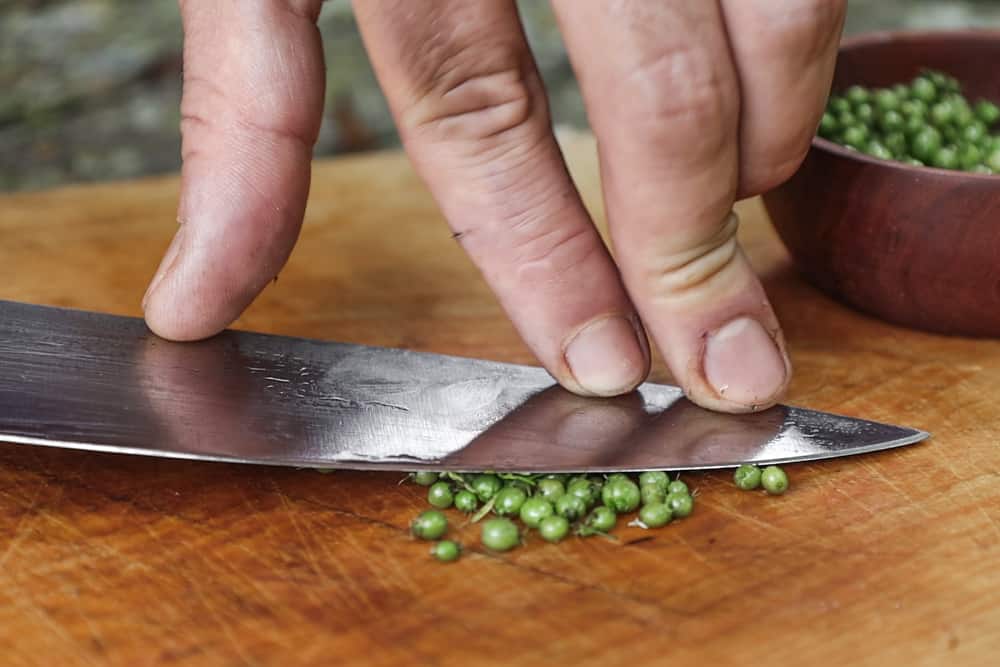 Fresh seeds, like cilantro leaves, should be stored in the fridge, but, unlike the delicate leaves, they can last for weeks. To preserve them you can put the green seeds in a jar in the freezer, which is probably the best way to keep their fresh flavor, but they can also be fermented in brine to preserve them, which gives a slightly different end product.
Whatever you do, I hope you give green coriander a try. The small amount of work it takes to gather them is well worth the effort.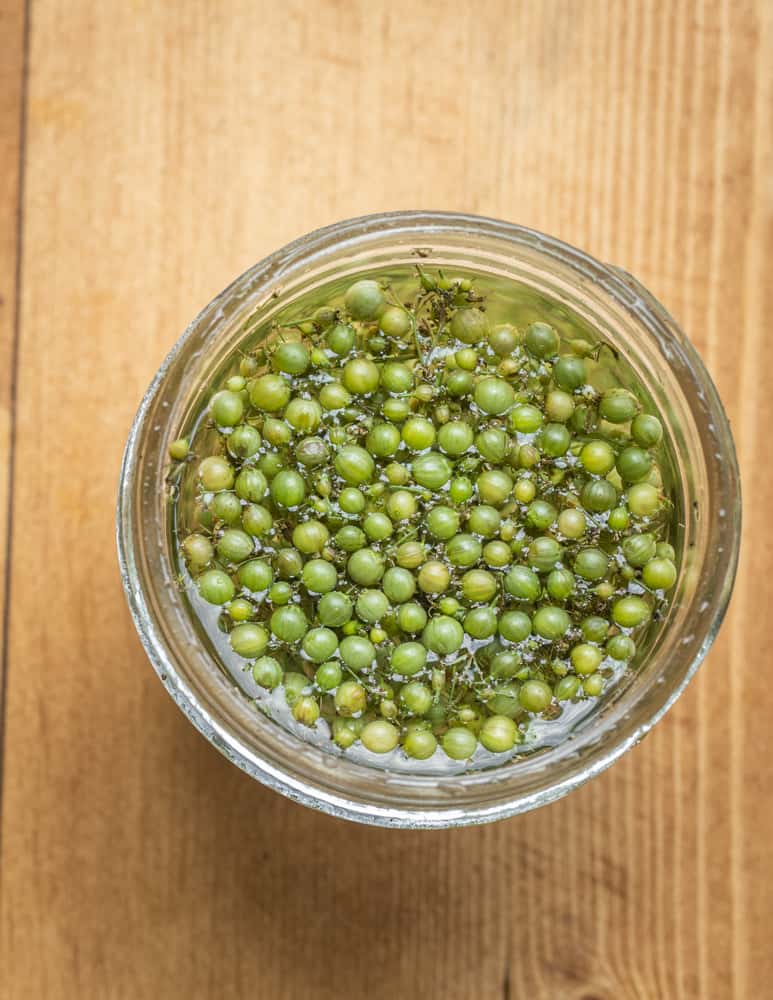 Use Ideas
SALSA. Add chopped green coriander to taste for some extra punch, for a flavor bomb, add the seeds whole 
Mayonnaise based dressings, dips and sauces
With any raw fish, crudo, sushi, and tartare
They're fantastic pureed into a simple herb sauce like Italian Salsa Verde (you can use my recipe here as a guide, use a tablespoon to start)
Ferment them in brine (see method below) then add the seeds whole to dishes and sauces
Use them to flavor other things, especially liquid, as in pickles and brines. For example, you might crush a small handful of green coriander to release it's aroma and add to lacto-fermented pickles, or cooked pickle brine as you would seed heads of dill.
If you have The Forager Chef's Book of Flora, the Bergamot Charmoula calls for green coriander as an optional ingredient, and is a great way to use them.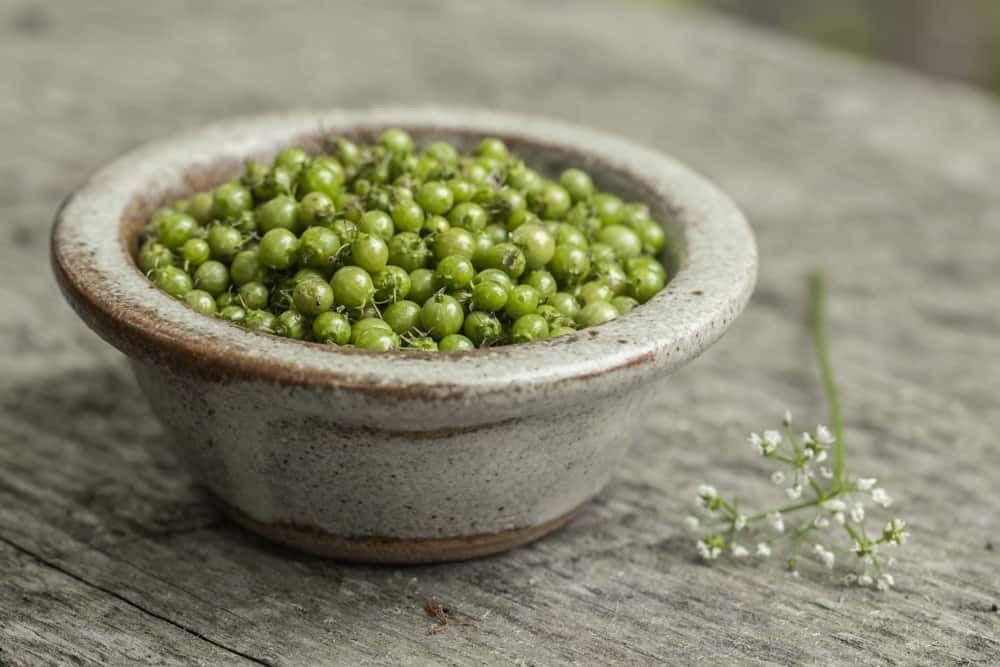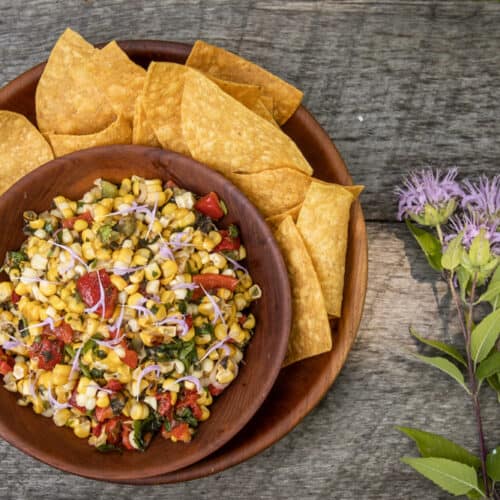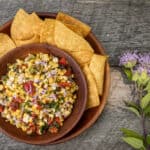 Print Recipe
Corn Salsa with Monarda and Green Coriander
Slightly spicy corn salsa made with grilled or roasted corn, fresh Monarda fistulosa leaves, and green coriander. Typically salsas don't include oil, but I like some with my corn salsas, consider that optional.
Ingredients
8

ears of fresh sweet corn

in the husk (or 4 cups of kernals cut from the cob)

1

large red bell pepper

1

large jalapeno

1

tablespoon

roughly chopped wild Bergamot leaves or to taste

1-2

tablespoons

green coriander seeds

to taste

1

teaspoon

kosher salt

3

Tablespoons

Smudes sunflower oil

optional

Small handful of cilantro

roughly chopped

1

bunch

2 oz of scallions, tender green and white parts only, thinly sliced

1

large lime
Instructions
Roast the pepper and jalapeno over a flame, a grill, or gas burner until blackened all over, then transfer to a container with a lid or a zip top bag, seal, and allow to cool and steam, which helps the skin release. Remove the skin and seeds from the pepper and chop medium-fine or dice. Repeat with the jalapeno, wearing gloves to prevent unfortunate after burns.

Cut the corn from the cob and reserve.

Crush the green coriander with the back of a knife to release their aroma, then chop fine. Combine all ingredients in a large bowl and mix well.

Roll the lime on a cutting board a bit to break the capillaries and help it juice. Scrape a few gratings of lime zest into the corn, then cut in half and squeeze the juice into the salsa.

Double check the seasoning for salt, pepper, coriander, herbs, spiciness and lime, adjust as needed until it tastes great, then refrigerate until needed.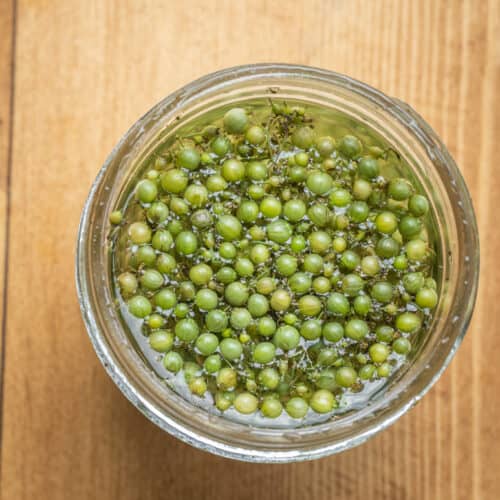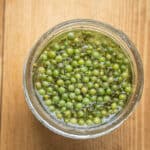 Print Recipe
Fermented Green Coriander
Unripe coriander fermented in brine is a useful way to preserve the green seeds.
Ingredients
½

cup

(50 grams) green coriander

This is a scant half cup

½

cup

(120 grams) filtered water

1

teaspoon

(5 grams) kosher salt

this is 3% of the total weight of water and green coriander, you could also use brine with a concentration of 2-5% salt.

1

small grape leaf

(optional, this is mostly to help prevent Kahm yeast)
Instructions
Combine the green coriander, grape leaf if using, salt and water and put in a glass pint jar with a lid.

Shake the jar to dissolve the salt.

Allow the green coriander to ferment, covered, for 1-2 weeks, shaking the jar occasionally and opening it here and there a few times during the process to release carbon dioxide.

After a week, taste the green coriander to judge if the flavor is sour to your liking, when it is, you can refrigerate it to slow the fermentation, or keep it out at room temperature, where it will continue to sour. Add them anywhere you would use green coriander. They're fun to add to things whole for a pop of flavor.