Midsummer means a lot of things, but heat and garden weeds are probably two that many of us are familiar with right now.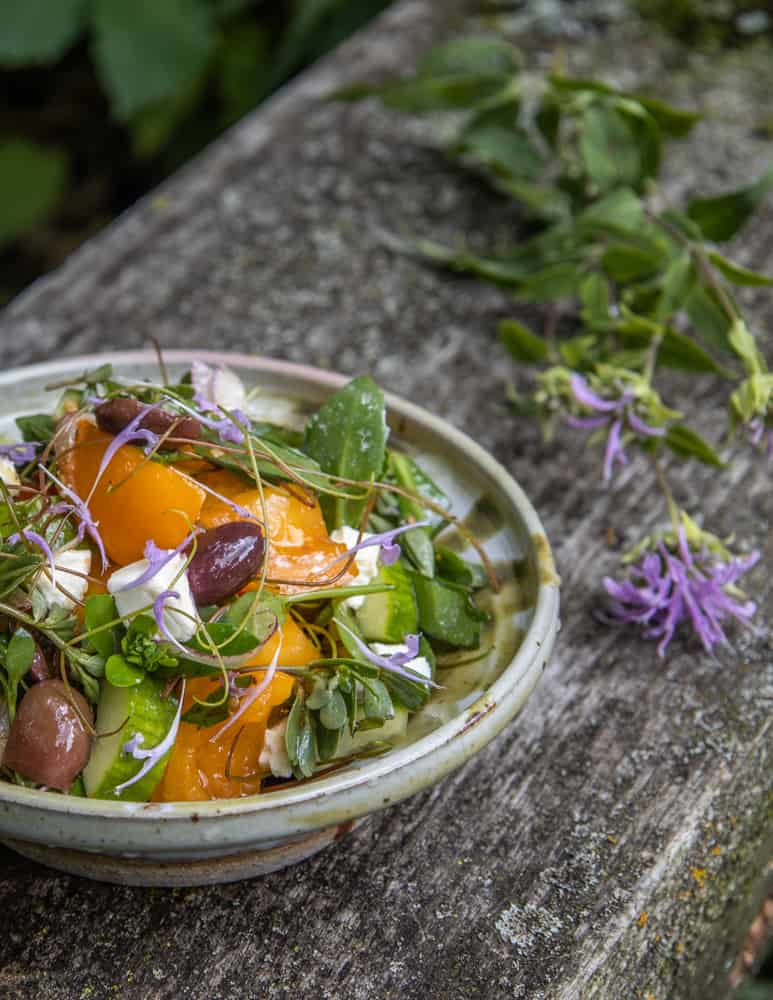 A few weeks ago, there was a dinner on the farm I was going to contribute a dish too, and, as my partner's family is proud of their Greek heritage, I thought it would be fun to do wild Greek salad.
It's a great thing to make when the weather is warm and the tomatoes are coming on, as well as some the weeds that might be growing alongside them.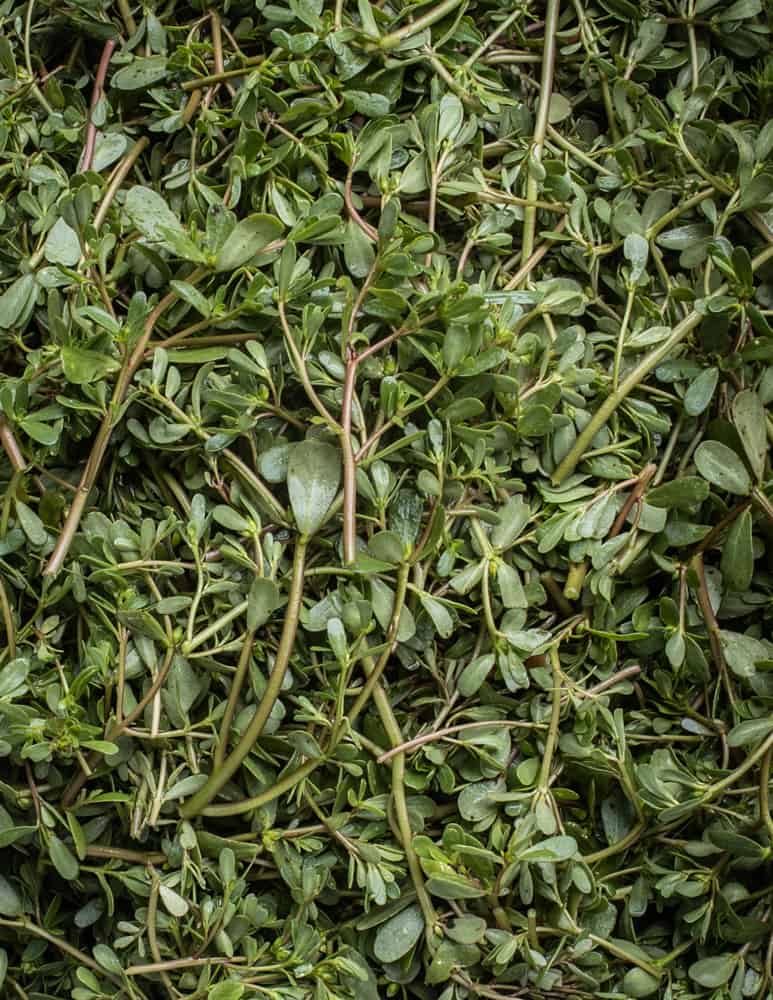 Greek salad, as I was taught to make it, should be chunky, with relatively large pieces of tomato and cucumber (one restaurant I worked at put a plethora of different diced vegetables in it, which was also good) mixed with a few salty bites of feta and the occasional olive here and there.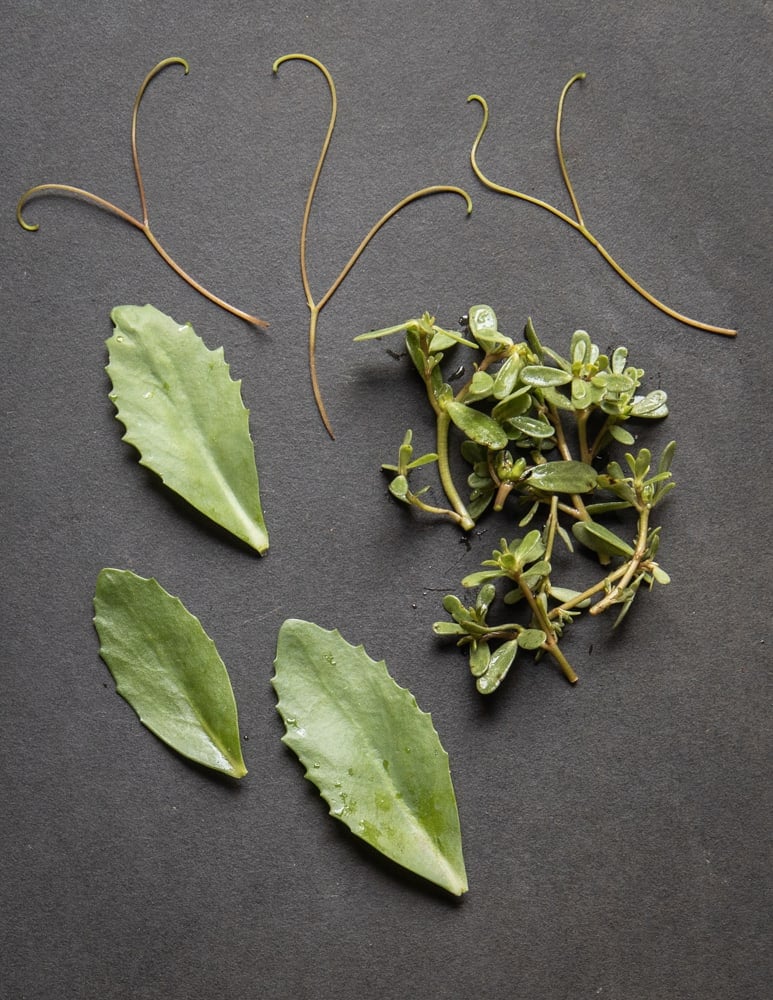 The chunky, crisp canvas is a perfect place to add a few summer wild edibles and I thought it would be a fun way to show off two of my favorite edible succulents together: purslane (verdolagas) and stonecrop.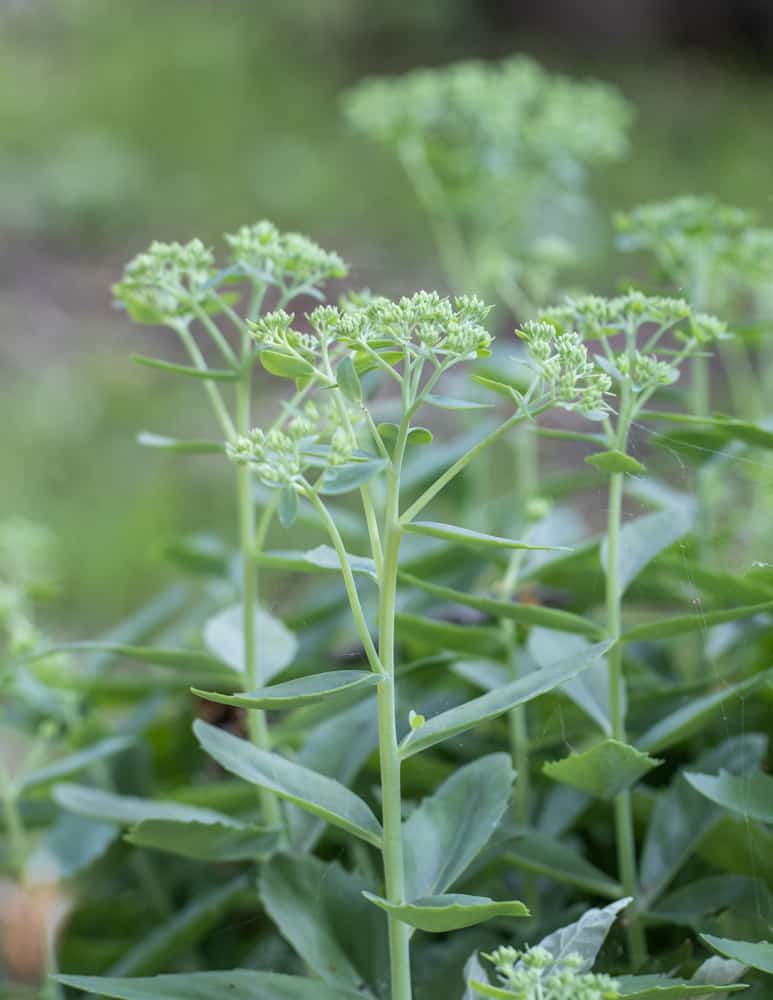 Purslane is very common, and loves to grow in the disturbed soil of a garden. Stonecrop/orpine is typically planted as an ornamental, but I've come across at least two different places now where I've noticed garden escapees that have formed wild colonies (it doesn't seem too aggressive as compared to some other edible ornamentals like Aegopodium/snow on the mountain).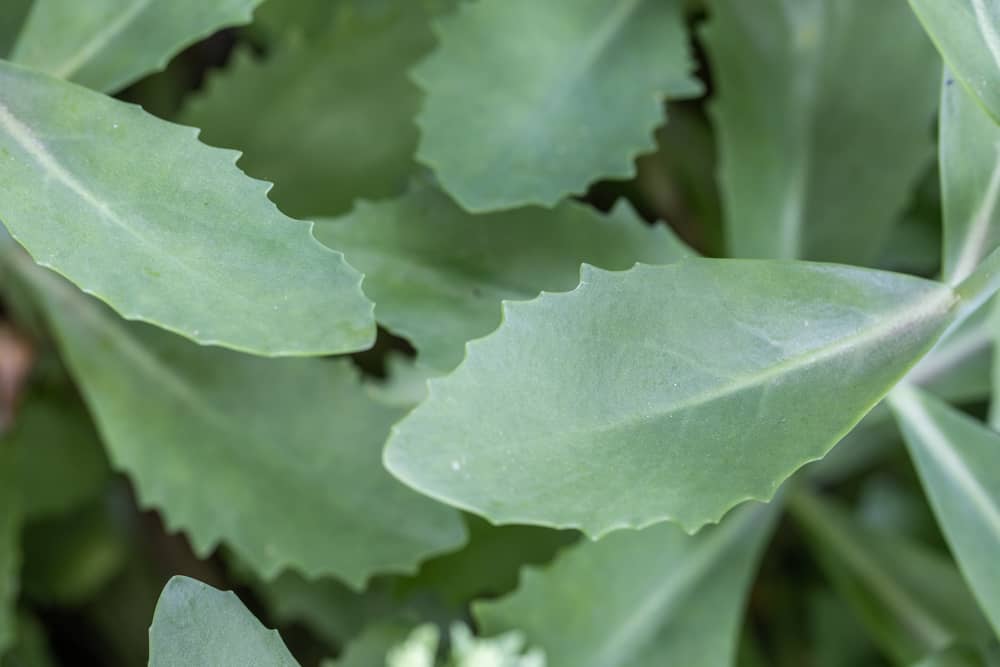 Both succulents are good to eat, but it would be remiss of me to not mention that I will generally add less stonecrop to a salad than purslane. Purslane is mild and pleasant tasting to me (the flavor is slightly stronger after cooking). Stonecrop has a much stronger flavor, a sort of rich green taste that some people will not like if they eat a leaf raw.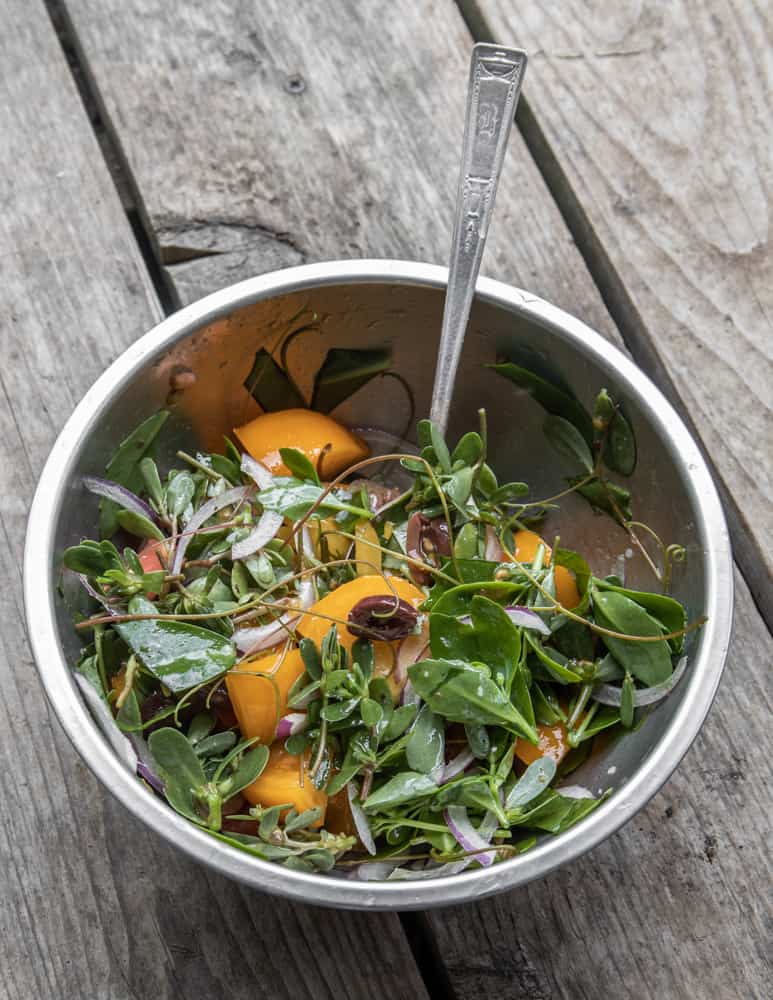 That being said, one thing I always try to drive home to people when they're trying a new plant that has a stronger flavor, is that what something tastes like raw, is not necessarily what it will taste like after it's been seasoned and mixed with other ingredients.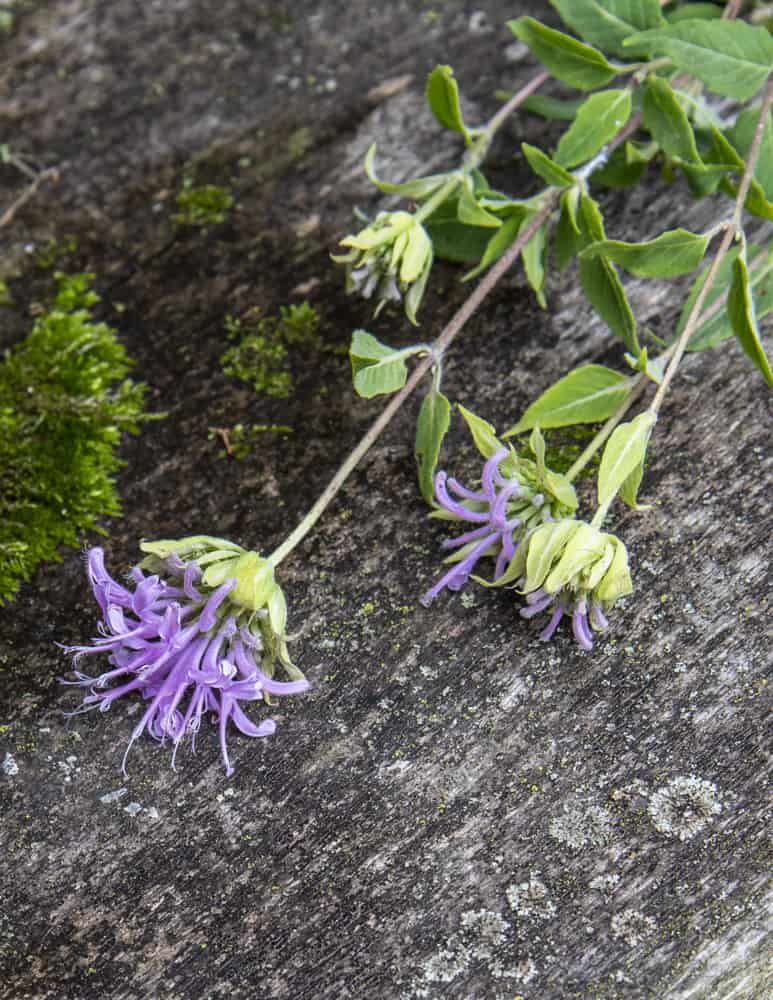 If you find the taste of stonecrop leaves strong for your palate by themselves, I really suggest you still add a few for the experience of understanding how flavors become part of a whole when eaten in combination with other things, if nothing else.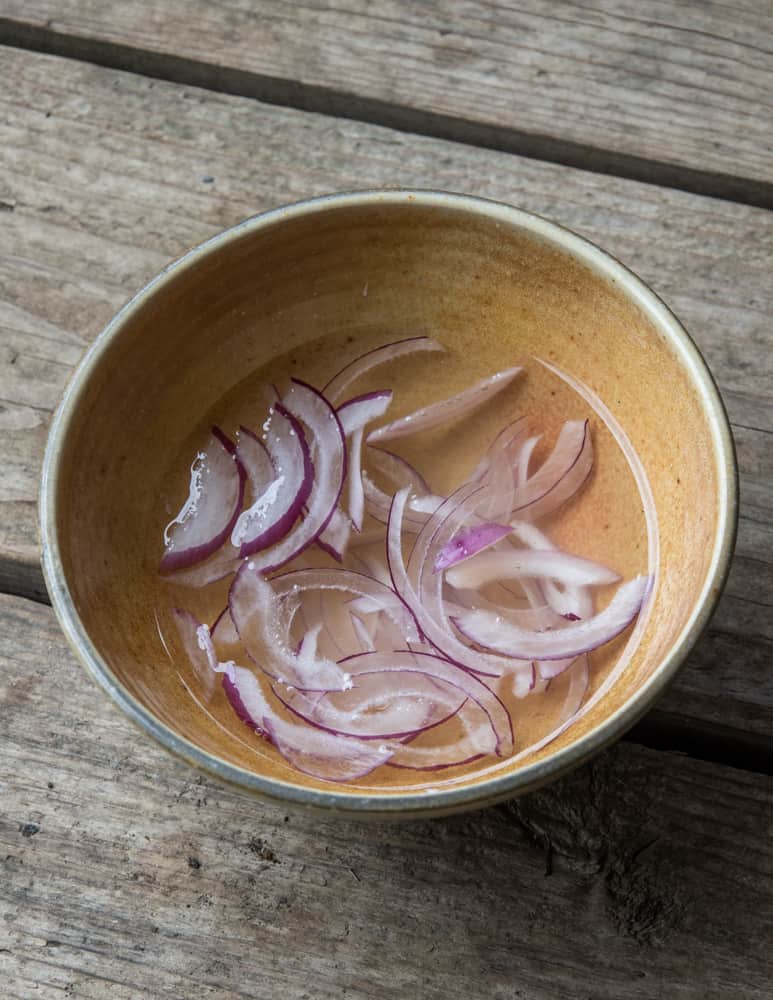 The other fun addition here, that also functions as a nod to the Greek and Mediterranean aesthetic, are the young, meristematic tendrils of wild grape vines.
I love snipping a few tendrils to add to a salad as much for their curling shape as for the pleasant, tart crunch they add to all kinds of dishes. The tendrils are a nice, whimsical garnish, bound to come up in dinner conversation. 
At first glance, the young tendrils of grape vines might seem too precious or small to warrant harvesting, but keep in mind you need only a small handful of them to grace a salad.
If you haven't tried grape tendrils yet, nip one off a vine the next time you see them-they're nice and tart with none of the pronounced tannins that raw grape leaves have.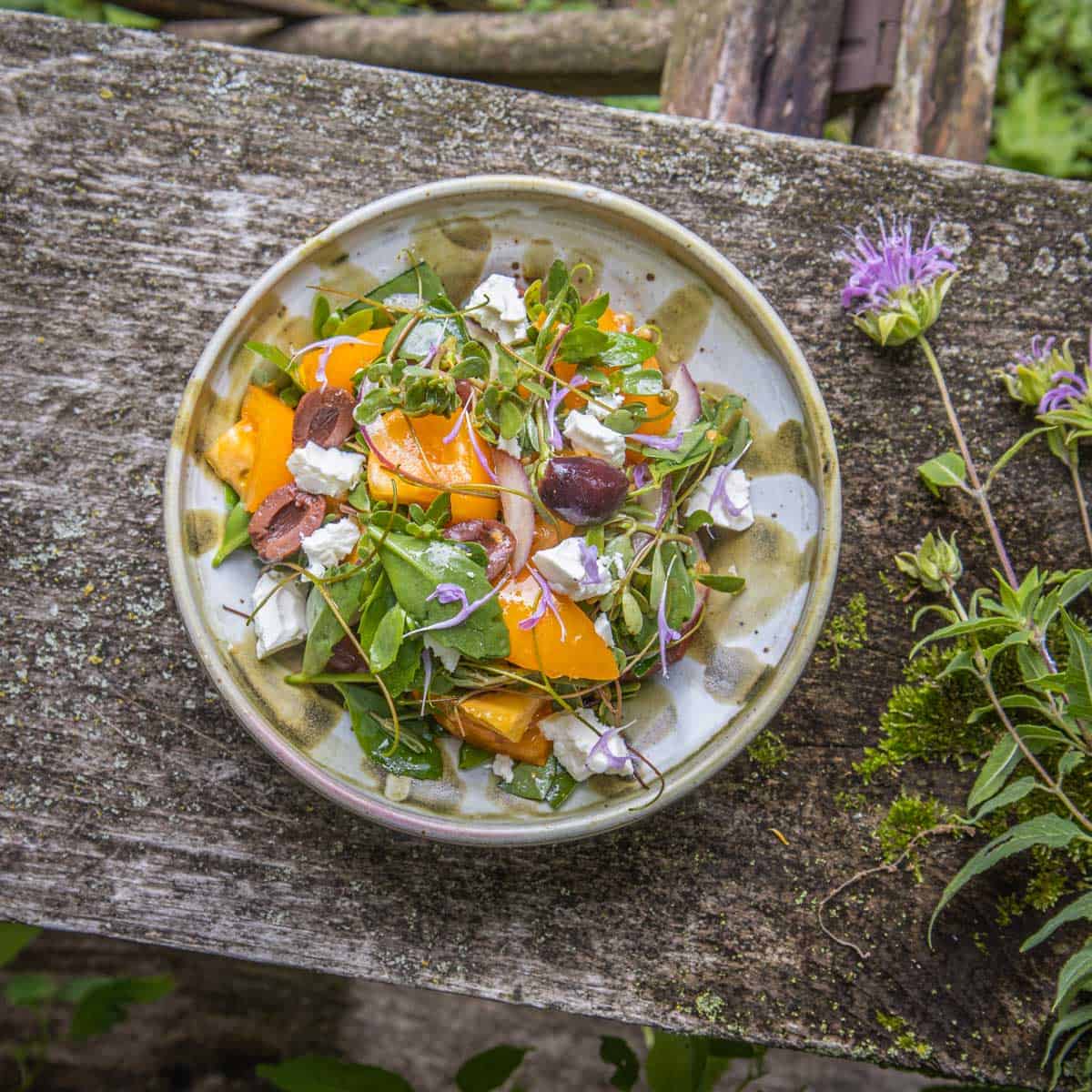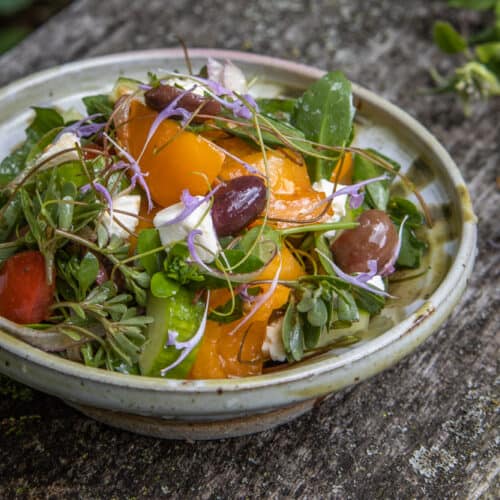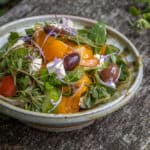 Print Recipe
Wild Greek Salad with Purslane, Stonecrop and Grape Tendrils
A wild greek salad with edible succulents, tomatoes, feta cheese, cucumbers, and tart grape vine tendrils, is a delicious play on the classic. Serves 2-4.
Ingredients
1

(8oz) medium heirloom tomato

highest quality possible that has never seen a refrigerator

1

oz

(a good handful) tender tips of purslane, washed and cleaned

(see note)

½ -1

oz

tender stonecrop tips or leaves

to taste

1

small handful wild grape tendrils

3-4 inches in length

1

oz

good feta cheese in block form

or more to taste. Do not use pre-crumbled feta which is dry and overly salty for my tastes.

1

oz

⅓ cup sliced kalamata olives

Castelvetrano olives make a nice alternative

½

oz

red onion shaved as thin as possible

sliced the correct way (see note)

Pinch

Kosher salt and fresh ground black pepper

1

English cucumber

A few leaves of torn fresh basil

to taste

2

T

Smudes sunflower oil or EVOO

or to taste

2

teaspoons

red wine vinegar

or to taste

Wild bergamot flowers

to garnish, optional
Instructions
Immerse the red onion in cold water for at least 30 minutes before assembling the salad.

Core the tomato then cut in half horizontally. Cut each half into wedges slightly larger than you would for a regular salad, the pieces should seem a bit large.

Cut the ends from the cucumber, then cut it into ⅓rds, you will not need all of it. Take one third and cut it in half lengthwise, then again, to make ¼ 's. Cut the seeds out, then cut the cucumber strips into 1 inch pieces and reserve.

Mix together all ingredients, adding the cheese at the very end and mixing gently to avoid breaking it up to much.

Double check the seasoning for salt, pepper, herbs, cheese and acid, adjust until it tastes good to you, and serve. The salad can be made ahead of time (avoid refrigerating it as it will denature the texture of the tomato) but you should add the herbs and cheese right before serving to keep their fresh flavor.

Serve the salad garnished with monarda flowers if using, as well as extra grape tendrils, if you like.
Notes
Slicing onions the "right" way 
One of my biggest pet peeves is onions cut the long way. To cut them the correct way, cut the top and bottom off the onion, then cut it in half vertically through the first cuts. Lay the two halves of onion cut-side down on a cutting board, and slice them the short way. Reference my picture of onions in the bowl as a guide. 
Purslane 
Use just the tender tips here. If you have lots of purslane, you might consider blanching it which will make the stems tender. 
Nutrition
Calories:
229
kcal
|
Carbohydrates:
11
g
|
Protein:
5
g
|
Fat:
20
g
|
Saturated Fat:
4
g
|
Polyunsaturated Fat:
2
g
|
Monounsaturated Fat:
13
g
|
Cholesterol:
13
mg
|
Sodium:
404
mg
|
Potassium:
502
mg
|
Fiber:
3
g
|
Sugar:
5
g
|
Vitamin A:
2562
IU
|
Vitamin C:
20
mg
|
Calcium:
159
mg
|
Iron:
2
mg