With only two ingredients (if you don't include salt and pepper), onions pickled in wild fruit vinegar is officially the easiest recipe I've ever put up here.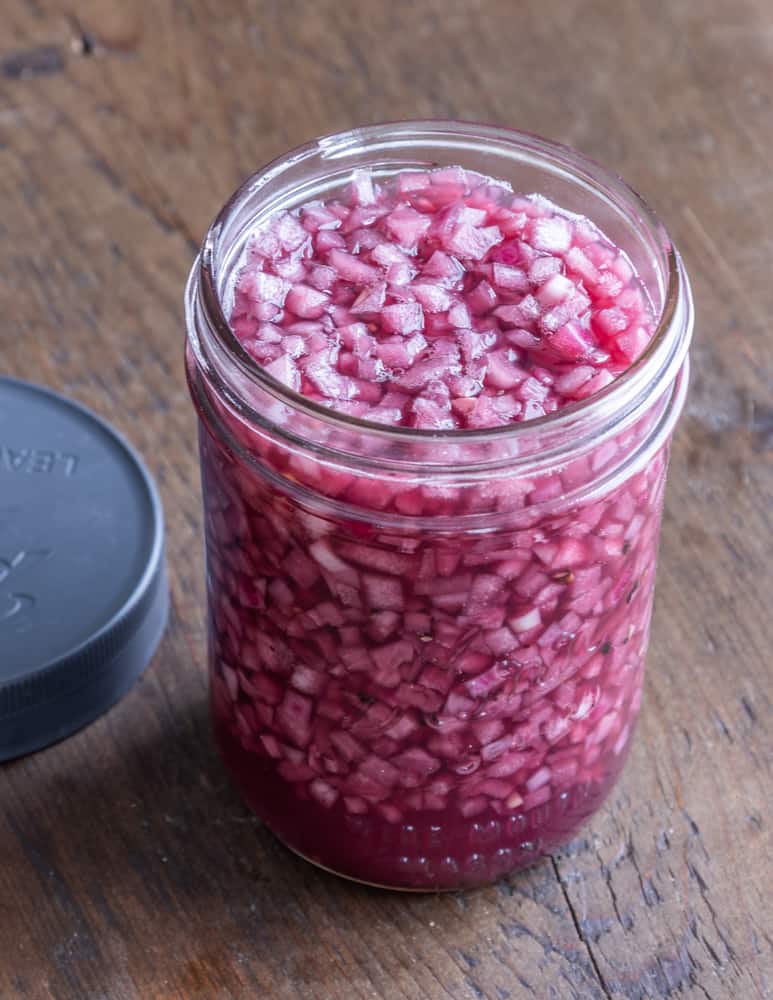 There's typically something like this in one form or another in my fridge or on the counter, and they're the perfect accent for a lot of different dishes, but specifically anything from Latin America and Mexico.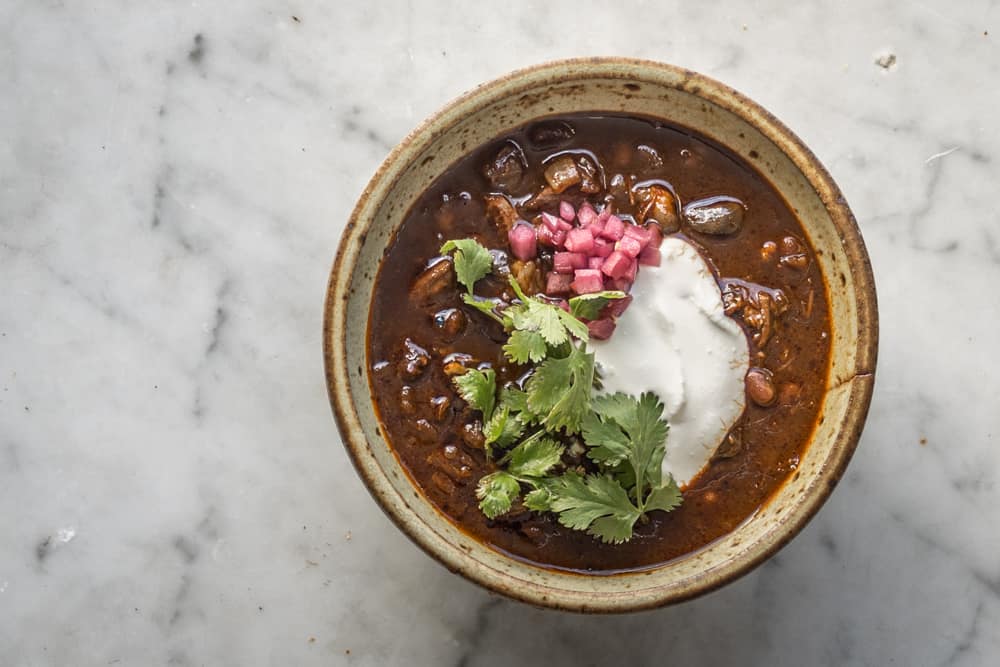 The idea came to me when I was making some goat birria tacos. The original recipe I was working off of called for onions soaked in lime juice as a finishing garnish, and, having forgotten limes at the store, I just cut up a large onion and covered it in some vinegar made from wild grape juice instead.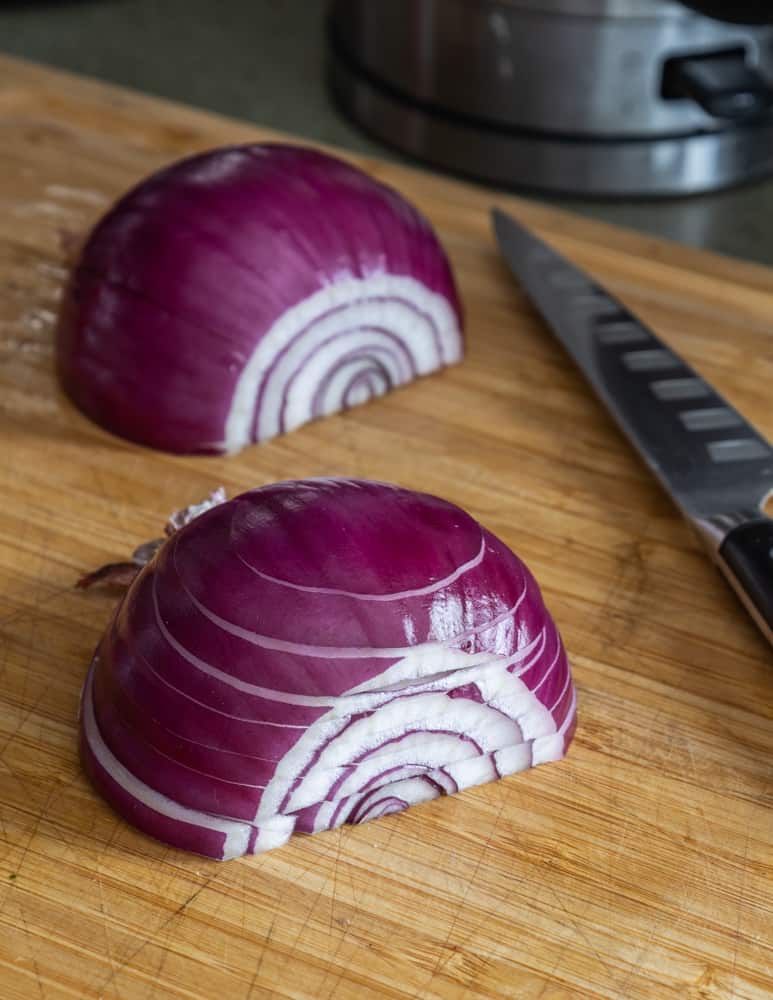 If you haven't made a batch of my fruit-scrap vinegar yet, you really need to. I've been making more and more every year so I have enough around for basic all-purpose cooking, and, by next year, I'm pretty sure I'll be able to be cooking with my own vinegars exclusively.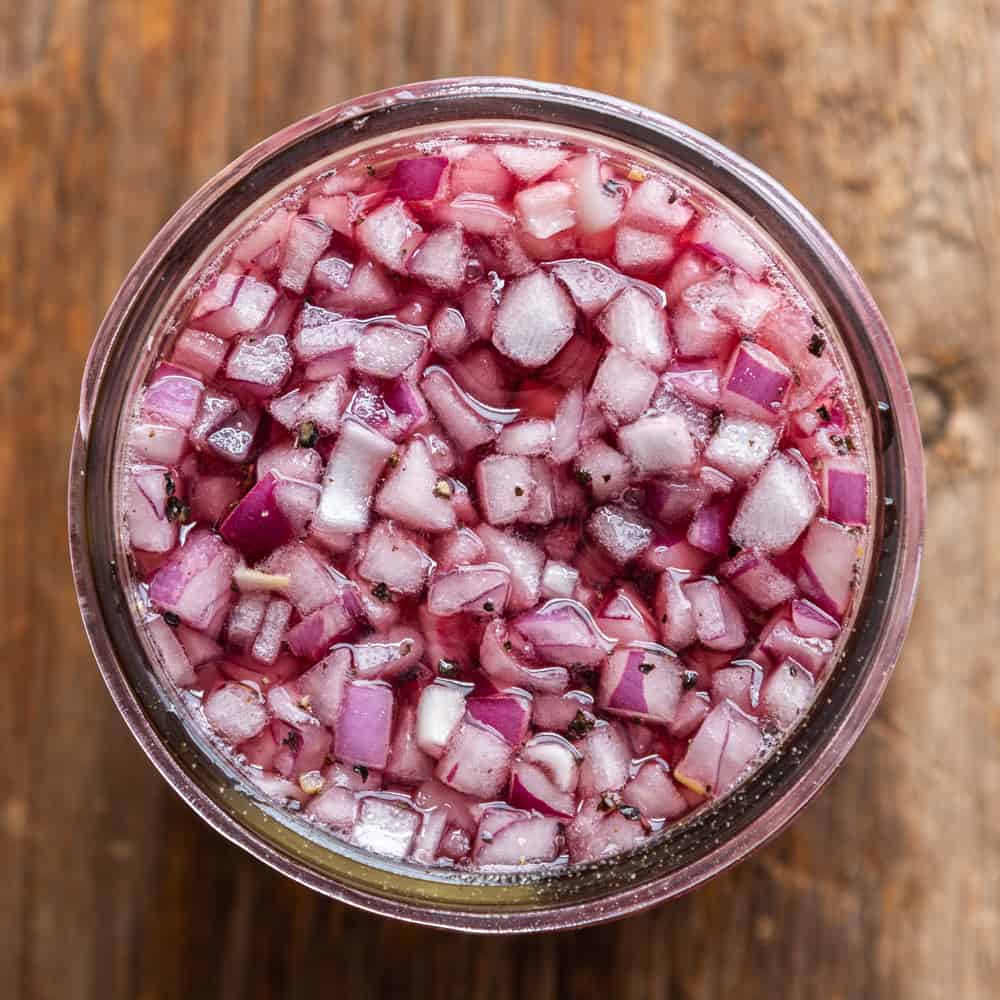 You can make vinegar out of just about any foraged fruit or fruit juice, and, the best part, is that you can use the scraps from making other things instead of dedicating your precious wild fruit to only vinegar.
Scraps leftover from juicing, skins, pits with a little flesh clinging to them will all work, and with the proportions in the recipe, you'll be left with a vinegar that actually has a nice low pH, meaning that it will have a similar zing and potency to vinegar you'd get from a store.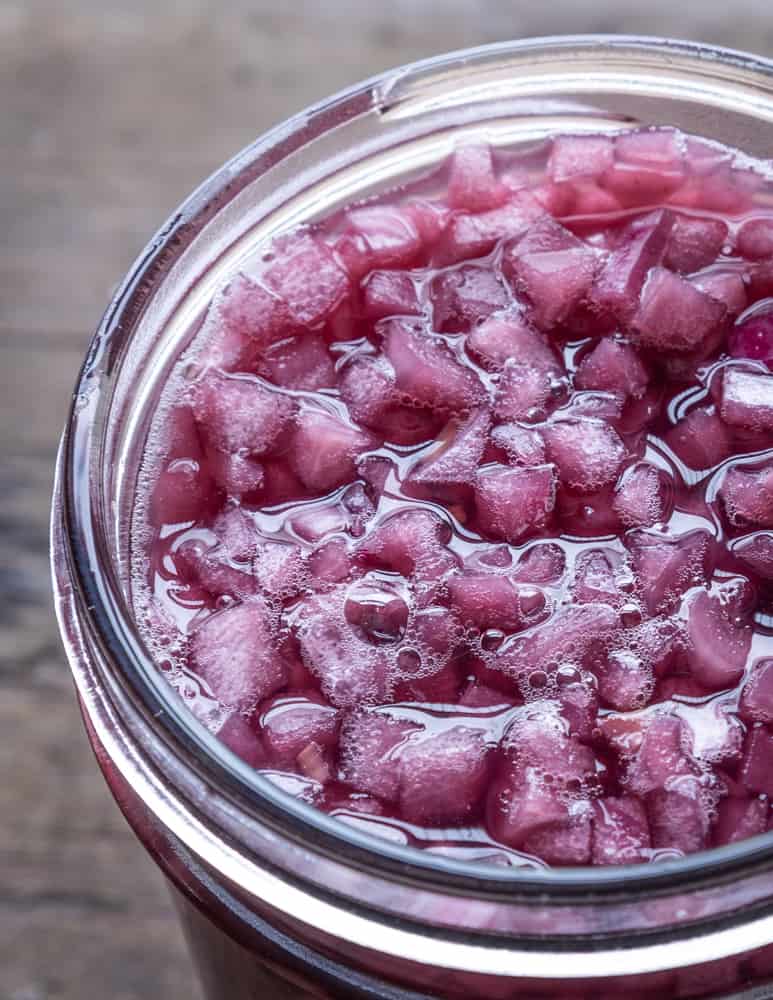 To make the pickled onions, a recipe is hardly necessary, but I'm including one for posterity here. All you do is cut onions into a nice fine dice, put them into a jar with a pinch of salt and pepper, and then cover the onions with your homemade vinegar. As the vinegar has never been cooked, it will continue to bubble and fizz as it breaks down the onions.
How to use
Use the pickled onions anywhere you'd like an extra pop of acid and oniony flavor. Here's a few ideas.
On tacos, quesadillas, and just about any Mexican food you can think of.
Soups, especially spicy ones like chili.
Slowly braised or smoked meats, especially those with rich, heavy sauces like a braised shortrib.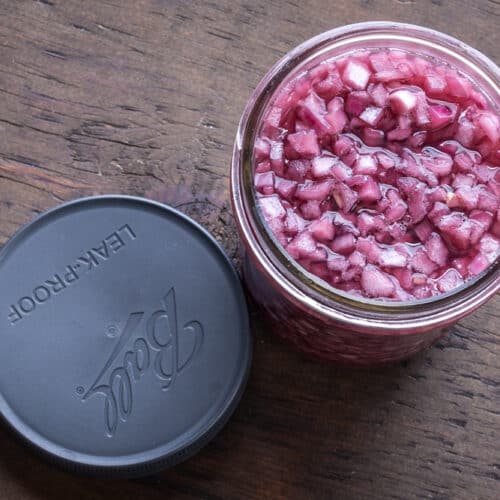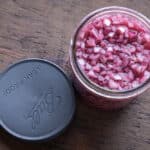 Print Recipe
Onions Pickled in Wild Fruit Vinegar
Onions pickled in homemade fermented wild fruit vinegar. They're the perfect garnish for tacos and your favorite Mexican foods.
Ingredients
1 large red onion

Homemade fruit scrap vinegar, as needed

Pinch of kosher salt

a few generous grinds of fresh black pepper
Instructions
Cut the onion in half root to stem, then remove the skin.

Put the onions cut-side down on a cutting board, then make equally-spaced horizontal cuts from top to bottom.

Next, make vertical cuts through the onion halves top to bottom, trying to be as equally spaced as you were with the horizontal cuts to make it so that when you cut the onion, it will make tiny squares.

Holding the root end, cut the onion vertically to dice it into tiny cubes. Put the diced onion into a non-reactive container like a glass mason jar, add a pinch of salt and a few grinds of fresh black pepper, mix, add the vinegar to cover, top with a plastic or other non-reactive lid, and allow to rest at room temperature for a day or two.

The onions can be used within a few hours of soaking in the vinegar, but will improve in flavor over the next few days. Finished pickled onions can be stored either in the fridge or on the counter and are shelf-stable.