A simple salad of black lentils is one of the first recipes I made in which, instead of trying to cover up the flavor of the cow parsnip seeds/golpar, I used it—combining the cow parsnip seeds with a little cumin—and watched a group of hungry people gobble it up. After I tested the recipe on family, I liked it enough that I served it to around 200 people for the Wild Harvest Festival in 2019.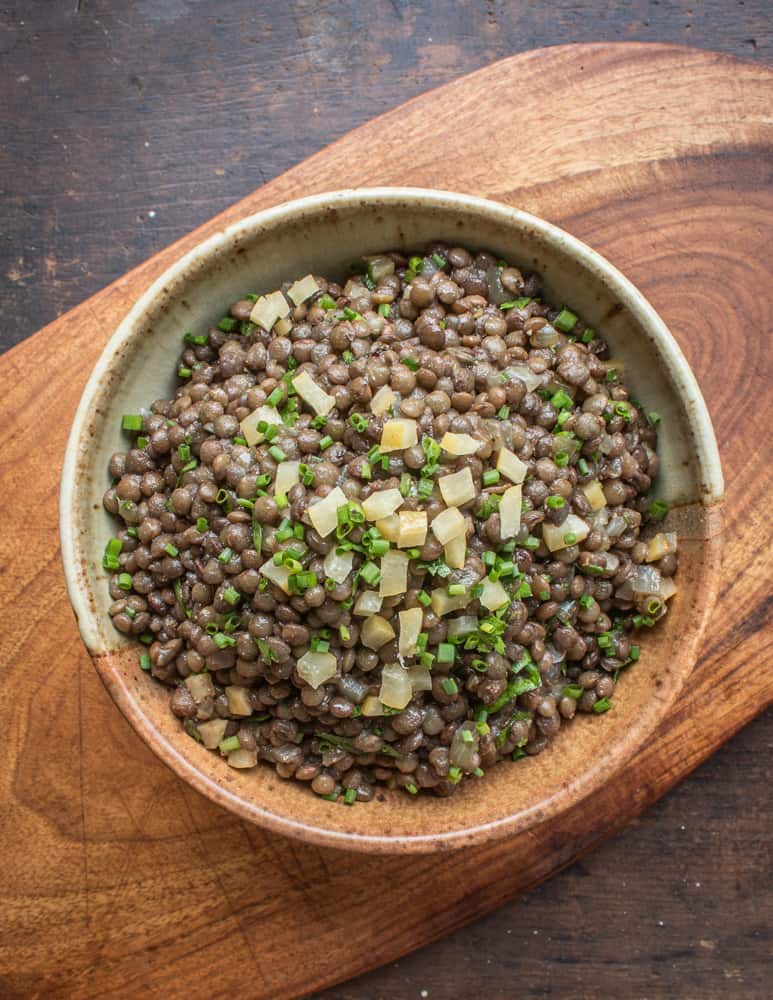 You want lentils that hold their shape really well here; black lentils are my favorites, or the tortoiseshell-green lentils du puy. Cheap brown or red lentils won't work here. One of the best parts of this, that is also optional, is the preserved lemon. I use my fermented lemons here, but you can use preserved lemons, a splash of lemon juice, or skip it if you have to.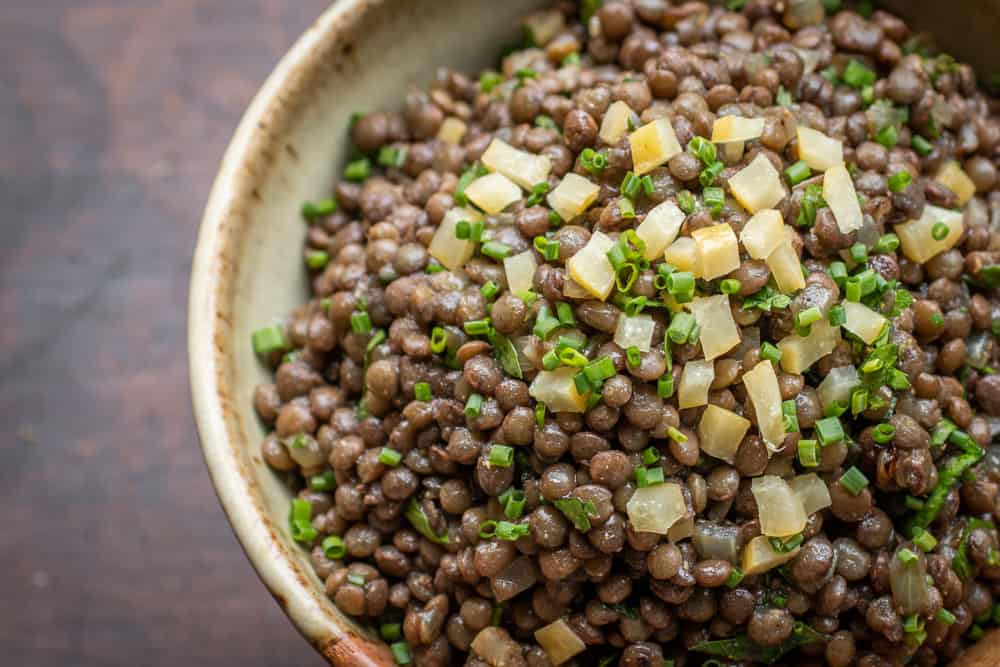 How to serve
This is a great salad for the summer when it's warm outside and you don't feel like turning on the stove as it can be made ahead of time. It's portable and good for picnics and potlucks.
For serving with a meal, this is a perfect compliment to grilled our broiled fish, shrimp, pork or chicken.
Variations
There's lots of ways you can vary this and make it your own. Here's a few ideas.
Add a nut or seed oil, such as walnut oil
Add fresh herbs at the end when the salad is cool before serving, especially mint, scallions, basil, or cilantro
Cheese can be nice here too, especially feta, preferably one that's held in brine and sold in large chunks.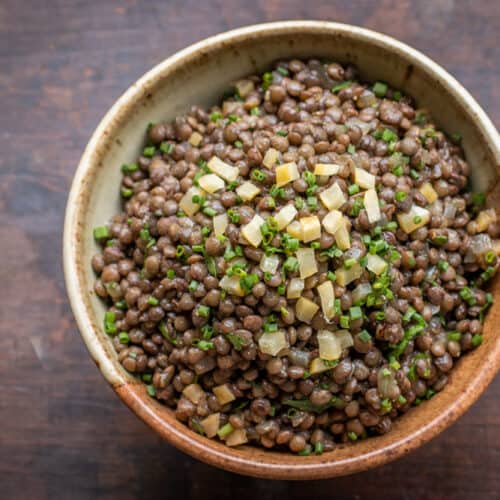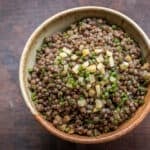 Print Recipe
Lentil Salad with Golpar and Preserved Lemon
Simple braised lentils with golpar and preserved lemon. It's a good place to start if you're new to cooking with this spice. Serves 5-10 depending on the size of the portion
Ingredients
1

cup

200 g black lentils or lentils du puy

2

cups

490 ml stock or water

Kosher salt

to taste

1

ounce

28 g shallot, in ¼-inch (6 mm) dice (or a small onion or leek)

1

tablespoon

flavorless oil

such as grapeseed

3

tablespoons

roasted walnut or another nut oil

or good- tasting olive oil

1

tablespoon

flavorless oil

such as grapeseed¼ rounded teaspoon, rounded, ground cumin

¼

rounded teaspoon

rounded, ground cow parsnip seeds/ (golpar)

1

ounce

28 g shallot, diced ¼ inch (6 mm) (or a small onion or leek)

1½

tablespoons

fresh lemon juice

or to taste

1½

tablespoons

Fermented Llemon confit Confit

page XX, diced in ¼- inch (6 mm) dice (or preserved lemons soaked in water, or grated lemon zest, to taste)

Chopped fresh cilantro

or dill or mint, to taste (or dill or mint)
Instructions
Bring the lentils to a simmer with the water stock and a pinch of salt, then cook, covered, at a slow simmer, until the lentils are just cooked, about 20 minutes.

Meanwhile, sweat the shallot in the flavorless oil for a minute or two to tame it, then transfer to a bowl large enough to accommodate the lentils.

Drain the lentils and combine with the shallots and remaining ingredients, d. Double- check the seasoning and adjust as needed.

Serve sprinkled with a few extra pieces of lemon Fermented Lemon confit Confit or chopped herbs. This dish is delicious served warm or at room temperature, and it travels well.
More