I love honeys, especially when they're browned and cooked with a rich sour cream sauce spiked with shallots and fresh dill. It's also one of the most traditional honey mushroom recipes I know.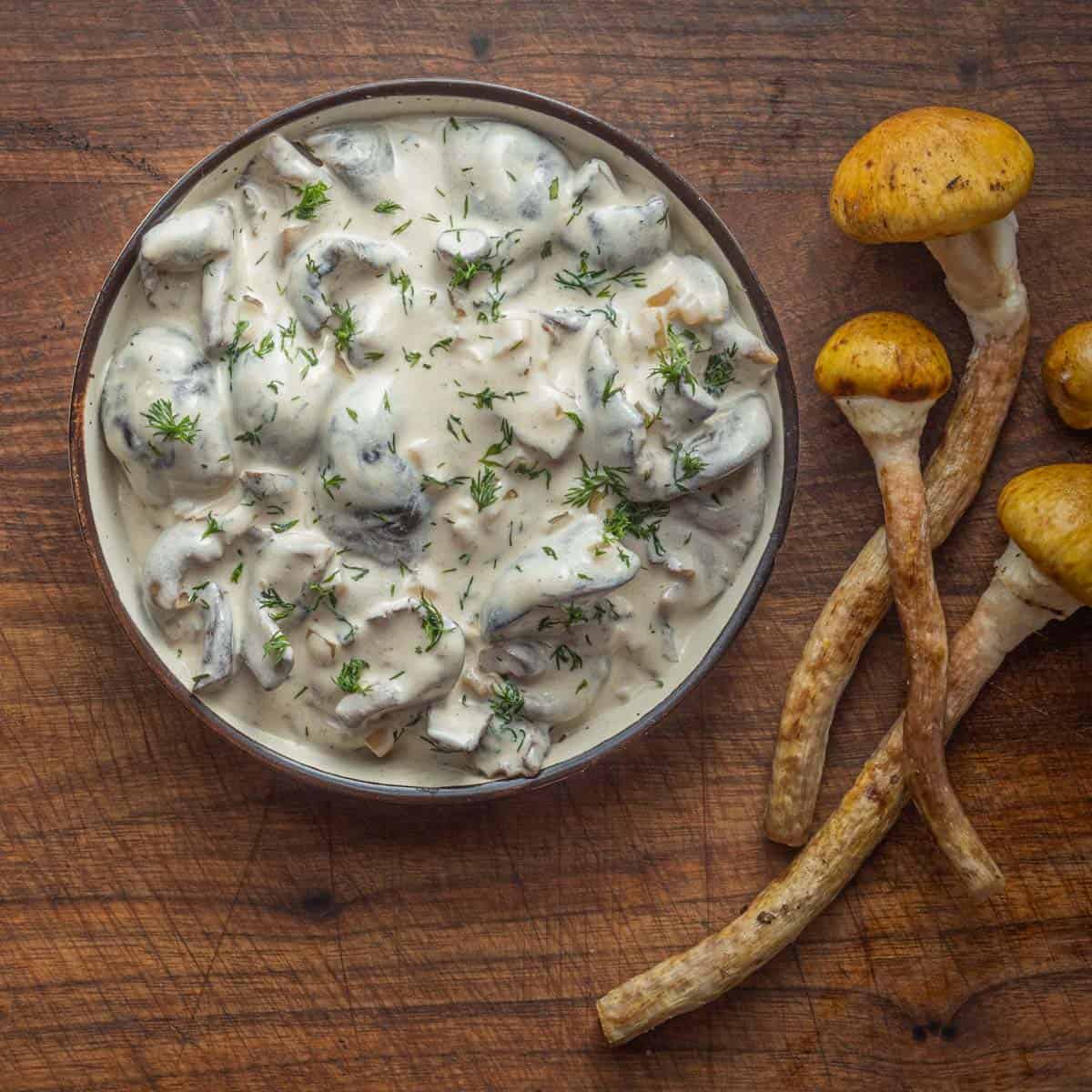 This is a tribute to my friends (and competition) from Eastern Europe who hunt honey mushrooms in the fall. Even though we may pick each others mushrooms here and there, I'm pretty sure the classic Russian-style mushrooms cooked in sour cream sauce is something we can both agree is good.
How to make it
It's easy to make, cook some honey mushrooms in fat until the water has evaporated and the mushrooms are browned and delicious, add some finely chopped onion or shallot, then deglaze the pan with some stock or wine. Finally, you stir in some sour cream and warm it up (don't boil it) to make a creamy mushroom sauce.
How to serve it
This is a super simple wild mushroom recipe, and there's lots of things you could do with it. Here's a few ideas.
Spoon the mushrooms and their sauce over grilled pork chops or chicken.
Serve the mushrooms and their sauce in a bowl with grilled bread for dipping.
Serve the mushrooms and their sauce over something creamy like mashed potatoes, and a green salad on the side for a vegetarian entree.
Safety
If you're a mushroom hunter this is probably nothing new, but you need to know that honey mushrooms need thorough cooking (they're often boiled) before they're eaten.
As this recipe doesn't include the par-boiling step, since it makes the mushrooms difficult to brown, you need to make sure they're thoroughly cooked before eating or serving to others. I've never been sick from honey mushrooms I've eaten, but it's something to be aware of.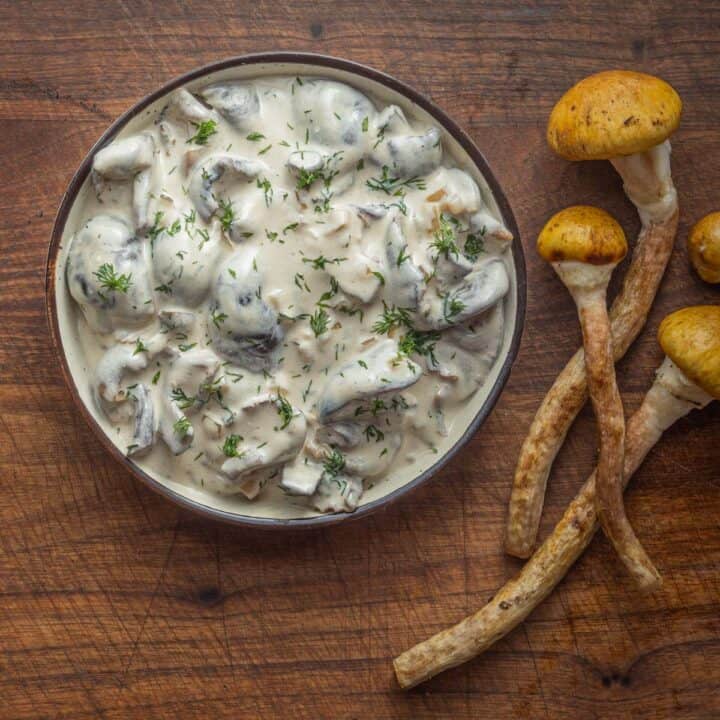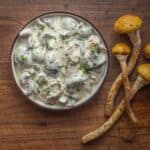 Print Recipe
Honey Mushrooms in Sour Cream
Serves 4 as an appetizer
Ingredients
8

oz

fresh honey mushrooms

cleaned and trimmed

¼

teaspoon

Kosher salt

plus more to taste

¼

cup

dry sherry

½

teaspoon

fresh chopped dill

2

tablespoon

shallot

diced ¼ in

2

tablespoon

unsalted butter

½

cup

highest quality sour cream

not the low fat kind

½

teaspoon

flour

¼

cup

chicken stock or water
Instructions
Cut the honey mushroom caps into ½'s if large, or leave whole if small. If you want to use some of the stems, and they're clean, without bug damage, you can, just cut them into 1 inch lengths. Personally I prefer mostly caps.

Heat the butter in a saute pan over medium heat and allow it to brown. Add the honey mushrooms and cook until lightly browned, about 5-10 minutes. Take your time as it's important to cook honey mushrooms thoroughly.

Season the mushrooms with salt, then add the shallot and cook for a minute or two until translucent. Sprinkle on the flour and stir to coat with the fat.

Deglaze the pan with the sherry and reduce until the pan is nearly dry. Add the stock and simmer for a minute or two to concentrate it.

Reduce the heat to low, then add the sour cream and dill and whisk in. Adjust the seasoning for salt and pepper as needed, you may also need to add a tablespoon or two of water to thin the sauce if it gets too thick. Serve immediately.
Notes
You can be creative with the herbs you use here. Fresh dill is traditional, but mint, chives or tarragon are good too. 
Nutrition
Serving:
4
oz
|
Calories:
79
kcal
|
Carbohydrates:
3
g
|
Protein:
2
g
|
Fat:
6
g
|
Saturated Fat:
4
g
|
Polyunsaturated Fat:
0.3
g
|
Monounsaturated Fat:
1
g
|
Trans Fat:
0.2
g
|
Cholesterol:
15
mg
|
Sodium:
150
mg
|
Potassium:
210
mg
|
Fiber:
1
g
|
Sugar:
2
g
|
Vitamin A:
175
IU
|
Vitamin C:
2
mg
|
Calcium:
7
mg
|
Iron:
0.4
mg
More