A big pan of winter comfort food made of tender cabbage with squares of pasta, onions and mushrooms. Traditional Polish łazanki is what happens when Italian cuisine goes to Eastern Europe. Think of it like Stroganoff's cousin from the Italian side of the family.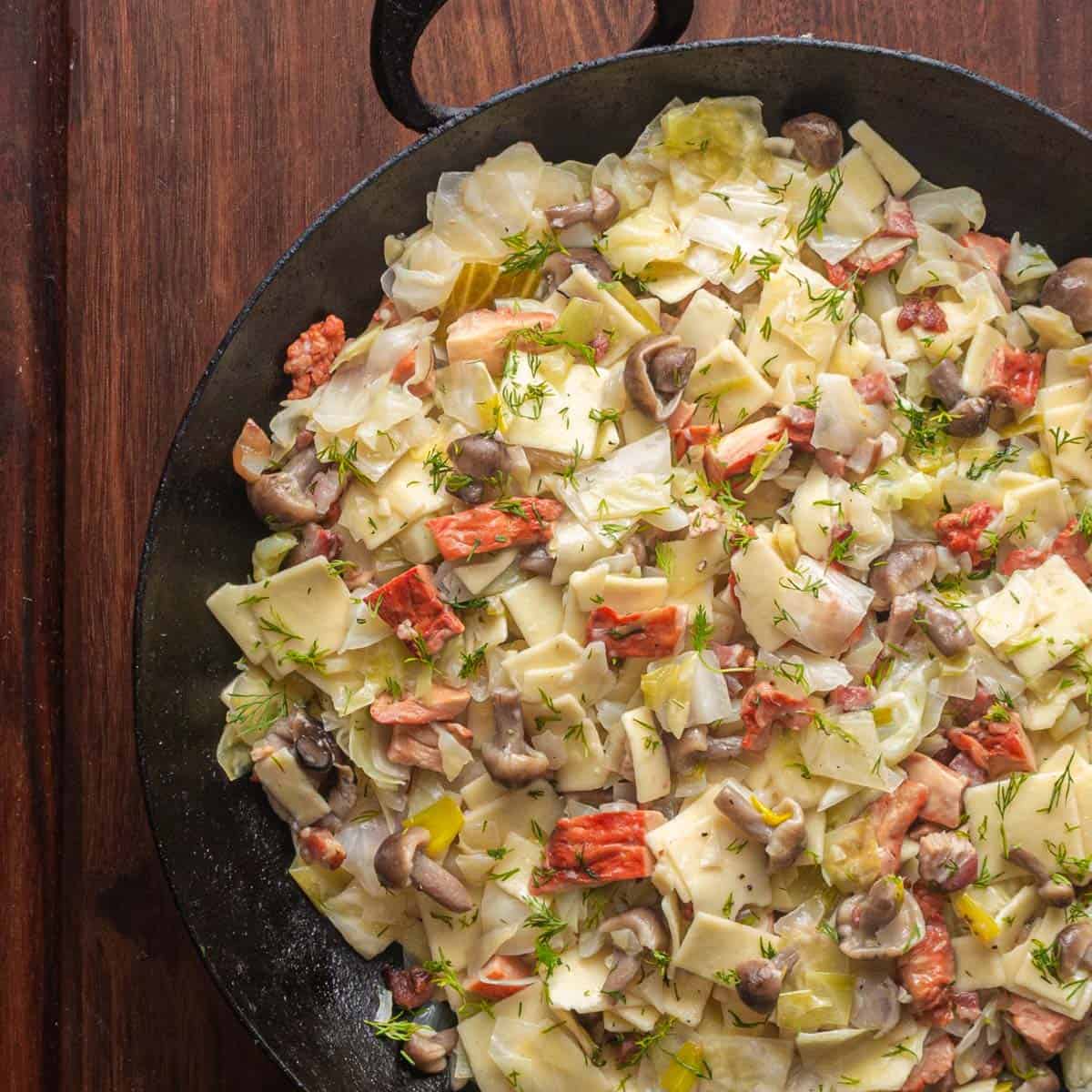 Lazanki with chicken of the woods mushrooms and honey mushrooms. Hen of the woods would be great too.
I have to mention there's also Slovak, Hungarian, German, Belarusian, and Ukrainian variations. Today I'll cover the basics and background of the dish, as well as some different ways you might make it.
History
According to legend, in the 16th century, Queen Bona Sforza married King Sigismund, making her the Queen of Poland and Duchess of Lithuania.
The queen brought her court cooks from Milan. With them came Italian ingredients and cooking techniques that married with the cuisine of the region, creating fusion dishes.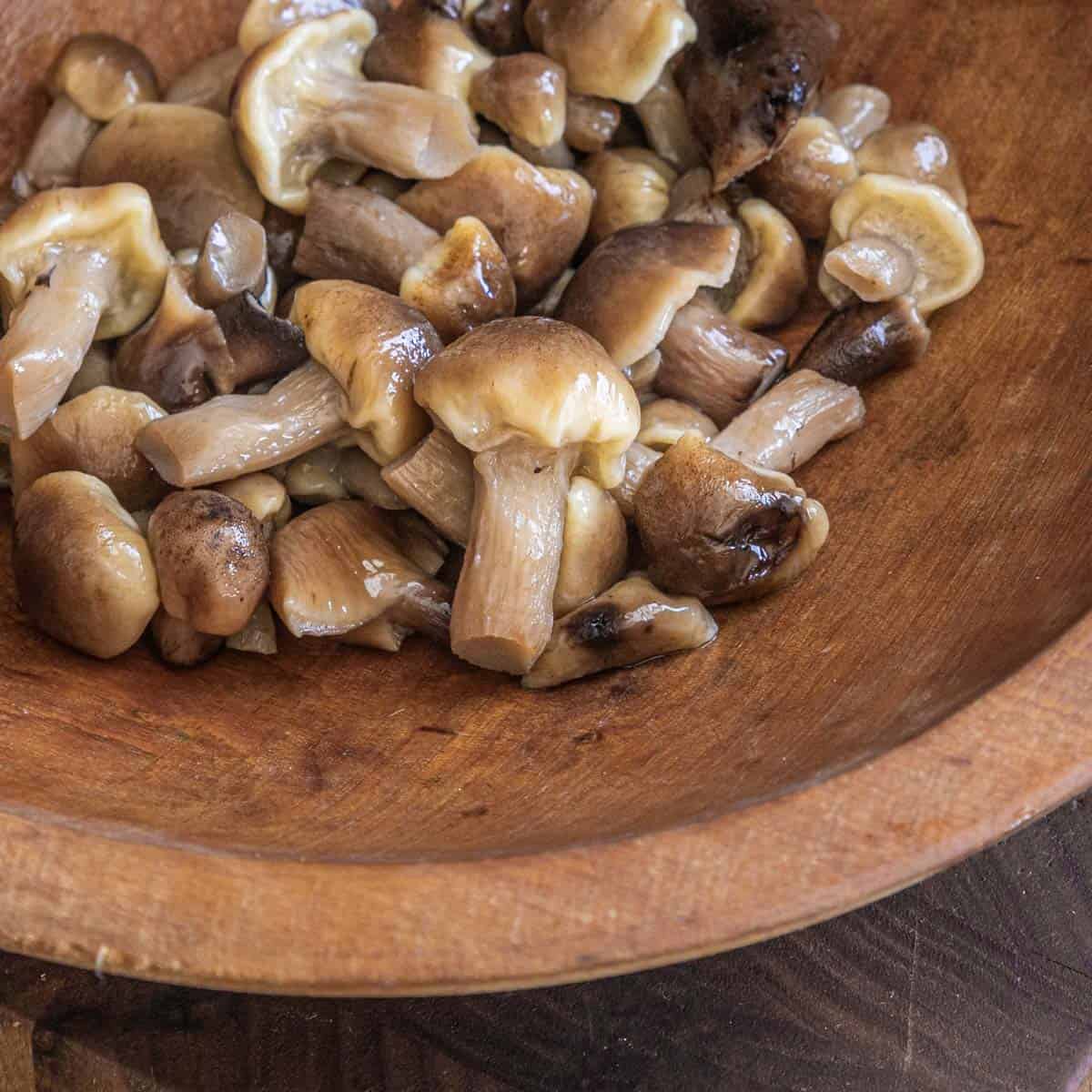 Polish Lasagne
The word lazanki is directly related to the word lasagna, and original versions were layered and baked. Wazanki is a synonym. Like lasagne, the original lazanki are square or rectangular homemade noodles.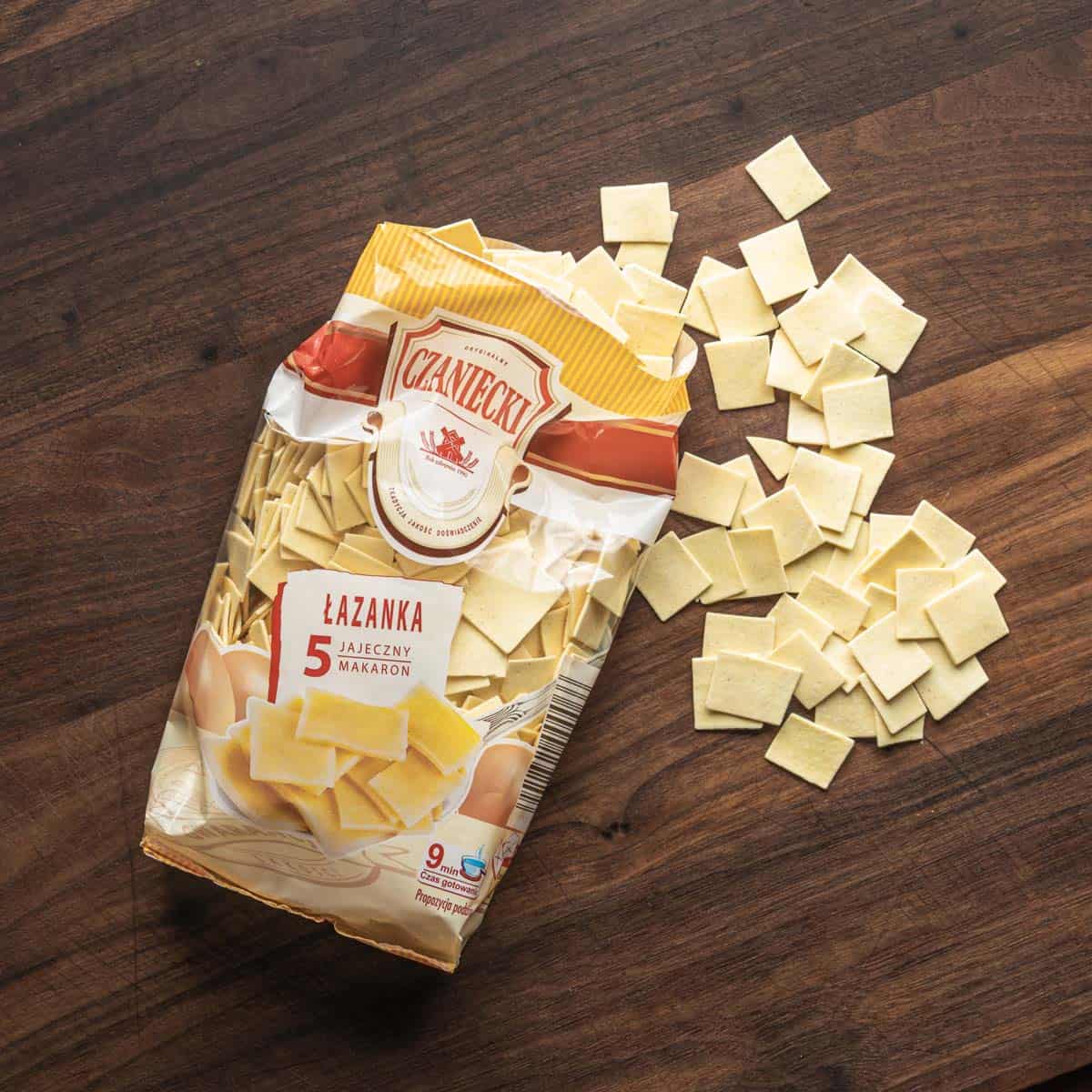 One historical difference between the two pastas is that lazanki were often made with buckwheat flour. Buckwheat is also used in other Northen Italian dishes like the buckwheat pasta of Fruili in Northern Italy.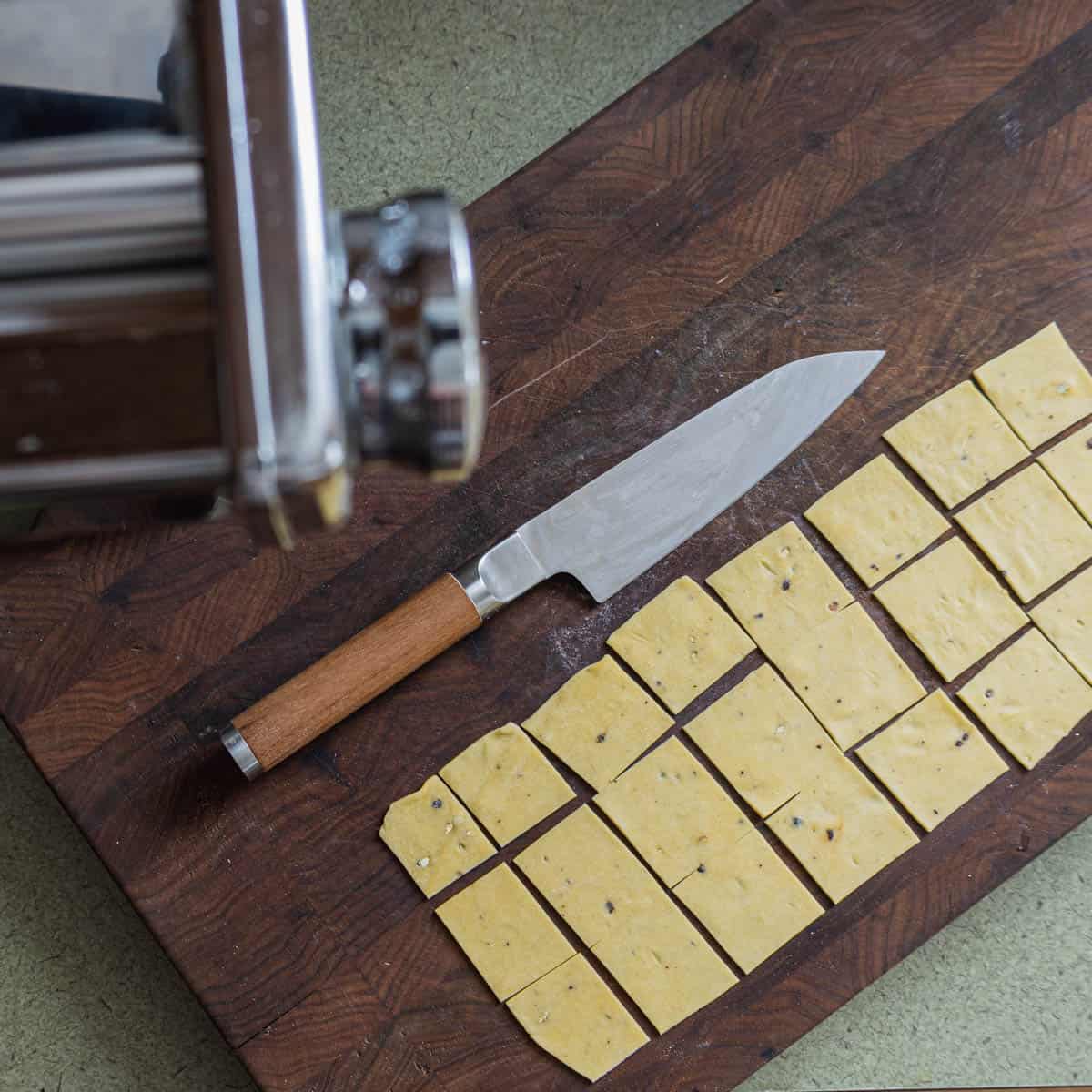 Haluski vs Lazanki
Americans may know lazanki's cousin called Haluski (fried cabbage with pasta). They're similar, but halusky may not contain mushrooms and has evolved to use egg noodles instead of the square lazanka. Some people I spoke to insisted it was Czech-not Polish, while others disagreed.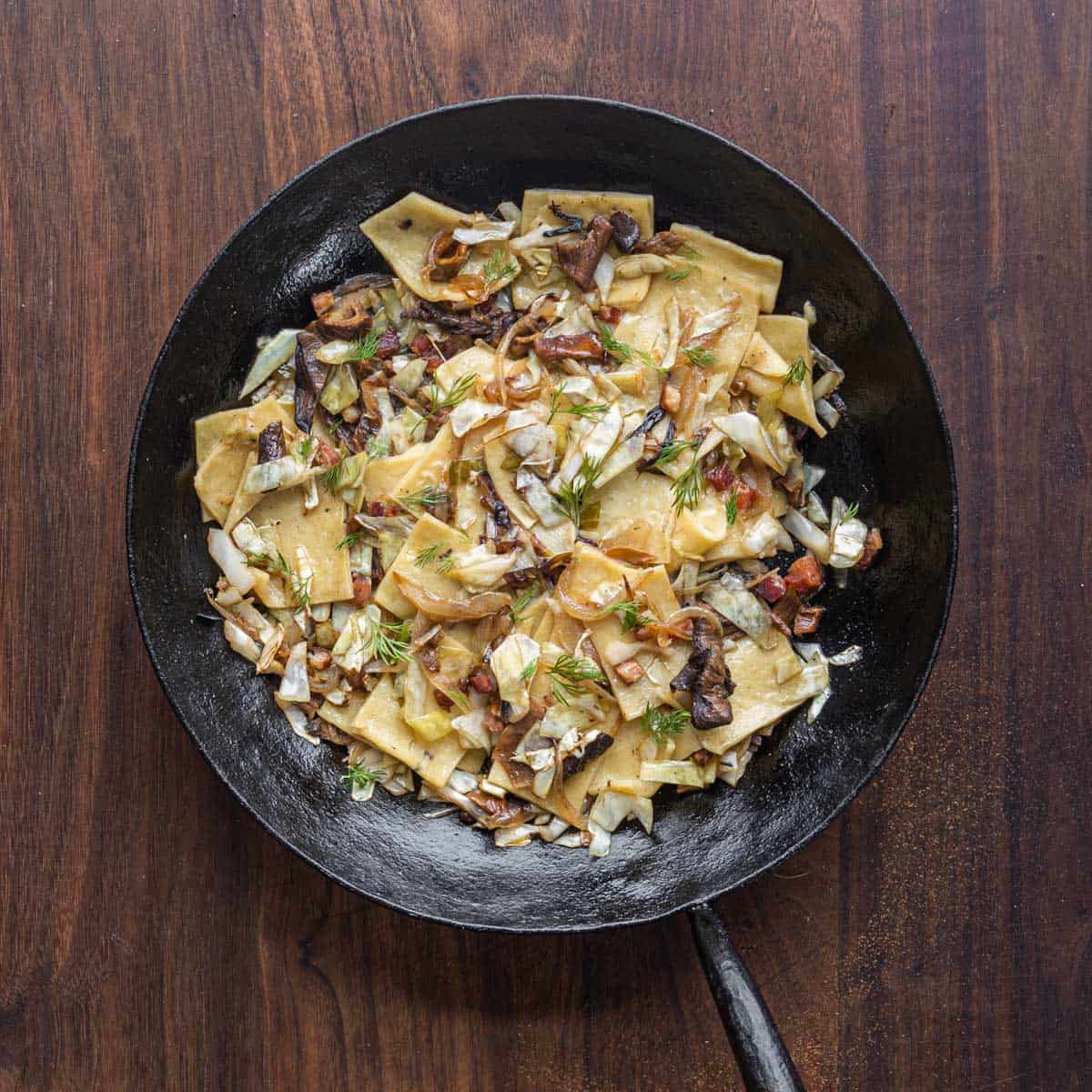 Haluski is a simple, one-pan dish where all ingredients are fried together before adding the pasta. Ukranian galushki, Polish kluski and kopytka are similar, but made with dumplings. If this dish is sounding good so far, make sure to bookmark Buckwheat Kasha with Wild Mushrooms and Onions, too.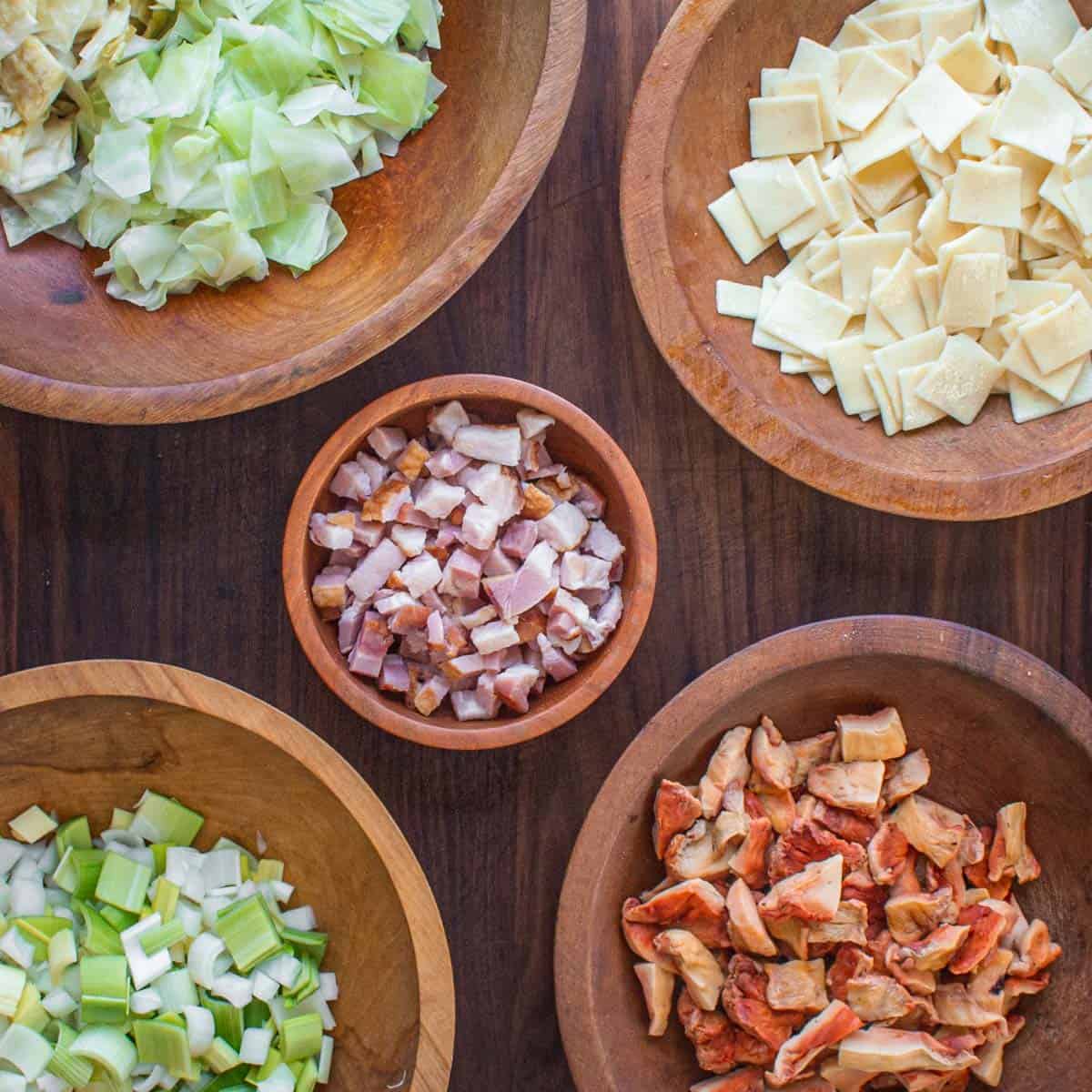 Cabbage and Sauerkraut
The ancestral dish was made using winter staples like sauerkraut, dried mushrooms, smoked sausages and other cured meats. Similar, again to cuisine from the Italian Alps where Eastern European flavors blend with Italian cuisine.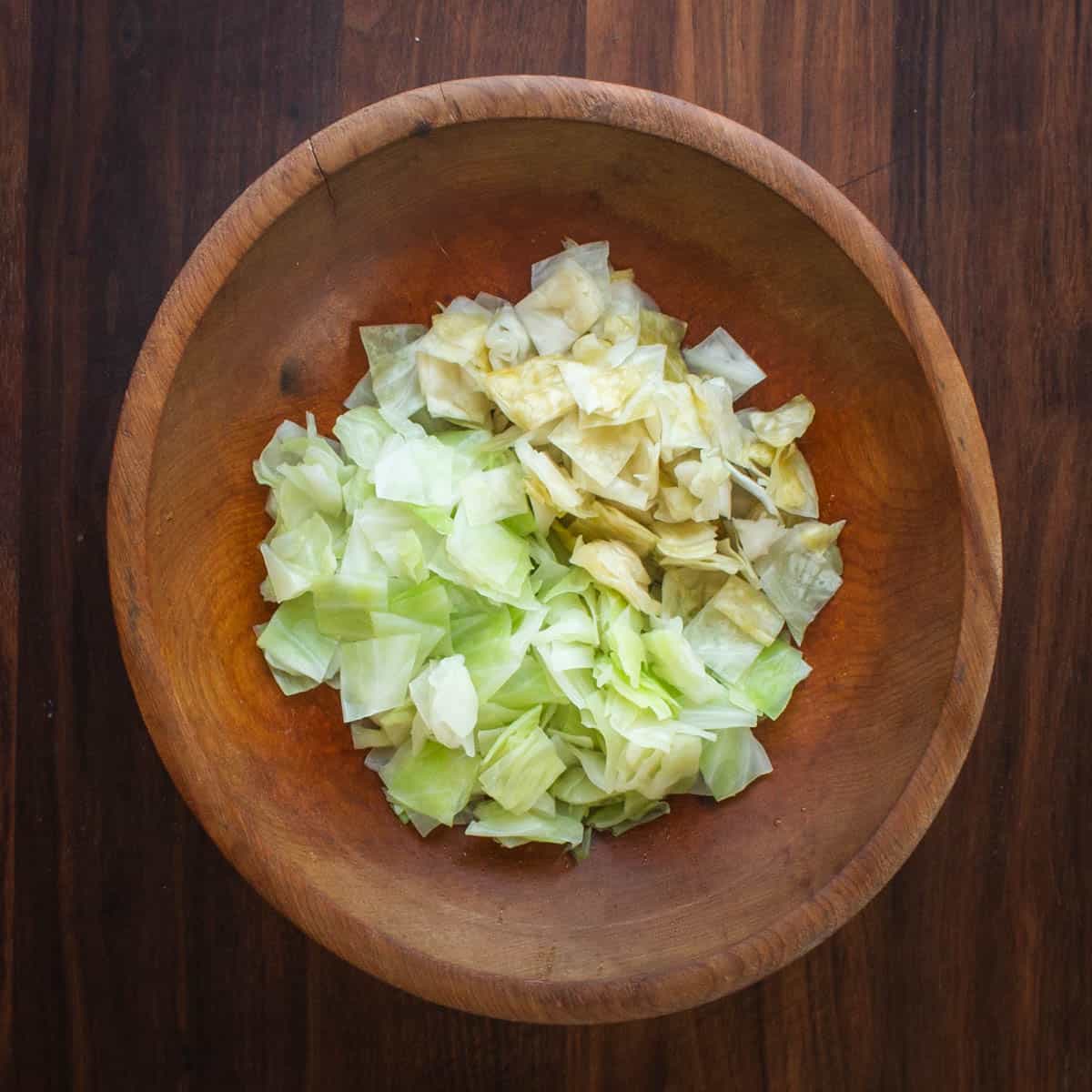 Modern American versions don't typically use sauerkraut. In a nod to tradition, I sometimes use a blend of both sour cabbage and chopped cabbage. You could also use Fermented Turnips (Sauerruben).
Variations
There's a lot of different ways this dish is made. The pasta can also be served in soup for Christmas with mushrooms or fish. Or it can be mixed with Twarog, a type of quark or curd cheese. I suspect twarog is mistranslated as cottage cheese in modern American recipes.
Haluski-Style
In this quick version the cabbage, onions, and mushrooms are fried in lard or bacon grease and garnished with sour cream. This is demonstrated in the video.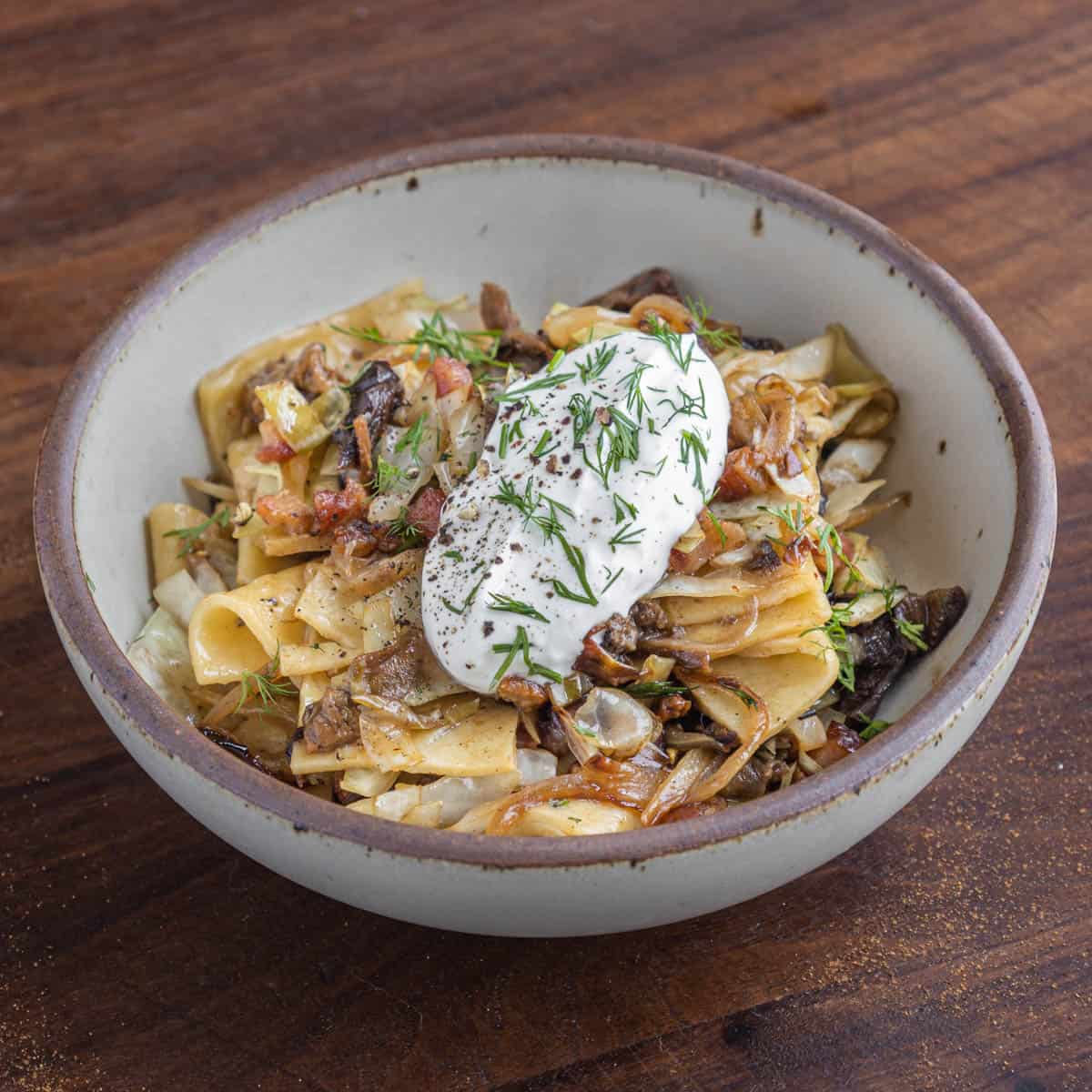 Sweet Lazanki
Likely a nod to Italian Renaissance cuisine, the pasta can be served sweet. Below it's tossed with a sauce of crushed black walnuts or almonds, poppy seeds, honey. Cooked fruits like cherries and plums can also be added.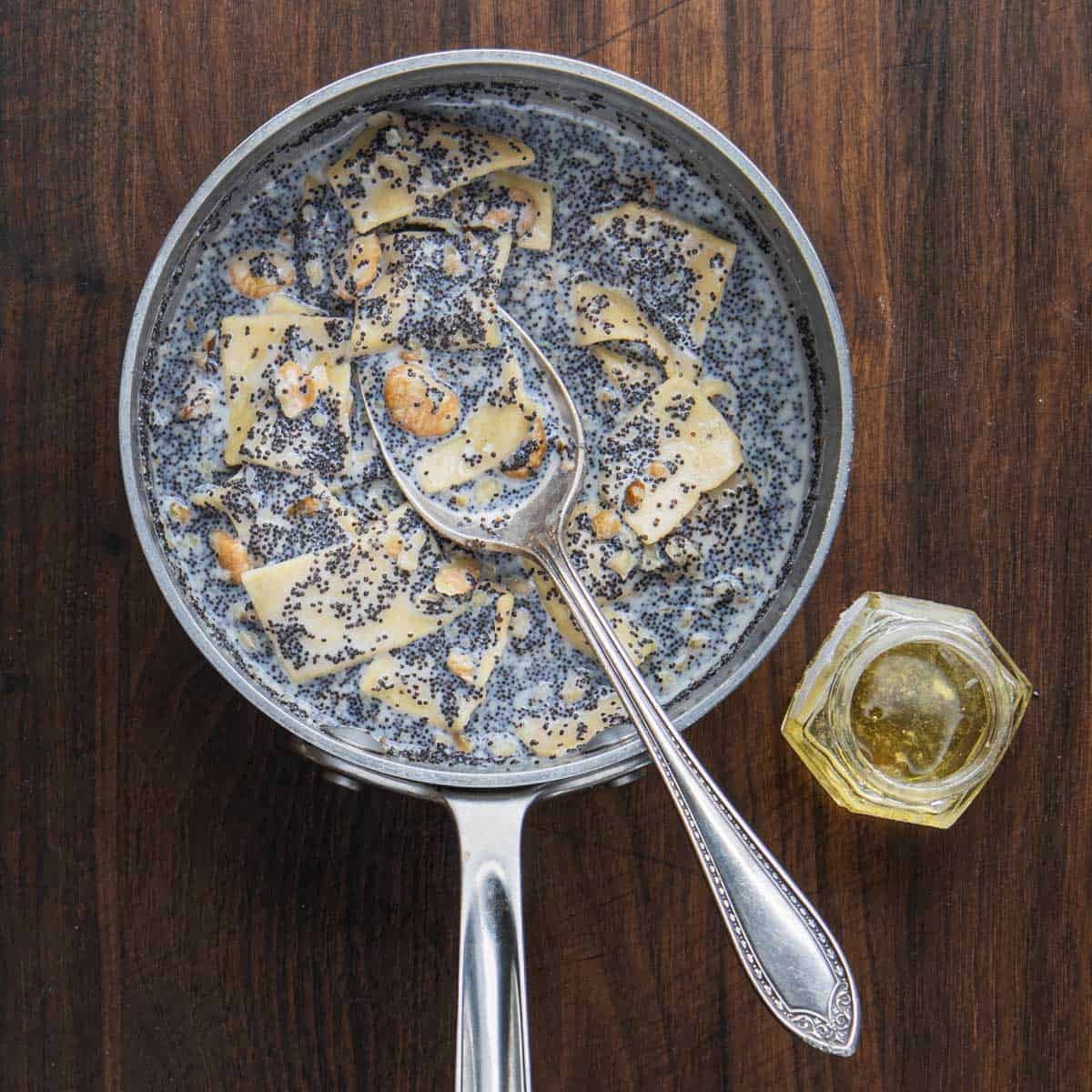 The version below uses fresh wild mushrooms, cabbage, and bacon. It's a crazy delicious bowl of comfort food to make again, and again.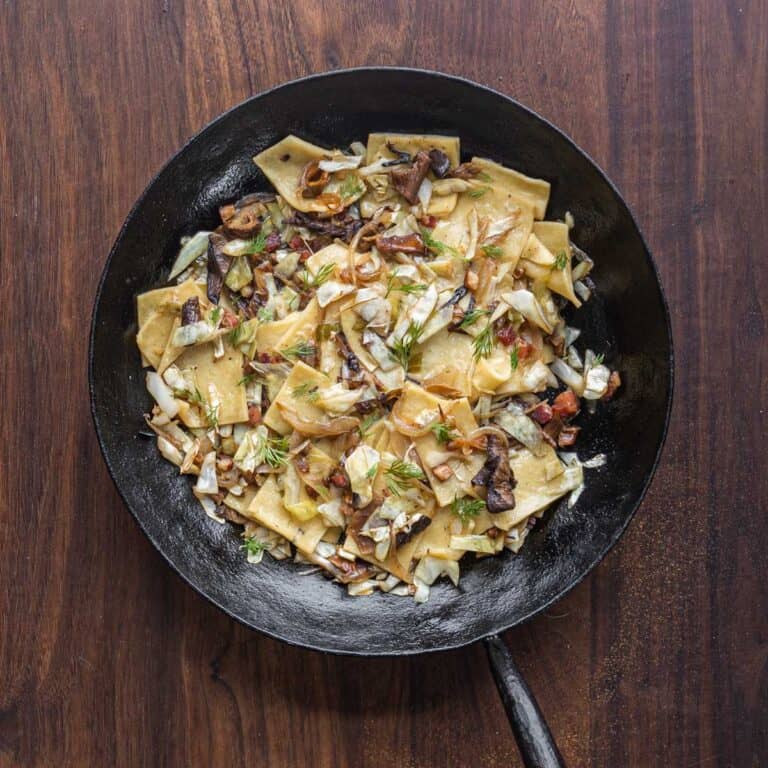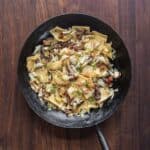 Print Recipe
Łazanki: Polish Pasta with Cabbage and Mushrooms
Lazanki pasta with cabbage, bacon or sausage, sauerkraut and mushrooms is a rich bowl of Polish comfort food. Serves 4.
Equipment
1 12 inch cast iron skillet or large frying pan

1 3 quart soup pot
Ingredients
5

oz

lazanki noodles

or 5 oz dried egg noodles

6

oz

fresh green cabbage cut into 1 inch julienne

or half sauerkraut, half cabbage

8

oz

bacon thinly sliced

or polish sausage / kielbasa

4

oz

wild mushrooms, especially porcini or honey mushrooms

*see note on using dried mushrooms

6

oz

(1 medium) white onion

cut into 1 inch julienne

1

tablespoon

chopped garlic

1

Tablespoons

chopped fresh dill

to taste

½

cup

sour cream

for serving (optional)
Instructions
Bring a pot of water to a boil and season it lightly with salt (2 teaspoons per quart). Boil the cabbage for 1 minute, until tender crisp then remove and drain.

In a wide pan render the bacon on medium-high heat until crisp. Drain off most of the fat and reserve for adding back to the dish.

Add the onion to the bacon and stir, and add a splash of the reserved fat to the pan if needed. Cook for 5-6 minutes on medium high, stirring regularly, until the onion starts to brown on the edges.

In a separate, smaller pan, cook the mushrooms in a splash of the bacon fat until wilted and starting to brown. Season with a pinch of salt.

Add the cooked cabbage and mushrooms to the big pan with the onions. Cook on medium heat, stirring occasionally. Double check the seasoning for salt and pepper and adjust until it tastes good to you.

Cook the pasta until al dente, stirring often. Remove the pasta and add to the pan. Immediately stir the pasta to incorporate and prevent it from sticking.

Add the fresh dill and mix.

Serve, sprinkle with chopped fresh dill, sour cream and plenty of fresh ground black pepper.
Notes
Mushrooms
For the recipe pictured, I used fresh chicken of the woods and honey mushrooms (opieńka miodowa in Polish). Dried Polish mushrooms (borovik / porcini) are often added. Start with ½ oz of dried, rehydrated mushrooms, chopped and added after the onions. I do not add the mushroom liquid as this dish is fried, not stewed. 
Using Fresh Pasta
To make the dish with fresh pasta, substitute 6 oz fresh lazanki.
Cabbage and Sauerkraut
You can use a mix of half sauerkraut half cabbage if you like. 
Nutrition
Serving:
12
oz
|
Calories:
312
kcal
|
Carbohydrates:
28
g
|
Protein:
12
g
|
Fat:
16
g
|
Saturated Fat:
5
g
|
Polyunsaturated Fat:
3
g
|
Monounsaturated Fat:
7
g
|
Trans Fat:
0.1
g
|
Cholesterol:
41
mg
|
Sodium:
525
mg
|
Potassium:
651
mg
|
Fiber:
5
g
|
Sugar:
8
g
|
Vitamin A:
108
IU
|
Vitamin C:
39
mg
|
Calcium:
67
mg
|
Iron:
2
mg
Resources
The information in this post was drawn from speaking with Polish friends in Poland, Ukraine, and friends with Polish Heritage in the U.S., as well as copies of the literature below.
Food and Drink in Medieval Poland