A rich ice cream infused with the aroma of black truffles from Chef Jean-Louis Pallidan is one of the greatest truffle recipes you'll ever have. It's definitely the most interesting.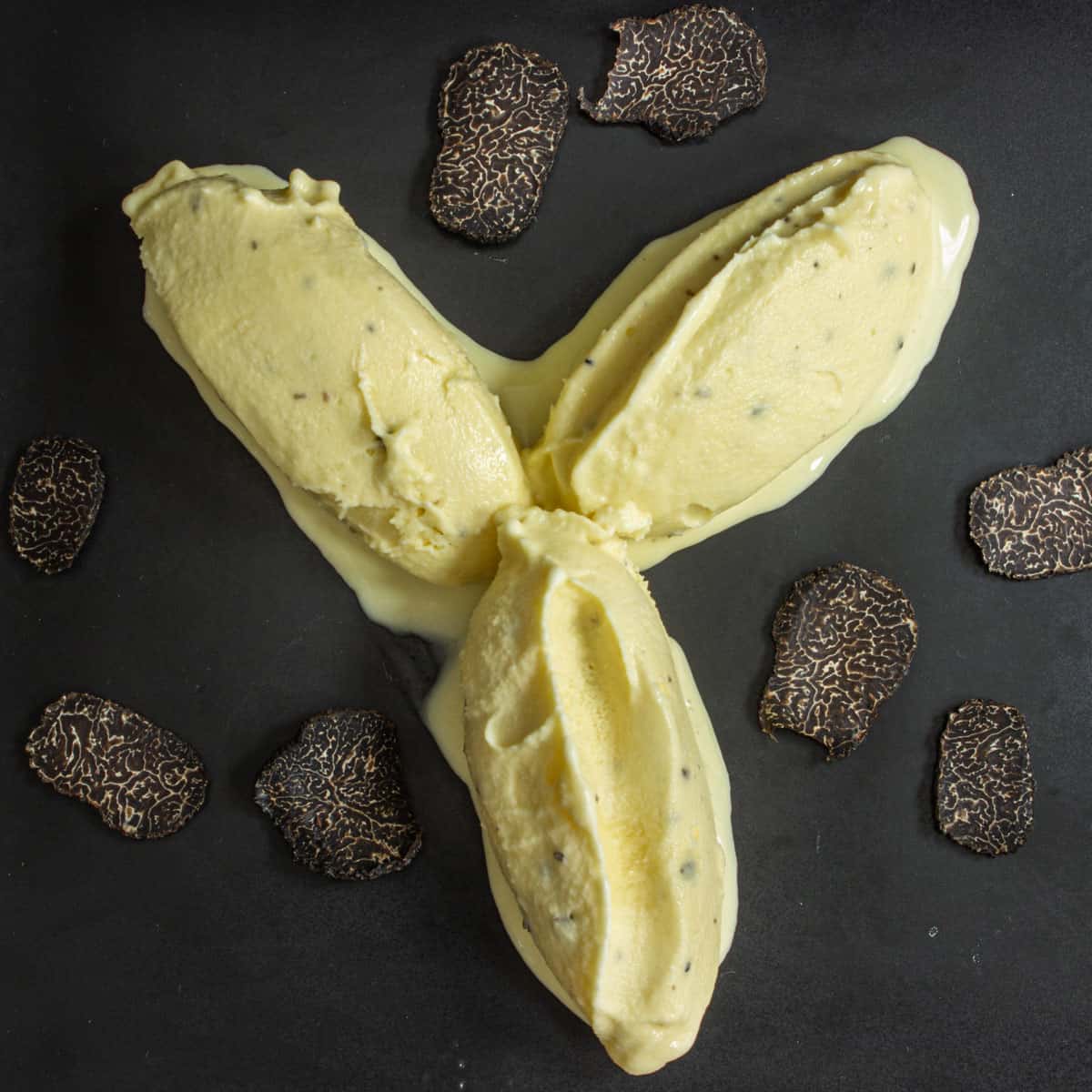 Of all the chef's I look up to, Jean Louis Palladin takes the cake. I only learned about his work after he died, hearing Anthony Bourdain talk about him on one of his tv shows. What Bourdain said was:
"You and I will never cook like Jean Louis, no one will"
I became a bit obsessed with Jean Louis after that. I was already pretty versed in famous chefs, but I had never heard of this Jean Louis guy. What I found inspired me. In a time when chef's bemoaned American ingredients and claimed they were inferior to European ones, Jean Louis took a different route. He started looking for people who could produce some of the things he loved in Europe here in America. He felt so strongly about ingredients that he was even willing to break the law. He almost had to go to jail for importing ortolan song birds for a special dinner.
He discovered that America had it's own special ingredients, and that they were just as good as ones from Europe, some even better. If you have ever eaten a diver scallop here in the states, it's because of him. Story goes that Jean Louis convinced a fisherman to go get him some scallops by hand, and....a niche industry was born.
He was a crazy bastard too, my boss got to work with him once at a benefit dinner. He said Jean Louis was chain smoking, guzzling champagne, chasing every woman he saw, and had food hanging off of his glasses during the middle of service!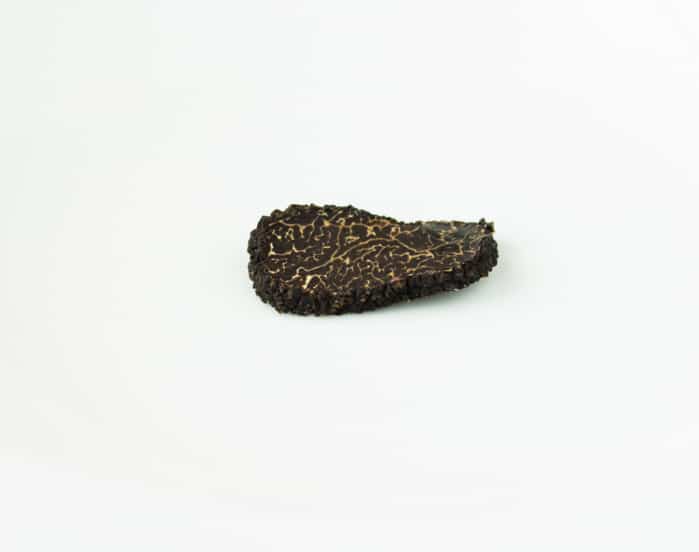 Jean Louis was also a huge fan of mushrooms. Even back in the 80s, he was sourcing all kinds of species from foragers. His one and only cookbook contains a recipe for cheesecake topped with paris mushroom confit, and the first reference to cauliflower mushrooms I ever saw. I shouldn't forget to mention either that he served honey mushroom consomme in the Watergate hotel for years to diners who had no suspicion of the hazards mycological societies whine about when referring to honeys. Of all the mushroom recipes that are in his book though, there was one I always wanted to make, and a couple weeks ago I got the chance.
A love of truffles
An entire ⅕ of Jean Louis's Book is a menu dedicated to truffles. The meal ends on a climactic note, with a recipe he dedicates to a friend of his: Andre Daguin. Daguin was one of the most famous chef's of Palladin's native Gascon, and ran a fancy hotel in Auch, France for nearly 40 years. Daguin's daughter is now famous in her own right, and carries on their family's tradition of great French food through their operation D'artagnan, which is now a household name as far as game, foie gras and wild mushrooms.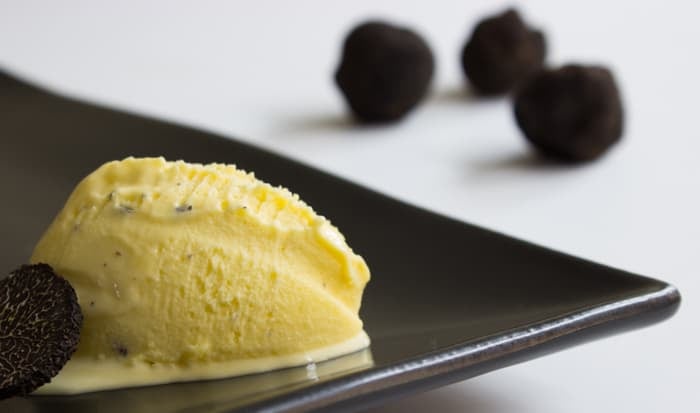 Jean Louis said that Daguin, while looking through antique French cook books, discovered a centuries-old recipe for black truffle ice cream. Jean Louis's recipe included black truffle juice, which turned the ice cream dark black like truffles. I like a rich custardy ice cream, and I thought a yellow color would be a fun contrast with the black flecks of truffle. I've made ice cream out of different mushrooms before, but let me tell you, the powerful aroma of truffles in a sweet, creamy form is mind-altering--truly awesome. Jean Louis dedicated his truffle ice cream to Daguin, so it's only fitting I dedicate my rendition to Jean Louis.
Truffles and food cost
Jean Louis's original recipe calls for an entire ounce of black truffles, which means this quart of ice cream is going to cost you around 60$. I did some experimenting, and although I can only imagine how rich Jean Louis's version was, I made one batch that tasted just fine with only a single teaspoon of chopped truffles, so you really don't need to break the bank. From a restaurant perspective too, you could sell this ice cream easily for 10$/2 ounce scoop, giving you gross of about 160 dollars. At a food cost of about 25$ or so, that's a perfectly fine profit margin for a quart of ice cream.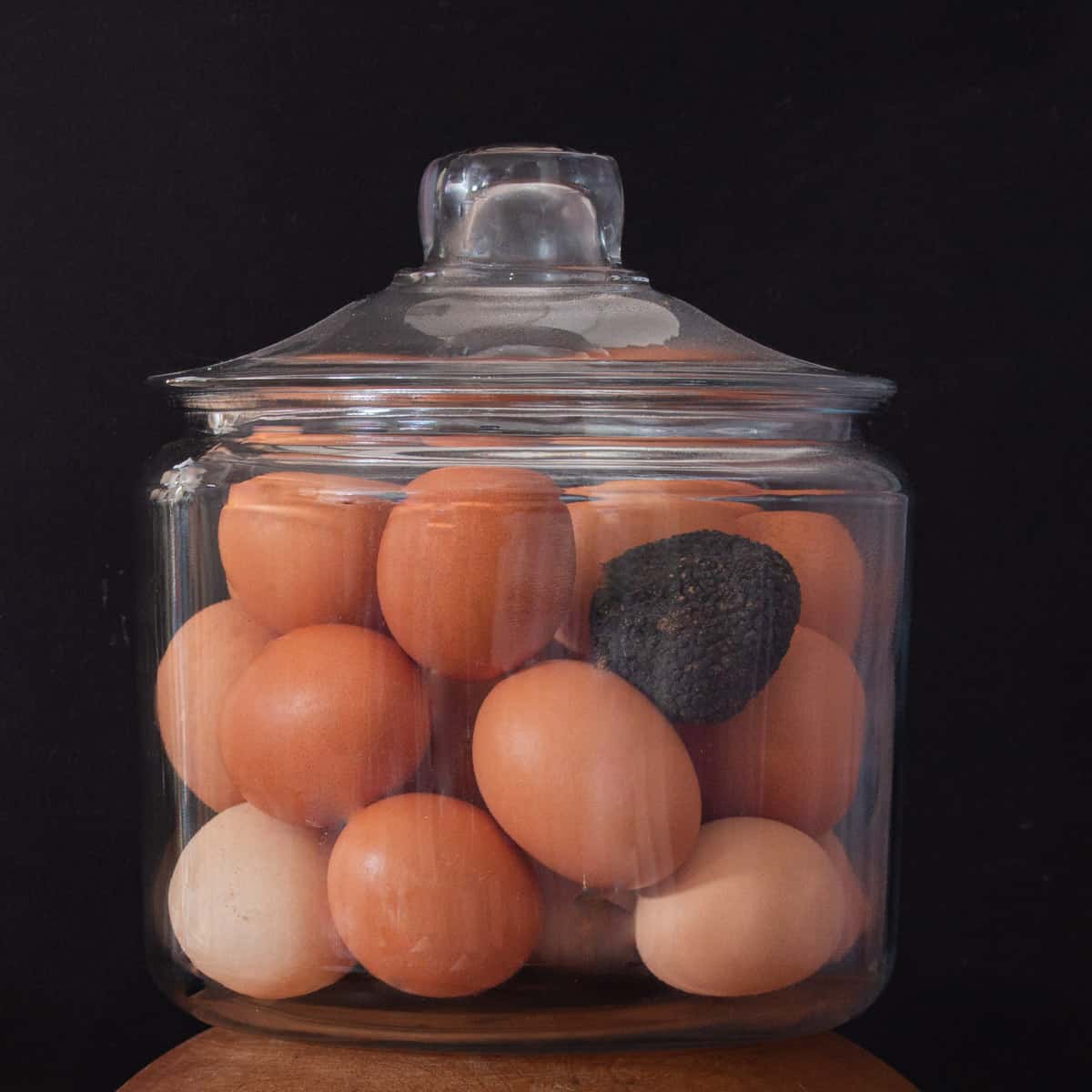 Photographing ice cream is crazy hard
On a side note, photographing ice cream is incredibly difficult. The shot needs to be set up in advance, and then quickly photographed. This week I was talking to a professional food stylist who shoots for Target. She said that in order to shoot Target's Ice cream they had to create a temperature controlled ice box filled with dry ice to stop the ice cream for melting. It is also well known that many photographs of ice cream are fake, with stylists using stuff like colored mashed potatoes to imitate the real thing.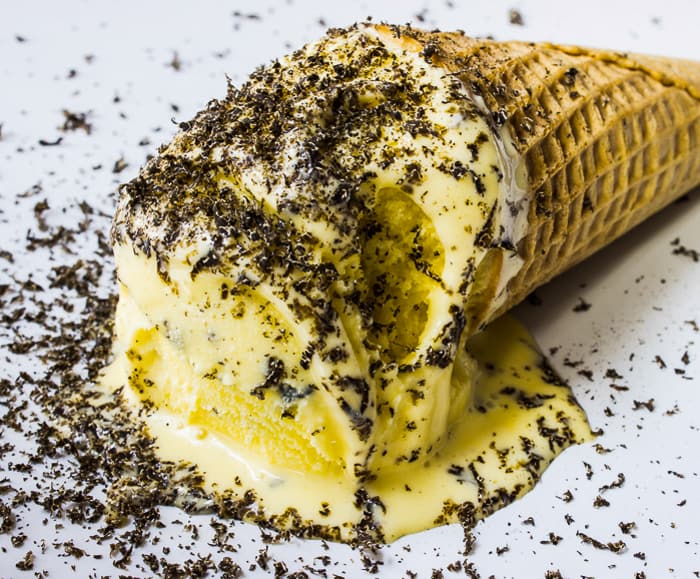 I knew this was going to be a tough recipe to capture in picture form. In preparation for shooting this recipe I asked my friend, professional food and lifestyle photographer Chris Bohnhoff to give me a hand in shooting. Chris and I collaborated on the composition and camera work for some of these photos, and he was very patient with my amateur fumbling. Thanks a lot man! Check out his beautiful work and website here: Chris Bohnhoff.com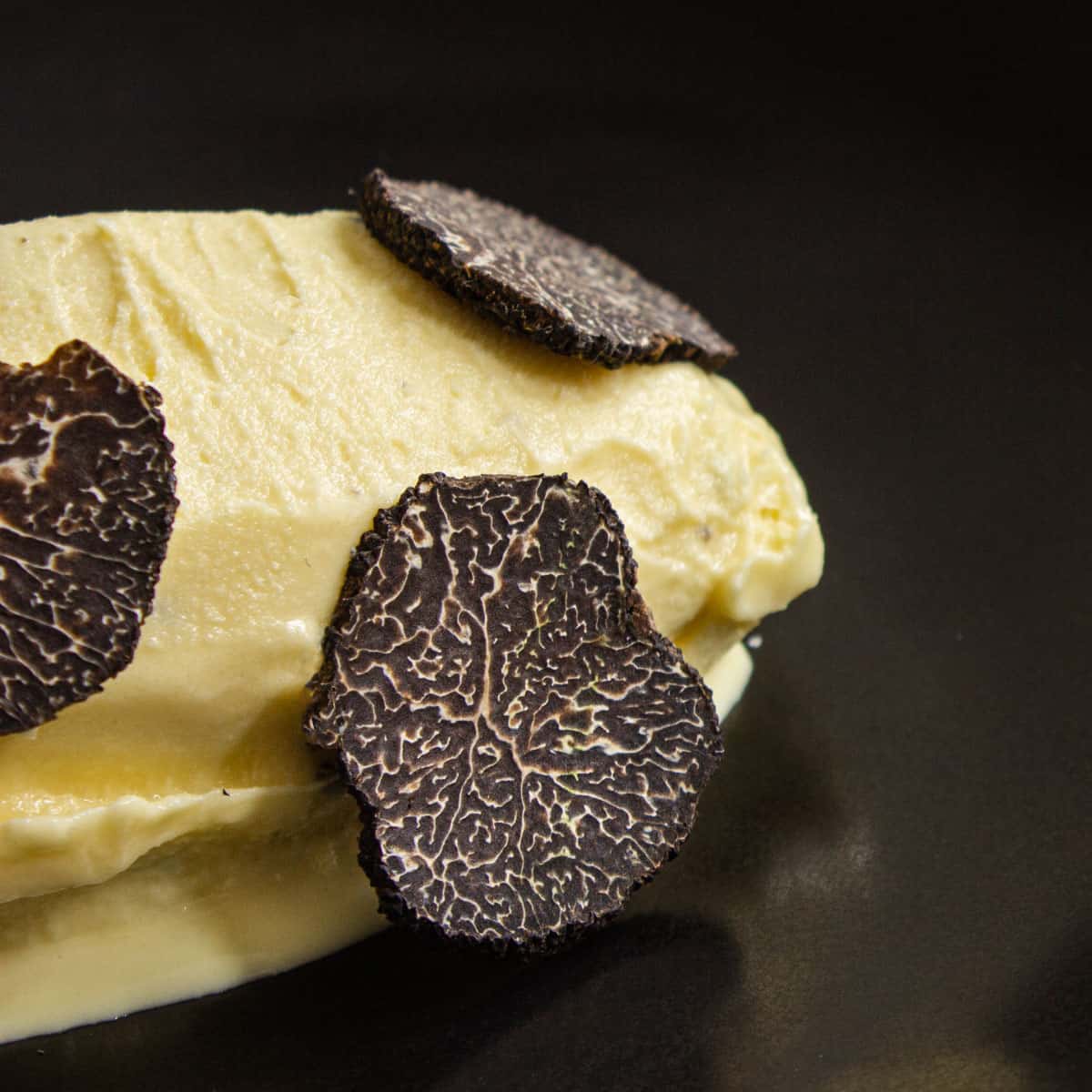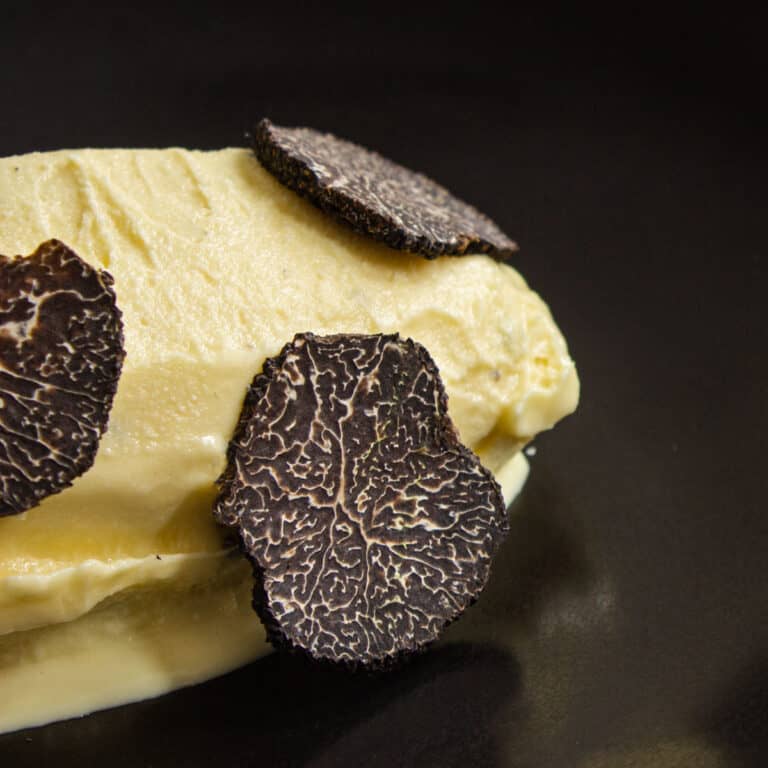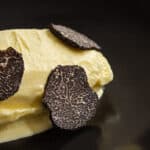 Print Recipe
Jean Louis Palladin's Black Truffle Ice Cream
Makes 1 qt
Ingredients
1.5

cups

heavy cream

1.5

cup

milk

1.5

tablespoon

fresh black truffle

chopped, this should be about 10 grams-add more if you can.

3

large egg yolks

or cornstarch, see note

¾

cup

sugar

⅛

teaspoon

salt
Instructions
Preferably a few days before making the ice cream, store the eggs in a jar with a fresh truffle to help infuse them.
Ice cream base
Combine the cream, milk, and eggs, sugar and salt. Heat the mixture until it is warm and steaming, whisking regularly. When the egg begins to thicken the mixture, to the heat down as low as possible and whisk a bit more. Do not over heat the mixture or it will curdle. If it curdles, puree it in a blender before proceeding--it will be fine.

Add the fresh truffles, then refrigerate overnight to infuse and improve the set (optional). Transfer the mixture to an ice cream maker and process for 45 minutes, or according to the manufacturers directions.

Store the ice cream in the freezer. It is the most potent within a day or two of making.
Notes
Truffle Varieties 
You could use different species of black truffle depending on your price range. Tuber Uncinatum, or even Tuber Brumale will be fine if you don't want the real thing (tuber melanosporum). You could also use black summer truffles, but I would increase the amount of truffles used in the recipe to taste since they aren't as strong.
Cornstarch
Instead of egg yolks, you can substitute 2 tablespoons cornstarch to keep the color white. 
Nutrition
Serving:
4
oz
|
Calories:
295
kcal
|
Carbohydrates:
23
g
|
Protein:
5
g
|
Fat:
21
g
|
Saturated Fat:
12
g
|
Polyunsaturated Fat:
1
g
|
Monounsaturated Fat:
6
g
|
Cholesterol:
202
mg
|
Sodium:
72
mg
|
Potassium:
126
mg
|
Sugar:
22
g
|
Vitamin A:
925
IU
|
Vitamin C:
0.3
mg
|
Calcium:
103
mg
|
Iron:
0.4
mg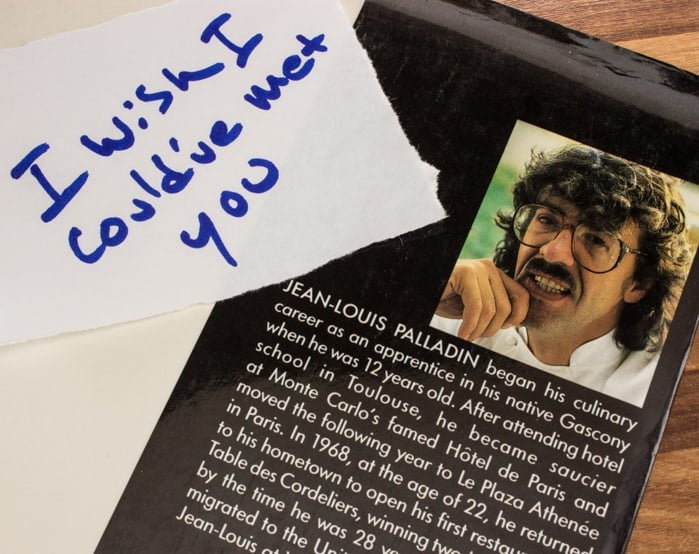 Related Posts