I've processed thousands of rabbit carcasses by hand and I've shared my favorite recipes for rabbits on this website. In those recipes are some butchering and processing tricks. But, before you attempt a recipe, you need to know the basics of how to cut up a rabbit.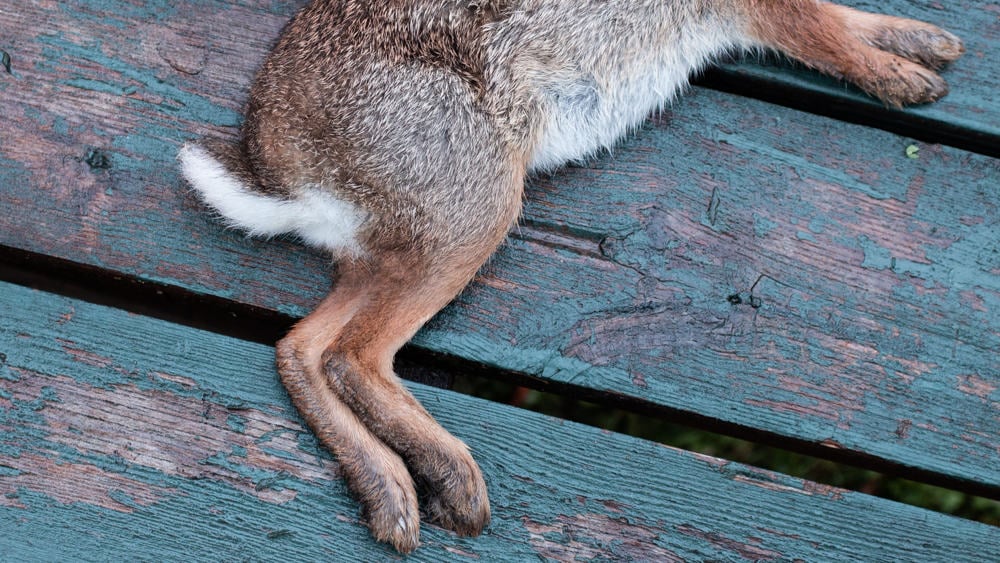 I had a couple requests for really basic breakdowns of butchering rabbits, so I'm dedicating a whole post and quick tutorial video here focused only on my process.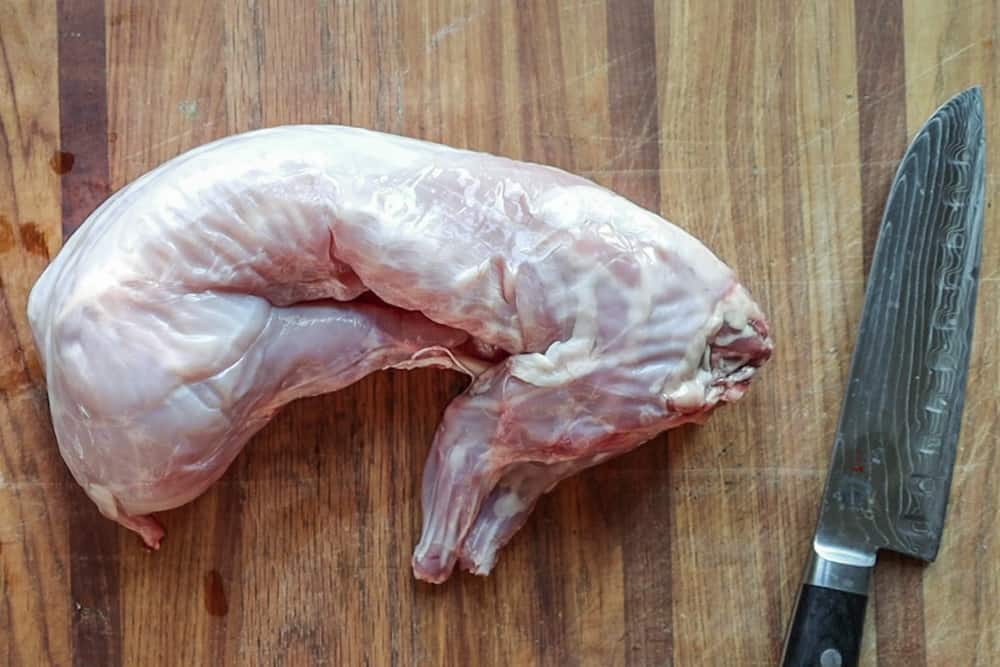 The beauty of rabbits and other small game like squirrels is that the technique for breaking them down I use is the same. After dispatching, gutting and skinning, I remove the legs, then use a poultry shears to cut the rest of the torse into even-sized pieces.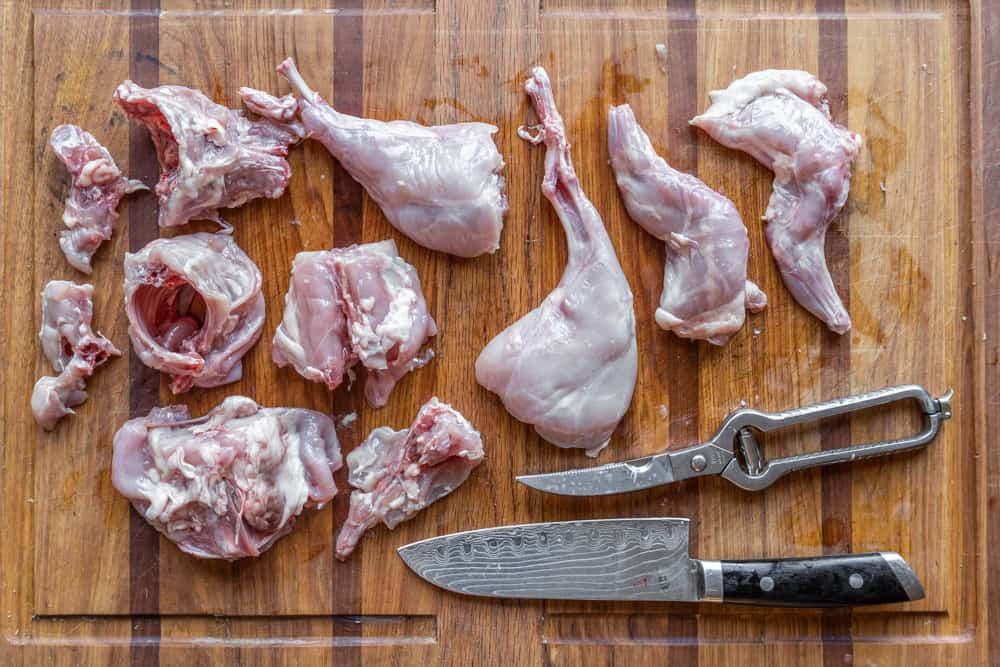 Small, even pieces. This is the most common method of cutting up rabbit, and is good for soups and stews like Rabbit Chasseur with Wild Mushrooms. Once you've mastered this, branch out and save some of the different pieces for special recipes.
Alternate cutting techniques
The ways you can cut up an animal are only limited to your imagination. Here's two slightly different methods you could consider.
Ribs off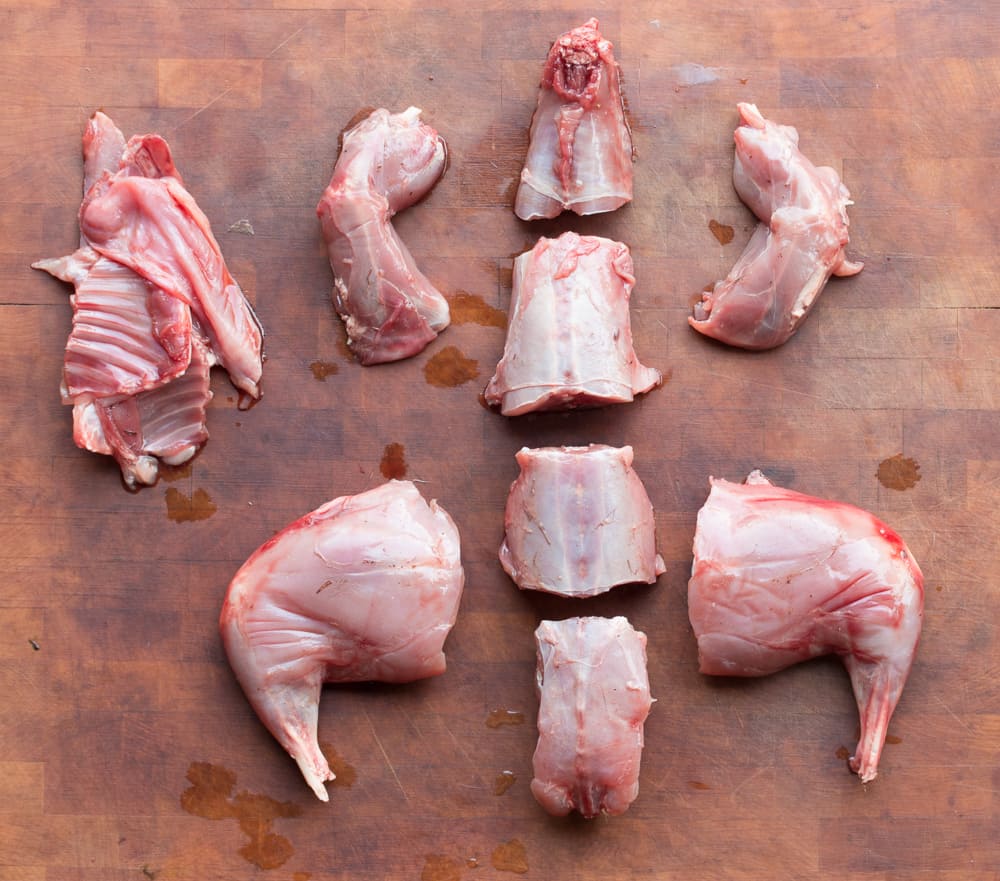 Loins off
This one I don't use too much, but it helps illustrate possibilities. When I worked for Chef Lenny Russo, we were instructed to remove the loins from the torso, which were saved by themselves to make a boneless roll of rabbit loins wrapped in lardo, which was an experience.
Many years, and many rabbits later, I've found I like to cook the loins on the bone as it keeps them moist, but if you want to fry them up as a quick snack or alongside other pieces you could do that too.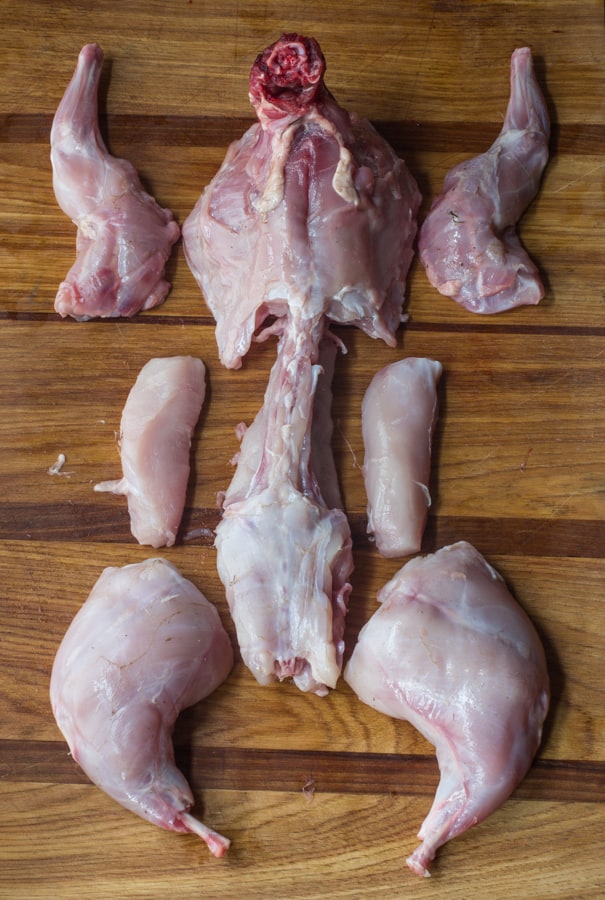 The Saddle
Without a doubt, among chefs in the know, the saddle is the most prized part of the animal. But, if you haven't seen or tasted one before that's been made properly, you might just throw them in the stew pot, which is perfectly fine and is what most people will do, especially if you only have one rabbit.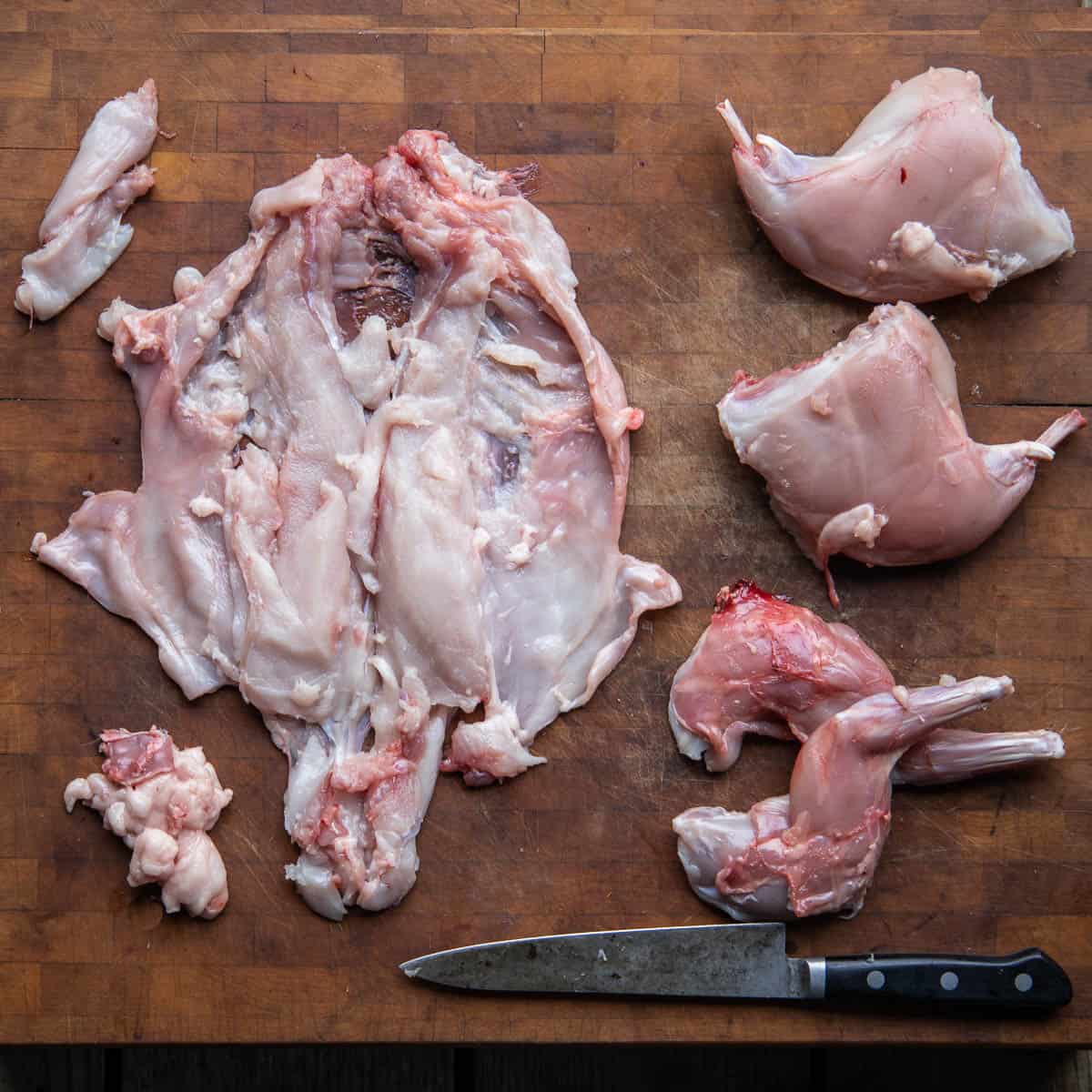 But, if you're adventurous, skilled with a knife, and have more than one rabbit to work with, saving the saddle is something you must try, at least once.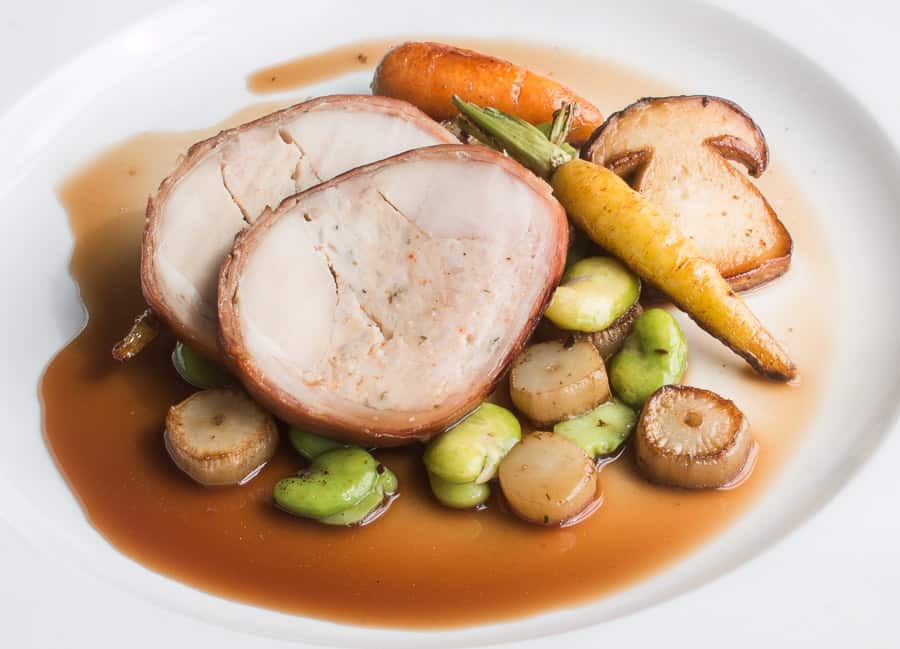 Rabbit "wings"
The anatomy of a rabbit's back legs is such that after you remove the back legs via the joint, there is another bone that can be removed before the torso is left in one whole piece (sometimes called the helicopter bone as there's a hole in the middle).
At first glace they may not look big, but if you're butchering a bunch of rabbits, it is well worth the time it takes to separate them for cooking on their own.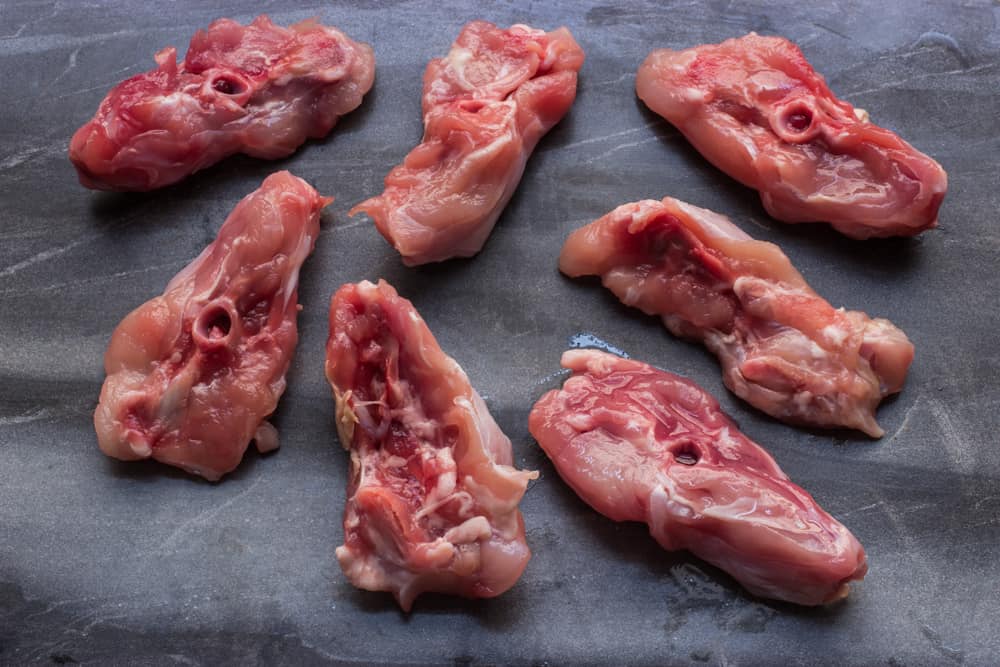 These were something I used to run at my first restaurant after I noticed them in the stock pot after butchering. After I tried some prepared like dry-rubbed chicken wings, I was hooked, and I had my line cooks save every single one when we had rabbit on the menu to run as a special. Slow roasted and eaten off the bone, they're fantastic.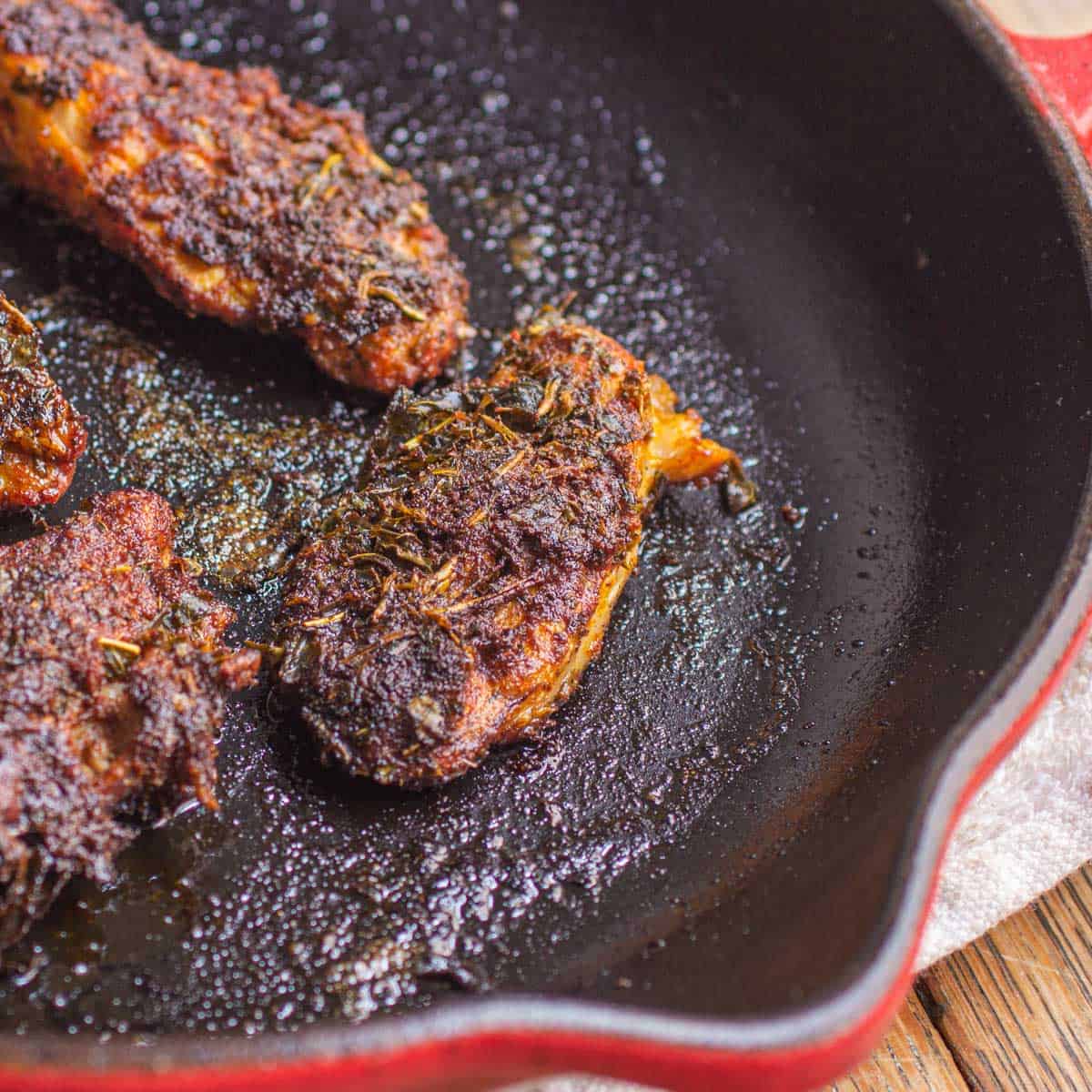 Recipes mentioned in this post and video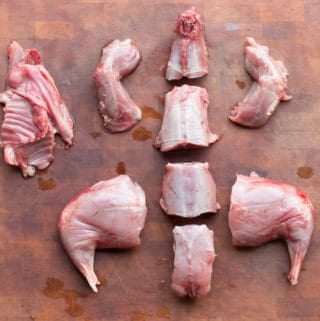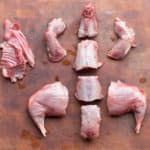 Print Recipe
How to Cut up a Rabbit for Cooking
A simple, quick tutorial on how I cut up a rabbit for general cooking.
Equipment
1 Kitchen shears

1 Boning knife for detail work (optional)

1 8 inch Chefs knife to cut meat and tendons
Instructions
Skin and gut the rabbit, reserving the organs since they're delicious.

Using a sharp knife, remove the front legs and hind legs.

Next, using a kitchen shears, cut the torso into even-sized serving pieces, the exact size of which can depend on the size of the rabbit. I usually cut mine into 3 pieces. Save the choices part of the torso (the saddle). The other parts don't have a lot of meat and are good for soup and stocks.

I like to cut the rib cage off using shears to use for stock.