Agnolotti pasta filled with buttercup squash in a sauce of cream, hickory nut oil and tart balsamic vinegar. This is one of my favorite pasta specials I used to run in the Fall. I use a few special ingredients here, but you can improvise with what you have on hand.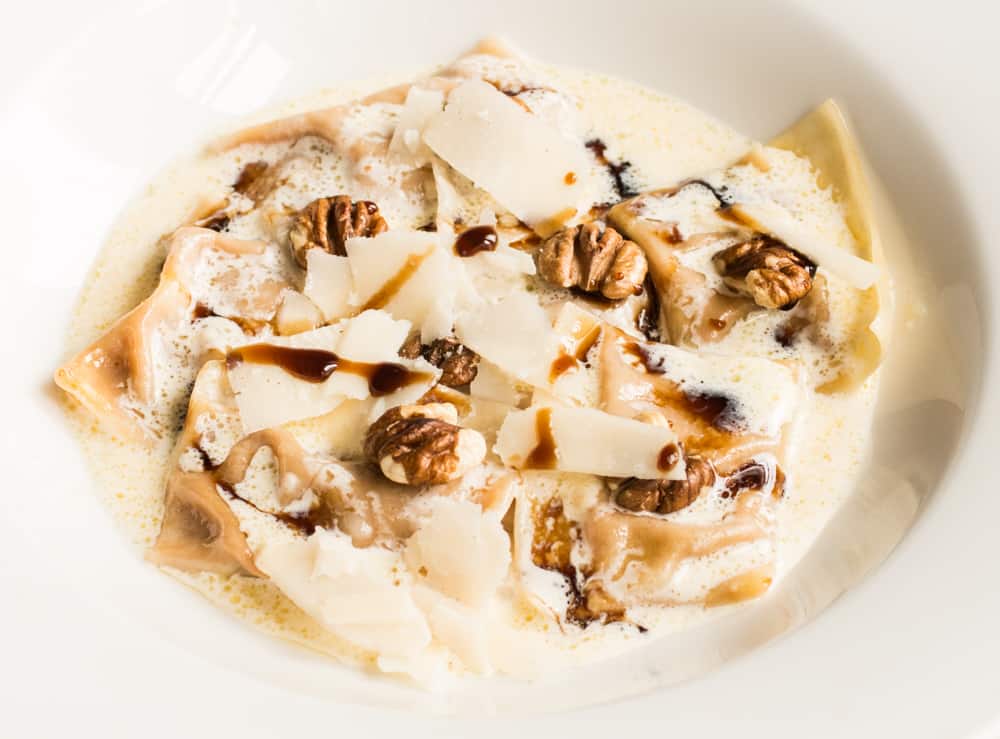 How to make agnolotti
Agnolotti are very similar to ravioli, but they're faster to make in quantity since they aren't cut out with a ring mold individually.
Just like ravioli, you put the filling in a pastry bag fitted with a round tip, piping mounds on the pasta dough. The difference between agnolotti and ravioli is agnolotti are folded over and have a small lip of dough on the bottom. You can see that in the last image below.
Chefs love these as a ravioli alternative that gives more yield for the labor involved.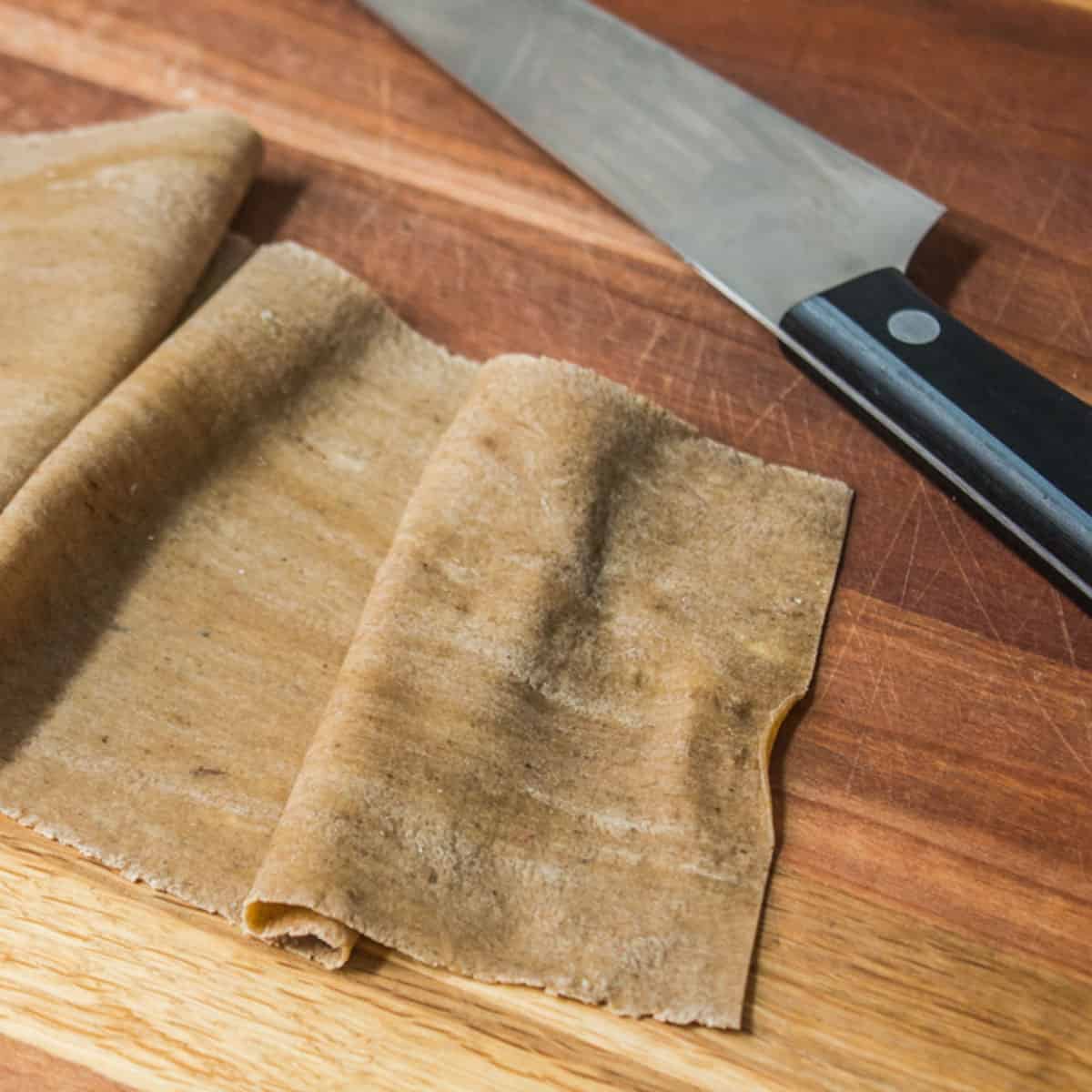 Choosing the flavors
I love pasta filled with squash, and there's lots of different things you can serve them.
Here I use an interesting trick you probably haven't heard of: mixing oil into cream. It might sound like overkill, but cream amplifies the flavor of rich oils, especially nut oils. And, if you like squash, you know toasted nuts are one of the best things to pair with them.
It's easy to do. Heat a little cream with a pinch of salt, then stir in some aromatic nut oil before tossing with the pasta. The cream and oil won't blend, and you don't want them too. The finished dish appears as a broken sauce of white cream dotted with golden oil.
I use Sam Thayer's bitternut hickory nut oil, but you could use walnut, hazelnut, or pecan oil.
Balsamic
Oil and cream are rich, so something acidic can help add balance to the dish. A little balsamic vinegar is the perfect accent, but you need to make sure you use the right kind.
Regular balsamic vinegar is loose and watery, but aged balsamic, especially ones 10-20 years old will be thicker and easier to drizzle. Besides being thicker, the aged syrup is also sweeter. The good stuff is expensive though. Here's one that's doesn't cost too much.
Saba is a similar condiment you can use, made from the must of grapes. It's sweeter than balsamic, as well as cheaper. If you don't have either of those, you can always use thick balsamic, or balsamic reduction syrup.
You can make balsamic reduction at home by reducing balsamic vinegar by 60% of it's volume.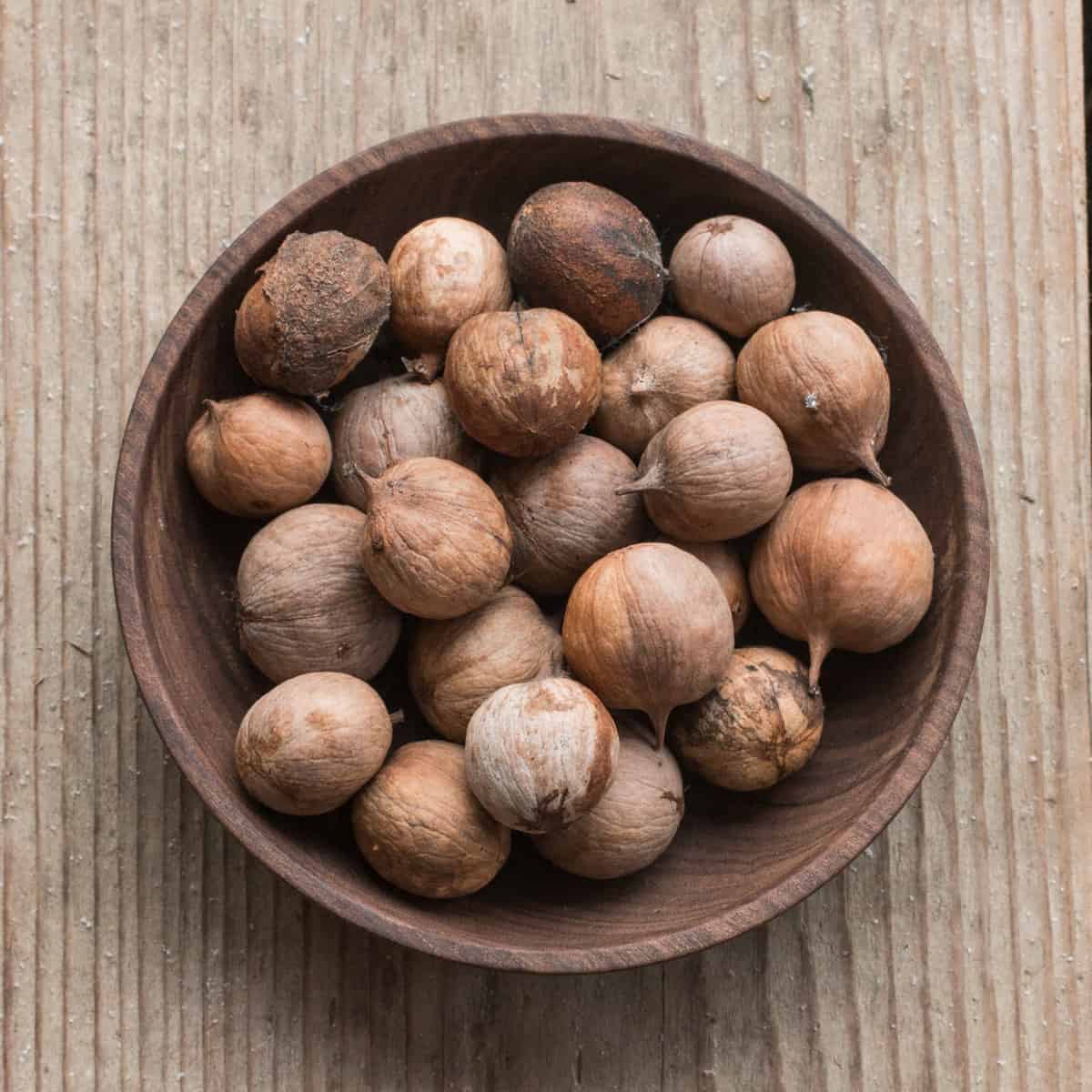 The basic flavor combo of dairy, nut oil, and sweet-tart reduction could take a number of forms. If you don't have any nut oil, brown butter is good too. If you'd like to try your hand at something similar, here's some flavor combos you might try:
Similar flavor combinations
Squash Ravioli, Cream, Walnut or Pecan Oil, 10 yr Balsamic, Walnuts
Poultry Liver Ravioli, Cream, Hazelnut Oil, 10 yr Balsamic, Hazelnuts
Squash Ravioli, Cream, Pumpkinseed Oil, Pumpkinseeds
Chef's Tips
Here's a few things to keep in mind.
I used hickory nut oil, but you can use any nut oil you like.
If you don't want to use cream, use browned butter and skip the cream and oil altogether.
After I make the pasta, I may freeze them on a baking sheet lined with parchment, then put them into a zip-top bag until I need them. Frozen ravioli will last for a few weeks in the freezer.
Fried sage leaves always make a good garnish for dishes with squash.
You can use a food processor to make the pasta dough if you don't have a stand mixer, or don't want to knead.
Originally I made this with birch syrup, but balsamic is easier to come by. If you have some birch syrup, this is a great place to use it.
More
The Forager's Guide to Shagbark Hickory Nuts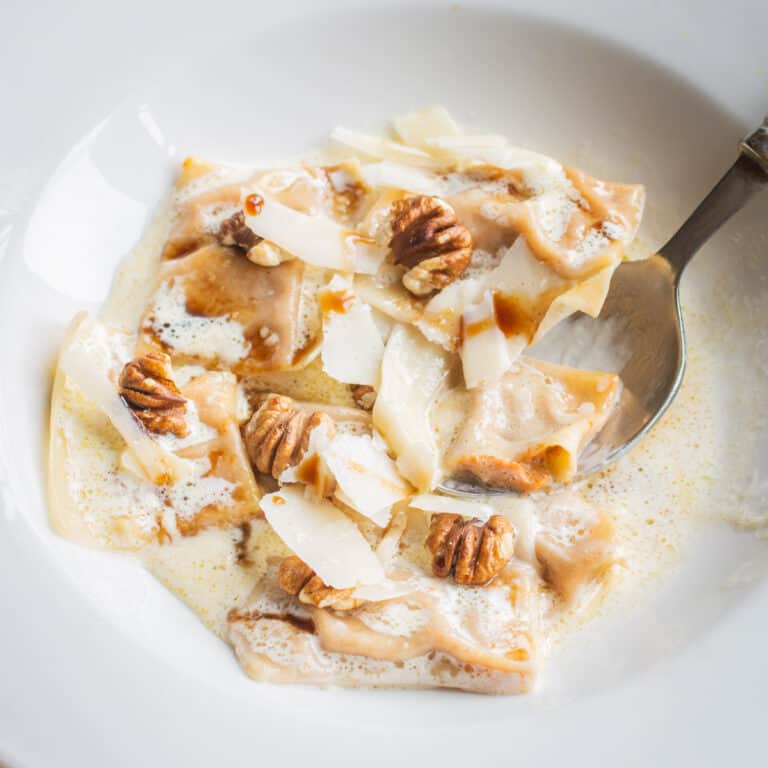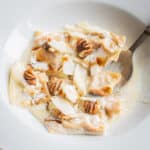 Print Recipe
Squash Agnolotti with Cream and Balsamic Vinegar
Squash ravioli with shagbark hickory nuts, birch syrup and hickory nut oil. For serving as an appetizer, this is too rich to eat as an entree, although some people would. 
Ingredients
8

oz

cooked squash ravioli preferably homemade using kabocha or buttercup squash

6

Tablespoons

heavy cream

High quality grated parmesan

to taste

Birch syrup

a good drizzle for each serving

Kosher salt

to taste

2

tablespoons

toasted shagbark hickory nuts

2

Tablespoons

walnut oil

I used bitternut hickory oil

Fresh cracked black pepper
Instructions
Bring a pot of salted water to a boil and cook the agnolotti until al dente. Meanwhile, just before the ravioli is done, heat the cream in a 8 inch saute pan until steaming and hot, but don't boil.

Stir the oil into the cream, it won't become homogenous. Transfer the ravioli to the pan with the cream, turn the heat back on and get them hot, adding a splash of pasta cooking water if the pan gets dry.

Double check the seasoning, adjust as needed for salt and divide between small, heated pasta bowls as an appetizer. Garnish with the parmesan, fresh cracked black pepper, a few toasted hickory nuts, and a good drizzle of the balsamic.
Notes
If you prefer to make your own homemade agnolotti, for a pound of fresh pasta dough, you'll want the following for the filling. 
1 lbs roasted butternut squash
¼ cup grated parmesan cheese
⅛th of a whole nutmeg, grated
1 teaspoon chopped fresh thyme
½ teaspoon powdered ginger
1 tablespoon flavorless oil
Kosher salt and ground white pepper, to taste
Mix all the ingredients together, double check the filling for salt and pepper, and reserve. 
Nutrition
Serving:
4
oz
|
Calories:
654
kcal
|
Carbohydrates:
48
g
|
Protein:
18
g
|
Fat:
44
g
|
Saturated Fat:
16
g
|
Polyunsaturated Fat:
10
g
|
Monounsaturated Fat:
7
g
|
Cholesterol:
112
mg
|
Sodium:
712
mg
|
Potassium:
43
mg
|
Fiber:
3
g
|
Sugar:
4
g
|
Vitamin A:
662
IU
|
Vitamin C:
0.3
mg
|
Calcium:
52
mg
|
Iron:
12
mg