Here's an in-depth walkthrough of how I stuff a rabbit saddle. It takes some practice, but it's the most elegant thing you can make from a rabbit.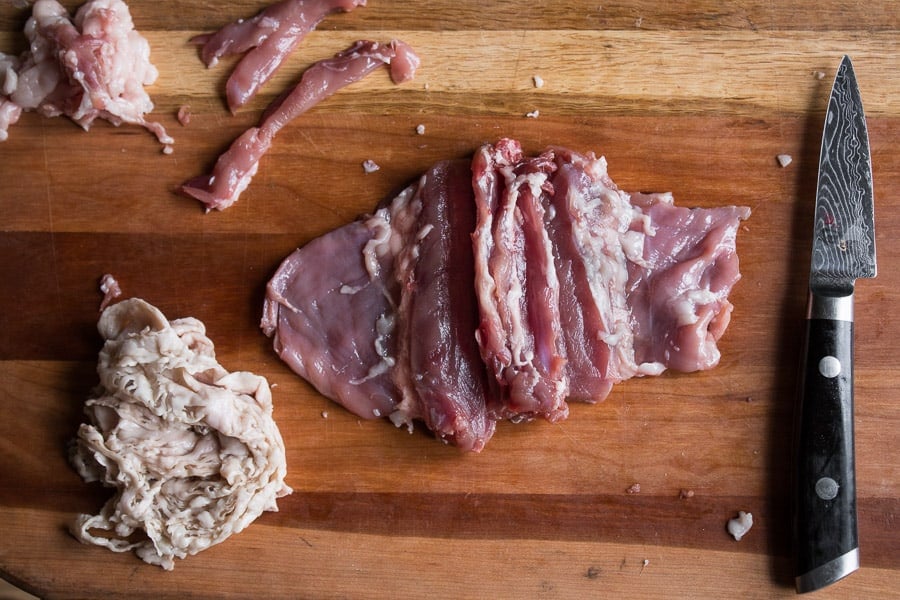 When I get rabbits in, the process starts with butchering and then portioning out into how the orders will be served. At home it's great to take the whole bunny in pieces and cook it for the family, but if you're going to sell them to guests, you need to think about attractive-looking portion sizes and how to make your money back on the product.
In the Twin Cities where I live, just selling a dish with rabbit can be half the battle. If you're lucky enough to be at a place where people will buy it, you need to have some solid preparations that make sure the bunnies aren't tough. The alternative is after a few bites, those bunnies will hippity hop right back into your kitchen, throwing a cramp into a busy night, and irritating the line cooks, expo and anyone else who knows what happened.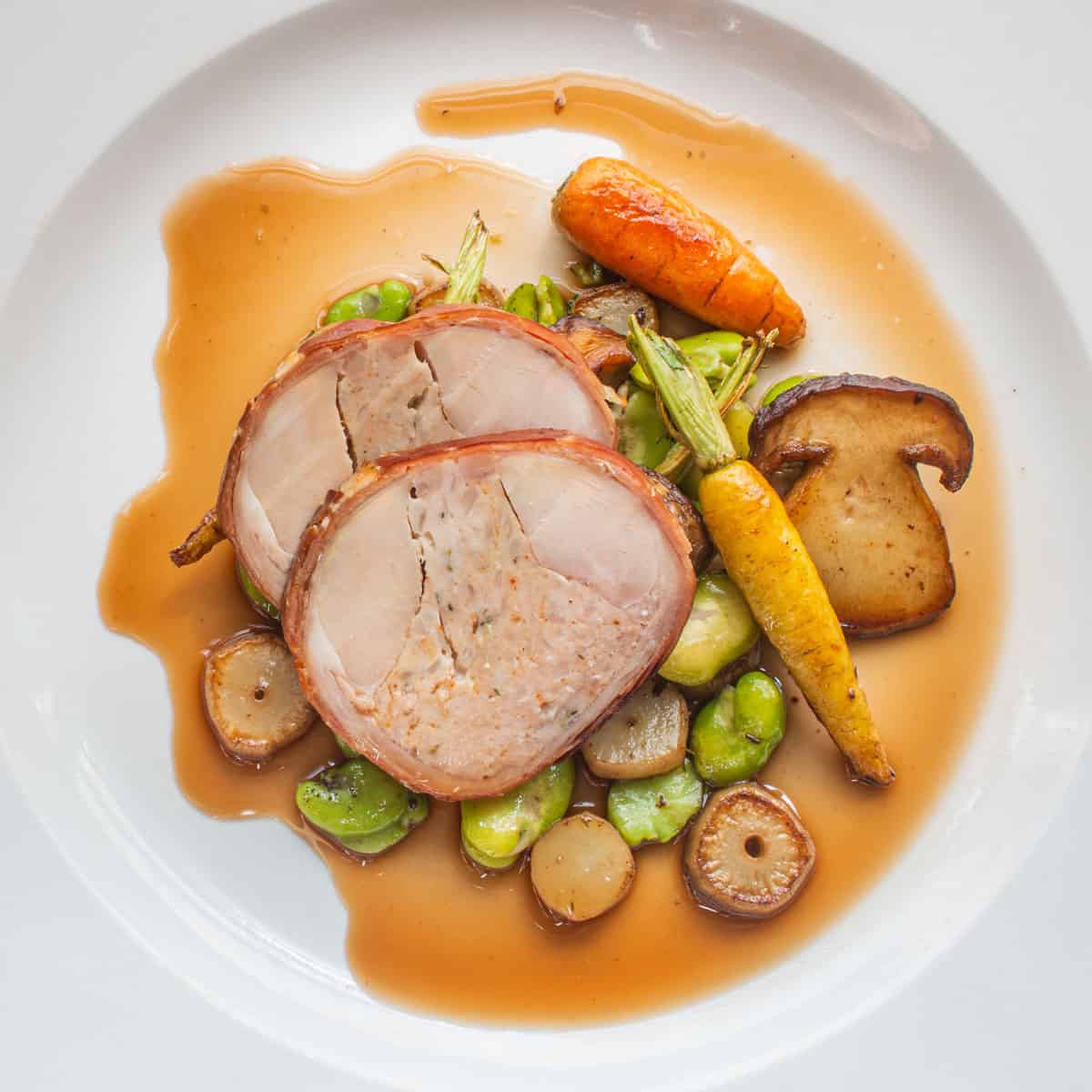 Besides the fore and back legs, both of which I like to confit to ensure even-tenderness and a quick pick-up for service, you also have the loins that run across the back. You can strip them off and give them a quick sear and that can be good, but they can be tricky to make a whole entree out of and are easy to over cook.
What is a rabbit saddle?
Enter the saddle. What's a saddle? It's the method of serving the center cut portions of both loins at once, and I'm not alone in thinking it's the most elegant part of the whole critter.
You get a symmetry from the loins, and if you remove the spine with a little knife work, you can stuff it and then it's something more than an entree, it's an absolute show-stopper. Stuffing a rabbit saddle is efficient too, you're going to need some extra meat to fashion your force meat, or farce, a sort of quick meat loaf and guess what? The rest of that rabbit carcass provides plenty of that.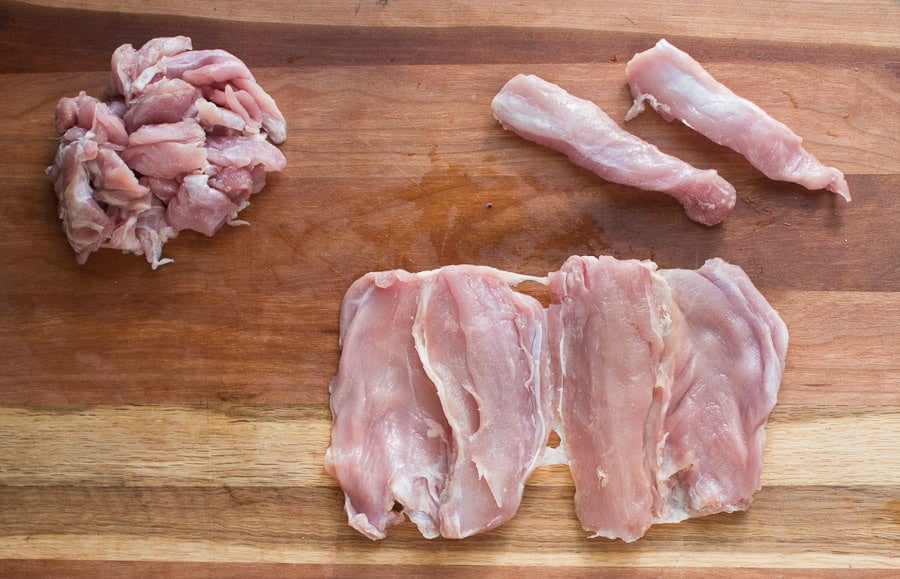 If you're a hunter and you get a bunny in the cold season, you might even score a little fat you can mix into it too, a little bread panade (paste) will emulsify it, binding it into a fluffy sausage-y concoction of bunny flavored joy. Sound confusing? It can be if you've never done it before, but I have a couple tricks up my sleeve so these always work and keep their shape, so don't worry.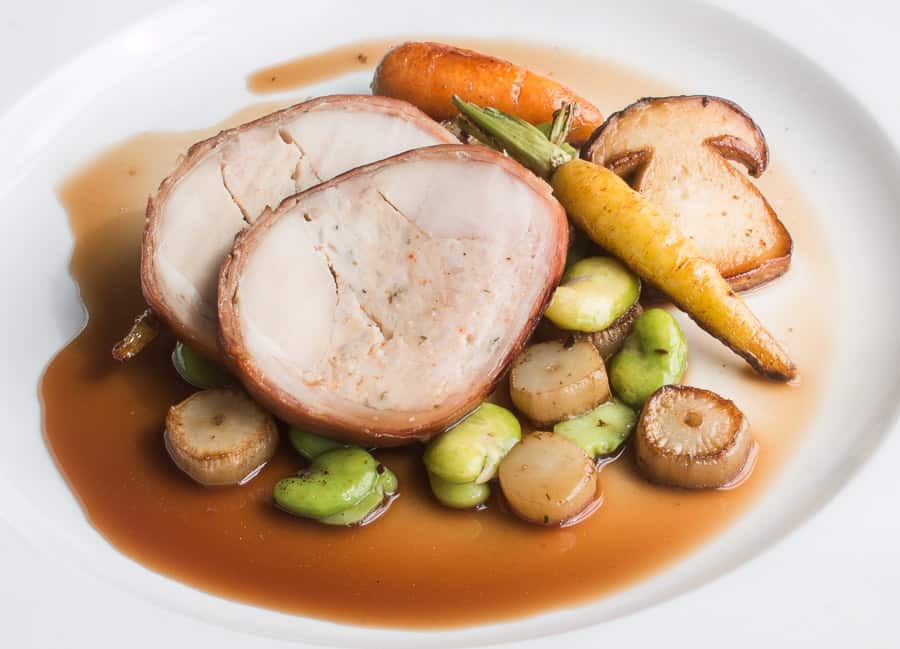 Is it worth it? There's only one saddle on a rabbit!
This is a special occasion dish, but worth it, don't let the size of the saddle fool you. In a restaurant scenario I save the bunny saddles in the freezer until I have enough to run for a few days. In the meantime, the fore and back-legs get sold first, one of each together being an entree.
After that, the saddle is sold at a premium to help offset the purchasing cost of the rabbit, which can run around 8-9$/lb after they've been broken down and trimmed for use. Last time I was at Meritage in St. Paul rabbit saddle was going for around 40$ a plate, I think that's worth a little extra effort.
That being said, if you treat the saddle like I'm going to outline for you it won't break the bank. One wild rabbit saddle can easily serve 2 hungry people as an entree, a farmed rabbit is bigger and can serve 2-3 depending on how much stuffing you fit in it, and what else you plan to put on the plate. It's the perfect thing for that anniversary, or preferably a candle-lit Easter dinner.
How to Stuff a Rabbit Saddle
Cut up the rabbit
Or if you have a saddle saved, pull it from the freezer and thaw. You can also stuff the saddle and freeze the whole thing, then thaw it and throw it in the pan if you feel like planning ahead.
Next, save the forelegs and backlegs for another use, then remove as much meat from there rest of the carcass as you can with a paring knife. Make sure not to toss the tenderloins which are very tiny and easy to miss, but will add a great look to the finished product when it's sliced open.
Also, for even more trim, I like to take the meat off of the pelvic joints, or what we call the helicopters in the kitchen. Sometimes I even save them and cook them like bunny hot wings, too.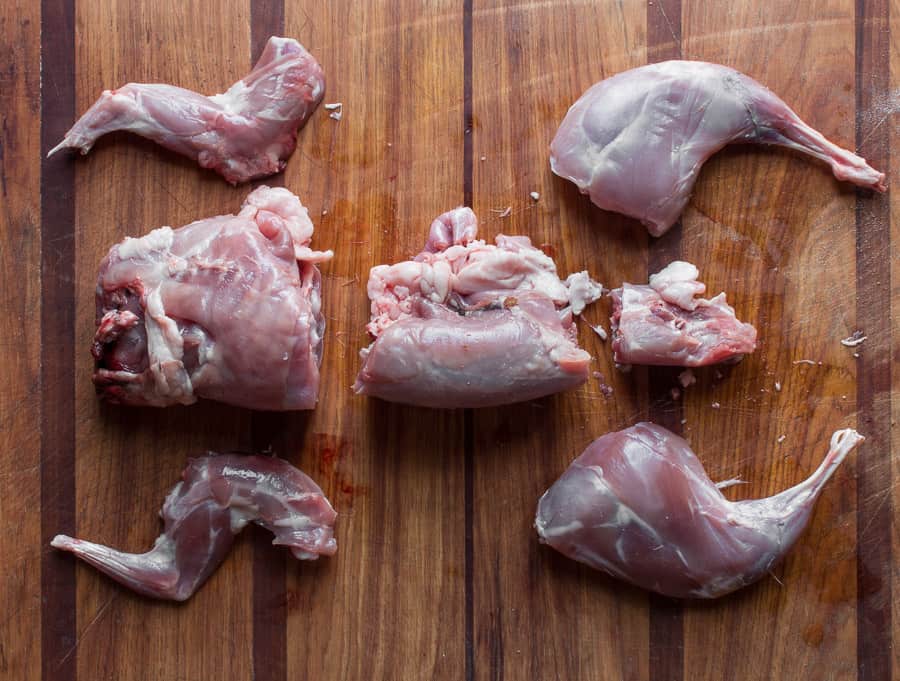 Remove the spine
This is the trickiest part. You're going to want your sharpest, smallest paring knife. Hug the spine as close as you can, being especially careful to try and not puncture to much of the thin membrane that connects the two loins. This usually take only a couple minutes of concentration, and don't worry, even if you have to cut both loins off, you can still make a great stuffed saddle.
Make a forcemeat/stuffing
All of your trim isn't exactly going to cook at the same rate, so to make sure it's juicy and tender it helps to grind the meat, or pulse in a food processor. The panade that I mentioned basically means your going to add some breadcrumbs soaked in milk, and maybe an egg yolk.
I don't usually add egg white unless I'm working with fish because the tightening properties can make stuffings a little too tough for me, but if you use an egg yolk, save the white to reinforce the outer binding layer that will keep everything in place, which I often do if I don't have any pork caul or lace fat to wrap the saddle. Making forcemeat is another post in itself but you can refer to my post: How to Make Mousseline, Forcemeat or Meat Farce.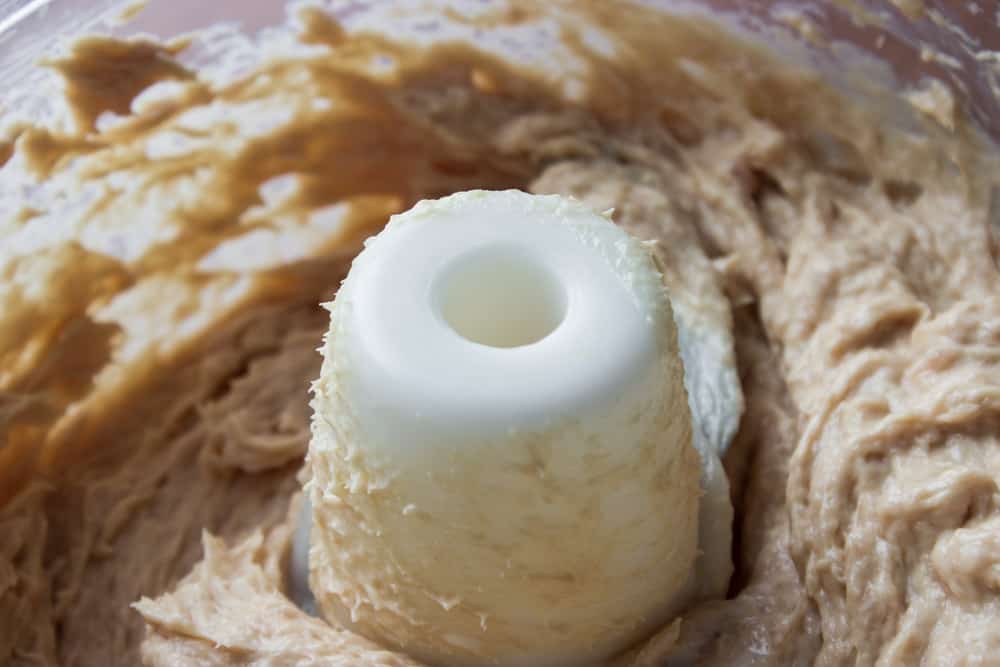 Make a forcemeat stuffing
1. Put chopped, chilled or slightly frozen meat in the food processor. Add the white of some bread you've soaked in milk and squeezed out (you just want it to soften). Pulse the mixture, then drizzle in a little cream to make a smooth puree, just enough to get the blades moving. Don't over-mix or the emulsion will break and you'll have a food-processor full of water-y mush.
2. Remove the meat paste, then season to taste with salt and pepper. I like to fold in some lightly chopped herbs too, tarragon, chives and parsley are great with rabbit.
3. Cook a little piece of the stuffing to check the seasoning, then adjust as needed.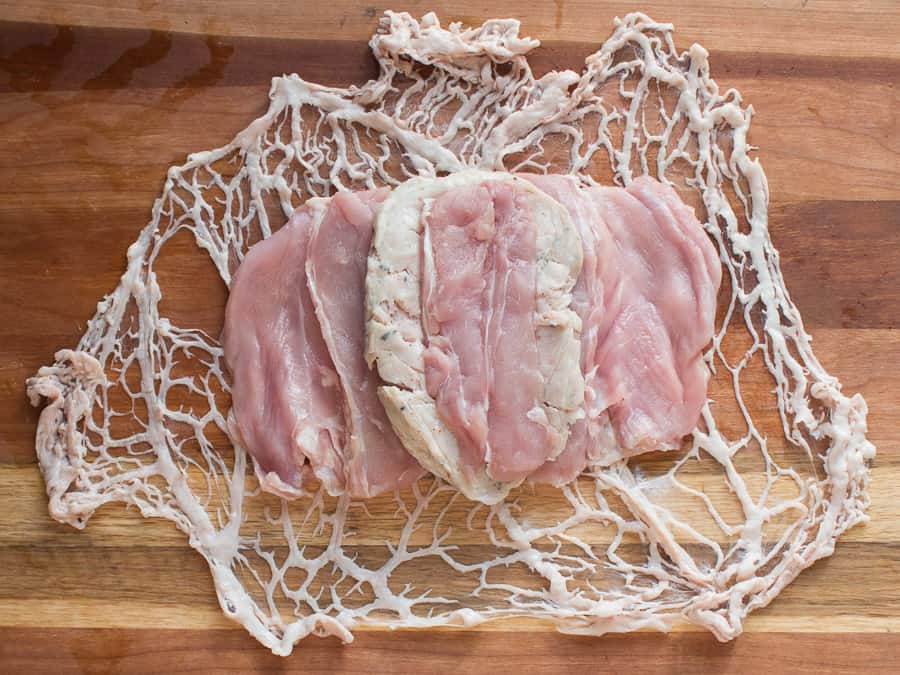 Stuffing and Forming
This is pretty simple. Lay down the meat or wrapper that will keep everything together, then put the saddle down on top, open up the belly flaps, lay on the tenderloins and the stuffing how you like, then wrap it back up like a package, nice and tight.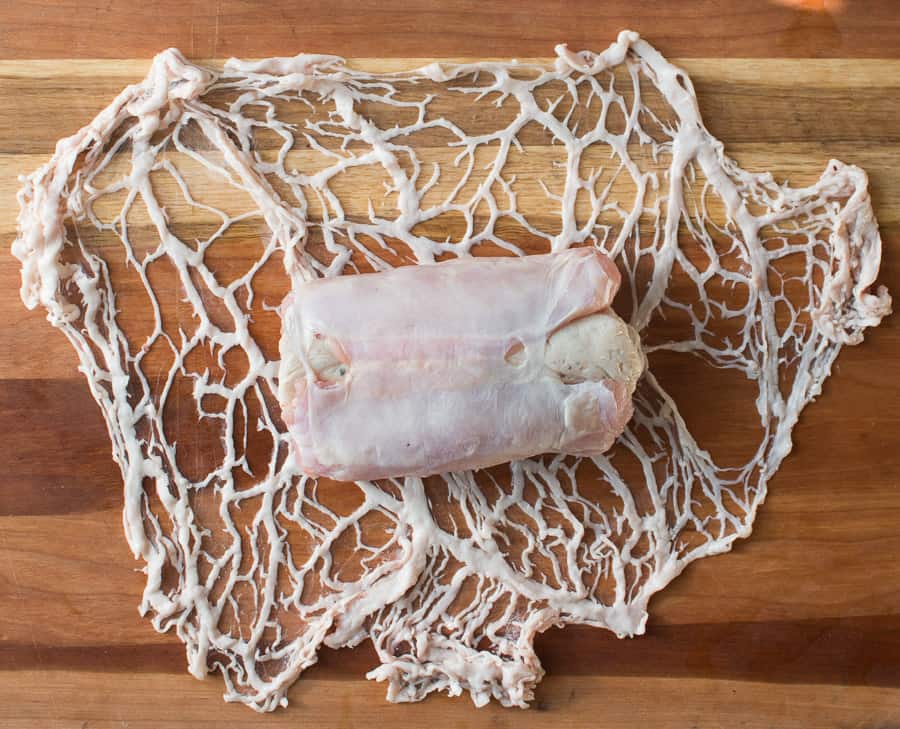 Using beaten egg white, caul, or transglutaminase to bind the outer layer
This is a great trick for a lot more than rabbit saddles. If you're using a thin piece of meat like prosciutto, speck, or another cured ham or something similar to wrap the whole thing up depending on the evenness of the slices, I might brush a little bit of egg white beaten with water on a layer or two to help bind and secure as it cooks. I've used toothpicks, but it's not pretty.
By far caul fat is my favorite wrapper because it melts, is paper thin, super cheap, and since it isn't cured like prosciutto it doesn't add extra salt. Some chefs also like to bind wrapped things like this with something called transglutaminase that can be used to make some crazy stuff, google that if you're curious.
Put the saddle in the fridge uncovered to dry out a bit
This is optional, but makes for a quick, even, easy sear. An hour or so is ok, overnight is even better if you can.
Cooking
Let the saddle come to room temperature for 30 minutes or so before cooking. Meanwhile, preheat the oven to 400. Heat a little oil in a heavy pan, then brown the saddle first on the seam side down, then all over. Put the saddle in the oven on a sheet tray or cookie sheet with a resting rack to avoid over-cooking the bottom, then cook until a thermometer reads 140 or so if yo like it a little pink. Remove the saddle from the oven and allow to rest for 5-10 minutes in a warm place before slicing for maximum juiciness.