Maybe you just got back from breakfast or brunch, or maybe you've always wondered: how do restaurants make hashbrowns so good? There's a lot to be said for making a great plate of hashbrowns. Knowing some of the ins and outs will make the difference between having a plate of oily mush and the ultra crispy, woven mat of potato dreams are made of. Read on and I'll share my secrets.
I was a chef for over twelve years before I understood the secret. I had just taken a new job as executive chef of the famous Lucia's restaurant in Minneapolis. I knew walking in to an already functioning kitchen there would be some things for me to learn, and there were. The epic hashbrowns that the restaurant served during brunch, lunch and dinner were one of my favorite tricks I added to my bag.
Lets get one thing out of the way though. Most restaurants probably don't even make their own hashbrowns, when you can avoid the labor and buy a frozen bag of crap, sometimes the short term gain can overshadow the art of making things from scratch. At home you have a choice though, and I suggest you impress your friends and family by mastering the art of the browns.
It took a while for me to really get it right, the prep cook who I had to watch closely to learn had been cooking them everyday for about 16 years, which is a lot of hashbrowns, he was at the point where making them was pure reflex.
One day I remember watching quietly over his shoulder. He filled a pot with potatoes, topped them off with water, then set them to cook. When the water came to a boil he immediately turned the pot off, then waited for a bit (I timed him and it ended up being almost exactly 10 minutes every time, like I said, after 16 years of boiling potatoes they were a reflex to him.)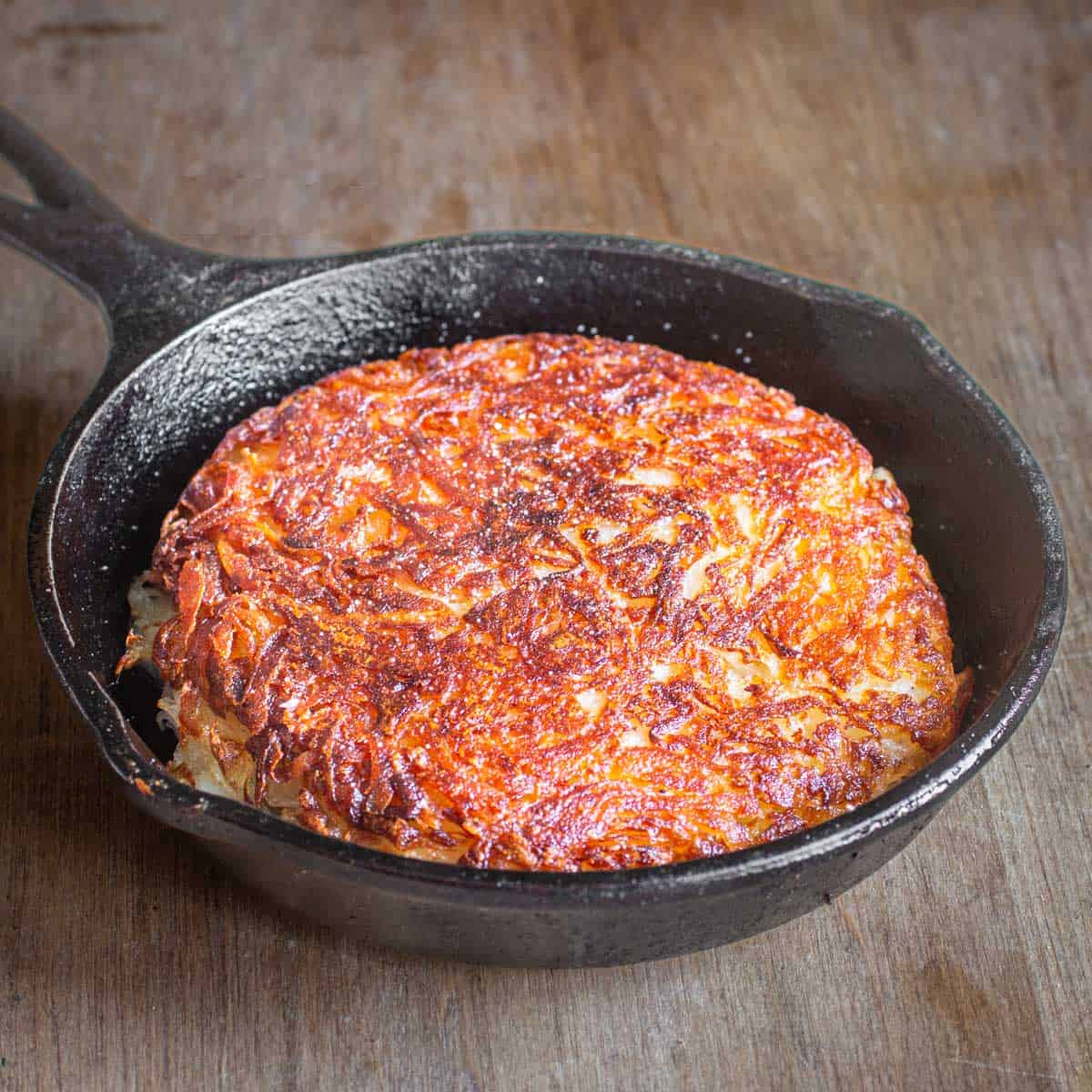 After the potatoes had been boiled he peeled them with a paring knife, then brought them downstairs to a shredding attachment on a large stand mixer. Fluffly, perfectly done curls of potatoes came out every time, as long as they'd been cooked per the "recipe".
The secrets(s)
In my mind there's five secrets to cooking the perfectly fluffy, crispy hashbrowns.
The potatoes must be slightly underdone, but not underdone so much that the flesh darkens, this makes it so that the potatoes don't soak up too much oil, and retain their shape. Keep in mind that small russet potatoes will cook a lot faster than big ones!
The species of potato must be a starchy one. Traditional russet burbanks used for French fries are tried and true, and cheap as the dirt they come out of. Higher and heirloom species of white potato will give similar results too. Generally I just try to find high quality sources of russet.
The size of the grater that the potatoes are shredded through needs to be the right size. Too small, and they will cook too fast, soak up too much oil and be greasy, too large and they will take too long to cook. That being said, shoot for a little larger than smaller if you're working with an attachment you haven't used before. I've used the julienne attachment on the common Behringer mandoline in a pinch and it worked o.k..
Piling on more shredded potatoes than you think you'll need, since they lose volume as they cook.
Patience, and medium-high heat.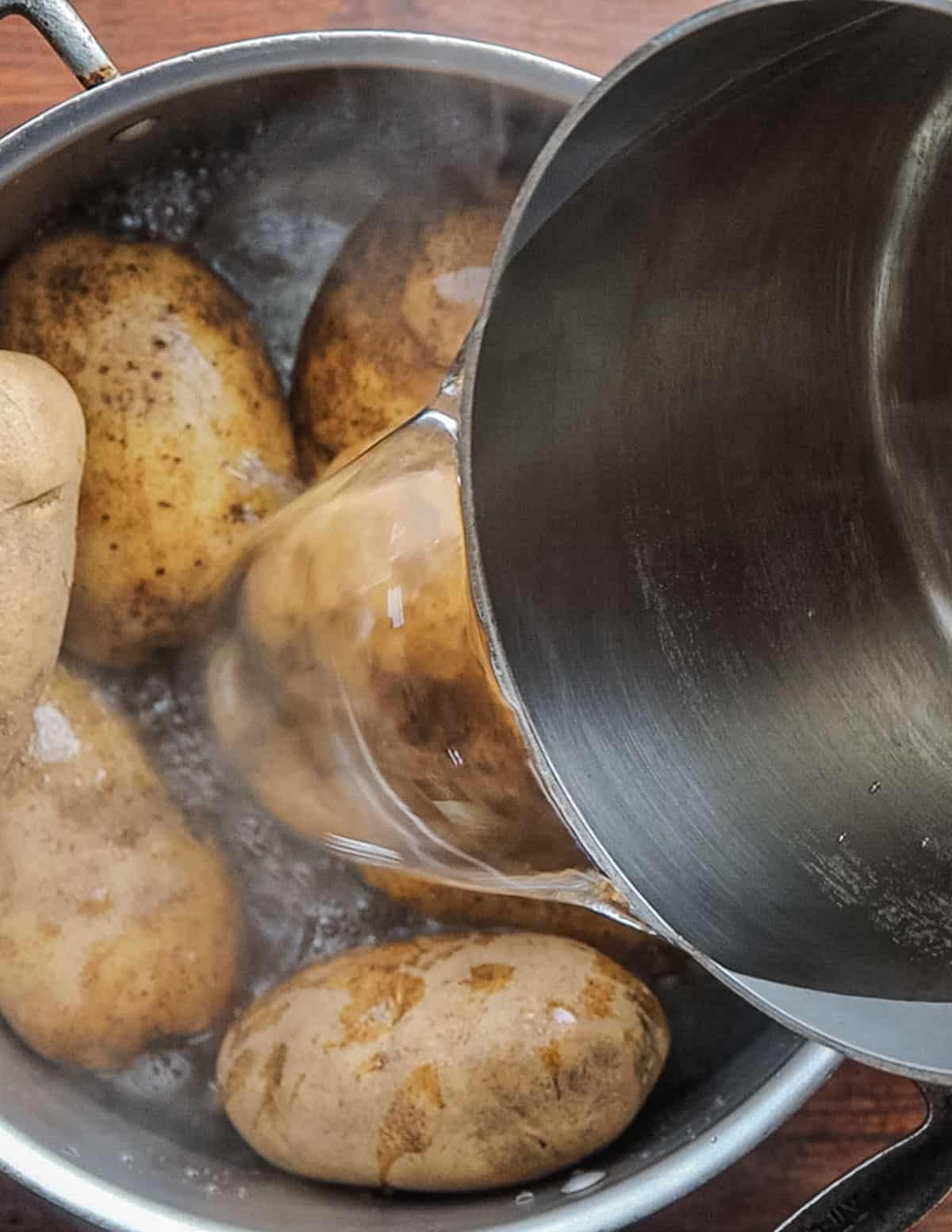 What kind of fat should I cook them in?
There's going to be two different schools here, oil and lard, both can work great.
High heat oils like organic canola, grapeseed, and avocado are good, especially because they don't detract from the flavor of the potato, which can be one of the best parts of a good plate of hashbrowns.
Lard is the other option. The type of animal lard you have is important to know. Beef and lamb fat can be a little chalky and hardens firm when it cools, if you want to use one of these, I suggest mixing it with 25-50% flavorless oil to detract from the solidifying effect. Poultry lard from ducks and geese is fantastic by itself, as is pork and bacon fat.
What's the best thing to serve with them?
I'm kind of purist here, but there is one thing that always needs to be there: the highest quality salt you can find. Have some sort of fancy Hawaiian black or pink salt hanging out somewhere you got as a gift a few years ago, or a teeny bag of French fluer de sel or sel de Camargue? This is where you use that salt, and it can be the only garnish you might need.
In a close second to salt for me is some sort of delicate onion-y herb, chives, garlic chives and the flowers of all of them are fantastic garnishes.
Sour cream
I put this on mine probably the least out of everything listed here, but for some people I know, it's an absolute must, if I serve sour cream with them, It's probably going to be one mixed with some chives.
Mayonnaise or Aioli
This and flavored or unflavored sour cream are a good way to make a big plate of hashbrowns not get boring, I like a garlicky aioli, or one mixed with a little horseradish, Tobasco, or sriracha.
Ketchup
If you have to, but at least mix it with something spicy!
General Tips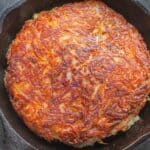 Print Recipe
Basic Hashbrowns
The best hashbrowns your civilian hands will ever make
Equipment
Cast iron skillet or flat griddle
Ingredients
Russet Potatoes

Water

as needed to cover potatoes

Highest quality coarse salt

like sea salt or kosher salt

Lard or high heat cooking oil
Instructions
Put the potatoes in a pot and cover with a few inches of water. Bring the pot, uncovered to a boil, then turn off the heat right away.

Set a timer for ten minutes, then remove the potatoes to a cooling rack and cool until you can handle them.

Peel the potatoes with a sharp paring knife, then shred on a box grater using the largest holes.

Heat some of the oil on a griddle or a cast iron skillet until hot.

Add the shredded potatoes in a nice big pile without pressing them down, season with salt and some additional oil and cook until browned on the bottom, about 7 minutes on each side over medium-high heat.

Peek under a corner of the potatoes to make sure they're browned nicely and move as one, then flip with a spatula or in a pan.

Brown the other side, then remove and serve immediately, sprinkling more salt over the top to finish.
Notes
Hands down, the best way to do this is on a flat top grill, since you can slide a spatula (or two) underneath and flip the entire doormat of hashbrowns over at once. At home a cast iron or electric griddle will work just fine.
If you don't have anything flat to cook them on, I like a cast iron pan, just make sure the cast iron is hot and well seasoned. Teflon is ok if the pan is high quality and the Teflon isn't scratched up and deteriorated.
Lastly, refer back to secret number 4: PATIENCE. The general idea is to wait until you can see brown around the edges, and to make sure that the entire batch moves as one in the pan or on the griddle. It can take a few tries to get it right, if you have some potatoes to spare, cook a few extra and practice a little bit.