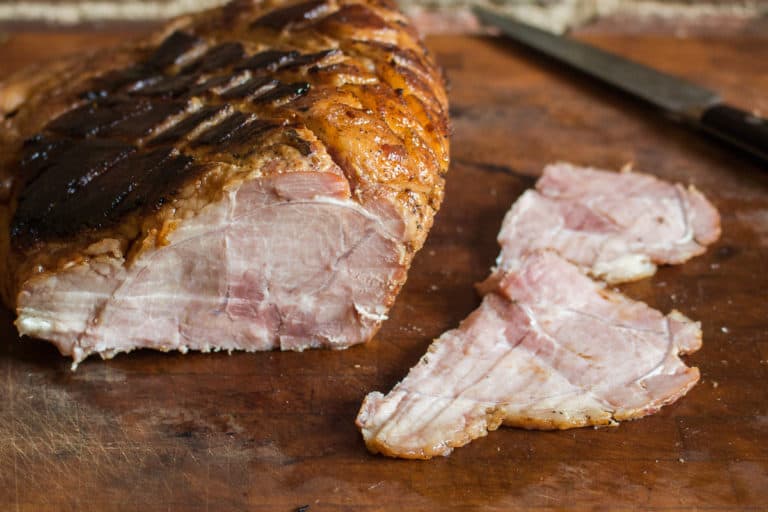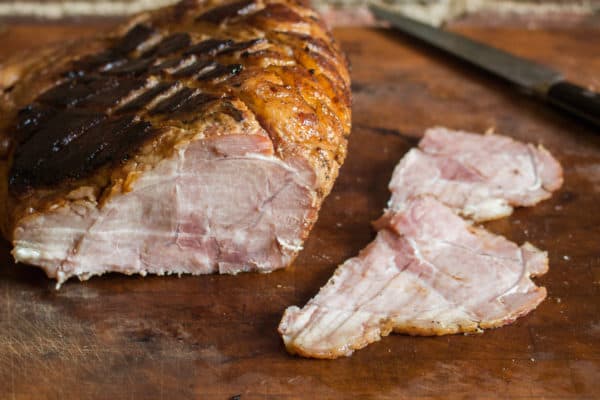 If you make your own bacon, or process your own hogs, you likely know how incredible homemade bacon is. A while ago, during the pandemic when hogs were a dime a dozen, I got the chance to butcher two whole pigs with my father and some friends, and before I did, I made sure to ask all my chef and butcher friends what sort of cuts they'd like to take if they were cutting up their own pig.
I got a lot of great ideas, a few new ones that I'll be sharing with you, but one of my favorite suggestions came from my friend Mathew Normansell of edenwildfood.com a British citizen who moved to Wisconsin a few years ago. Mathew mentioned English bacon or British back bacon, and, DIY bacon afficionado that I am, I knew I had to make some.
So how's British style bacon different from regular bacon? A quick google will show you plenty of pictures, and, with a rudimentary knowledge of the parts of the pig you'll be able to see where the cut comes from.
Americans style bacon (also called streaky bacon) is made from the pork belly. English bacon is a hybrid. If you look at some of the pictures online, it might seem to resemble thinly sliced pork chops, and that's exactly what it is.
English bacon is made from the loin, but not the trimmed, fat-less loins or boneless chops you'll see in the supermarket, it's made from a loin with the fat cap still attached. This gives it a nice combination of fat-to meat, although it will always be a little more lean than American bacon.
So, how's it eat? Pretty darn good. It's a little like if you crossed Canadian bacon with American bacon, since there's much more fat than typical Canadian bacon, but a little less than American.
Either way, it's cured, smoked pork, it's delicious, and it'll make all the things taste better. As a bonus, I smoke mine with the spine still attached so that I could remove it to get a bonus soup out of the deal when everything was said and done.
How to cut it
This is the only tricky part, especially if you're new to hog butchery. Here's how I did it, step by step. Also, if you need a refresher, this video tutorial on whole pig butchery is the best I've ever seen.
Skin the hog, then hang it up by it's back feet on a skidloader, a tree, etc
Using a reciprocating saw, cut the animal in half through the spine
Lay the hog half, cut side up on a table
Remove the shoulder at the joint
Remove the leg at the joint
Remove the belly in one piece, cutting in half with a handsaw for a straight cut
Take the loin and find where the rib bones end (it should be about ⅓ of the whole loin)
Remove the rib-less ⅓ of the loin---this is your English bacon
Cut the rest of the loin with ribs into pork chops
Rub the rib-less loin all over with the bacon cure, wait 6-7 days, smoke, cool, portion, freeze, and, pig out!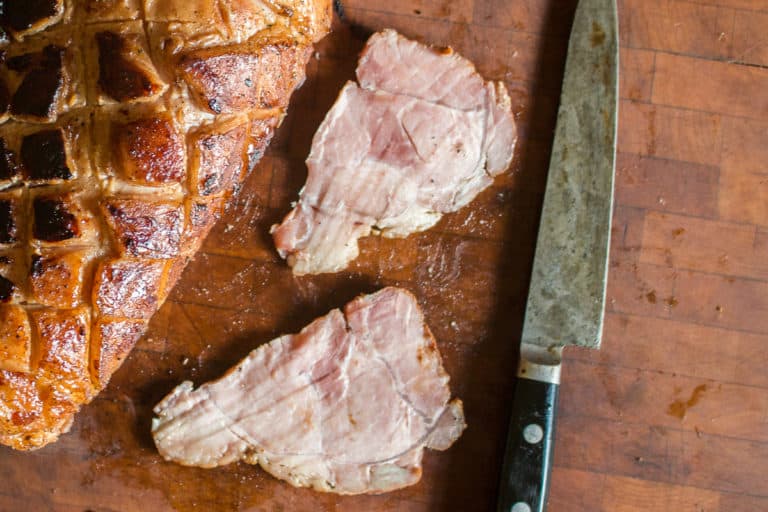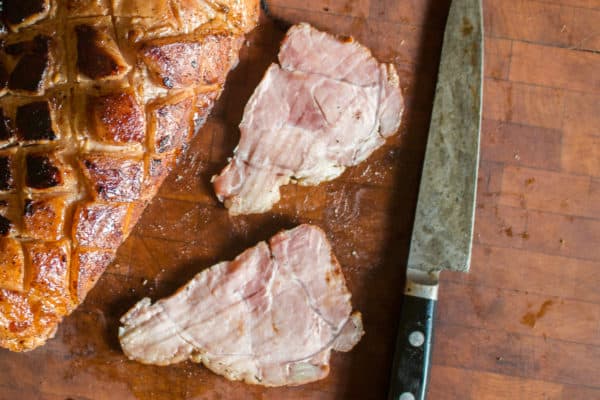 Traditional use
As Mathew explained to me, proper bacon is an important part of a full English breakfast, along with fried tomatoes, beans, eggs, and black pudding. If you don't have time to throw down for the whole English breakfast, it's fine on it's own with some eggs and toast, or in a bacon sandwich like a BLT.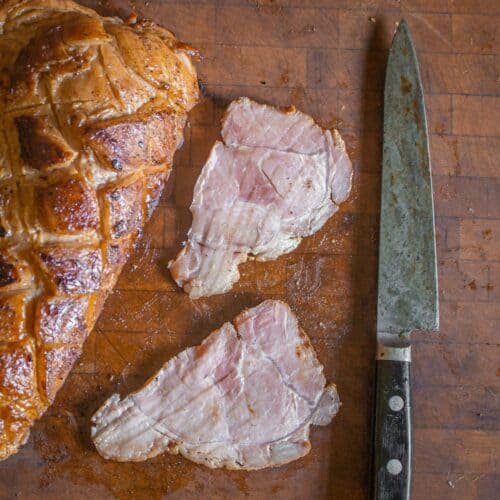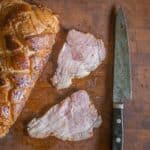 Print Recipe
English Bacon
A simple smoked English bacon recipe. It's not exactly traditional, but after a taste you won't care.
Ingredients
1

rib-less pork loin roast

about 3-4 pounds, including the fat cap

8

oz

brown sugar

4

oz

kosher salt

10

grams

or 1.5 teaspoons pink salt

sodium nitrite

½

teaspoon

whole cloves

½

teaspoon

whole allspice

½

teaspoon

grated nutmeg

1

teaspoon

fresh ground black pepper
Instructions
Combine the spices and grind to a fine powder in a spice grinder, then mix with the salt, pink salt, and sugar.

Stand the pork roast up so that the fat cap is facing up. Score the fat ¼ inch deep in a cross-hatch pattern, then flip over and cut next to the bone/spine a bit as if you were going to start removing the bone.

Follow the bone with a paring knife, revealing an inch or two in, to make it easier for the cure to absorb, and to give you an outline of where to cut to remove the bone when the "bacon" is done smoking.

Rub the meat liberally with the cure, getting into all the nooks and crannies, then put in a zip loc bag or vacuum seal and refrigerate for 5 days, turning occasionally to distribute the juices.

After 5 days, remove the pork from the liquid, rinse, pat dry, then refrigerate for at least a few hours, preferably overnight, uncovered, which will help it form a skin that will absorb smoke, known as the pellicle.

Smoke the loin, fat side up at 225 for 3 hours, or until lightly browned and fully cooked (145-150F)* then cool, cut off the bone, slice, portion, vacuum seal and freeze or refrigerate until needed.
Notes
*Temperature note
I cook this "bacon" through since It's delicious shaved thin after cooking, put on sandwiches, etc. For a more traditional-style English bacon, cold smoke the loin, then chill in the freezer until half-frozen to make it easier to slice, or cook to a lower internal temperature, making sure you cook thoroughly before eating.