Ever since I figured out a reasonably efficient way to dig burdock roots, I've been eating it every which way.
Kinpira was my real breakthrough. Sure, I opened up a restaurant featuring burdock as a local ingredient, but back then I cooked it like a European would, generally with dairy, which is fine, but the cream infusions I used to make definitely obscure the texture of the root, for better or worse.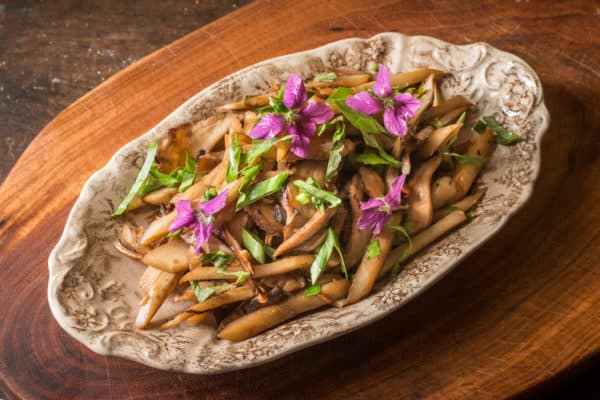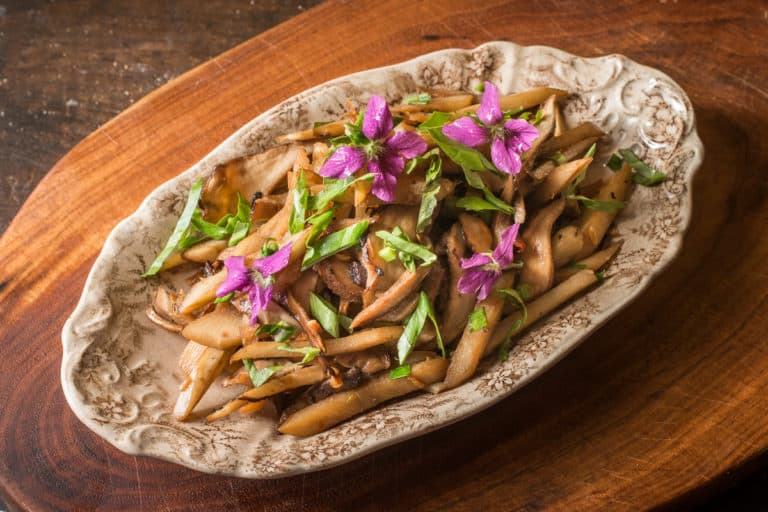 At the time, I was trying to avoid trying to sell diners on the texture since I didn't think they'd appreciate the crunchy, crispness, but, years later, I'm second guessing the power of burdock, especially in julienne form as I'm sharing here.
The beauty of classic kinpira gobo is all in the knife cuts. Burdock roots, cut into large pieces, are a crucible to chew, and can cook literally all day (I tried) without taking on any resemblance of what we'd call "tender".
Cut into a julienne though, the surface area is greatly reduced, and with it, the cooking time. After weeks of eating basic kinpira, and it's salty, slightly sweet deliciousness, it was time to move on.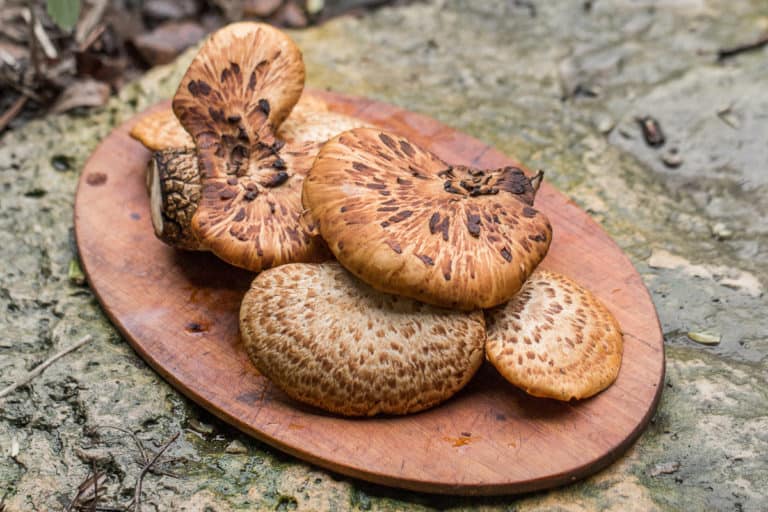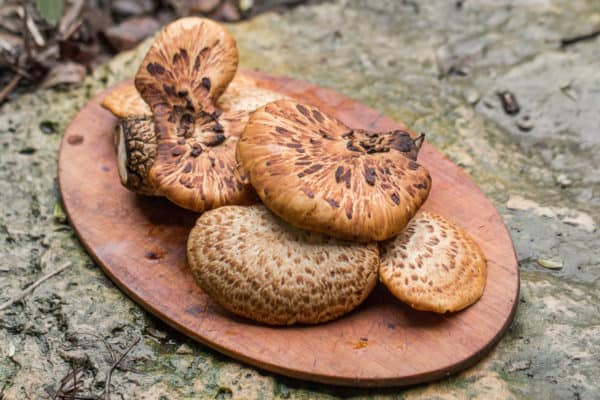 I wanted to keep the genius julienne, but wanted to switch up the ingredients for variety, as well as keeping it unsweetened. Removing the sweetness of the carrots left room for another ingredient, and I thought some mushrooms (dryad saddle / pheasant back / Cerioporus squamosus in this case) would make a good stand in. To be clear, lots of other mushrooms could be used in place of the pheasant backs for this recipe, but mild ones that blend into the background will be the best.
After a couple rounds, it's ready for prime time, and it is right up there with regular kinpira on the delicious scale. The burdock takes center stage here, but the mushrooms, sliced into the same sized julienne as the burdock roots, add a great textural contrast.
Just a bowl of sliced mushrooms can be a little mushy without something else on the plate—steak, greens, toast—whatever. But, mixed in with the burdock they become part of a whole.
The flavors meld very well, the burdock soaking up mushroomy juice and aromas, and the mushrooms benefiting from the texture of the burdock. As you eat, it can be hard to pick out whats burdock and what's mushroom, in the best kind of way, the earthy goodness of the roots and shrooms linked together with undertones of garlic, herbs, chili, and a rich coating of oil. Side note on the oil, I use ghee or lard here, so if it rests for a while (it's great made in advance) you'll want to reheat it to refresh the fat and to avoid it feeling dry.
Try to not reach for seconds.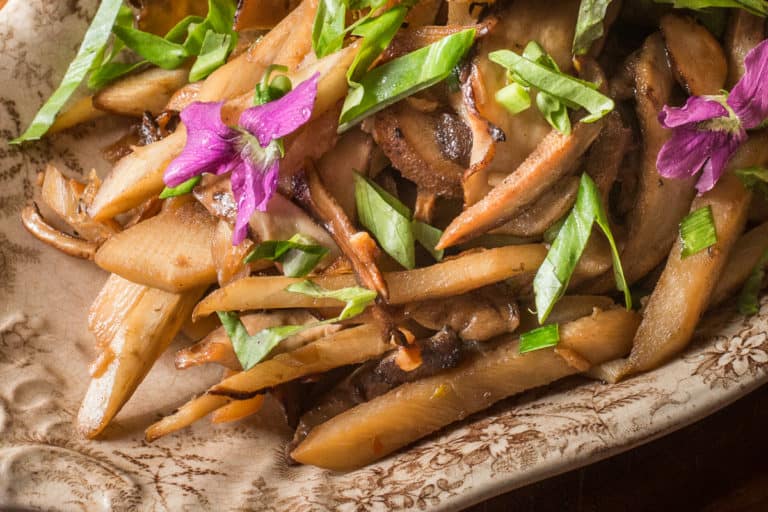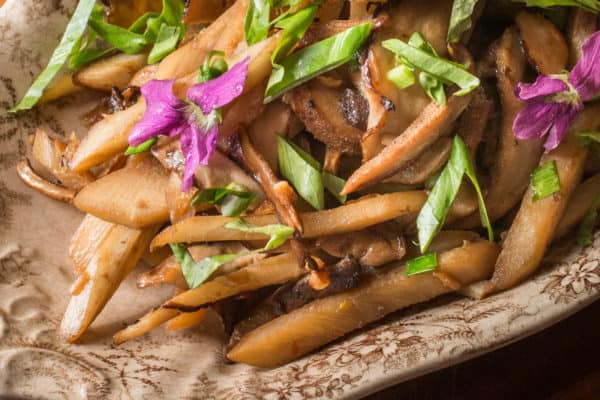 More
Vegetarian and Vegan Mushroom Recipes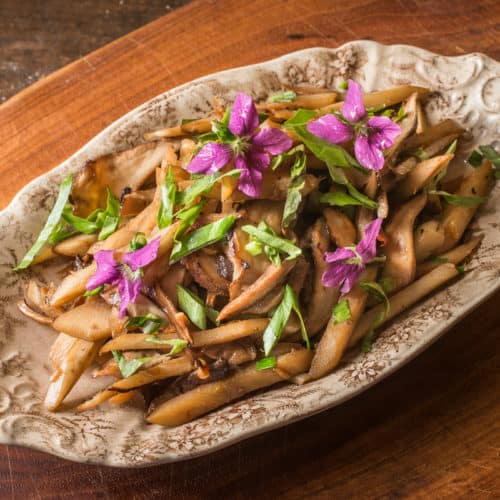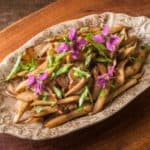 Print Recipe
Braised Burdock and Mushrooms
A simple dish of braised burdock and wild mushrooms. Serves 2-4 as a side.
Equipment
12 inch cast iron skillet, saute pan or similar
Ingredients
8

oz

cleaned

peeled burdock root

8

oz

fresh mushrooms

such as pheasant back, or another widely available, mild mushroom

2

Tablespoons

soy sauce

2

Tablespoons

apple cider or rice wine vinegar

Good pinch of crushed red pepper flakes

optional

2

Tablespoons

ghee

lard, or cooking oil

Fresh sliced herbs

like cilantro, culantro, mint, or basil, to taste (a small handful)

1

oz

sliced spring onions

green garlic, or similar
Instructions
Cut the burdock on the diagonal into ¼ inch rounds, then stack the rounds up and cut into ¼ inch matchsticks.

Slice the mushrooms into ¼ inch thick slices.

Put the julienne burdock into a pot, cover with water, bring to a boil and cook for 5 minutes, then drain completely and reserve. In a wide skillet, like a 12 inch cast iron, heat the ghee or other fat, then add the burdock and mushrooms and cook until the mushrooms are wilted and cooked.

Add the garlic and saute for a few minutes more, then add the soy sauce, chili if using and vinegar, cook down, tossing to distribute the flavors.

Taste, adjust the seasoning as needed for chili and salt, then toss in the onions and herbs, fry for a minute more and serve hot.
Notes
I prefer ghee or lard here since the flavor is great with mushrooms, but if left to cool it can taste a bit dry. If you want to serve this as a room temp salad, use oil--sesame oil is great.