Here's a great, simple baked cauliflower mushroom gratin anyone can make. It's a great way to serve the mushrooms if you don't want to eat a whole plate of them fresh. It's also a good way to introduce people to them that may not like mushrooms.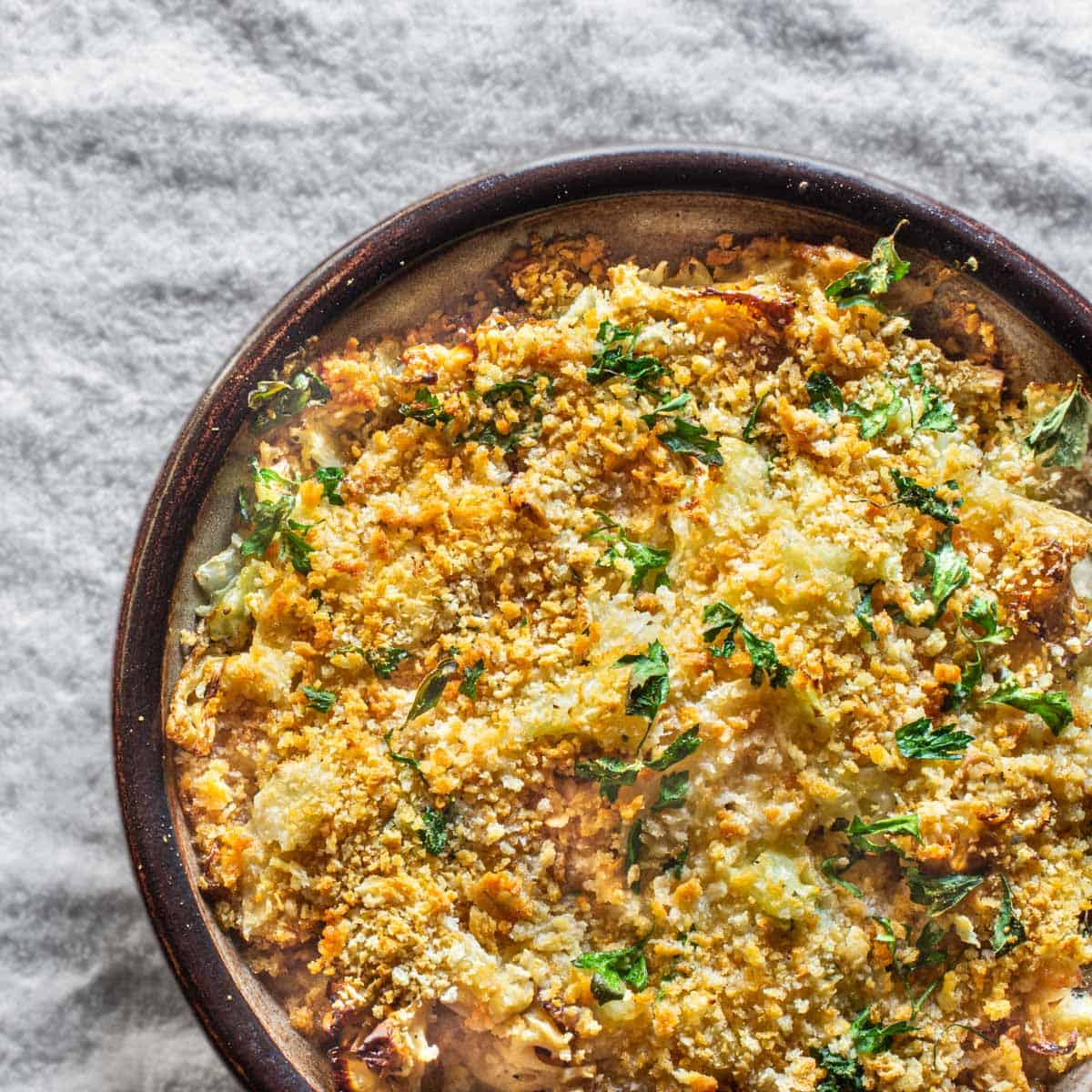 Cauliflower mushrooms have an interesting shape, kind of like a big floppy hen of the woods as opposed to a literal head of cauliflower (Ramaria, on the other hand, do resemble cauliflower in shape).
The first few times I cooked them, I kept it pretty simple and just fried them up in butter, but eventually, with them eating up space in my walk-in cooler at the restaurant, I needed to find a way to use up more at once.
Cook your mushrooms before the bugs eat them
Why use up more of my precious mushrooms in one go? Because bugs, that's why. Unlike a lot of other mushrooms from the Pacific Northwest, cauliflower mushrooms most definitely get infested with bug larvae, which, although they don't turn my stomach immediately like they did when I first started picking mushrooms, still need to be taken into account since they'll make your mushrooms degrade faster.
If you're lucky enough to grab some Sparassis, my money is on you having to work through them relatively quickly too. Bugs are a thing.
Cauliflower mushrooms are delicate in flavor, and texture. You really don't want to do too much to them, or they'll get lost entirely. Same thing goes for their texture, so I try to make sure that I'm doing it justice when I'm cooking with them as well: not too many ingredients, simple, subtle flavors.
Cabbage is relatively neutral and can blend into the background, especially if it's not in a broth based dish (it will hijack a soup, a characteristic shared by many Brassicas, especially turnips) so I use par-cooked cabbage here in a little gratin along with the cauliflower mushrooms, some cheese, and breadcrumbs.
Variations
This is an easy cauliflower mushroom recipe to adapt to what you have on hand. Here's a few ideas:
Instead of cabbage, use leeks that you've cooked until tender.
Add pasta, especially something like penne or ziti.
Meat, especially some flaked white fish can be a good addition.
Instead of breadcrumbs (which I love) you could top the gratin with a white sauce, or mornay sauce.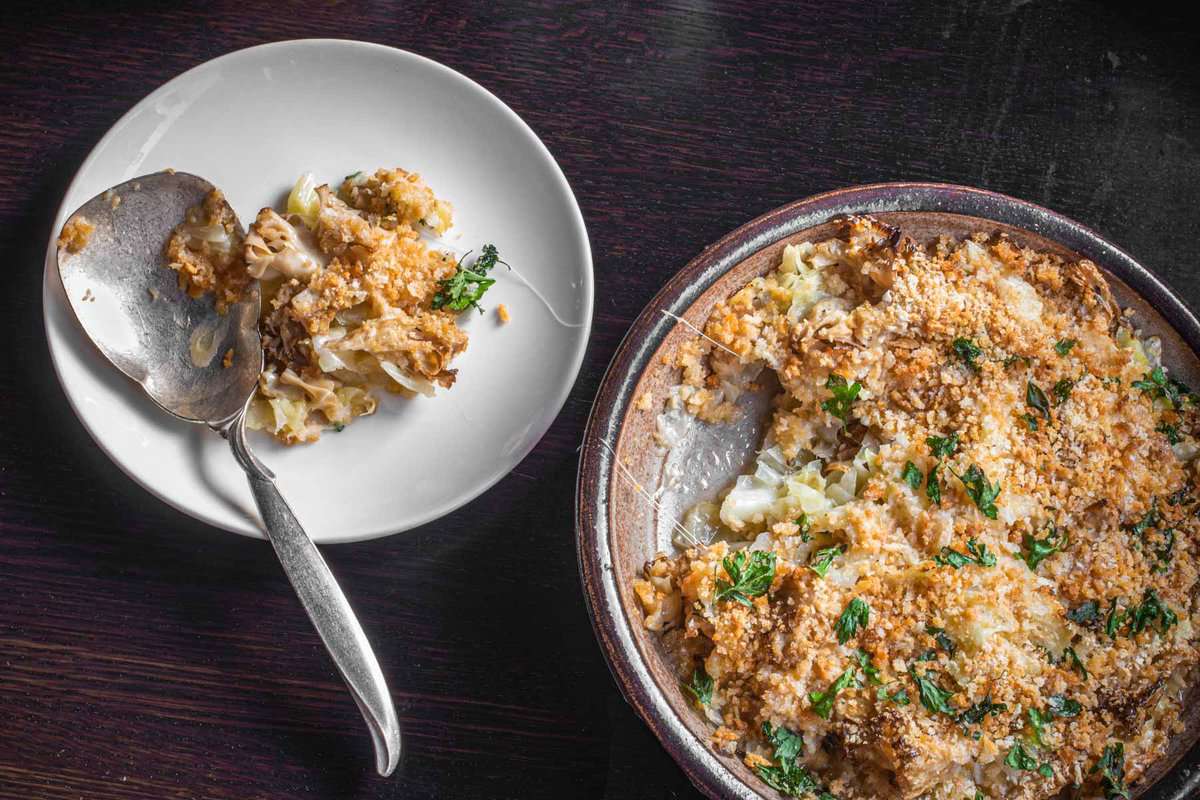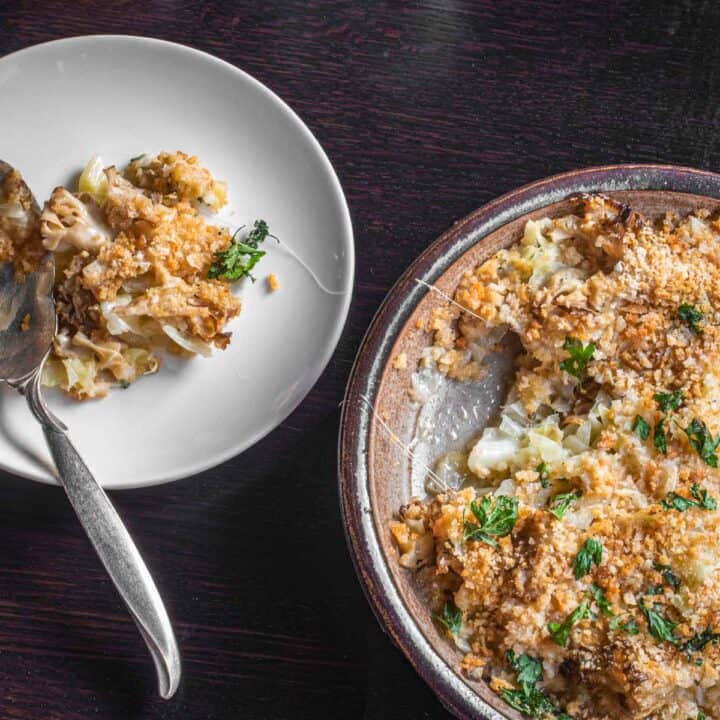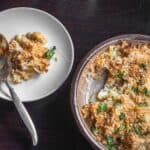 Print Recipe
Cauliflower Mushroom-Cabbage Gratin
Serves 4-6 as a side dish or vegetarian entree
Ingredients
1

lb

green cabbage

core and tough inner leaves removed. Diced ½ inch

½

cup

shallot

diced ¼ inch

½

teaspoon

kosher salt

or more to taste

Fresh ground black pepper

to taste

2

tablespoon

unsalted butter

plus 2 tablespoon for finishing the gratin

½

lb

cauliflower mushroom

cleaned

½

cup

shredded gruyere cheese

1

teaspoon

chopped fresh thyme

½

cup

chicken stock

preferably homemade

½

cup

toasted breadcrumbs

like panko, or sourdough

1

tablespoon

chopped Italian parsley
Instructions
Sweat the shallot in 1 tablespoon of the butter for 2 minutes, then add the cabbage, ¼ cup of the chicken stock and season to taste lightly with salt and pepper, cook until the cabbage is wilted and tender, about 10-15 minutes on medium-low heat, stirring occasionally.

Try not to have the cabbage brown, if the pan gets dry, add a little of the chicken stock. Drain the cabbage of excess liquid in a colander, you should end up with about 2 cups of packed, tender cabbage. Reserve.

Wilt the cauliflower mushrooms and brown very lightly in the other tablespoon of butter, seasoning with salt and pepper to taste. Cool the mushrooms, then mix with the cooked, cooled cabbage, thyme and gruyere.

Preheat an oven to 350 degrees. Pack the mushroom-cabbage mixture In a wide gratin dish or casserole and drizzle the remaining chicken stock over it. Mix the breadcrumbs with the parsley, sprinkle over the top, then dot the whole mixture with the remaining 2 tablespoons of butter.

Bake for 15 minutes or until hot throughout and browned, then serve. The gratin can be assembled ahead of time, then brought to room temperature before baking.
Notes
This is also good with hen of the woods and other polypores. It also reheats well. If I have some on hand, I also like to add a little sliced prosciutto sometimes. 
Nutrition
Serving:
4
oz
|
Calories:
245
kcal
|
Carbohydrates:
24
g
|
Protein:
11
g
|
Fat:
12
g
|
Saturated Fat:
7
g
|
Polyunsaturated Fat:
1
g
|
Monounsaturated Fat:
3
g
|
Trans Fat:
0.2
g
|
Cholesterol:
34
mg
|
Sodium:
578
mg
|
Potassium:
545
mg
|
Fiber:
5
g
|
Sugar:
8
g
|
Vitamin A:
445
IU
|
Vitamin C:
45
mg
|
Calcium:
252
mg
|
Iron:
2
mg
More