I'd almost forgotten that I'd picked some Xanthoxylum berries this year, the little bag I put them in got mixed with some other dried goods and accidentally stored in one of those plastic fish boxes cooks use to store everything from marinated meat to their knife collection (yeah they're versatile).
If you've ever smelled them, you know that wild Szechuan peppercorns will not stay hidden for long though. A couple weeks ago I was digging around for a bag of white rye flour I knew I had, and I cracked open the fishbox it was in, only to get hit with a blast of lemongrass-citrus air. So that's where the Xanthoxylum berries went! I thought. Needless to say I forgot about baking with the rye, and started making a jerky recipe instead, although I now have a bag of rye flour that smells like lemongrass.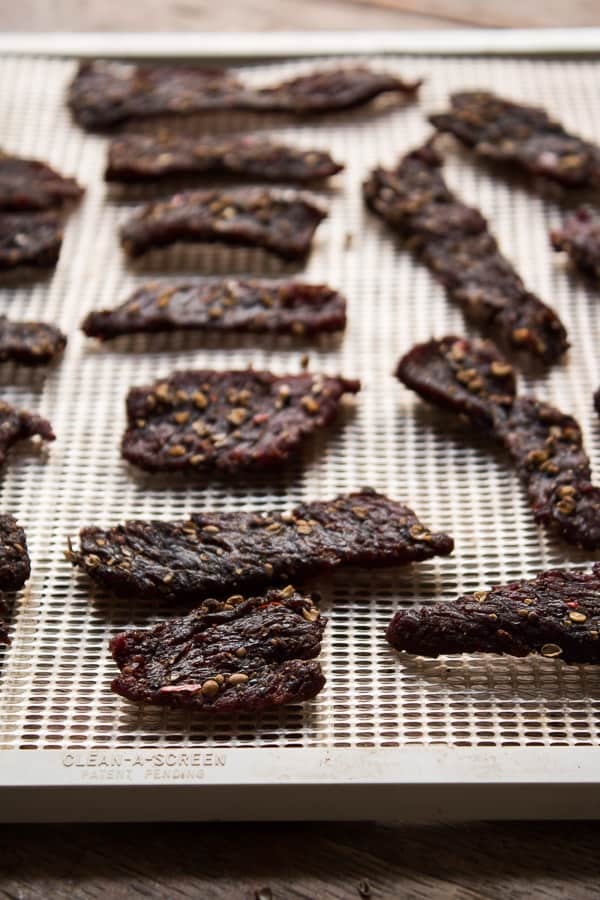 Szechuan peppercorn jerky? Yes. It actually was inspiration born of dislike I had when I tasted some commercially produced jerky of the same name, I was in the airport and needed a snack I noticed a bag of Szechuan Peppercorn jerky at one of the stands, and I thought I would test the mettle of whatever company would dare sell some jerky touting the inclusion of Szechuan peppercorns.
What was in the bag tasted like candied dried meat, overly cured with a lot of sodium nitrite. There was no tell-tale citrus aroma, no mouth-watering gentle numb at the end, nothing, not even a spicy kick from chili. The money I wasted I made up for in peeved creativity, once I smelled my berries, I knew I could make myself a bag of serious salted meat snacks, and you better believe I was right.
See the thing with Szechuan peppercorns is that they're widely available, and used by Asian restaurants around the U.S., but they're a compromise, or should I say they've been compromised. If you've seen any of my other posts on kinome or Zanthoxylum/prickly ash, you'll remember that it's in the rue, or citrus family, a fascinating idea to think of when you consider how cold it gets here in Minnesota during the winter, we don't grow lemons or limes up here in the nort dont'cha know!
Anyway, Zanthoxylum is a citrus. This means it's also potentially a carrier of some not-so-nice plagues that could potentially infect other citrus plants here in the U.S. After an all-out ban, the FDA has gotten around to allowing them in, but at a cost to consumers: the berries have to be heated to kill potential pathogens.
Naturally, imported berries I've had domestically in the U.S. just don't compare at all to the ones I pick myself, and I assume it's the heat treatment and not some difference between species from Asia and those from North America that accounts for the difference, but there's also the possibility that freshness of imported corns is questionable, but for me it's a bit of a moot point.
Dry Brine vs Wet Brine
A lot of jerky includes a liquid soak involving soy or another salty brine-like liquid, which can actually put more liquid into your meat, when you want to dry it out. I wanted dry, crunchy peppercorny jerky, so I made a dry brine, let it sit for 24 hours, then pressed the peppercorns into the pieces firmly before drying. I also dislike overly sweet jerky, so if you're familiar with the process, or have your own recipes, you'll notice I use less sugar than most. Sugar, to me, mimics the taste of most commercially processed jerky.
Not only do you get a fun crunch for the Xanthoxylum berries and the black pepper, the scent of the Szechuan peppercorns completely penetrates the meat, cracking open a bag of the stuff is like getting slapped firmly in the face with a stalk of lemongrass, hard.
If you have some berries laying around, try your hand at a batch sometime, or remember next season and pick some of your own, you won't regret it, all I have to say is:
Crunchy, Salty, Spicy, Numb.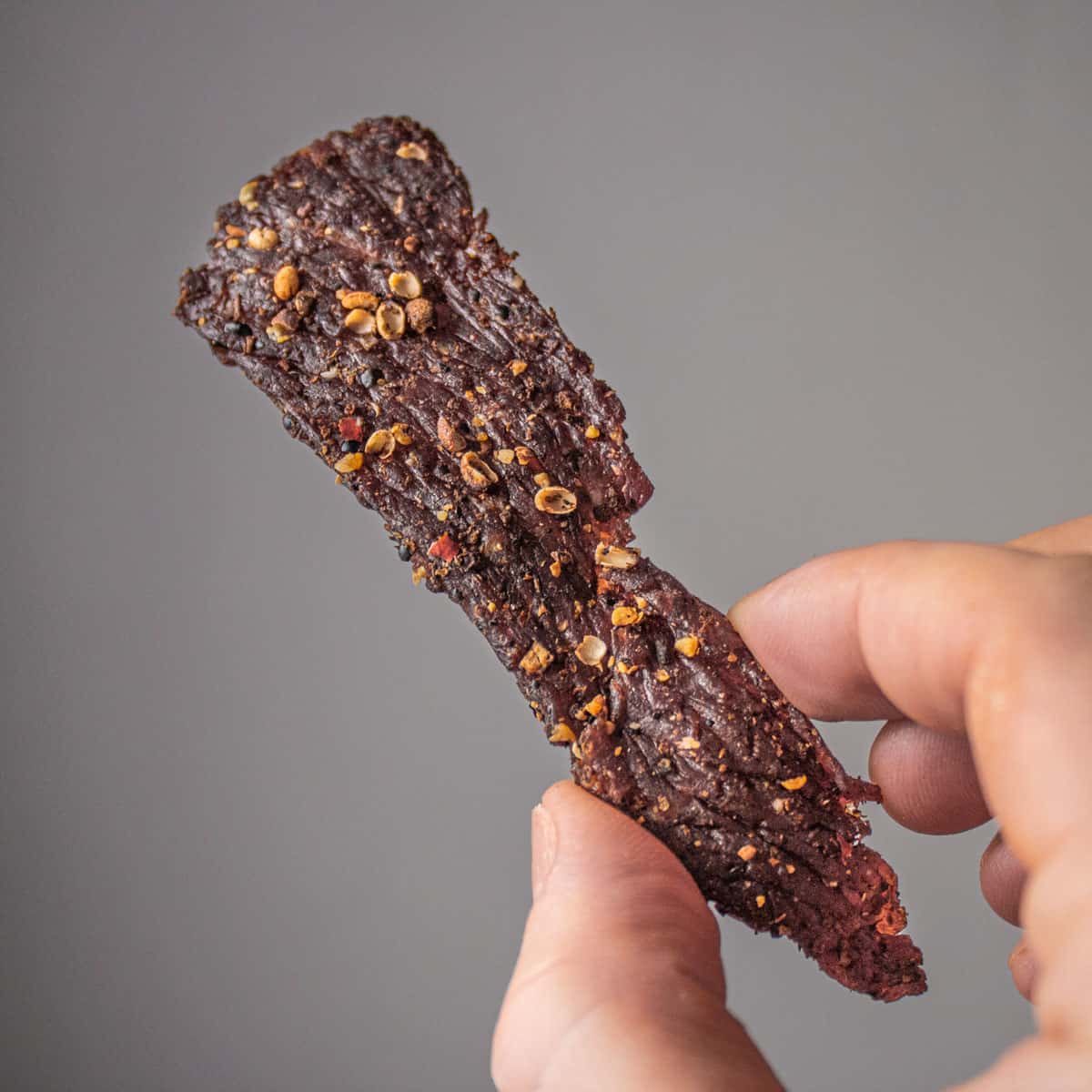 The recipe is super straightforward, toss some thin slices of meat (I like to pound them) with seasonings, let it sit overnight, then press all the crunchy, spice goodies into the slices before drying to help them stick, some will fall off, just peppercorns in a bag of Jack Links, but that's ok. Shoot, even if ever single berry falls off you will still get the flavor of the berries, like I said, it penetrates and perfumes the meat completely.
I scaled down my restaurant sized batch (10 lbs) and made a small one, but this can be scaled up to as many pounds of meat as you want with some simple multiplication.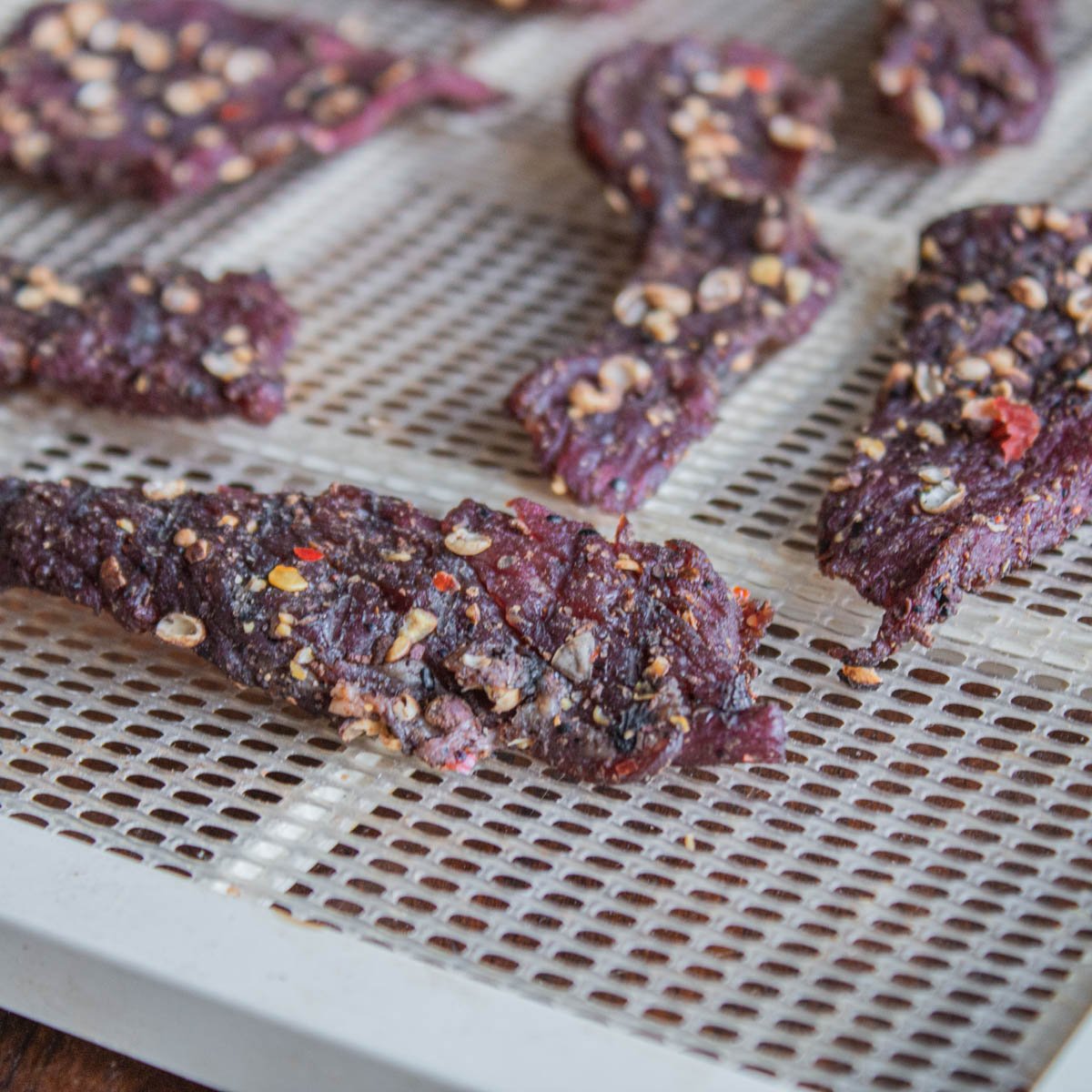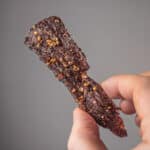 Print Recipe
Wild Szechuan Peppercorn Jerky
Jerky flavored with wild Szechuan peppercorns or Xanthoxylum americanum
Ingredients
2

lbs

lean red meat

like beef, venison, buffalo, whatever you like, the cut doesn't matter as long as it's not full of fat which can go rancid. For this batch, I used eye of round, but you can make it from just about any trimmed up muscle.

2

tablespoon

dried Zanthoxylum/prickly ash berries, picked over, black seeds discarded

5

small thai chilis

or 2 teaspoons crushed red pepper flakes, or more to taste

2

tablespoon

whole black peppecorns

¼

teaspoon

pink salt/sodium nitrite

optional

1.5

tablespoon

kosher salt

1

tablespoon

maple or brown sugar

1

tablespoon

coriander seed
Instructions
Toast the black pepper corns, then crush as coarse as you like for extra crunch, I like to use a molcajete for this, reserve the peppercorns, then grind the coriander seed the same way.

Finely grind the szechuan peppercorns in a spice grinder and reserve.

Slice the meat against the grain into ¼ inch slices, then pound with a meat mallet.

Cut the meat into slices 2 inches long by roughly 3 inches long, then toss with the remaining ingredients and refrigerate overnight. I like to vacuum seal mine so the spices and aroma really penetrate.

The next day, remove the meat from the fridge, spread out on racks, then put into a dehydrator at ~165 degrees F or into an oven on the warm setting, or into a warm oven with the door ajar. Allow the meat to dry for 2-4 hours, or until firm, but still a little pliable. Taste some of the jerky to check the texture and see if you like it, and dry some more if you want. If you dry your jerky in an oven it may dry much faster, since the temperature can run hotter than a dehydrator.

When you're satisfied with your jerky, remove from the dehydrator or oven and refrigerate. The jerky will last for weeks if not longer (especially if you include the pink salt) under refrigeration, but if it lasts that long, you have a problem.