Szechuan peppercorn jerky might be the best homemade jerky I make. After I tasted some commercially produced jerky of the same name and was unimpressed, I set out to make a version that actually tastes good using wild Szechuan peppercorns, prickly ash berries (Xanthoxylum americanum). It's one of my favorite prickly ash recipes.
Commercial Jerky: Too Sweet, and Heavily Cured
The commercial jerky I had tasted like candied dried meat. It was over-cured, with a lot of sodium nitrite. There was no tell-tale citrus aroma, no mouth-watering gentle numb at the end, nothing, not even a spicy kick from chili. The money I wasted I made up for in peeved creativity, once I smelled my berries, I knew I could make myself a bag of serious salted meat snacks, and you better believe I was right.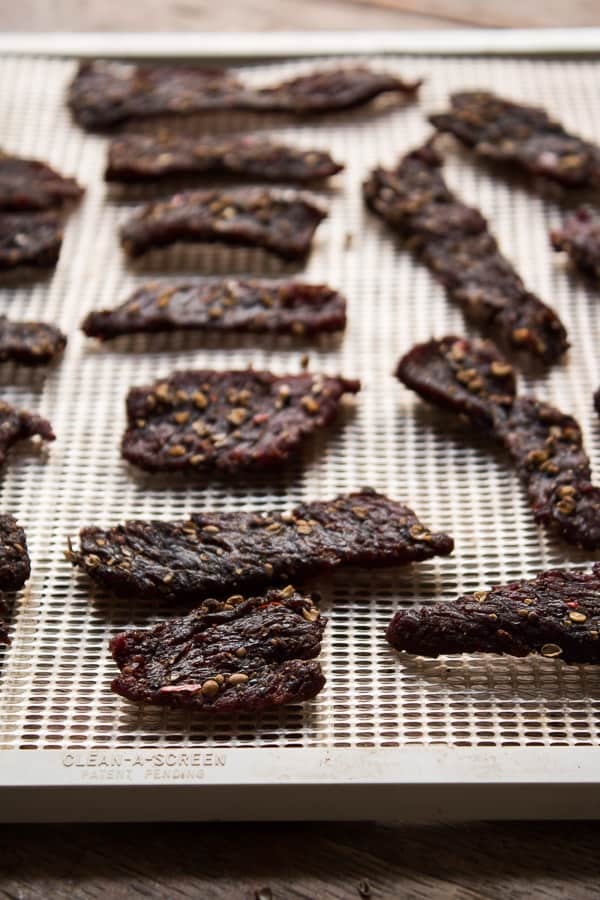 Szechuan peppercorns are widely available and used by Asian restaurants around the U.S., but the commercially sold dried "berries" are crazy intense in their flavor. With prickly ash, you can use more of them to get the citrus aroma you know and love without completely numbing your palate.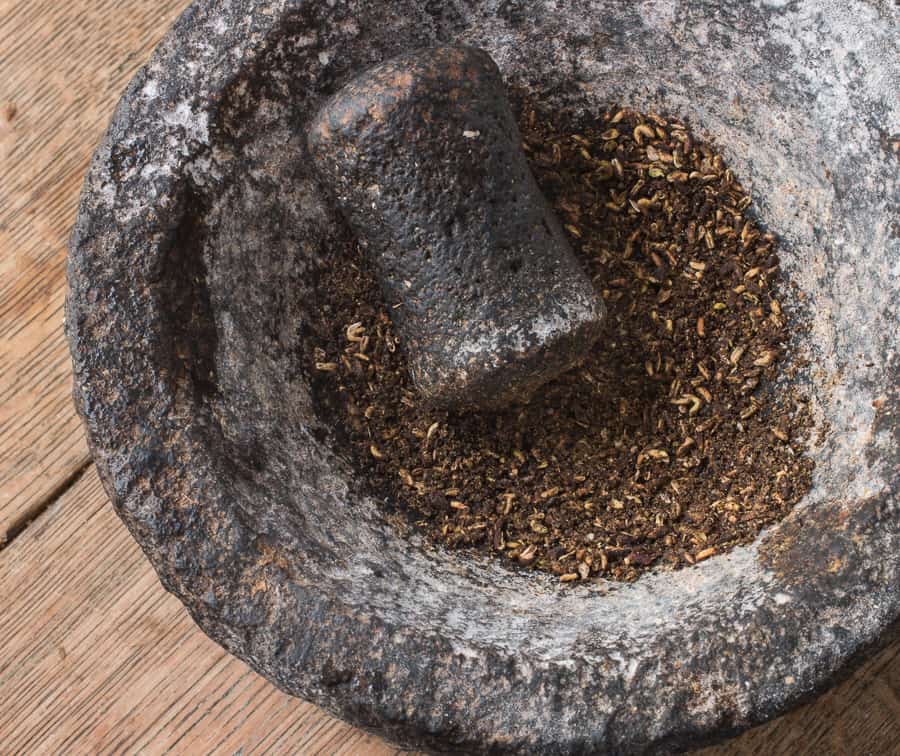 Dry Brine vs Wet Brine
A lot of jerky includes a liquid soak involving soy or another salty brine-like liquid, which can actually put more liquid into your meat, when you want to dry it out. I wanted dry, crunchy peppercorny jerky, so I made a dry brine, let it sit for 24 hours, then pressed the peppercorns into the pieces firmly before drying.
I also dislike overly sweet jerky, so if you're familiar with the process, or have your own recipes, you'll notice I use less sugar than most. Sugar, to me, mimics the taste of most commercially processed jerky.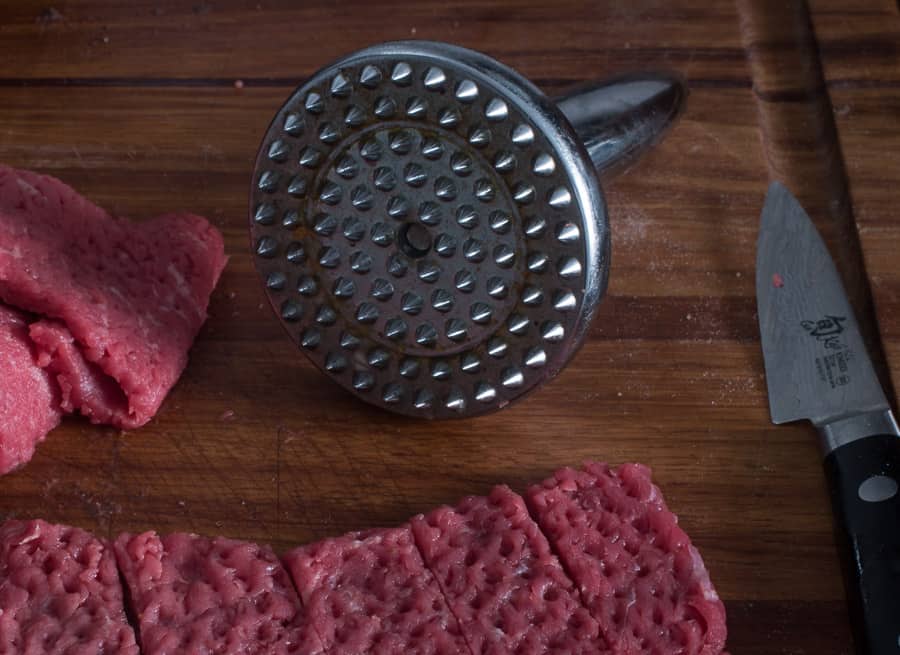 Not only do you get a fun crunch for the Xanthoxylum berries and the black pepper, the scent of the Szechuan peppercorns completely penetrates the meat, cracking open a bag of the stuff is like getting slapped firmly in the face with a stalk of lemongrass, hard.
If you have some berries laying around, try your hand at a batch sometime, or remember next season and pick some of your own, you won't regret it. They're crunchy, spicy, salty, and addictive.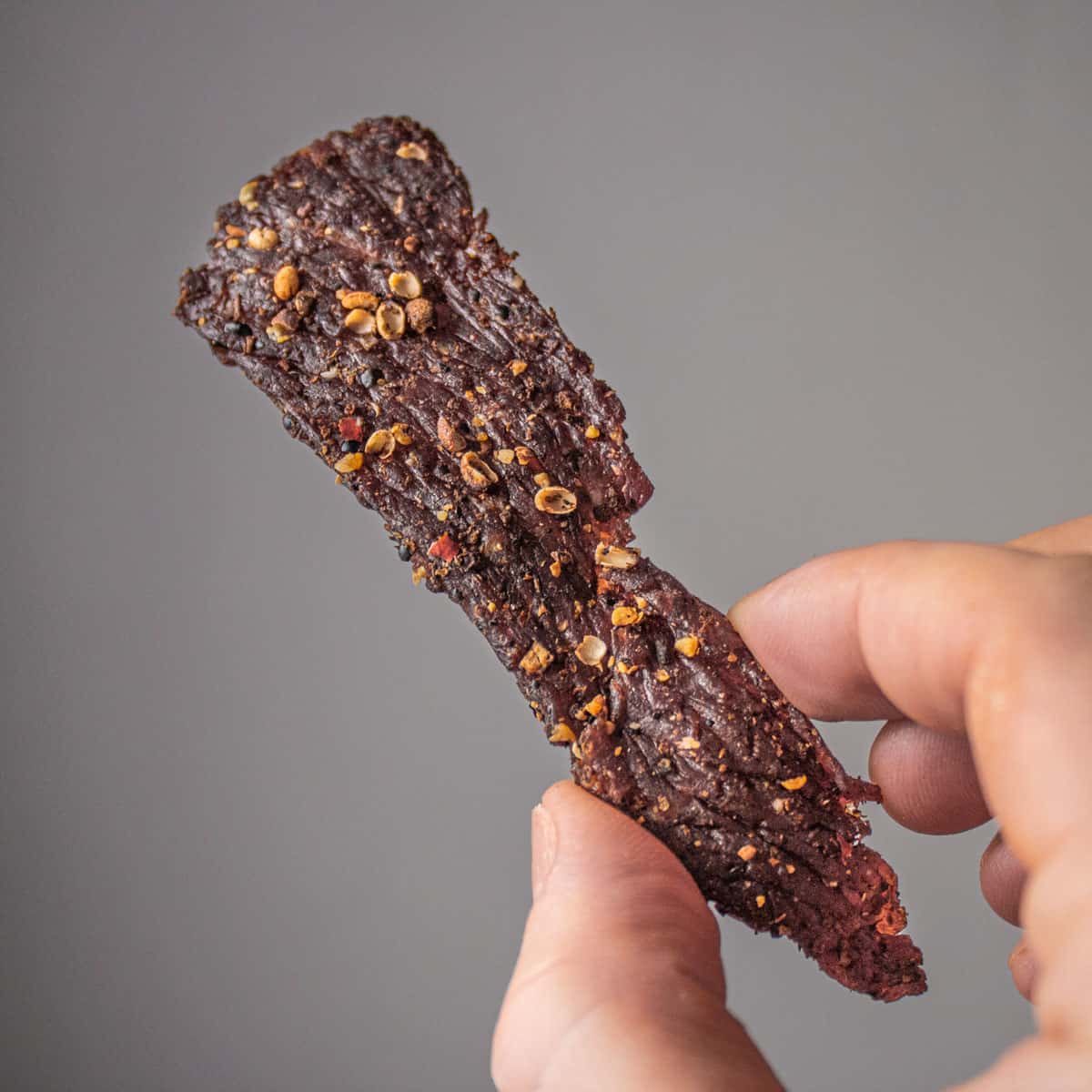 The recipe is super straightforward, toss some thin slices of meat (I like to pound them) with seasonings, let it sit overnight, then press all the crunchy, spice goodies into the slices before drying to help them stick, some will fall off, just peppercorns in a bag of Jack Links, but that's ok. Shoot, even if ever single berry falls off you will still get the flavor of the berries, like I said, it penetrates and perfumes the meat completely.
I scaled down my restaurant sized batch (10 lbs) and made a small one, but this can be scaled up to as many pounds of meat as you want with some simple multiplication.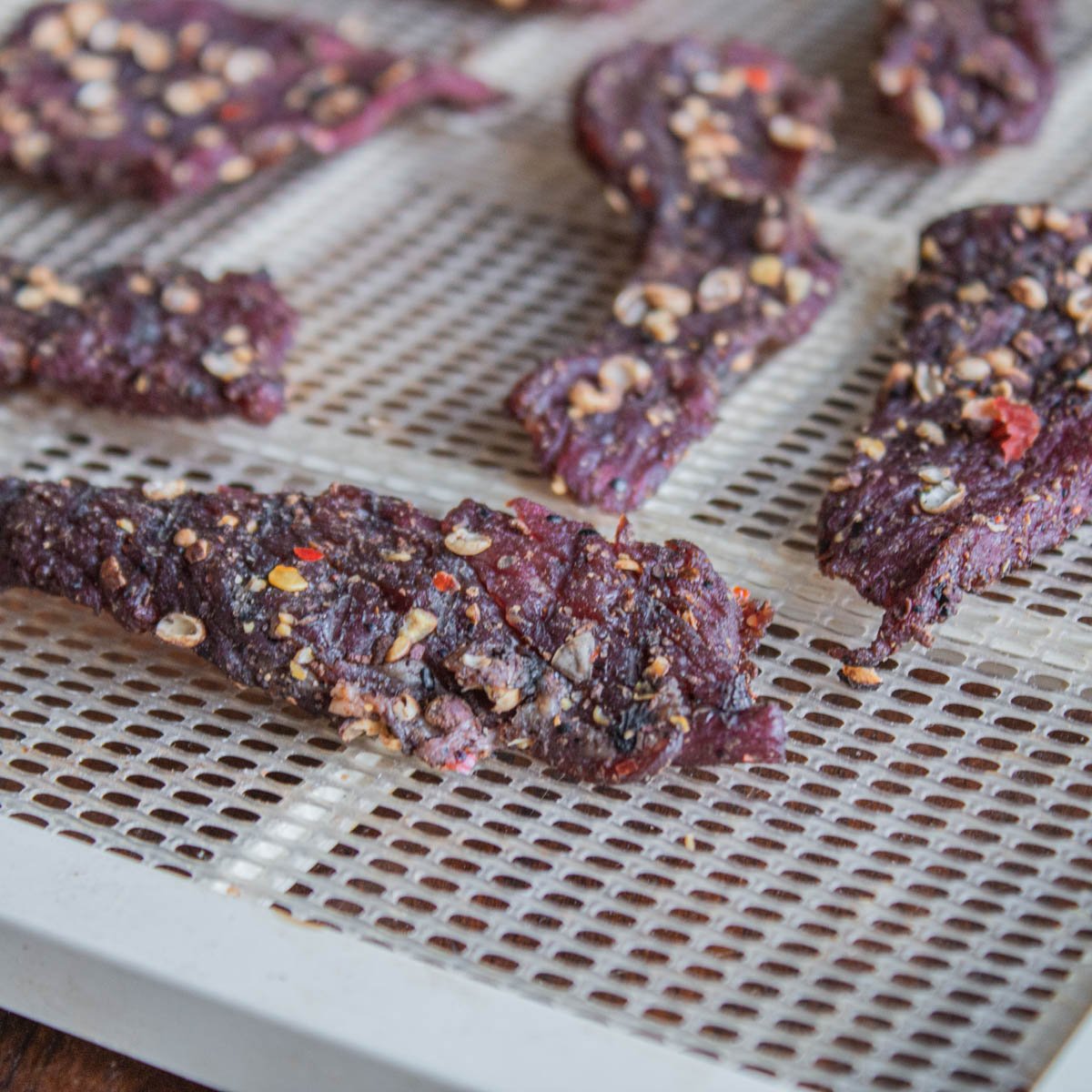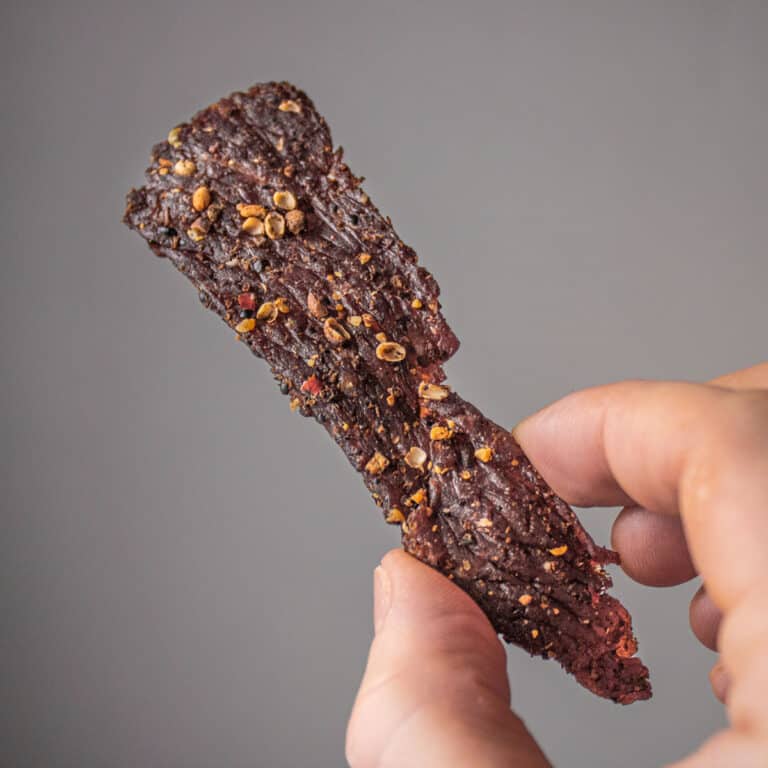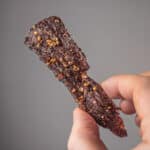 Print Recipe
Wild Szechuan Peppercorn Jerky
Jerky flavored with wild Szechuan peppercorns or Xanthoxylum americanum
Ingredients
2

lbs

lean red meat

2

tablespoon

dried Zanthoxylum/prickly ash berries, picked over, black seeds discarded

5

small thai chilis

or 2 teaspoons crushed red pepper flakes, or more to taste

2

tablespoon

whole black peppecorns

¼

teaspoon

pink salt/sodium nitrite

optional

1.5

tablespoon

kosher salt

1

tablespoon

maple or brown sugar

1

tablespoon

coriander seed
Instructions
Toast the black pepper corns, then crush as coarse as you like for extra crunch, I like to use a molcajete for this, reserve the peppercorns, then grind the coriander seed the same way.

Finely grind the szechuan peppercorns in a spice grinder and reserve.

Slice the meat against the grain into ¼ inch slices, then pound with a meat mallet.

Cut the meat into slices 2 inches long by roughly 3 inches long, then toss with the remaining ingredients and refrigerate overnight. I like to vacuum seal mine so the spices and aroma really penetrate.

The next day, remove the meat from the fridge, spread out on racks, then put into a dehydrator at ~165 degrees F or into an oven on the warm setting, or into a warm oven with the door ajar.

Allow the meat to dry for 2-4 hours, or until firm, but still a little pliable. Taste some of the jerky to check the texture and see if you like it, and dry some more if you want. If you dry your jerky in an oven it may dry much faster, since the temperature can run hotter than a dehydrator.

When you're satisfied with your jerky, remove from the dehydrator or oven and refrigerate. The jerky will last for weeks if not longer (especially if you include the pink salt) under refrigeration, but if it lasts that long, you have a problem.
Notes
On The Meat 
Beef, venison, buffalo, whatever you like, the cut doesn't matter as long as it's not full of fat which can go rancid. For this batch, I used eye of round, but you can make it from just about any trimmed up muscle. Top round is also good. 
Nutrition
Calories:
347
kcal
|
Carbohydrates:
2
g
|
Protein:
28
g
|
Fat:
24
g
|
Saturated Fat:
10
g
|
Polyunsaturated Fat:
1
g
|
Monounsaturated Fat:
10
g
|
Cholesterol:
106
mg
|
Sodium:
1844
mg
|
Potassium:
475
mg
|
Fiber:
0.4
g
|
Sugar:
2
g
|
Vitamin C:
0.2
mg
|
Calcium:
24
mg
|
Iron:
4
mg