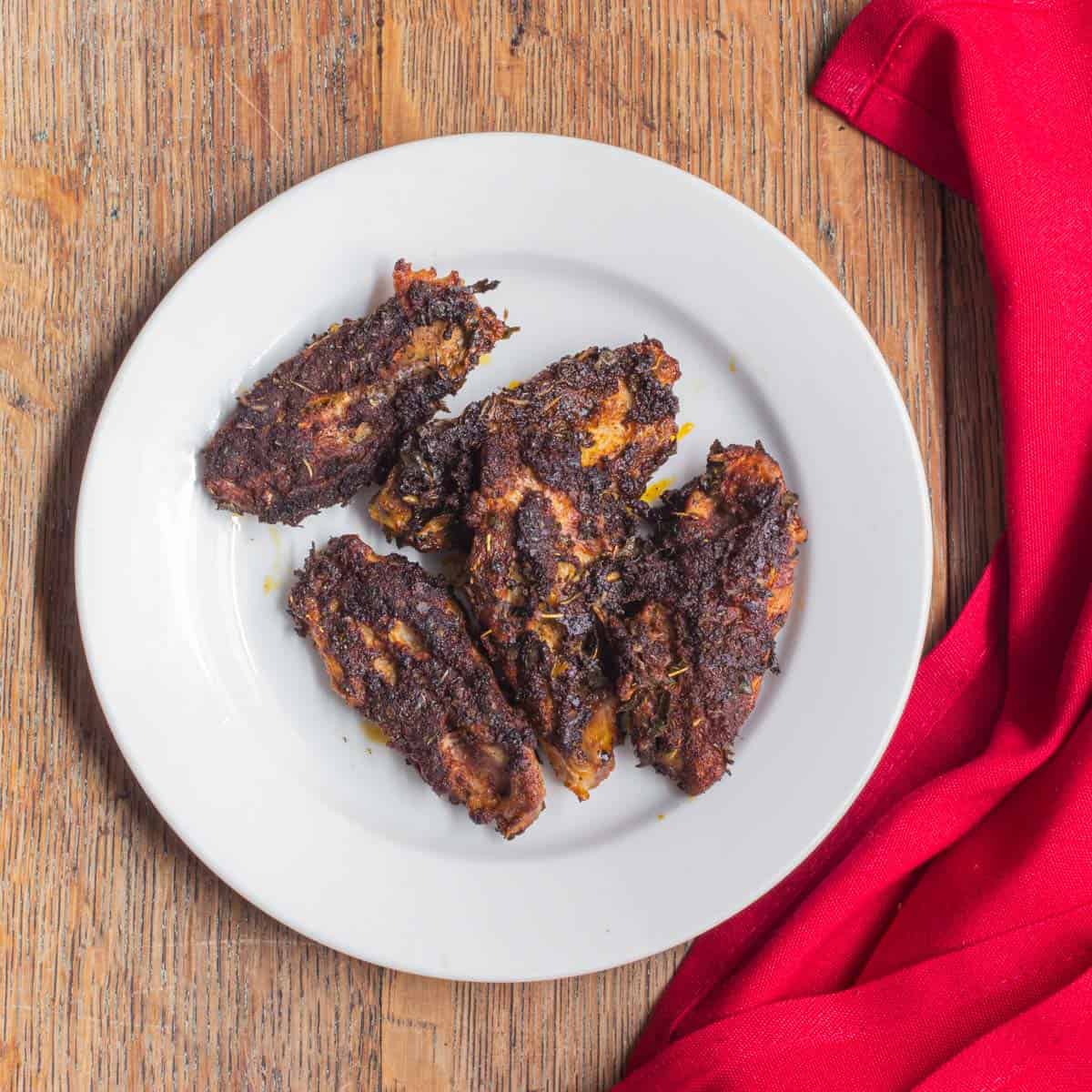 I pride myself on the ways I find to use scrap and trim. These rabbit "wings" are a perfect example of that.
Chopping animals into pieces is a bit of a meditative process for me. It might sound macabre, but the repetition can be calming in a way. Just the other day I found myself very frustrated about some hiccup during restaurant service, so I resigned myself to chopping turtle meat for an hour or two to make sure I didn't say anything I'd regret.
Getting to the rabbits though, I was going through the motions of butchering them: remove both hindlegs, repeat with forelegs, save carcasses for stock. After I'd gone through a couple rabbits, I noticed something. Inspecting a limb-less carcass, I noticed was that there was a couple nice hunks of meat left on the backbone.
After a second or two I realized I was looking at the oysters-a sort of secret treat known by grandmothers and other people who occasionally roast whole poultry, the go-to example being Thanksgiving turkey.
I'd cut up plenty of rabbits before, but for some reason this time a little voice said to me:
"Those are rabbit oysters. You've never eaten those. You need to eat those."
I didn't know what I was going to do with them, but I brought a bunch home to play with in my spare time. The next day I pulled the rabbit carcasses out and got to work. I knew I wasn't going to just cook a rabbit spine and ribcage and gnaw on it, so I brought out the trusty meat cleaver and chopped off the parts of the bunny I didn't need.
What I ended up with was pretty interesting: a little hunk of bone, with meat attached to it. It reminded me of a chicken wing, kind of.
From there I got to work, with the goal of making a crispy, spicy niblet. Poultry, and things with deep frying in their future like to be in buttermilk for a while, so I gave the bunny pieces a little bath overnight.
I like chicken wings with a dry rub too, so I dug in the pantry and put together something. As far as dry rubs go, in my opinion, if you have a little paprika laying around, you're as good as gold. There's just something about what happens to paprika when it hits melting fat that's magical.
Like plenty of things (dried mushrooms are a great example) gentle exposure to heat and fat tends to soften and enrich flavors, as well as taming bitterness in some ingredients.
What I ended up doing was removing the rabbit pieces, drying them, rolling them in the seasoning and frying them in lard in a cast iron skillet. It was like eating chicken wings from another dimension. To my surprise, there was plenty of meat to eat on the rabbit wings, and I pecked around, biding my time until I got the the prize: the oyster on each one.
Print Recipe

Rabbit Wings

"Wings" crafted from the helicopter bones of a rabbit where the leg meets the spine.

Ingredients

Prepared helicopter bones of rabbit or other suitable small game

about 3 per person as an appetizer

Sea salt

to taste

Fresh ground black pepper

to taste

Buttermilk

as needed

A spicy rub I made up in Nov 2014

recipe follows

Rendered animal fat

for sauteing (Cooking oil can be substituted)

Instructions

Soak the rabbit pieces in buttermilk overnight.

The next day, thoroughly dry the pieces, season with salt and pepper, then dredge in the spice mixture, toss lightly to remove excess, then fry in the lard, ensuring there is ½in-1 in of space between each piece of meat in the pan, to ensure proper caramelization of the spices and meat. Cook the meat until browned thoroughly on medium-high heat, turning occasionally to flip each piece only once throughout the cooking process.

When the rabbit pieces are cooked through, transfer them to towel to soak up excess lard for a second, then transfer to a plate and serve immediately.

Notes

It will take a bunch of animals to make something like this for a group of people, but if you buy a bunch of small, small cornish game hens or poussin, you could easily come up with something similar. You could easily deep-fry this too.
A Rub I Made Up In Nov, 2014
These proportions will season a batch of wings for a couple people. It's spicy.
Ingredients
1.5

tablespoon

cayenne pepper

1

tablespoon

toasted

ground white pepper

1

tablespoon

toasted

ground cumin

3

tablespoon

paprika

1

teaspoon

toasted

ground whole allspice

1.5

tablespoon

dried thyme

1.5

tablespoon

dried oregano

2

tablespoon

toasted

ground fennel seeds
Instructions
Combine all the ingredients, label, date, and reserve until needed.
Notes
Take a glance at this, then just ad-lib and make your own, just remember using fresh spices is absolutely key. Rummaging in an old cupboard filled with 4 year old ground spices will make things taste, like 4 year old ground spices.