Hen of the woods offer a large amount of wild mushrooms for little work, but cooking and processing large amounts can be a task. Grilling mushrooms to make duxelles save time and creates a different flavor than traditional French mushroom duxelles.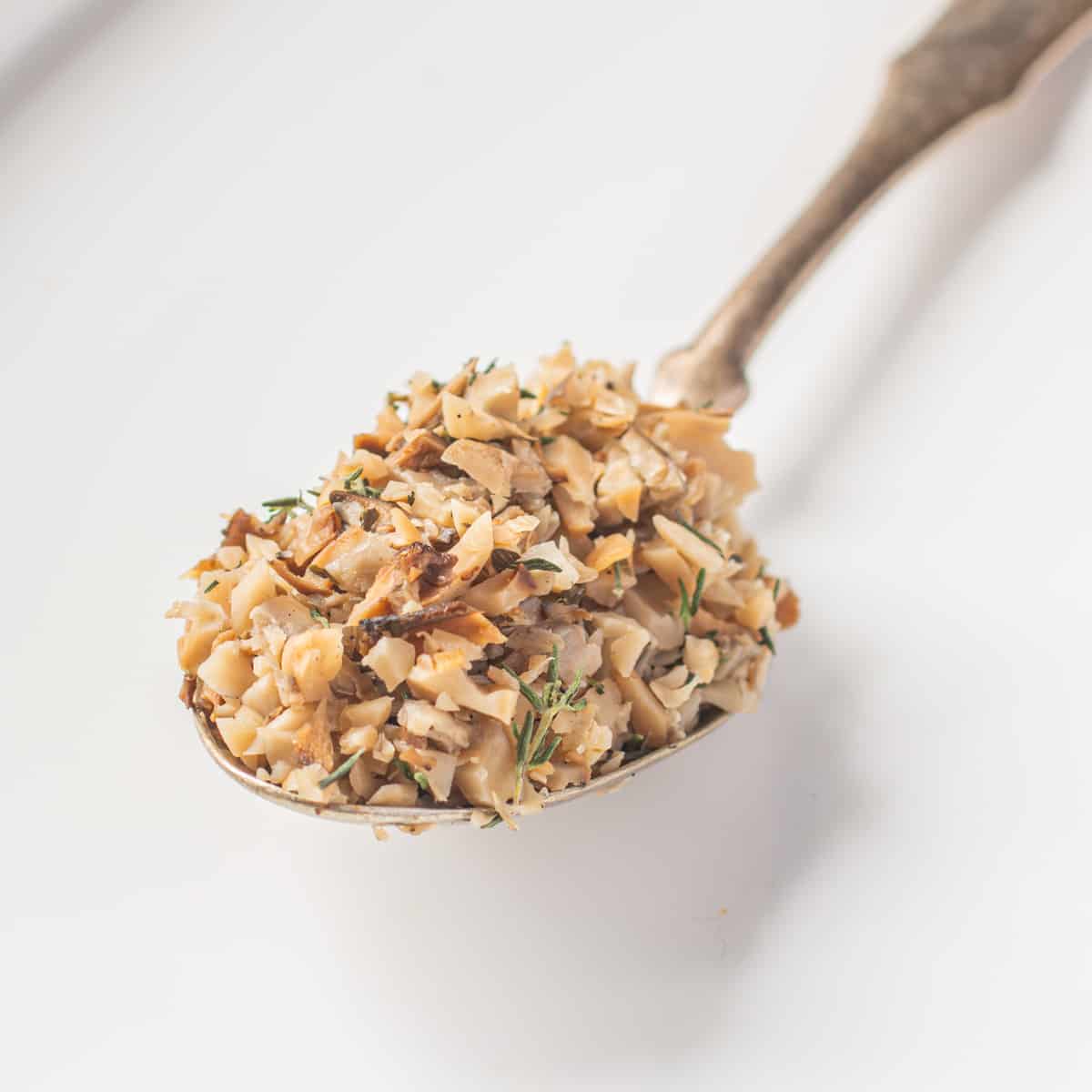 We've all been there, you came upon your hen tree, or maybe you just stumbled on a new one, and it's packed with pounds and pounds of clean, fresh hens.
Finding them was the easy part. Now comes the work of bringing them home, along with hours of cleaning, cooking and processing.
With mushrooms so big, even cooking them can be a challenge. Trying to fit 50 lbs of hens into your oven to roast before making them into duxelles, likely the best space-saving technique for large amounts of wild mushrooms, is a chore.
Grill those hens to save time and add flavor
Having this problem myself one year, and having a hankering to get the grill cranked and imbue the shrooms with some gentle smokiness, I decided not to braise or roast them, instead I just oiled my hens up, cracked a beer and grilled the suckers after I'd broken them down into big, clean hunks.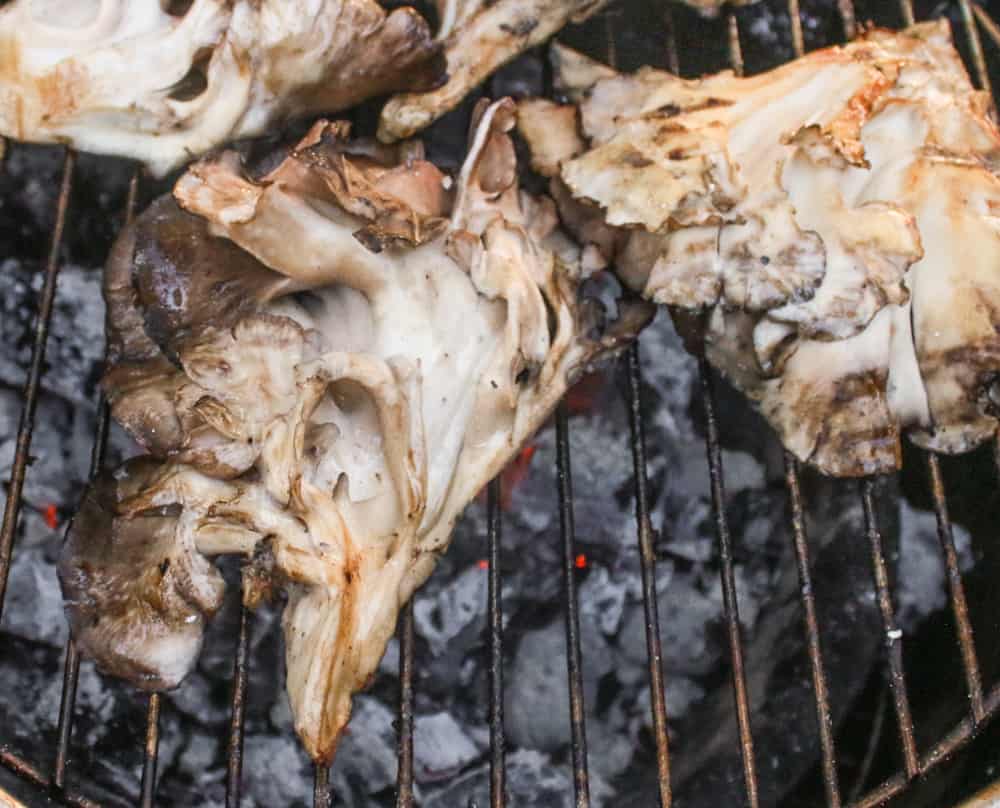 After the mushrooms are grilled and cooked through, all you have to do is pulse them in a food processor into a coarse grind, then sweat your shallots, add a good shot of sherry, season them up, and voila: a labor saving mushroom hack that adds some great dimension to traditional duxelles. (See my more traditional wild mushroom duxelles recipe here).
The only thing to watch is the heat of your grill. I definitely recommend charcoal and a couple soaked woodchips, or just wood charcoal, but you could just grill them on your propane grill too, although it won't taste the same. Either way, you might consider it the next time you find that monster maitake. You can also use it with chicken of the woods mushrooms.
Drying duxelles in the oven to deepen the flavor
It's an extra step, but this is a trick I recommend for all duxelles. Browning is the key to great flavor, and, although you get some good flavor from grilling the hens, if you spread the finished duxelles on a cookie sheet lined with parchment, spray them with oil, and bake in a hot oven you can deepen the flavor.
Here's how I do that. After the preliminary cooking, roast the mushroom duxelles at 400F for 20-25 minutes, keeping an eye on them so they don't dry out, turning the mixture over and mixing with a spatula half-way through. This helps with the evaporation of water, which translates to deeper flavor. It's optional.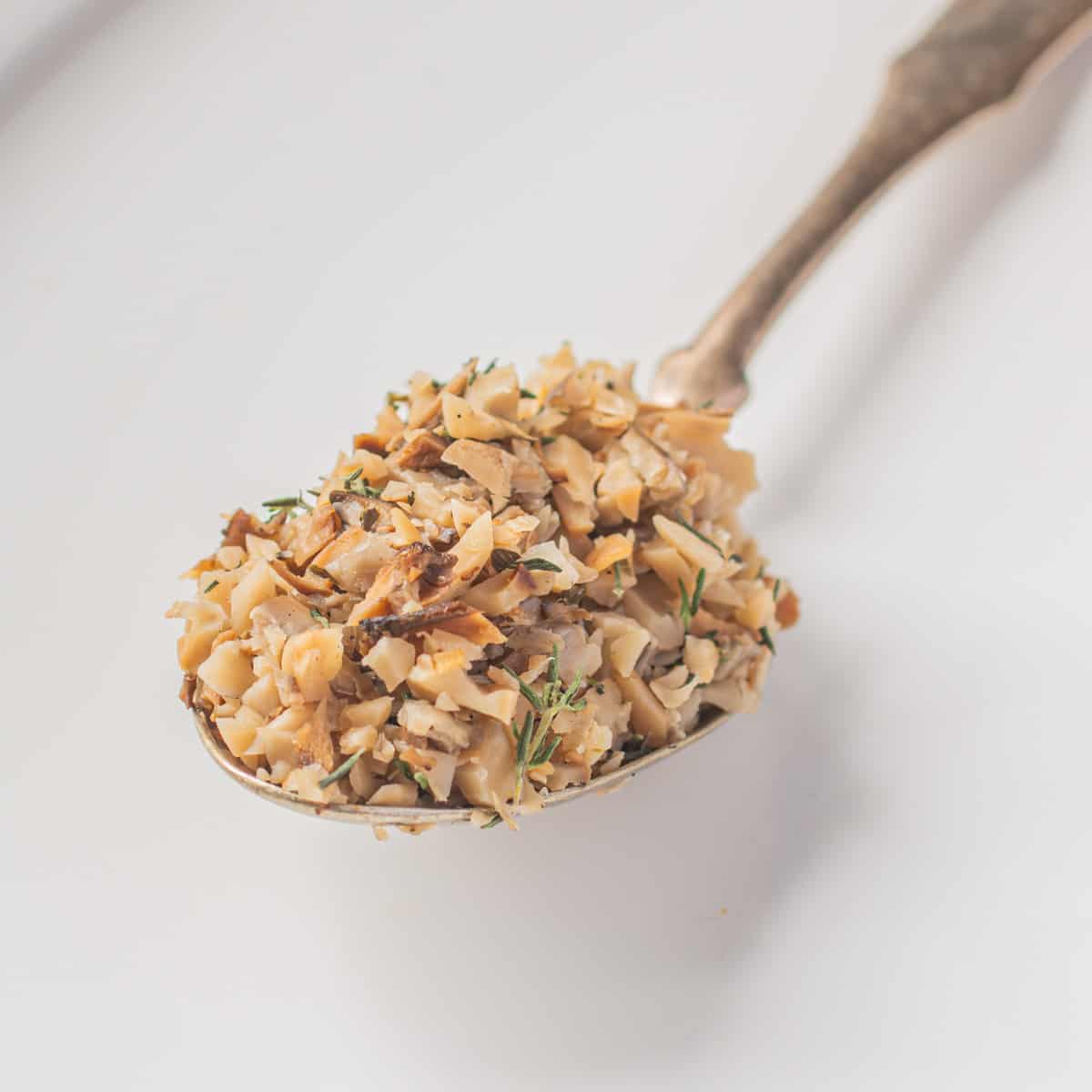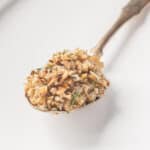 Print Recipe
Grilled Hen of the Woods Mushroom Duxelles
A break from traditional duxelles, this recipe uses grilled hen of the woods, cooked first in large clusters.
Equipment
1 Grill

1 Food processor
Ingredients
5

lb

fresh wild mushrooms

cleaned, caps and stems roughly chopped.

5

tablespoon

shallot

diced ¼ or chopped roughly

2.5

teaspoon

salt

1

teaspoon

fresh ground black pepper

¼

cup

flavorless oil

lard or butter

1.25

cup

dry sherry

1

tablespoon

fresh chopped thyme

1

cup

water
Instructions
Clean the hens meticulously. Only use those portions that are perfectly clean.

Oil the mushrooms, then grill until cooked, be careful not to overcook the mushrooms which would dry them out. Washing the mushrooms while cleaning actually helps them to not dry out here.

When the mushrooms are cooked, allow them to cool for a few minutes, then break them into manageable sized pieces that will fit in your food processor and pulse them until finely chopped. Do not over pulse or attempt to puree.

Heat the oil in a large saute pan. Add the shallots, cook for a minute or two, then add the mushrooms, season with the salt and pepper, and cook for a few minutes more. Add the water to refresh the mushrooms, then cook until the pan is nearly dry.

Add the sherry, then cook off the liquid until the pan is dry. Remove the pan from the heat, taste, adjust for salt if needed.

Cool the duxelles, then pack into a container and freeze, or refrigerate for up to 1 week.
Notes
Other mushrooms can be cooked this way too. The Giant White Hedgehog (Hydnum albomagnum) is a good example. Chicken of the woods can be cooked the same way too. 
Nutrition
Serving:
2
oz
|
Calories:
1263
kcal
|
Carbohydrates:
90
g
|
Protein:
72
g
|
Fat:
62
g
|
Saturated Fat:
9
g
|
Polyunsaturated Fat:
35
g
|
Monounsaturated Fat:
12
g
|
Trans Fat:
0.4
g
|
Sodium:
5960
mg
|
Potassium:
7593
mg
|
Fiber:
24
g
|
Sugar:
52
g
|
Vitamin A:
2
IU
|
Vitamin C:
52
mg
|
Calcium:
124
mg
|
Iron:
13
mg
Related Posts
Derivative Recipes Using Mushroom Duxelles 
Heres a couple examples of how you might use these.
Mushroom and Beef Runzas / Bierocks