If you can collect enough flower dust to bake with you're a foraging savant, and a better hunter than me. A quick google of "cattail pollen recipes" will show you different ways of using pollen, mostly for pancakes and baked goods.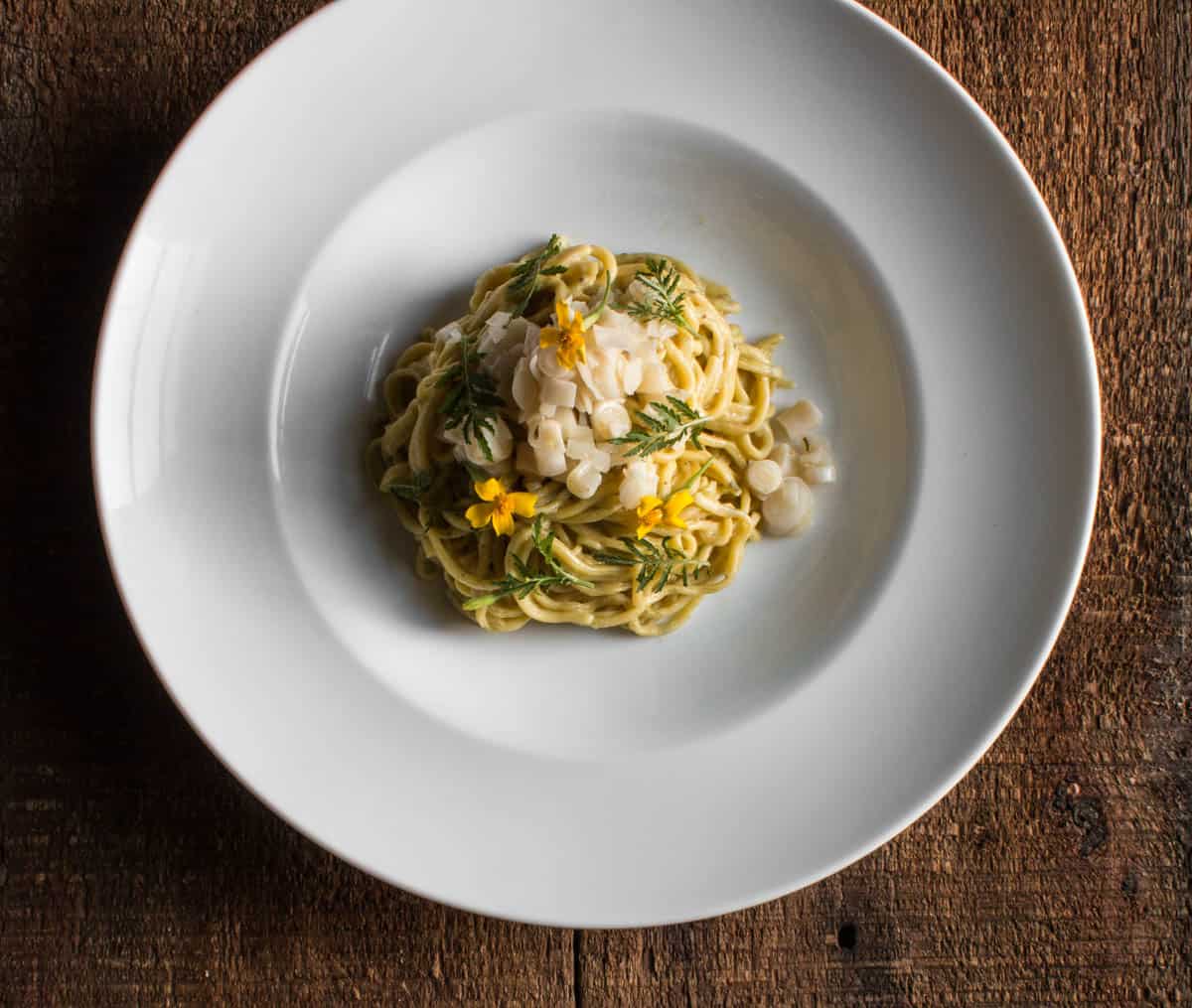 Honestly the baking looks interesting, and I love the color the pollen adds. But, when I read recipes for cattail pancakes, I have a little cognitive dissonance. I mean I just spent an hour in the heat and bugs gathering 1 cup of pollen, then another hour processing it, and I'm now supposed to blow it on a single batch of pancakes?! In the words of an unruly line cook I used to have: OH HAYLL NO.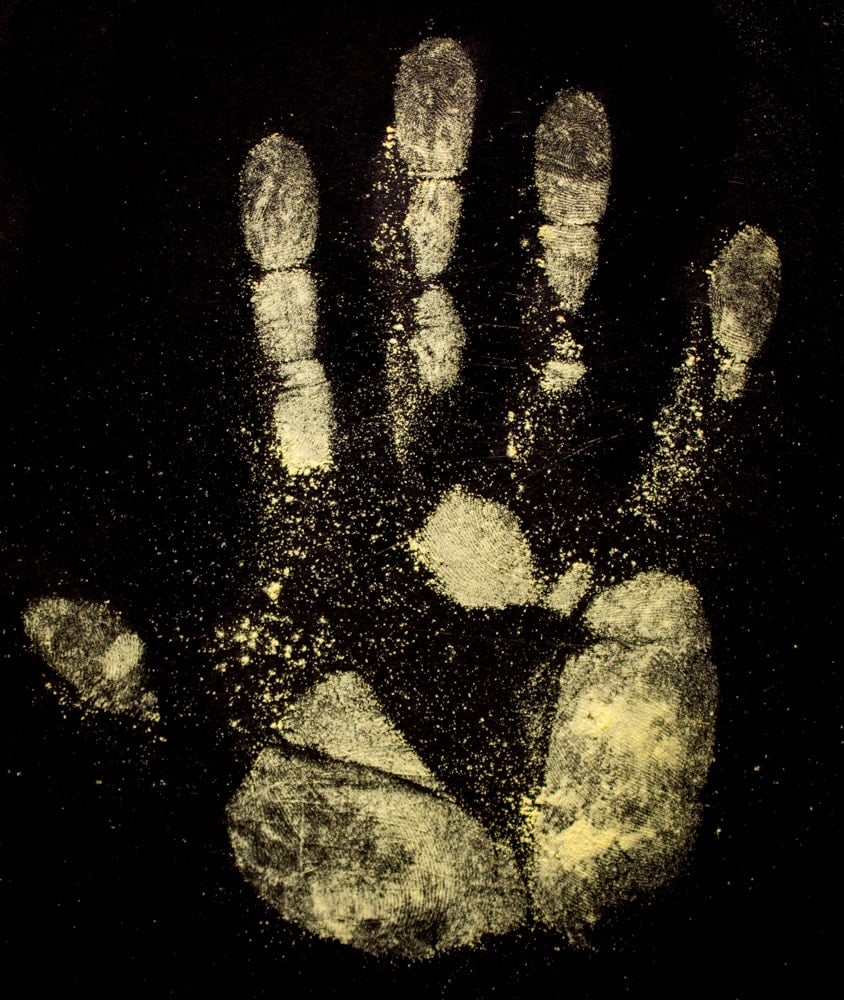 Getting pollen is tricky. I'm always about a week too late, the plants might have a little pollen in them, but they're never as fat as pictures in the guides. It's all about timing.
In 2016, I was driving slow on a country road, hunting by car (a great way to hunt on hot days) when I drove by some cattails that were just fat with pollen.
Like with so many wild foods, timing is critical to getting what you want and having it be in a state that will taste good. I grabbed each loaded cattail head and shook the pollen into a plastic gallon water jug with a hole cut in the side a la Sam Thayer. In the end I probably got a good ½ cup of pollen after about 30 minutes monkeying around with the plants.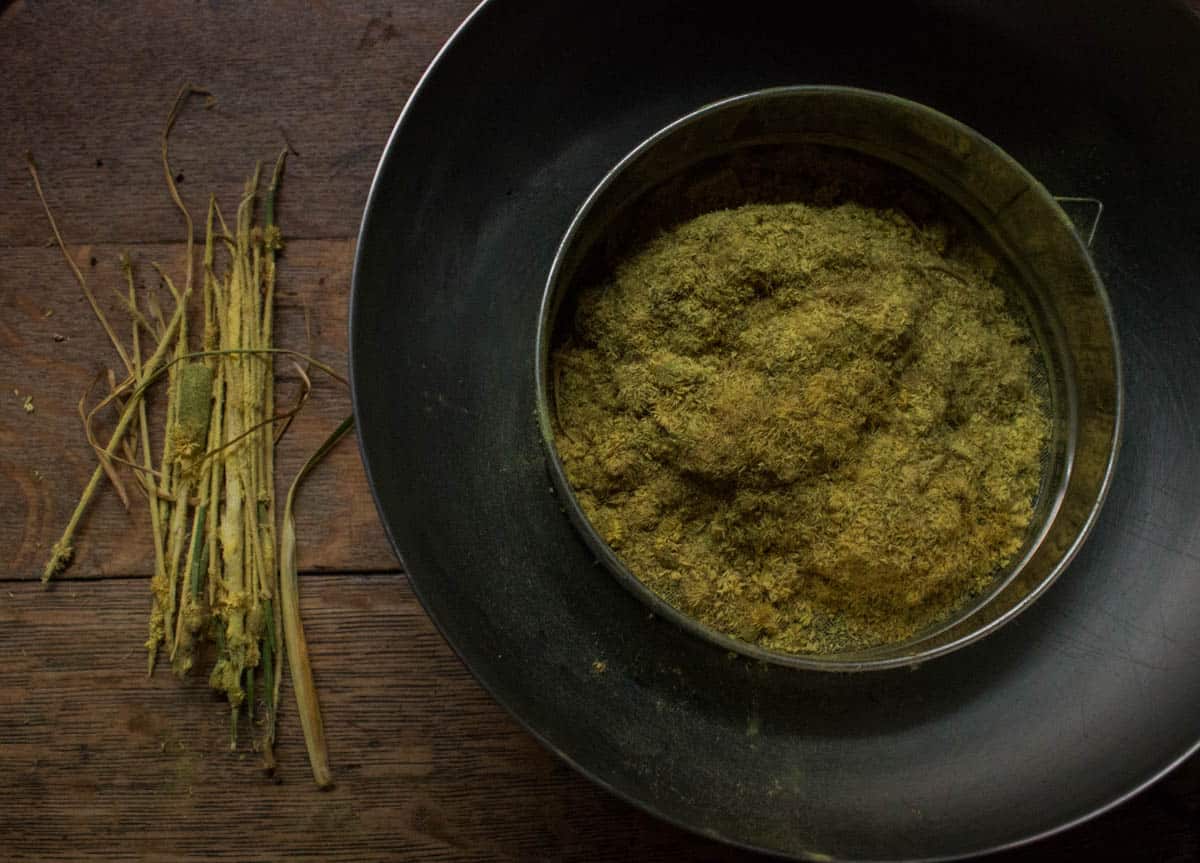 First thing I did when I brought back the harvest to the restaurant was to bring the jug of pollen to kitchen and see what I could do with it. I tasted some pollen raw, it tasted like tasteless flour.
I shook the jug around a little bit, and I could see things other than pollen in it, namely a bunch of ants. After sifting the pollen through a tamis sieve, I got to work. Here's a outline of how the taste experiments went. I was working with a total of maybe a scant ½ cup of pollen, so I needed to experiment with small amounts.
My first time cooking with pollen
Smell pollen. Pollen smells mild, inert, not unpleasant.
Dip a finger in pollen. Taste pollen raw. Pollen is tasteless, and I'm pissed off I went through the effort to get it.
Warm a few tablespoons of water in a pan, add a pinch of pollen. Taste liquid. Pollen taste is still mild, but pleasant.
Add teeny pinch of pollen to pan, 1 tablespoon butter, and salt to taste in a pan, heat and whisk. Pollen tastes like powdered cheese sauce. Now I have something to work with.
The first thing I made was a simple pasta dressed with the butter and the sauce, nothing else. I put the pollen on the back burner for a year, then made sure to hit the patches I knew to get some the next year. I still didn't have enough to make bread or anything like a baked good. To all you people that fill bags full of pollen I swear it is not real, and that you must be mocking it up with all purpose flour and tumeric. Charlatans! 🙂
But, I had enough that I could serve at least 100 orders of the pasta on a tasting menu, if the cooks measure out by the ½ teaspoon, so when I was planning a dinner with Chef Wyatt Evans at Heirloom I knew it would be a good time to bring it out. As we were dreaming up the dishes over a beer one night, Wyatt mentioned he had a lemon gem marigold plant in his garden, and suggested we use it on the dish.
Lemon Jem Marigolds
Left to my own devices, I would've made the pasta with the cattail shoot relish and pollen sauce, but another garnish could be worked in, but it absolutely could not be grated cheese, since it would overpower the flavor of the pollen with it's salt. Wyatt's suggestion was the perfect accent: flowers, pollen, pollen and flowers.
If you've never tasted marigold leaves and flowers, they have a citrus aroma that give you a shocking pop. Think of marigolds like an herb, not like a flower. Lemon jem marigolds in particular are my favorite. Thanks Wyatt.
Here's the dish we ended up serving that evening. Some of you that attended may even remember it.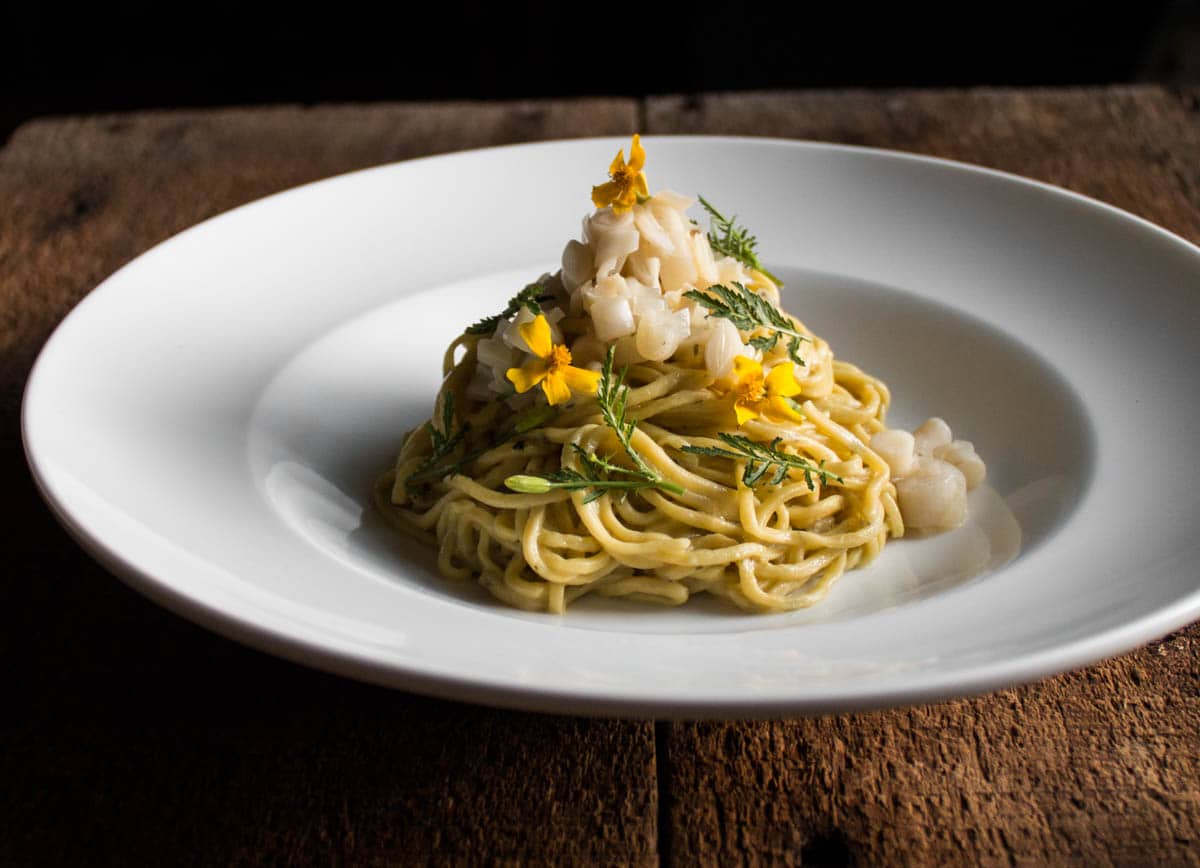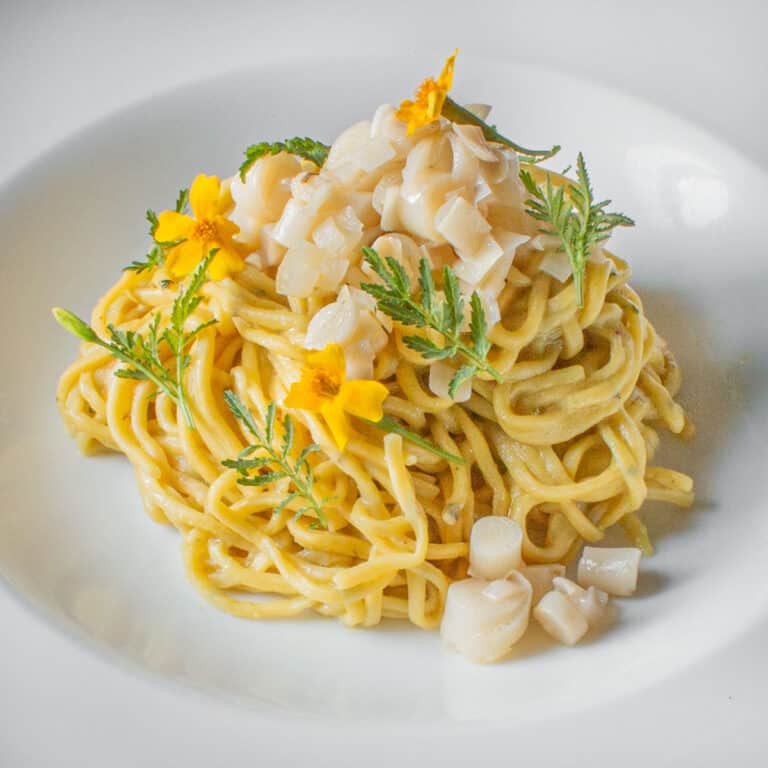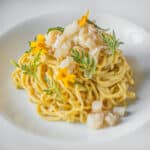 Print Recipe
Spaghetti with Cattail Pollen Sauce and Marigolds
"Swamp noodles"
Ingredients
4

ounces

homemade pasta made from whole duck eggs

all purpose flour, salt, and chopped Monarda fistulosa (Bergamot) and Glechoma hederacea (Creeping Charlie) to taste.

4

tablespoons

unsalted butter

Kosher salt

to taste

1

tablespoon

cattail pollen

1

tablespoon

dry white wine

2

tablespoons

cattail heart relish

see my recipe here

Lemon gem marigold leaves and flowers

to garnish (optional)

2

tablespoons

pasta cooking water
Instructions
Add the pasta to boiling, salted water, then remove 1 tablespoon of water and mix with the wine and butter over low heat. Add the pollen to the water-butter mixture, then toss in the pasta and season lightly to taste with salt.

Gently mix in the rest of the butter (yes I know its a lot, just deal with it, it'll be worth it) then heat gently, swirling the pan occasionally until the sauce has thickened and looks a bit like cheese sauce.

Double check the seasoning, then divide the mixture between two warmed pasta bowls, garnish with the relish and marigold flowers and leaves and serve immediately.
Notes
See the recipe for the duck egg-wild herb pasta here. 
Yes that is 4 tablespoons of butter for an appetizer for 2 people. Also, if you harvest pollen I like to keep it in the freezer until you need it to preserve it's life and flavor, a plastic ziploc works for me. 
Nutrition
Calories:
417
kcal
|
Carbohydrates:
43
g
|
Protein:
8
g
|
Fat:
24
g
|
Saturated Fat:
15
g
|
Polyunsaturated Fat:
1
g
|
Monounsaturated Fat:
6
g
|
Trans Fat:
1
g
|
Cholesterol:
60
mg
|
Sodium:
7
mg
|
Potassium:
138
mg
|
Fiber:
2
g
|
Sugar:
2
g
|
Vitamin A:
700
IU
|
Calcium:
19
mg
|
Iron:
1
mg
More
Foraging and Cooking with Pine Pollen