A simple pasta dough I used in my "swamp pasta": duck egg spaghetti with cattail pollen butter sauce, shoot relish and marigolds. It's just a simple pasta dough flavored with foraged bergamot (Monarda fistulosa) and creeping charlie (Glechoma hederacea).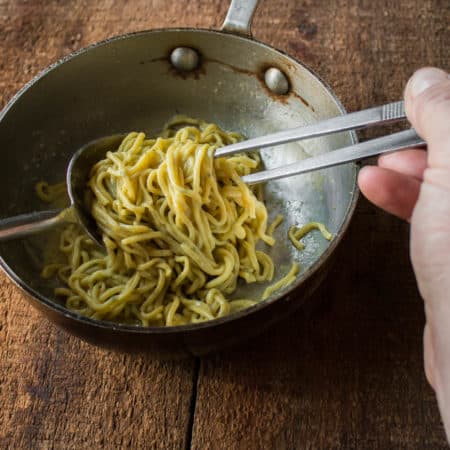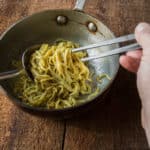 Print Recipe
Duck Egg Pasta Dough with Wild Herbs 
Rich pasta made from duck eggs, creeping charlie and bergamot
Ingredients
2

cups

OO flour

½

cup

roughly chopped creeping charlie and bergamot leaves

2

medium sized duck eggs

a teaspoon or so of water to help the dough come together

you may not need it

½

teaspoon

salt
Instructions
In the bowl of a stand mixer with the dough hook attachment, combine the flour, eggs, chopped herbs and salt. Mix on low speed, until a stiff dough forms, about 10 minutes, if the dough refuses to come together, continue mixing, adding a teaspoon of water at 4-5 minute intervals.

You shouldn't need to add any water to this recipe, but duck eggs can sometimes vary drastically in size, which means that the amount of water-containing white can vary greatly, which will affect how much water, if any you need to add to the dough. Remove the dough and wrap in plastic, then allow to rest for 15 minutes before rolling out.