Tender crisp noodles made from shaved burdock flower stalks or stems is one of the more creative things I've done with the plant. They have a great texture and subtle burdock flavor. Perfect tossed with a little sesame oil.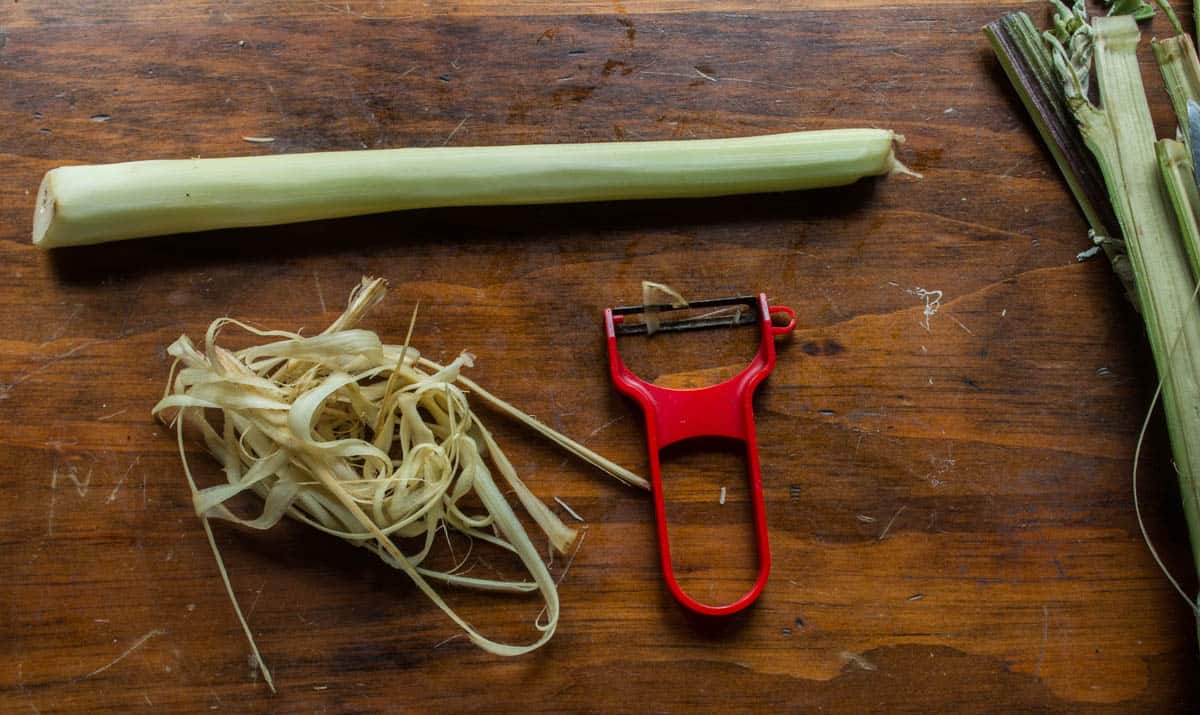 I talked about harvesting and cooking the stalks last year, but after I published the post I still had a few stalks left in the cooler (they will keep for a good month or two wrapped in damp towels in a sealed container with some air holes on the side). Making noodles out of vegetables is nothing new, but zucchini and celery root noodles are only scratching the surface of possibility.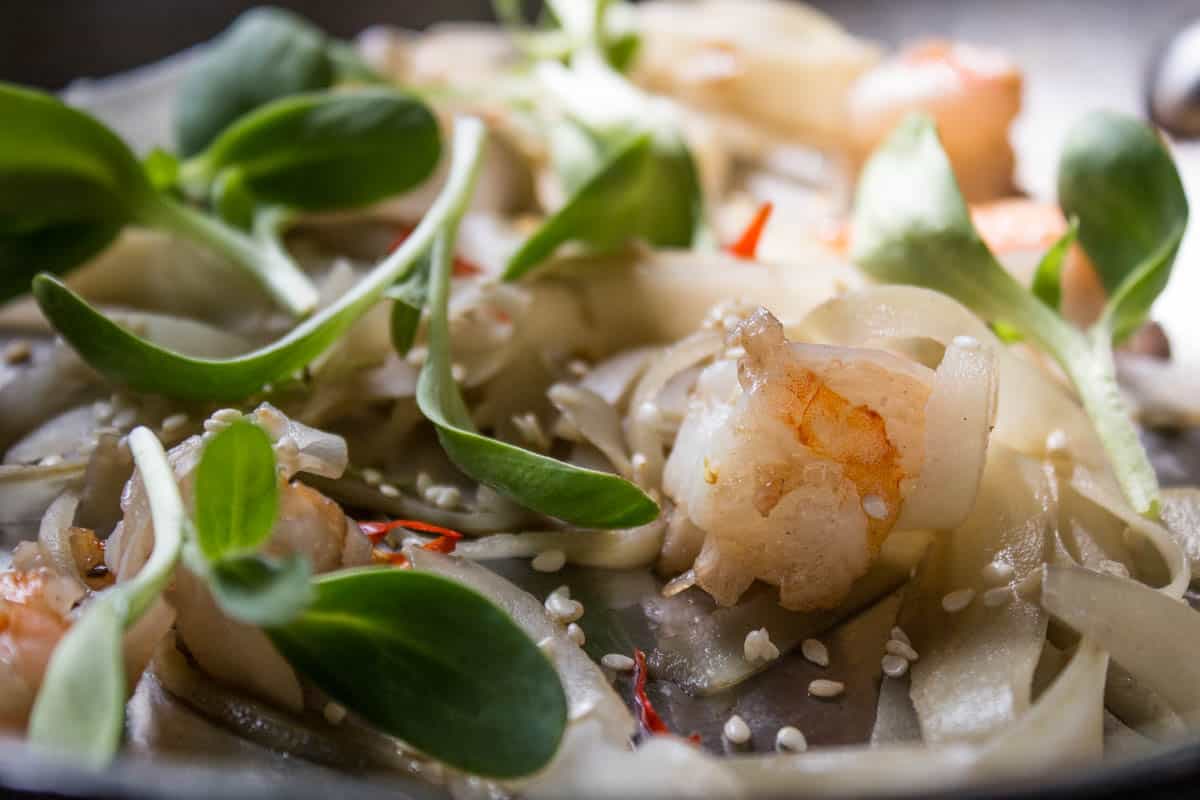 The method is easy, peel and shave some burdock flower stalks or roots thinly on a mandoline, then simmer in some good tasting liquid for 15-20 minutes until the noodles are just tender, then drain well, and gently brown in some fat, dress with something interesting and eat. What you end up with are vegetable noodles that taste a bit like artichoke, that are much more forgiving to over cooking than something like a zucchini noodle.
I enjoyed mine as a small/appetizer plate, but they would be great cooked with a piece of fish on top, some fresh or wilted greens and a vinaigrette. There's lots of possibilities here, let your imagination guide you, just start by thinking of flavors you would pair with artichokes.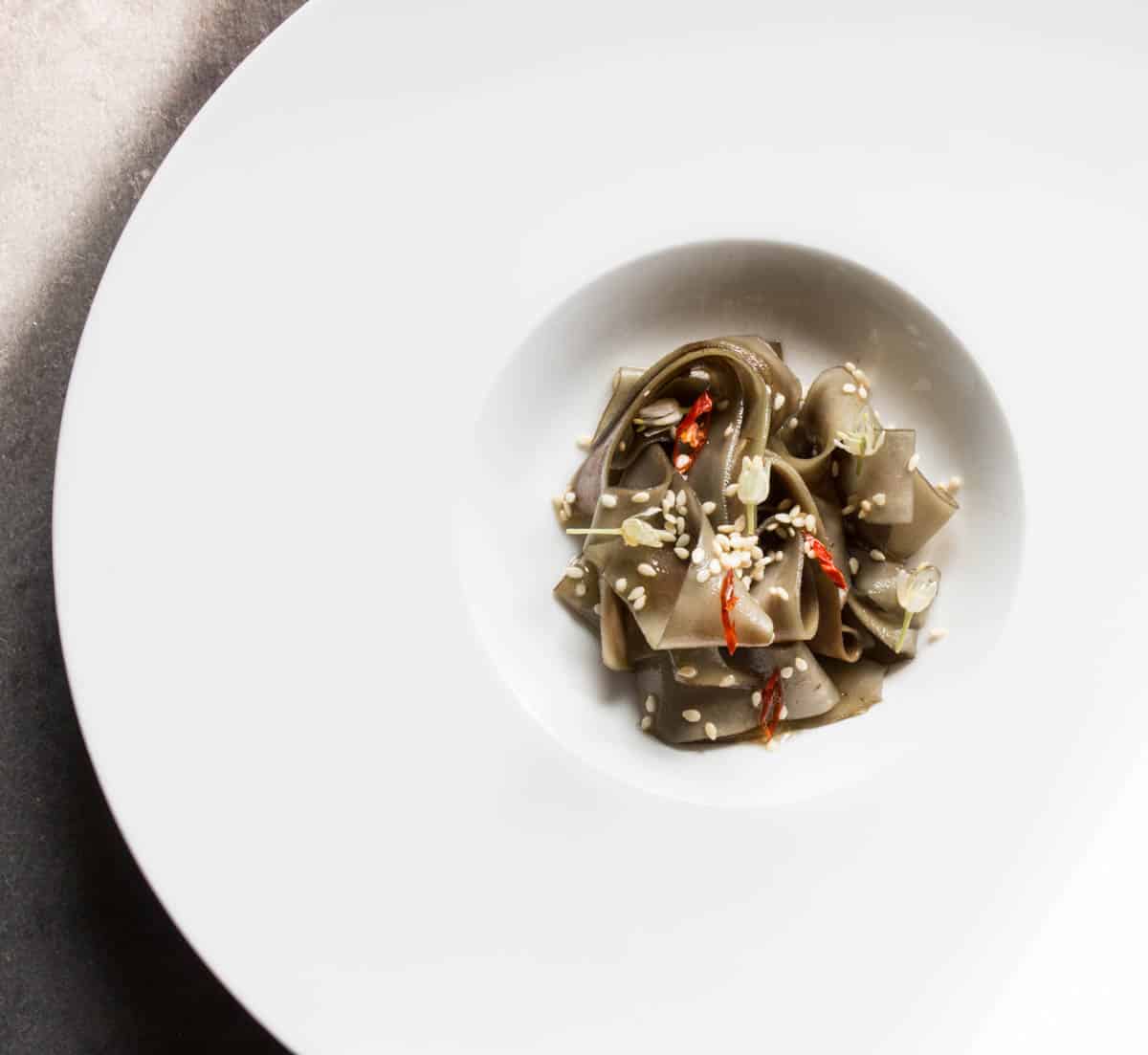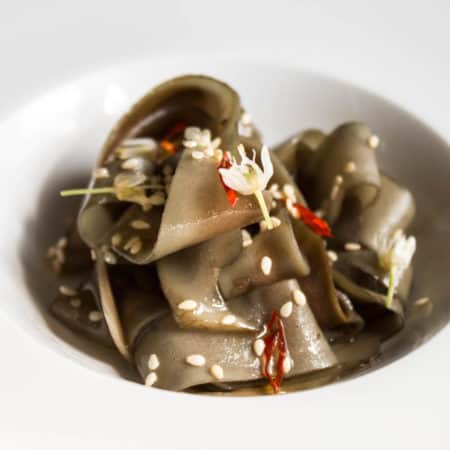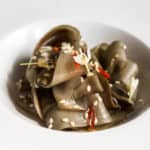 Print Recipe
Burdock Flower Stalk Noodles
Burdock flower stalks shaved and cooked like noodles
Ingredients
4

thick

roughly six inch sections of burdock flower shoot, outer skin removed, then peeled

4

cups

vegetable stock

preferably homemade

¼

of a fresh lemon

Kosher salt

to taste
Instructions
Using a vegetable peeler (The kitchen standard is Kuhn Rikon) or a mandoline on a very thin setting, shave the burdock flower stalks or shoots as thin as possible into long noodles. Cook the noodles in the vegetable stock with the lemon, seasoning gently with salt to taste, at a gentle simmer until just tender, about 15 - 20 minutes. Drain the noodles and reserve.

To cook the noodles, warm some oil or fat in a pan, then add the noodles and gently cook over medium/low heat until very lightly browned. From here, you can do whatever you want, I really enjoyed mine with a little sesame oil, ramp flowers, slice hot chili and sesame seeds.
Notes
After cooking the noodles will turn a shade of grey, this is natural. I include the lemon in the cooking liquid for flavor, but it is optional, it will not stop the noodles from turning grey once cooked.
Makes enough noodles for two small servings or garnishes to an entree
Nutrition
Serving:
3
oz
|
Calories:
35
kcal
|
Carbohydrates:
8
g
|
Protein:
1
g
|
Fat:
0.1
g
|
Saturated Fat:
0.04
g
|
Polyunsaturated Fat:
0.1
g
|
Monounsaturated Fat:
0.03
g
|
Sodium:
1944
mg
|
Potassium:
208
mg
|
Fiber:
1
g
|
Sugar:
5
g
|
Vitamin A:
1360
IU
|
Vitamin C:
2
mg
|
Calcium:
32
mg
|
Iron:
0.2
mg