A hearty Southern Italian stew of vegetables perfect for when the garden's overflowing. Ciambotta, also known as giambotta, is a great way to turn a handful of vegetables and fresh herbs into a meal you'll come back to again and again. This ciambotta recipe is adapted from a family recipe given to me by my friends Barry and Amy who helped test recipes for my book.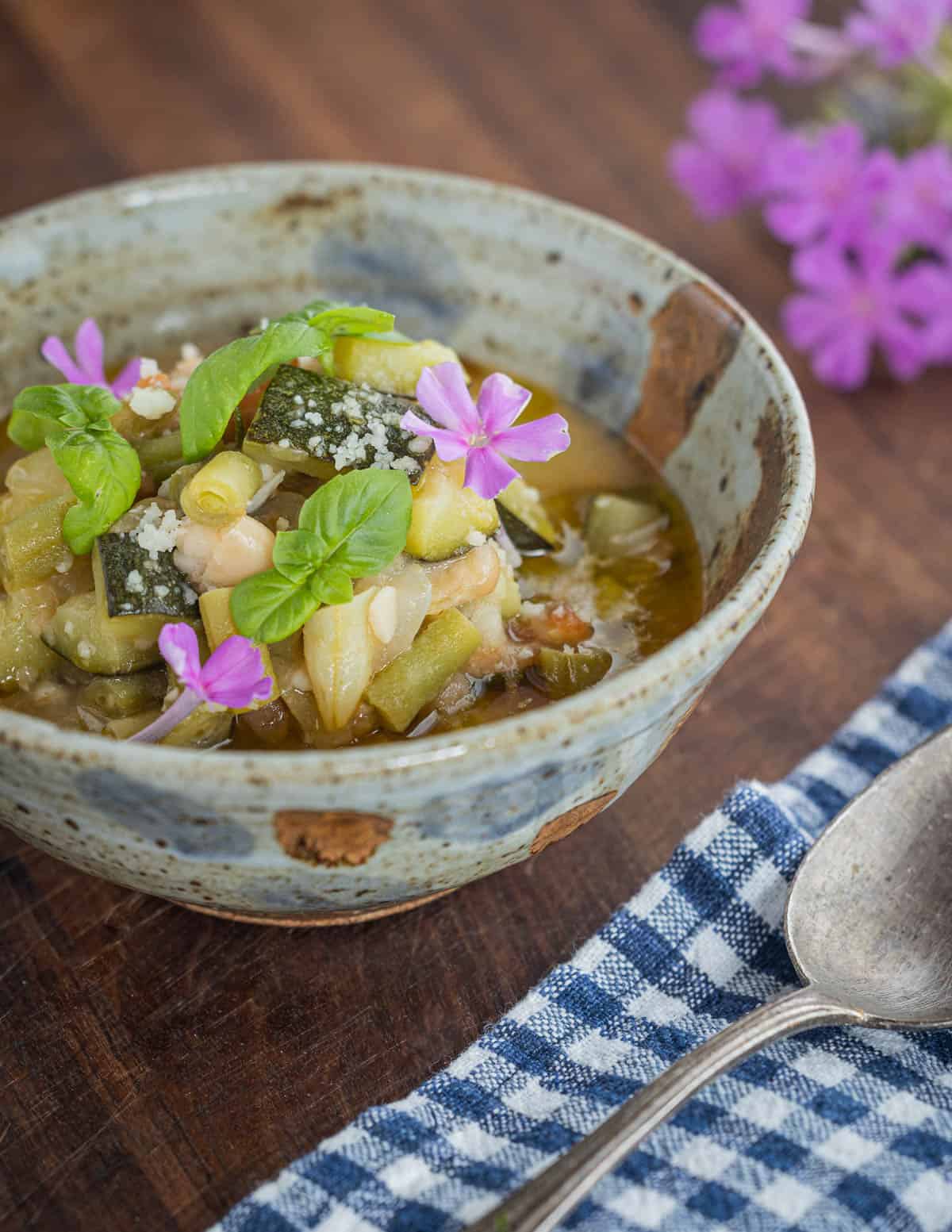 What is ciambotta?
Ciambotta in Italian basically refers to a dish of stewed vegetables. Its often compared to French ratatouille as it includes summer vegetables like Italian eggplant, tomatoes, zucchini and bell peppers. It's typically served as a main course, or as a side dish with grilled sausages or swordfish.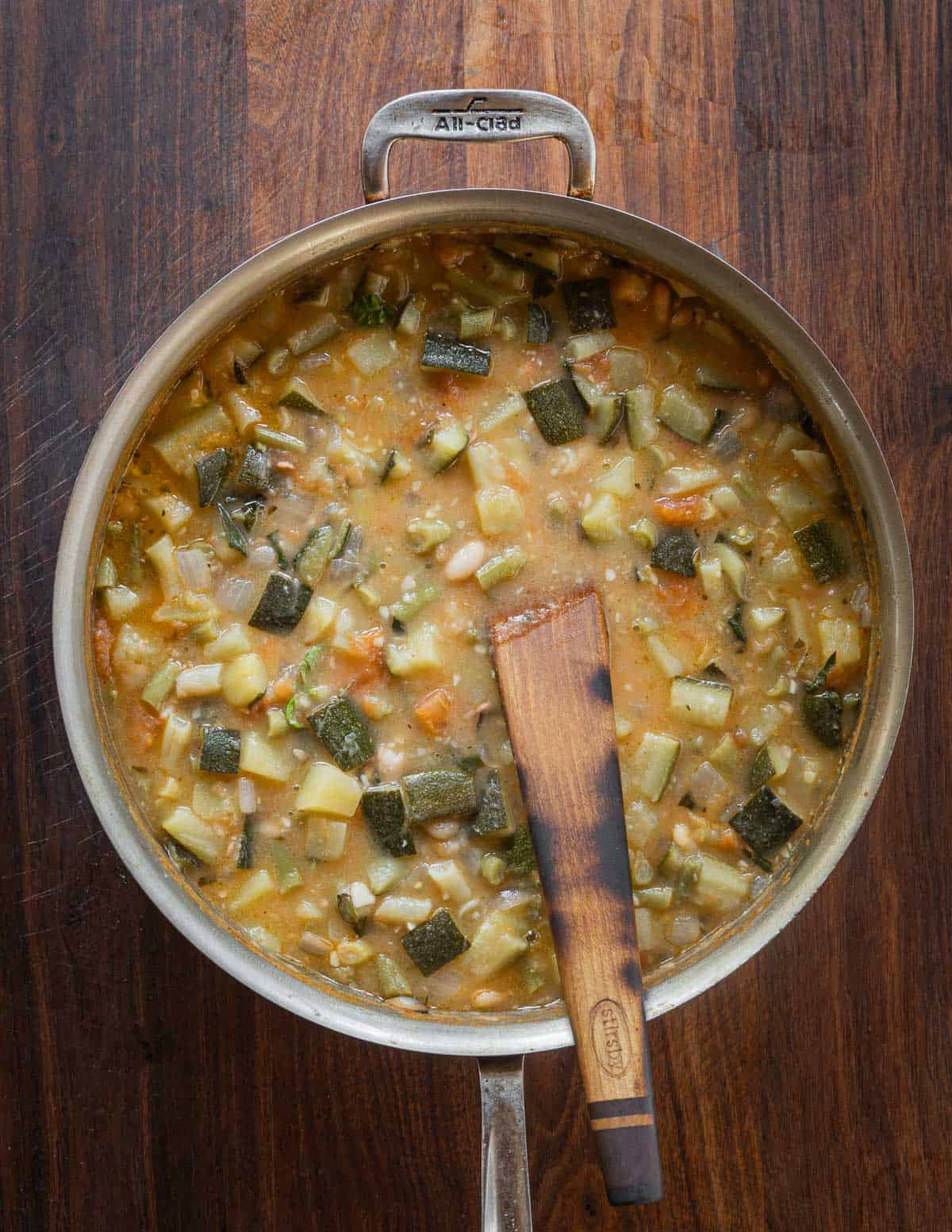 It's part of a family of similar dishes that can be known as minestra. Depending on where you are in Italy (or places Italians emigrated like the United States and Argentina) it can have many different names. At one restaurant I was taught to make chicken giambotta, which only includes potatoes, chicken and peppers.
Barry and Amy's recipe is different from others I've made as it focuses on zucchini, omitting eggplant and bell peppers. I really enjoyed their version, but many recipes will look similar to Lidia Bastianich's recipe pictured below. Her book on Italian American cooking was one of the first books I cooked from. You'll notice her version contains no additional liquid and is basically a vegetable saute.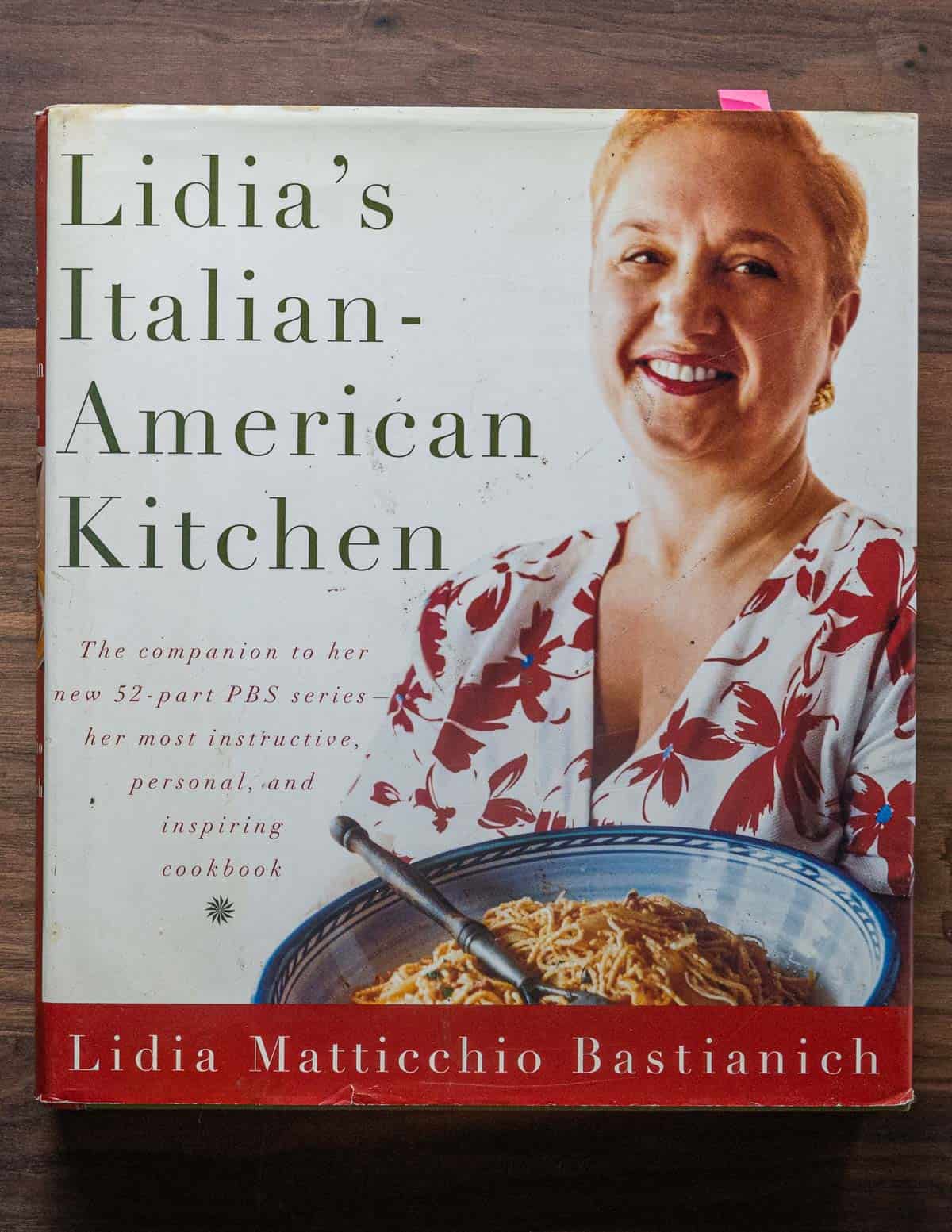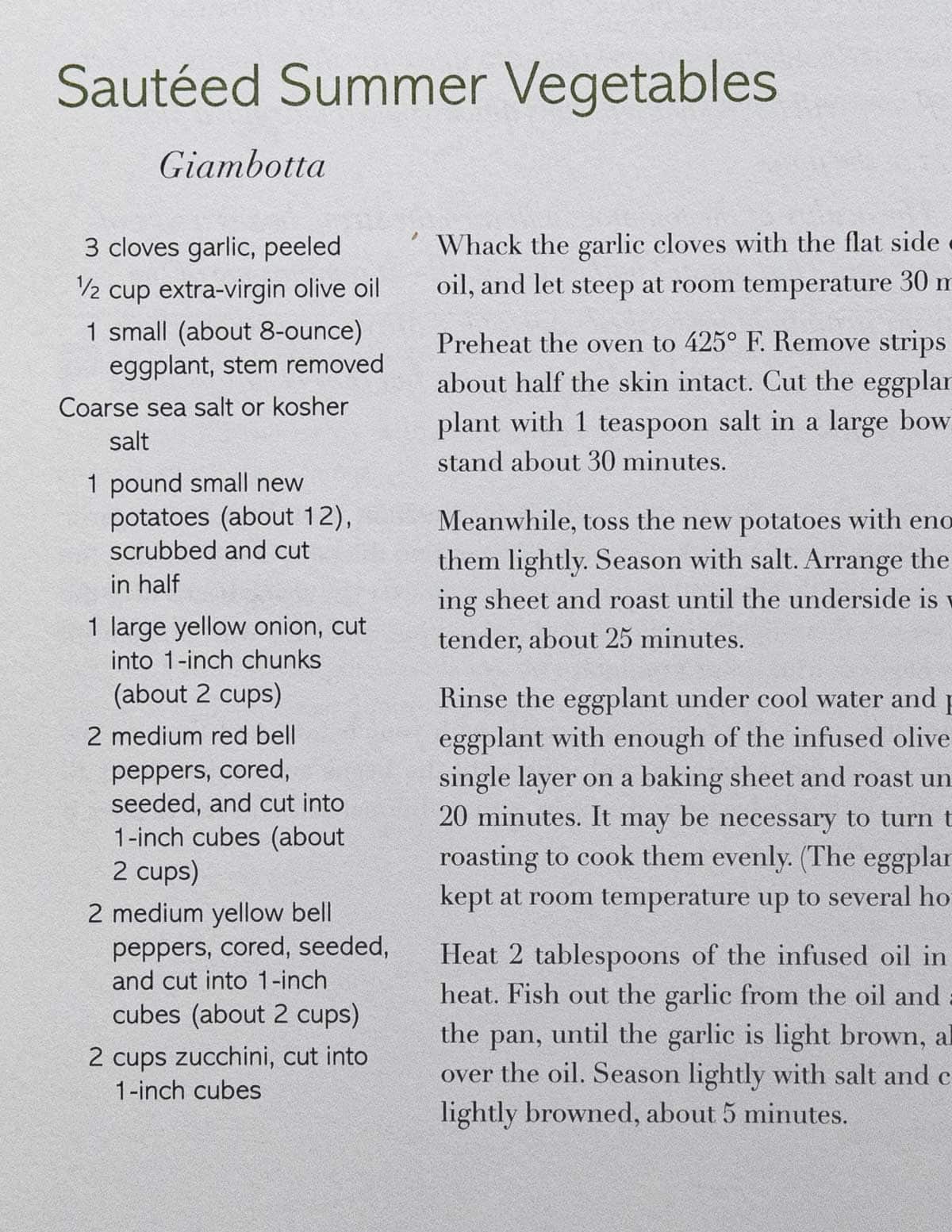 How to make ciambotta
First the vegetables are cut and diced into roughly even-sized pieces.
Next I score the bottom of a few roma or plum tomatoes with an X. The tomatoes are quickly blanched in water, peeled, seeded and chopped.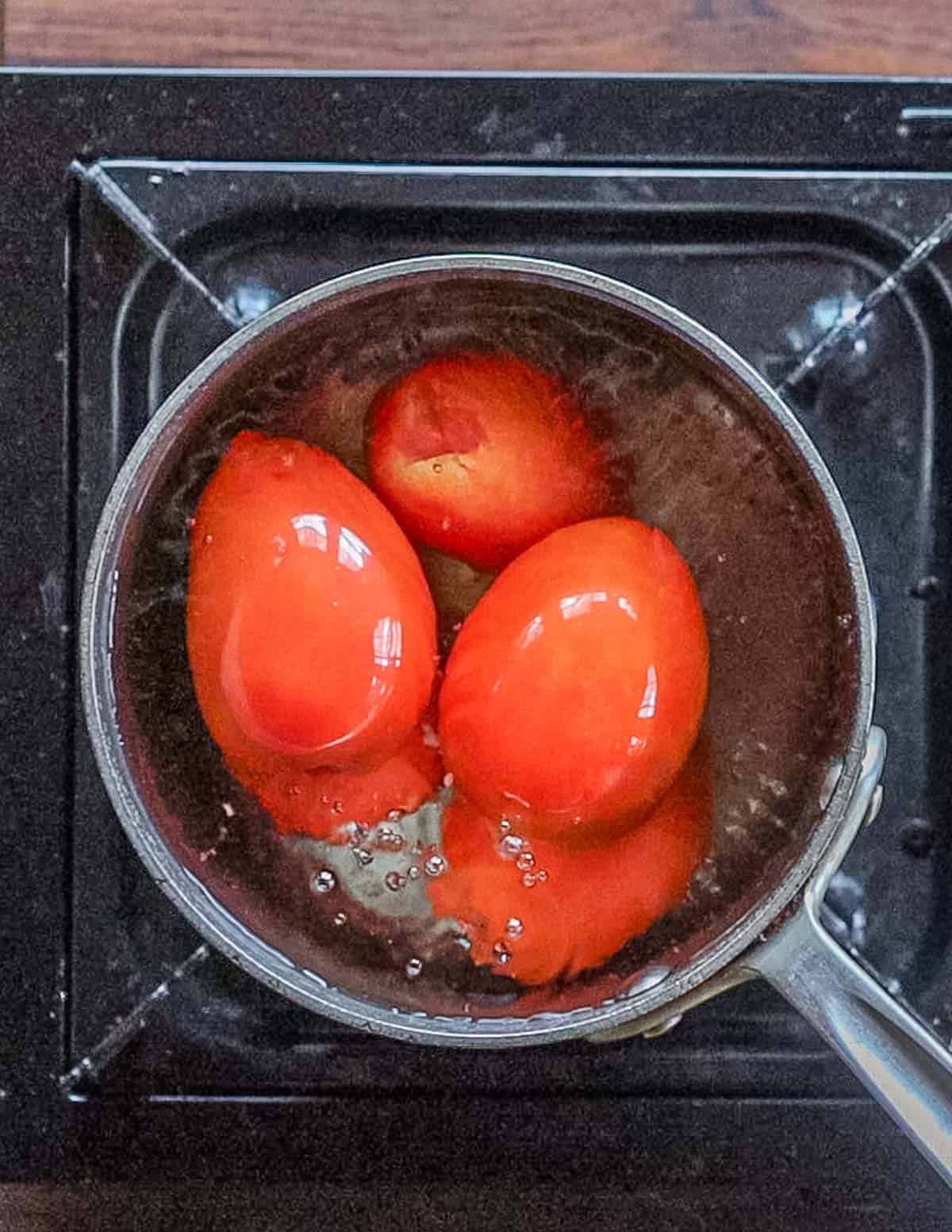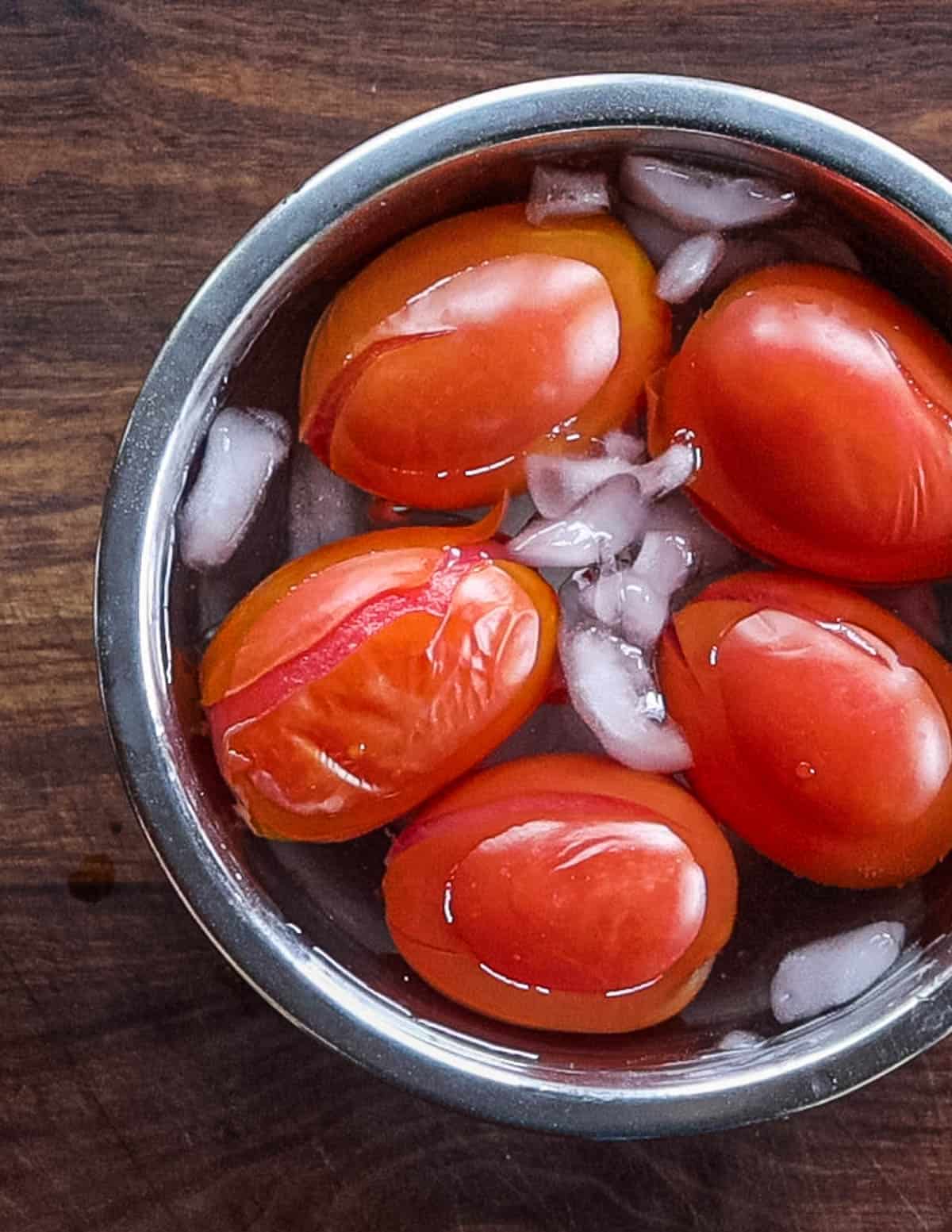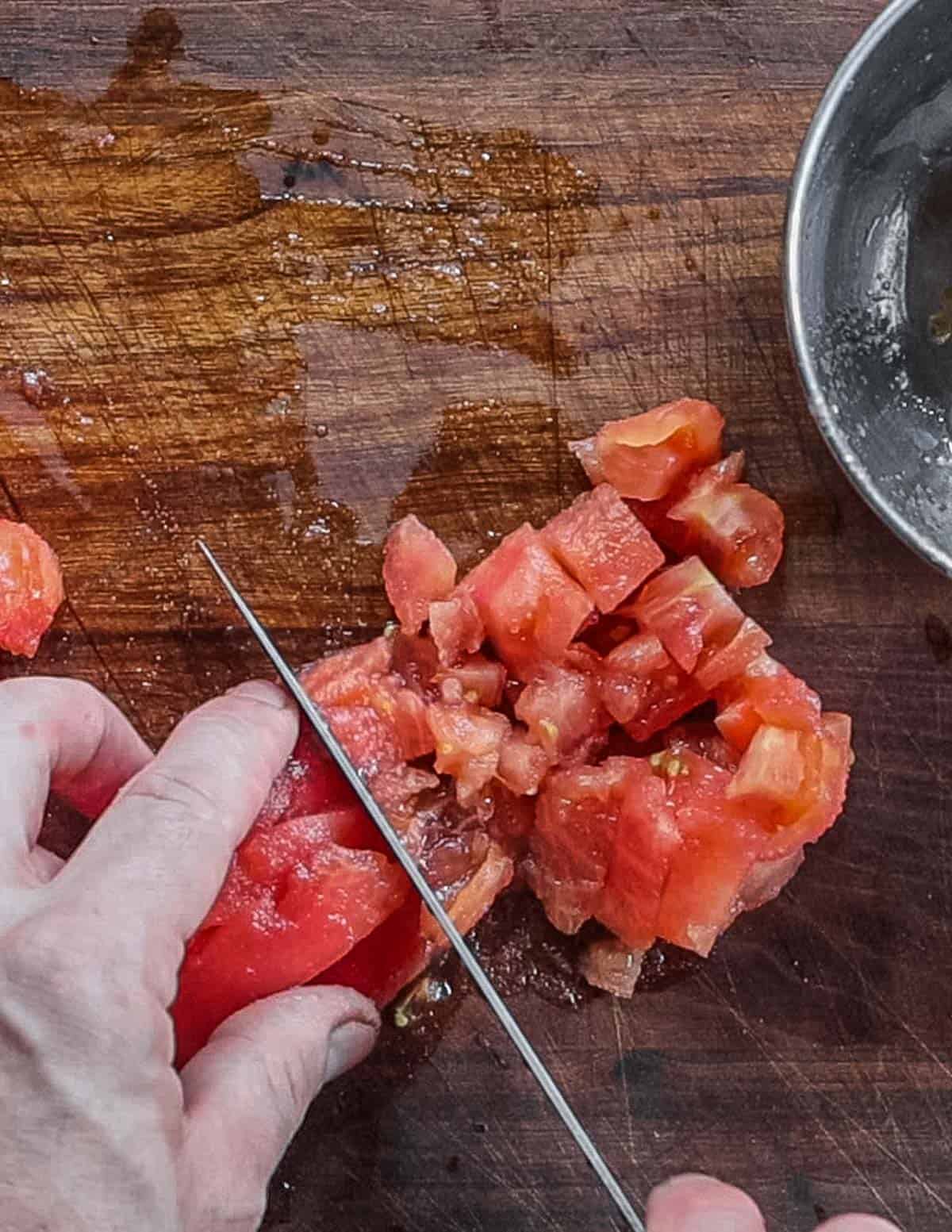 To cook the dish, first the potatoes are added to a wide pan with plenty of oil and cooked. Then the zucchini, onion, garlic and string beans are added and cooked until the onion's no longer raw. Next fresh tomatoes, beans, stock or water are added.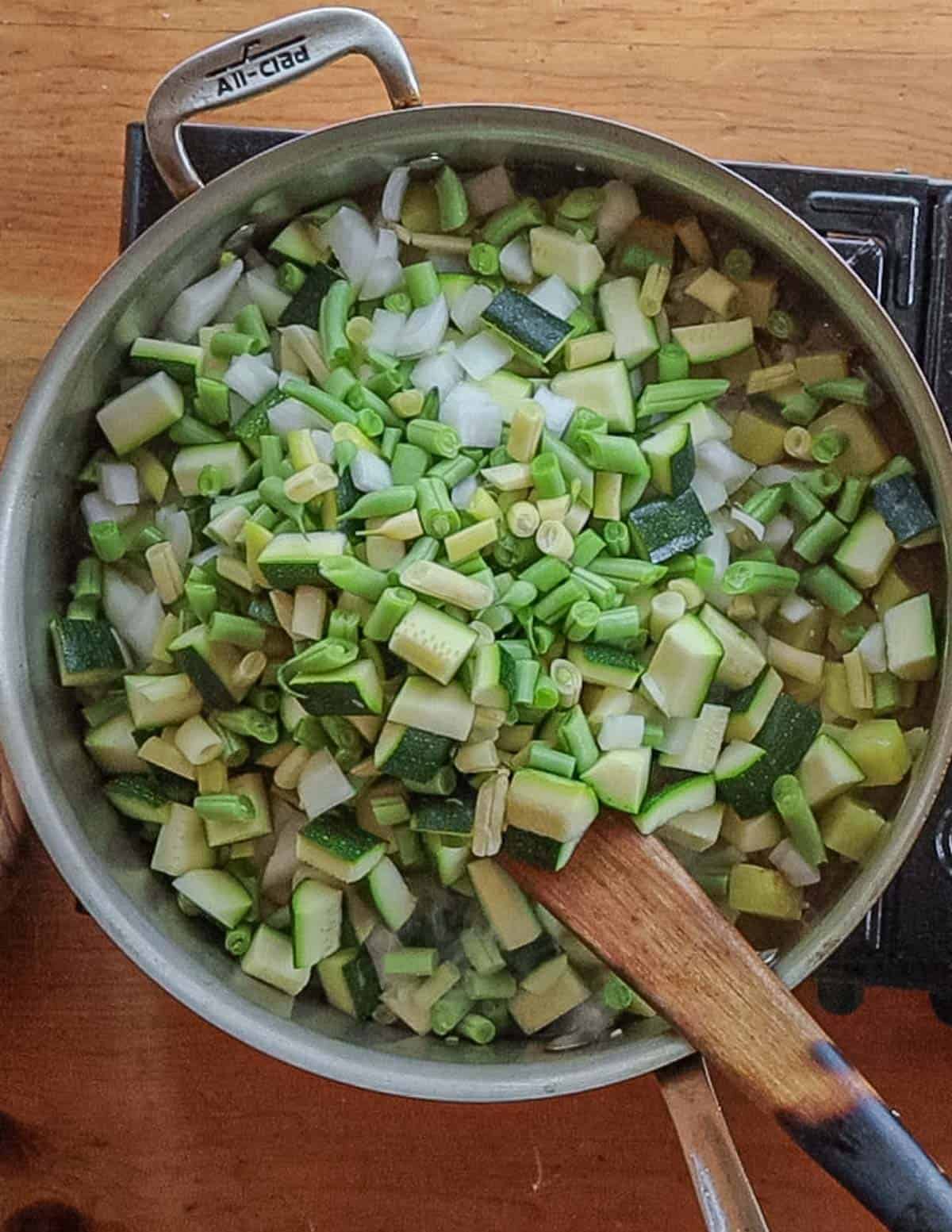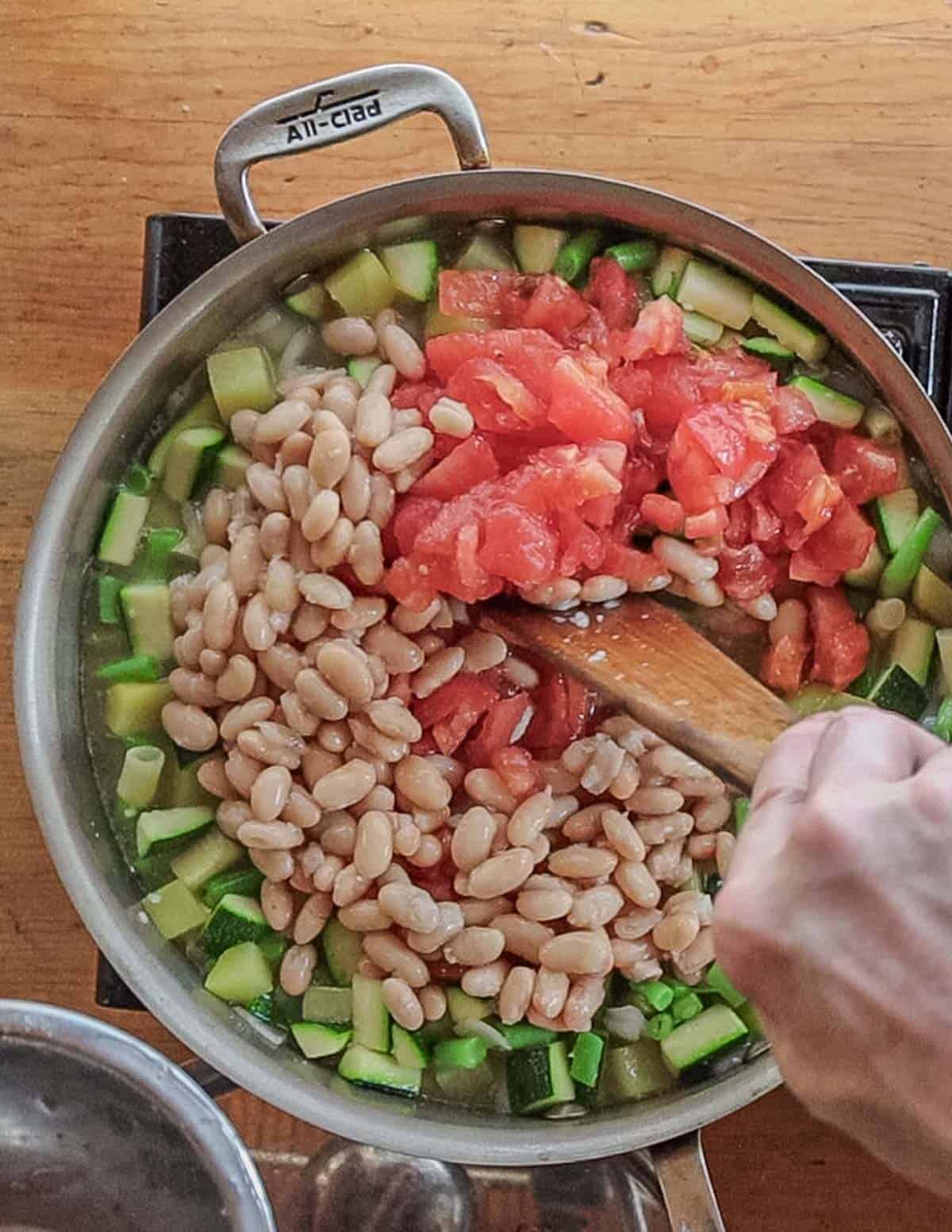 The whole pan is simmered until the vegetables are tender and the potatoes, beans and tomatoes have thickened the liquid. Fresh basil is added, along with pecorino or parmesan cheese before serving. I like to add a pinch of red pepper flakes too.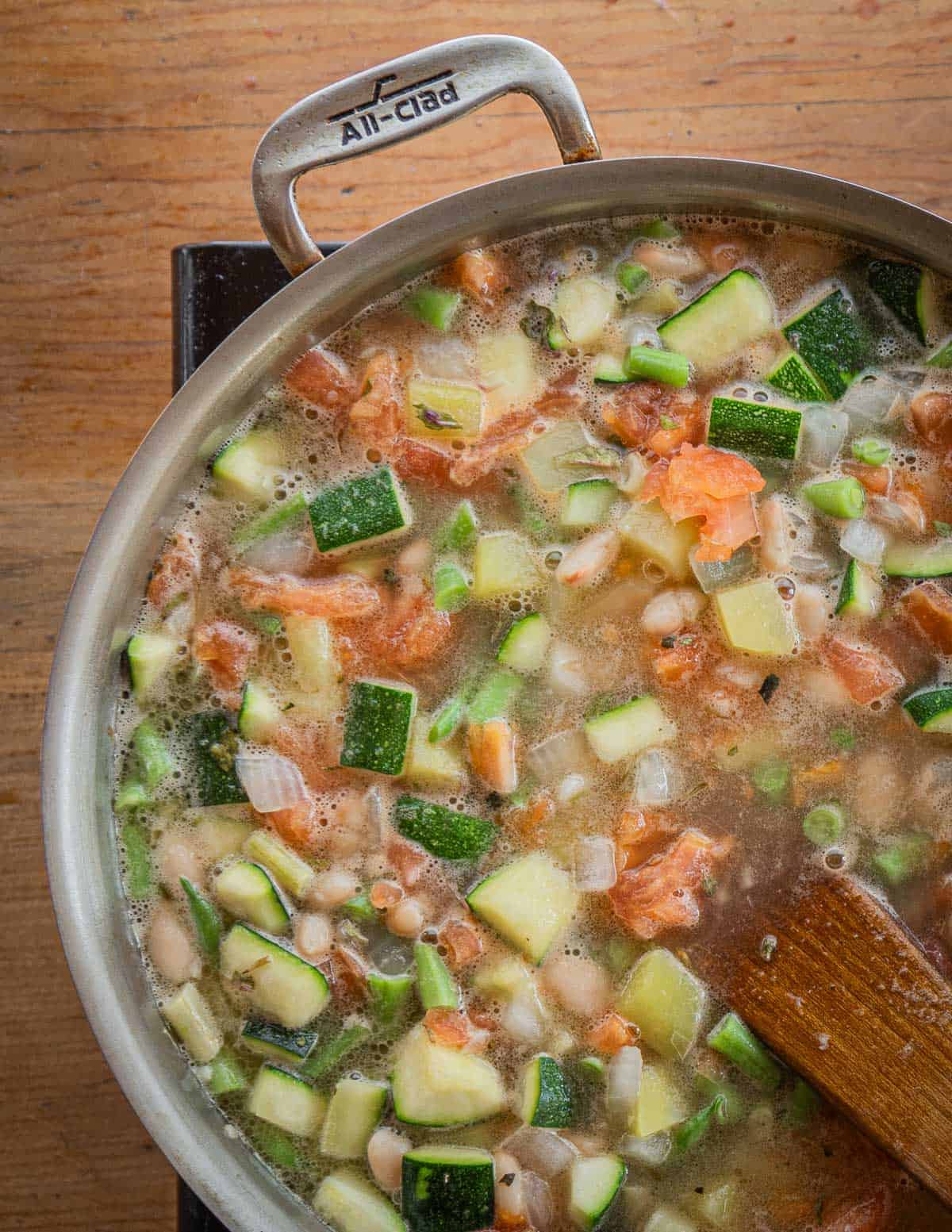 The finished dish can be served immediately like a loose stew, or cooked down until thicker. It will taste the best the day after it's made. Try it on it's own or with a slice of crusty bread, and keep the evoo and pecorino cheese handy.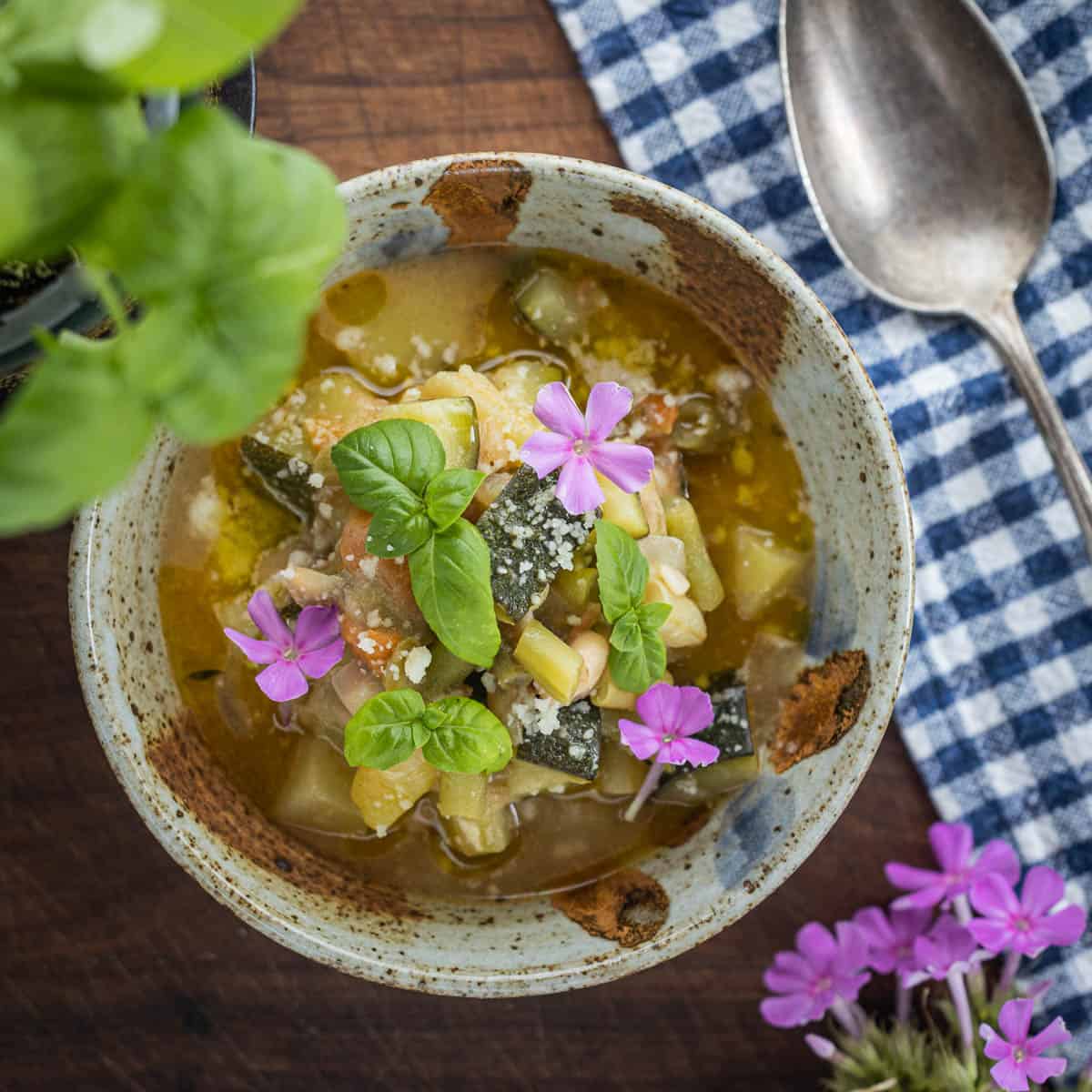 More Summer Italian Food
FazzolettI: The Hankerchief Pasta
Puntarelle: A Deliciously Bitter Italian Chicory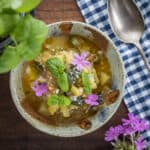 Print Recipe
Ciambotta / Giambotta: An Italian Vegetable Stew
A rich, hearty Italian vegetable dish perfect for when the garden's overflowing with produce. It can be served as a side dish or a main course.
Ingredients
4

Roma or plum tomatoes

3

medium zucchini

(3 cups or 12 oz) seeded and diced 1 inch

2

medium gold potatoes

(2 cups or 10 oz) diced ½ inch

2

cups

green beans

(8 oz) trimmed and sliced ½ inch

1

large yellow onion

(8 oz or 1.5 cups) diced ½ inch

3

large cloves garlic

Finely chopped

3

tablespoons

cooking oil

1

can of chickpeas or cannellini beans

drained* see note

2.5

cups

chicken stock

vegetable stock, or water

plenty of Kosher salt

to taste

Fresh ground black pepper

to taste

10

large leaves

fresh basil

or to taste, thinly sliced into chiffonade

Extra virgin olive oil

to garnish
Instructions
Tomatoes
Score the tomatoes end opposite the stem with an X. Core the tomatoes with a paring knife.

Bring 2 quarts of salted water to a boil and cook the tomatoes for 1-2 minutes, or until the skins start to peel. Transfer the tomatoes to a bowl of ice water to cool until you can handle them. Squeeze out the seeds and discard with the skins. Dice the flesh into rough ½ inch cubes and reserve. There should be about 8 oz of chopped tomatoes.
Build the Giambotta
Heat the oil in a wide pan, like a 10 inch skillet with high sides. When the oil is hot, add the potatoes and cook for 2 minutes, stirring occasionally so they don't stick.

Add a pinch of salt, then the garlic, stir and cook for 30 seconds, then add the rest of the vegetables, turn the heat to medium, and cook slowly for 5 minutes, stirring regularly, until the onion is translucent and the vegetables are about half cooked.

Add the stock, beans, pinch of thyme and tomatoes, bring the mixture to a brisk simmer, turn the heat to medium and simmer for 15-20 minutes, or until the vegetables are tender and the liquid has reduced and thickened. The vegetables should be completely cooked through and tender.

Add the basil, season the mixture with salt to taste, stirring and repeating the process until it tastes good to you. Dishes like this take more salt than you may be used to, especially if you make it with water instead of stock.
Serving
Serve garnished with plenty of pecorino romano or parmesan cheese and drizzles of extra virgin olive oil. It will improve in flavor the day after it's made.
Video
Notes
Variations 
If you use water the dish will need extra salt. 
½ cup dried beans can be cooked and used instead of canned beans. 
A small eggplant and bell peppers can be added in place of the string beans, dried or canned beans, and some of the zucchini. 
Seve the dish as a main course by itself or as a side dish to grilled pork chops, sausages, meaty fish like swordfish or tuna. 
Add different fresh herbs. Another friend told me his Sicilian giambotta is finsihed with fresh mint. 
Nutrition
Serving:
10
oz
|
Calories:
957
kcal
|
Carbohydrates:
152
g
|
Protein:
39
g
|
Fat:
53
g
|
Saturated Fat:
6
g
|
Polyunsaturated Fat:
14
g
|
Monounsaturated Fat:
30
g
|
Trans Fat:
0.2
g
|
Cholesterol:
18
mg
|
Sodium:
964
mg
|
Potassium:
5187
mg
|
Fiber:
26
g
|
Sugar:
46
g
|
Vitamin A:
4924
IU
|
Vitamin C:
261
mg
|
Calcium:
321
mg
|
Iron:
10
mg