Cheremsha, also known as Tjeremsha and Черемша are a wild allium used to make one of the most interesting traditional foods I've tasted to date.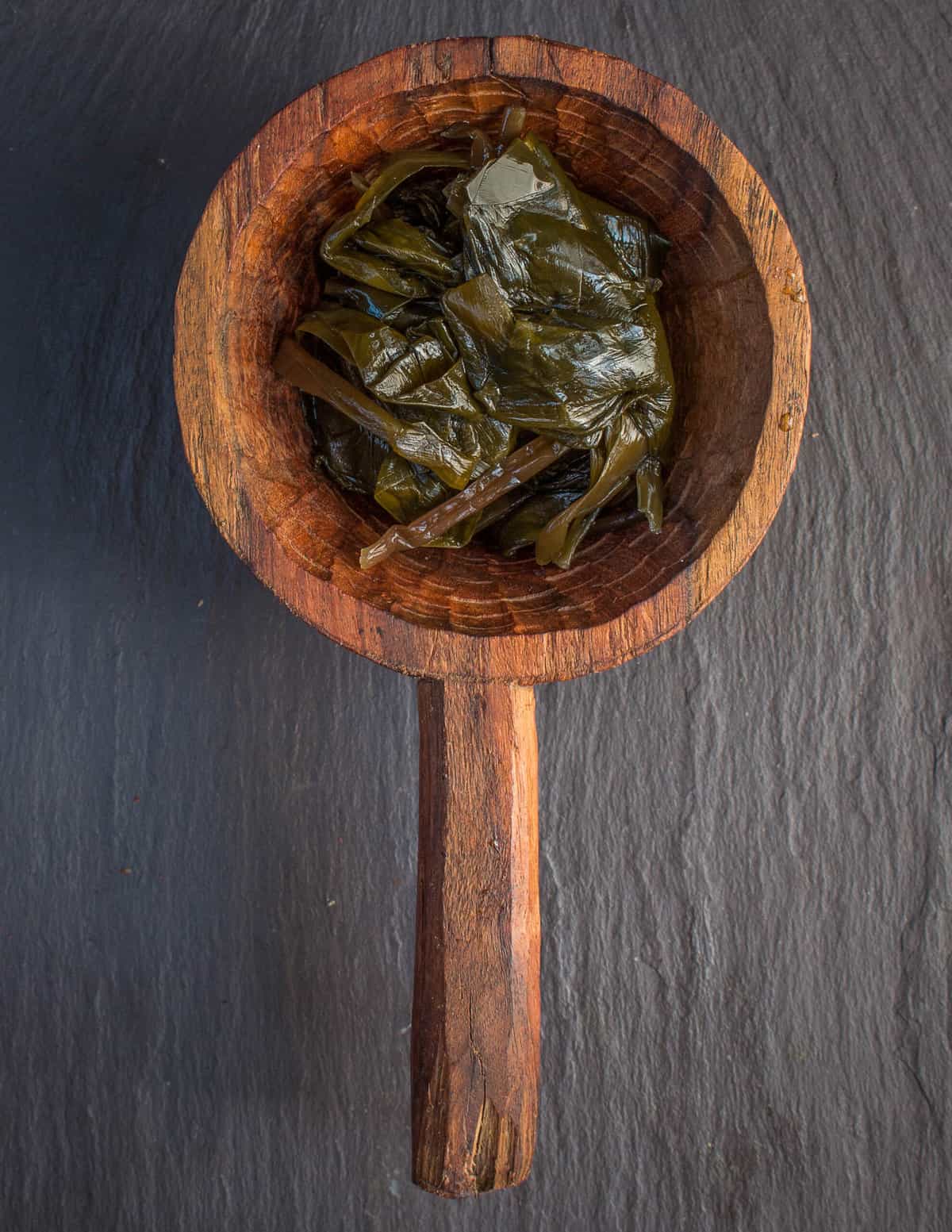 Essentially, you can think of them as lacto-fermented ramp leaves, although the traditional plant used to make the ferment is Allium victorialis-the victory onion, reputed to have been brought to Eastern Europe by the Vikings. After being salted and fermented, they'll become solenaya cheremsha.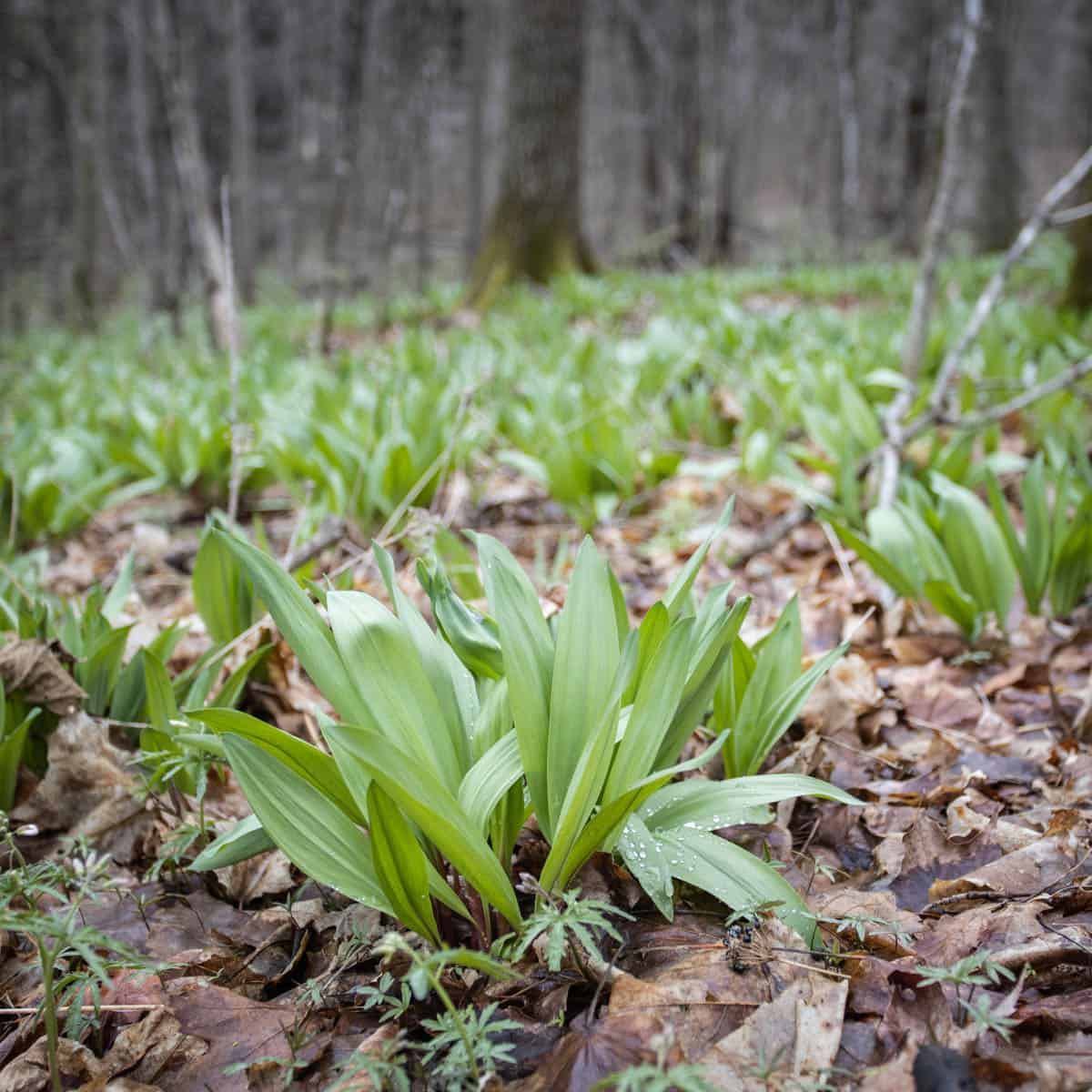 There's little documentation online or in books about this that I can see, probably because I don't speak Russian.
I learned about the preserve through Stephen Barstow's book. I finally got to meet Stephen at the Midwest Wild Harvest Festival when he gave a keynote a few years ago.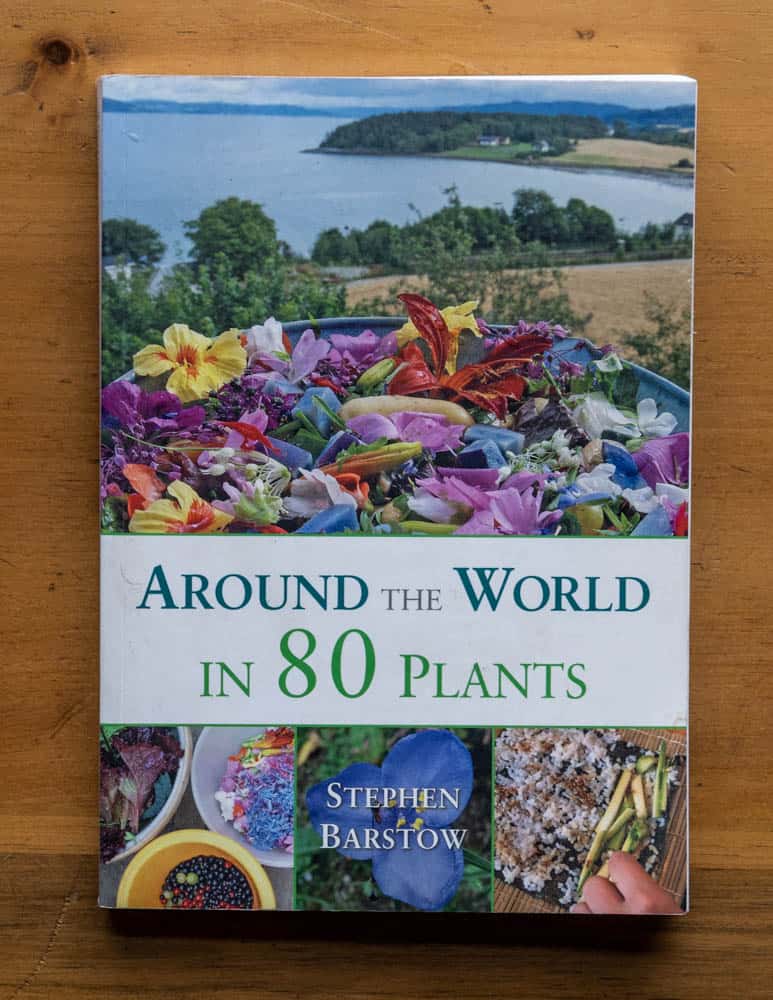 Barstow's book: Around the World in 80 Plants is one of my favorite of it's type. The book describes a lot of obscure plants you can collect and grow, as well as edible ornamentals, or edimentals, as they're called.
I put a link to the book at the bottom of this post. Here's the excerpt on cheremsha from the book:

After I read the passage in the book, I knew I had to try my hand at fermenting some ramp greens.
The funny thing is though, I'd already tried them, a number of times, but, I wasn't exactly sure how to feel about them.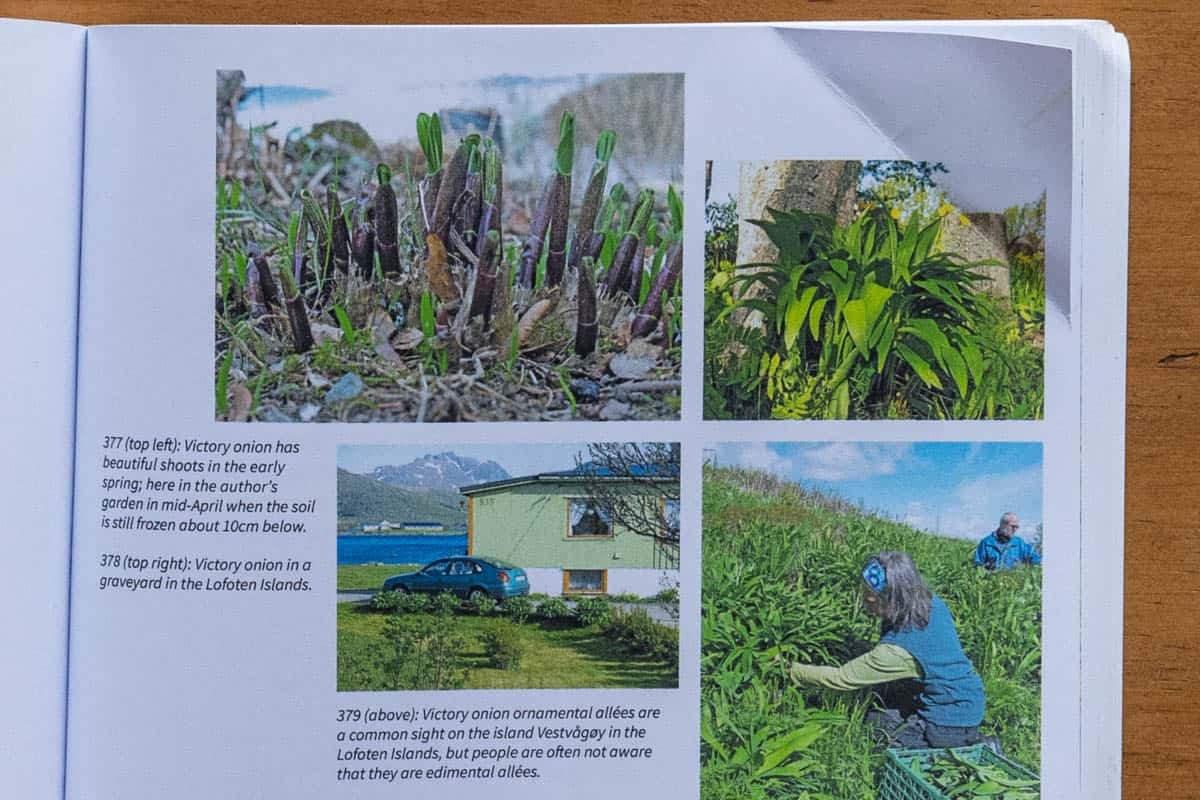 The aroma of the fermented leaves is so powerful that when I first smelled them I wondered if they were safe to eat-I'm not alone here.
At least two other chefs I've spoken to after falling in love with cheremsha have told me they tried fermenting ramp leaves and ended up tosing them as the aroma was so strong they thought it'd gone bad. Both were experienced fermenters.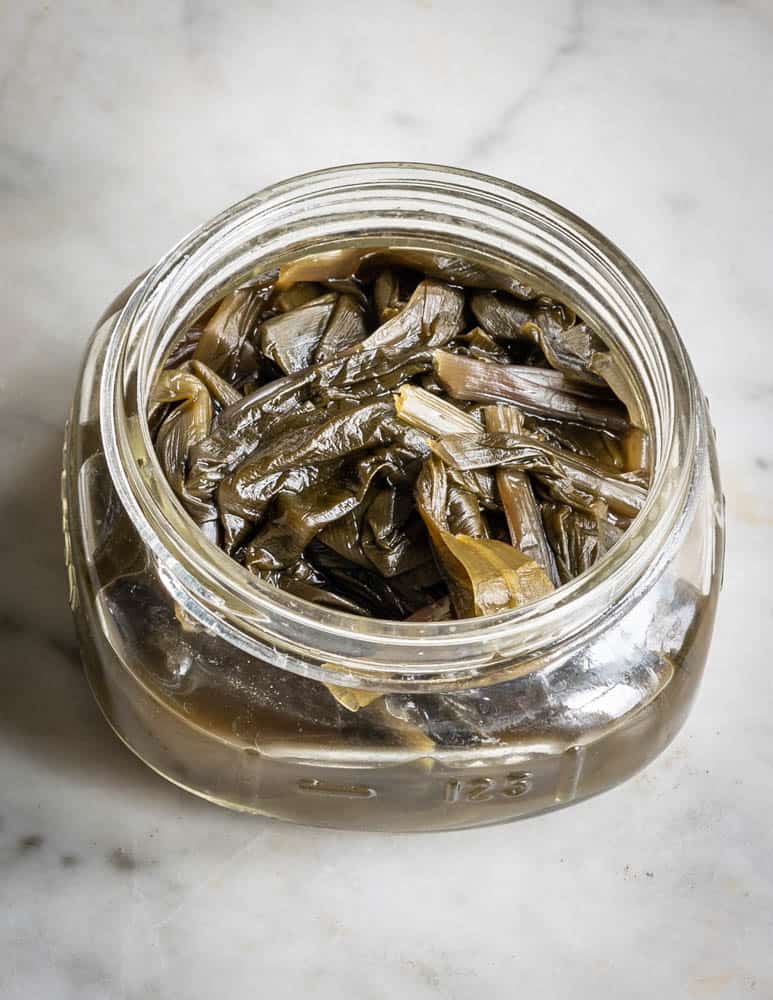 Part of the magic of fermentation is the transformation that ingredients undergo, and ramp leaves (along with their close cousins) experience one of the most dramatic changes I've encountered.
Mixed with salt and left to ferment, the aroma of the leaves grows exponentially stronger, becoming the sort of polarizing food that will either terrify, or seduce you.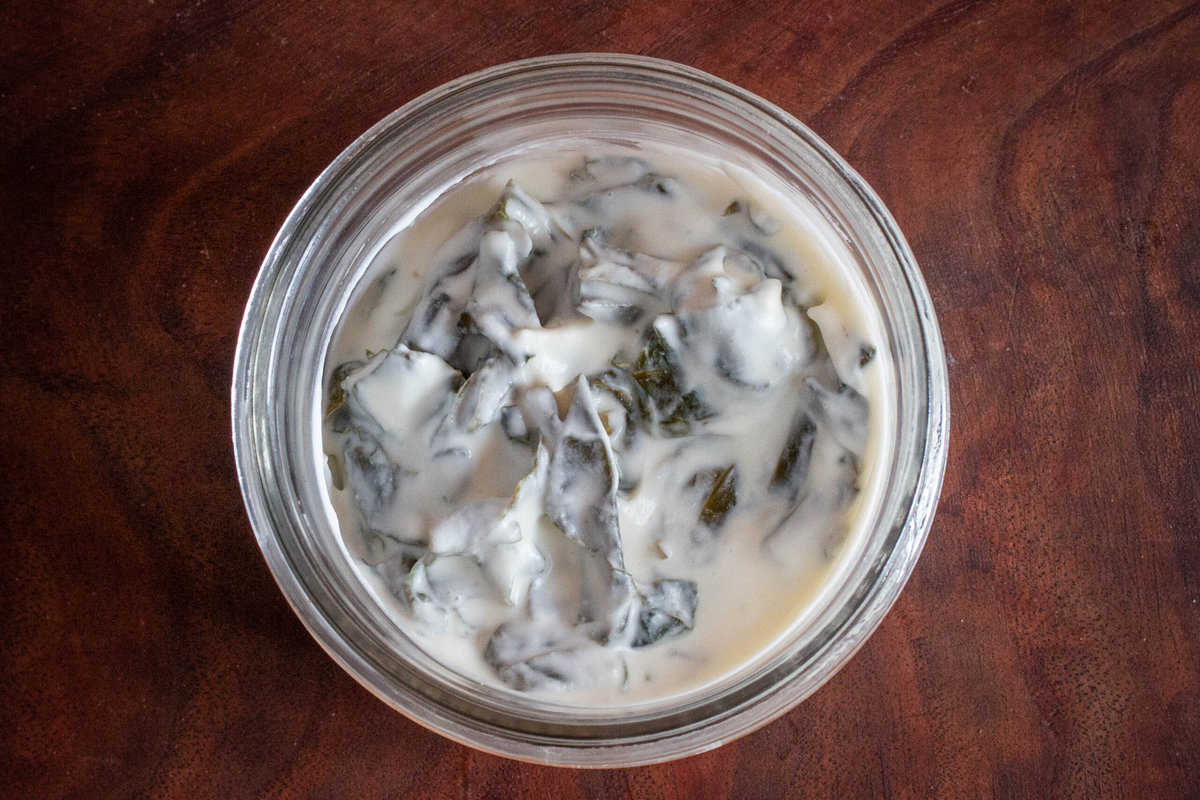 It's hard to describe the potency of sour allium greens, but as I've mentioned before, weaponized garlic comes close. One thing's for certain: the aroma will offend timid palates, separating true believers from casual eaters who just sample a few ramps every spring.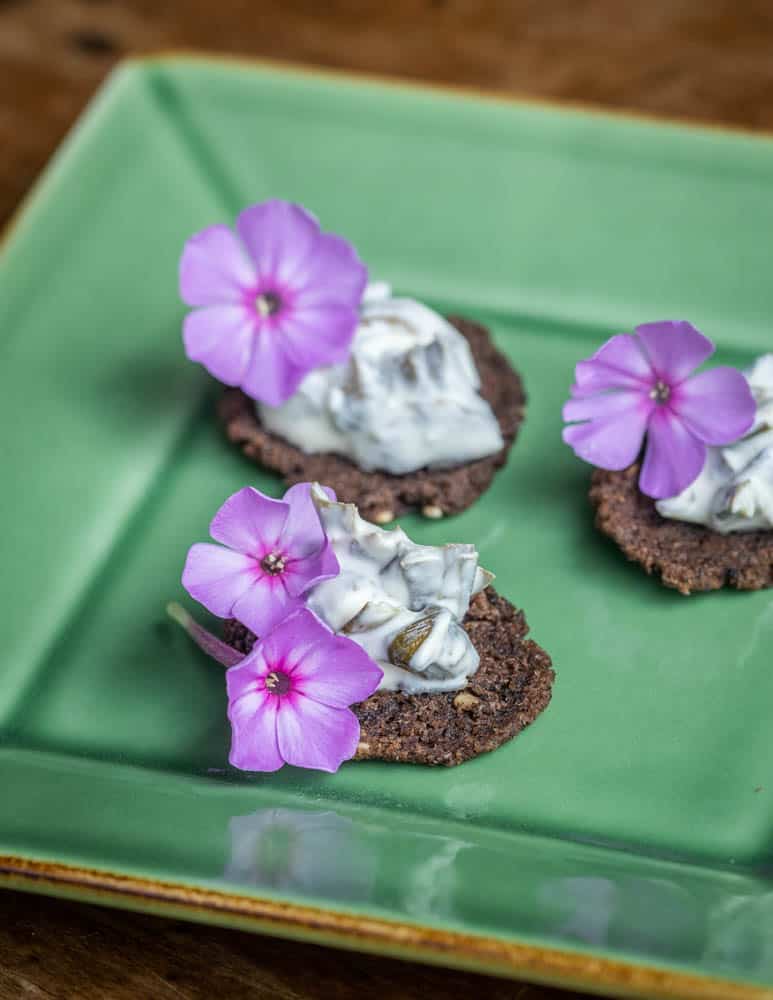 Traditional vs Modern Methods
Traditionally, as with sauerkraut, the leaves of the plant are mashed up or pounded with salt, put into a crock or other fermentation vessel, weighted down, and allowed to sour.
The traditional method works, but, after making this for the past few years now, I've developed a method I prefer over pounding and mashing that I think does more justice to the plant.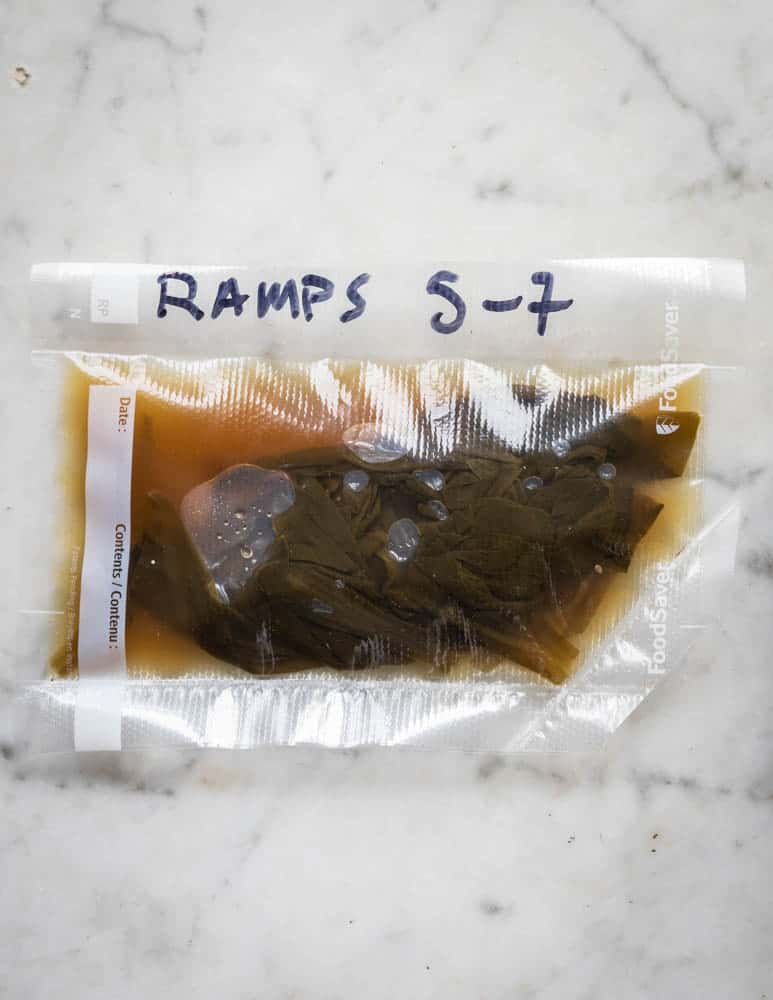 Mashing vs vacuum sealing
Ramp leaves are delicate things, and mashing or pounding them with some salt breaks them up a bit.
This was probably the safest, and most effective way to make the traditional ferment, but, if you mix the leaves with salt, and simply vacuum seal them they ferment like a dream, and the smell won't be very noticeable, until the bag is opened.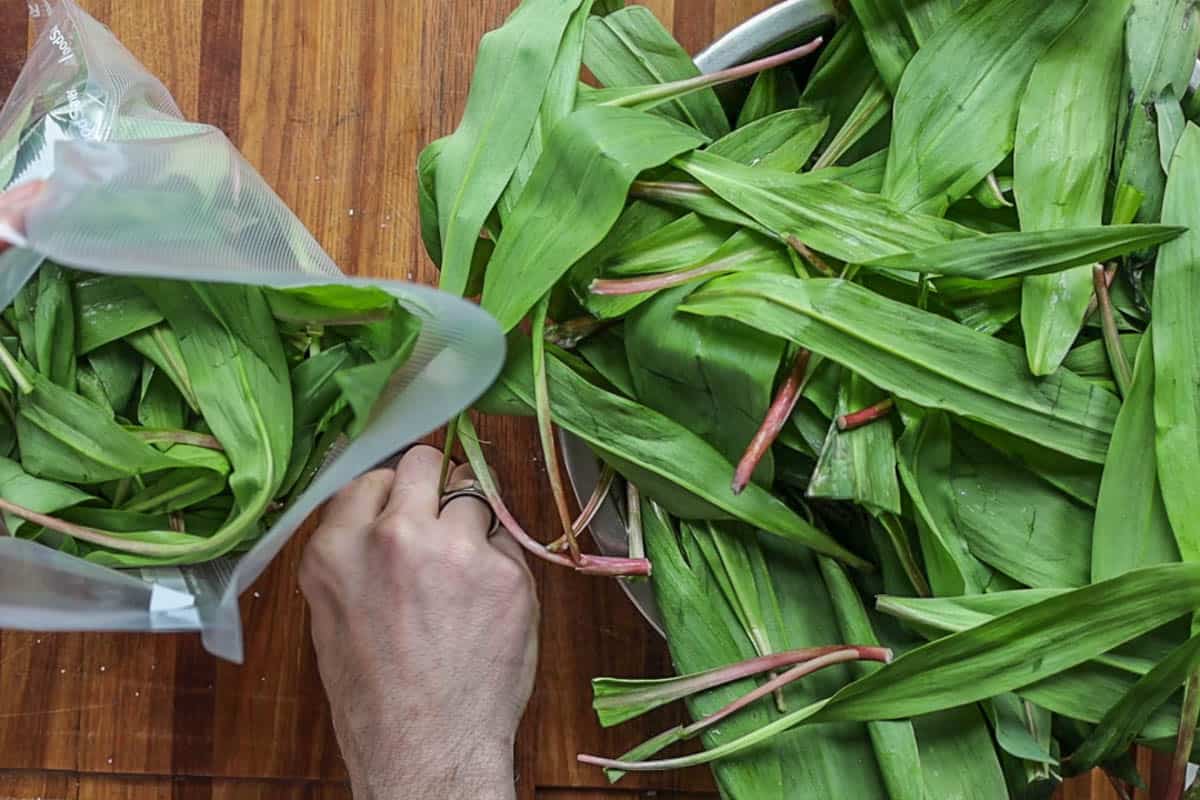 As the leaves aren't mashed up, they keep their shape and integrity, as well as a good meaty texture.
Vacuum sealing also helps control the aroma, whereas if you ferment them in a crock you'll want to do it outside or away from other people-trust me here. Aside from the previous two methods, you can also ferment the leaves in brine.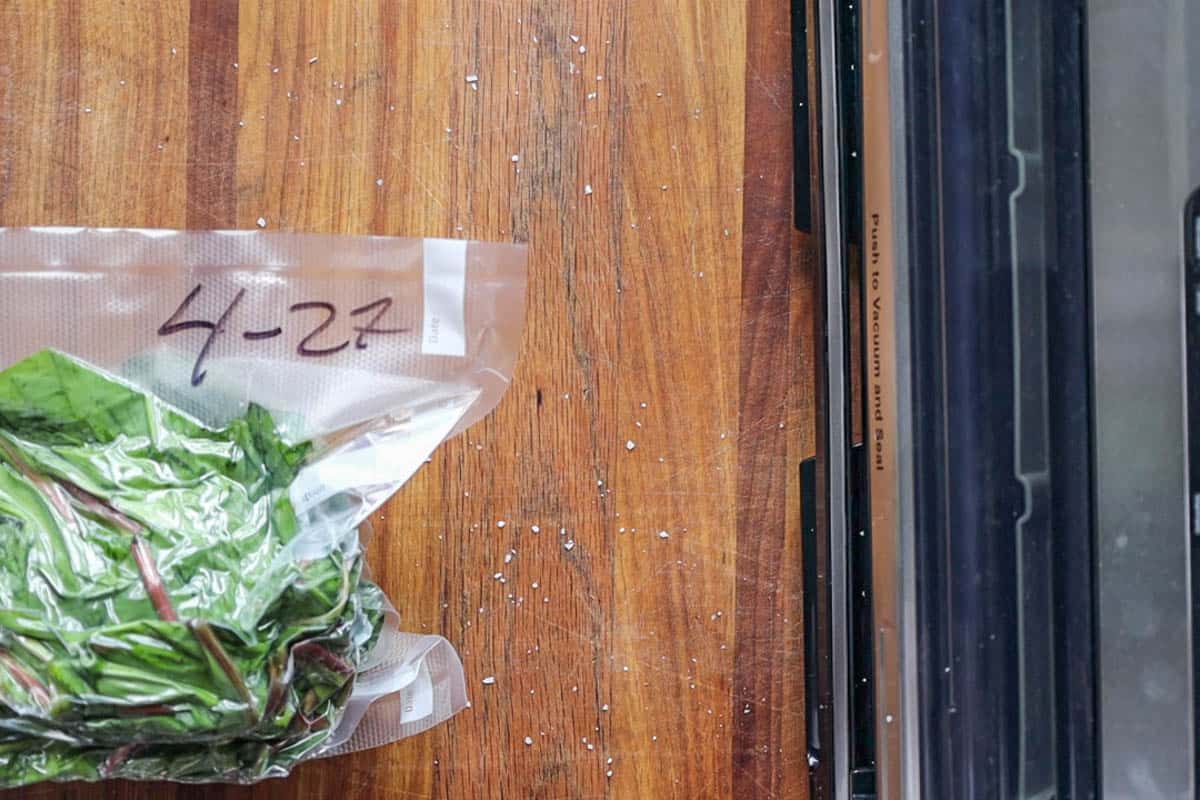 Quick aside, if you don't want to ferment your wild garlic leaves to amaze or potentially shock your friends and family, you can pour cold pickling liquid over fresh greens and they'll keep a similar texture without developing the aroma.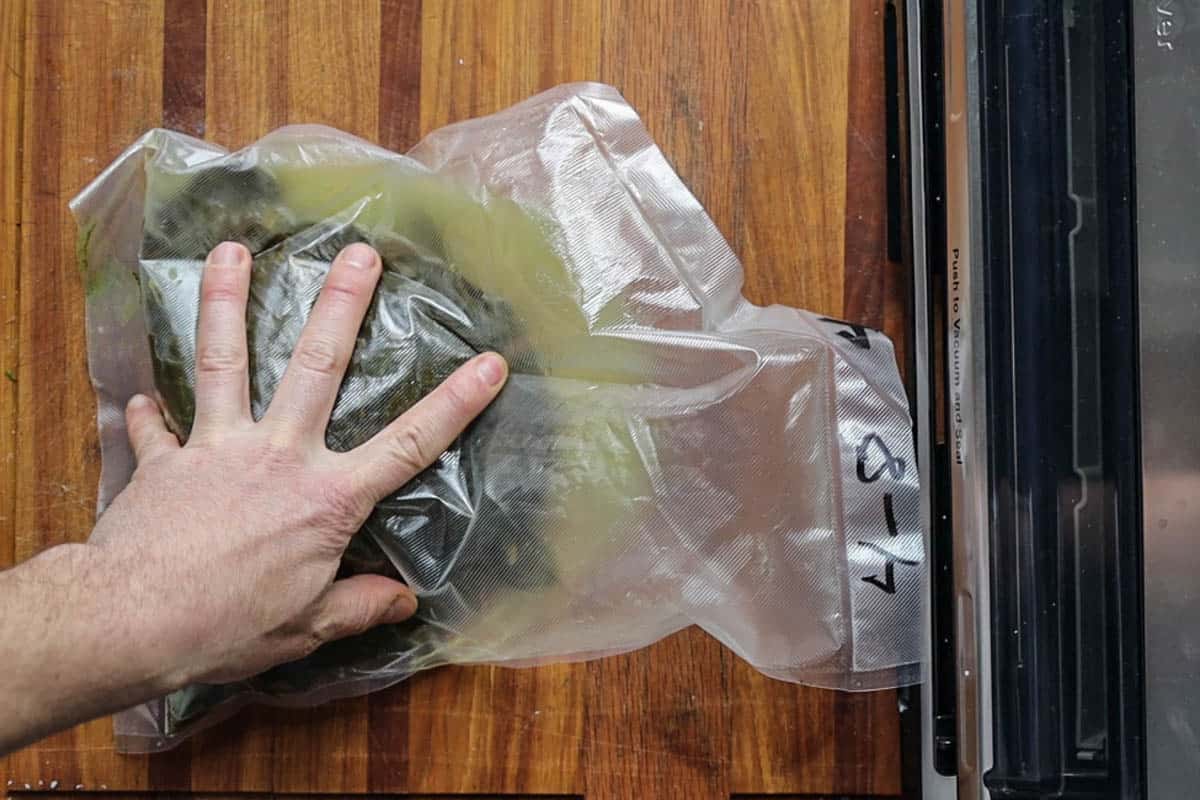 How to enjoy
Once the allium leaves are fermented, the most traditional way to enjoy them seems to be simply mixed with sour cream (smetana) or crème fraîche, and it's the best place to start.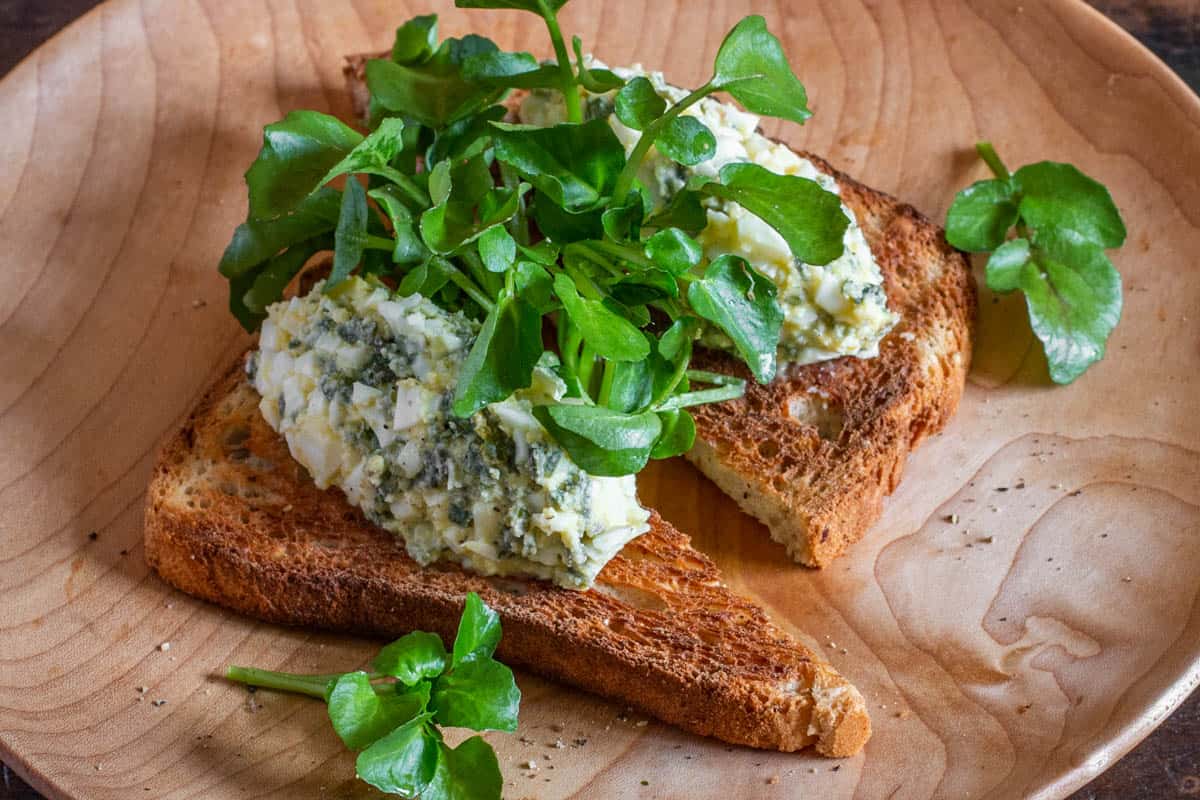 The fat in the dairy helps to smooth out the potent flavor of the soured leaves, calming it a bit and blunting their bite. Eaten on toast, pierogi, pelmeni, or just a cracker, it's a delicacy.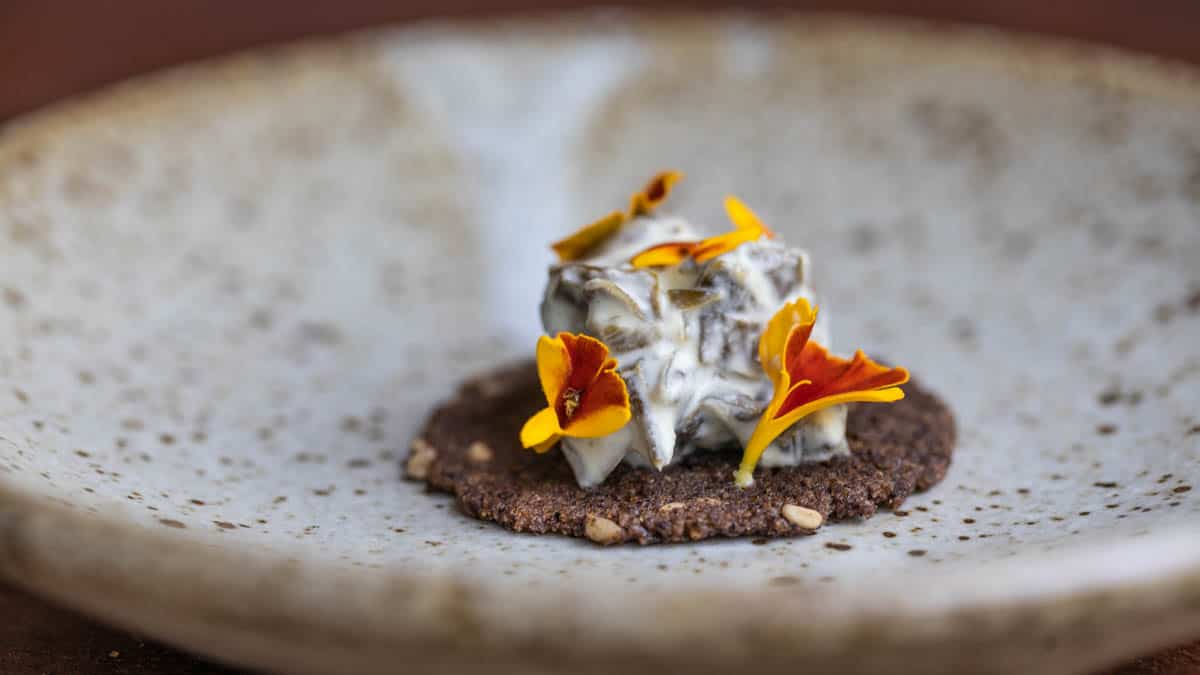 Once I understood the aroma of the finished ferment was natural, I had to play around with different uses for the finished ferment. Here's a few ways I've enjoyed them.
The leaves by themselves can be pureed with some of the fermenting liquid and used as a condiment. A finished "steak sauce" I made with it is one of the products I've considered bottling and selling.
Mix with sour cream and use as a garnish for pelmeni and other mild, foods (boiled dumplings, potatoes, noodles)
Just like the modern version, the leaves are good chopped and mixed into egg salad.
Other mild salads can benefit from some of the chopped leaves, like potato salad.
If you increase the amount of liquid and mix with the leaves and water with 3% of the total weight in salt, you'll have extra brine for adding to soups and sauces (remember the original borcht?).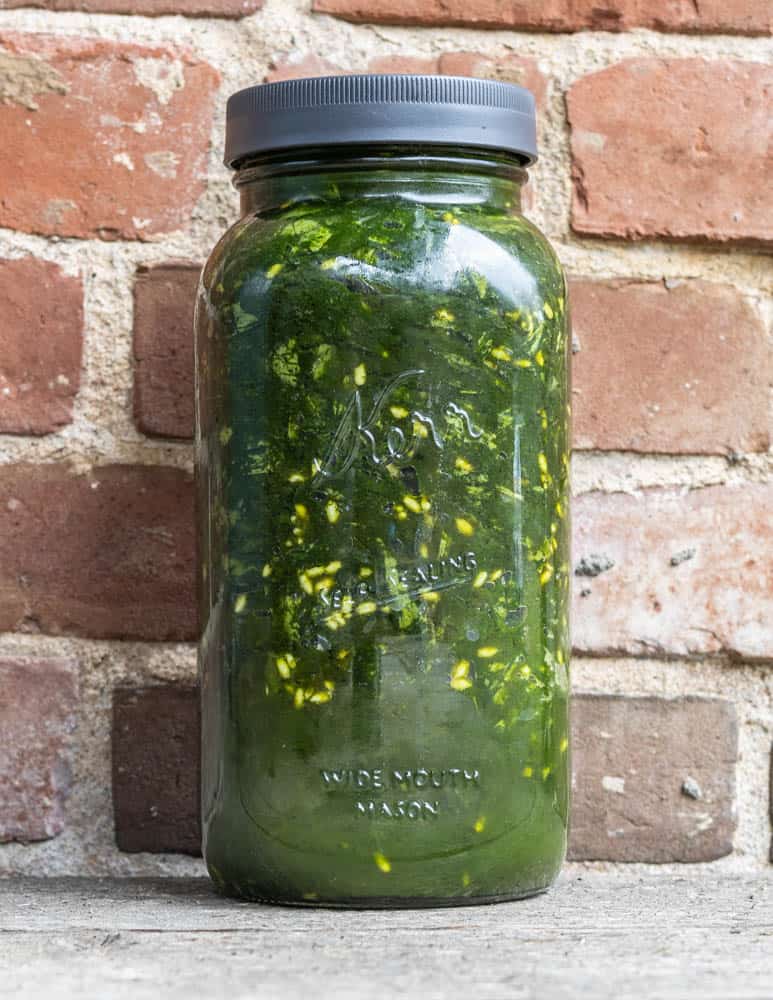 Different plants that will work
You apply this process to a lot of different plants and get a similar effect. The best substitutes will be bear garlic, three-cornered leek, victory onion, or similar allium greens like ramps.
You could try other allium plants and parts like green garlic shoots onion greens and garlic scapes, but the flavor and texture won't be the same.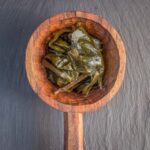 Print Recipe
Cheremsha: Fermented Wild Onion Leaves (Черемша)
Ramp or similar allium leaves mixed with salt and lacto-fermented. After 2 weeks or longer, the leaves are a delicacy chopped and mixed with sour cream.
Ingredients
450

grams

(1 lb) ramp or other wild allium leaves

you can also use Allium victorialis, A. ursinum, or A. triquetrum, and probably other green parts of different alliums.

13

grams

(two teaspoons) kosher salt
Serving
Sour cream or creme fraiche

creme fraiche will make a stiffer version, sour cream will be spreadable.
Instructions
Wash and dry the ramp leaves if they need to be cleaned.
Fermentation
In a 1 gallon-size vacuum bag, start layering in the ramp leaves, sprinkling with a little salt after each addition, pressing the leaves down to make them fit in the bag.

When all the leaves and salt have been added, vacuum seal the bag, marking the date on a corner for reference.

Put the bag into a bowl or other container just in case there's any drips (rare, but possible-inspect the seals to ensure they're sound) and store at room temperature for two weeks, checking on it here and there as you can remember (See note).
Removing carbon dioxide
As the leaves ferment they will give off carbon dioxide, making the bag puff up. Depending on your ambient temperature this can happen quickly or slowly. When the bag gets noticeably filled with air, pick up the bag, cut off a corner, then seal again. I've never had a bag burst from the pressure but it's possible. Refer to my video here for reference.

After the fermentation is complete, you can transfer the leaves to a jar and store in the fridge, or leave them at room temperature in a mason jar with a tight fitting lid assuming they're completely covered with brine. They will last a very long time.
Serving
Using gloves, remove the leaves from the bag or jar, squeezing the liquid back into the container. Chop the leaves with a chef knife until they look evenly chopped, then mix with an equal volume of sour cream or creme fraiche, or just add sour cream until it tastes good to you.

Taste the finished product and adjust the seasoning for salt and pepper if needed, then refrigerate until needed.

Serve the fermented leaf spread on crackers, toast, or mix into something like egg or potato salad.
Notes
2 weeks is the minimum I like to age these for, but I have left them in jars or bags at room temperature for over 6 months with no problems at all. 
Nutrition
Serving:
1
oz
|
Calories:
18
kcal
|
Carbohydrates:
4
g
|
Protein:
1
g
|
Fat:
0.1
g
|
Saturated Fat:
0.02
g
|
Polyunsaturated Fat:
0.04
g
|
Monounsaturated Fat:
0.01
g
|
Sodium:
639
mg
|
Potassium:
155
mg
|
Fiber:
1
g
|
Sugar:
1
g
|
Vitamin A:
561
IU
|
Vitamin C:
11
mg
|
Calcium:
41
mg
|
Iron:
1
mg
Related Posts
References