I love this venison Italian sausage recipe. It's adapted from my favorite version I learned to make it from a butcher from Rome.
I've adapted the original recipe that used pork shoulder to use venison which can be tricky to use in sausage. You're going to need a meat grinder and sausage stuffer, some ground venison, fennel seed, and pork fat.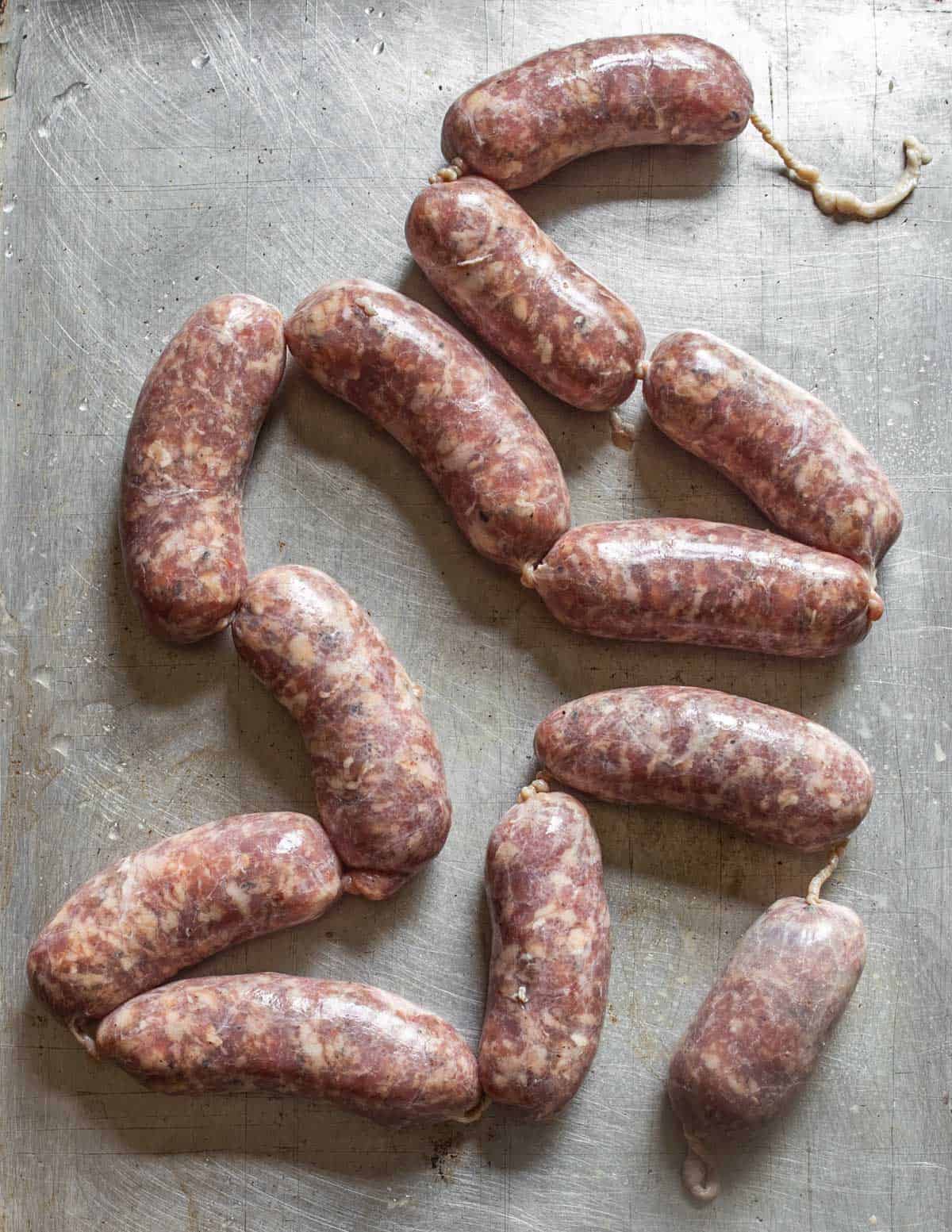 The original recipe was the house specialty at at least two, and maybe three different Italian restaurants in the Twin cities. The sausage was made fresh every other day in a commissary kitchen. Later it was delivered to the other restaurants to ensure the flavor and texture were the same every time.
How to make it
Venison can be difficult in sausages because it's lean and lacks intramuscular fat like pork. If you're ever made your own venison links at home and ended up with a dry sausage, pay attention. You can use the tricks I outline below for making any sausage, not just venison.
You can make a good, juicy venison sausage, but you need to follow a couple instructions.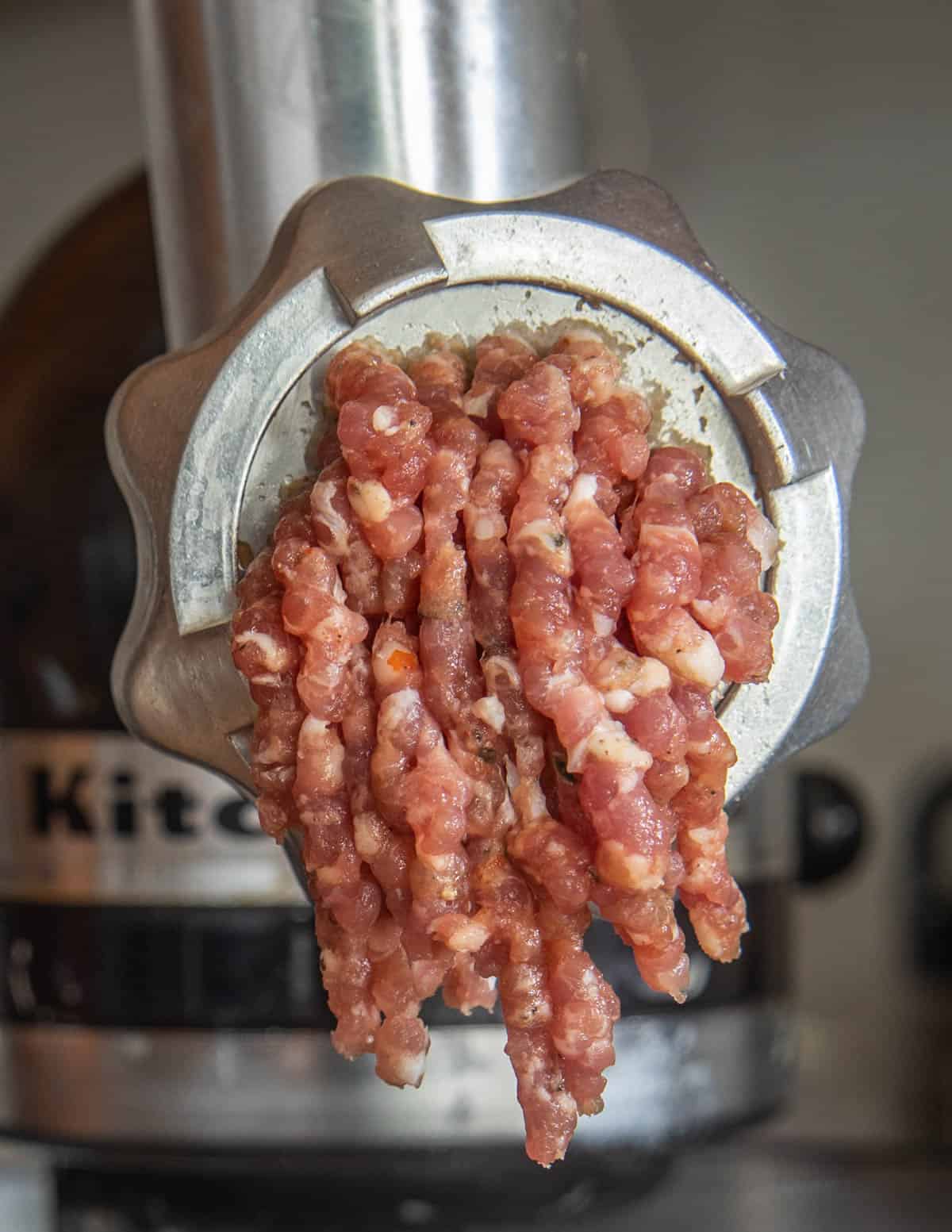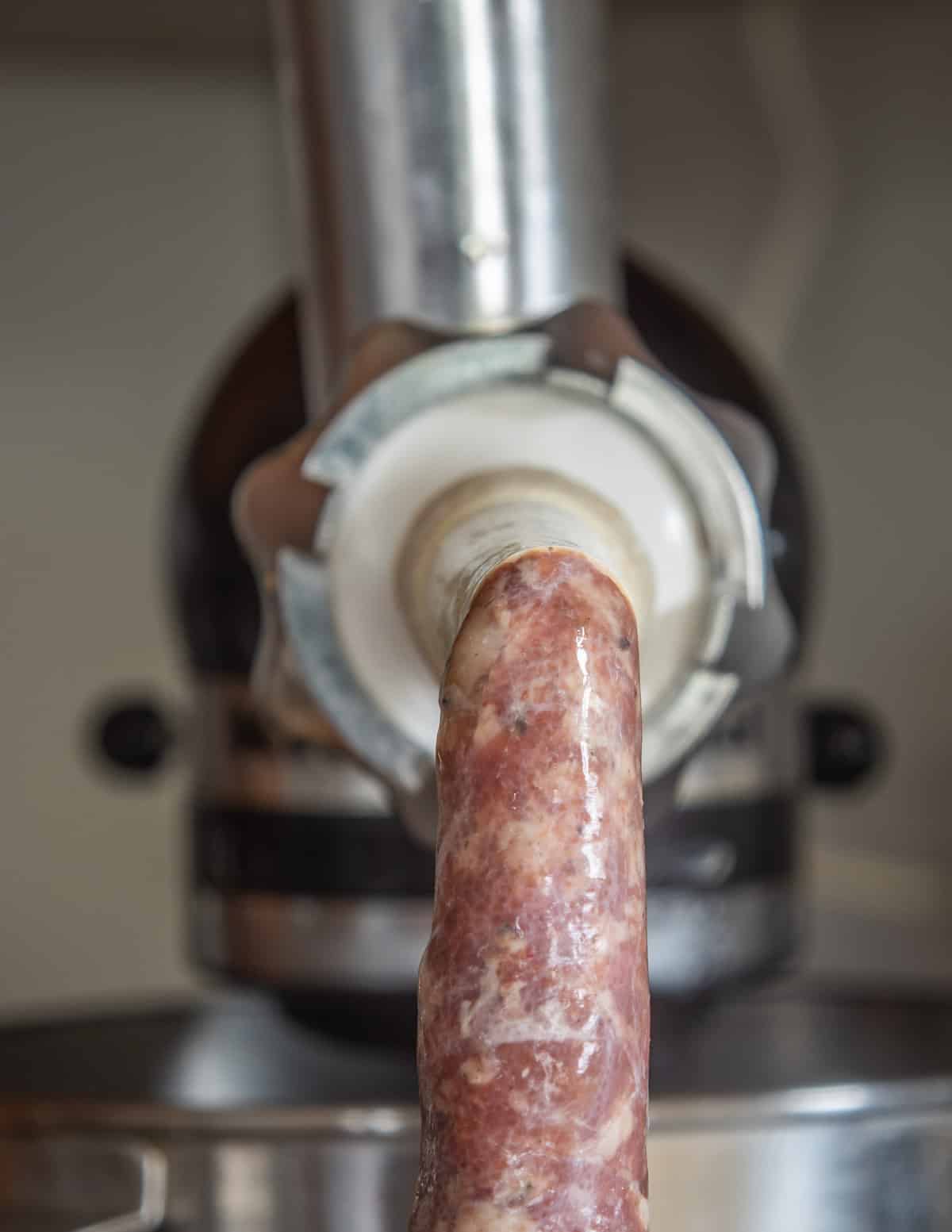 You can use lean venison meat from the leg muscles, trimmed of all sinew. If you have trim and scrap pieces they can work too. Here's a few other cuts I may use if I have them.
Venison Shanks
Venison Neck
Salt, and Myosin
Salt does a lot more in sausage than make it taste good and extend its shelf life. Salt is actually a big part of why sausage binds and sticks together.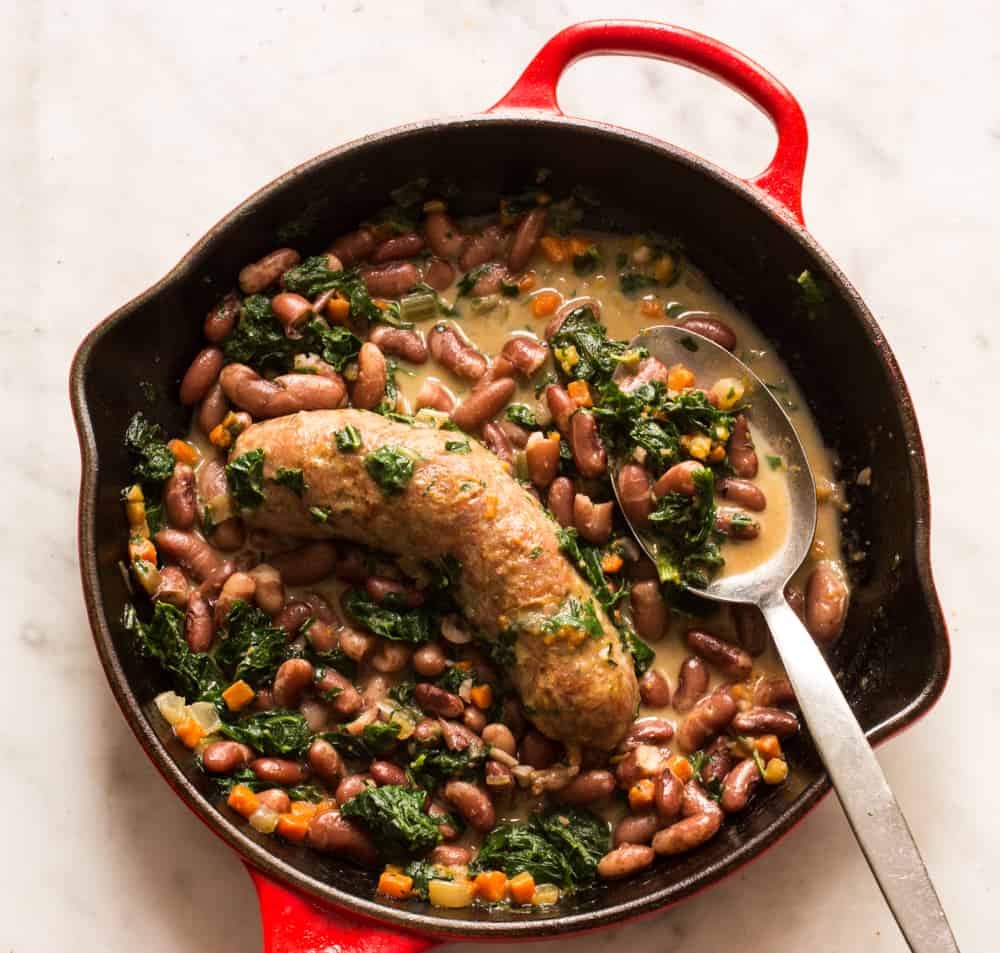 When you season ground meat with salt there's a change on the molecular level. Salt brings out the myosin in the meat, which helps it stick together.
This is the reason most sausage recipes have you season the meat and allow it to sit overnight before grinding. It might sound like a small detail, but it isn't.
Fat
How much pork fat to put in venison sausage is a little up for debate. Ideally, you want pork back fat, which is firmer than other fats and easier to cut into pieces.
To make a good venison sausage, you'll want about 65-75% venison to pork fat by weight. For example, this recipe makes five pounds of sausage, so you'll use 3.5 lbs ground venison mixed with 1.5 lbs pork fat.
I don't use venison fat in sausages as it's too firm and chalky. It can be done, but the fat gets firm quickly and takes on an unpleasant texture of chapstick.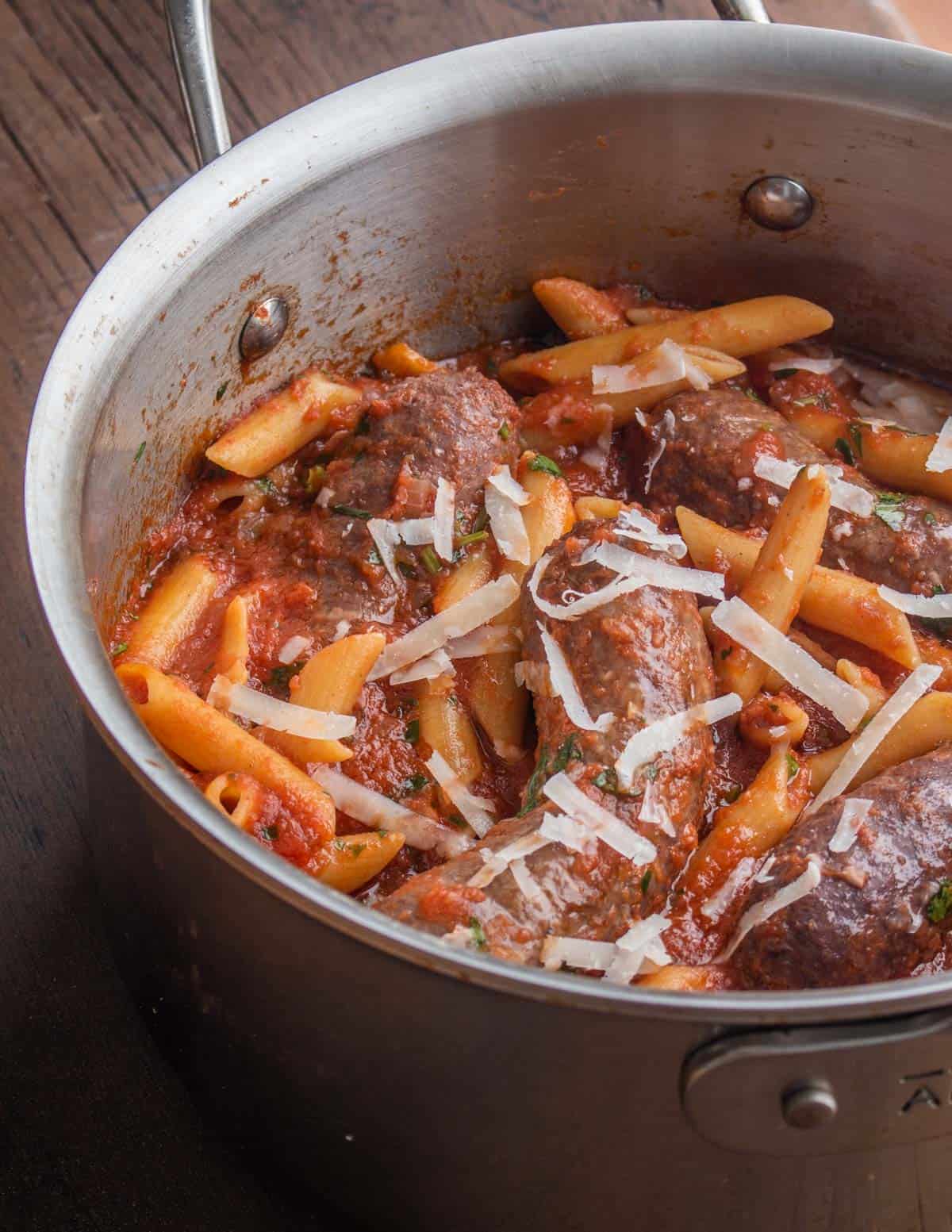 Flavorings
You need to keep it simple here. The original recipe calls for only a few ingredients: whole, toasted fennel seed, black pepper, salt, and crushed red pepper flakes.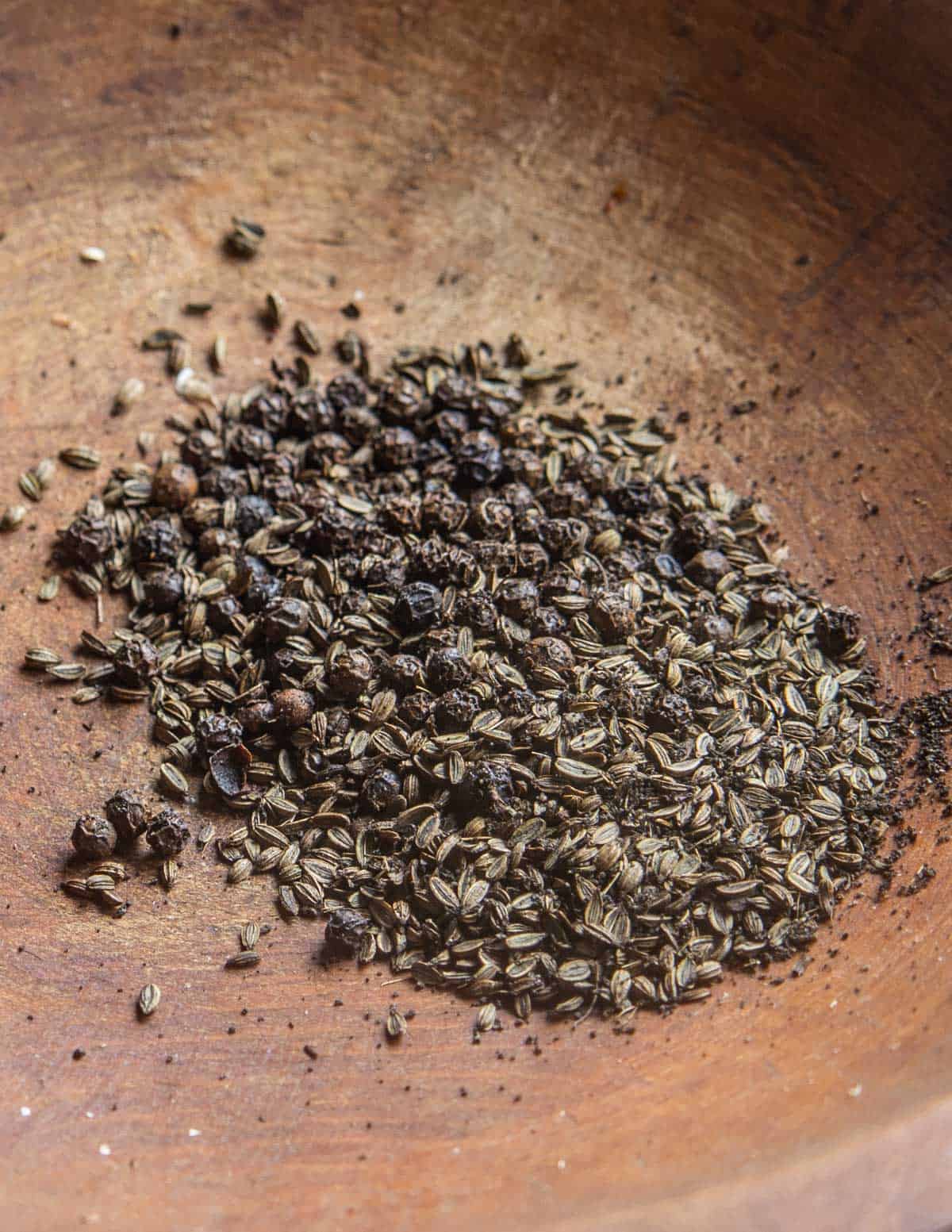 Quick tips
Don't add garlic to Italian sausage as it will make the flavor too strong.
The only big change I made to the flavorings is that I add a little dried bee balm.
Inevitably I have plenty of bee balm (Monarda fistulosa) every year. It's easy to harvest and similar to other dried herbs you probably already have in your kitchen like oregano and thyme.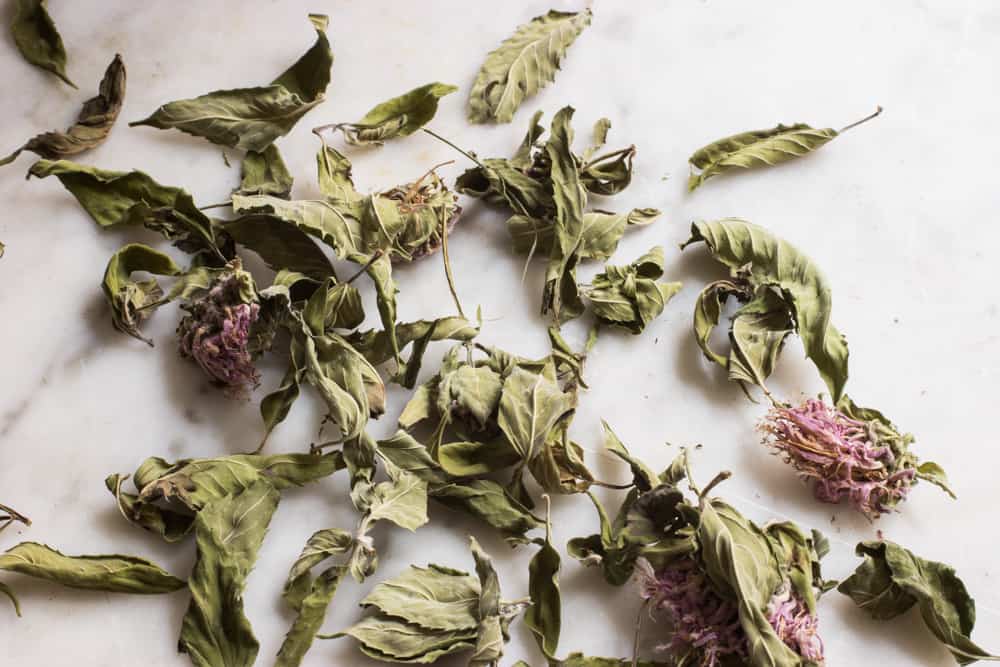 I've made plenty of things with the dried bergamot but what I've served most often at restaurants is this sausage. It's a great bee balm recipe to try if you have some dried leaves from the past season. It's perfectly fine with only fennel seed too. If you have wild fennel seed it will be even better.
If your sausage is dry
If your sausage ends up being dry, and the fat escapes after cooking, the emulsion is broken and there's really nothing you can do to fix it.
What you can do is brown the sausages and braise them in tomato sauce until tender. Expect to cook them slowly for at least an hour. After the sausages are cooked and fork-tender, I like to toss them with pasta.
In casings or loose
If you don't have a sausage stuffer and still want to make this you can, but you'll still want a meat grinder. This recipe will make a good loose sausage too, and we used to remove the casings to make crumbled sausage for different dishes.
More
Foraging and Cooking with Bee Balm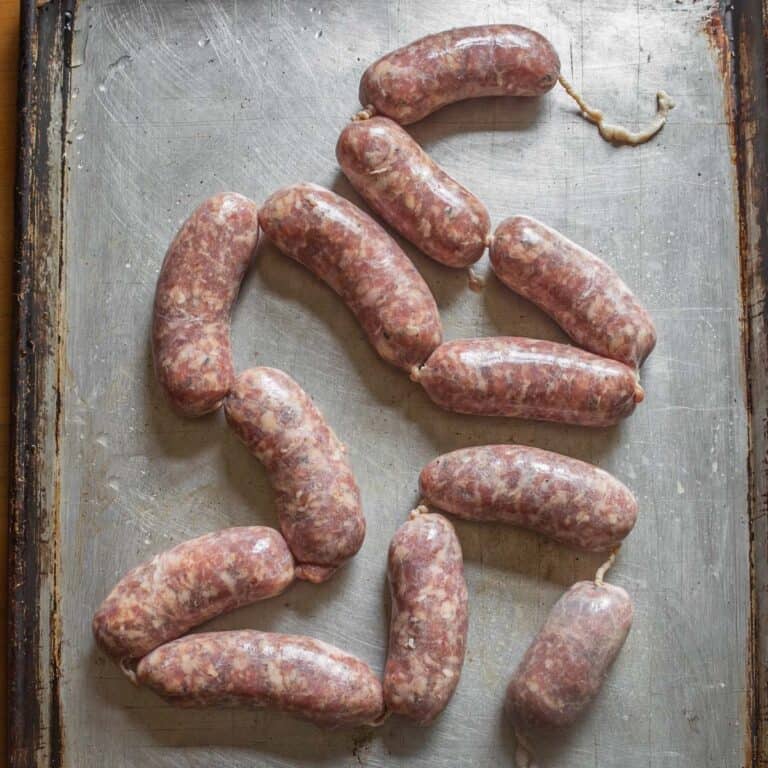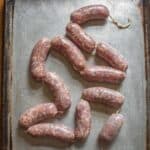 Print Recipe
Homemade Venison Italian Sausage Recipe
Yield: 15 six ounce sausages
Equipment
1 Sausage stuffer

1 Meat Grinder

1 stand mixer or large bowl
Ingredients
3.5

lbs

lean venison meat, trimmed of sinew

You can substitute 5 lb of pork shoulder butt for the venison

1.5

lbs

pork fat

preferably back fat

22

grams

kosher salt

This is roughly 1.5 tablespoons

2

teaspoons

crushed red pepper flakes

you can add up to 1 tablespoon if you want it more spicy

3

tablespoons

crushed bergamot

optional

1.5

tablespoons

whole fennel seed

2

teaspoons

black peppercorns
Instructions
Toast the whole fennel seed and black peppercorns until aromatic in a saute pan on medium high heat for a couple minutes, or until aromatic. Transfer the seeds to a small bowl and reserve.

Cut the venison and pork fat into pieces that will fit through your grinder. Combine the meat and fat with all remaining ingredients and mix well. Chill the mixture and allow it to sit overnight.

The next day, grind the venison through a coarse die of a meat grinder, then mix in a stand mixer with the paddle attachment. Remove a small piece of sausage and cook to double check the seasoning, then adjust as needed until it tastes good to you.

Pack the sausage into casings and tie off roughly 6 ounce sausages, tapping them with a sausage pricker to remove air pockets if needed. From here the sausages can be refrigerated until needed, or wrapped tightly in plastic and frozen in labeled, dated packages.
Notes
Substituting bacon 
Many hunters often substitute bacon in recipes for sausage instead of pork fat. This will kind of work, but it's not ideal since bacon is already cooked.  I don't recommend substituting bacon for pork fat here. 
If you don't have a meat grinder 
If you don't have a meat grinder, contact a butcher and have him grind some pork fat for you and mix it with pre-ground venison. 
Nutrition
Serving:
1
6 oz link
|
Calories:
619
kcal
|
Protein:
28
g
|
Fat:
55
g
|
Saturated Fat:
22
g
|
Polyunsaturated Fat:
6
g
|
Monounsaturated Fat:
24
g
|
Cholesterol:
154
mg
|
Sodium:
867
mg
|
Potassium:
389
mg
|
Calcium:
7
mg
|
Iron:
4
mg