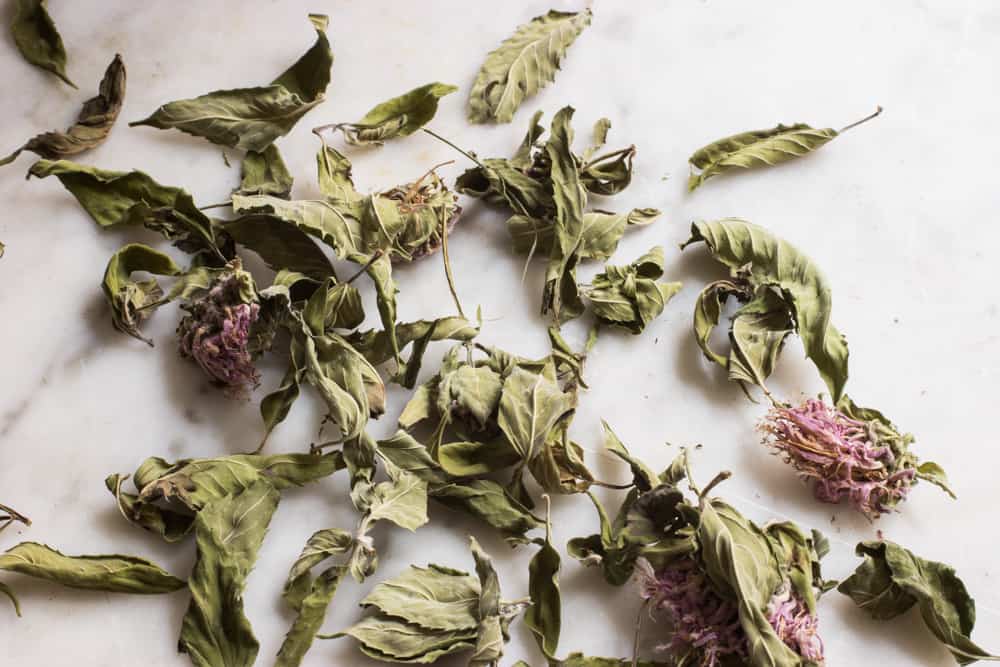 I try to remember to dry as much stuff as I can to use during the Winter, which if you live in the Midwest you know can mean a lot of time in doors fighting cabin fever and looking for things to do.
Inevitably I usually have plenty of bee balm (Monarda fistulosa) every year since it's easy to harvest and pretty similar to other dried herbs you probably already have in your kitchen like oregano and thyme.
I've made plenty of things with the dried bergamot, but one of the best things, and the one I've served most often at restaurants is this sausage. It's a great bee balm recipe to try if you have some dried leaves from the past season.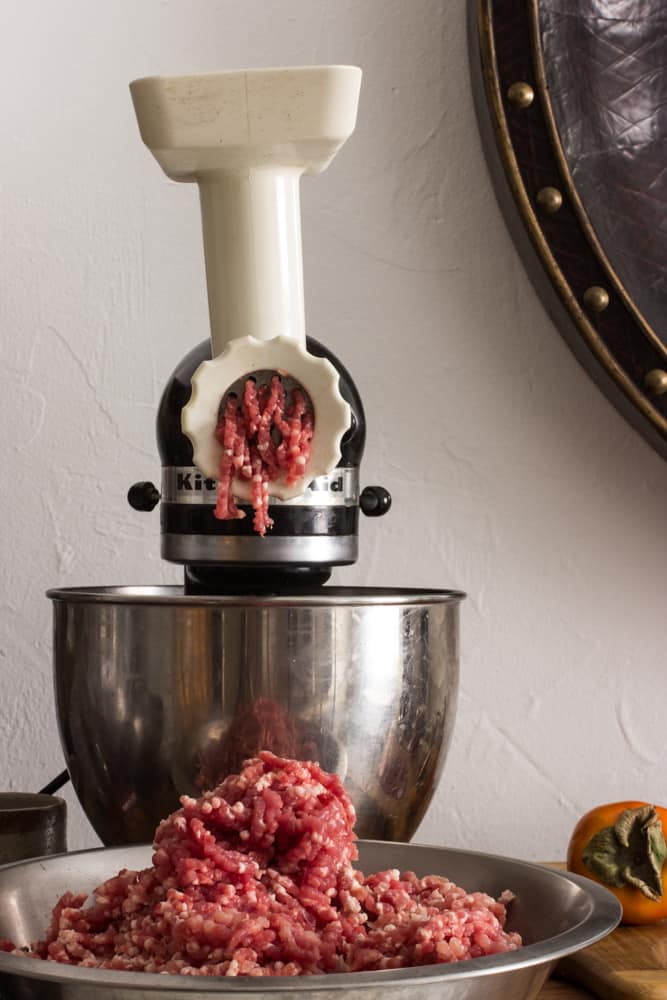 I'll always remember the best Italian sausage I ever had, eaten 0n one of my first days working at the now shuttered Il Vesco Vino in St. Paul. The sausage was on my station (the grill) and was the work of Roman Butcher Fillipo Caffari, now owner of the Butcher Block in Minneapolis.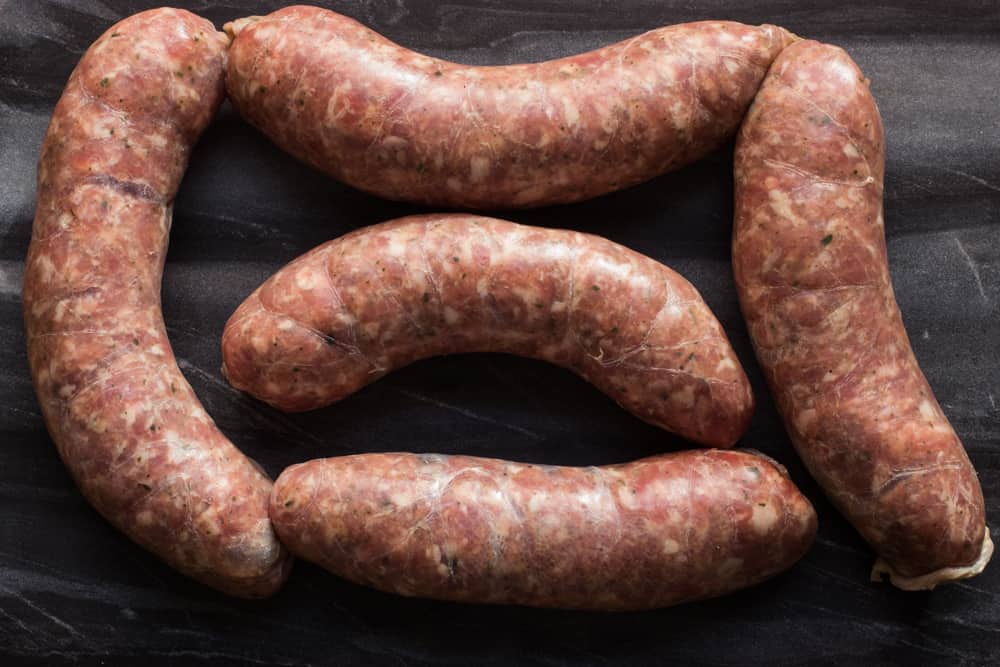 The sausages were big and thick, flecked with fennel seed, perfectly salty, respectably spicy, but most of all they were porky and extremely fatty (read as juicy). I loved sneaking bites here and there during service. After a while, the restaurant changed a bit and we stopped buying sausages from Fillipo and made them ourselves, since my chef used to work for him and knew the recipe.
A couple years later, I wanted to re-create the sausages in some way and called my old chef for the recipe. I was shocked at how few ingredients were in it: just pork, fennel, salt, pepper and red pepper flakes.
I've made plenty of complicated sausages (that were delicious) but there is really something to be said for less is more. Sometimes the most delicious things are the most simple, with simple food though, comes a need for good technique. My sous chef and I had an exchange about the sausage before we made it a few months ago at Lucias. It went something like this.
Me: So often less is more, simple food taste so much more pure
Sous Chef: Simple things are also way easier to fuck up
In hindsight, after reading into his words a bit I might be a little hard on employees for mistakes here and there, but he's right. If you forget something simple like toasting the fennel seed in a fennel sausage, it won't taste the same, something will be missing. When only a few ingredients are in a dish, they better be treated right.
Back to the sausage itself, it's basically Fillipo's recipe, with the flavor of the bergamot as the main character instead of fennel. Eating the finished version made me think both about my past, and a future where I have more time to pick herbs and make sausage.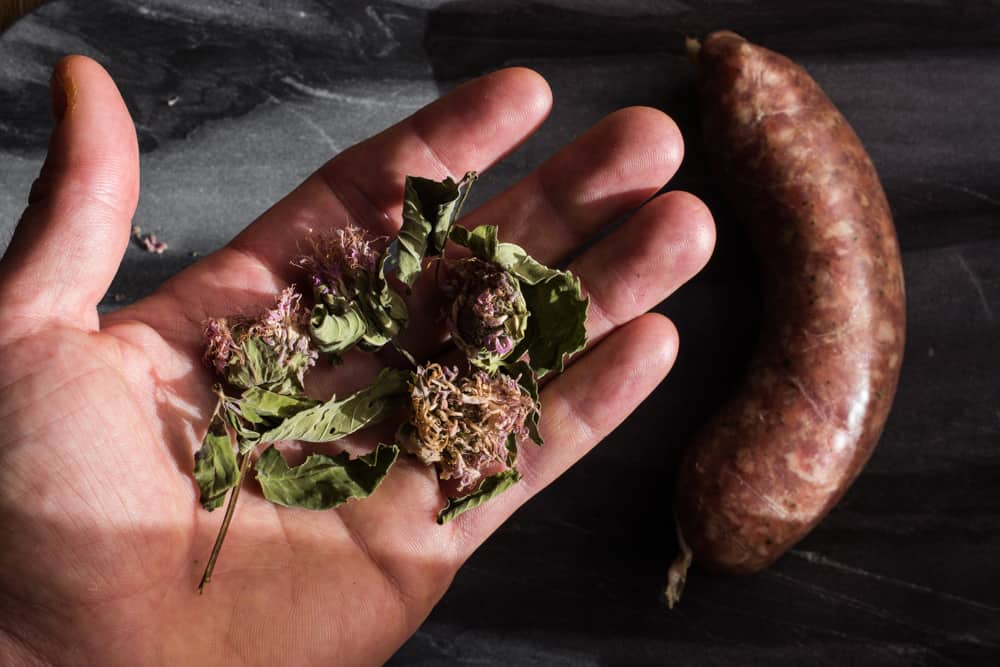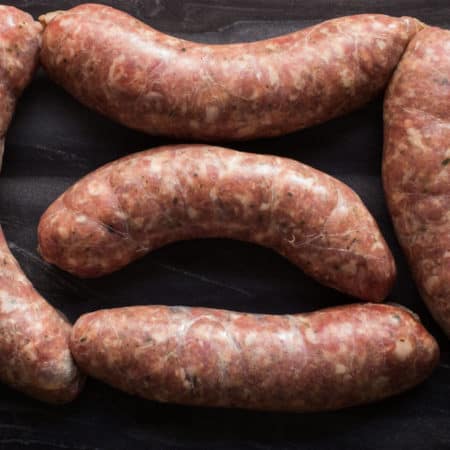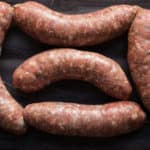 Print Recipe
Homemade Italian Sausage with Bee Balm
Yield: 15 six ounce sausages
Ingredients
5

lbs

pork shoulder cut into 1 inch pieces and chilled

1.5

tablespoons

kosher salt

2

cloves

of garlic to yield roughly 1 tablespoon finely chopped

3

teaspoons

crushed red pepper flakes

4

tablespoons

crushed bergamot

picked over for tough stems
Instructions
Combine the diced pork and remaining ingredients and mix well. Chill the mixture and allow it to sit overnight so the flavors can meld.

The next day, grind the pork through a coarse die of a meat grinder, then mix in a stand mixer with the paddle attachment. Remove a small piece of sausage and cook to double check the seasoning, then adjust as needed.

Pack the sausage into casings and tie off roughly 6 ounce sausages. From here the sausages can be refrigerated until needed, or wrapped tightly in plastic and frozen in labeled, dated packages.
Notes
If you don't have a meat grinder at home (if you have a kitchen aid mixer you should just buy the attachment already) you can always season pre-ground pork and let it sit overnight to infuse, then make patties and cook. I may pack this into casings or leave it loose depending on what I want to use them for. For example, if I'm making pizza or pasta sauce, I'll probably leave it loose. If need a piece of meat for a small plate on my bar menu, or if I'm going to grill the sausages, I'll pack them into casings.
More