Back at Lucia's I used to come up with a different brunch every week, along with lunch, and the dinner menu. With such intense recipe generation, you're bound to have a few hits and misses, and it can take some time to dial things in, especially if you're working with new line cooks. Here and there I had home runs out the door though, and these wild rice flour crepes with all the fun garnishes were one of them.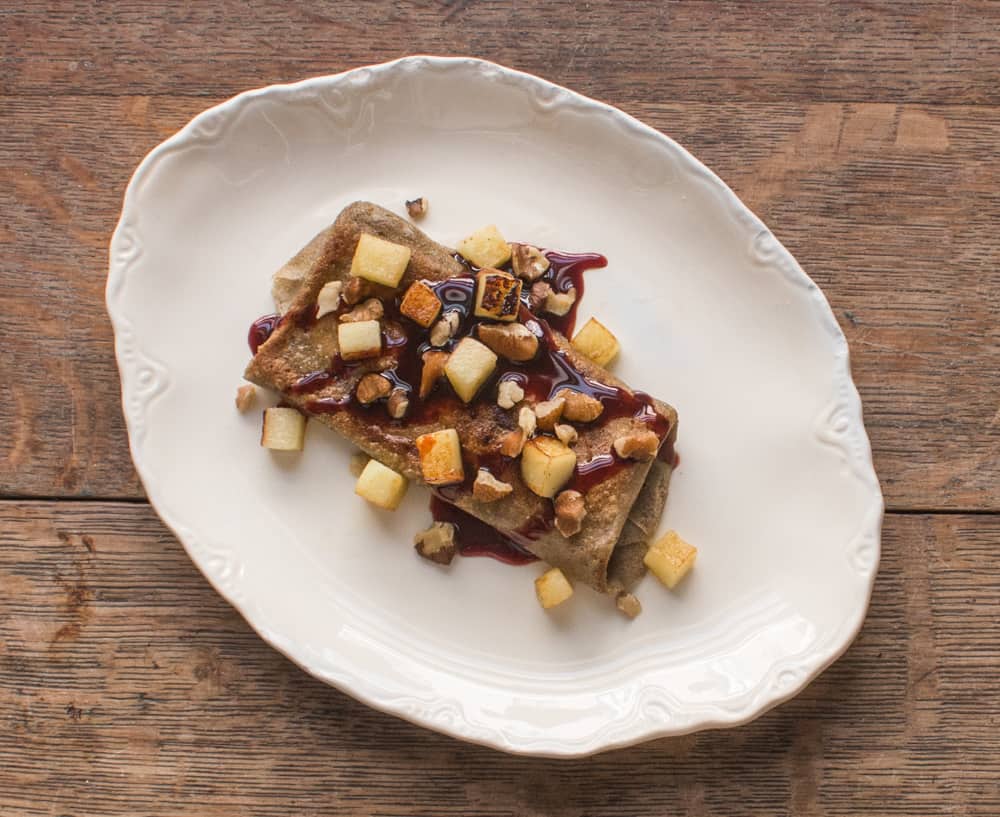 The method is simple, make some crepes with a proporation of wild rice flour, fill them with a little cream cheese-goat cheese mix, fold them up and let sit until you need them. When service time comes around, gently brown the crepes and apples, sprinkle on some black walnuts, elderberry syrup and serve.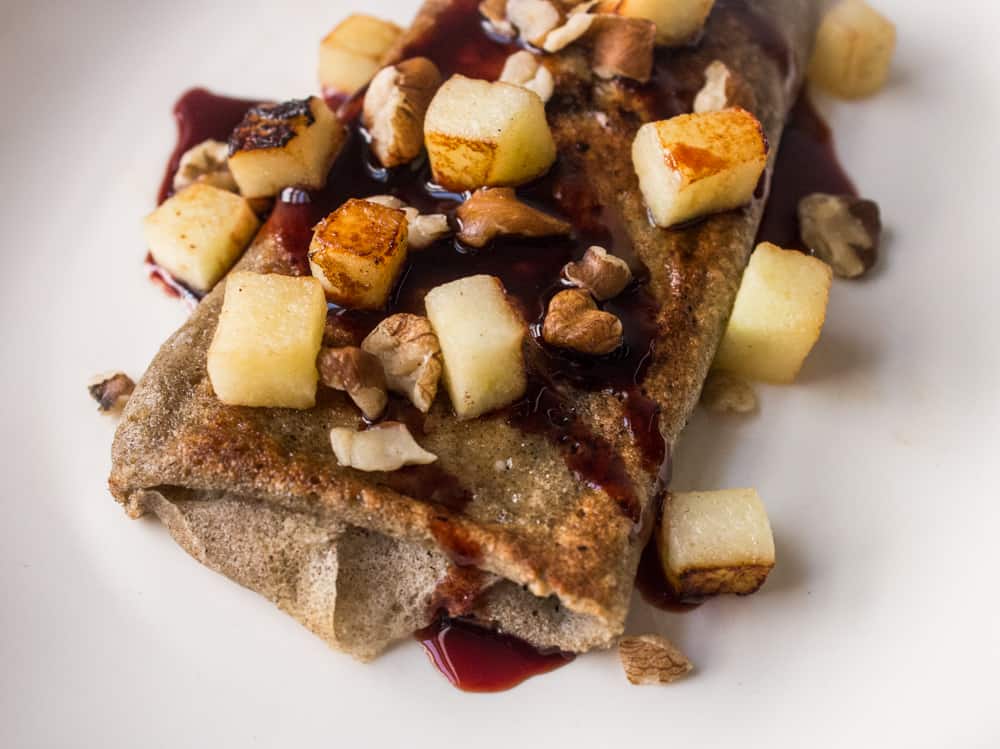 There are two sub recipes here (wild rice flour crepes and the elderberry syrup) but both of them are super easy and take only a little time to prepare. The sweet and sour elderberry syrup lasts basically forever in the fridge since there's a decent amount of vinegar in it, and the crepes make a small enough amount that the cost of working with spendy wild rice flour and prep time are pretty negligeable.
In the end, as always, you can pick and choose. The crepes are great all by themselves, and the elderberry syrup is great on pancakes, or even on something like roasted pork, since it's more of a sour gastrique than a typical overly-sweet pancake syrup.
If you don't have wild rice flour, you can put some regular wild rice in a highspeed blender and buzz, then sift and repeat until you have a fine powder.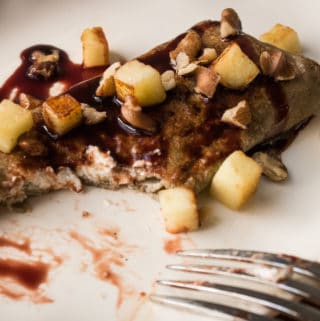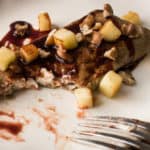 Print Recipe
Wild Rice Flour Crepes with Elderberry Syrup, Apples and Black Walnuts
Yield: 9 crepes, enough to serve four at two apiece, if you don't mess up too many crepes
Ingredients
Crepes
½

cup

wild rice flour

or ½ cup wild rice, preferably the typical black, un-parched version

½

cup

all purpose flour

½

cup

milk

½

cup

water + 2 tablespoons

2

large eggs

2

tablespoons

melted butter or lard

plus more for cooking, as needed

¼

teaspoon

kosher salt
Filling
4

oz

goat chevre

8

oz

cream cheese
Optional Garnishes
Sweet and sour elderberry syrup

See recipe here

Diced firm apples

like honeycrisp or sweet tango

Toasted black walnuts
Instructions
Grind the wild rice to as fine a powder as you can in a spice grinder, working in batches if needed, then combine with the remaining ingredients and chill/rest for at least a few hours before cooking, and preferably overnight as it can take time for some of the wild rice particles to soften and hydrate if you're using freshly ground wild rice.

To cook the crepes, grease an 8 inch nonstick pan, and heat until gently smoking. Ladle scant ¼ cups of batter into the pan, swirling it to cover the bottom of the pan, then cook on one side only, until you can see browning around the edges, which will only take a few moments once the pan gets up to temperature.

Fill each crepe with 2 tablespoons of the cheese filling, then fold up into rectangular packets, storing them seam down. From here the crepes can be stored ahead of time, and is how I prepped them for restaurant service.

To serve, brown the crepes gently in the butter until hot throughout. Meanwhile, saute the apples quickly and toss with the walnuts. Serve the crepes sprinkled with apples and walnuts drizzle the gastrique over each portion, or pass on the side.
Related