I've mentioned a number of times about the benefits of my low acid mushroom conserve recipe. It's easy to think of pickled chanterelles and other mushrooms purely as something to eat cold of out a jar, but that's not why I pickle them. I preserve mushrooms in acidic liquid since it's the best way to keep their texture as close to fresh as possible.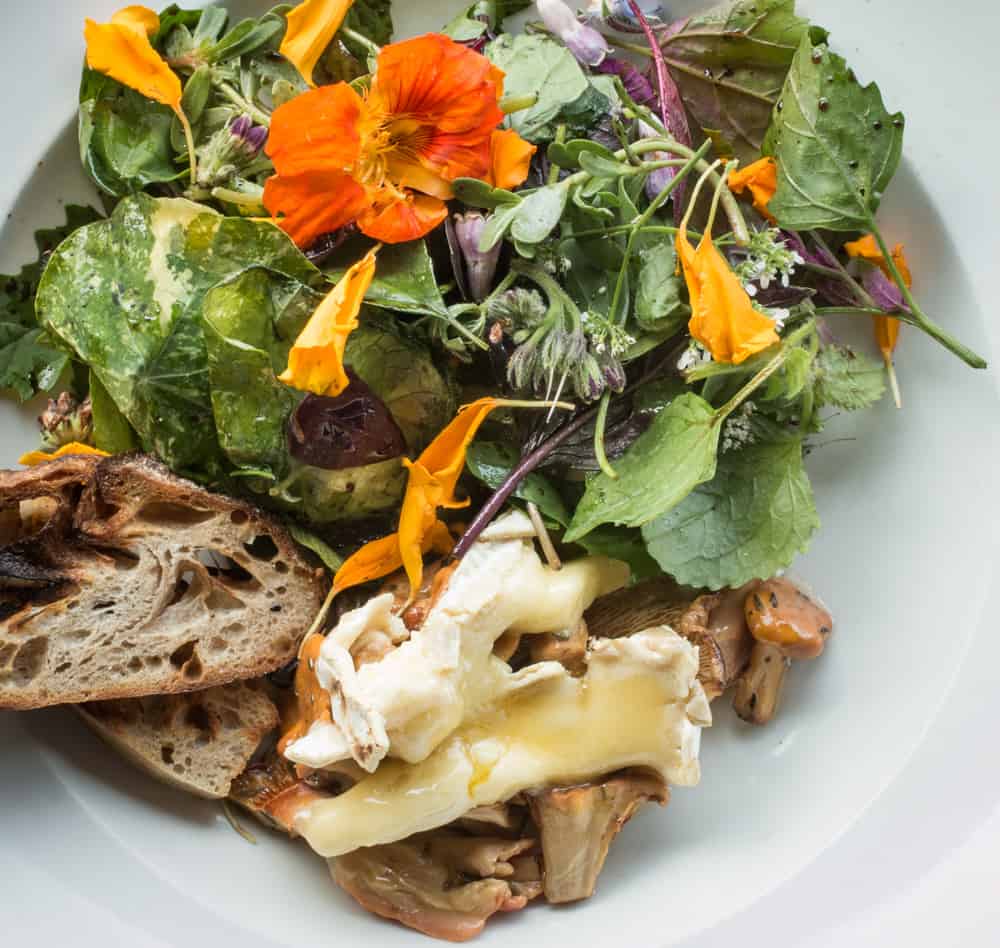 Recently I held a dinner where I got to show off my new favorite way to serve the mushroom preserves: warmed up on a flat top griddle, topped with a slice of brie, and served with some grilled sourdough and a salad of foraged greens from the farm. I got a lot of questions about the greens, here's the blend I came up with in August-cutting from the areas around the gardens that are routinely cut back during the season.
A few greens I love raw in salad (tender growth only)
Various species of Lamb's quarters (these make up the majority of the blend as they're the most pleasant raw)
Various species of amaranth (burdundy and green)
Young, non-flowering tips of galinsoga
Purslane tips
Nasturtiums (cultivated)
Young mallow leaves
Virginia waterleaf (a few leaves)
Flowers and buds
Nasturtium
Borage
Comfrey
Marigold
Cilantro
Basil
Mint
It reminded me of something I'd have dining at a little restaurnat in France, and it was my favorite of the 5 courses I served at the meal. Here's a basic method of how I served it, it's very simple.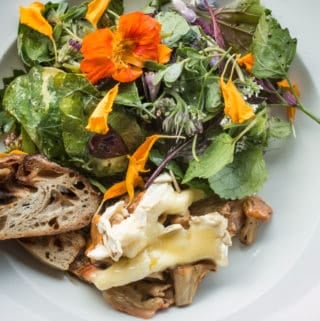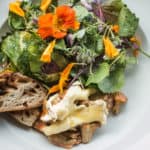 Print Recipe
Warm Pickled Chanterelles with Brie, Sourdough and Foraged Greens
A salad of wild greens, with warm pickled chanterelle mushrooms and melted brie
Ingredients
A few slices of sourdough or high quality bread/person

1

ounce

of triple cream brie or another brie / person

Wild greens or high quality salad mix

cleaned and picked into manageable pieces see an example of a blend here

Whole leaves of herbs

like basil, cilantro and mint

Flowers: borage

comfrey, nasturtiums, cilantro, etc (optional)

Conserve chanterelles

or another pickled mushroom about 2 tablespoon / person

Balsamic vinegar

to taste or another vinegar that's slighlty sweet, like white balsamic

Extra virgin olive oil or another salad oil

to taste

Kosher salt and fresh ground black pepper
Instructions
30 minutes before serving, set out the brie and cut into slices to get to room temperature. Remove the chanterelles or other mushrooms from their pickling liquid and allow to drain.

Warm the chanterelles in a pan or on a griddle until hot throughout. then put in a salad or entree bowl, topping them with the slices of brie. Allow the brie to melt and get soft for minute or two, by this time it should be at the "oozing" stage (if you have a blowtorch you can flash it quick, but it's not a big deal, just make sure the brie is at room temp and you're fine).

Lightly oil and grill or toast the sourdough. Reserve.

Meanwhile, combine the greens with the whole herb leaves and dress the salad with a bit of balsamic, oil, salt and pepper to taste, mound it into a bowl along side the mushrooms, and a few slices of toasted bread for each person. Serve the salad communally, passing around the table, spoon the warm mushrooms and cheese on the toast alongside the salad.
Notes
This is a basic walkthrough, at the restaurant I served one bowl pictured to serve 2 people. You could easily make larger batches for a party. Make sure to season your greens with a vinegar that has a bit of sweetness like balsamic-trust me on this one.