Back when I was the chef at Lucia's restaurant, making vegetarian chili was a twice a week ritual as it was one of the most popular take-away items served at the deli connected to the restaurant. We served a simple vegetarian chili, filled with all the things you'd expect, and it was good, for vegetarian chili.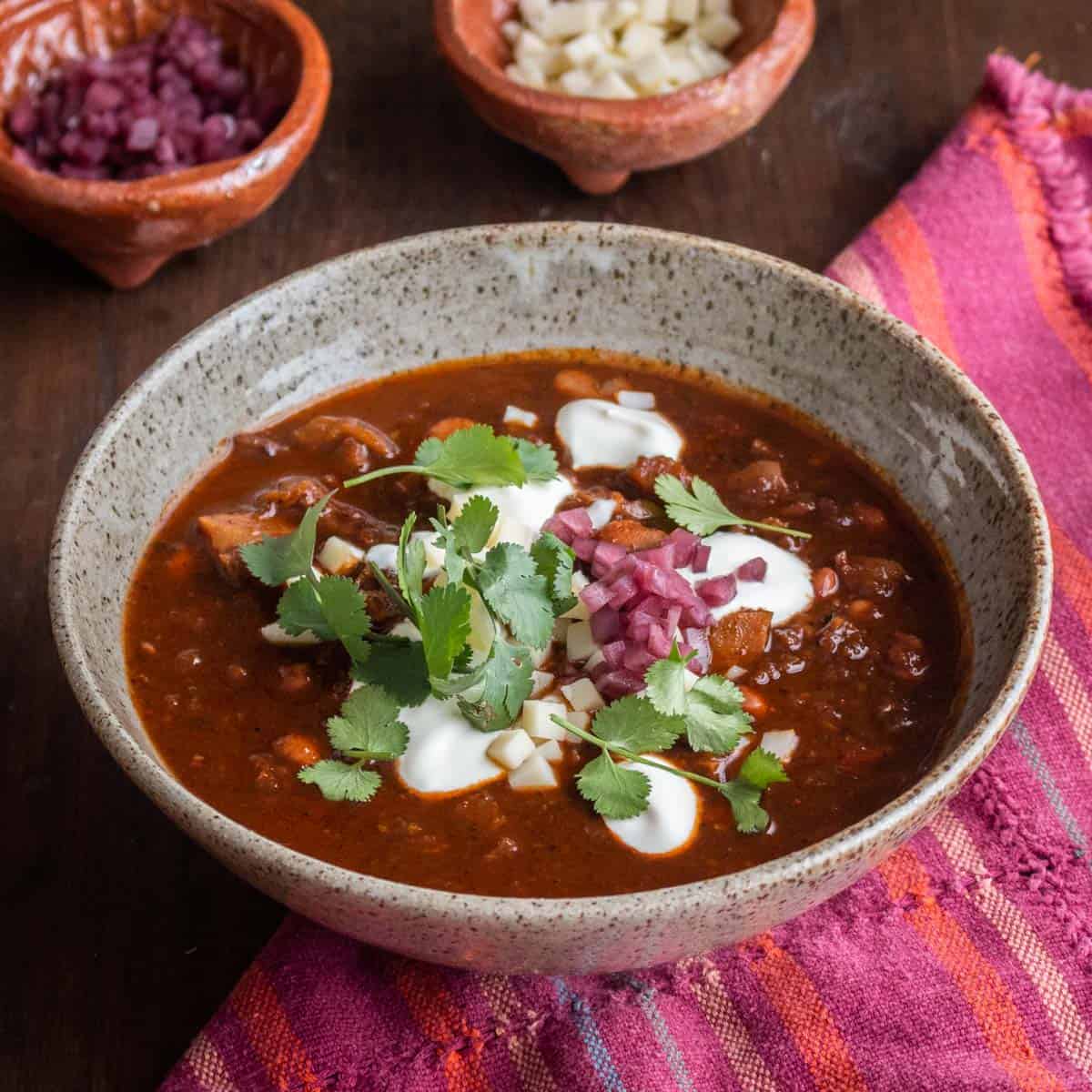 This mushroom based version is even better though, and it's a great way to highlight mushrooms as a meat substitute-a pretty common tradition in plenty of places around the world. The flavors of roasted chilis, beans and spices are a great compliment to mushrooms with a hearty texture, like the hen of the woods I use here.
You could use lots of different mushrooms here, but the meaty texture of hen of the woods are going to be some of the most meaty. Alternately, use chicken of the woods mushrooms in a green or white chili. Hen of the woods are cultivated around the United States and pretty easy to find at local grocers (Asian markets often have them for cheaper).
I actually used frozen hen of the woods here, and it's a good way to use up cooked, frozen mushrooms or fresh. Id' stay away from using dried mushrooms here as fresh or frozen mushrooms will have more of a tender, meaty bite to them.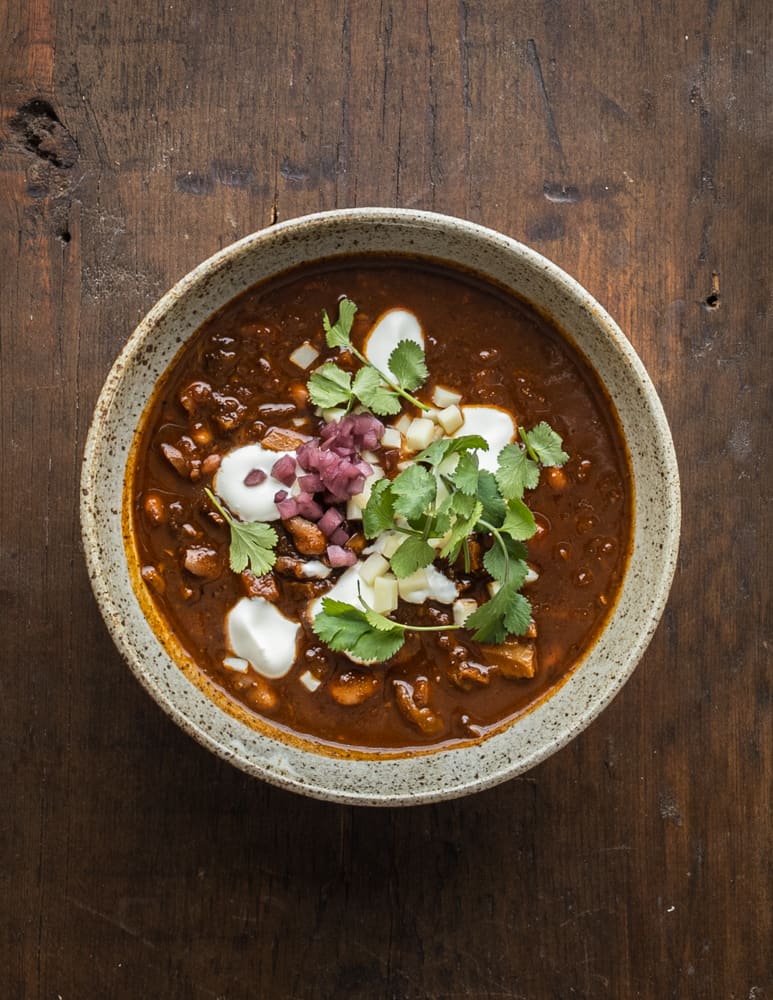 More
Vegetarian and Vegan Mushroom Recipes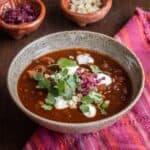 Print Recipe
Wild Mushroom Chili
A simple vegetarian chili made with hen of the woods or other wild mushrooms instead of meat. This is a streamlined version using canned beans,
Ingredients
Chili
1

large

Red bell pepper

4

tablespoons

unsalted butter

coconut oil can make a good substitute, or just cooking oil.

8

oz

1 large white onion

½

oz

garlic cloves (about 3 large)

8

oz

mushrooms cut into ½ inch pieces

preferably hen of the woods or chicken of the woods (fresh or frozen is fine) *see note

5-6

dried chilis, such as guajillos, or ¼ cup chili powder

1

teaspoon

ground cumin

1

teaspoon

smoked paprika

1 15

oz

can whole peeled tomatoes

2

tablespoons

soy sauce

This may seem strange but soy helps to add glutamates to the dish that are lost without meat.

3

cups

mushroom or vegetable stock

2.5

cups

cooked beans

such as black or pinto beans, or 2 15 oz cans

½

teaspoon

dried thyme

1

dried bay leaf

½

teaspoon

kosher salt

plus more to taste
Garnishes
Pickled diced red onions

Sour cream, thinned with a splash of heavy cream

Chopped fresh cilantro

Diced or shredded cheese, such as pepperjack, or another melty cheese like Mexican queso chihuahua
Instructions
Roast the pepper over a burner or on the grill until blackened on all sides, then remove to a bowl, cover with cling film and allow to cool. Remove the skin from the pepper, rinsing with a little water to speed the process. Discard the seeds from the pepper, dice the flesh into ½ inch cubes and reserve.

Toast the chilis on a griddle or in a 325 oven for 5-10 minutes or until crisp, then allow to cool. Break the stems from the dried chilis, remove the seeds and discard, then grind the toasted chilis in a spice grinder and reserve.

Melt the butter in a 3 qt saucepot.

Meanwhile, in the bowl of a food processor, grind the onion and garlic to a fine paste, then transfer to the pot with the butter and cook on medium heat, adding the cumin, chili powder and smoked paprika.

Add the onion mixture to the pot and cook for ten minutes or so, stirring occasionally. While the onion mixture cooks, puree the tomatoes in the food processor, then add them to the pot, along with the mushrooms and remaining ingredients.

Allow the chili so simmer for 1 hour, then double check the seasoning for salt, adjust until it tastes good to you, then serve with all your favorite accompaniments.

Like typical chili, the flavor improves after sitting for a day.
Notes
Using fresh mushrooms vs frozen 
If you want to use fresh mushrooms here, start by sweating them in the fat until they've released their juices and have started to brown lightly, then proceed with adding the ground onion mixture. 
Canned vs Fresh Beans 
if you have the time, I definitely recommend using dried beans, to do that, add ¾ cup dried beans directly to the pot, when you add the tomato and stock, then bake the chili at 275 F, covered for 2-3 hours or until the beans are tender-adjusting the liquid as you see fit if the chili threatens to get dry.
Nutrition
Serving:
6
oz
|
Calories:
205
kcal
|
Carbohydrates:
26
g
|
Protein:
9
g
|
Fat:
8
g
|
Saturated Fat:
5
g
|
Polyunsaturated Fat:
1
g
|
Monounsaturated Fat:
2
g
|
Trans Fat:
0.3
g
|
Cholesterol:
20
mg
|
Sodium:
645
mg
|
Potassium:
628
mg
|
Fiber:
9
g
|
Sugar:
7
g
|
Vitamin A:
1371
IU
|
Vitamin C:
47
mg
|
Calcium:
67
mg
|
Iron:
3
mg