A fascinating recipe and a celebration of chicken that speaks to a time when nothing was wasted in Italy. It's essentially it's a creamed, chopped chicken livers on toast recipe.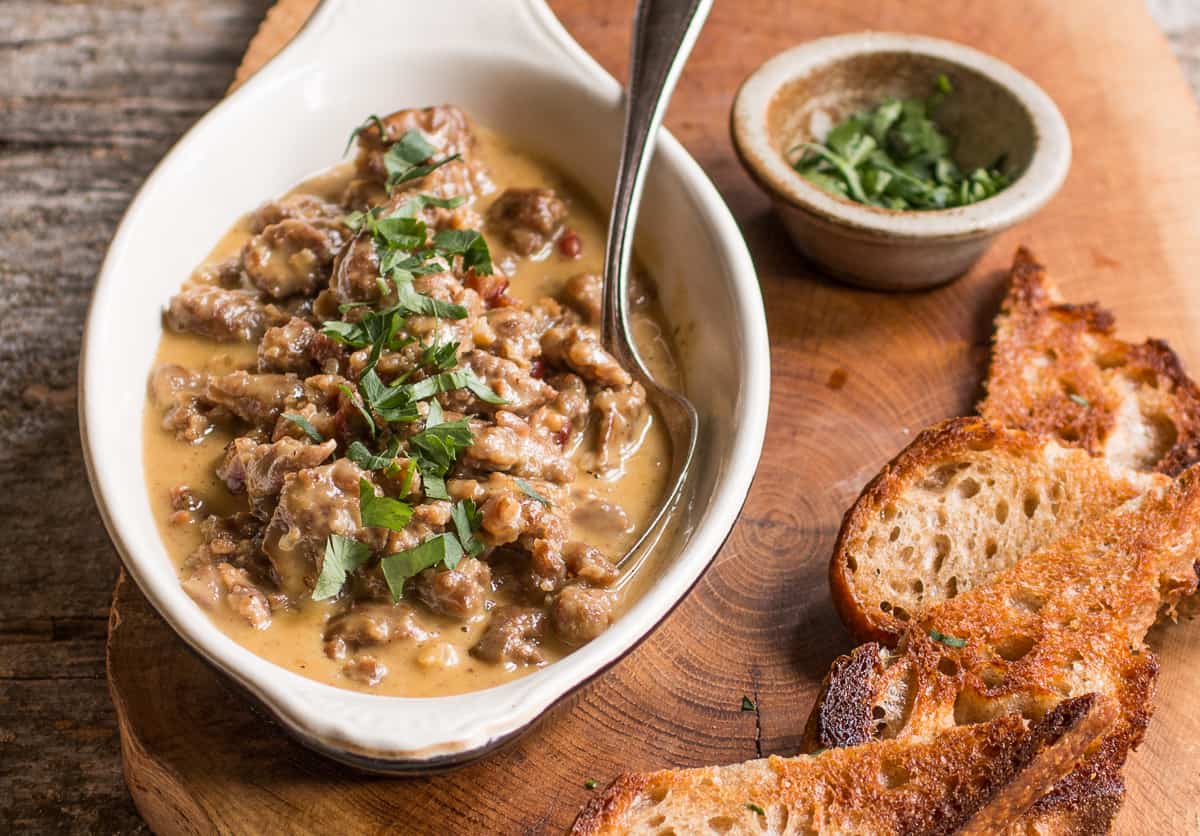 The dish is at least 500 years old, and well documented. There's versions of it being served to this day in Tuscany. My adaptation is basically a stew of fried, creamed chicken livers scented with nutmeg. The original versions were much more interesting though.
Most references agree cibreo was one of Caterina de Medicis favorite dishes. She was the woman credited with bringing things like artichokes and culinary techniques to France when she married King Henry II.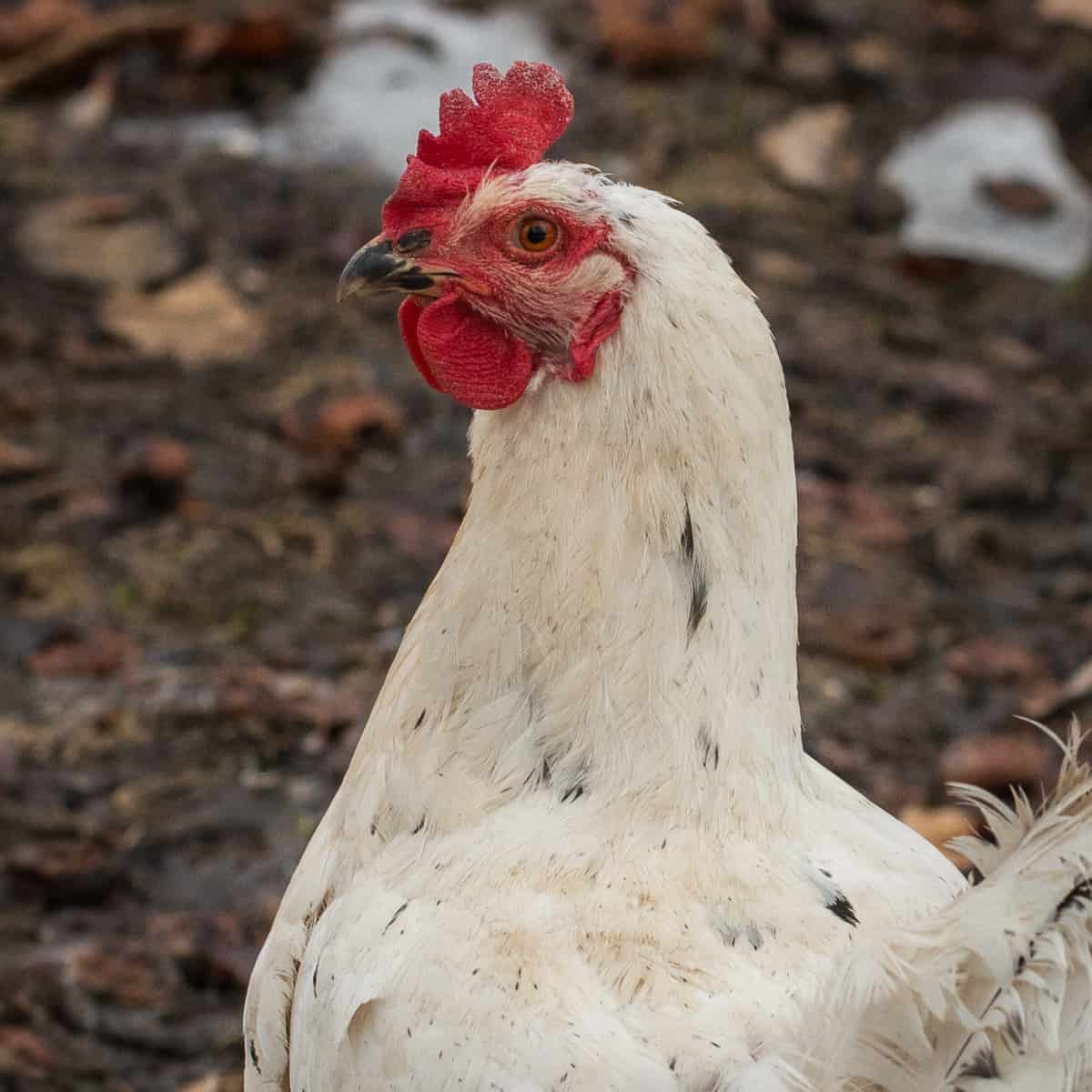 She was a lover of good food. In The Fine Art of Italian Cooking Giuliano Bugialli says Catherine nearly ate herself to death on it. What sort of poultry dish is so good that someone make themselves sick on it? If you guessed Cheesy Turkey Helper think again.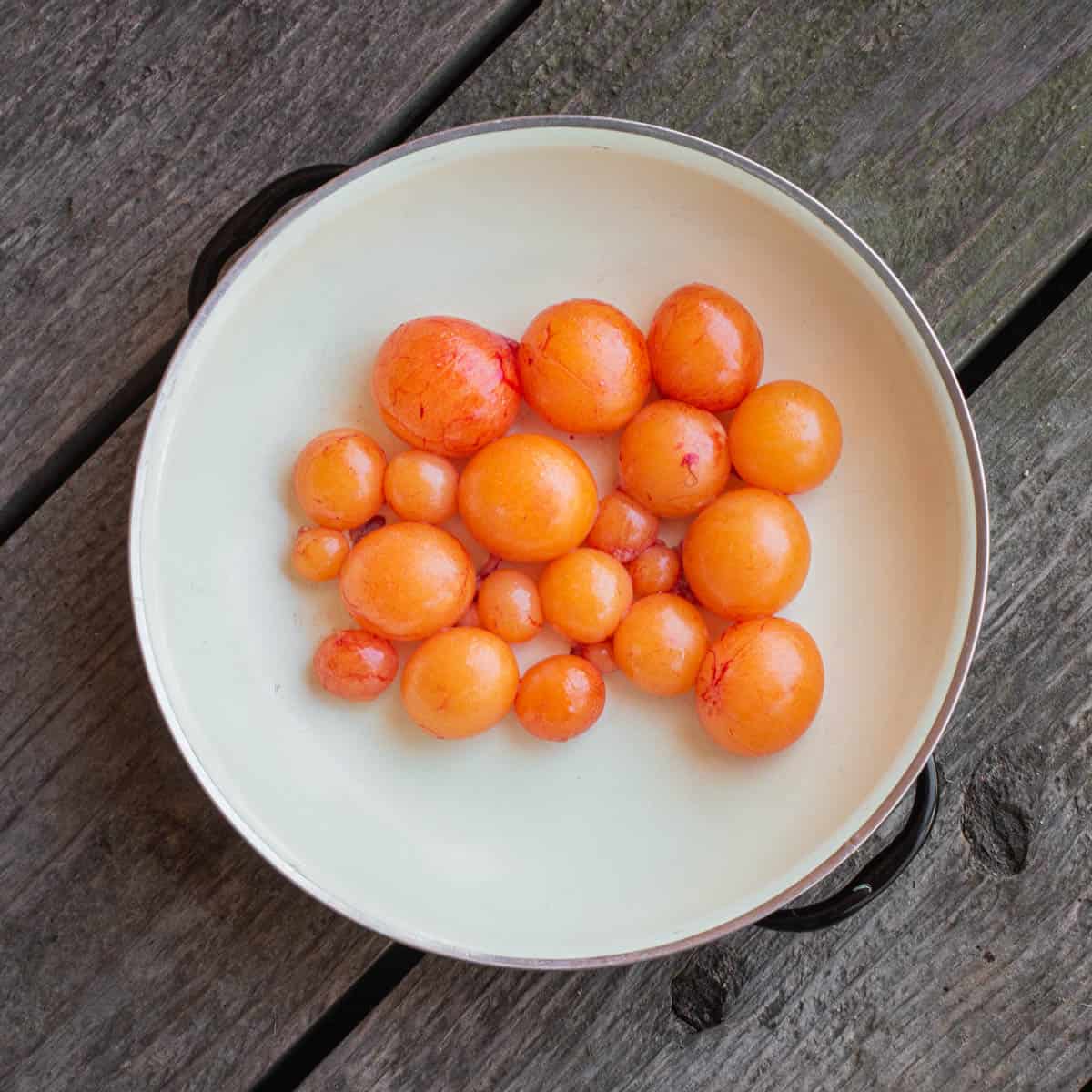 The version in Bugiallis book lists the following ingredients: crests, waddles, combs, livers, testicles, and the crowning glory: unlaid eggs.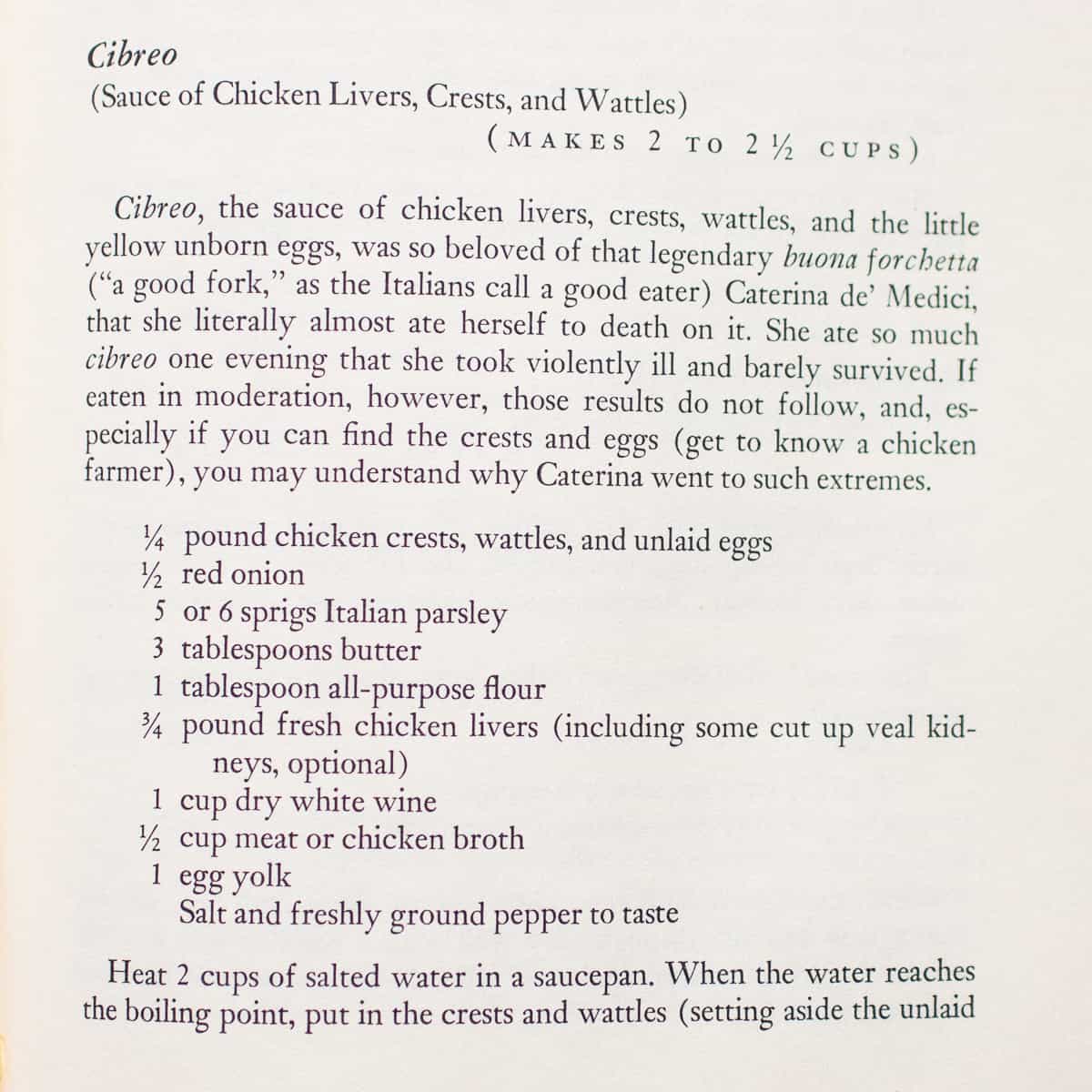 Now the big question: what's it taste like? Well, it's good, really good—one of the richest things I've ever eaten.
How to make it
Take some pancetta or bacon and fry it crisp. Sauté the chicken livers in the bacon fat, add shallots, wine, stock and a few scrapes of nutmeg. Finally you thicken the sauce with an egg beaten with a splash of cream. Just imagine fried chicken livers toast with a rich gravy, on steroids.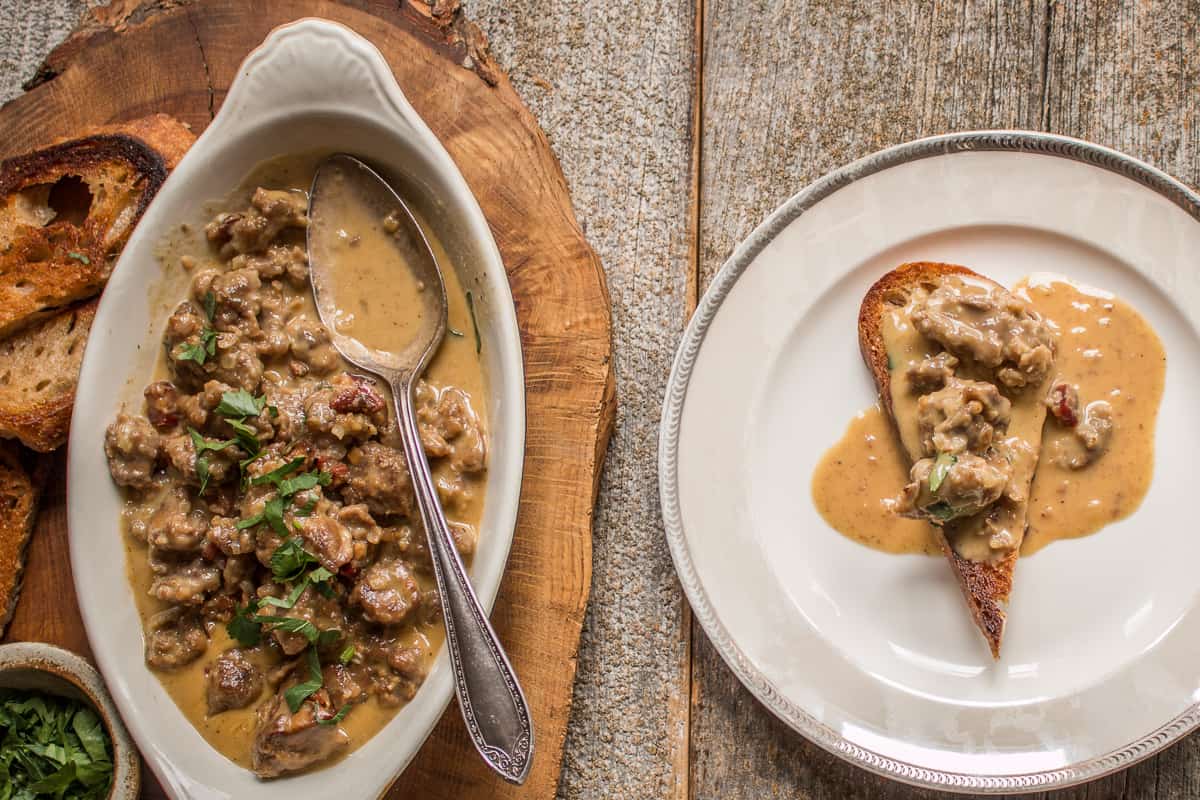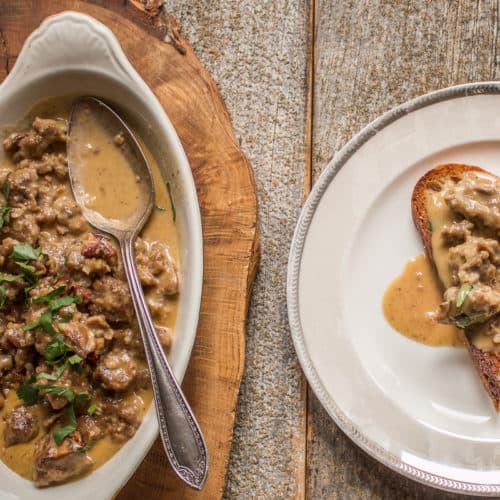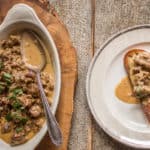 Print Recipe
Chicken Livers on Toast (Cibreo)
A very old recipe of chopped chicken livers in a rich sauce scented with nutmeg served with toast or grilled bread.
Equipment
1 bread knife

1 large frying pan

10 inch size
Ingredients
2

oz

pancetta or bacon

sliced (this is one slice of bacon)

light olive oil

or cooking oil

6

oz

chicken livers

or a mix of livers and hearts

1

teaspoon

all purpose flour

Fresh chopped parsley or chives

to garnish

Kosher salt

to taste

¼

teaspoon

fresh ground black pepper

Fresh grated nutmeg

a few gratings, to taste

¼

cup

dry sherry

¼

cup

chicken stock

¼

cup

heavy cream

plus a tablespoon for the egg yolk

1

large egg yolk

*see note

Toasted bread

for serving, preferably sourdough
Instructions
Cut the livers and hearts into small, bite-sized pieces. Remove any remnants of the gall bladder or sinew.

Pack the livers and hearts in paper towels to remove as much moisture as possible.

Heat the bacon in a frying pan and render the fat until crisp on medium heat, then add the remaining oil. Sprinkle the flour over the livers.

Add the chicken livers to the pan and cook until browned on medium high heat, stirring occasionally. Add the shallots and cook for a few minutes until translucent.

Deglaze the pan with the sherry and cook until nearly dry.

Add the chicken stock and bring to a simmer. Cook, stirring occasionally until reduced by half. Season with the salt, pepper and nutmeg until it tastes good to you.

Add the cream and reduce for a minute until the sauce looks like a nice gravy.

Turn off the heat.
Thickening with egg yolk (optional)
Beat the egg yolk with the tablespoon of cream. Stir in the egg cream into the pan, mix well, and heat through, stirring constantly. The egg should thicken the sauce lightly. Pour into a boat or bowl, garnish with some parsley or chives and serve with toasted or grilled bread.
Notes
Eggs
Traditionally the sauce was thickened with unlaid eggs. If you raise chickens you can squeeze the yolk from 2 unlaid eggs and use in place of the egg yolk. 
Nutrition
Serving:
4
oz
|
Calories:
143
kcal
|
Carbohydrates:
2
g
|
Protein:
10
g
|
Fat:
9
g
|
Saturated Fat:
4
g
|
Polyunsaturated Fat:
1
g
|
Monounsaturated Fat:
3
g
|
Trans Fat:
0.04
g
|
Cholesterol:
209
mg
|
Sodium:
125
mg
|
Potassium:
166
mg
|
Sugar:
1
g
|
Vitamin A:
4890
IU
|
Vitamin C:
8
mg
|
Calcium:
17
mg
|
Iron:
4
mg
Further Reading
The Oxford Companion to Italian Food
Giulianno Bugialli: The Fine Art of Italian Cooking