Fresh spring sochan, simmered with a little homemade bacon, prosciutto, or another salted and or smoked meat, along with a generous helping of tepary beans, is my Midwesternized take on a combination of ingredients involving wild plants common around the world, typically in areas that have robust wild food traditions, often based on scarcity or necessity.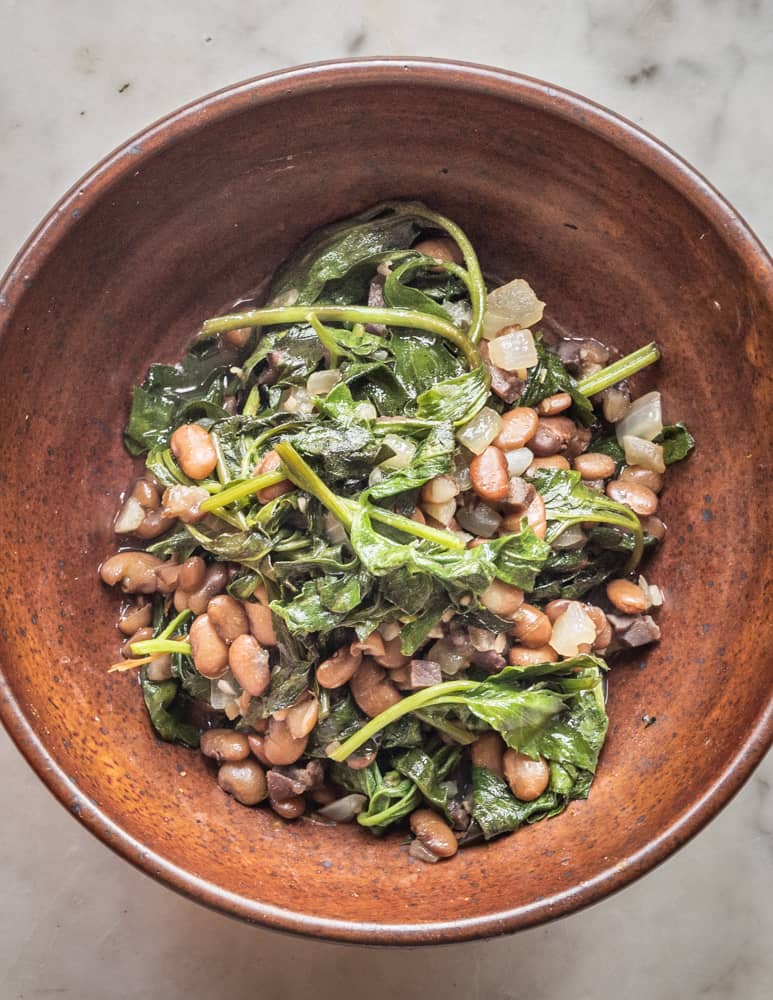 Greece and Eastern Europe, Italy, Africa and Central Asia all have examples of this sort of cooking, as does indigenous cuisine in North America. Undoubtedly there are other examples of beans and greens too, and if you have a favorite, please leave a comment. I discuss a number of similar combinations in my book, The Forager Chef's Book of Flora.
The combination of wild greens and legumes is the real lynch pin here. If you think about it, the pairing makes perfect sense, as wild greens all by themselves aren't that filling, but, when you combine them with beans, they can nearly become a meal in themselves.
Serve the beans and greens up, along with the delicious cooking juices or pot liquor, top them with something like a couple fried eggs, or a piece of grilled meat (or a mushroom if you're one of my vegetarian friends) and it's a good meal.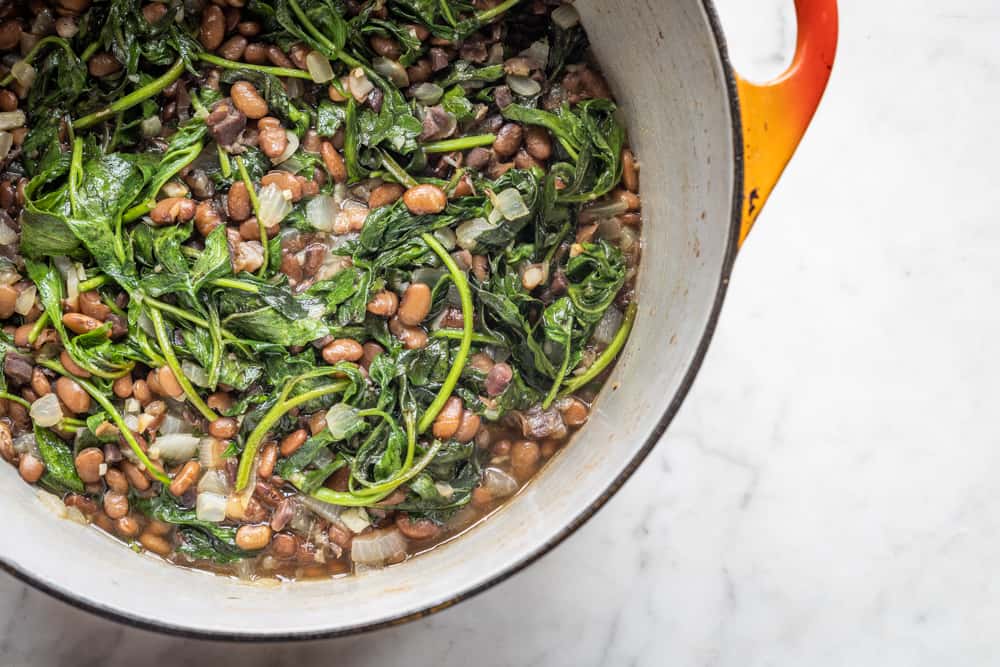 The ingredients
Here's a quick breakdown of the ingredients, know that you can mix and match things with what you have on hand. No heirloom tepary beans? No problem.
Tepary Beans
Tepary beans are an ancient food, a drought-tolerant legume that's been harvested in the American Southwest for millennia, and probably my favorite bean to cook. My favorite tepary beans come from Romona Farms, an indigenous owned company on the Gila Indian reservation in Arizona.
One thing to know about tepary beans, is that they take a long time to cook, as in 4-5 hours or more. I typically make a big batch, seasoning them, and storing them under their liquid after cooking in the fridge, where I add them to things throughout the week.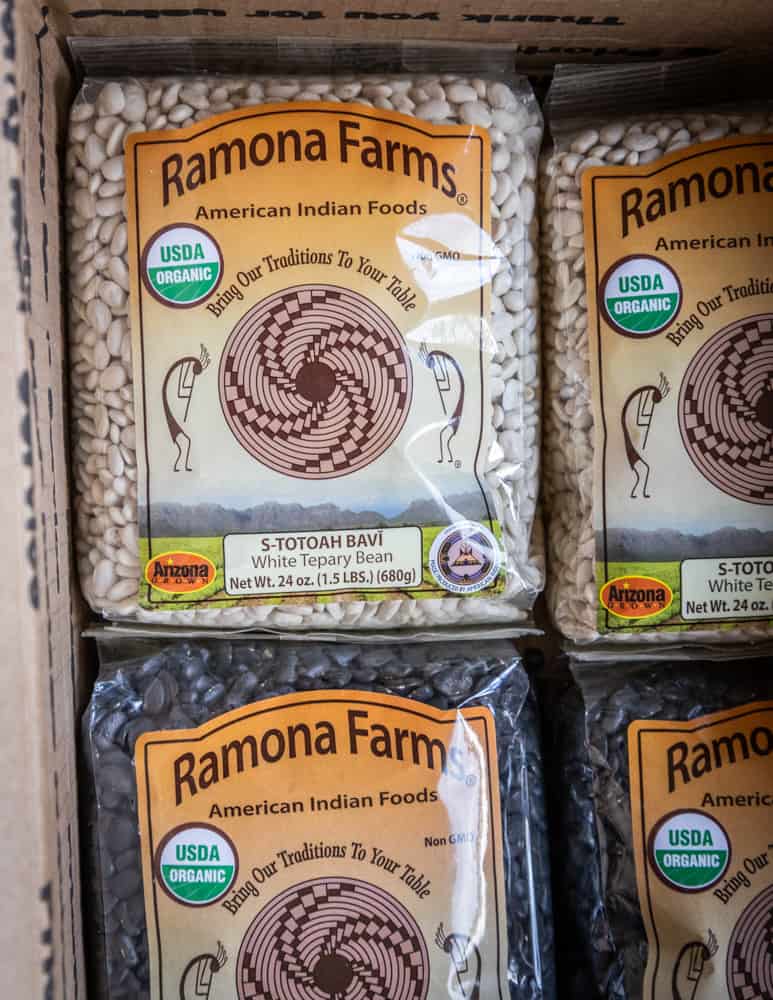 Sochan
I use sochan here as it also has deep indigenous ties, although geographically distant from the tepary beans, which are the stars here. Sochan, at least to me, is best known as a staple food of the Cherokee. It can be gathered throughout the year as the plant gives multiple (up to 4) harvests of leaves.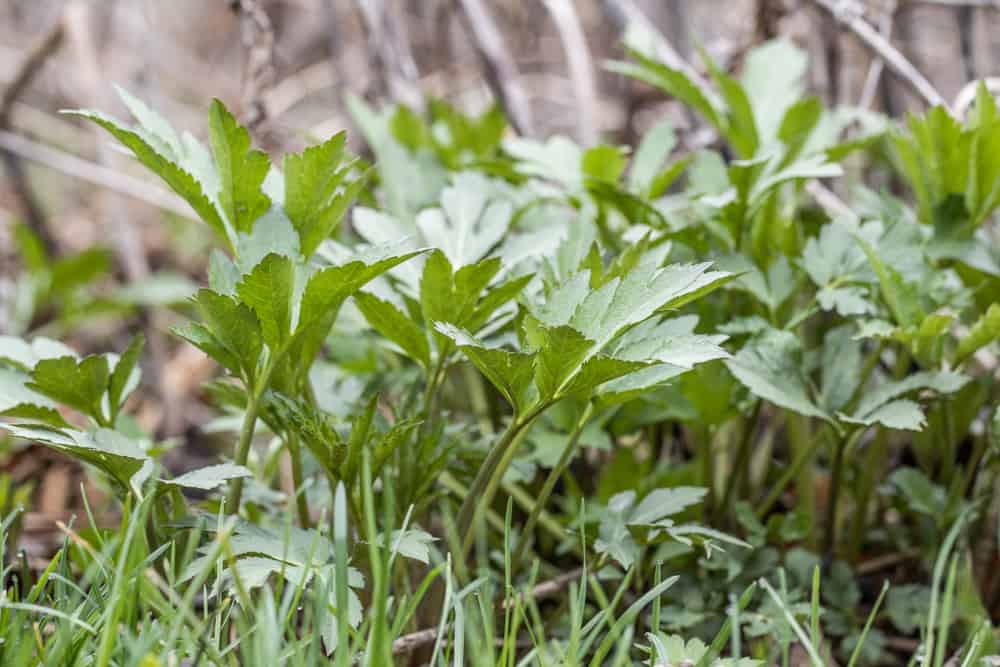 Pictured is the first harvest of greens in the spring, when the stems are longer and the taste is extremely mild. Over the course of the year, the greens will develop a stronger taste reminiscent of potent celery, or what I call the "aster flavor".
Smoked or salted meat
Your pick here. I use bacon in the title so people will feel comfortable trying something like this, but, between you and me, I used the last of my smoked lamb prosciutto in the freezer and it turned out really good. You could use bacon, cut up, rendered and cooked with the beans, prosciutto, ham, salami, or something like bapa (dried, smoked meat). Beef bacon would be good too.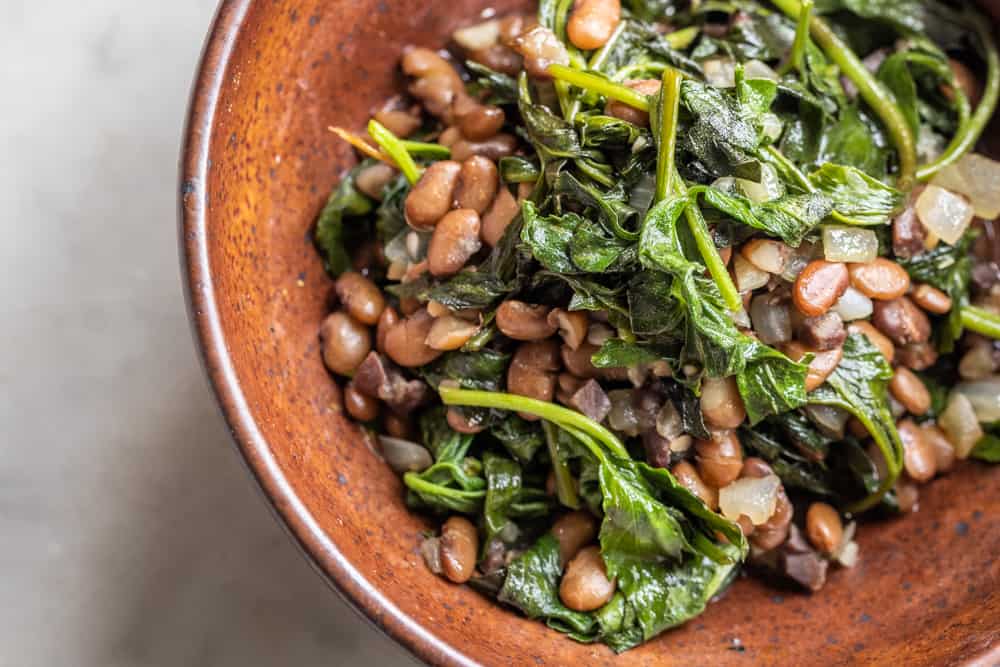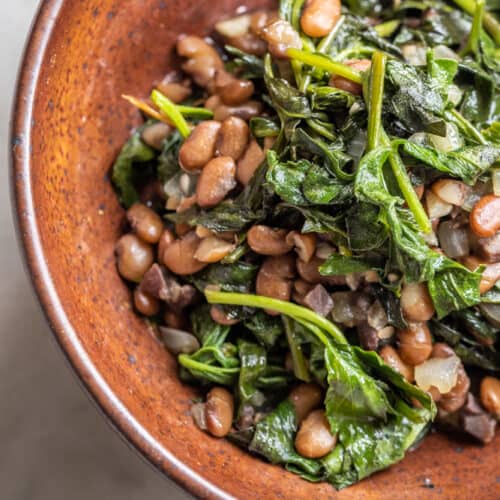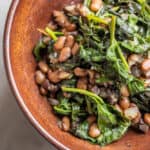 Print Recipe
Sochan, Bacon and Tepary Beans
Inspired by food traditions from around the world, sochan greens cooked with bacon and tepary beans makes a nice garnish to a piece of meat, add some sauteed mushrooms for a vegetarian meal. Serves 6 as a side
Ingredients
¼

cup

lard

such as lamb, goat or pork

2

oz

bacon, country ham, or other salted, preserved meat

see note

1.5

cups

cooked tepary beans

preferably cooked in ham broth

6-8

oz

young tender sochan

or mature sochan, just cook it longer

Kosher salt and fresh ground black pepper

6

oz

1 medium onion diced ¼ inch

2

large cloves garlic

finely chopped

¾

cup

ham broth or other stock
Instructions
Sweat the onion, garlic and ham in the lard for 15 minutes or until the onions are soft. Add the beans and stock, bring the mixture to a simmer, then add the sochan and stir continuously so as to disperse the heat evenly (uneven heat can make the greens darken).

When the greens are wilted, cover the pot and cook for a few minutes more until the greens are tender and taste good to you. The mixture should be juicy and wet, think of it as a little stew of beans and greens kissed by smoked meat.

Double check the seasoning for salt and pepper (it should be pretty well seasoned if you use ham broth) adjust as needed, then serve.
Notes
Variations on the meat 
The meat is more of a flavoring here than a really substantial part of the dish, and that's on purpose-I'm trying to channel frugality and traditional food ways here. You can add lots of different things depending on what you have. A thick slice of bacon or ham, not cut up, could be a nod to some regional recipes I've seen in French cuisine. Use your imagination and instinct. 
More