If you hunt mushrooms in the fall, you're probably familiar with honey mushrooms. If you're familiar with honey mushrooms, you probably know the shrimp of the woods or aborted entoloma.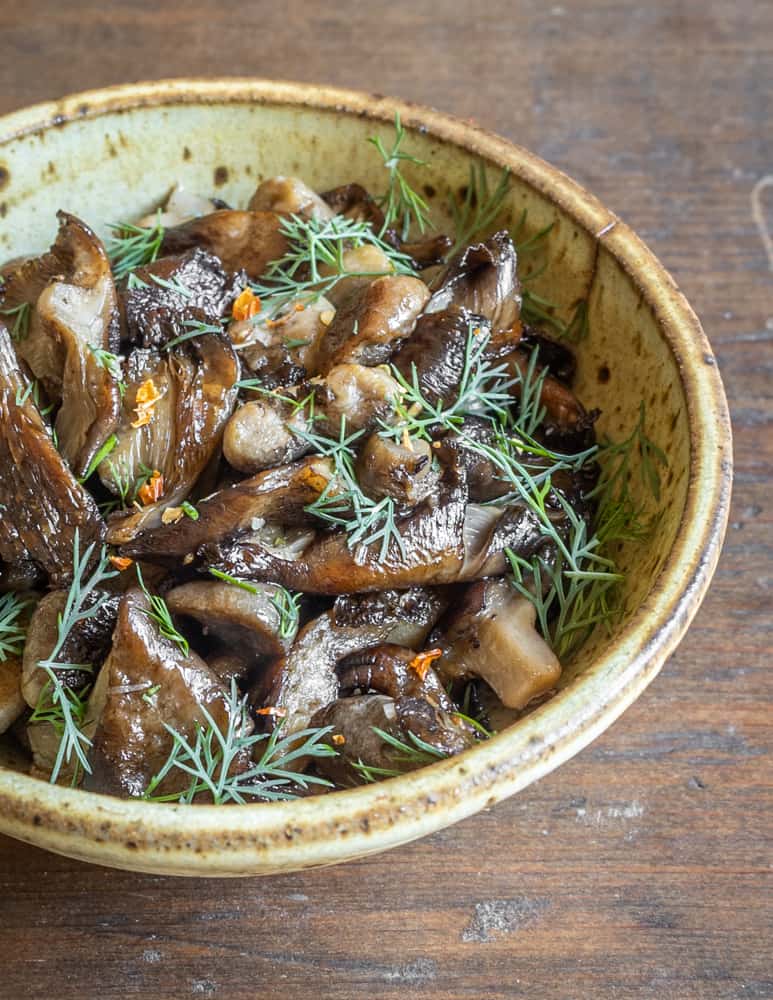 The wild mushroom recipes on this site are often inspired by things I have at the moment. Since these two mushrooms often grow in close to each other cooking them together is a natural pairing, and makes for a great little side of mushrooms you can eat as is, or add to other dishes.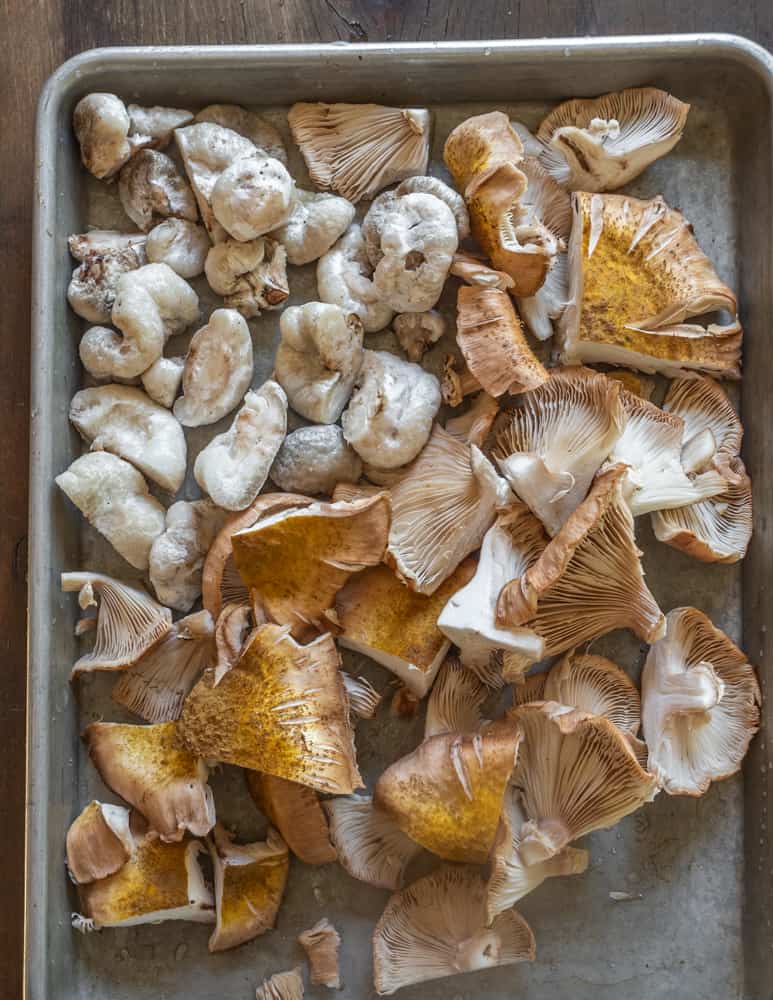 Honey mushrooms need thorough cooking
The big thing here to know is that when I say "slow-cooked", I mean it, for more reasons that one. Your shrimp of the woods are fine tossed in a hot pan, browned and served, but honey mushrooms need extended cooking time for them to be safe for some people. Also, slow cooking in a dry-ish pan also helps the mushrooms get deliciously golden and caramelized, adding a great depth of flavor.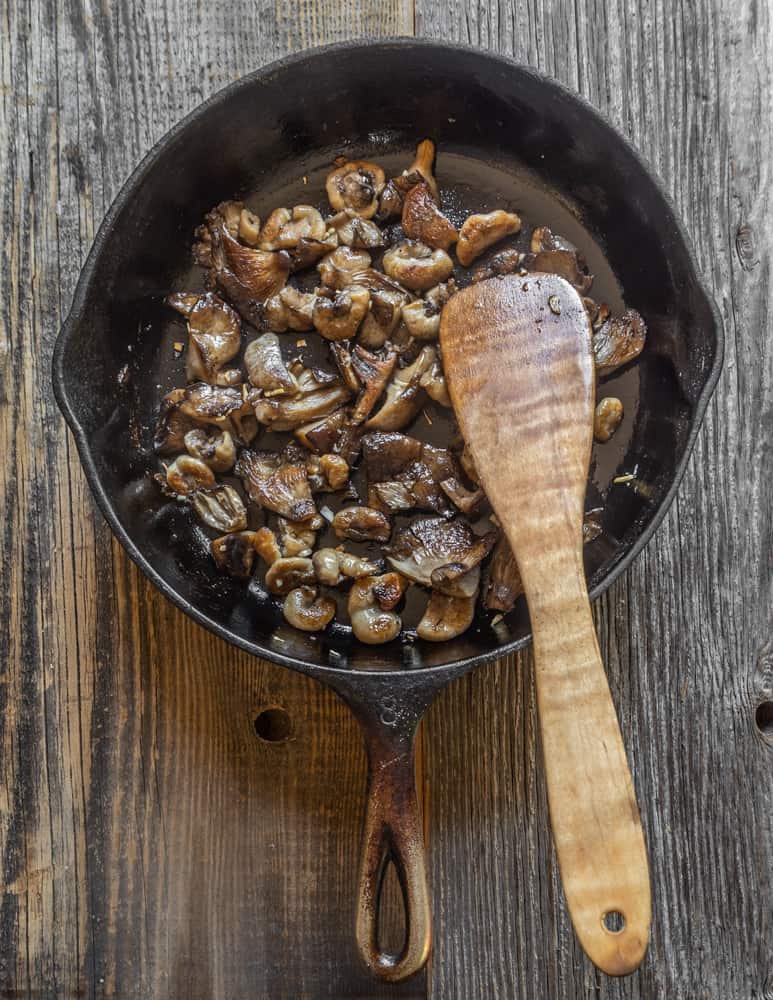 Start With a Wet Saute
The technique I use here is a combination of things, but it starts out with a wet saute. If you're not familiar, a wet saute is when you add some water to the pan when cooking mushrooms, allowing them to cook in the liquid instead of fat first, which helps to break them down and ensure even cooking, as well as preventing them from soaking up too much oil and becoming heavy.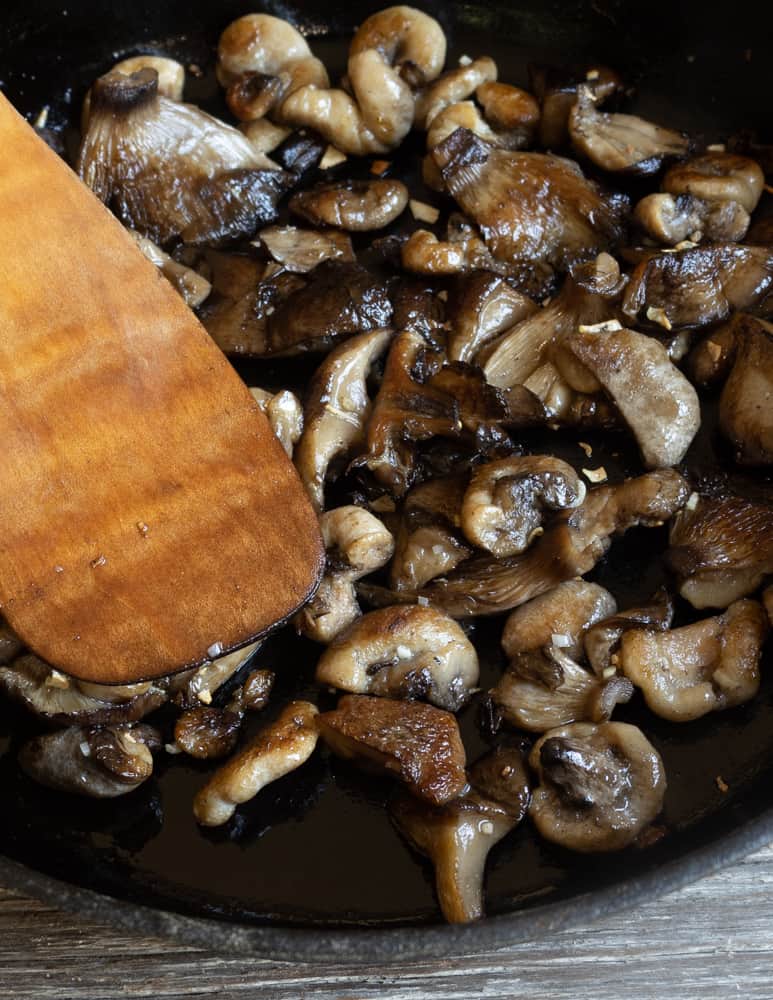 It's easy, just take your (very clean) mushrooms, put them in a cast iron skillet with a good splash of water, cover and cook until the pan is nearly dry, then add some fat, garlic and or onion, some hot chili and herbs at the end, and serve.
It's good all by itself, or you can even cook them in advance for adding to other dishes. Here's a few examples of how I would use them.
If you use dill as pictured here, consider seasoning them with lemon juice and spooning them over a piece of cooked fish or chicken.
Add the browned honey mushrooms and entolomas to a creamy soup as a finishing garnish.
Toss them hot with a little oil and vinegar to some fresh greens for a semi-warm salad.
Put them warm on top of polenta, or another soft starch.
Use them to make kasha with mushrooms!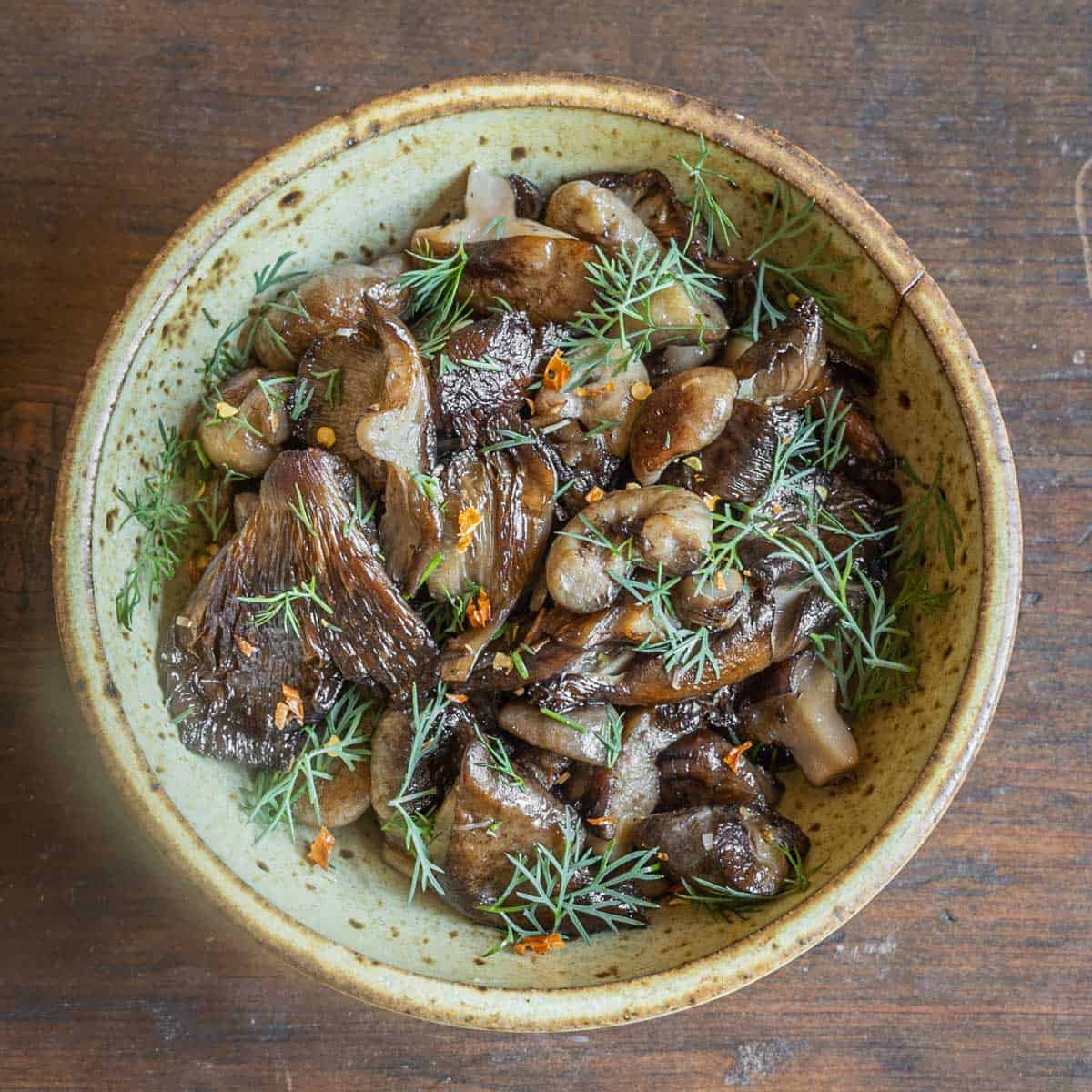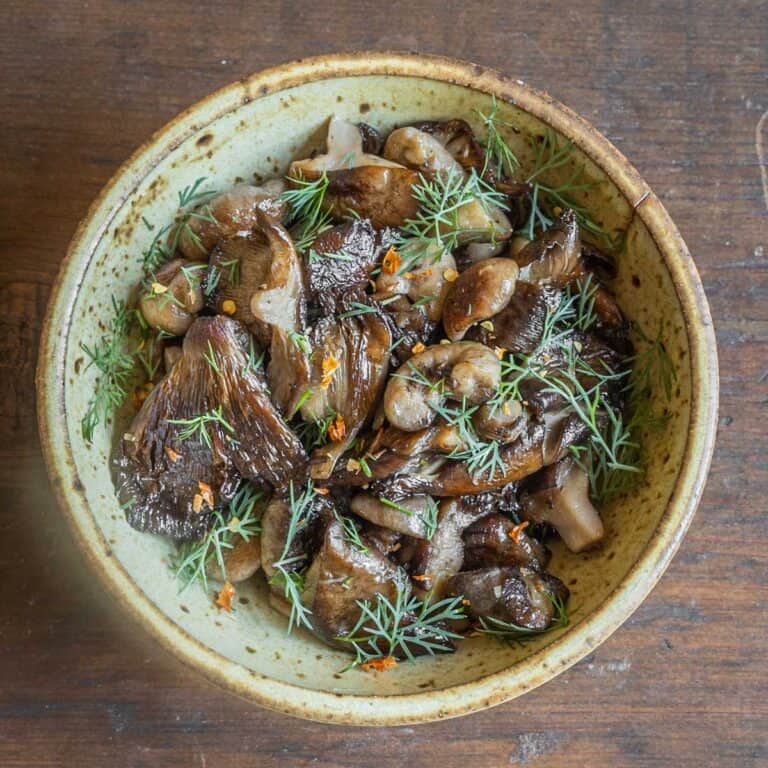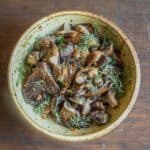 Print Recipe
Slow-Cooked Honey Mushrooms and Entolomas
Slowly browned honey and aborted entoloma mushrooms with garlic, hot pepper and herbs. Serves 2-4
Equipment
1 12 inch skillet or saute pan
Ingredients
6

oz

honey mushrooms

stems removed

6

oz

aborted entoloma mushrooms / shrimp of the woods

¼

cup

water

1

tablespoon

unsalted butter

plus more to taste

1

large clove of garlic

minced or grated

Fresh chopped dill or your favorite fresh herb

to taste

Hot chili

to taste, optional

5

oz

finely diced onion

optional

Kosher salt

to taste
Instructions
Wash and clean the mushrooms as needed, paying particular attention to the entolomas as they can be filthy. Cut the mushrooms into large pieces, small mushrooms can be left whole. See my image in the post of the mushrooms on the tray for reference.

In a non-stick 10 inch pan such as cast iron, heat the mushrooms and water on high, cover with a lid and wait for it to come to a boil. Transfer the pan to the smallest burner you have, put the heat on medium-low, and set a timer for 15 minutes.

After 15 minutes, remove the lid, add the butter and a good pinch of salt, and cook for another 15 minutes, stirring occasionally, presumably while you prepare something else in the kitchen. If you would like to add onion, as is common in Eastern European recipes, add that now too.

When the pan is dry and the mushrooms are nice and brown, increase the heat to high to help caramelize them. Taste a mushroom, judge the seasoning, and add another pinch of salt if needed.

Add the garlic at the end, cook for another minute or two in order to remove the raw flavor, then turn the heat off, add the chili and dill or other herb, stir, taste, adjust the seasoning again if needed, and serve.
Notes
Mushroom Substitutions 
I like the texture of fall mushrooms here, adding some hen of the woods, or blewits can be nice too. 
Nutrition
Serving:
3
oz
|
Calories:
45
kcal
|
Carbohydrates:
3
g
|
Protein:
3
g
|
Fat:
3
g
|
Saturated Fat:
2
g
|
Polyunsaturated Fat:
0.2
g
|
Monounsaturated Fat:
1
g
|
Trans Fat:
0.1
g
|
Cholesterol:
8
mg
|
Sodium:
6
mg
|
Potassium:
274
mg
|
Fiber:
1
g
|
Sugar:
2
g
|
Vitamin A:
88
IU
|
Vitamin C:
2
mg
|
Calcium:
5
mg
|
Iron:
0.4
mg
More