A few handfuls of perfectly fresh wild mushrooms, some wild greens, oil, lemon, salt and heat are really all you need to make a good, chunky salad, and it can be a good, light way to enjoy some of the harvest if you want to enjoy cooking them without taking on a more intense recipe. Think of it as a cousin to throwing mushrooms in a pan to fry them up.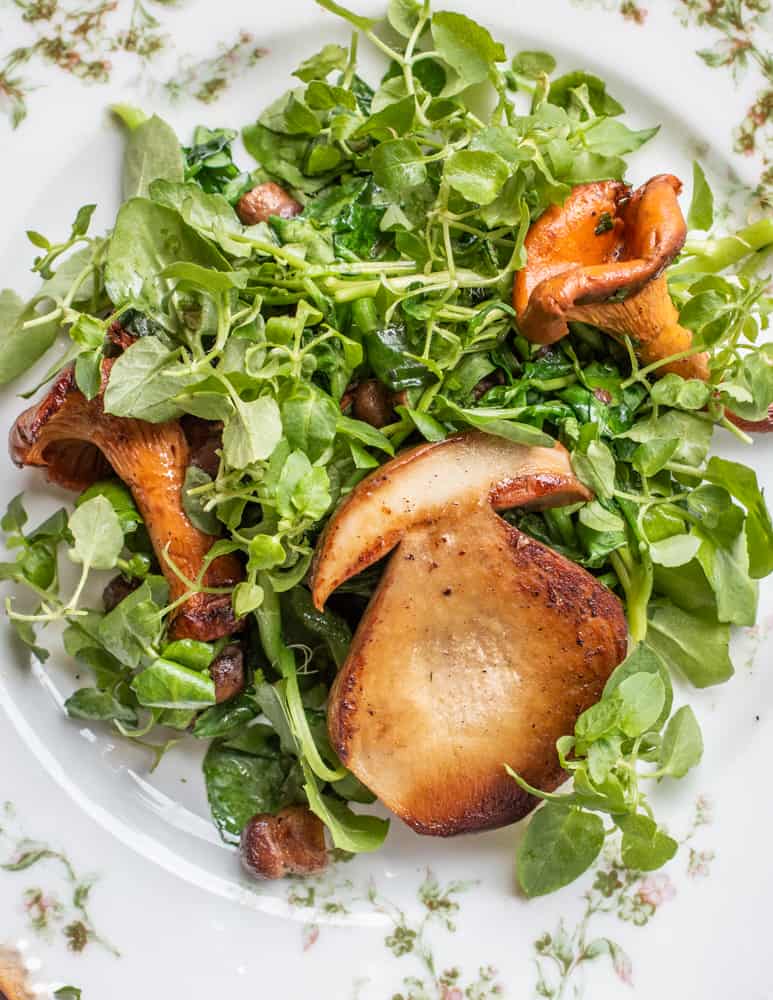 I came up with this salad, reminiscent of a couple simple warm salads I was taught to make under a chef from Rome, for a video shoot project I was doing for the Headspace meditation app.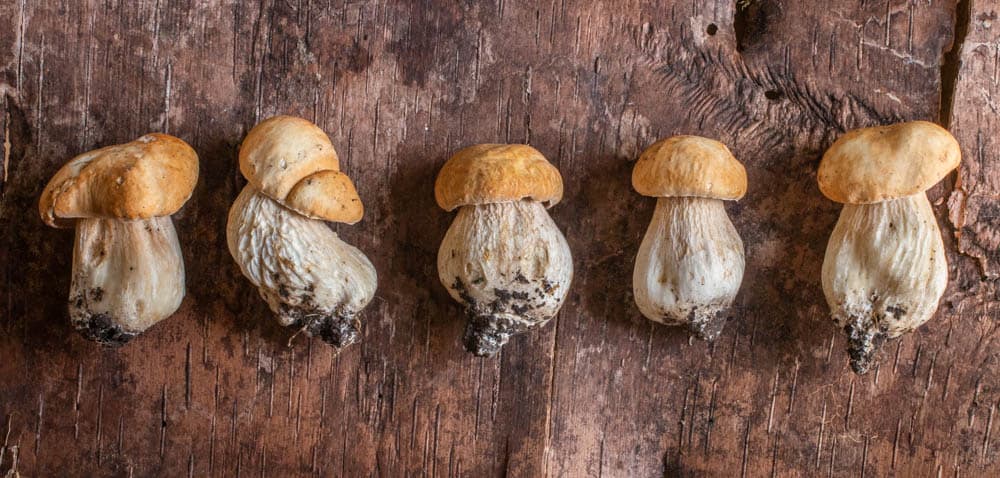 When I served salads like these in restaurants, most of the time we would just toss some hot things in a bowl with arugula, and arugula is fantastic, but other light-textured, delicate wild greens can be good too, like the chickweed I use here.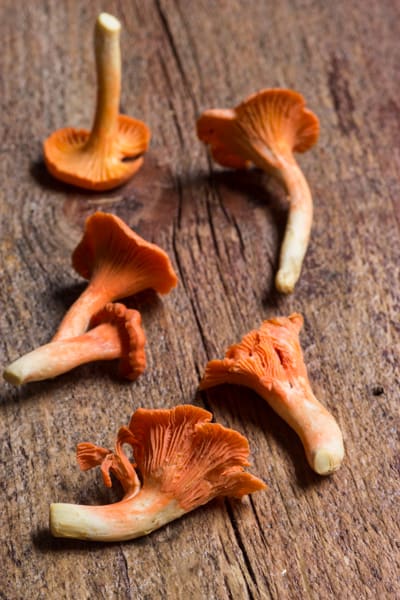 Here's how to make it, you don't really even need a recipe, but I provide one so people can gauge the proportions I use.
Take some good fresh mushrooms, leaving them whole or in large slices depending on the species and what looks good to you, fry them up in some oil, add a touch of garlic at the end of cooking and toss, then dump the pan of hot, garlicky mushrooms with some fresh greens, mix it all up, adding a dash of lemon juice and salt to taste, and serve in a pile, preferably with a good shower of high quality parmesan cheese. It's a nice side dish or a very simple first course.
Variations
Adding bacon is very good, cook the mushrooms in the fat after it's rendered, without removing the bacon from the pan.
Mushrooms I like for this are: chanterelle, porcini, maitake, black trumpet mushroms, hedgehog, morels, chicken of the woods mushrooms. 
You can substitute vinegar for the lemon juice, but add it directly to the pan with the mushrooms to cook it and calm it a bit
Adding a fried egg is great.
Add grilled bread and a few other additions like hard boiled eggs and it's a nice lunch.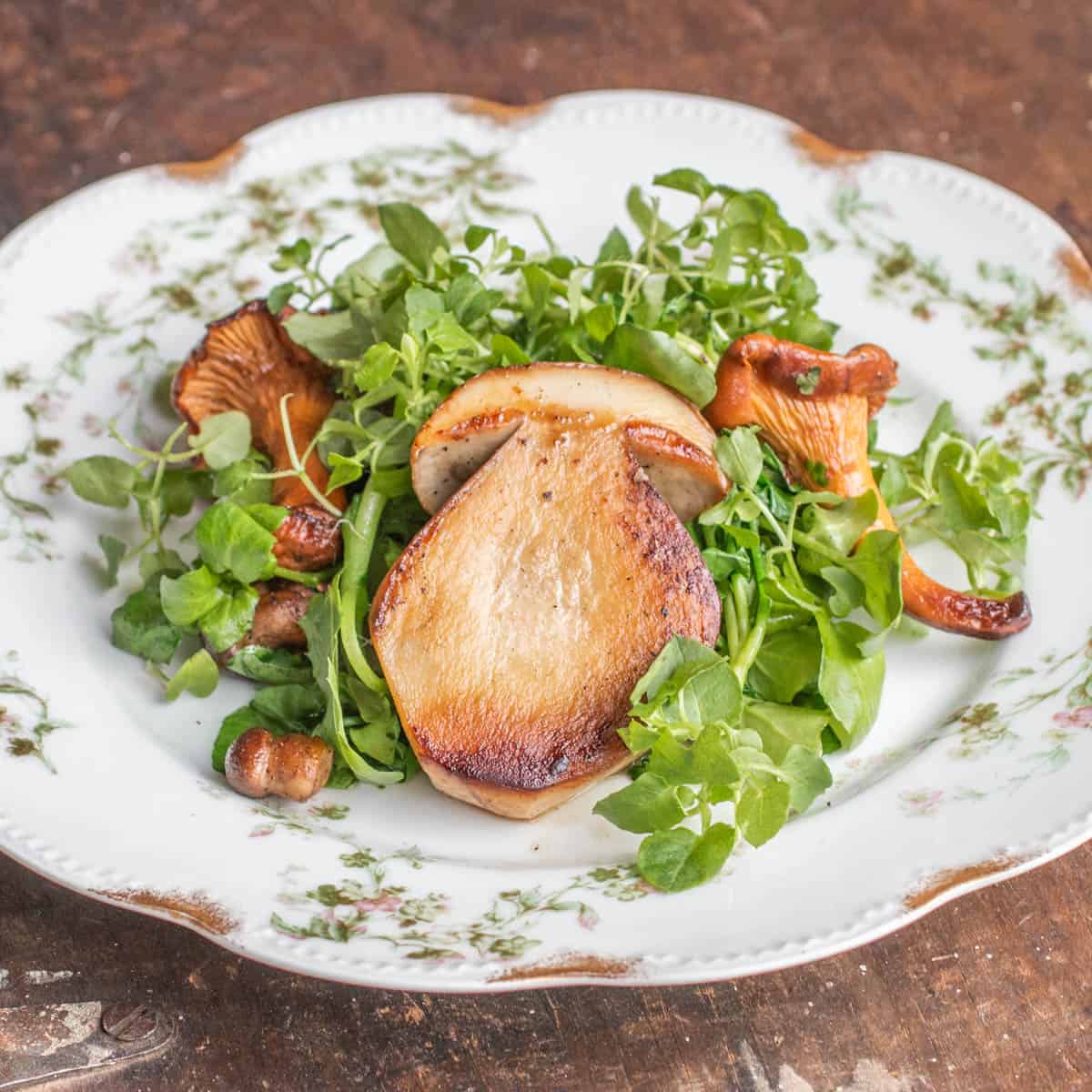 More
Vegetarian and Vegan Mushroom Recipes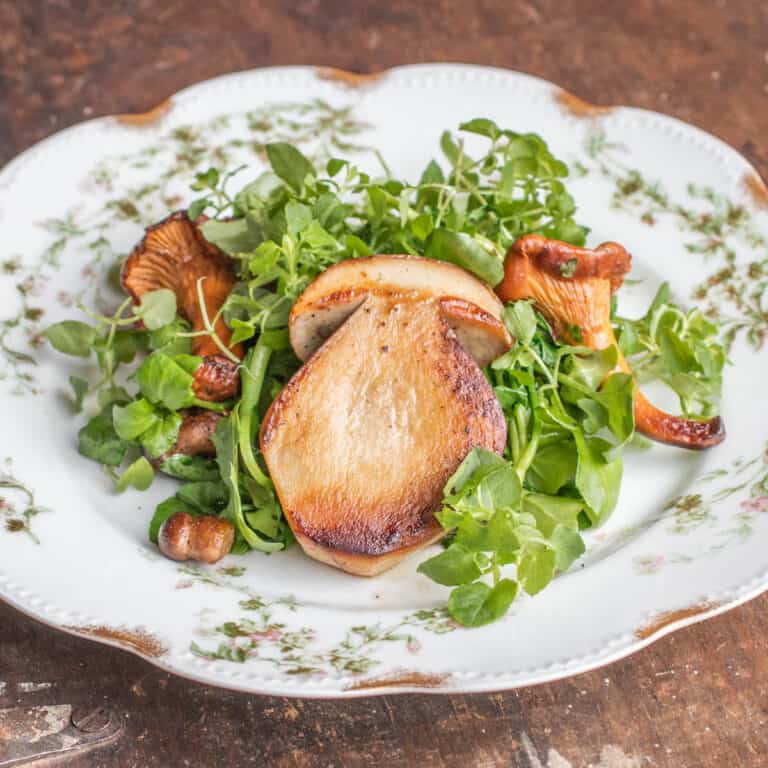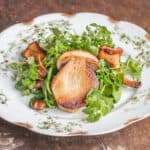 Print Recipe
Sauteed Wild Mushroom Salad with Wild Greens
Hot sauteed wild mushrooms mixed with fresh chickweed and watercress, or arugula, lemon, garlic and parmesan. Serves 2
Ingredients
3-4

oz

freshest possible wild mushrooms

Chanterelles and porcini are good, just use a blend for the most texture and appeal

Blended oil

for sauteeing (50/50 EVOO and flavorless oil like grapeseed, or use your favorite oil)

4

oz

fresh greens

sturdy ones like watercress and chickweed

Kosher salt and fresh ground black pepper

1

large clove garlic

finely minced

Grated high quality parmesan

Lemon wedges

for serving
Instructions
Clean and wash the greens , put them into a mixing bowl and reserve.

Cut the mushrooms into large pieces such as the sliced porcini pictured. Other, smaller mushrooms like chanterelles should be left whole.

Heat a good glug of oil in a pan (a tablespoon or so), add the mushrooms and cook without seasoning for a couple minutes, or until their water has started to release and the mushrooms are beginning to brown. Add a good pinch of salt and pepper, and a little more oil if the mushrooms have soaked it all up. Increase the heat a bit if the mushrooms until they're lightly browned, then add the garlic and cook for another minute.

Toss the hot mushrooms with the fresh greens, mix well, seasoning with a squeeze of fresh lemon, then double check the seasoning for salt, pepper and lemon, adjust as needed until it tastes good to you, then divide the greens and mushrooms between two plates, garnish with grated parmesan, and serve.
Notes
Feel free to use your favorite mushrooms and salad greens here. 
Nutrition
Serving:
2
oz
|
Calories:
25
kcal
|
Carbohydrates:
4
g
|
Protein:
3
g
|
Fat:
0.4
g
|
Saturated Fat:
0.1
g
|
Polyunsaturated Fat:
0.2
g
|
Monounsaturated Fat:
0.01
g
|
Sodium:
47
mg
|
Potassium:
458
mg
|
Fiber:
2
g
|
Sugar:
1
g
|
Vitamin A:
5317
IU
|
Vitamin C:
17
mg
|
Calcium:
60
mg
|
Iron:
2
mg