Nothing says the peak of summer like a dish of ratatouille, that classic French dish of summers bounty made from zucchini, eggplant and tomato delicately scented with herbs. This year, with a fridge full of lobster mushrooms calling my name, I decided to make a version substituting lobster mushrooms for zucchini.
I wanted to remove a vegetable from the recipe, instead of just adding in mushrooms, since every batch of ratatouille I make has a habit of getting gigantic. Zucchini is mild tasting, just like lobster mushrooms, so I decided they'd take the fall for my favorite red summer mushroom.
Truth be told, you could easily remove the eggplant instead, since they're often used as a mushroom substitute, but, since lobsters have more of a crunchy texture than other mushrooms, I went the other way.
Now, if you simmered some other wild mushrooms, porcini for example, in the same way, you might be unimpressed with the finished product since the porcini will fade into the background and just become texture.
Simmering anything with tomatoes and herbs will make something taste like tomatoes and herbs, so ratatouille actually plays to the advantage of the lobsters here. Their mild, submissive flavor might fade into the background, but the texture takes center stage, and gives the dish an extra meaty quality to it.
It's a great way to enjoy them as a side dish or vegetarian entree during the season.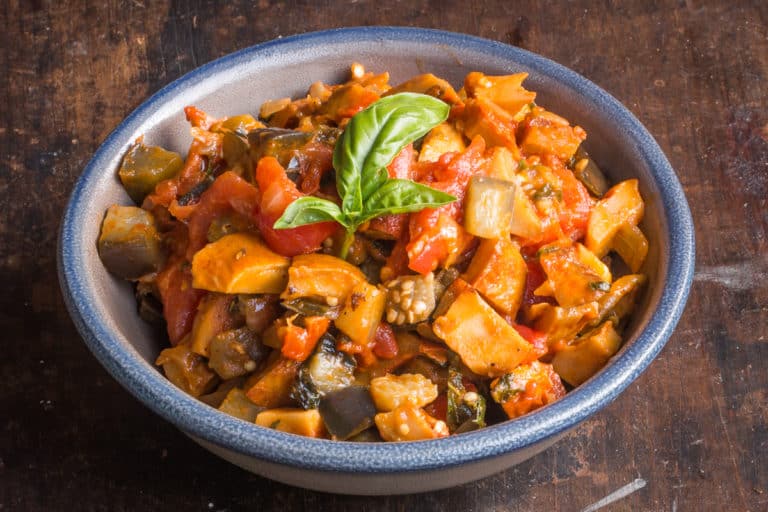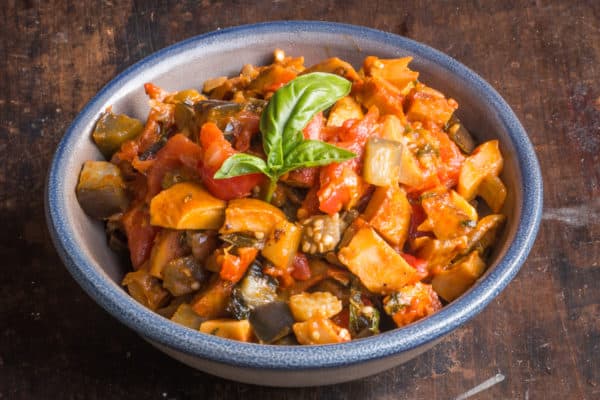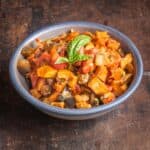 Print Recipe
Lobster Mushroom Ratatouille
Classic ratatouille made with lobster mushrooms instead of zucchini. Serves 4 as a side dish or vegetarian entrée.
Ingredients
12

oz

lobster mushrooms

diced 1 inch

8

oz

coarsely chopped

peeled, seeded tomatoes (juice reserved for adding to the dish, see note)

8

oz

eggplant

diced ½ inch (roughly half of one medium Italian eggplant)

1

large clove garlic

1

small

4 oz yellow onion, diced ½ inch

4

tablespoons

extra virgin olive oil

Generous pinch crumbled

dried Monarda or chopped fresh thyme, or fresh basil, or a combination

Kosher salt and fresh ground black pepper

to taste

Dried hot chili

to taste (optional)
Instructions
Saute the lobster mushrooms in the oil for 5 minutes on medium-high heat, then add the onion and garlic, turn the heat down to medium and cook a few minutes more. Add the chopped peeled tomatoes and their juice and bring the mixture to a simmer, season with salt and pepper.

Meanwhile, bring a quart or two of water to a boil and blanch the egg plant until just tender, 1-2 minutes. Drain the eggplant and reserve.

Cook the mushroom mixture until most of the liquid is evaporated, then add the eggplant, stir to combine, double check the seasoning and adjust as needed, then stir in the herbs and serve.
Notes
Prepare the tomatoes by scoring the bottom with an X, then coring them. plunge them into boiling water for a few seconds until you can see the skins peeling back, then remove to a bowl to cool. Remove the skin, squeeze the seeds out into a strainer over a bowl, then chop the flesh into pieces. This is essentially tomato concasse.