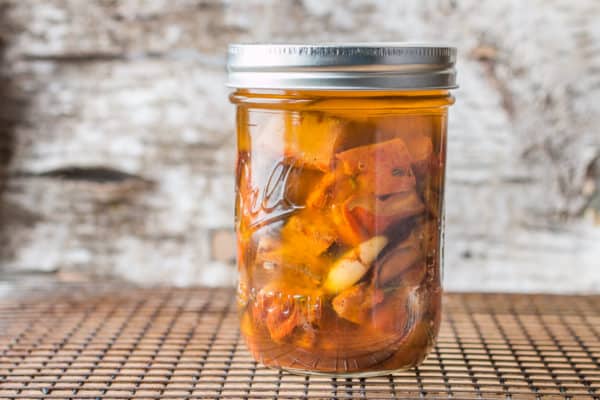 I'd struggle to think of anything that wouldn't be good seasoned and cooked covered in fat with herbs, and lobster mushroom confit is no exception. Even though mushrooms will never get fork tender like a pheasant thigh, or a goose leg, they're still great candidates for confit, but especially chunky, ones like lobster mushrooms.
Lobster mushrooms don't have tons of flavor fresh, and their shelf life can be widely variable depending on the age of the specific mushroom. With that in mind, it's nice to have a few different ways to preserve them.
Confit isn't an everyday thing you'll make all the time (this is pulled directly from my restaurant files) but it's definitely a special treatment worth considering, especially if you have a bunch.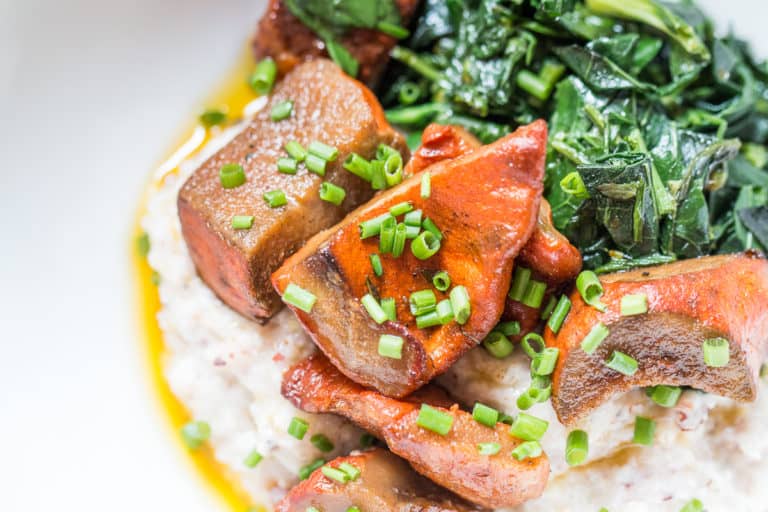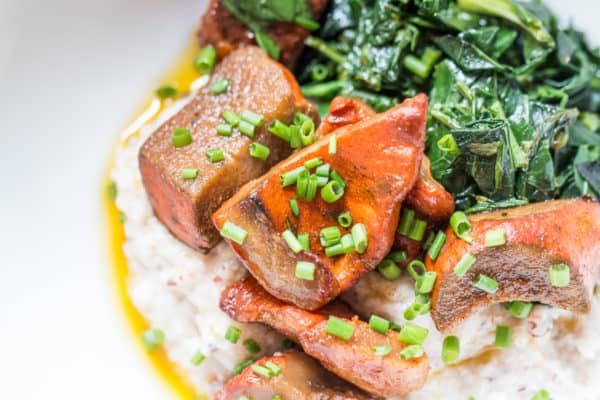 Basic confit process
With lobster mushroom confit, I treat the mushrooms exactly like I would meat. I cut the mushrooms into meaty pieces, weigh them, season them with 1% (or slightly more) of their weight in salt in grams, then mix them with a bunch of herbs, allow them to sit overnight to let the salt and herbs penetrate them, then cook them slowly in lard or another fat.
This is a way I would preserve large amounts of lobster mushrooms for restaurant service, storing the finished product in a hotel pan in the walk in cooler, but you can easily do it in a mason jar, as long as you make sure everything is kept under fat, which I've illustrated here.
You could also pack the mushrooms into a vacuum bag, fill with the room temperature oil, chill to firm, and then vacuum seal and freeze, which is a great option if you don't want to devote fridge real estate to mason jars.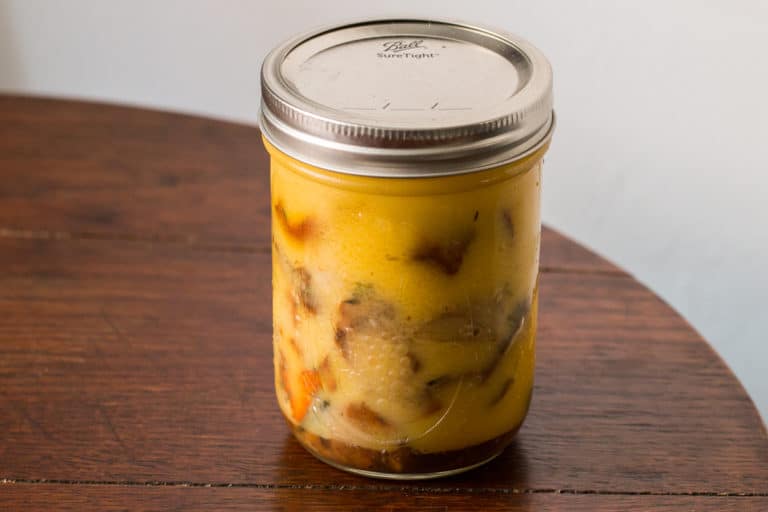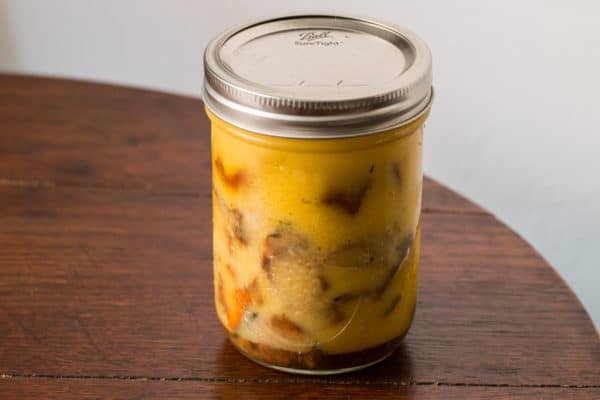 Kinds of fat you can use
Lard is my first choice for confit since it gets firm, forming an air-tight, hermetic seal that allows the mushrooms to be stored for months under refrigeration.
But, you could substitute unsalted butter for a dual-yield product, since you'll basically be making my lobster mushroom infused butter at the same time, which is a fun thing to keep around for other random things.
Once the mushroom confit is made, you store it for a while, say a couple weeks in the fridge, where it will mature and improve in flavor.
When it's time to use the confit, you dump the contents of the jar into a pot, bring it to a boil, then simmer for a while, then simply ladle out pieces of mushroom and a drizzle of their herby, rich fat onto whatever you're serving them with. Polenta with a side of wilted greens is a great choice.
Safety Notes
Holding things at home under fat is an ancient method of food preservation that pre-dates refrigeration by millenia, but our modern appliances have disrupted our ancestral knowledge of the practice.
Storing things like this at home, especially if you're not familiar with the process, isn't anything to be scared of, but you need to understand some restaurant best practices that are generally assumed here.
Most importantly, the seal of hard fat on the top of the jar must be solid, and air tight. There can be nothing protruding from the layer of fat, as air is what will introduce bacteria. This is the most important thing to remember. I once saw 20 lbs of venison shoulder confit get thrown away like that.
If you'll store the mushrooms for an extended period of time, use only clean utensils for removing them if the whole jar isn't used.
When reheating, cook the mushrooms for a good amount of time before serving, bringing them to a boil in their liquid, then turning down the heat and simmering for say, 20 minutes or so on low to medium heat.
Q & A
Can I preserve other mushrooms like this?
Yes, and we used to do it with whole Agaricus caps preserved in oil. Chunky mushrooms will be the best here, but you can do it with others.
Can you store it in a pantry?
If you pressure canned it, definitely. If you water bath can it *probably*, but you're on your own there as I haven't tried it.
Sausages and meat used to be kept like this without waterbath canning, but that was in the cold season in Europe, so the fat layer was always rock solid, and they were probably kept in a place so cool it neared refrigeration temperature. The best practice here is to store the confit in the fridge or freezer.
Just another good way to cook lobster mushrooms
This doesn't have to be a preserve, at all. Most of the time I would use it in restaurants to extend and align the shelf life of lobsters when picked en-masse, where I would harvest them and serve within a week or two. If holding things under fat freaks you out or makes you nervous at all, just hold them in the fridge and eat within a week.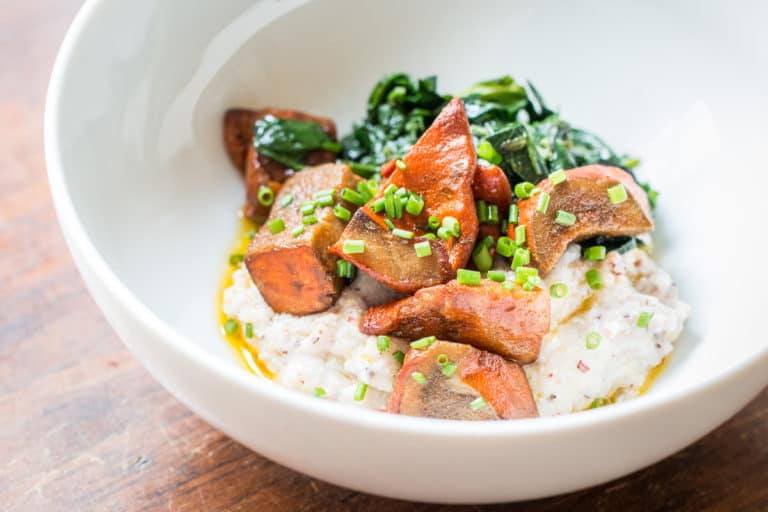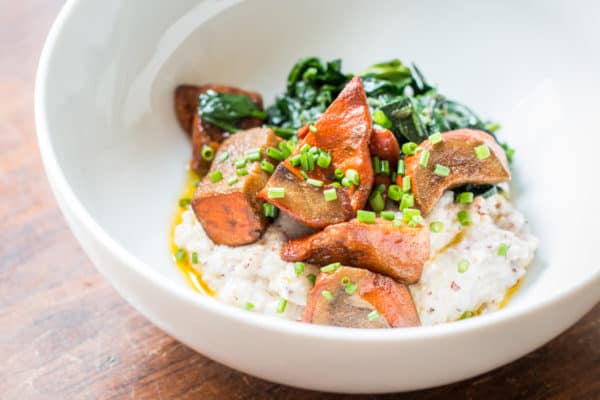 More
Vegetarian or Vegan Mushroom Recipes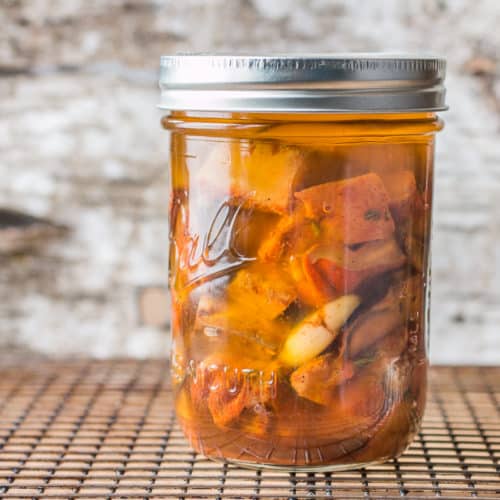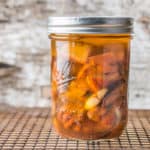 Print Recipe
Lobster Mushroom Confit
A preserve of lobster mushrooms seasoned with salt and herbs, simmered slowly in fat a la confit.
Ingredients
1.5

lbs

672 grams lobster mushrooms

cleaned, trimmed, and cut into 2 inch chunks

10

grams

1.5 teaspoons fine sea salt, or ground kosher salt

(see note)

2

teaspoons

paprika

1

teaspoon

ground cumin

5

cloves

of garlic

crushed with the back of a knife

1

Tablespoon

chopped thyme

1

large sprig of rosemary

whacked with the back of a knife to release their aroma

2

dried bay leaves

1

tablespoon

toasted black peppercorns

4

cups

melted lard or cooking oil

preferably from pork or poultry, although beef or lamb will work too
Instructions
Cut the lobster mushrooms into 2x2 inch pieces, preferably on the square side. In a large bowl, toss the lobster mushrooms with the salt and all the ingredients except the lard and allow to rest in the fridge, preferably for 12-24 hours.

Preheat the oven to 250. Remove the lobster mushrooms and aromatics from the bowl, but leave any liquid behind, Gently squeezing the lobster mushrooms to reduce the amount of juice will be in the finished confit.

To cook, put the mushrooms and aromatics in a container big enough to accommodate them being covered with lard (leave at least a 4 inch or so headspace to avoid spilling). Pour the melted lard over the mushrooms to cover them completely.

Bake for 1.5 hours, then remove the pan from the oven and transfer the mushrooms while piping hot to a mason jar or another container, completely covering them with fat. If you want to keep the mushroom confit for more than a week under refrigeration, there can be no air contact with the lobster mushrooms. Date and label the confit.

The confit will keep for a month or more completely under lard, but can be used after a week or so, or even directly from the oven if you don't want to preserve it.
Notes
On the salt
For restaurant batches, say 5lbs + it's fine to use 1% salt by weight. For smaller batches, I find I like to add a little bit more to ensure the confit is aggressively seasoned.
Yield
This will make enough to fill two pint jars, with a good amount excess fat and a few mushrooms leftover, as this has been modified from a large batch stored in hotel pans.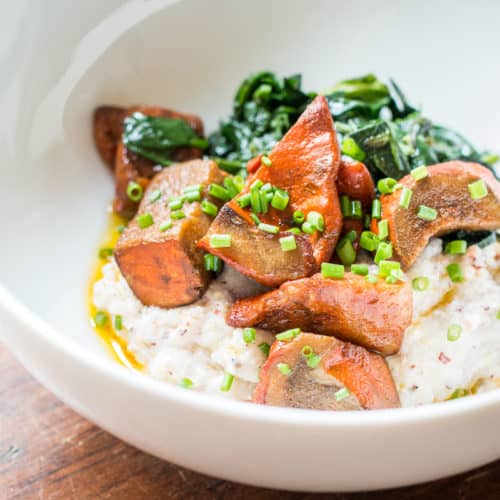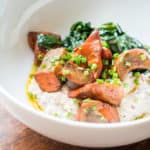 Print Recipe
Lobster mushroom confit with white polenta and wilted galinsoga
An example of how you might serve lobster mushroom confit, as a vegetarian entree. Meat can be added.
Ingredients
Lobster mushroom confit

and some of the flavorful oil from the confit

Cooked soft polenta

Wilted greens

Generous amount fresh chives or other herbs like parsley, cilantro, etc

Fresh lemon juice, to taste
Instructions
Bring the contents of the jar of mushroom confit to a boil, then turn down the heat to low and cook for 20 minutes or so while you prepare the rest of the ingredients.

Prepare some soft polenta and wilted greens, I used galinsoga, but any summer green you like is fine.

When the mushrooms are hot throughout, spoon some soft polenta into a serving bowl, along with some wilted greens, garnish with a healthy amount of lobster mushroom confit per person, season generously with chives, sprinkle with a dash of lemon juice and some of the reserved oil, and serve.