Choriqueso, the rich appetizer of Mexican chorizo sausage baked with melted cheese or cheese sauce on top is good on its own, but it's incredible with huitlacoche / corn mushrooms thrown in the mix. It's a really unique appetizer for feeding a crowd, and a great way to introduce people to huitlacoche.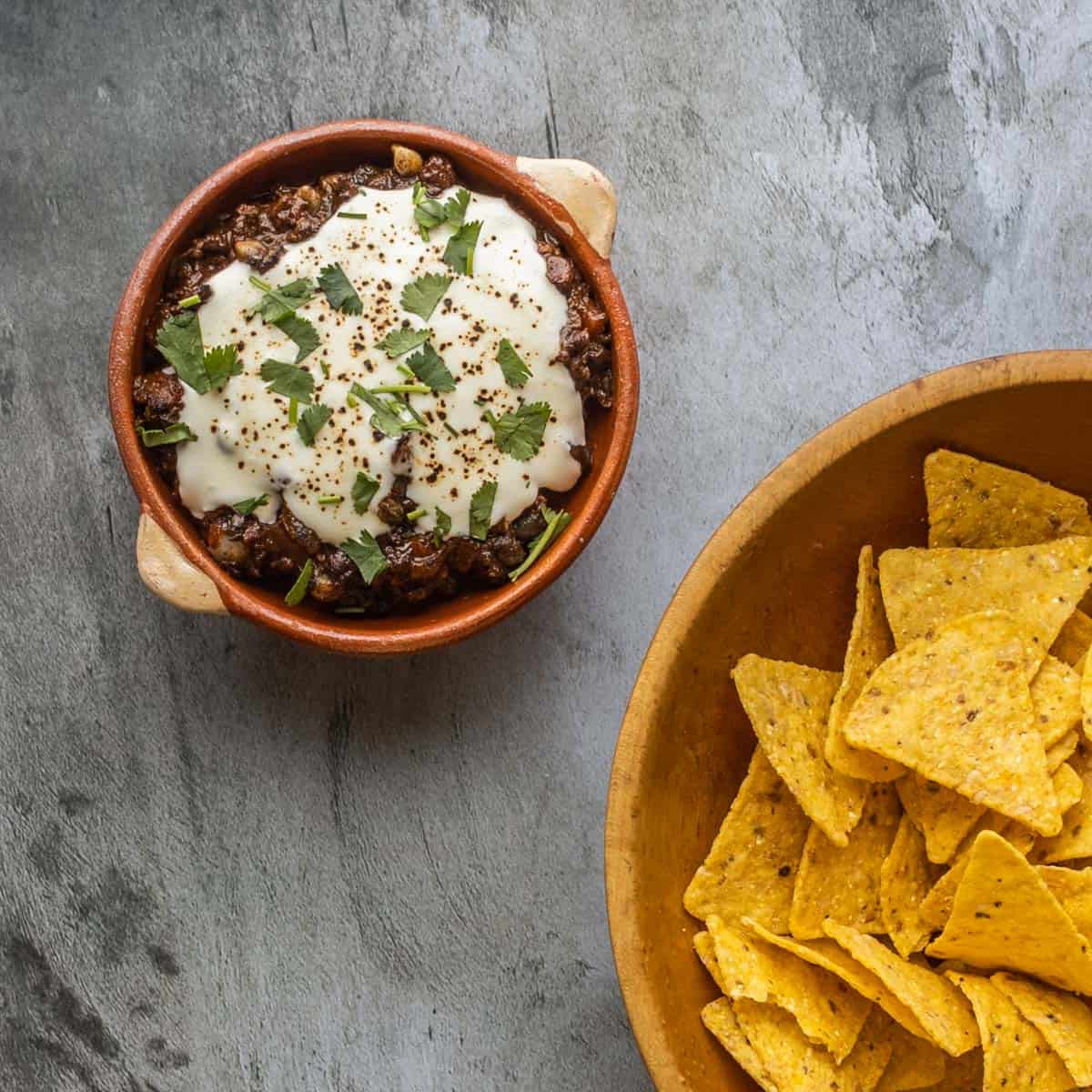 Grated cheese or sauce?
Order choriqueso at a Mexican restaurant, and what you'll get is likely one of two things: cooked chorizo warmed up in a dish with cheese sauce spooned over it to finish, or baked with grated cheese on it until it's golden brown and bubbling.
Both are ok, but grated cheese is easier for putting it together on the fly. Here I use a simple cheese sauce made from queso Oaxaca (you could sub monterey jack cheese or mozzarella as some Mexican restaurants do) and it's worth the extra effort to make a little sauce, but it's also totally fine to just toss some grated cheese on it, bake it, and call it a day.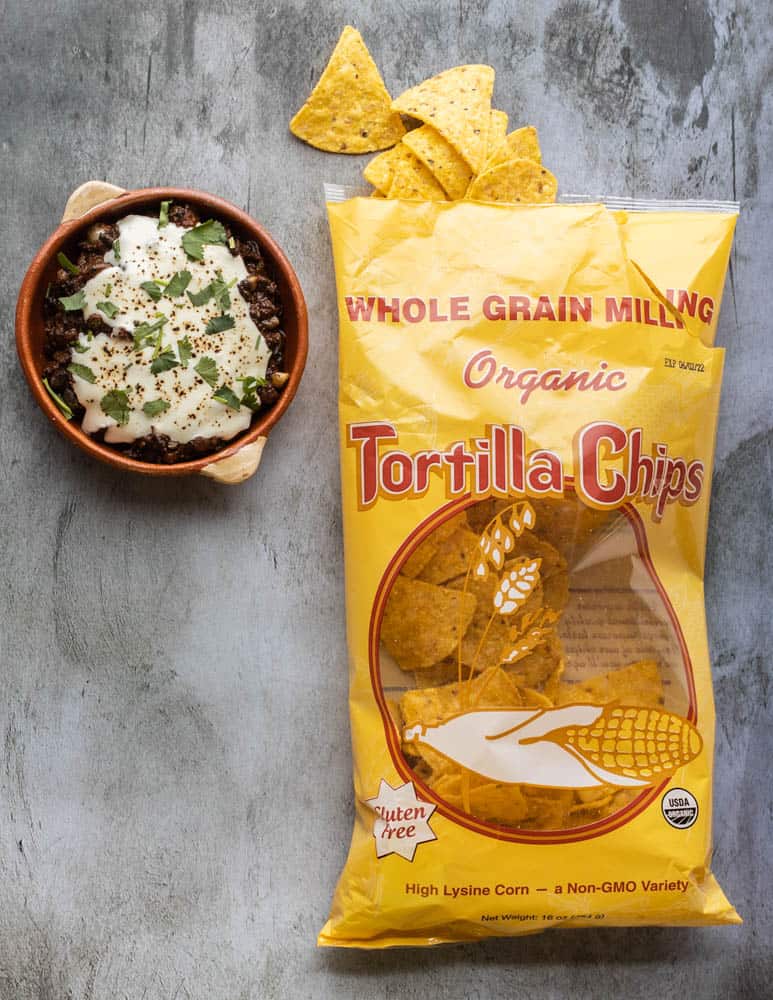 Huitlacoche
The huitlacoche isn't traditional, but it's fantastic here. Mixing the mushrooms with sausage is a great way to calm their flavor a bit, as well as making it so that the "dip" here isn't just pure pork chorizo and cheese. The flavors mingle together perfectly, making a sum greater than its parts.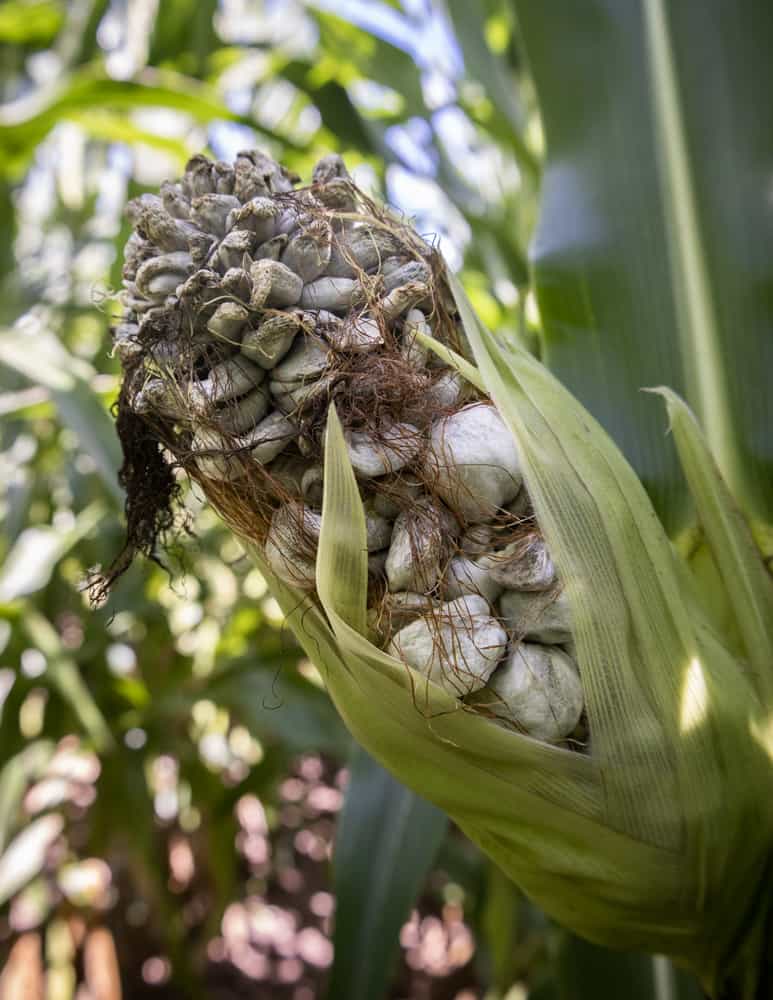 I use fresh-frozen huitlacoche here, and, unfortunately it's not easy to find in the wild, and it's expensive to purchase.
Most people will have a Latin grocer nearby, and some of them carry canned huitlacoche, which can work in a pinch.
Chorizo
Making your own chorizo is fun, and I recommend you try it sometime, but for me, there's just something about the conventional chorizo. The tubes of sausage yield a very soft, almost spreadable meat (due to the extra liquid and vinegar that's typically added) that can be hard to replicate with homemade versions.
Using pre-made chorizo is not only easier, but it ensures that the choriqueso will be more of a dip, and easier to pick up with chips, where homemade chorizo can end up being a little chunky. Sometimes it's ok not to make everything yourself.
Note that Spanish chorizo is a dry-cured sausage and shouldn't be substituted for Mexican chorizo.
Related Posts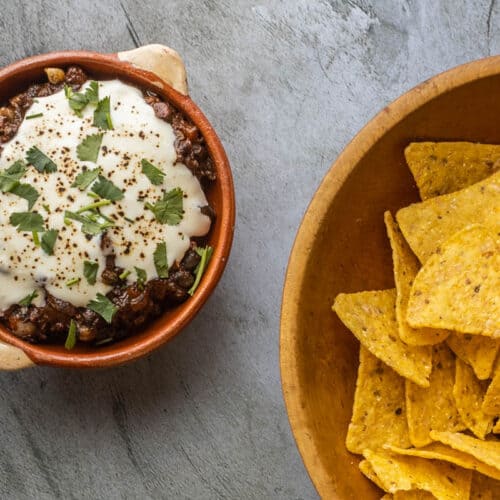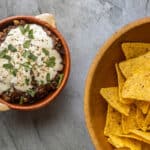 Print Recipe
Choriqueso Dip with Mushrooms
Chorizo cooked with huitlacoche, baked with cheese or cheese sauce and served as a dip with tortilla chips.
Equipment
1 2 quart sauce pot

for cheese sauce

1 baking dish
Ingredients
Sauce (makes a little more than you need-feel free to use grated cheese instead)
3

oz

grated cheese such as Oaxaca, monterrey jack, or mozzarella

You can substitute 3-4 oz of grated cheese

1

tablespoon

all purpose flour

1 ¼

cups

whole milk plus another splash if needed for thinning the sauce

¼

teaspoon

salt plus more to taste
Chorizo-Huitlacoche mix
1 9

oz

tube chorizo sausage

8

oz

huitlacoche

or two cans or prepared huitlacoche

2

roma tomatoes

(or 8 ounces total)

2

oz

shallot or white onion

finely chopped

1

large clove garlic

finely chopped or grated

1

tablespoon

flavorless cooking oil or pork lard
Instructions
Chorizo mix
First make the chorizo mix. In a pan with high sides, sweat the onion and garlic in the oil until translucent, about 5 minutes. Meanwhile, bring 2 quarts of water to a boil in a small pot.

Score the bottom of the tomatoes with an X and cut out the cores, then cook in the boiling water for 30-60 seconds or until you can see the skins start to release. Remove the tomatoes and cool, then discard the skin, squeeze out the seeds and discard, chop the flesh roughly and reserve.

Add the huitlacoche to the pan and cook until it's cooked off most of it's water. Add the tomatoes and chorizo, breaking it up with a spoon, and simmer for 10-15 minutes (you can bake it at 350 for a similar amount of time if it threatens to splatter) or until thickened.
Queso Dip
As the chorizo mixture cooks, make the cheese sauce if using. In a small pot, melt the butter, then add the flour and whisk. Gradually add the milk, roughly ¼ cup at a time, whisking until smooth after each addition.

When all the milk has been added, stir in the cheese off the heat-from here on out, the sauce cannot boil or it will break and separate. Double check the seasoning of the sauce for salt and adjust with a pinch if needed.
Serving
To serve, spoon the chorizo mixture into a shallow baking dish (or serve it in a cast iron skillet). Top the mixture with the cheese sauce (you may not need all of it) or grated cheese, then broil until just starting to brown.

I use a blowtorch to make sure the sauce doesn't separate. You can also just spoon the warm sauce over the hot chorizo mixture in a dish if you don't want to bake it-a good option if you haven't cooked with finicky cheese sauce much.

Serve the finished choriqueso garnished with chopped fresh cilantro and tortilla chips on the side or warm tortillas.
Notes
Serving notes 
You can serve this with plenty of things. Tortilla chips, warm corn tortillas, or flour tortillas. Tortilla chips are the least messy.
Some people also add sour cream to the cheese sauce, but it makes it easy to break so I find it unnecessary. 
Chorizo 
Since chorizo comes in 9 oz tubes, I'm writing this accordingly so you don't have half a tube of extra sausage lying around, but know that it makes a big batch, so feel free to cut it in half if you need.
Nutrition
Serving:
4
oz
|
Calories:
138
kcal
|
Carbohydrates:
5
g
|
Protein:
8
g
|
Fat:
9
g
|
Saturated Fat:
6
g
|
Polyunsaturated Fat:
0.2
g
|
Monounsaturated Fat:
1
g
|
Cholesterol:
39
mg
|
Sodium:
38
mg
|
Potassium:
190
mg
|
Fiber:
1
g
|
Sugar:
3
g
|
Vitamin A:
458
IU
|
Vitamin C:
9
mg
|
Calcium:
152
mg
|
Iron:
1
mg