A simple quesadilla with huitlacoche / corn mushrooms / corn smut is probably a contender for one of the best quesadillas I've had, especially if you're new to cooking with huitlacoche, or, you like it and you want to sneak it into a meal to convert people.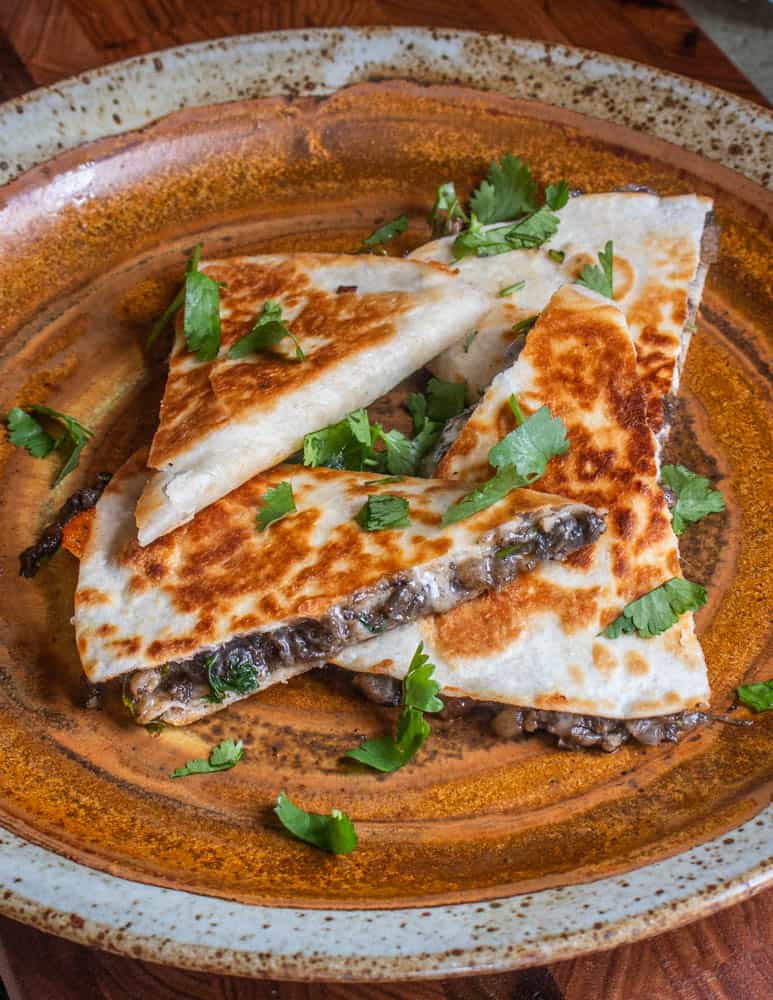 A traditional meat substitute
Huitlacoche is a traditional filling for quesadillas, and often used as a meat replacement (zucchini blossoms too) as it's harvested in large quantities in Mexico, canned and available year round.
If you go to a decent Mexican restaurant and look at the list of "protein options", along with the carnitas and al pastor, you'll probably see huitlacoche, or corn mushrooms.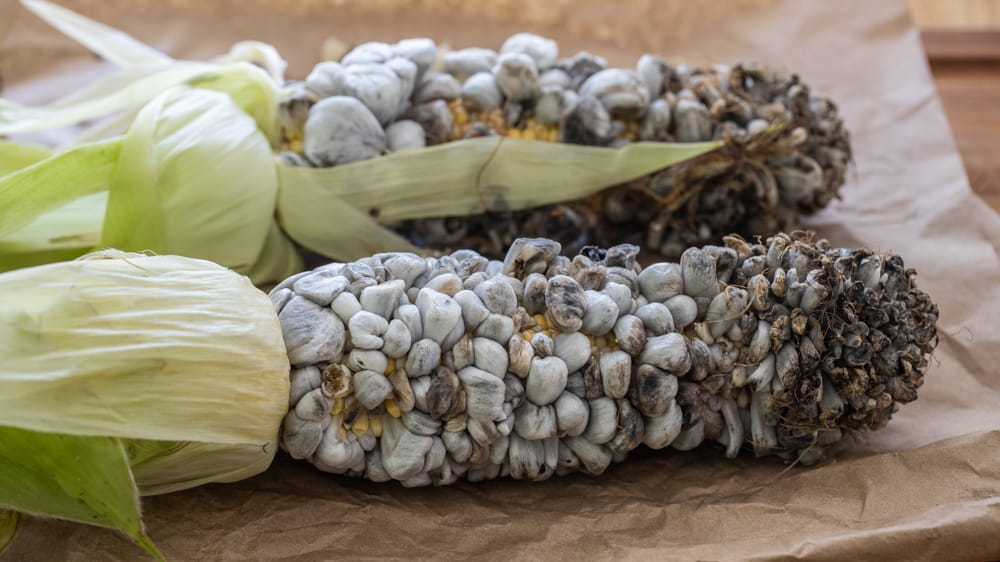 I love huitlacoche, but I don't often order it at Mexican restaurants because it's always canned, which isn't anywhere near as good as fresh or frozen. Canned huitlacoche is heavy on the juice, and also contains a large amount of field corn that gets cut off the cob as the mushrooms are being removed.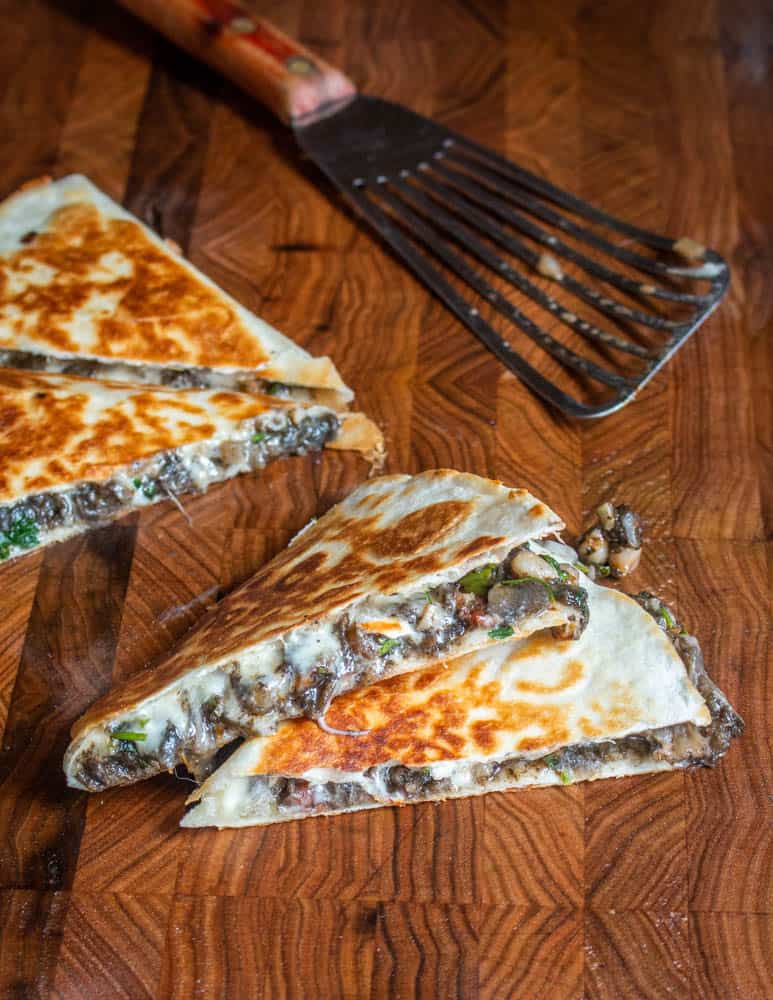 Field corn is just like what it sounds like: it's the sort of tough, hard kernels that are grown to feed animals in the United States. If canned huitlacoche is the only thing that you can find though, it will do in a pinch. Fresh and frozen huitlacoche will run about 25$ / pound through wholesalers if you can't find any yourself.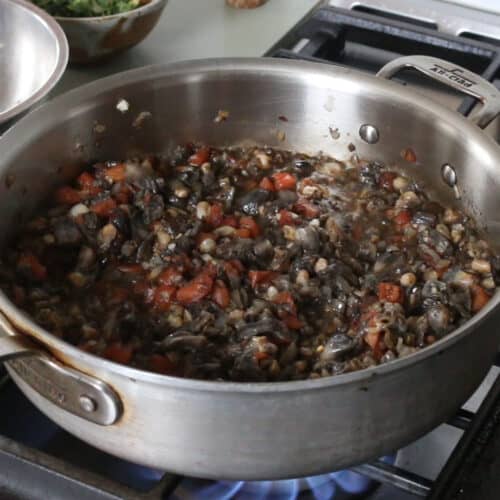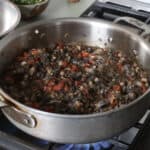 Mixing the huitlacoche with other ingredients
I love huitlacoche, but I don't want to eat a quesadilla filled with it alone. Unlike most mushrooms that have a relatively mild flavor, huitlacoche is so strong tasting that some people won't like it.
To help cut the rich flavor, I cook the huitlacoche down with onions, garlic, and big handful of chopped, peeled tomatoes first, simmering it down until the pan is nearly dry and mashing it with the back of a spoon before adding it to the quesadilla.
The acid in the tomatoes really helps to cut the strong flavor of the mushrooms and add some brightness. The finished, seasoned huitlacoche mixture is great for other things too where you might use meat: tamales, pupusas, and even stirred into soup are other things I've done that are good options.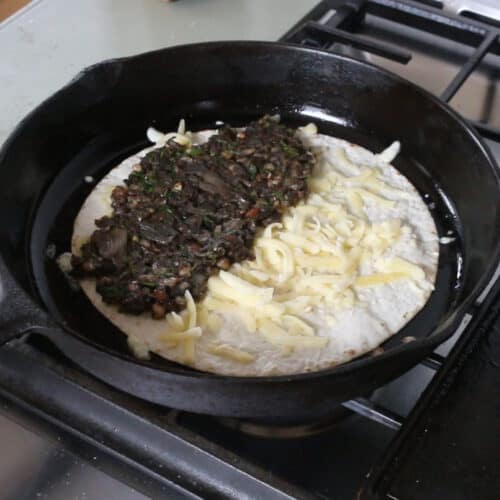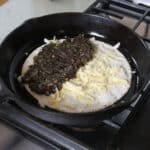 Flour tortilla vs corn
Flour tortillas are probably not the most traditional here, but they're accessible and easy to use. You can make similar quesadillas with corn tortillas too, just make sure to warm them up to make them pliable first. As another option, consider making fresh tortillas or stuffed masa cakes with the huitlacoche mix.
There's just something about a golden-brown, crisp flour tortilla that I love being an American-even if it's not the most traditional, it's still good.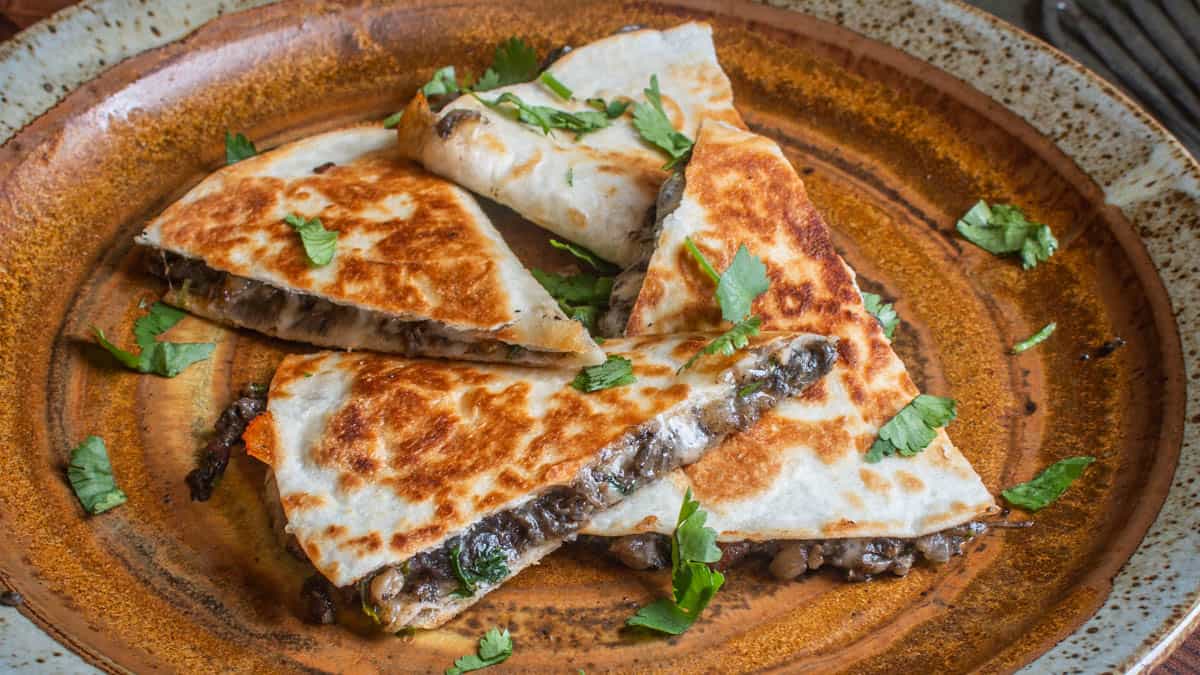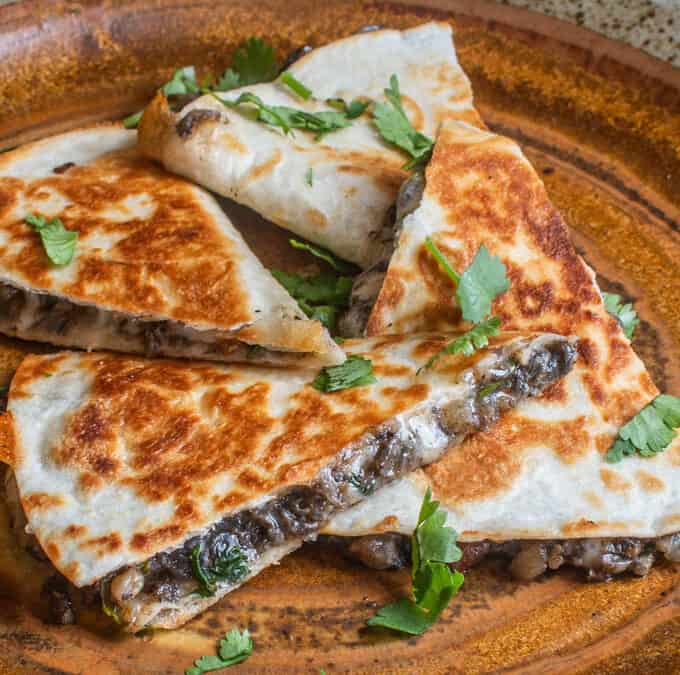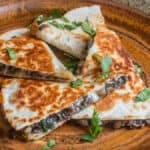 Print Recipe
Huitlacoche Quesadilla
A simple quesadilla made with huitlacoche or corn mushrooms, instead of meat. The huitlacoche mixture makes more than you need, enough for 2-3 quesadillas depending on size.
Ingredients
8

oz

fresh or frozen huitlacoche

you can use canned huitlacoche but it's not quite the same

6

oz

2 large Roma tomatoes (1 one cup canned peeled whole tomatoes or equivalent)

Kosher salt, to taste

Small handful of chopped fresh cilantro

Epazote can also be added, and is traditional

1

Tablespoons

lard or cooking oil

Crushed red pepper flakes

or 1 jalapeno, chopped

1

medium onion, finely chopped

½

tablespoon

minced garlic

2

oz

grated cheese, such as queso Oaxaca, mozzarella, etc

8

inch

flour tortilla
Instructions
Tomatoes

Bring 2 quarts of water to a boil. Meanwhile, core the tomatoes, score the bottoms with and X, then put in the boiling water for 30 seconds or until the skin around the X starts to peel back. Remove the tomatoes, cool, peel, squeeze out the seeds and discard, then chop the tomatoes and reserve.

Huitlacoche mixture

In a saute pan, heat the lard or oil and add the onion and garlic. Cook for 3-4 minutes or until translucent, then add the huitlacoche and tomato and cook, mashing the mixture up with the back of a spoon as it cooks, until the pan is nearly dry. Season the mixture with salt to taste, add the cilantro and reserve.

Finishing and serving

To make the quesadilla, grease a large pan, such as a 12 inch cast iron skillet. Add the tortilla and warm it on both sides for a moment or two until pliable on medium heat, then add the cheese and roughly ½ -¾ cup of the huitlacoche mixture. When the cheese has started to melt, fold the quesadilla in half, pressing it down gently to help it brown evenly.

Add some extra oil if the pan looks dry. Peak under the quesadilla to check on it's color, when one side is browned, flip it, pressing down gently again, and adding a teaspoon of oil if needed, cooking until the other side is golden brown and crisp.

When both sides are brown and crisp, remove the quesadilla to a cutting board, cut into 4 wedges, sprinkle with cilantro and serve with your favorite accompaniments.
Related Posts