Erbazzone, also known as scarpazonne, a rustic pie (technically called a torta) of foraged greens from Emilia Romagna in Northern Italy, is one of the first things I'll be making again this year.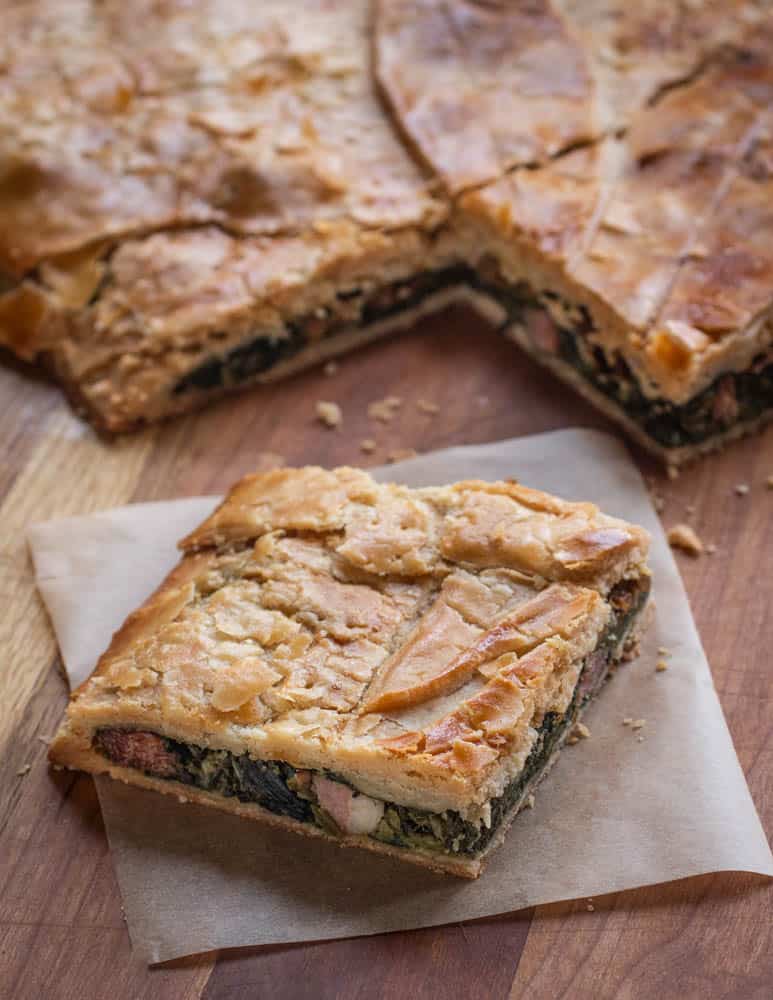 This is a traditional, Italian preparation for greens with lots of modern and unique localized variations that may or may not share the same name.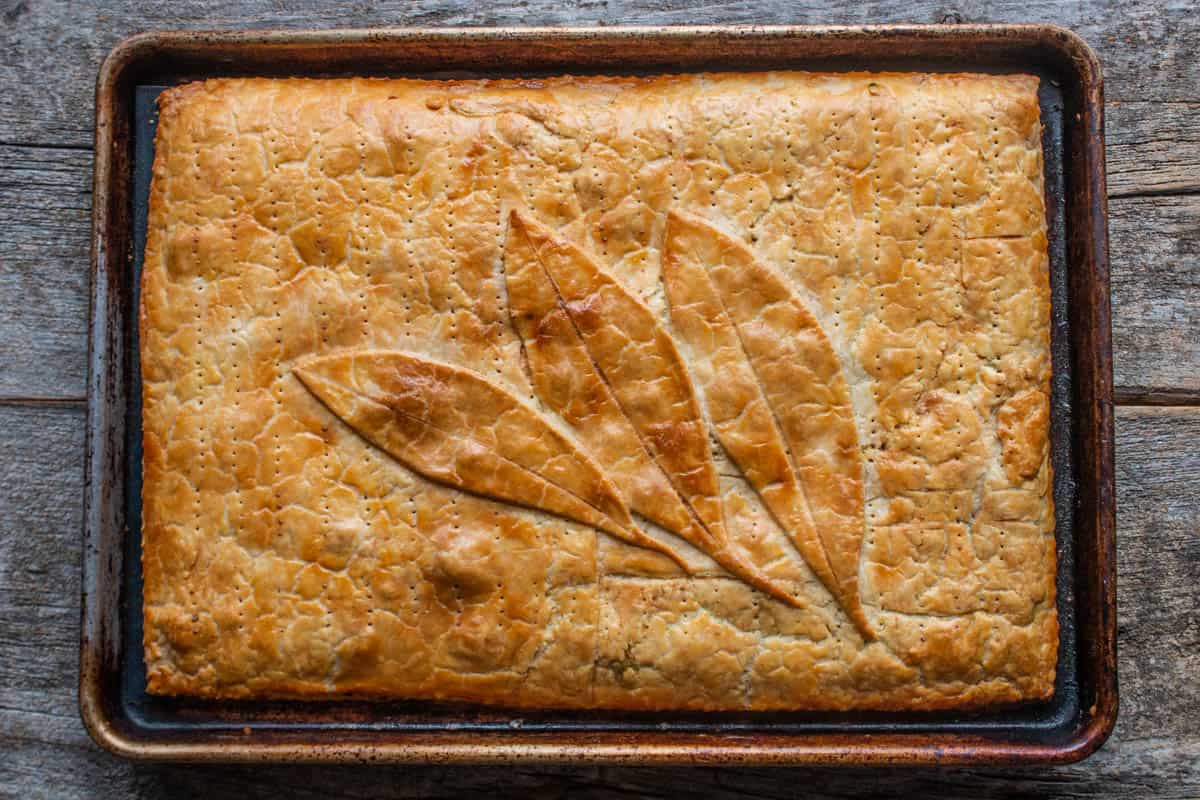 Modern versions may call for spinach or chard, but if you look closely at the descriptions, you can see few hints about its origin as a vehicle for edible wild plants.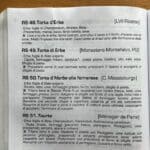 Poverty food
Erbazzone is often described as a peasant dish, or something made with large mixtures of greens and herbs. If I've learned anything, it's that dishes calling for mixtures of leafy green and herbs almost always have their roots in people gathering whatever they can from the landscape around them.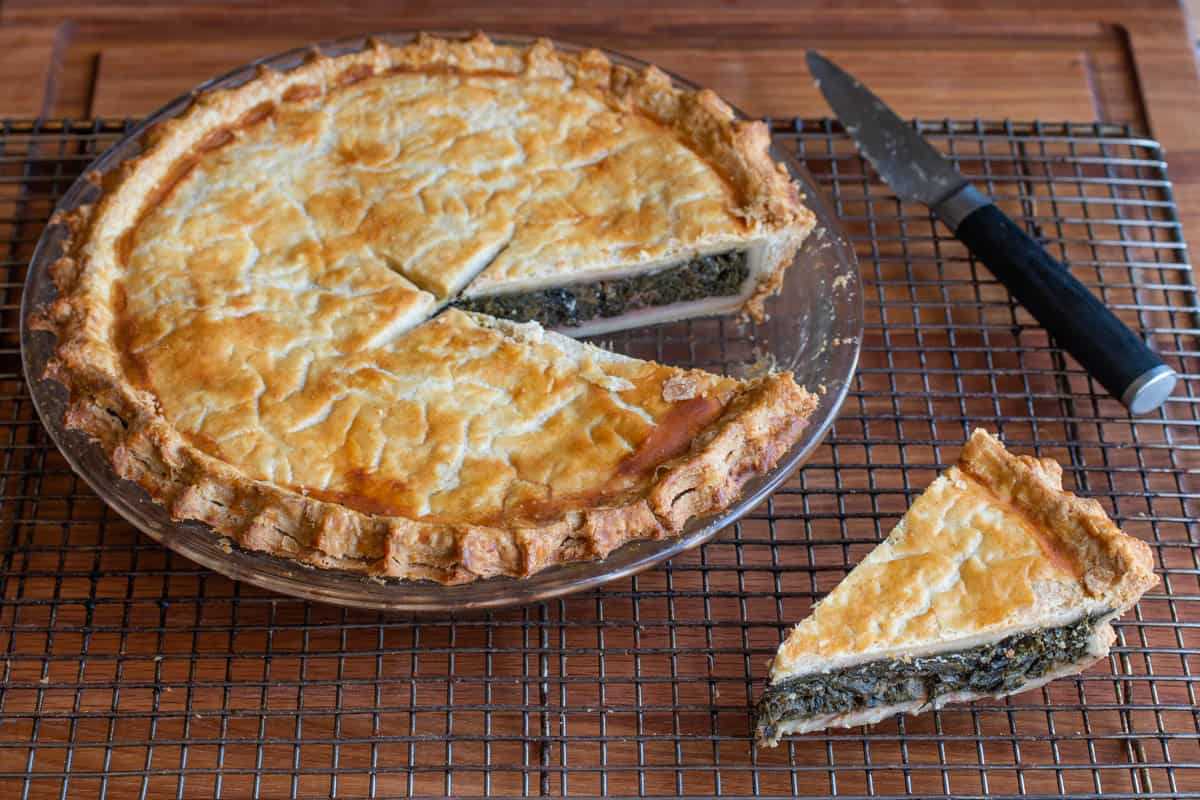 Recipes calling for chard or beet greens
If you look at modern recipes for erbazzone, you'll see lots of mentions of chard, spinach, or beet greens. In the Mediterranean, one of the most commonly harvested wild food plants I see listed in ethnobotanical texts and studies is Beta vulgaris maritima, or wild beet / sea beet greens. These don't grow in North America (or at least the Midwest) to my knowledge, but their use is heavily documented in Europe.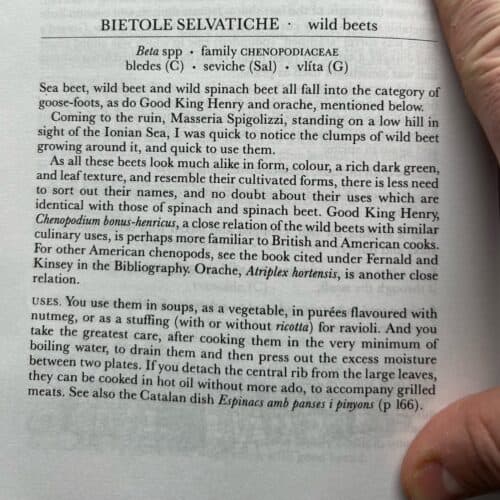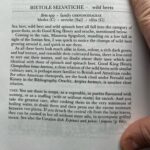 As is the case with so many wild foods, people seem to gradually shift away from harvesting the traditional wild plants used in a dish for convenience, instead substituting the similar-tasting, but easier to find relatives.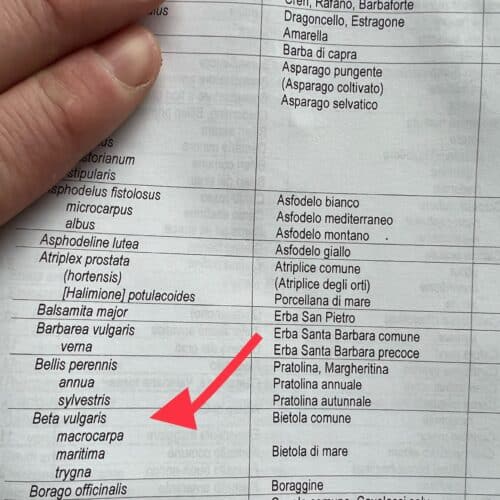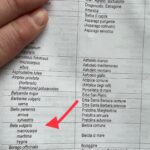 Making the pie
There's lots of variations here. Some erbazzone have a thin crust similar to flat bread, some modern recipes call for puff pastry, and then there's rustic ones using very lean doughs similar to pasta dough.
I tried a number of versions, and, while a lean dough is probably more frugal and traditional, subbing your favorite pie crust is an easy workaround, and the firm crust makes the finished pie durable, portable, and craveble, so that's what I use.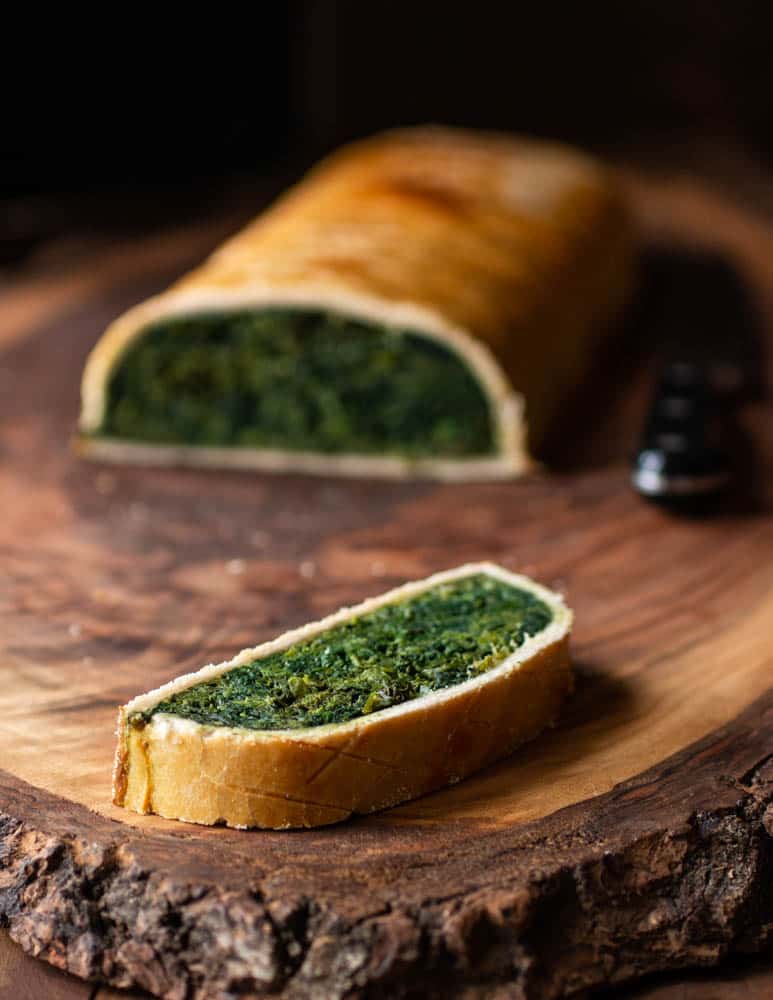 Greens to use
This is a great place to use a big batch of Spring greens at their peak, and a perfect way to dress up bitter greens that will be an easier sell mixed with the fat, cured meat, and cheese that makes up the filling. If you love dandelions, sow thistle, garlic mustard and other strong-tasting greens but your family doesn't, this will prove they can be addictive.
Mixing bitter and strong tasting greens, say, half and half with sweet/mild greens like nettles or watercress can be a good way for picky eaters to dip their toes into the deep, green flavors of spring.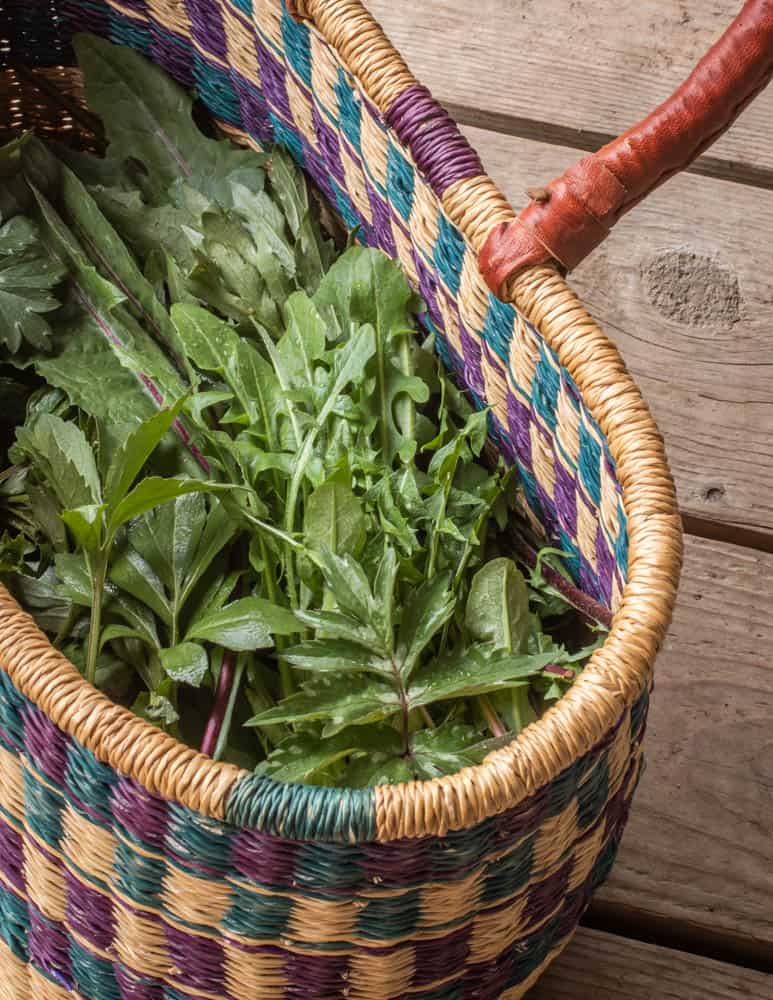 Building flavor with onions, herbs and meat
Spring onions, herbs, meat and cheese can all be added. Some recipes call for ricotta, but that seems like filler to me. Here I use ramp greens for their oniony kick, along with a handful of parmesan and some slab bacon I make, but you can tinker with the proportions and use what tastes good to you.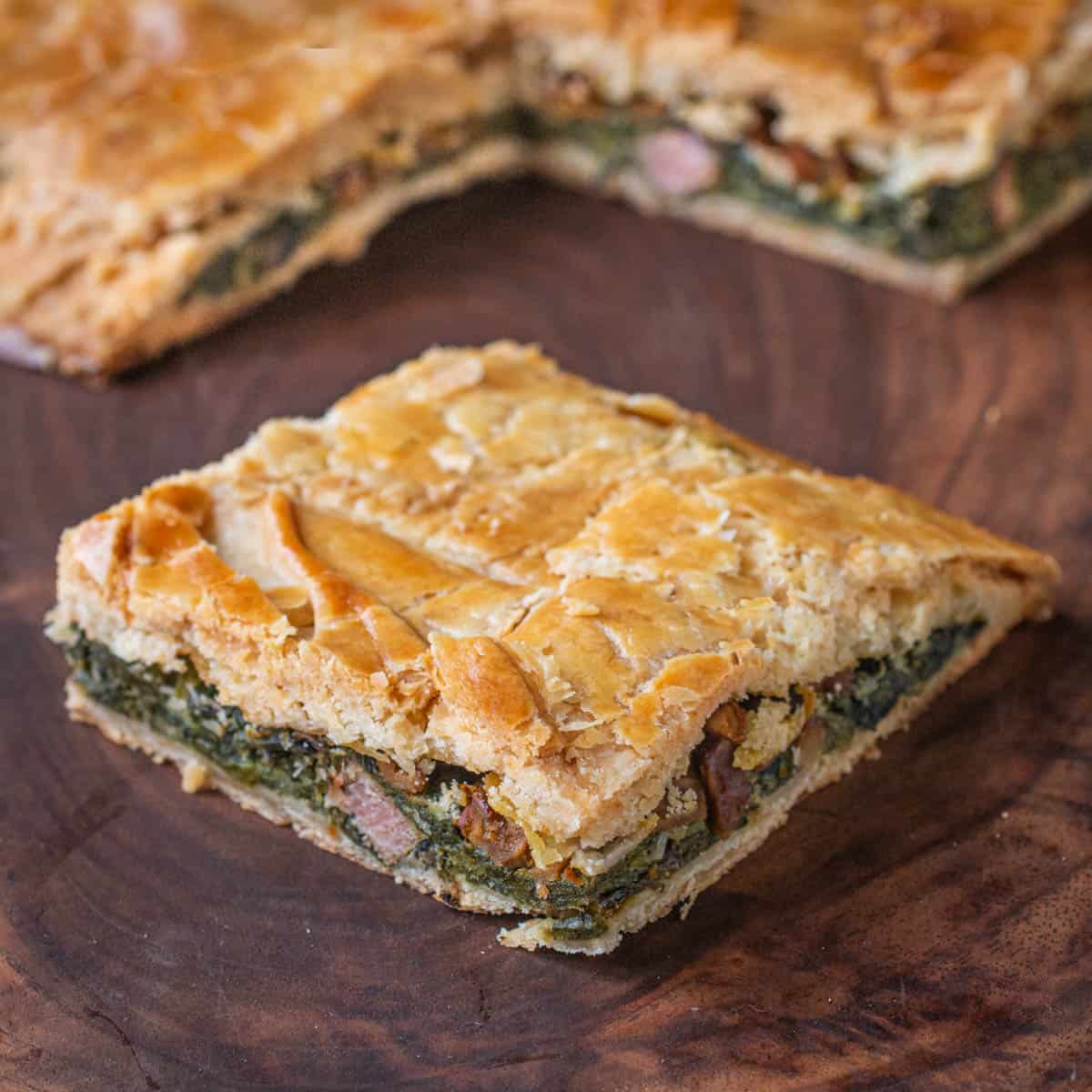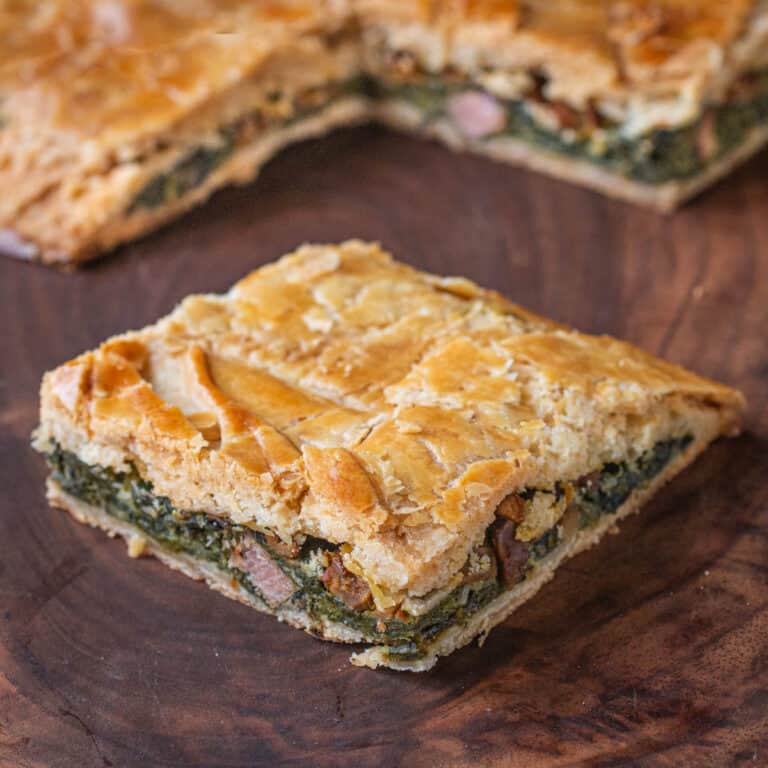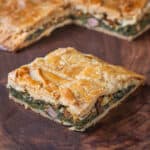 Print Recipe
Erbazzone: Italian Foraged Greens Pie
A famous Italian double-crusted pie of greens flavored with a little Parmesan cheese, and bacon or pancetta, if you like. Some of the recipe testers recommended making it into hand-pies for more portable portions.
Ingredients
Pastry crust
8

ounces

225 g unsalted butter, chilled

2

cups

240 g flour (I like to use a blend of whole wheat and pastry flour, but you could use all-purpose if you like)

½

teaspoon

kosher salt

Cold water, as needed to bring the dough together
Filling
2

ounces

55 g slab or thick-cut bacon, diced in ¼- inch (6 mm) dice

3

ounces

85 g green onions or ramp leaves, sliced in ½- inch (1.25 cm) slices

1 ½

lbs

680 g mixed wild greens, washed and dried

Kosher salt to taste

¼

teaspoon

pumpkin pie spice, nutmeg, or equivalent

I use Baharat spice mix, since I keep it around and it's very similar.

½

cup

50 g grated Pecorino Romano cheese

3

egg yolks

1

beaten egg, for brushing the top
Instructions
Pastry Crust
Cut the butter into small pieces, then mix with the flour and salt using a pastry blender, knives, or your hands until the mixture looks like coarse meal. Gradually add water, little by little, just until the dough can be gathered into a ball.

Separate the dough into 2 two equal pieces, flatten into disks, wrap in plastic, and refrigerate to hydrate the flour and until the disks become firm (at least an hour, or overnight). The dough can be made days ahead of time and kept refrigerated.
Filling
Sweat the bacon on medium heat until the fat renders, about 5 minutes; the bacon should be tender, but not crisp or hard. Add the onions to the pan and, cook for a minute or two. Meanwhile, coarsely chop the greens, add to the pan, cover to help steam the greens, and cook, stirring occasionally, adding a tablespoon or two of water if the pan threatens to dry out.

Cook the greens until they're tender and taste good to you (about 10 minutes for me), then transfer to a mixing bowl and cool for a few minutes. Press on the greens with a towel to remove any remaining liquid, cool for a few minutes more, then mix in the cheese and egg yolks, along with the spices. Double- check the seasoning for salt and adjust until it tastes good to you.
Rolling out the dough and cooking
Meanwhile, roll out the bottom pastry crust and use it to line a pie pan, —or, alternatively, roll out the dough into a square about 10- to 11 inches" (26 – 28 cm) on a side. Preheat the oven to 400°F (200°C). Pack the greens mixture into the crust, pressing down to remove air, then roll out the top crust, lay it over the top, crimp the edges, brush with beaten egg, cut a few slices in the top to let air escape, and bake for 15 minutes.

Then turn down the heat to 350°F (180°C) and bake for about 30 minutes more, or until the top is nicely browned and attractive.

Cool for a few minutes before slicing into individual servings. The Erbazzone holds heat well, travels like a dream, and is good at room temperature, too.