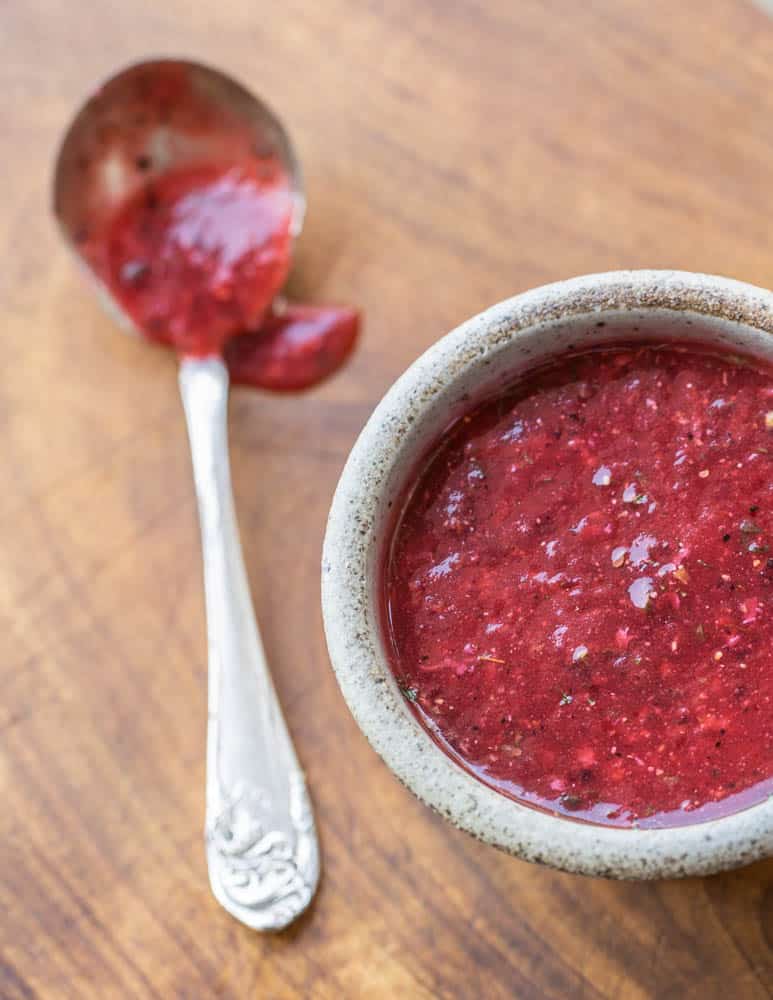 The cuisine of Georgia and the Caucasus offers a lot of inspiration for the adventurous cook and forager, and Tkemali sauce (Tee-guh-molly) is one of the crown jewels of their cuisine—a sort of ketchup like condiment rich with garlic, hot chilies and spices like fenugreek and coriander that would make a shoe taste good.
It makes for a great highbush cranberry recipe, and, unlike other more common preservation methods like jelly and jam, doesn't include a lick of sugar.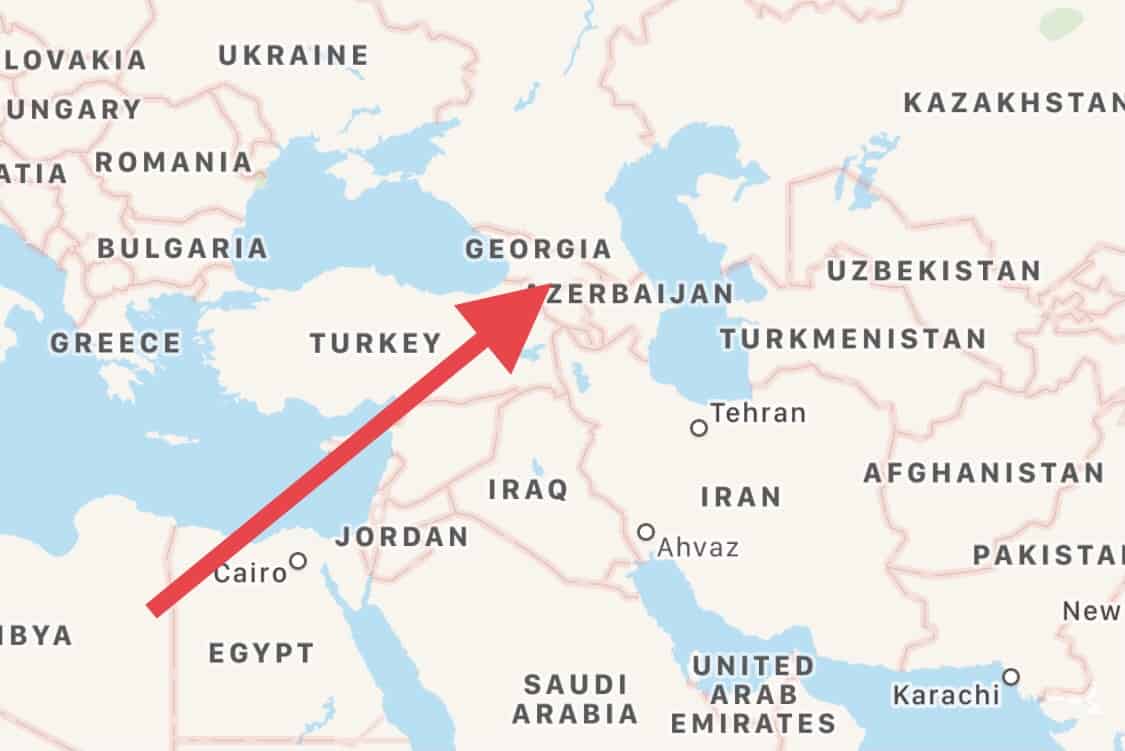 The ketchup of the Caucasus
It's said that Tkemali is to Georgia what ketchup is to the United States, just more interesting, and not filled with corn syrup.
I got interested in the food of the Caucuses from reading about condiments made in the region from conifers, specifically Zirbenshnapps, Pine Cone Mugolio, and Spruce Tip Syrup, the latter of which is supposedly still made by mixing spruce tips with sugar and burying them in jars for a year in Romania before unearthing them, like a sort of culinary time capsule.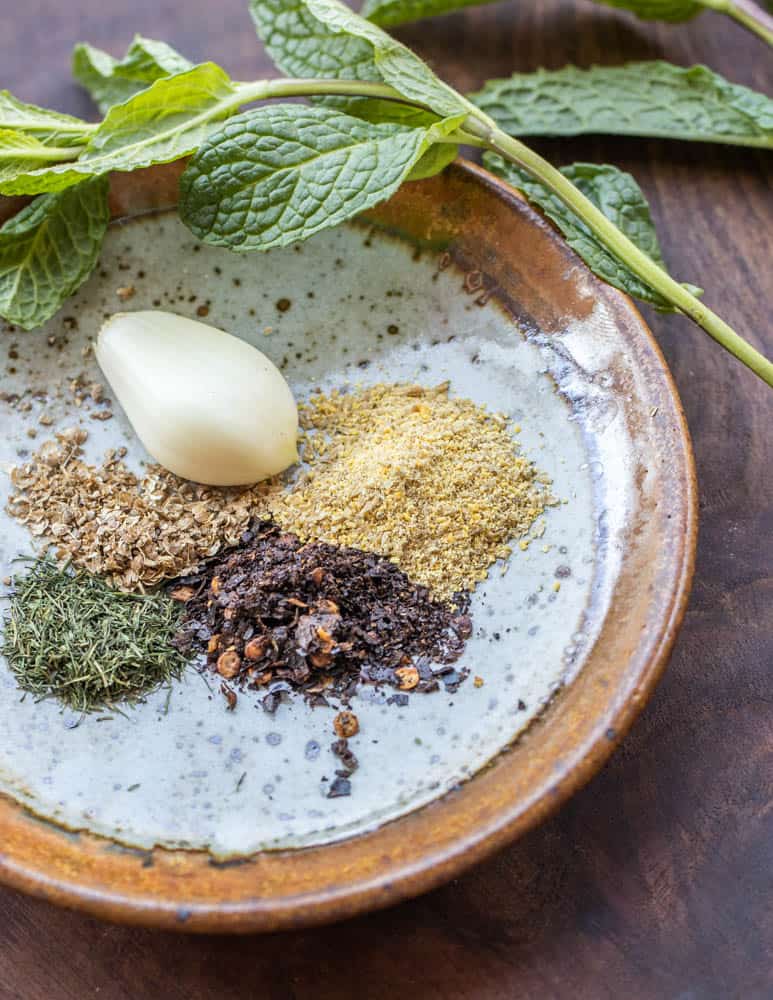 Reading a few books on Georgian Cuisine, especially Dara Goldstein's, and watching YouTube videos of Georgian ladies making Tkemali sauce showed me a few other useful things, specifically how to separate the flesh of wild plums from the skin and seeds using a colander when making Tkemali sauce.
Tkemali had a quick blip on the culinary radar a few years ago, but people seem to quickly forget about it. When I read that the sauce was made from a sort of wild plum in the region, I had to see how I could fashion a version from Prunus americana and Prunus nigra.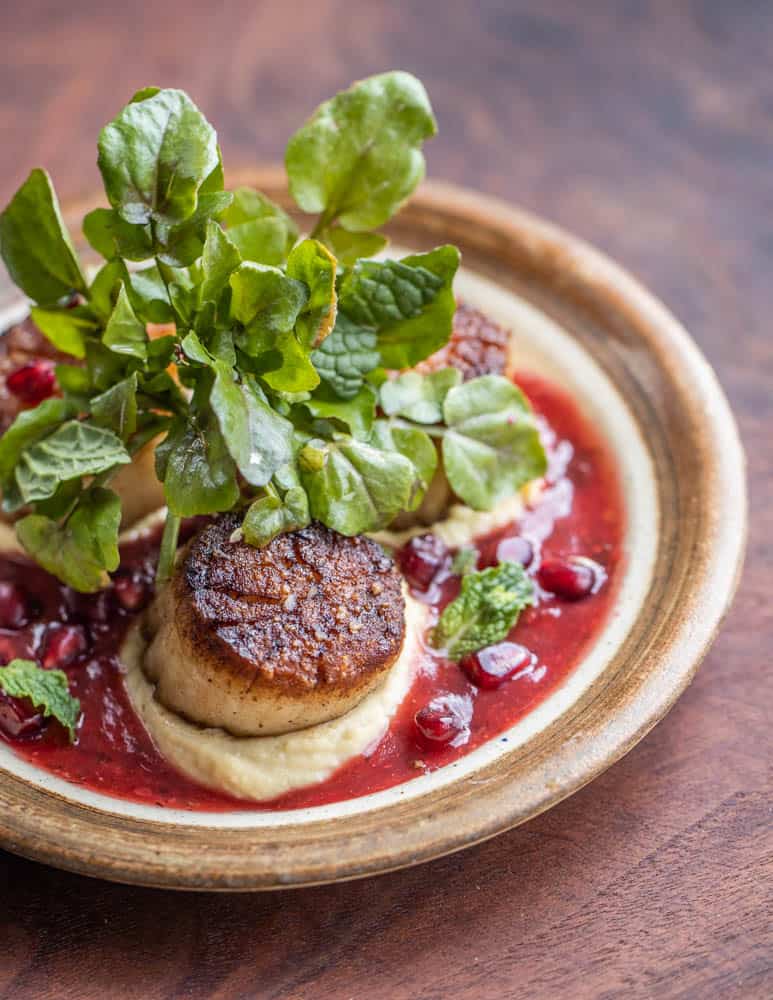 I tried to make a version that was delicious, I even served some of them to small groups to test the waters and brought it in for my line cooks to taste. I also ordered plenty of bottles of the commercial Tkemalis to test to make sure I had the seasoning blend right (it's a stripped-down variation on the Georgian spice mixture called Khumeli Sunneli that I use to make Kharcho).
Quick aside, the commercial Tkemalis are delicious and addictive, and worth trying  if you like tasting food out of your comfort zone. Pomona is my favorite brand.
Wild plums didn't work
I tried in vain to make wild plum Tkemali for 3 years. The problem is that the species of wild plum I've worked with are just too tannic. Unripe, overripe, in-between, perfectly ripe, unripe and fermented, fermented, dried, rehydrated and boiled—I tried it all.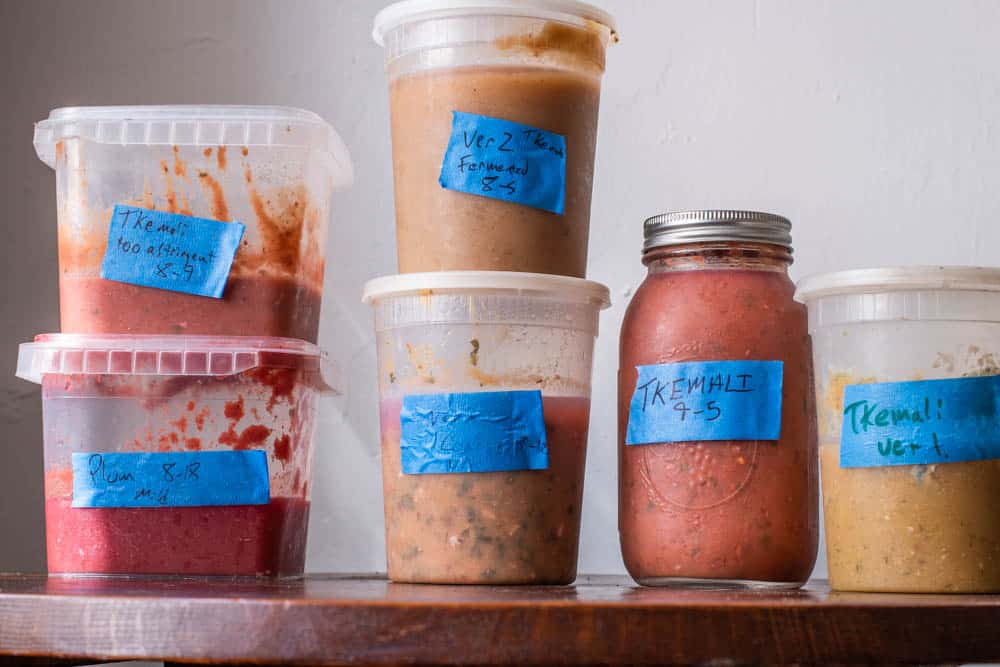 Some of the versions were ok, the tartness was on-point, but they weren't good enough for me to share with people and say: "here's something interesting you can make and enjoy", they were just too tannic.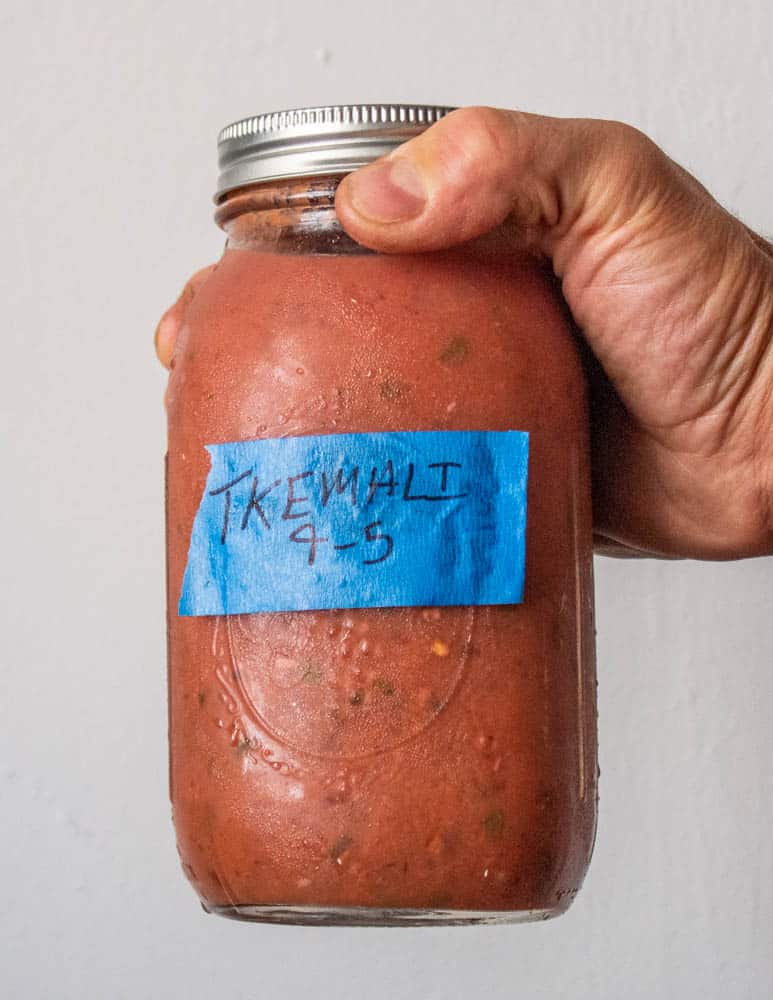 Then, this year, Sam Thayer dropped a metric ton (approximately) of his highbush cranberry cultivars on me. Sam's named 3 so far-each one superior to the Viburnum trilobum, which is itself superior to the foul-tasting European Viburnum opulus that's widespread and said erroneously sold by nurseries (and even the D.N.R.) as a native North American food plant.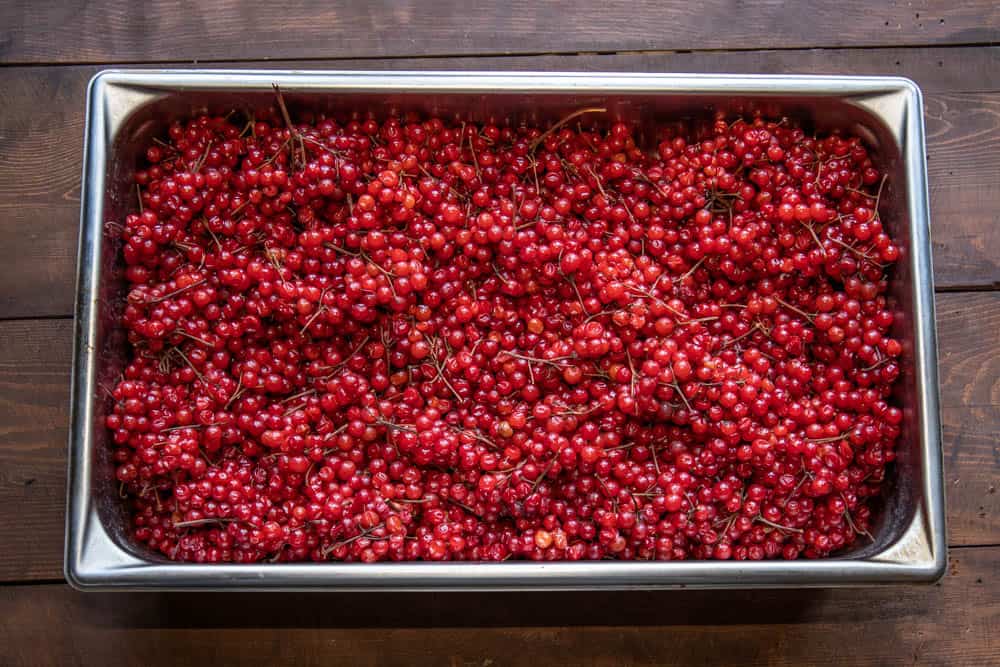 As I juiced the berries, I reduced some of the finished juice down to save freezer space when it hit me.
Tasting the deep red juice, reveling in the deep tartness and thickness that came from cooking off the water, I realized that the substrate for a North American Tkemali had been sitting in front of me the whole time.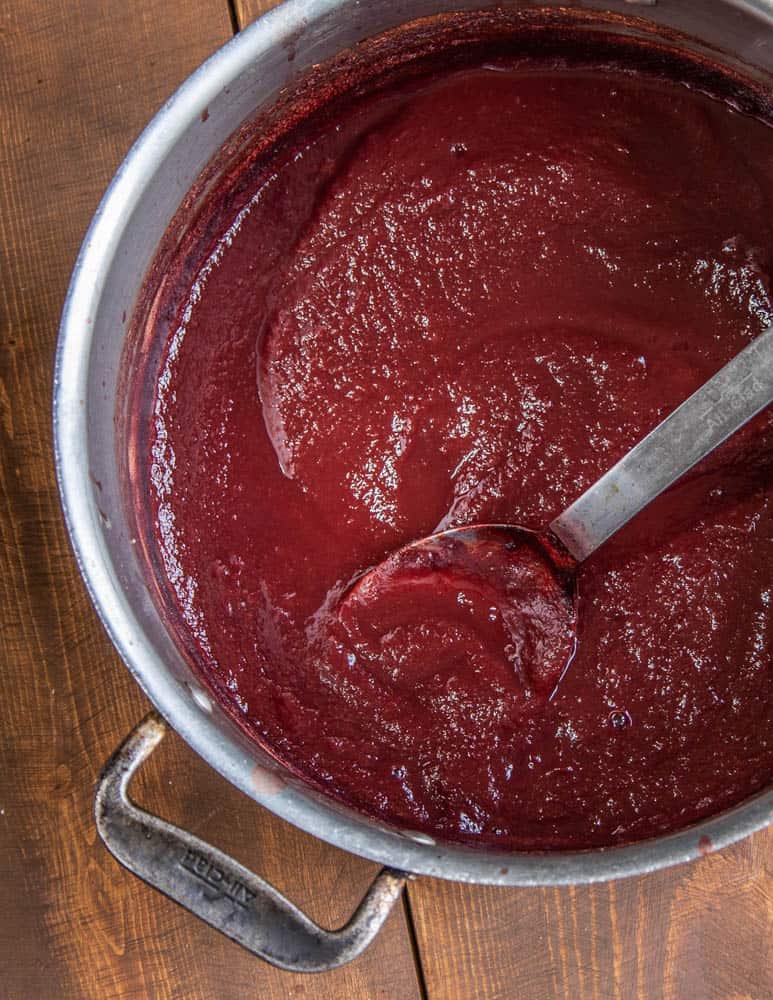 Highbush cranberries would give me the tartness I wanted that mimics the Tkemali plum, without the aggressive tannins from my local wild plums.
From there, all I had to do was plug in the spice mixture (at least I got that dialed in after 3 years!) and I was off to the races. The finished sauce is a good condiment for vegetables, seafood and chicken, and can hold up to pork, too.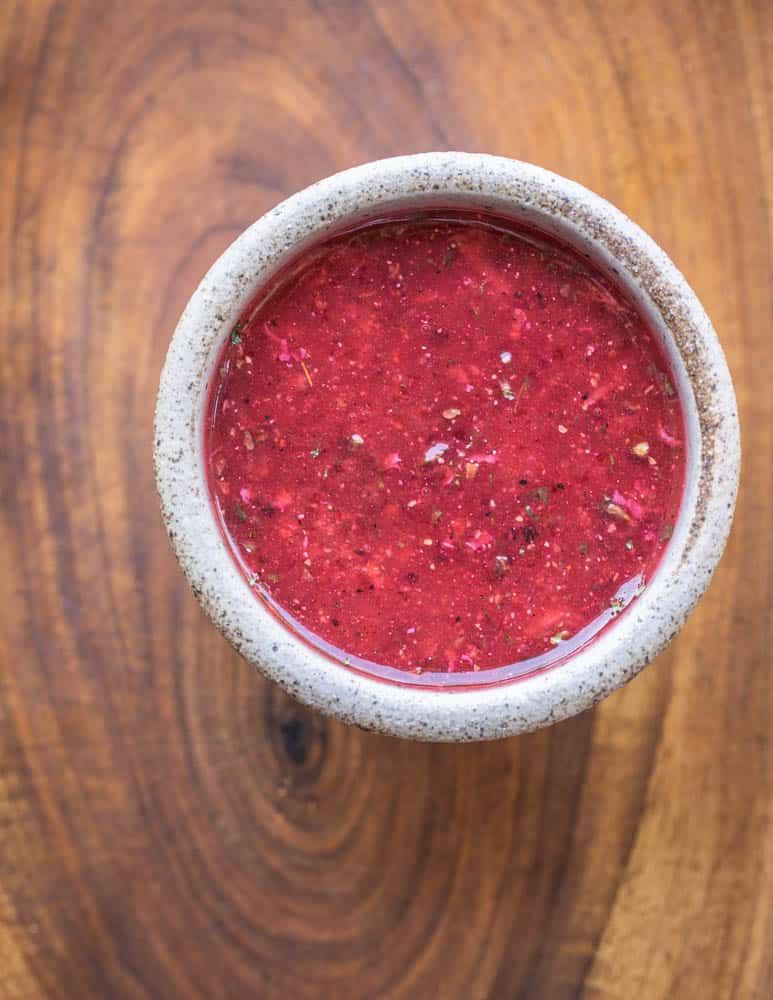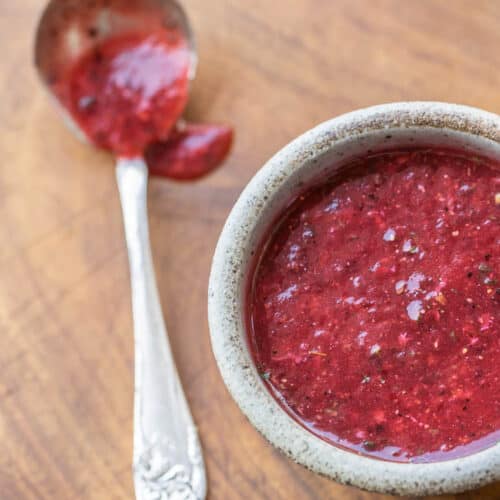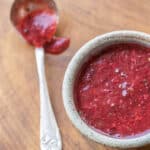 Print Recipe
Foraged Highbush Cranberry Tkemali Sauce
A spicy, herby sauce made from highbush cranberries inspired by traditional Georgian Tkemali. Makes 2 cups, scale and tweak it to your taste.
Ingredients
16

oz

thick highbush cranberry juice*

½

teaspoon

crushed red pepper flakes or equivalent

2

teaspoons

14 g salt or (3% salt to highbush cranberry juice)

¼

teaspoon

dried dill

2

large

12 g cloves garlic grated or minced

10

fresh mint leaves

coarsely chopped

Small handful of fresh cilantro

coarsely chopped

½

teaspoon

dried fenugreek

¼

teaspoon

coriander seed

Fresh lemon juice

to taste
Instructions
Activate the chilies
Heat the highbush cranberry puree and chili flakes until hot and steaming, then cool to room temperature.
Mix the sauce and allow it age
Combine the cooled highbush cranberry puree with the remaining ingredients and allow to ferment, covered, at room temperature for 3-4 days, then refrigerate.

It may be difficult to notice fermentation, and in reality, it may not ferment that much, so don't worry. The maceration at room temperature also serves to imbue the highbush cranberry puree with the flavors of the spices and herbs.

The sauce should be tart, fenugreek forward, and mildly spicy. If you'd like it more spicy, increase the chilies accordingly.

The finished Tkemali will last for a long time in the fridge, and can be canned in a water bath, (12 minutes for pints).
Notes
*To make a thick highbush cranberry juice, you'll want to take regular highbush cranberry juice and reduce it by half. You will need about 32 oz of fresh juice for this recipe.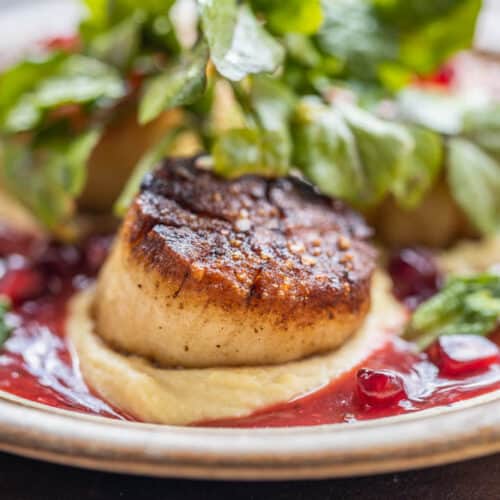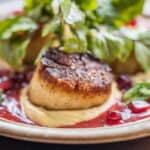 Print Recipe
Seared Scallops with Tkemali, Hummus, and Pomegranite
Seared scallops with tart Tkemali sauce, hummus, watercress, pomegranite and mint.
Ingredients
12

oz

Sea Scallops, preferably u-10 size

Kosher salt, as needed

¼ cup high heat cooking oil or ghee

½ cup highbush cranberry kemali sauce

warmed

½ cup hummus

your favorite brand, just make sure it's unflavored

a handful of fresh watercress, cleaned and dried

(optional)

Fresh torn mint leaves, to garnish

optional

Pomegranite seeds, to garnish

optional
Instructions
Pat the scallops dry well and let them sit covered with paper towels in the fridge for an hour before you cook them to ensure they're dry. this is especially important with frozen scallops, which can be good.

Inspect the scallops you will cook and choose which side will look more attractive when it's seared--the attractive side of each scallop is the plating side, and the one you will sear.

Heat a heavy skillet with the fat until smoking. Turn on a fan or hood vent, or open a window to help it not get smoky. Alternately, heat a cast iron pan in the coals of a grill outside.

Season the scallops on the plating side, then put them plating side down in the ripping hot skillet. Make sure to use a large pan (12 inches in size will be good) to make sure the scalllops do not touch.

Cook the scallops on high heat, without touching them, until you can see a touch of brown around the edges. This should take at least 5 minutes. Using a pair of tongs, peek until the side of the scallops and judge the color. You are looking for a mohogany crust here, not some blonde, yellow B.S. sear.

When the scallops have a solid sear on them, turn the heat to medium, then flip them over in the pan to just kiss the other side. Attempting to brown both sides of the scallops will ensure your home-cooking keeseter will overcook them.

Meanwhile, heat up a few plates, then put a spoonful of hummus in three spots on each plate to act as a bed for the scallops. Put a scallop on each dollop of hummus, then spoon the Tkemali sauce around.

Toss the watercress with olive oil, salt, pepper, and a touch of lemon juice to taste, and arrange a few sprigs in the middle of each cluster of scallops. Finish by sprinkling on a few pomegranate seeds and torn mint leaves. Serve.
More